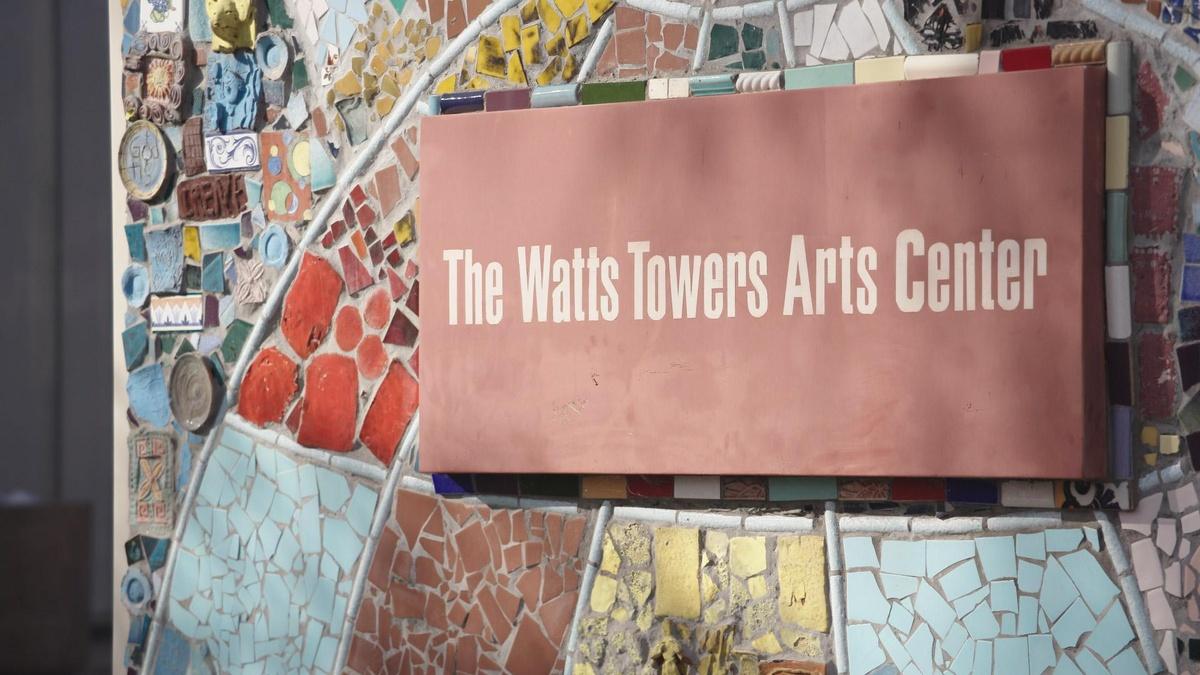 S11 E4 | FULL EPISODE
The Watts Towers Arts Center
The Watts Towers Arts Center was founded by artists and educators in the 1960s and has been a beacon of art and culture in the community for decades. This episode features the work of artists including Noah Purifoy, John Outterbridge, Betye Saar, Charles White and Mark Steven Greenfield.
TRANSCRIPT

MAN: THE WATTS TOWERS HAVE BEEN

A FOCAL POINT OF CREATIVITY FOR

A LONG TIME.

DIFFERENT MAN: I KNEW WHO I

WAS. I KNEW THAT I WAS AN

ARTIST.

DIFFERENT MAN: THEY WERE

WORKING OUT OF A SHARED NEED TO

COMMUNICATE SOMETHING BASED ON

WHAT THEY HAD TO WORK WITH.

WOMAN: BECAUSE THAT'S WHAT WE

FOUGHT FOR, THE ABILITY TO BE

FREE TO SAY WHAT WE WANTED TO

SAY.

MAN: YOU GOT TO A USE YOUR ART

AS A TOOL TO BRING ABOUT SOCIAL

CHANGE.

WOMAN: WE HAVE FINE ART IN

WATTS, AND IT'S BEEN GOING ON

61 YEARS BECAUSE OF THE WATTS

TOWERS ART CENTER CAMPUS.

ANNOUNCER: THIS PROGRAM WAS

MADE POSSIBLE IN PART BY: A

GRANT FROM ANNE RAY FOUNDATION,

A MARGARET A. CARGILL

PHILANTHROPY; THE CITY OF

LOS ANGELES DEPARTMENT OF

CULTURAL AFFAIRS; THE

LOS ANGELES COUNTY DEPARTMENT OF

ARTS AND CULTURE; AN AWARD FROM

THE NATIONAL ENDOWMENT FOR THE

ARTS, ON THE WEB AT ARTS.GOV; A

GRANT FROM GRoW @ ANNENBERG;

AND THE CALIFORNIA ARTS COUNCIL.

MAN: ♪ HEAR ME SAY ♪

MAN: THE WATTS TOWERS HAS BEEN

A FOCAL POINT OF CREATIVITY FOR

A LONG TIME. IT'S AN ICON TO BE

ACKNOWLEDGED, BUT THAT

CREATIVITY IS ONGOING. IT'S A

COMMUNITY OF HUMANS THAT HAVE A

CREATIVE NATURE.

DIFFERENT MAN: AS KIDS, WE

PLAYED ON THOSE TOWERS, RUN

AWAY BY MR. RODIA HIMSELF.

FILM NARRATOR: SIMON RODIA,

TILE SETTER BY TRADE,

ITALIAN-BORN, AMERICAN FOR HALF

A CENTURY, BUILDER OF DEFIANT

TOWERS.

MAN: THEY CALLED HIM AN

OUTSIDER OF ALL THINGS BECAUSE

HE DIDN'T CONFORM TO ANY OF THE

KNOWN UNDERSTANDINGS OF WHAT

ARTISTS DO.

DIFFERENT MAN: ONCE SIMON RODIA

FINISHED THE WATTS TOWERS AND

HE LEFT, THE ART CENTER WAS

CREATED, AND IT BECAME LIKE A

HUB REALLY FOR BLACK ARTISTS

AND THE BLACK VANGUARD IN

LOS ANGELES, A SPACE FOR BLACK

ARTISTS TO EXHIBIT IN A TIME

WHERE THOSE OPPORTUNITIES

WEREN'T ALLOWED.

WOMAN: PEOPLE COALESCED AROUND

THE TOWERS AND THEN THE WATTS

ARTS CENTER AS A SPACE BECAUSE

OF RODIA'S IDEA OF BUILDING

SOMETHING FROM ESSENTIALLY

NOTHING. SO HE, YOU KNOW,

BUILDS THE TOWERS LITERALLY

FROM SCRAPS AND SHARDS OF

POTTERY AND PORCELAIN AND METAL

THAT HE'S FOUND, AND THAT'S

SORT OF REMINISCENT OF WHAT THE

BLACK COMMUNITY IS, YOU KNOW,

AN AMALGAMATION OF ALL THESE

DIFFERENT PEOPLE FROM ALL THESE

DIFFERENT PLACES, EVEN INSIDE

LOS ANGELES, SORT

OF COALESCING AND COMING

TOGETHER TO BUILD SOMETHING

REALLY STRONG AND ENDURING.

MAN: IN WATTS, THERE'S A LARGE

DEGREE OF CULTURAL CAPITAL THAT

GOES UNRECOGNIZED AND

UNDERAPPRECIATED, AND I THINK

THAT THIS CENTER PROVIDES AN

OPPORTUNITY FOR THOSE THINGS TO

BE SHOWCASED. IN SO MANY

INSTANCES, CENTERS LIKE THE

WATTS TOWERS ARTS CENTER HAVE

GROWN TO BECOME THESE CREATIVE

HUBS IN THEIR COMMUNITY THAT

ACTUALLY HAVE A VERY CALMING

EFFECT ON THEIR SURROUNDING

AREAS.

WOMAN: WE HAVE FINE ART IN

WATTS, AND IT'S BEEN GOING ON

61 YEARS BECAUSE OF THE WATTS

TOWERS ARTS CENTER CAMPUS.

[POWER TOOL WHIRRING]

LEWIS: IT'S A FUNNY STORY. I

MEAN, IT'S A PRETTY FUNNY--I

THINK I'VE TOLD YOU.

INTERVIEWER: I THINK YOU DID.

LEWIS: YEAH. THE CITY THINKS

WATTS TOWERS IS AN EYESORE, AND

THEY WANT TO TEAR IT DOWN. THE

CITY COMES AND CANNOT BECAUSE

OF THE WAY IT'S BUILT, RIGHT?

SO IT'S LIKE TOTALLY THE

OPPOSITE OF WHAT THEY THINK.

A GROUP FORMS, THE

COMMITTEE TO SAVE THE WATTS

TOWERS. TAKES OVER A LITTLE

HOUSE NEXT TO THE TOWERS AND

WANTS TO START AN ART SCHOOL.

PURIFOY: THEY WERE LOOKING FOR

SOMEBODY WITH AN ART

DEGREE--HEH--AND SOME

EXPERIENCE WITH SOCIAL SERVICE,

WHICH WAS ME. I WAS UNEMPLOYED

AT THE TIME, AND I SAID, "WELL,

THAT SOUNDS JUST LIKE ME," AND

I SPLIT FOR WATTS.

WOMAN: SO YOU GET PEOPLE COMING

OUT OF THE SOUTH, WHO BRING

THOSE EXPERIENCES, HAVE BEEN IN

THE MILITARY, KNOW WHAT A

SEGREGATED ARMY FEELS LIKE, TRY

AND FIND THEIR WAYS,

PARTICULARLY ON G.I. BILLS, ET

CETERA, AND THEY'RE WORKING FOR

AN OPPORTUNITY TO EXPRESS

THEMSELVES BECAUSE THAT'S WHAT

WE FOUGHT FOR, THE ABILITY TO

BE FREE TO SAY WHAT WE WANTED

TO SAY, TO HAVE IDEAS, AND TO

PARTICIPATE IN THE AMERICAN

DREAM.

LEWIS: NOAH WAS BORN IN SNOW

HILL, ALABAMA, 1917, AND IF YOU

WERE TO REMOVE ART FROM NOAH'S

HISTORY, HIS STORY WOULD BE

JUST AS FANTASTIC AND AMAZING.

BORN AT THE HEIGHT OF JIM CROW,

GOES TO COLLEGE, BECOMES A HIGH

SCHOOL TEACHER. THEN THE SECOND

WORLD WAR BEGINS. HE JOINS THE

ARMED SERVICES AS A SEABEE,

USING HIS KNOWLEDGE OF

CONSTRUCTION BECAUSE HE TAUGHT

INDUSTRIAL ARTS IN HIGH SCHOOL.

AFTER THE WAR, HE GOES BACK TO

SCHOOL AND GETS A MASTER'S OF

SOCIAL WORK AND THEN MAKES

HIS WAY OUT TO CALIFORNIA.

PURIFOY: I LEFT OHIO AND CAME

TO CALIFORNIA BECAUSE I'D BEEN

IN THE MILITARY SERVICE IN

CALIFORNIA, AND I DREAMED OF

RETURNING BECAUSE IT WAS VERY

PLEASANT.

LEWIS: HE'S IN CALIFORNIA AS A

SOCIAL WORKER AND ONE DAY GETS

UP FROM HIS DESK, WALKS OUT THE

DOOR, AND GOES AND ENROLLS IN

CHOUINARD ART SCHOOL, WHICH

LATER BECOMES CAL ARTS.

PURIFOY: SO JUST OUT OF THE

CLEAR BLUE I SAID, "I THINK I

WANT TO GO TO ART SCHOOL." I

WAS CONSIDERED THE FIRST

FULL-TIME BLACK STUDENT. I HAD

A STUDIO CLEAN ENOUGH TO EAT

OFF THE TABLE. I HAD A BERET,

AND I ATE CHEESE AND DRANK

WINE, BUT I WASN'T AN ARTIST

YET UNTIL WATTS. THAT MADE ME

AN ARTIST.

LEWIS: NOAH WAS DEFINITELY

INTELLECTUAL. HE HAD THE

BACKGROUND IN SOCIAL WORK, HE

HAS THE ARTS TRAINING. HE HAS

THE MILITARY TRAINING, AND I

GUESS WHEN THEY WANTED HIM TO

BEGIN THE CENTER, IT IS THE

CONFLUENCE OF A LOT OF THINGS

ABOUT NOAH AND HOW HE WANTED TO

INTERACT WITH THIS COMMUNITY.

PURIFOY: THERE WAS ANOTHER

PERSON IN THE COMMUNITY WHOSE

NAME WAS SUE WELSH, AND SUE

WELSH AND I BEGAN TO EXPLORE

THE COMMUNITY IN TERMS OF

DESIGNING AN ART PROGRAM. WE

WORKED FOR WEEKS ON END TRYING

TO RECRUIT THE YOUTH TO COME TO

THE TOWERS TO EXPERIENCE THE

PROGRAMS THAT WE WERE GOING TO

DESIGN. I ALSO RAN ACROSS

JUDSON POWELL. SO JUDSON

POWELL, SUE, AND MYSELF BECAME

A TEAM TO CREATE A PROGRAM IN

WATTS. I WOULD SAY THAT

IT WAS DEFINITELY A GROUP

EFFORT THAT MADE THAT

LITTLE SCHOOL POSSIBLE.

LEWIS: THE INITIAL IDEA FOR THE

CENTER WAS TO CREATE AN ART

SCHOOL, AND THAT, I GUESS,

DIDN'T SIT WELL WITH NOAH

BECAUSE, I BELIEVE, IN HIS MIND

HE WANTED TO PROVIDE THIS

OPPORTUNITY FOR THE PEOPLE IN

THE COMMUNITY TO EXPRESS

THEMSELVES IN WAYS THEY HADN'T

DONE BEFORE AND THROUGH THAT

ACTIVITY TO, YOU KNOW, KIND OF

GET TO KNOW EACH OTHER AND

THEN, YOU KNOW, TALK ABOUT

LARGER ISSUES.

PURIFOY: ART IS THE MOST

UNCONTAMINATED DISCIPLINE

EXISTING IN THE WORLD. THERE

WAS EXCELLENT OPPORTUNITY TO

INTERRELATE IT WITH EVEN

POVERTY.

[INDISTINCT CHATTER]

JEFFERSON: AS YOU HAVE THE

OPPORTUNITY TO TRY TO LIVE THE

AMERICAN DREAM AND ALLEGEDLY

MOVE UP, NO MATTER WHAT YOUR

RACIAL BACKGROUND, THE HOUSING

BECOMES AVAILABLE TO THE NEXT

GROUP THAT'S TRYING TO MOVE.

THE DIFFERENCE IS FOR

AFRICAN-AMERICANS, AS WE

DESEGREGATED, WHAT GOT LEFT

BEHIND WERE THE POOREST AMONGST

US, THOSE LEAST ABLE TO MOVE,

AND WHAT THAT DOES IS IT STARTS

TO LEAVE AREAS LIKE WATTS AND

COMPTON, ET CETERA ABANDONED NOT

JUST BECAUSE THE INDUSTRIES HAVE

STARTED TO MOVE AWAY BUT BECAUSE

THERE WAS NO DESIRE, NO INTEREST

TO PUT RESOURCES INTO THE

BLACK COMMUNITY, SO ALL BLACK

PEOPLE ALL AROUND THE COUNTRY

WERE FEELING THE ANXIETY OF

"THINGS NEED TO BE DIFFERENT."

[CHANTING]

PURIFOY: AS A RULE, BLACK KIDS,

PARTICULARLY POOR BLACK KIDS,

HAVE A LOW SELF-ESTEEM, A LOW

SELF-IMAGE, AND THE OBJECT HERE

WAS TO RAISE THEIR SELF-IMAGE.

IF THEY COULD COME TO THE

TOWERS AND HAVE A GOOD

EXPERIENCE, A POSITIVE

EXPERIENCE, THEY COULD TAKE

THIS EXPERIENCE WITH THEM

WHEREVER THEY GO AND IMPROVE

THEIR SELF-IMAGE, AND THIS

WOULD MAKE A GREAT DEAL OF

DIFFERENCE IN TERMS OF THEIR

ABILITY AND CAPACITY TO GRASP

WHATEVER THE OBJECTIVES WERE,

WHETHER IT WAS IN SCHOOL OR OUT

OF SCHOOL. OFTENTIMES, WE'D TAKE

THE CHILDREN ON TRIPS TO PICK UP

OBJECTS--JUNK AND WHATNOT--AND

BRING IT BACK TO THE TOWERS, TO

THE ART CENTER TO DO ASSEMBLAGES

AND COLLAGES AND SO FORTH. IN

LARGE CITIES, JUNK IS NOT OFTEN

DISPOSED OF AT GARBAGE DUMPS.

WHEREVER THERE ARE POOR PEOPLE,

THERE'S PILES OF JUNK. PEOPLE

BRING THE JUNK THERE. IN

WATTS, IT WAS EXTREMELY

ACCESSIBLE. MOUNDS OF SCRAP

METAL ALL OVER THE PLACE.

MAN: ABOUT 60% OF THE PEOPLES

IN WATTS ARE OUT OF WORK, DON'T

HAVE JOBS, LIVING ON WELFARE OF

SOME SORTS, AND ALL THESE

THINGS ARE BUILDING UP. PEOPLES

MIGHT HAVE A TV. THEY CAN SEE

THE NICE THINGS IN THE OTHER

PARTS OF THE CITY, AND THEY

KNOW WHAT'S GOING ON IN THE

WORLD. THEY SEE MILLIONS AND

BILLIONS OF DOLLARS SPENT ON

ROCKETS AND FIRST ONE THING,

THEN ANOTHER. SENT

OVERSEAS TO OTHER COUNTRIES,

AND HERE IN THEIR OWN COUNTRY,

YOU KNOW, THEY'RE HUNGRY,

THEY'RE OUT OF A JOB,

THEY'RE JUST BEAT. YOU KNOW,

THEY'RE LETTING OFF STEAM.

MAN: YOU REALLY HAVE TO BEGIN

IN 1965. THAT WAS THE YEAR OF

THE REVOLT. IT CAUSED A

REVOLUTION IN THE THINKING, NOT

ONLY OF BLACKS WHO LIVED IN

WATTS AND THROUGHOUT

LOS ANGELES, BUT THE ENTIRE

COUNTRY. AS A MIDDLE- TO

LOW-INCOME COMMUNITY, PUBLIC

SERVICES THAT HAD LONG BEEN

DENIED GAVE RISE TO THE

REACTION TO A POLICE BRUTALITY

INCIDENT, WHICH WAS THE ORDER

OF THE DAY IN THE MID SIXTIES.

IT WAS NOTHING TO LEARN THAT A

FRIEND, FOR EXAMPLE, ONE OF MY

BEST FRIENDS, HAD BEEN BEATEN

NEAR DEATH BY THE POLICEMEN FOR

JAYWALKING. THE MARQUETTE

INCIDENT ON A 116th AND AVALON

WAS SET OFF IN THAT ATMOSPHERE

OF RISING EXPECTATIONS, AND THE

FEELING WAS AMONG MY GENERATION

IS THAT WE'RE NOT GONNA TAKE IT

ANYMORE, AND SO IF WE CAN'T BE A

PART OF THE SYSTEM, THEN

WE WILL ATTACK THE SYSTEM.

PURIFOY: MY IMPRESSION WAS THAT

IT WAS A MOST DEVASTATING

EVENT. HAD THERE BEEN JUST

LOOTING, THAT WOULD HAVE BEEN

ONE THING, BUT THERE WAS NOT

ONLY LOOTING. THERE WERE FIRES,

SMOKE THAT PERMEATED THE WHOLE

COMMUNITY, AND THOSE WERE THE

SIGHTS THAT WE SAW FROM OUR

BACK DOOR. WE SAW POLICE IN THE

PLACE, FIREMEN TRYING TO PUT

OUT THE FIRES UNSUCCESSFULLY.

WE SAW CROWDS AND CROWDS OF

PEOPLE RUNNING TO AND FRO. THE

VIEW FROM THE TOWERS WAS CLEAR

AND UNOBSTRUCTED. WE COULD SEE

CLEARLY WHAT WAS HAPPENING ON

107th STREET.

SANDERS: THE EXPLOSION WITHIN

OUR INNER CITIES, NOT ONLY IN

LOS ANGELES BUT IN OTHER MAJOR

CITIES ACROSS THE COUNTRY. THE

WHOLE POETRY OF THE ERA WHERE

EVERYTHING WAS STILL RISING,

THAT THIS WAS NOT A WAR TO END

WARS. IT WAS A SHOUT OUT, IT

WAS A BEGINNING. IT WAS A

BREAKING OUT.

JEFFERSON: IT CHANGED SO MANY

LIVES BECAUSE YOU LOOKED UP,

AND ALL OF A SUDDEN, THE

NEIGHBORHOOD WAS ON FIRE. NOT

THAT THEY HADN'T SEEN IT BEING

DESTROYED ANYWAY, BUT NOW IT'S

REALLY ON FIRE, AND WHAT'S LEFT

ARE CHARRED REMAINS.

LEWIS: AFTER THE RIOTS, NOAH

AND JUDSON POWELL GO OUT AND

BEGIN COLLECTING MATERIAL. I

GUESS THERE WAS THIS NEED TO

KIND OF REASSESS WHAT HAD

HAPPENED THROUGH THE MATERIAL

CULTURE OF THE RIOTS.

PURIFOY: WE HAD COLLECTED 3

TONS OF DEBRIS AFTER THE RIOT,

AND WE FASHIONED IT IN SOME

KIND OF A SCULPTURE AND

WHATNOT. THERE'S SOMETHING

ABOUT OBJECTS THAT APPEAL TO ME

IS THAT IT STIMULATES MY

IMAGINATION. I CAN THINK TO DO

SOMETHING WITH IT, TURN IT INTO

SOMETHING ELSE OTHER THAN WHAT

IT WAS ORIGINALLY DESIGNED FOR.

JEFFERSON: AND PROBABLY THE

MOST SIGNIFICANT PIECE THAT

NOAH MADE IN MY OPINION IS THE

"WATTS RIOT" PIECE THAT HE MADE

OUT OF THE CHARRED REMAINS OF

THE BUILDINGS THAT HAD BURNED,

AND YOU SEE HIM GLUE BURNT WOOD

AND PAINT AND PAINT ON TOP OF

IT. IT WAS HIS WAY OF TAKING

THOSE CHARRED REMAINS AND

MAKING AN ABSTRACT WORK OUT OF

IT AT A TIME WHEN ABSTRACT ART

IS ALSO STARTING TO TAKE HOLD A

LITTLE BIT MORE IN THE COUNTRY.

MAN: IN MOST INSTANCES, THESE

ARTISTS WERE WORKING WITHOUT

REFERENCE TO ANY WESTERN CANONS

OF ART. THEY WERE WORKING OUT

OF A SHEER NEED TO COMMUNICATE

SOMETHING BASED ON WHAT THEY

HAD TO WORK WITH. TO A LARGE

DEGREE, I THINK THEY WERE DOING

IT EVEN BEFORE SOME OF THE

ARTISTS THAT WE'VE COME TO KNOW

AS DOING ASSEMBLAGE. I THINK

THEY WERE PIONEERS.

PURIFOY: SO WE INVITED SOME

OTHER ARTISTS TO COME IN AND

CART AWAY SOME OF THE JUNK AND

MAKE SOMETHING FOR THE FIRST

FESTIVAL, WHICH WAS AT MARKHAM

HIGH SCHOOL.

LEWIS: AND WITH ANOTHER GROUP

OF ARTISTS, THEY PUT TOGETHER

"THE 66 SIGNS OF NEON."

PURIFOY: THE EXHIBIT GOT ITS

TITLE FROM THE DRIPPINGS OF

NEON SIGNS UPON THE GROUND

MIXING WITH THE SAND AND DIRT.

SO WHAT JUDSON AND I DID WAS

JUST SIMPLY TAKE THE SHAPES OUT

OF THE SAND AND BRUSH THEM OFF

AND MOUNT THEM ON SOMETHING AND

SOLD THEM, AND THEY WENT LIKE

HOTCAKES.

WOMAN: FOR 3 YEARS, THE SHOW

TRAVELED TO 9 VENUES BOTH

NATIONALLY AND INTERNATIONALLY.

IT WAS EXTREMELY SUCCESSFUL. IT

REACHED A REALLY WIDE AUDIENCE,

AND PEOPLE FOUND IT REALLY

MOVING. THE REBELLION ITSELF

WAS A CALL FOR CHANGE, AND THE

ARTISTS THAT WORKED WITH THE

LITERAL MATERIALS THAT THEY

COLLECTED AFTERWARDS WERE

SHOWING HOW WE COULD CREATE

CHANGE AND UPLIFTING PEOPLE.

PURIFOY: AND WE SOLD A LOT OF

STUFF, AND WE'D SEND THE MONEY

BACK, AND WE WOULD MAKE SOME

MORE STUFF. SO WE ALWAYS HAD 66

PIECES TO DISPLAY, BUT THERE

WERE DIFFERENT PIECES FROM TIME

TO TIME BECAUSE WE MADE SALES,

AND THAT'S HOW WE EXISTED, BUT

FROM WASHINGTON, D.C., THE

EXHIBIT TRAVELED, AND ABOUT

1969, IT CAME BACK IN A TRUCK

JUST ABOUT IN THE SAME SHAPE IT

WAS WHEN WE FOUND IT IN WATTS,

IN THE SMOLDERING EMBERS OF THE

WATTS RIOT. IN OTHER WORDS, THAT

WAS THE END OF "SIGNS OF NEON. "

IT WAS BACK IN

ITS ORIGINAL STATE, JUNK!

WOMAN: I THINK THAT "THE 66

SIGNS OF NEON" WAS REALLY

IMPORTANT BECAUSE IT BEGAN TO

SHOW LARGER COMMUNITIES WHAT

KIND OF VISUAL LANGUAGE WAS

BEING MADE BY PEOPLE IN

SOUTHERN CALIFORNIA, AND SO

AFTER THE REBELLION, L.A.

ARTISTS REALLY START TO HAVE

THESE CONVERSATIONS ABOUT THOSE

IDEAS AND WHAT THEIR ROLE IS IN

THOSE THINGS.

LOYER: ARTISTS IN LOS ANGELES

WEREN'T WORKING AS A FORMAL

COLLECTIVE, BUT THEY WERE

AFFECTING EACH OTHER'S

PRACTICES STILL, AND THEY CAME

TO A SORT OF SHARED AESTHETIC

OF ASSEMBLAGE. MANY OF THEM

WERE WORKING WITH FOUND

MATERIALS. BETYE SAAR, WITH

WORKS LIKE "THE LIBERATION OF

AUNT JEMIMA,"

ONE OF HER MOST

FAMOUS ASSEMBLAGE WORKS.

SAAR: IT WAS MY PERSONAL WAY OF

REACTING IN ANGER TO WHAT WAS

HAPPENING TO BLACKS AND WHAT

HAD HAPPENED TO BLACKS.

OUTTERBRIDGE: THE ANGER THAT

SHE MIGHT SHOW IN SOME OF THE

WORK BECOMES PITY, YOU KNOW,

AND HURT.

JEFFERSON: BUT WHEN THE RIOTS

HAPPEN, IT'S ALSO AT A TIME

WHEN AMERICA AND BLACK AMERICA

ARE LOOKING FOR REFERENCES FOR

TOOLS, FOR ITEMS THAT MIGHT

DEPICT THEIR EXPERIENCE AND

GIVING THEM A SECONDARY LIFE, A

SECONDARY MEANING.

MONIZ: ARTISTS ARE STARTING TO

USE THE MATERIAL FROM THE

STREETS, BUT THEY'RE ALSO

STARTING TO SEE HOW IMPORTANT

THE LANGUAGE THAT THEY'RE USING

IN THEIR WORK IN TERMS OF BOTH

ASSEMBLAGE BUT ALSO, YOU KNOW,

METAL WORK THAT COMES OUT, AND

THERE'S SO MUCH TO BE SAID.

THERE ARE SO MANY STORIES TO

TELL, AND THE LANGUAGE THAT

THEY'RE GIVING TO THE COMMUNITY

AND THEN BROADCASTING OUT INTO

LARGER COMMUNITIES, IT WAS

REALLY A PIVOTAL MOMENT THAT,

I THINK, YOU KNOW, A LOT OF

PEOPLE, PARTICULARLY LOTS OF

LARGER INSTITUTIONS, DIDN'T

NECESSARILY PICK UP ON, BUT, YOU

KNOW, IT DIDN'T MATTER. THAT

WASN'T THE GOAL. THAT WASN'T THE

AUDIENCE. THE AUDIENCE WAS THE

COMMUNITIES THAT THESE ARTISTS

LIVED IN AND SUPPLYING THEM WITH

LANGUAGE THAT WOULD SUPPORT

THEM, SUSTAIN THEM, AND GIVE

THEM OPPORTUNITIES TO GROW.

GREENFIELD: SOMETIMES I LOOK

AT, YOU KNOW, INSTITUTIONS,

SOME INSTITUTIONS, AS

POSITIONING THEMSELVES AS

GATEKEEPERS, AND WHENEVER I SEE

A GATEKEEPER, I USUALLY TRY TO

JUMP OVER THE FENCE, AND I

THINK THAT'S WHAT THEY DID A

LOT. I MEAN, THERE'S THE STORY

OF CHARLES WHITE, YOU KNOW,

DRIVING UP TO LACMA ONE DAY

TRYING TO GET A CURATOR TO TAKE

A LOOK AT HIS WORK AND ACTUALLY

HAVING TO PULL THE CURATOR OUT,

TAKE HIM TO THE TRUNK OF HIS

CAR, AND SHOW HIM HIS DRAWINGS.

JEFFERSON: DEPICTIONS OF

AFRICAN-AMERICANS IN POSITIVE

LIGHT WAS IMPORTANT TO THE

MOVEMENT, SO CHARLES WHITE IS

MAKING WORK THAT IS DEPICTING

STRONG, PROUD BLACK PEOPLE.

EVEN IF HE DOES A MOMENT IN

THEIR SUFFERING, MOST OF HIS

WORK IS SHOWING US WITH OUR

HEAD LIFTED HIGH.

GREENFIELD: I THINK CHARLES

WHITE WAS A SEMINAL FIGURE IN

ACTUALLY DEFINING THE

AFRICAN-AMERICAN AESTHETIC IN

THE SIXTIES, SEVENTIES, AND

BEYOND. THERE WERE SO MANY

ARTISTS WHO, I THINK, HE

INSPIRED THROUGH HIS DEPICTION.

I MEAN, YOU HAVE TO UNDERSTAND

WE WERE HIT OVER THE HEAD WITH

THE IDEA BLACK WAS BEAUTIFUL,

AND WE KEPT LOOKING FOR IMAGES

THAT SAID THAT, AND THAT'S WHAT

CHARLES WHITE'S WORK DID FOR

US, AND I THINK THAT A LOT OF

OTHER ARTISTS PICKED UP ON

THAT AND EMULATED THAT WORK

AND EMULATED HIS STYLE IN

MANY REGARDS. I KNOW I DID.

WHITE: WHEN I USE THIS IMAGE,

I'M NOT ADDRESSING MYSELF

SOLELY TO THE BLACK PEOPLE.

HOPEFULLY THAT I'M CREATING THE

IMAGE THAT CRIES FOR JUSTICE

FOR ALL OPPRESSED PEOPLE.

MAN: AND BLACK! BROTHER BLACK!

WOMAN: BLACK IS BEAUTIFUL

BECAUSE IT FEELS SO GOOD!

JEFFERSON: I THINK EVERY

GENERATION LOOKS FOR A NEW WAY

TO EXPRESS THEMSELVES. AS THE

CIVIL RIGHTS MOVEMENT TAKES

HOLD IN THE SIXTIES AND

SEVENTIES AND THE BLACK POWER

MOVEMENT, WHEN WE START TO

REFER TO OURSELVES AS BLACK,

YOU CAN KEEP PUSHING THE

ENVELOPE, AND YOU CAN KEEP

TALKING ABOUT THAT MARCH TO

EMANCIPATION AND ET CETERA. SO

IT'S AN EVOLUTION AS TO HOW FAR

YOU CAN GO AND WHAT IT IS THAT

YOU HAVE TO SAY.

SANDERS: THE ART IN THAT

PARTICULAR ERA GREW OUT OF

THAT. IF YOU CAN IMAGINE THAT

WE WERE HUNGRY FOR EXPRESSIONS

OF THOSE LONG-HELD, DEEP-SEATED

FEELINGS OF, ON THE ONE HAND,

FRUSTRATION, ON THE OTHER HAND,

HOPE, AND THE ART REFLECTS

THAT, A KIND OF EMPOWERMENT.

THE ART BECAME CONFRONTATIONAL.

IT WAS ACCUSATORY. IT WAS

SAYING, "HERE I AM. I'M BLACK,

AND IF YOU DON'T LIKE IT, TOO

BAD, BUT THIS IS THE WAY I

FEEL."

DAVIS: THE PERIOD REALLY

REPRESENTS A KIND OF

RENAISSANCE. MIGHT NOT EVEN BE

A RENAISSANCE, YOU KNOW. A

RENAISSANCE IS A REBIRTH. THIS

COULD HAVE BEEN LIKE A FIRST

BIRTH, YOU KNOW, A REAL FIRST

OPPORTUNITY FOR MINORITY

ARTISTS TO SHOWCASE THEIR WORK.

LOYER: THERE'S JUST SORT OF A

SOMEWHAT COLLECTIVE ETHOS IN

THE AIR. PEOPLE ARE REALLY

CREATING THE SPACES THAT THEY

NEED TO BE SHOWING THEIR WORK.

DAVIS: THE WATTS TOWERS, THE

CREATIVE ARTS ACADEMY, THE

WATTS WRITERS WORKSHOP,

PASLA--PERFORMING ARTS SOCIETY

OF LOS ANGELES. SO BECAUSE

THERE WAS A CULTURAL

CONSCIOUSNESS, WE WERE INVOLVED

IN TOTAL COMMUNITY, AND WE

TALKED ABOUT OPPORTUNITIES, AND

WE THOUGHT, "WE SHOULD OPEN A

GALLERY."

MAN: ALONZO DAVIS AND HIS

BROTHER DALE DAVIS STARTED

THEIR GALLERY, AND THEIR

GALLERY BECAME THE CORNERSTONE

OF A PLACE TO SHOW. IT WAS

WHERE THE "L.A. TIMES" WOULD

COME DOWN AND ACTUALLY GIVE A

CRITIQUE OF THE SHOW.

DAVIS: THAT WAS THE BEGINNING

OF AN OPPORTUNITY THAT CHANGED

OUR LIVES AND A LOT OF OTHER

PEOPLE'S LIVES.

MONIZ: I THINK THAT THE POST

WATTS REBELLION IN LOS ANGELES

GAVE A LOT OF ARTISTS MATERIAL

TO USE IN THEIR ART MAKING, BUT

IT ALSO STARTED TO DEFINE FOR

ARTISTS WHO WEREN'T PART OF

THAT GROUP THE POWER OF WHAT

THEIR ART MAKING WAS, AND THERE

WERE, YOU KNOW, AT BROCKMAN

GALLERY IN 1967 WHEN IT BEGAN,

THESE SATURDAY FORUMS WHERE

THEY WOULD COME AND DEBATE WHAT

THEIR RESPONSIBILITIES WERE AS

ARTISTS AND AS MAKERS AND AS

COMMUNITY MEMBERS. THEY USED

TO GET INTO HUGE FIGHTS WITH

EACH OTHER ABOUT WHAT THEIR

ROLES WERE, WHAT THEIR

RESPONSIBILITIES WERE, WHAT

BLACK ART WAS, IF THERE WAS EVEN

SUCH A THING. THE POWER LIES

WITH THESE MAKERS IN PARTICULAR

AND THE WAYS THAT THEY COULD

TRANSLATE WHAT ALREADY WAS

AND TAKE, AGAIN LIKE THE TOWERS,

TAKE PARTS OF LOTS OF THINGS AND

MAKE THEM INTO SOMETHING

COMPLETELY NEW AND THEIR OWN.

BOOKER: I'M CLAUDE BOOKER. I'M

PRESIDENT OF THE BLACK ARTS

COUNCIL AND DIRECTOR OF THIS

INSTALLATION. AS BLACK PEOPLE

START TO DECIDE THEIR--WHAT

THEIR FATE AND DESTINY WILL BE,

AS WE ARE NOT ALLOWED IN

MUSEUMS, AS WE START TO DEVELOP

OUR OWN CRITICS AND AESTHETICS,

I THINK THAT WE'RE GOING TO

FIND THAT ART WON'T BE SO

PRECIOUS WITH BLACK PEOPLE AS

IT IS IN THE MAINSTREAM. I

BELIEVE THAT WE'LL RETURN TO

FUNCTIONAL ART. I JUST PASSED BY

A TRUCK ON THE WAY

TO WILL ROGERS DOWN ON

CENTURY. THEY WERE SELLING

WATERMELONS AND PAINTINGS.

GREENFIELD: SIMON RODIA'S HOUSE

BURNED DOWN IN A FIRE. NOBODY

KNOWS QUITE HOW IT STARTED. THE

ONLY THING LEFT WAS THE

FOUNDATION. CURTIS TANN STARTED

CONDUCTING ART CLASSES ON THE

FOUNDATION OF THE HOUSE. THEY

PUT A TARP OVER THE REMAINS TO

MORE OR LESS SHIELD EVERYTHING,

AND THEN ARTISTS WOULD KIND OF

VOLUNTEER. THEY'D KIND OF DROP

IN AND HELP TEACH CLASSES

THERE. THERE WAS NOTHING VERY

FORMAL ABOUT IT AT ALL.

MAN: CURTIS TANN, HE WAS

VERY SENSITIVE TO THE CREATIVE

SPIRITS OF OTHER ARTISTS. HE

WAS A GOOD MENTOR IN

RELATIONSHIP TO HOW ARTISTS

SHOULD BE TREATED AND HOW

ARTISTS SHOULD CONDUCT

THEMSELVES IN THAT KIND OF

POSITION.

PURIFOY: HE CAME FROM KARAMU

HOUSE. I THINK CALLING

OURSELVES COMMUNITY ARTISTS

HARKS BACK TO THE BEGINNING OF

ART IN CLEVELAND AT THE KARAMU

HOUSE, WHERE THEY WERE

PRACTICING COMMUNITY ART FOR

YEARS. COMMUNITY ART HAS A

CERTAIN BELIEF SYSTEM. IT

DOESN'T BELIEVE IN ART FOR

ART'S SAKE. SO YOU CAN IMAGINE

THE PROBLEM THAT ONE WOULD HAVE

IN AN ELITE COMMUNITY LIKE

LOS ANGELES WITH THIS KIND OF

BELIEF SYSTEM, AND YET WE WERE

CONSISTENT WITH OUR IDEA.

GREENFIELD: NOAH AND CURTIS

THOUGHT IT WOULD BE A GOOD IDEA

TO HAVE A PERMANENT STRUCTURE

THERE, AND THEY HAD A LOT OF

PEOPLE WORKING WITH THE

ORIGINAL SIMON RODIA'S

COMMITTEE, AND THE CENTER WAS

ALWAYS SUPPOSED TO BE A

TEMPORARY STRUCTURE. IT'S BEEN

TEMPORARY NOW FOR HOW MANY

YEARS? IT'S NOT EVEN ON A

FOUNDATION. IT'S ON THIS

CONCRETE SLAB, OK? THERE'S A

LINK BETWEEN NOAH PURIFOY,

JUDSON POWELL, CURTIS TANN,

AND JOHN OUTTERBRIDGE.

JEFFERSON: JOHN OUTTERBRIDGE

CAME OUT HERE AND BECAME

FASCINATED NOT ONLY WITH

LOS ANGELES AND ALL THAT WAS

POSSIBLE WITH IT, BUT HE FOUND

FRIENDS, AND HE MADE ALLIES,

AND TOGETHER, HE CARED ABOUT

OFFERING WHAT OTHER PEOPLE

WEREN'T GIVING TO US, SO, YOU

KNOW, LET'S HAVE A

COMMUNICATIVE ARTS ACADEMY, AND

IF YOU HAVE THE WATTS TOWER ART

CENTER, IF YOU HAVE OUTTERBRIDGE

STARTING THE COMMUNICATIVE ARTS

ACADEMY WHERE THEY HAD DANCE AND

MUSIC, THIS IS A NEIGHBORHOOD

ACTIVITY. NOBODY WAS TRYING TO

COME IN AND BRING THIS STUFF FOR

THEM. IT WAS FROM THE GROUND UP,

AND THEY MADE IT HAPPEN.

OUTTERBRIDGE: IN LOS ANGELES,

AS I WAS INTRODUCED TO

THIS CITY, ABOUT ART THE TOOL

FOR CHANGE. WE STARTED TO HAVE

CONVERSATIONS ABOUT THE STREET

ENVIRONMENT BEING THE STUDIO

ENVIRONMENT, AND I REALLY

BELIEVED THAT--OR THE STUDIO

BEING ANYWHERE THAT YOU CHOSE

FOR IT TO BE. NOAH AND JUDSON

POWELL TALKED TO ME A LOT ABOUT

THAT, AND IT FORMED AN ATTITUDE

THAT I JUST EMBRACED WITHIN

MYSELF.

PURIFOY: AT THE TIME, I RECALL,

WE DIDN'T VERBALIZE MUCH ABOUT

ART. WE INSISTED THAT ART

SPEAKS FOR ITSELF, BUT MY

ATTITUDE TOWARD THAT CONCEPT

WAS THAT IT WAS ELITE AND THAT

POOR PEOPLE COULD NOT AFFORD TO

FEEL THAT SOMETHING WAS IN AND

OF ITSELF BECAUSE OF BASIC

NEEDS AND DEPENDENCY. IT'S AN

ELITIST CONCEPT TO FEEL THAT

ART IS IN AND OF ITSELF ART. IT

IS NOT IN AND OF ITSELF BECAUSE

IT INTERRELATES WITH THE WORLD

AT LARGE, SO WE BEGAN TO THINK

ABOUT HAVING AN ART EXHIBITION.

IT WAS AT THE MARKHAM HIGH

SCHOOL. IT'S A STONE'S

THROW FROM THE WATTS TOWERS

ARTS CENTER, WHERE WE HAD

OUR FIRST ARTS FESTIVAL.

OUTTERBRIDGE: THE WATTS SUMMER

FESTIVALS. THOSE WERE VERY

EXCITING. NOAH PURIFOY HAD A

LOT TO DO WITH BRINGING THOSE

EARLY EXHIBITS TOGETHER.

PURIFOY: WE PICKED PEOPLE LIKE

OUTTERBRIDGE AND ALONZO DAVIS

AND DALE, HIS BROTHER, TO DO

THE JUDGING AND WHATNOT, PEOPLE

THAT THE COMMUNITY RESPECTED.

ALSO, WE WOULD STIMULATE THE

ARTISTS TO DO WORK EXPRESSLY

FOR THE FESTIVAL. NOT ONLY DID

WE DO THAT, WE WENT AROUND TO

ALL THE SCHOOLS AND COLLECTED

WORKS BY THE STUDENTS.

MAN: OVER IN THIS SECTION, WE

HAVE A SERIES OF PIECES, MOST

OF WHICH WERE DONE BY STUDENTS

AT THE WATTS TOWERS ART CENTER.

THEY HAVE A YEA-LONG PROGRAM

ALONG WITH A SUMMER PROGRAM,

AND MANY OF THE STUDENTS HAVE

GREAT POTENTIAL IF THEIR SKILLS

AND EXPERTISE ARE DEVELOPED.

OVER HERE, WE HAVE 3 EXAMPLES

OF POP ART, THE GUM, A PACKAGE

OF KOOLS, AND CREST TOOTHPASTE.

THE SHAPE CANVAS OVER HERE WAS

ALSO DONE BY ONE OF THE

STUDENTS AT THE

WATTS TOWERS ART CENTER.

DICKSON: AND SO THROUGH THE

UNDERSTANDING OF NOAH AND

JUDSON AND CECIL FERGUSON, THEY

PUT TOGETHER THIS WONDERFUL

GROUP OF PEOPLE EXPOSING

PROFESSIONALS AND

NON-PROFESSIONALS TO EACH

OTHER, AND IT WAS SO POWERFUL.

FERGUSON: YOU KNOW, IT'S

AMAZING, AND NOW THAT I THINK

BACK PRIOR TO 1966--AND I

WORKED IN A MAJOR INSTITUTION,

WHICH WAS LOS ANGELES COUNTY

ART MUSEUM--I KNEW OF TWO BLACK

ARTISTS, I MEAN, PEOPLE WHO

WERE BLACK THAT PAINTED.

WOMAN: IS THAT RIGHT?

FERGUSON: AND THE FIRST YEAR OF

THE FESTIVAL UPON REACHING THE

FESTIVAL GROUNDS, I SAW ALL

THESE CANVASES AND SCULPTURE

AND ASSEMBLAGES AND COLLAGES

AND ALL THESE STATEMENTS, YOU

KNOW, AND I WAS COMPLETELY IN

AWE BECAUSE I DIDN'T EVEN KNOW

BLACK PEOPLE PAINTED.

PURIFOY: SO WE GOT TO STIMULATE

QUITE A NUMBER OF PEOPLE IN THE

COMMUNITY, THUS MAKING US

REALLY COMMUNITY ARTISTS. WE

WEREN'T ARTISTS WHO CLOSED

THEMSELVES UP IN A STUDIO. WE

WERE REALLY OUT ON THE STREETS,

MINGLING WITH THE PEOPLE.

OUTTERBRIDGE: NOAH'S BACKGROUND

HAD A GREAT DEAL TO DO WITH THE

USE OF ART AS A TOOL TO BRING

ABOUT SOCIAL CHANGE. WHEN I

FIRST STARTED TO FEEL

COMFORTABLE WITH USING ART AS A

TOOL, THE LANGUAGE THAT I

STARTED TO HEAR FROM PEOPLE

LIKE PURIFOY AND JUDSON, WE

KNEW THAT THESE CHANGES WERE

VERY NECESSARY, AND WE KNEW

THAT WE HAD TO BE PARTICIPANTS

IN THIS ARENA.

GREENFIELD: JOHN OUTTERBRIDGE

AT THE TIME HAD BEEN AT THE

COMMUNICATIVE ARTS ACADEMY IN

COMPTON.

OUTTERBRIDGE: MY ASSOCIATION

WITH THE ACADEMY IN COMPTON HAD

BROUGHT ME AND OTHERS ON STAFF

IN CONTACT WITH ORGANIZATIONS,

INDIVIDUALS IN THE GREATER ARTS

COMMUNITY OF LOS ANGELES. WE

STARTED TO CHALLENGE THE

INSTITUTIONS TOGETHER, AND THAT

WAS VERY HEALTHY. IN 1973 AND

1974, WE STARTED TO RUN INTO

FINANCIAL PROBLEMS, AS WE

ALWAYS HAD FINANCIAL PROBLEMS

AT THE ACADEMY. THINGS THAT WE

DID TO SURVIVE PEOPLE WOULD NOT

BELIEVE.

DICKSON: POLITIC PEOPLE LOVED

JOHN BECAUSE HE COULD TALK THAT

TALK. SO THOSE POLITICS LED

JOHN TO THE WATTS TOWERS WHEN

THEY WERE LOOKING FOR A

DIRECTOR.

OUTTERBRIDGE: MY PLANS IN 1974,

EARLY 1975 WAS SIMPLY TO GET

BACK IN THE STUDIO, NOT

SEPARATE MYSELF FROM THE

MOVEMENT TOTALLY BUT TO

MEDITATE A LITTLE BIT MORE ON

WHO I WAS AS A PERSON. I KNEW

WHO I WAS, I KNEW THAT I WAS AN

ARTIST, BUT I THOUGHT THAT WHEN

GUY MILLER IN WATTS TOLD ME

BACK IN THE SIXTIES THAT--SAID,

"OUTTERBRIDGE, YOU'VE GOT TO

USE YOUR ART AS A TOOL. YOU'VE

GOT TO COME OUT HERE AND

HELP PULL SOME OF

THIS STUFF TOGETHER."

HE SAID, "I'M NOT CARVING

HEADS ANYMORE, MAN.

I'M CARVING MINDS AND HEARTS,

AND WE'RE TRYING TO BUILD."

GREENFIELD: THE CENTER AND THE

TOWERS WERE TURNED OVER TO THE

CITY FOR MANAGEMENT BECAUSE

THEY REALIZED THAT THEY

COULDN'T RUN IT. IT WAS JUST

TOO MUCH OF A NUT TO CRACK.

SANDERS: NOAH PURIFOY

RECOMMENDED THAT OUTTERBRIDGE

BE APPOINTED THE DIRECTOR.

GREENFIELD: AND HE WAS THE

DIRECTOR THERE FOR 18 YEARS. I

THINK NOAH WAS THERE FOR THE

TRANSITION, AND THEN HE JUST

KIND OF WENT OUT TO THE DESERT

AND DID HIS THING.

OUTTERBRIDGE: I HAD A SMALL

BUDGET, A VERY SMALL BUDGET,

FOR THE ARTS CENTER AND A

BUDGET THAT WAS SUPPOSED TO

STIMULATE AND DESIGN SOME

SEMBLANCE OF PROGRAMMING, BUT I

WAS ALSO REQUESTED BY THE MAYOR

AT THAT TIME TO ASSUME AS MUCH

RESPONSIBILITY AS I COULD IN

DEVELOPING FOCUS AND

PROGRAMMING FOR THE CULTURAL

HERITAGE MONUMENT IN TERMS OF

TOURISM.

DICKSON: WE WANTED TO ESTABLISH

A COMMUNITY ART CENTER THAT

WOULD BE REFLECTIVE OF THE

GENIUS OF THE COMMUNITY. JOHN

HELPED THEM GET THE JAZZ

FESTIVAL. HE BROUGHT IN ARTISTS,

AND HE WAS ALWAYS BUILDING AND

BUILDING. JOHN WAS JUST WITH

THAT CREATIVE SPIRIT, BUT THE

WATTS TOWERS THROUGH THE

FESTIVALS AND WHAT HAVE YOU

TURNED INTO A VERY, VERY

SPECIAL THING, AND EVENTUALLY,

PEOPLE WANTED TO CONTROL IT,

AND SO I THINK THAT COUPLED WITH

THE FACT THAT JOHN WANTED

TO MOVE ON INTO HIS

PRIVATE WORK WAS WHY HE

EVENTUALLY CUT IT LOOSE.

JEFFERSON: ALL OF US SHOULD BE

SO EXTRAORDINARILY GRATEFUL,

NOT ONLY THAT HE DID IT BUT

THAT HE WAS WILLING TO BUCK THE

SYSTEM ABOUT WHAT HE HAD TO DO

AS A CAREER. HE WAS SUCH A

GIVING HUMAN BEING IN THE

DEVELOPMENT OF HIS ART.

DICKSON: AFTER SO MANY YEARS,

JOHN BECAME KIND OF DISMAYED

BECAUSE HE WAS REALLY--HE SAYS,

"I'M AN ARTIST, MAN, YOU KNOW,

AND I WANT MY--I WANT TO DO MY

ART." SO--AND I ALWAYS FELT HE

WAS DOING HIS ART.

GREENFIELD: JOHN IS AN

EXCEPTIONAL PERSON. HE'S JUST

THIS SIDE SHORT OF SAINTHOOD ON

A LOT OF LEVELS, OK? HE'S A

PHILOSOPHER-POET. HE'S AN

INCREDIBLE ARTIST, WHO IN MANY

WAYS KIND OF IMBUES THE SPIRIT

OF SIMON RODIA IN MUCH THE SAME

WAY THAT NOAH PURIFOY DID.

OUTTERBRIDGE: NOAH PURIFOY USED

TO SAY ALL THE TIME TO ME,

EARLY ON, THAT "IT'S A TOOL.

IT'S A TOOL FOR YOU, AND IF IT

IS A TOOL FOR YOU, IT CAN BE A

TOOL FOR MANY OTHERS," AND I

STARTED TO REALLY BELIEVE THAT,

YOU KNOW?

MONIZ: PURIFOY, OUTTERBRIDGE,

AND MANY OF THESE ARTISTS, THEY

WERE INVESTED IN YOUNGER

GENERATIONS LIKE CHARLES

DICKSON, LIKE MARK STEVEN

GREENFIELD, WHO WOULD GO TO

BECOME ONE OF THE DIRECTORS OF

THE WATTS TOWERS ART CENTER.

GREENFIELD: JOHN WAS NOT

GENEROUS WITH HIS ADVICE, OK? I

MEAN, JOHN HAD HIS--HE HAD SOME

TOUGH DAYS, TOO. YOU KNOW, HE

BASICALLY SAID, "YOU WILL FIND

YOUR OWN WAY, GRASSHOPPER." HA

HA HA! THAT TYPE OF THING. I

WISHED THAT HE HAD GIVEN ME A

LITTLE BIT MORE WARNING, YOU

KNOW, OR GIVEN ME A LITTLE BIT

MORE ADVICE. I BECAME THE

DIRECTOR OF THE WATTS TOWERS

ARTS CENTER IN 1993. IT WAS

RIGHT AFTER THE 1992 UPRISING,

SO THERE WAS STILL A LOT OF

TENSION. OFTENTIMES, I COMPARE

THE CITY TO A SERIES OF TECTONIC

PLATES THAT ARE ALL BUTTED UP

AGAINST EACH OTHER. IN SOME

INSTANCES, THE FREEWAYS CREATE

THOSE DIVIDES, AND THERE'S SO

MUCH TENSION THAT BUILDS UP

BETWEEN THESE COMMUNITIES,

AND AT SOME POINT, IT SNAPS, AND

THEN EVERYTHING THAT PEOPLE

HAD AN ARGUMENT WITH

COMES TO THE FORE, AND

THEY TAKE ACTION ON IT.

LAWYER: YOU'VE SEEN MR. KING

ROLL OVER ON HIS BACK NOW. IS

THAT CORRECT?

WITNESS: YES I HAVE.

LAWYER: ALL RIGHT. DID YOU

CONSIDER THAT TO BE AN

AGGRESSIVE MOVEMENT?

WITNESS: THE FACT

THAT HE ROLLED?

LAWYER: YES.

WITNESS: IT COULD BE.

[SHOUTING]

REPORTER: WHEN OFFICERS PUSHED

THE CROWD BACK, THE

DEMONSTRATORS OVERTURNED...

[SIRENS]

[HELICOPTER FLYING]

MAN: I'VE BEEN HERE SINCE 1941.

I SAW THE WATTS RIOTS. THIS IS

THE SECOND TIME IN 25 YEARS. I

SAW WHAT HAPPENED THIS TIME.

DIFFERENT MAN: THEY WOULD

AUTOMATICALLY FIND HIM NOT

GUILTY.

DIFFERENT MAN: IF IT WAS A

WHITE INDIVIDUAL GETTING BEAT

BY 4 BLACK POLICE OFFICERS,

THEY WOULD HAVE GOT TRIED, AND

THEY BEEN FOUND GUILTY.

DIFFERENT MAN: WITH THE KOREANS

THROUGHOUT ALL THE COMMUNITY,

THEY DIDN'T HIRE ANY BLACK.

THEY'RE TAKING EVERYTHING AWAY.

MAN: THERE'S NO SENSE IN

BURNING A PLACE DOWN, YOU GOT

TO--LOOK AT ALL--THIS WILL

NEVER COME BACK AGAIN. WE GONNA

BE BACK IN A PRIMITIVE AGE,

GOING BACK. WE GOING BACKWARDS

INSTEAD OF FORWARDS.

DIFFERENT MAN: I DON'T BELIEVE

IT WILL MYSELF, BUT WHAT--HOW

YOU GONNA GET JUSTICE?

[SIRENS]

GREENFIELD: THE "COLLABORATION"

SHOW WAS NOT TOO LONG AFTER THE

UPRISING, AND IT INVOLVED--I

THINK ALTOGETHER, LIKE, 22

ARTISTS, 11 KOREAN AMERICAN

ARTISTS AND 11 AFRICAN-AMERICAN

ARTISTS. I THINK IN THE

AFRICAN-AMERICAN COMMUNITY THEY

WERE LOOKING AT HOW IN SO MANY

INSTANCES KOREAN AMERICANS

OWNED THE BUSINESSES IN THEIR

NEIGHBORHOODS. THEY DIDN'T HAVE

ANY PARTICIPATION IN IT, THERE

WEREN'T ANY JOBS FOR THEM IN

IT, AND SO EACH OF US WAS PAIRED

WITH ANOTHER ARTIST, AND THE

IDEA WAS THAT WE WOULD CREATE

A PIECE OF ART JOINTLY, AND SO I

WAS PAIRED WITH AN ARTIST NAMED

KIM HYEON SHIN KO, AND WE

CREATED A PIECE BASED ON THE

GUYS THAT SELL ORANGES BY THE

FREEWAY BECAUSE IT WAS SOMETHING

THAT WAS COMMON TO BOTH OF US.

WHEN WE'D GET OFF AT THIS OFF

RAMP, THERE WOULD ALWAYS BE THIS

SAME GUY THERE SELLING ORANGES,

AND SO I THINK, YOU KNOW,

THROUGH "COLLABORATIONS,"

WHAT WE WERE TRYING TO DO IS

DRAW THOSE PARALLELS, DRAW THOSE

SYNERGIES THAT WE HAD BETWEEN

OUR DIFFERENT COMMUNITIES

SO THAT THE ARTISTS COULD GET TO

LEARN EACH OTHER'S MODES OF

OPERATIONS AND STUFF LIKE THAT,

AND WE THINK IT WAS LARGELY

SUCCESSFUL BECAUSE IT DID CREATE

A LOT MORE DIALOGUE, BUT I

STARTED TO--REALLY STARTED

GRAVITATING TOWARDS, YOU

KNOW, MORE SITUATIONS LIKE THAT.

MONIZ: MARK STEVEN GREENFIELD

IS A LOT LIKE JOHN OUTTERBRIDGE

IN HIS VERSATILITY AS AN

ARTIST, AND I THINK THAT THAT

SORT OF TRANSLATES TO HIS ROLE

IN THE COMMUNITY, AS WELL. SO

HE HAD THESE ELDERS THAT HE

CAME AFTER AT WATTS, BUT THEN

HE BEGINS TO SORT OF MORPH AND

SHIFT AND EXPAND THE COMMUNITY

IN WAYS THAT MADE IT MORE

ACCESSIBLE TO PEOPLE.

GREENFIELD: ONE YEAR, I BROUGHT

IN 5 TIBETAN BUDDHIST MONKS TO

DO A PROJECT WITH THE KIDS IN

THE NEIGHBORHOOD. THEY DO THOSE

BIG SAND MANDALAS. AT FIRST, I

GOT A LOT OF CRITICISM FROM

SOME PEOPLE IN THE COMMUNITY

THAT SWORE THAT I WAS TRYING TO

CHANGE THEIR CHILDREN INTO

BUDDHISTS, YOU KNOW, WHICH WAS

NEVER EVEN A CONSIDERATION, BUT

THEN ONCE THEY SAW THE END

RESULT, A LOT OF THEM WARMED UP

TO IT, AND THEY STARTED TO

UNDERSTAND THAT IT REALLY

WAS ABOUT THE ART.

ONE OF THE OTHER CHALLENGES

REALLY IS GETTING PEOPLE IN THE

COMMUNITY USED TO THE IDEA OF

CONTEMPORARY ART. I HAD SOME

SUCCESSES, AND I HAD SOME

FAILURES. SO ALEX DONIS HAD

BEEN A TEACHER AT THE CENTER,

AND WHENEVER ANY OF THE

INSTRUCTORS AT THE CENTER ASKED

ME IF THEY COULD DO AN

EXHIBITION, I SAID, "SURE, NO

PROBLEM." ALEX HAD SHOWN ME

SOME SKETCHES OF WHAT HE WAS

GOING TO DO FOR THIS SHOW, AND

THEY WERE PAINTINGS OF POLICE

OFFICERS DANCING WITH GANG

MEMBERS. COME TIME TO PUT

UP THE SHOW, AND HE'S GOT

THESE LIFE-SIZE PAINTINGS OF

POLICE OFFICERS DANCING WITH

GANG--HUGE, AND SOME OF THE GANG

MEMBERS CAME INTO THE CENTER,

AND THEY SAW IT, AND THEY

JUST LOVED IT. THEY SAID,

"WOW! LOOK AT THAT. I KNOW HIM."

AND SOME OF THEM ACTUALLY

RECOGNIZED THE POLICE OFFICERS

AND SHERIFF OFFICERS THAT

WERE IN THE PAINTINGS. SOME LAPD

OFFICERS CAME BY, THEY

SAW IT, THEY LOVED IT.

THEY WERE CALLING THEIR

FRIENDS AT OTHER DIVISIONS. "YOU

GOT TO COME DOWN AND SEE THIS."

SO FOR ABOUT THE FIRST

5 DAYS THAT THE

SHOW WAS OPEN, I SAID,

"OH, THIS IS GOING TO BE GOOD."

WELL...

[SIGHS]

THERE WERE A GROUP OF ELDERLY

WOMEN THAT CAME TO THE SHOW,

AND THEY SAID, "YOU'RE GOING TO

TAKE THAT SHOW DOWN." AND I

TRIED TO EXPLAIN TO THEM. I

SAID, "IF YOU MAKE ME TAKE THE

SHOW DOWN, YOU'RE GOING TO GIVE

IT THE ATTENTION YOU DON'T WANT

IT TO HAVE," AND THEY SAY, "WE

DON'T CARE."

WE STRUCK THE SHOW

AFTER ABOUT A WEEK. WE HAD A

PRESS CONFERENCE. I BASICALLY

TOOK THE BLAME FOR IT. WE TRIED

TO REACH AN ACCOMMODATION WITH

THE ARTIST, SAID, "LISTEN. UH,

LET'S TAKE THE SHOW DOWN NOW.

LET'S CREATE A DIALOGUE

BETWEEN YOU AND THE COMMUNITY

TO TALK ABOUT THE ISSUES

THAT THE SHOW BRINGS UP,"

BECAUSE THE LEVEL OF ANIMOSITY

TOWARDS HE, THE WORK, AND THE

CENTER GREW TO A POINT THAT

WAS UNSUSTAINABLE. I HAD

PEOPLE THAT WERE CALLING ME FROM

SANTA MONICA, FROM THE WEST

SIDE SAYING, "YOU SHOULD CALL

THE POLICE DOWN THERE. THEY

SHOULD PROTECT THAT SHOW." AND

I SAID, "DON'T YOU REALIZE THAT

WHAT YOU WANT TO DO IS MINIMIZE

CONFRONTATIONS BETWEEN THE

POLICE AND THE COMMUNITY IN

THIS COMMUNITY? BECAUSE THAT'S

HOW THINGS GET OUT OF HAND.

THAT'S HOW RIOTS GET STARTED,

YOU KNOW?" SO IT'S JUST PEOPLE

IN OTHER PARTS OF THE TOWN JUST

DIDN'T HAVE A CLEAR

UNDERSTANDING OF WHAT THAT

COMMUNITY WAS ABOUT, YOU KNOW?

VAN BLUM: ONE OF THE THINGS

THAT MAKES MARK SUCH A

REMARKABLE PERSON IS THAT HE IS

A COMBINATION OF ADMINISTRATOR

AND ARTIST. THOSE ARE VERY

DIFFERENT FUNCTIONS, AND TO BE

ABLE--HE DID, AS JOHN

OUTTERBRIDGE DID, HE WAS ABLE

TO DO TWO VERY DIFFERENT

THINGS. SO MARK DID THAT, I

THINK, VERY WELL, AND AT THE

SAME TIME, HE CONTINUED TO

PRODUCE UTTERLY MAGNIFICENT

VISUAL ARTWORK. MARK AND I HAVE

TALKED ABOUT WHAT IS IMPORTANT

IN THIS LIFE IS THAT WE DO

THE WORK. WE DO THE WORK.

[POWER TOOL RUNNING]

THERE ARE STILL

AFRICAN-AMERICAN ARTISTS AND

INCREASINGLY LATINO, LATINA

ARTISTS WHO STILL NEED TO HAVE

A HOME LIKE THE WATTS TOWERS

ARTS CENTER. IT MUST CONTINUE.

IF ANYTHING, THERE'S AN EVEN

GREATER NEED FOR THE WATTS

TOWERS ART CENTER THAN EVER

BEFORE.

ACEVEDO: FROM MY EXPERIENCE

GROWING UP HERE IN THIS

COMMUNITY, THIS SPACE HERE WAS

MY REAL FIRST INTRODUCTION TO

ART. LACMA WAS--IT WAS THE

OTHER SIDE OF THE WORLD FOR ME

AT THAT TIME. I DIDN'T HAVE TO

GO ALL THE WAY OVER THERE TO

SEE ART OR TO MEET ARTISTS OR

TO TAKE AN ART CLASS. IT WAS

HERE IN MY COMMUNITY, AND SO

FOR ME, LIKE A LOT OF OTHER

YOUTH, IT WAS A VITAL, VITAL

SPACE, BUT IT WAS A SPACE,

ALSO, THAT BRIGHTENED YOUR

WORLD. YOU KNEW THAT THERE

WAS, YOU KNOW, SOMETHING ELSE

OUT THERE THAN JUST THIS.

DAVIS: I COULD SUM IT UP IN ONE

WORD, ONE

CONCEPT--ENLIGHTENMENT. A

BROADENING OF YOUR EXPERIENCE,

A CHALLENGE TO YOUR BEING, YOU

KNOW? THE MORE YOU SEE, THE

MORE YOU EXPERIENCE, THE BETTER

PERSON YOU ARE BECAUSE YOU'RE

JUST THAT MUCH MORE

WELL-ROUNDED. YOU KNOW, YOU

COME OUT OF YOUR OWN LITTLE

PERSONAL ENCLAVE, AND, YOU

KNOW, IT'S NEEDED.

VAN BLUM: I THINK NOAH SET THE

TONE. THAT'S WHY THE GALLERY IS

NAMED FOR NOAH PURIFOY.

WOMAN: NOAH CONTRIBUTED A HUGE

FOUNDATION HERE IN ESTABLISHING

THE CRITERIA FOR THIS PLACE. SO

HE SET THE BAR REALLY, REALLY

HIGH, AND SINCE THEN, YOU KNOW,

THE OTHER ART CENTER DIRECTORS

HAVE CARRIED ON THAT LEVEL OF

PROFESSIONALISM. I'M THE FIRST

WOMAN WHO'S BEEN THE DIRECTOR

HERE AT THE CENTER. I HAD TO

STEP IN SOME REALLY, REALLY BIG

SHOES BECAUSE MUCH IS EXPECTED

OF US.

THIS IS THE BRIDGE HOUSING FOR

HOMELESS PEOPLE THAT THE

COUNCIL AND HACLA AND THE

SALVATION ARMY, AND THEY'VE

ASKED US TO CREATE A MURAL FOR

IT, AND THAT'S WHAT THIS

SESSION IS. IT'S A TEAM

APPROACH. WE HAVE DIFFERENT

ARTISTS and DIFFERENT MEDIUMS,

WE'RE TRYING TO COME UP TO A

GENERAL AGREEMENT ON WHAT WE'RE

DOING HERE.

DICKSON: I THINK THE TOP IS

WORKING FINE. IT JUST NEEDS TO

BE MOVED IN WITH SOME MORE

HOUSING OVER THERE.

THAT SPACE THAT--ROSIE RUNS

THAT LIKE A COLLEGE

INSTITUTION. THIS IS AN

EDUCATIONAL ENVIRONMENT, AND WE

HAVE STANDARDS, AND SO THE

PEOPLE, THE COMMUNITY ARE THE

MAJOR FOCAL POINT FOR THE

REASON WHY IT SHOULD BE THERE.

MAN: THE COLOR, I DO SEE SOME

ISSUES PRACTICALLY. IF YOU

DO--YOU SET THE BASE AS A BLUE

OR IF IT'S A GRADIENT AND YOU

HAVE AN ISSUE OR A MISTAKE WITH

THE FOREGROUND.

SHE'S JUST A POWERHOUSE, RIGHT?

SHE--YOU KNOW, SHE'S--I THINK

SHE'S THE GLUE THAT HOLDS IT

ALL TOGETHER. I MEAN, IT'S

TOUGH TO HAVE ALL THESE

DIFFERENT ARTISTS WORK IN ONE

PLACE, AND THEY ALL HAVE THEIR

OWN IDEAS ABOUT THINGS, THEIR

OWN EGOS, AND SHE JUST HAS A

REAL MAGICAL WAY OF WORKING

WITH EVERYBODY

HOOKS: DO YOU THINK THE

WINGS ARE TOO FAR?

ACEVEDO: MMM. NO. THEY'RE OK

THERE, BUT, YOU KNOW, I THINK

THEY WORK BETTER WITH THE

WORDING, BUT THE FLOWERS DON'T

BOTHER ME.

I'M VERY FORTUNATE TO WORK

UNDER DIRECTOR ROSIE LEE HOOKS.

I THINK--IN THE COMMUNITY ART

WORLD, I THINK SHE'S A GIANT.

SHE REALLY UNDERSTANDS THE

IMPORTANCE AND THE ROLE

COMMUNITY HAS AND THE

CONVERSATION THAT IT HAS WITH

ART AND ITS ARTISTS AND KNOWING

THAT EDUCATION IS A

BIG PART OF THAT.

UNFORTUNATELY, A LOT OF SCHOOLS

STILL DON'T HAVE THAT IN ARTS

EDUCATION. A LOT OF THEM ARE

STILL STRUGGLING WITH THAT,

TRYING TO BRING IT BACK,

BUT HERE WE KIND OF FILL

A VOID WITH THAT.

GREENFIELD: THE WATTS TOWERS

ARTS CENTER PROVIDES AN

ALTERNATIVE. YOU KNOW, A LOT OF

THESE ARTS CENTERS--A LOT OF

THEM WERE STARTED BECAUSE THERE

WAS A CERTAIN NEED THERE.

THERE'S AN ABSENCE OF ART

PROGRAMS IN A LOT OF SCHOOLS

NOW, AND WHAT HAPPENS IS IF YOU

DON'T HAVE THAT TYPE OF

CREATIVE ENVIRONMENT, THEN

YOU'RE KIND OF SHORT CHANGING

THE EDUCATION THOSE KIDS CAN

GET BECAUSE, YOU KNOW, IT'S

BEEN PROVEN HOW THE ARTS

CAN IMPACT YOUR ABILITY

TO ABSORB IN OTHER AREAS.

[INDISTINCT CHATTER]

MAN: ART REALLY, YOU KNOW,

GIVES YOU THAT ABSTRACT WAY OF

THINKING. IT'S MORE THAN JUST

TECHNIQUE, YOU KNOW. IT'S ABOUT

HOW YOU RELATE TO YOUR WORLD

BECAUSE YOU CAN'T MAKE ART IF

YOU DON'T SAY ANYTHING. YOU CAN

DRAW SOMETHING PRETTY NICE, BUT

IF YOU'RE NOT TOUCHING

YOUR WORLD, THEN HOW ARE YOU

CHANGING IT?

RIVERA: I'VE BEEN AT THE ART

CENTER SINCE I WAS ABOUT MAYBE

10 OR 9 YEARS OLD, AND I WAS

INTRODUCED TO THE PLACE AND

NEVER LEFT. STILL THERE.

IT'S LIKE A REFUGE, YOU

KNOW, THERE, LIKE A LITTLE

ARTISTS' REFUGE, WHICH IS COOL.

THE APPROACH OF THE CENTER

HASN'T CHANGED FROM WHAT I CAN

SEE. I ALSO HAVEN'T BEEN THERE

50 YEARS, BUT WHEN I WAS THERE,

IT WAS JUST ABOUT GETTING KIDS

WHO WERE INTERESTED IN DOING

SOMETHING AFTER SCHOOL AND, YOU

KNOW, HAVING A PLACE FOR THEM,

RESOURCES FOR THEM TO DO THAT.

THAT HASN'T CHANGED. I THINK

THAT SMALLER THINGS CHANGE.

I THINK THAT AS A COMMUNITY

BECOMES MORE SPANISH SPEAKING,

YOU KNOW, WE'VE HAD TO, LIKE,

ADAPT TO THAT. THEN WHEN I HEAR

STORIES ABOUT THE WAY IT WAS

BACK THEN, BACK IN THE DAY,

IT FEELS LIKE IT WAS THE SAME

THEN, TOO. IF YOU HAVE A

STRONG CONSTITUTION AND A

STRONG FOUNDATION, THERE'S

NO REAL NEED TO CHANGE IT.

HOOKS: LOS ANGELES IS ONE OF

THE ONLY MUNICIPALITIES THAT

ACTUALLY HAS COMMUNITY ARTS

CENTERS PRODUCED BY A

GOVERNMENT ENTITY. OUR

COMMUNITY, THE LAST THING ON

THE LIST IS AN ART CLASS OR

DANCE CLASS OR MUSIC CLASS.

THAT'S JUST NOT AFFORDABLE, SO

THE SPACE IS VERY, VERY VITAL

TO THE SURVIVAL OF OUR

COMMUNITY, GIVES OUR CHILDREN A

WAY OUT.

JEFFERSON: EVERY NEIGHBORHOOD

DESERVES TO HAVE THAT RANGE OF

ACTIVITY, AND IN NEIGHBORHOODS

OF COLOR, NOT ONLY DO THEY HAVE

TO BUILD IT FOR THEMSELVES, BUT

WHEN EVERYONE WHO LIVED THERE

BEFORE MOVES AWAY, THEY TAKE

ALL THE RESOURCES FROM THEM.

DAVIS: THERE ARE PLACES THAT I

WISH WERE STILL AROUND, I

REALLY DO, AND THESE WERE ALL

WITHIN THE COMMUNITY. YOU LOOK

BACK--YOU LOOK NOW, AND WHAT

SURVIVED REALLY IS...

THE WATTS TOWERS.

OUTTERBRIDGE: THE REBELLION WAS

A PIVOTAL POINT IN THE CIVIL

RIGHTS STRUGGLE. EVERYTHING UP

TILL THAT TIME HAD BEEN PRETTY

MUCH A NONVIOLENT KIND OF A

ISSUE. I DON'T SEE THE REBELLION

OF 1965 BEING SEPARATE AND APART

FROM THE STRUGGLE, BUT THIS ONE

WAS DIFFERENT FROM THE REST

BECAUSE IT TOOK A PHYSICAL KIND

OF POSITION AND REACTED TO

CIRCUMSTANCES THAT HAD BEEN

RATHER UNKIND AND UNSPOKEN AND

VERY MUCH PREVALENT IN THE

LIVES OF MANY BLACK AMERICANS,

NOT JUST IN WATTS BUT ACROSS THE

COUNTRY. SO THE COMMUNITY BECAME

SYMBOLIC AND CALLOUSED BECAUSE

OF THAT EVENT, AND WHEN YOU MEET

VISITORS COMING TO SOUTH

CENTRAL LOS ANGELES, AND

THEY ALWAYS COME TO WATTS,

WANTING TO KNOW "IS THIS

THE PLACE THAT WAS

BESIEGED BY WAR IN 1965?

WHERE'S CHARCOAL ALLEY? WAS THE

TOWERS CLOSE TO THE BURNINGS?"

BUT THE HISTORY BEFORE THAT

TIME, THE HISTORY OF BLACKS IN

AMERICA, WHETHER WE'RE SPEAKING

OF CALIFORNIA OR SOME REGION

IN THE MIDWEST OR EAST, IS

NOT READILY AVAILABLE FROM AN

ACADEMIC CLASSROOM STANDARD.

JEFFERSON: I SEE IT AS WHAT'S

RIGHT THERE IN FRONT OF YOU,

AND WHEN YOU THINK ABOUT THESE

PLACES, PARTICULARLY IN POOR

NEIGHBORHOODS WHERE YOU DON'T

HAVE PARKS, THEY'RE MAKING

SOMETHING OUT OF NOTHING. IT'S

JUST THE NORMAL THING TO DO.

WE'RE GOING TO MAKE A BASEBALL

FIELD OUT OF AN EMPTY LOT, AND

WE'RE GONNA MAKE BASES OUT OF A

PIECE OF WOOD. MEANWHILE, FOLKS

ALL AROUND IT SAY, "HEY. LET'S

TEACH ART. ITS A REAL

OPPORTUNITY FOR EXPRESSION

AND AN OUTLET."

WE CAN BUS PEOPLE INTO THE

TOWERS TILL WE'RE BLUE IN

THE FACE, BUT WE STILL HAVE

TO MAKE SURE THAT THE CENTERS IN

NEIGHBORHOODS EXIST BECAUSE

OUT OF THAT YOU GET NOT ONLY

EXCITEMENT BUT THE NEXT PERSON

WHO COMES ALONG AND THE NEXT

CREATIVE SPIRIT AND IDEAS THAT

COME THAT ARE REFLECTIVE OF NOT

ONLY WHO THE PEOPLE ARE, BUT IT

TELLS THE HISTORY AND THE STORY.

SO YOU CAN'T ALWAYS JUST

BRING IT IN. YOU'VE GOT TO

HELP FEED SO THAT IT CAN

GROW FROM WHERE IT IS.

ANNOUNCER: THIS PROGRAM WAS

MADE POSSIBLE IN PART BY: A

GRANT FROM ANNE RAY FOUNDATION,

A MARGARET A. CARGILL

PHILANTHROPY; THE CITY OF

LOS ANGELES DEPARTMENT OF

CULTURAL AFFAIRS; THE

LOS ANGELES COUNTY DEPARTMENT OF

ARTS AND CULTURE; AN AWARD FROM

THE NATIONAL ENDOWMENT FOR THE

ARTS, ON THE WEB AT ARTS.GOV; A

GRANT FROM GRoW @ ANNENBERG;

AND THE CALIFORNIA ARTS COUNCIL.