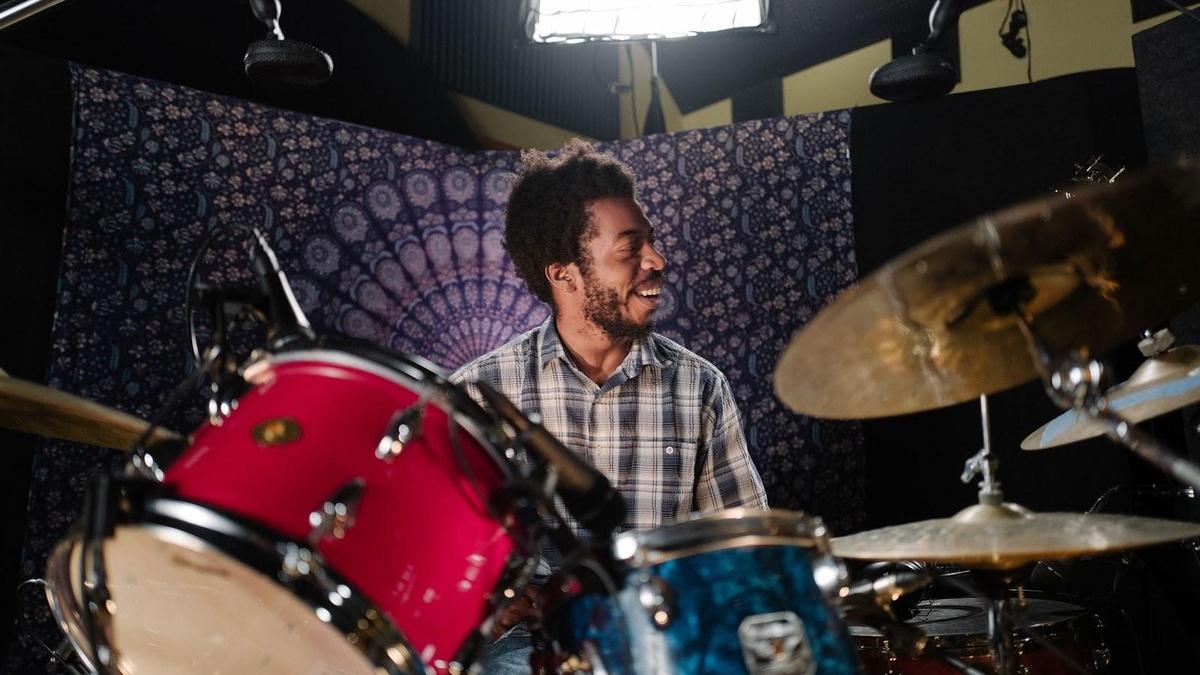 S11 E2 | FULL EPISODE
The New West Coast Sound: An L.A. Jazz Legacy
Growing up amongst jazz legends within the deep musical traditions of Leimert Park, drummer Mekala Session and his peers grapple with how to preserve this rich legacy—striving to carry forward the tenets that took root in the work of Horace Tapscott and his Pan Afrikan Peoples Arkestra. This is the story of Los Angeles' emerging generation of community-focused black musicians.
TRANSCRIPT

MAN: HOLLYWOOD IS THE THROBBING,

BEATING HEART OF COMMERCIAL

ENTERTAINMENT, BUT, YO, SOUTH

CENTRAL IS THE SOUL, BABY.

[JAZZ MUSIC PLAYING]

THIS KIND OF SCENE, IT HAS DEEP

ROOTS IN SOUTH CENTRAL.

HORACE TAPSCOTT STARTED THE PAN

AFRIKAN PEOPLES ARKESTRA IN 1961

TO FILL A VOID OF ARTS IN THE

BLACK COMMUNITY. THE ARK HAS HAD

MANY DIFFERENT ITERATIONS. I AM

CURRENTLY THE LEADER OF THE PAN

AFRICAN PEOPLES ARKESTRA. I WAS

RAISED IN THE ARK. I LITERALLY

AM A CHILD OF THE ARK. I HAVE A

RESPONSIBILITY TO PASS DOWN

THIS CULTURE AND THIS LEGACY.

[JAZZ MUSIC PLAYING]

ANNOUNCER: THIS PROGRAM WAS

MADE POSSIBLE IN PART BY A

GRANT FROM ANNE RAY FOUNDATION,

A MARGARET A. CARGILL

PHILANTHROPY, THE CITY OF LOS

ANGELES DEPARTMENT OF CULTURAL

AFFAIRS, THE LOS ANGELES COUNTY

DEPARTMENT OF ARTS & CULTURE,

AN AWARD FROM THE NATIONAL

ENDOWMENT FOR THE ARTS ON THE

WEB AT ARTS.GOV, AND THE

CALIFORNIA ARTS COUNCIL.

[INDISTINCT CHATTER]

WOMAN: CHECK, CHECK. 1, 2.

TEST, TEST, TEST, TEST.

[MUSIC PLAYING]

WOMAN: [VOCALIZING]

MEKALA: WHOO!

WE ARE AFRONAUTS, GOD DAMMIT.

SINGER: ♪ AAH ♪

[CHEERS AND APPLAUSE]

THANK YOU. WE ARE THE AFRONAUTS.

JAMAEL DEAN, MEKALA SESSION, AND

I'M SHARDA.

MEKALA: THE SOUND OF LOS ANGELES

OR THIS WEST COAST, KIND OF LIKE

SOUTH CENTRAL TINGE HAS ALWAYS

BEEN NOT UNKEMPT, BUT UNTAMED.

IT'S WILD. IT'S GOT A ANGLE TO

IT. YOU CAN'T JUST TUNE OUT AND

BOB YOUR HEAD, MAN. THERE'S

SOMETHING GOING ON THERE. IT'S

NOT EASY LISTENING.

HOLLYWOOD IS THE THROBBING,

BEATING HEART OF COMMERCIAL

ENTERTAINMENT FOR THE WORLD.

BUT, YO, SOUTH CENTRAL IS THE

SOUL, BABY.

LIKE, WE'RE THE BLUES.

THAT'S WHERE THE LOVE IS. THAT'S

WHERE THE PAIN IS. THAT'S WHERE

THE FEAR IS, AND THE COURAGE IS.

LIKE, THAT'S WHAT YOU'RE HEARING

WHEN YOU HEAR PEOPLE FROM HERE

MAKE MUSIC. KENDRICK LAMAR,

KAMASI WASHINGTON, TERRANCE

MARTIN, CHARLES MINGUS, ERIC

DOLPHY. IT'S THE KIND OF THING

WHERE THERE'S ALWAYS BEEN THE

COMBAT TO CORPORATE USINGS OF

MUSIC. THIS MESSAGE HAS ALWAYS

BEEN HERE. THERE ARE REALLY DEEP

ROOTS IN SOUTH CENTRAL LOS

ANGELES IN LEIMERT PARK.

GENERATIONS ON GENERATIONS OF

MUSICIANS. I AM PART OF THE

SCENE THAT DIRECTLY MAKES LIT

UNDERGROUND MUSIC FOR PEOPLE WHO

SEEK IT. AND IT'S NEVER BEEN

EASIER TO FIND IT.

[DRUMMING]

BRO, WHAT'S GOING ON HERE?

MAN: OH, I'M JUST...

MEKALA: AHH.

SO THAT...SO THAT PART IS IN

7, BECAUSE IT'S LIKE 1, 2, 3,

4, 5, 6, 7.

[DRUMMING]

1, 2, 3, 4,

5, 6, 7.

I STARTED PLAYING DRUMS WHEN I

WAS ONE YEAR OLD.

THAT PART IS IN 7, THEN THE

OTHER PART IS IN 10, WHICH IS...

[DRUMMING]

PAPA WENT TO WORK, AND HE

DESCRIBES COMING HOME FROM WORK

AND FINDING ME IN THE LIVING

ROOM SURROUNDED BY LIKE POTS AND

PANS AND BOOKS AND STUFF, AND

I'M HITTING THEM WITH TWIGS FROM

THE YARD. AND POP IS LIKE, "YOU

WANT TO PLAY DRUMS?" AND I'M

LIKE, "YEAH, YEAH, YOU SHOULD

GET ME A DRUM SET." I'M ONE

YEARS OLD. AND HE'S LIKE, "ALL

RIGHT. IF I GET YOU A DRUM SET,

YOU HAVE TO, LIKE, PRACTICE."

I GREW UP AROUND MUSIC ALL MY

LIFE. POP PLAYS SAX. POP PLAYS

ALTO SAX, TENOR SAX, AND SOPRANO

SAX. HE USED TO, LIKE, PRACTICE

SAX AROUND THE HOUSE. AND I

WOULD, LIKE, AS A BABY, RUN

AROUND AND, LIKE, ASK TO PLAY

HIS SAXOPHONE AND, LIKE, SIT IN

HIS LAP.

1, 2, 3, 4,

1, 2, 3, 4, 5, 6,

1, 2, 3.

MY FATHER AND MOTHER TOOK ME TO

JAZZ CLUBS AND, YOU KNOW, ALL

KINDS OF SHOWS, YOU KNOW, AS A

BABY. POP PLAYED WITH MULTIPLE

BANDS. AND HE USED TO ALWAYS

JUST KIND OF TAKE ME TO

REHEARSALS.

[PLAYING JAZZ MUSIC]

SOLO.

AND YOU CAN YOU CAN IMMEDIATELY

GO INTO WALKING THE SOLO. YEAH,

SO THAT--THAT'S WHAT THAT'S

GOING TO FEEL LIKE. LET'S DO IT

ONE MORE TIME. AND THEN MAYBE

GET A SOLO IN THERE.

I'M CURRENTLY THE LEADER OF THE

PAN AFRIKAN PEOPLES ARKESTRA.

THAT'S HOW IT IS. STOPS ON A

DIME.

I'VE BEEN LEADING FOR ALMOST

3 YEARS. I GUESS THIS IS A

LITTLE OVER MY SECOND YEAR.

MIKE'S TUNE. WHO NEEDS A PART?

ROPER, BIG SURPRISE, YOU GET A

BONE PART. GEE WHIZ, WHO COULD

HAVE THOUGHT?

[IMITATING INSTRUMENT]

YOU CAN PLAY THIS IN HOWEVER...

[IMITATES INSTRUMENT]

REGISTER YOU CAN BECAUSE THIS

IS AN ALTO PART.

HORACE TAPSCOTT STARTED THE PAN

AFRIKAN PEOPLES ARKESTRA IN

1961 TO FILL A VOID OF ARTS IN

THE BLACK COMMUNITY. THE ARK

HAS HAD MANY DIFFERENT

ITERATIONS, A LOT OF MEMBERS

COMING IN, LEAVING AND THEN

RETURNING. ROBERTO MIRANDA,

WILLIAM ROPER, FUNDI, AND MY

FATHER HAVE BEEN IN THE ARK FOR

DECADES. AND THEN THERE'S

ALWAYS COMPLETELY NEW BLOOD.

LIKE, EVERY SHOW WE'VE DONE IN

THE PAST TWO YEARS HAS BEEN

SOMEONE'S FIRST SHOW.

AARON: YOU'RE COUNTING 3 AND

THEN 6 HAPPENS.

WILLIAM: THE QUESTION IS, DO YOU

HAVE THE ANSWER OR DO YOU

HAVE--

AARON: NO, SEE THAT'S WHERE...SO

THIS IS WHERE THE 6, 8 PART IS.

WILLIAM: SO HERE'S THE PICKUP

RIGHT HERE.

♪ BOO BOO DEE DEE DA ♪

THAT'S THE ANSWER.

MEKALA: 1, 2. 1, 2.

[PLAYING JAZZ MUSIC]

I WAS RAISED IN THE ARK. I

LITERALLY AM A CHILD OF THE ARK.

LIKE, POP WAS NOT ONLY IN THE

ARK, BUT LIKE LED IT. MOM WAS

IN THE CHOIR. THE ARK WAS MY

FAMILY. THESE PEOPLE REALLY ARE

MY UNCLES. LIKE, I REALLY DO

THINK THAT THE ARK IS JUST LIKE

A REALLY PRECIOUS FAMILY

COMMUNITY JEWEL.

♪ AHH, AHH, AHH, AHH ♪

ROBERTO: JUST OPEN 'EM UP. MANY

OF THEM ARE LABELED. I WOULD

ASSUME YOU'RE INTERESTED IN THE

HORACE TAPSCOTT, CORRECT?

MEKALA: YEAH. OR ANYTHING OF

YOURS, ANY BAND YOU'RE IN THAT

YOU REMEMBER FONDLY. BUT, YEAH,

DEFINITELY STUFF WITH TAP.

ROBERTO: OK. THROUGH THE YEARS,

I JUST COLLECTED THEM. SOME OF

THEM ARE THINGS THAT I RECORDED

AT A REHEARSAL, PEOPLE RECORDING

STUFF AT A GIG AND GIVING THEM

TO ME, THINGS LIKE THAT. BEEN A

LONG TIME SINCE I LISTENED TO

MY CASSETTES. WELL, THIS ONE IS

HORACE TAPSCOTT, VOICES FROM

THE BOTTOM, THE CREATORS,

MUSICIAN, LITTLE AFRICA, SONGS

FOR THE UNSUNG--I DON'T KNOW

WHERE THIS WAS RECORDED.

MEKALA: IS IT YOUR HANDWRITING?

ROBERTO: THAT'S MY HANDWRITING.

MEKALA: HELLO. THIS SAY "HORACE

SPEAKS" OR "HORACE TALKS."

ROBERTO: THAT MAY BE AN

INTERVIEW THAT I DID WITH

HORACE, BECAUSE

I DID--WHEN I WAS DOING MY

MASTER'S DEGREE, I DID SEVERAL

INTERVIEWS WITH HORACE. I ASKED

HIM QUESTIONS ABOUT THE HISTORY

OF MUSIC IN LOS ANGELES.

MEKALA: LET ME SEE IT.

ROBERTO: LET'S DO THESE TWO. WHY

DON'T YOU PUT THESE TWO OVER

THERE? THAT'S THE JOHN CARTER

AND THE HORACE TAPSCOTT.

ROBERTO, ON TAPE: OK. ALL RIGHT.

DECEMBER 7th,

TWO GOOD FRIENDS SITTING AROUND

ON A SATURDAY AFTERNOON TALKING

ABOUT MUSIC. MANY TIMES IT CAN

BE AND HAS BEEN INTERPRETED AS

AN ARTISTIC MOVEMENT. IT'S

ACTUALLY A PEOPLE MOVEMENT.

HORACE: DURING THE

SIXTIES, I WAS FORMING A GROUP

OF MUSICIANS IN THE COMMUNITY TO

PRESERVE THIS MUSIC THAT'S BEEN

USED ALL OVER THE WORLD CALLED

JAZZ. AND WE WOULD UTILIZE MUSIC

WRITTEN BY AFRICAN-AMERICAN

COMPOSERS--DEAD, ALIVE, KNOWN,

AND UNKNOWN.

WAYNE: THIS CAN TOTALLY BE

CLEANED UP. THERE'S A LOT OF

SPACE TO GET THE TAPE NOISE OUT

OF IT.

HORACE: THE FUNCTION OF MY

ARKESTRA WAS TO BE A VEHICLE

THAT BROUGHT THIS MUSIC TO THE

BLACK AUDIENCES AND TO ALLOW

PEOPLE TO BECOME AWARE OF THE

MUSIC THAT IS BEING CREATED IN

THEIR LIKENESS.

WE TAKE IT TO CHURCHES AND

SCHOOLS.

THAT WAS THE BIGGEST IDEA,

HAVING YOUNGSTERS USED TO

HEARING LIVE MUSICIANS. WITH

THAT KNOWLEDGE, PRESERVING THE

BLACK ARTS OUT OF THE BLACK

COMMUNITY BECAUSE IT'S BEEN

TAKEN AWAY NOW.

WAYNE: MY FIRST EXPERIENCE WITH

HORACE WAS GOING DOWN TO SEE HIM

PLAY SUNDAY AFTERNOONS SOUTH

CENTRAL AT THAT CHURCH THAT THEY

WOULD DO A REGULAR THING AT. IT

WAS VERY BLACK-CENTRIC KIND OF A

THING GOING ON, YOU KNOW, BUT

IT DIDN'T HAVE THAT KIND OF

VIBE OF LIKE PUSHING AWAY

ANYTHING AND OPEN TO

APPRECIATING PEOPLE

APPRECIATING IT.

MEKALA: I THINK THAT'S WHY

PEOPLE LOVED HORACE SO MUCH,

MAN, BECAUSE HE REALLY DID

STRIKE THAT BALANCE OF LIKE

NOT QUITE MILITANT, BUT JUST,

LIKE, UNDENIABLY JUST LIKE

BLACK AND ACCEPTING AND JUST,

LIKE--AND SO IF YOU--JUST LIKE

YOU SAID, MAN,

IF YOU WERE ABOUT THE

MUSIC, THAT'S ALL HE NEEDS.

[PLAYING JAZZ MUSIC]

HORACE: MEN AND WOMEN WHO WERE

PART OF THE PAN AFRIKAN PEOPLES

ARKESTRA, THERE WAS SOMETHING

REAL SPECIAL ABOUT ALL THESE NEW

TYPES OF PLAYERS THAT THEY HAD

COMING OUT. ALL OF THE

MUSICIANS THAT WERE IN THE

CITY AT THAT TIME, THEY WERE

LOOKED UPON AS THEY WAS FUNNY

PLAYING GUYS, THOSE GUYS THAT

DON'T PLAY ALL THE CHANGES, PLAY

DIFFERENT KINDS OF CHANGES,

DIFFERENT APPROACHES.

WAYNE: TO ME, ONE OF THE COOL

THINGS ABOUT THE EARLIER JAZZ

PLAYERS WAS THAT THERE WAS NO

JAZZ EDUCATION.

MEKALA: IT WAS HIGH STAKES

EDUCATION.

WAYNE: RIGHT?

THERE WAS SOMETHING ABOUT LIKE

THE FACT THAT YOU WERE GOING

AGAINST THE GRAIN AND FIGURING

OUT SOMETHING BY YOURSELF.

THERE'S SOMETHING THAT MAKES

THAT MORE ORIGINAL.

MEKALA: THE WAY JAZZ ACTUALLY

HAPPENED WAS IN NIGHTCLUBS. CATS

SHOWING UP TO PLAY MUSIC, WHAT

WAS WRITTEN, AND THEN HANGING

OUT AFTER AND PLAYING WHAT

WASN'T WRITTEN. THERE'S A

HISTORY OF THAT SINCE LIKE THE

TWENTIES OR THIRTIES OR

SOMETHING. THAT'S

WHAT WE'RE DEALING WITH HERE.

WAYNE: HORACE HIT RIGHT ON THAT.

MEKALA: IT WAS--HE HIT

THAT SWEET SPOT, MAN.

WAYNE: HE WAS TALKING ABOUT LIKE

CATS THAT ARE TRYING TO DO

SOMETHING A LITTLE DIFFERENT.

MEKALA: AND THAT'S WHAT HAPPENED

WHEN WE INSTITUTIONALIZED JAZZ

AND GOT IT--YOU KNOW, PEOPLE

WANTED TO LEARN IT INSTEAD OF

LIVE IT. THAT'S WHEN WE GOT

SO-CALLED JAZZ.

[LAUGHS]

BUZZ WORDS--JAZZ, JAZZ MUSIC.

IT'S JUST ANOTHER ONE OF THOSE

4-LETTER WORDS THAT MEANS A

LOT TO SOME PEOPLE, ABSOLUTELY

NOTHING TO OTHER PEOPLE, AND

EVERYTHING IN BETWEEN.

LIKE, SOME LEGENDARY, AND HERE

COME THE AIR QUOTES AGAIN, "JAZZ

MUSICIANS" HATE THAT WORD

BECAUSE IT DOESN'T DESCRIBE

WHAT THEY WERE DOING.

IT'S MORE IMPORTANT TO ME WHAT

JAZZ MEANS RATHER THAN WHAT IT

IS.

A BIG PART OF IT IS REACHING AND

PUSHING YOUR OWN AND EACH

OTHER'S LIMITS. JAZZ BREAKS

BOUNDARIES AND IS ALWAYS

STRIVING FOR SOMETHING ELSE.

IT LIVES AND BREATHES, SO IT'S--

TO DESCRIBE IT AS ONE THING IS

HARD TO DO.

SHARDA: [VOCALIZING]

MEKALA: JAMAEL DEAN IS LIKE A

RIDICULOUS PIANIST. I REMEMBER

HIM WHEN I WAS LIKE 15 AND HE

WAS LIKE 13. WE WERE BOTH IN THE

LAUSD ALL-CITY JAZZ BAND. THAT

WAS LIKE A JAZZ BAND MADE OF THE

BEST LIKE JAZZ KIDS FROM ALL

THE DIFFERENT SCHOOLS. AND HE

WAS JUST LIKE A BEAST WHEN HE

WAS LIKE 13.

WAIT, WAIT, TRY THAT ONE MORE

TIME.

JAMAEL: OK.

MEKALA: I MESSED UP.

JAMAEL: ONE MORE TIME.

MEKALA: SO LIKE THE AFRONAUTS IS

HIS BAND, BUT LIKE THE AFRONAUTS

WAS THE FIRST JAZZ BAND I WAS IN

OF JUST HOMIES, JUST THE

HOMIES.

JAMAEL: 3, 4, 5, 6.

MEKALA: OK.

JAMAEL: 'CAUSE I'M COUNTING--FOR

THAT TO WORK OUT, IT WOULD HAVE

TO BE...

MEKALA: HIS MUSIC IS TRIPPY

BECAUSE OF THE WAY HE THINKS

ABOUT RHYTHM.

SEE, THAT'S THE THING. YOU PUT

IT IN 11-4, BUT REALLY, YOU

WROTE IT IN LIKE 11-8.

IT'S REALLY HEAVY. IT TAKES A

WHILE TO GET INTO AND LEARN.

THIS IS WHAT IT'S DOING, BUT

YOU'RE LIKE, 1, 2, 3, 4,

5, 6, 7, 8, 9, 10, 11.

AND I'M LIKE, AHH.

TO ME, A BIG PART OF JAZZ IS

PUSHING THE BOUNDARIES OF YOUR

ABILITIES. THAT'S WHY I LOVE

JAMAEL, MAN, BECAUSE, LIKE THERE

ARE NO BOUNDARIES WITH HIM.

JAMAEL: SO, LAWRENCE, COULD YOU

PLAY 7 DOTTED QUARTER NOTES

IN "E"? AND THEN ON THE EIGHTH

ONE, JUST GO DA,

AND THEN BACK TO ONE. YOU KNOW

WHAT I MEAN? SO LIKE, 1, 2, 3,

4, 5, 6, 7, 8.

1, 2, 3, 4, 5, 6, 7, 8.

YES, YES.

LAWRENCE: SO IT'S NOT AS SWUNG.

IT'S LIKE STRAIGHT. AND THEN THE

LAST ONE IS LIKE SWUNG.

JAMAEL: I LIKE BEING ADAPTABLE.

SO IF I'M IN A SITUATION WHERE

I'M FEELING LIKE I'M LEARNING TO

BE ADAPTABLE, THAT'S IDEAL FOR

ME.

[PLAYING JAZZ MUSIC]

MEKALA: BOTH ME AND JAMAEL ARE

PRODUCTS OF THE ARK. DONALD DEAN

WAS HIS GRANDFATHER. HE WAS ONE

OF THE FIRST CATS IN THE PAN

AFRIKAN PEOPLES ARKESTRA LIKE

ALL THE WAY BACK IN THE SIXTIES.

I JUST REMEMBER HIM AS THAT

OTHER KID IN THE BAND LIKE WHO

WOULD DO SHOW SHOWS

OCCASIONALLY. BUT AT SOME POINT,

WE BOTH FOUND OUR OWN IDENTITIES

FORMED FROM THAT BUT EXISTING

OUTSIDE OF THAT. HE HAS HIS OWN

MISSION IN MUSIC THAT THE ARK

HAS JUST BEEN A PART OF. AND,

YOU KNOW LIKE THE SAME IS TRUE

FOR ME. IT'S REALLY IMPORTANT

TO LIKE FORGE MY OWN IDENTITY

AS AN ARTIST. AND IT'S JUST AS

IMPORTANT TO PUSH THE ARK'S

MISSION AS THE ARK WITH THE

ARK.

MAN, WE HAVE A LOT OF STUFF TO

REHEARSE. BASS, TENORS,

PIANO...

UM.

I STARTED GOING THROUGH ALL

THIS MUSIC TODAY BECAUSE WE HAVE

A GIG SOON,

AND I NEVER LIKE TO DO

THE SAME SET TWO SHOWS IN A ROW,

OR EVEN LIKE REALLY ANY OF THE

SAME SONGS. YEAH, IT IS NEW

YEAR'S EVE, WHICH AIN'T ALL THE

WAY FOR SURE YET.

WE WERE APPROACHED TO PLAY NEW

YEAR'S EVE AT GRAND PARK, WHICH

IS LIKE A REALLY BIG GIG. IF WE

GET THIS GIG, MAN, IT'LL BE THE

BIGGEST ARK SHOW THERE'S BEEN

IN A LONG TIME, AT LEAST SINCE

I'VE BEEN IN THE ARK.

WHEN I PUT A SET LIST TOGETHER

FOR A SHOW, LIKE THERE'S A LOT

OF THINGS I CONSIDER, BUT AT THE

END OF THE DAY, IT REALLY DOES

COME DOWN TO LIKE WHAT I

REALLY WANT TO PLAY OR WHAT I

THINK THE BAND WILL HAVE A LOT

OF FUN PLAYING.

POP WAS THE ONE WHO

SUGGESTED WE SHOULD DO "UMATU,"

AND I REALLY LIKE THAT SONG. MY

DAD, MICHAEL SESSION, WROTE THIS

SONG. FROM WHAT I UNDERSTAND, IT

IS ONE OF HIS OLD GIRLFRIEND'S

NAMES SPELLED BACKWARDS. DON'T

QUOTE ME. [LAUGHS]

THIS IS ONLY LIKE TWO PARTS FOR

"UMATU." LOOK HOW MUCH OF A JOKE

THIS IS. LIKE, YOU CAN BARELY

READ IT. IT'S GOT--IT LOOKS LIKE

IT HAS STUFF ON THE BACK, BUT IT

DOESN'T. SO I'M GONNA NEED POP

TO GIVE ME SOME MORE PARTS ON

THIS. HE BETTER HAVE THEM IN

LANCASTER, BUT I BET YOU HE

DOESN'T. AND IF HE DOESN'T HAVE

THEM, HE'S GONNA HAVE TO WRITE

'EM. I MEAN, WE HAVE TO PRESERVE

IT BECAUSE WE'RE THE ONES THAT

CARE ABOUT IT THE MOST. CATS

LIKE ME AND JAMAEL DEAN, THIS

BAND IS A PART OF OUR IDENTITY.

IT REALLY ISN'T JUST LIKE A JOB.

IT REALLY ISN'T JUST LIKE A

HOBBY. LIKE, IT'S A PASSION. I

FEEL LIKE A CERTAIN

RESPONSIBILITY TO ALL THESE

PEOPLE THAT INVESTED SO MUCH

TIME AND ENERGY INTO ME. I OWE

SO MUCH TO THIS FAMILY. I OWE SO

MUCH TO THESE SONGS.

[PLAYING JAZZ MUSIC]

AH, AH, AH.

NO, NO, NO. YEAH, EXACTLY.

NOW THIS GOES TO THE BREAK.

WE CAN GO SOLO A BIT HERE.

HI, DAD. HOW ARE YOU DOING? HOW

WAS YOUR DAY TODAY? HEY, BUD,

YOU MISSED YOUR OWN SONG. THAT'S

COOL. HOW'S IT SOUNDING?

MICHAEL: I DIDN'T HEAR NO

TRUMPET. I DIDN'T HEAR THE LINE

ON THE FLUTES.

MEKALA: CHRIS IS ON HIS WAY

PROBABLY.

MICHAEL: SO WE GOTTA DO IT

AGAIN.

MEKALA: LET'S HOPE.

MICHAEL: I JUST WANT--YEAH,

WE'LL DO IT AGAIN, MAN.

OH, HORACE TAPSCOTT, YEAH.

MICHAEL ON TAPE: YEAH, YEAH,

YEAH.

[CHEERS AND APPLAUSE]

MICHAEL: THERE WERE STAGES OF

OUR RELATIONSHIP. FIRST I WAS AN

ADMIRER, OF COURSE, GOING TO SEE

HIM PLAY ONCE I GOT HIP TO THE

PAN AFRIKAN PEOPLES PERFORMING

IN MY NEIGHBORHOOD. SO I WAS

LIKE, WHAT, A FREE CONCERT? NEAR

THE HOOD? SO ME AND MY FRIENDS

WENT. AS I WAS IN THE BAND, HE

BECAME A MENTOR, AND THEN

STARTED PLAYING WITH HIM AS HIS

RIGHT-HAND MAN SAXOPHONE

PLAYER. HE BECAME MY BEST

FRIEND.

MAN: IT'S AN HONOR FOR ME THIS

AFTERNOON TO BE ABLE TO

INTRODUCE THE LEGENDARY

HORACE TAPSCOTT AND MICHAEL

SESSION, THE SESSION MASTER

HEIR APPARENT, ON SAXOPHONE.

MICHAEL: AND ONE DAY HORACE CAME

TO MY ROOM, CAME UP THE STAIRS

AND SAID, "HEY, BUCKWHEAT, I HAD

A TALK WITH THE SPIRITS LAST

NIGHT, AND THE DIRECTION OF THE

ARK DEPENDS ON YOU."

MAN: CAN YOU TELL ME

SOMETHING ABOUT YOUR

RELATIONSHIP WITH HORACE

TAPSCOTT?

MICHAEL: HOW CAN I WORD THIS?

JUST BEEN A TOTAL HONOR TO BE

HERE TODAY TO GIVE PROPS TO A

MAN THAT IS MORE OF A FATHER TO

ME THAN--HOW DO YOU EVEN SAY?

AND WE JUST GONNA KEEP ON

PLAYING, RIGHT? WE'RE GONNA PLAY

REAL HARD, RIGHT? YOU GONNA PLAY

HARD? YEAH.

THE DAY HE PASSED, I ENDED UP

IN FRONT OF THE BAND AND HAVE

STAYED IN FRONT OF THE BAND

FOR THE NEXT 20 YEARS.

MEKALA: BACK UP. 1, 2.

1, 2, 3, 4.

MICHAEL: HORACE LEFT US WITH A

HELL OF A JOB TO KEEP GOING, BUT

IT'S REALLY OUR HONOR TO BE

BLESSED WITH SUCH A PRIVILEGE.

Y'ALL BACK OFF, BACK OFF. Y'ALL

BACK DOWN.

MEKALA: RIGHT AFTER HORACE DIED,

POP TOOK OVER THE ARK, AND IT

DEFINITELY SLOWED DOWN A LOT.

MICHAEL: WE'RE REALLY HUNGRY FOR

GIGS, SO IF YOU HAVE GIGS, ANY

WEDDINGS OR WHATEVER, WE'LL DO

ANYTHING.

MEKALA: IT'S HARD KEEPING A

BAND UP WITH NO GIGS, ESPECIALLY

WITH SO MANY OLDER CATS THAT GOT

JOBS AND THAT, YOU KNOW, LIVE

FAR AWAY.

WHAT WAS THAT? WHERE WERE YOU?

WHAT WERE YOU DOING? BACKGROUNDS

IN THE SOLO--

MICHAEL: BACKGROUND. LAST

BACKGROUND GOING BACK TO THE

HEAD.

WILLIAM: WELL, WE NEVER GOT TO

THE HEAD.

MEKALA: WHAT DO YOU MEAN? WE--

THIS WAS STILL A SOLO. RIGHT.

MICHAEL: YEAH. SO WE ARE AT THE

BRIDGE.

MEKALA: YEAH. AND IT WAS GONNA

GO BACK TO "A."

MICHAEL: WE DO THE, UH...

MEKALA: I THOUGHT WE WERE SAVING

THAT FOR THE LAST HEAD. I DIDN'T

THINK WE WERE DOING THAT IN THE

SOLO.

MICHAEL: THAT'S NOT WHAT WE DID?

MEKALA: NO. NO.

MICHAEL: OH, OK.

MEKALA: WE DON'T DO "C" IN THE

SOLOS, MAN. IF YOU DO THE

BACKGROUND, DO "B." BUT LET IT

GO RIGHT BACK INTO "A," YOU KNOW

WHAT I'M SAYING? LIKE, "C" IS

NOT IN THE SOLO.

MICHAEL: ALL RIGHT.

NOW THAT MEKALA'S TAKING OVER

THE ARK, I TOTALLY SUPPORT IT,

LOVE IT. AND WHAT'S SO

BEAUTIFUL ABOUT IT, HE TOLD ME

WHEN HE WAS ABOUT 16, HE SAID,

"I'M GONNA TAKE THIS OVER. I'M

GONNA KEEP HORACE'S MUSIC

ALIVE." AND HE HAD GREW UP

WATCHING ME LEADING THE ARK, AND

SO HE STARTED GROWING INTO

LEADERSHIP NATURALLY.

[PLAYING JAZZ MUSIC]

MEKALA: WHEN I GRADUATED FROM

CALARTS ABOUT 3 YEARS AGO, I

ASKED THE ARK TO PLAY AT MY GRAD

RECITAL BECAUSE I JUST WANT TO

FLEX AND DO SOMETHING THAT OTHER

PEOPLE CAN'T JUST DO. SO, YOU

KNOW, ME BEING THE SESSION BOY,

IT'S REALLY EASY FOR ME TO BE

LIKE I'M GRADUATING CALARTS,

PLEASE COME PLAY MY GRAD

RECITAL.

AROUND THAT TIME, ZEBULON WAS

OPENING. AND I GUESS JESSE

EITHER JUST LIKE KNEW ABOUT IT

OR KNEW SOME PEOPLE THAT WERE

WORKING THERE AND HE WAS LIKE,

"DUDE, WE COULD PROBABLY DO AN

ARK SHOW AT ZEBULON."

MICHAEL: HE CALLED ME UP. "HEY,

POP, I GOT A GIG FOR THE ARK." I

SAID, "YOU CALL." HE SAID OK.

SO HE GOT ALL THE NUMBERS FROM

ME AND HE CALLED EVERYBODY. AND

WE DID THE GIG, AND IT WAS

PACKED. VERY SUCCESSFUL.

MAN: GIVE IT UP FOR THE PAN

AFRIKAN PEOPLES ARKESTRA ONE

MORE TIME.

[CHEERS AND APPLAUSE]

I LOVE THIS BAND.

MAN: TAKE IT WHERE YOU WANT IT

TO GO.

MEKALA: AT THE GIG, EVERYBODY

MADE A BIG DEAL ABOUT, YOU'RE

THE LEADER OF THE ARK, YOU DO IT

NOW. AND SO MY RESPONSE WAS,

"ALL RIGHT. OK. COOL." LIKE,

WHAT, DO YOU SAY NO TO THAT?

NO ONE LIKE ASKED ME TO DO

THIS, AND I DIDN'T ASK TO DO IT.

I JUST KIND OF DID IT ONCE AND

THEN HAD THE OPPORTUNITY TO DO

IT AGAIN, DID IT, AND THEN

EVERYONE WAS LIKE, "HEY, YOU'RE

DOING THIS NOW. CONTINUE TO DO

IT." AND I COULD--I WENT, "OK."

RENEE: WHEN MEKALA CALLED AND

SAID HE WANTED TO COME BY AND

TALK ABOUT THE ARK, I WAS

PLEASED THAT THE ARK WAS

CONTINUING BECAUSE IT HAD

PRETTY MUCH STARTED TO DIE OFF.

EVERYONE WAS OLDER AND PASSING

ON. AND IT'S NICE TO HAVE

SOMEBODY YOUNG WHO'S BEEN RAISED

AROUND IT AND WHO UNDERSTANDS

THE PURPOSE OF IT AND THE

IMPORTANCE OF IT TO KIND OF

CARRY THE TORCH. YOU KNOW, HE'S

GOT TO DO IT HIS WAY, BUT AS

LONG AS IT'S DONE TASTEFULLY,

WE'RE OK. YEAH. JUST WANT THE

MUSIC TO BE PLAYED. THAT'S

WHAT'S IMPORTANT.

MEKALA: IT'S INCREDIBLY HUMBLING

AND LIKE AN INSANE TITLE TO

HAVE. BUT IT WAS STILL A

COMPLETELY SURREAL EXPERIENCE TO

BE CALLED THE DIRECTOR OR LEADER

OF THE PAN AFRIKAN PEOPLES

ARKESTRA. THAT MEANS A LOT TO

ME, BUT THAT HAS A 60-YEAR

HISTORY ATTACHED TO IT WITH

LITERAL JAZZ LEGENDS WALKING AND

NOT WALKING. KAMASI WASHINGTON

WAS IN THE ARK WHEN I JOINED THE

ARK. SO IT'S--YOU KNOW, AGAIN,

LIKE IT'S A--IT'S AN HONOR TO DO

IT. BUT LIKE I WANT TO DO IT

AS HARD AS POSSIBLE, COMPLETELY

UP TO--I PUT THE MOST PRESSURE

ON MYSELF.

RENEE: IT WAS MY DAD'S VISION TO

PASS IT ON. AND HE MADE SURE

THERE WAS ALWAYS YOUNG PEOPLE IN

THE ARK, AND IT WAS ALWAYS AT

LEAST WHAT, 2, 3 GENERATION?

MAN: YES.

RENEE: IN THE ARK AT ONE TIME SO

THAT IT WAS ALWAYS BEING FED NEW

LIFE.

MEKALA: IT'S IMPORTANT TO ME TO

PUSH THIS MUSIC BECAUSE IT'S A

REALLY IMPORTANT COMMUNITY

SERVICE. THE MAIN THING FOR ME

THAT IDENTIFIES JAZZ IS THE

CULTURE. JAZZ IS BLACK AMERICAN

CLASSICAL MUSIC. I LIKE TO

DESCRIBE IT AS FUBU, FOR US BY

US. THIS MUSIC IS SUPPOSED TO

TEACH AND EMPOWER PEOPLE AND

PROMOTE LOVE. REALLY BLACK LOVE

AND GLOBAL UNITY.

I AM FOCUSED ON THE CULTURE AND

THE ADVANCEMENT OF THE MUSIC AND

THE HISTORY ASSOCIATED AND THE

COMMUNITY THAT IT SERVES,

BECAUSE TO ME, THIS IS

MEDICINE. IT'S BASICALLY WHAT

THE BLACK PANTHERS WERE TRYING

TO DO, BUT A LOT LESS MILITANT.

[CHILD SINGS INDISTINCTLY]

ELISIA: HE HAS A PRETTY VOICE

OUT THERE. SOMEBODY IS NOT SHY,

EITHER.

MEKALA: WELL, THOSE

KIDS ARE ANYTHING BUT SHY.

ELISIA: I REMEMBER WHEN THEY

FIRST MOVED THERE, THEY WAS

PLAYING DOORBELL DITCH. REMEMBER

THAT DAY THE DOORBELL KEPT

RINGING. THEY STILL DO YOU LIKE

THAT?

MEKALA: I MEAN, IF IT'S NOT

THAT, IT'S OTHER STUFF, TOO.

ELISIA: YOU KNOW WHAT, IT'S

PAYBACK, BECAUSE WE USED TO DO

THAT AS KIDS, TOO. WE USED TO GO

AT ABOUT THIS TIME. WE'D GO

SEARCH OUT WHO'S DOORBELL WE

GONNA RING AND RUN.

MEKALA: YOU DID WAY

WORSE STUFF THAN DING--

DOORBELL DITCH.

ELISIA: IT'S GOOD TO HAVE KIDS.

I LIKE THAT NOISE. WHEN THERE'S

KIDS PLAYING, THAT'S A HEALTHY

ENVIRONMENT NEIGHBORHOOD. WHEN

IT'S QUIET, SOMETHING'S GOING

ON. THAT'S WHAT MAKE THE

COMMUNITY, THE KIDS. YOU

REMEMBER GOING TO

LEIMERT PARK AND IT WAS ALL

THOSE GROWNUPS? THEY USED TO

LOVE SEEING YOU CLIMBING OFF

THE TREES AFTER DRUM LESSONS.

YOU GO RIGHT OUTSIDE AND RUN

AND JUMP IN A TREE. YOU DON'T

REMEMBER THAT?

MEKALA: NO, I VERY

MUCH REMEMBER THAT.

ELISIA: YOU KNOW, BEFORE YOU

WERE BORN, THAT LITTLE SPOT USED

TO BE SO HOT, IT REALLY DIDN'T

COME ALIVE UNTIL LIKE 1:00 IN

THE MORNING. YOU USED TO BE ABLE

TO SIT OUT AND PLAY CHESS AND GO

IN AND LISTEN TO SOME MUSIC AND

GET SOMETHING SWEET TO EAT.

THAT'S WHY IT WAS SO FUN TO BE

IN LEIMERT PARK BECAUSE WE HAD

EVERYTHING THERE.

MEKALA: LEIMERT PARK, THAT'S

DEFINITELY MY HOMETOWN. I ALWAYS

REMEMBER POP TAKING ME TO

LEIMERT PARK EVERY SUNDAY TO

HEAR THE DRUMS. HE TOOK ME TO

DRUM CLASSES ON MONDAYS. I WAS

3 WHEN HE STARTED DOING THAT.

THAT'S THE BEAUTY OF LEIMERT.

IT'S A FRIENDLY ENVIRONMENT AND

PEOPLE HAVE KNOWN THE SAME

PEOPLE THAT HAVE BEEN AROUND

HERE FOR YEARS, AND YOU REALLY

FEEL THAT SENSE OF COMMUNITY IN

THE VILLAGE.

I LOVE WORLD STAGE. IT'S HOME TO

ME. I USED TO GO THERE EVERY

SATURDAY MORNING IN HIGH SCHOOL,

WHERE I MET MUSICIANS I STILL

KNOW AND PLAY WITH.

MICHAEL: IF THE WORLD STAGE

WASN'T THERE, MEKALA WOULD HAVE

NEVER GONE TO THOSE MUSIC

LESSONS EVERY MONDAY. THEIR POT

WAS WHATEVER YOU CAN PUT IT IN

THE POT, BRING YOUR STUDENT.

MAN: WHAT'S YOUR NAME?

MEKALA: MEKALA.

MAN: HOW YOU DOING? HOW YOU

DOING?

MEKALA: BILLY HIGGINS GAVE DRUM

LESSONS THERE EVERY MONDAY FOR

FREE. LIKE, THEY WERE COMPLETELY

DONATION BASED. HE SPENT EVERY

MONDAY EVENING TO SOMETIMES LIKE

LATE NIGHT WHEN THERE WAS A LOT

OF KIDS THERE TO BABIES AND TO

TEENAGERS ALIKE.

BILLY: YAY!

[CHEERS AND APPLAUSE]

MEKALA: BILLY HIGGINS WAS LIKE A

WORLD-CLASS, INCREDIBLY TALENTED

RECORDING MUSICIAN. AND HE

PLAYED WITH THE ARK. HE PLAYED

WITH HORACE.

THE WORLD STAGE FUNCTIONS AS

THIS HUB FOR CULTURE AND

FOSTERING LIKE THE YOUTH AND

ANYBODY.

MAN: SO WE TRY TO KEEP THE

CULTURE ALIVE BY PROVIDING A

SPACE WHERE YOUNG GUYS AND OLD

ALIKE CAN GROW.

MAN 2: IT'S NEEDED. IT'S NEEDED.

WE DON'T HAVE THAT MUCH IN THE

COMMUNITY. SO WE GOT TO IMPACT

AS MUCH AS WE CAN IN AND AROUND

THE COMMUNITIES THAT WE LIVE

IN. IT ALLOWS US TO TAKE OUR

STREETS BACK, ALLOWS US TO SET

OUT AND BE AT PEACE WITH OUR

STREET AND OUR AREA, YOU KNOW.

MEKALA: THE LEIMERT PARK

RENAISSANCE WAS LIKE A RESPONSE

TO GROWING RACISM AND

SEGREGATION, POLICE BRUTALITY

THAT THOSE PEOPLE IN THAT AREA

WERE EXPERIENCING.

HORACE: SEE, I COME FROM THAT

AGE WHERE I KNOW WHY THINGS HAVE

GOT LIKE THEY ARE. IT'S JUST

ANOTHER PART OF THE RACIST

THING. IT JUST SEEMS SO MUCH

MORE LETHAL THAN BEFORE, YOU

KNOW.

TIME WENT ON AND I START SEEING

THE YOUNGER PEOPLE IN MY RACE

IS GOING ALL THE OTHER WAY.

THERE WERE SO MANY THINGS THAT

I PERSONALLY DIDN'T LIKE OR

DIDN'T CARE FOR.

SO IF YOU DON'T LIKE IT, TRY TO

CHANGE IT.

MAN 2: YOU HAVE TO GIVE PEOPLE

SOMETHING. YOU HAVE TO GIVE THEM

A PLACE WHERE THEY CAN SIT DOWN

AND BE COOL AND TALK TO EACH

OTHER AND GENERATE GOOD ENERGY

BETWEEN EACH OTHER.

HORACE: SON, PUT YOUR GUNS DOWN.

AND, SON, HERE.

AS SOON AS YOU SAY, "PUT THESE

DOWN," YOU GOT SOMETHING TO GIVE

THEM HERE. IF YOU DON'T HAVE

THAT, THEN YOU CAN JUST KEEP ON

READING THE NEWSPAPER ABOUT IT

HAPPENING.

RENEE: MY DAD'S LEGACY WAS ABOUT

GIVING BACK TO THE COMMUNITY.

THAT'S WHY HE DIDN'T MOVE TO NEW

YORK. HE STAYED HERE WHERE HE

WAS RAISED. HE SAID THE MUSIC

WAS ABOUT SHARING, NOT SO MUCH

ABOUT FILLING YOUR POCKETS, BUT

ABOUT CREATING A CULTURE FOR

YOUR COMMUNITY. AND LEIMERT

PARK WAS OUR COMMUNITY.

CECILIA: IT'S SOMETHING THAT WAS

WITHIN HIM. HE WAS A PERSON THAT

LOVED MUSIC. HE LOVED THE PEOPLE

AND THE PEOPLE INSPIRED HIM.

THEY WOULD ALWAYS COME OUT TO

LISTEN. AND HE HAD SO MUCH TO

GIVE THEM.

INTERVIEWER: DID YOU ENJOY

HORACE TAPSCOTT?

WOMAN: OF COURSE!

WOMAN 2: YES!

WOMAN: THAT'S WHY WE CAME.

THAT'S ONE OF THE REASONS. NOW

WE'RE GOING TO FIFTH STREET

DICKS AND PATRONIZE HIM AND TELL

EVERYBODY TO MAKE SURE THEY

PATRONIZE BLACK BUSINESSES.

MEKALA: THIS IS THE SOUND OF THE

GHETTO. THIS IS THE HOOD BUT

CLASSICAL MUSIC. HORACE IS

PLAYING LIKE WE ALL OUT HERE

FEEL.

IT'S EXPRESSING GREAT EMOTION,

GREAT HAPPINESS, GREAT SADNESS,

GREAT ANGER.

HORACE: THIS MUSIC SCARED PEOPLE

TO DEATH. IT WAS THE GHETTO

REVOLUTIONARY SOUND OF BLACK

MUSIC, JAZZ. THE REVOLUTIONARY

SIDE OF THINGS IS WHAT BRINGS

CHANGES AND MAKES GROWTH

ANYWAY.

MEKALA: OK, SO THAT'S WHAT MAKES

PUNK MUSIC PUNK MUSIC. IT'S

ANTI-ESTABLISHMENT. THIS IS

PUNK MUSIC.

MUSIC IS JUST REPRESENTING THE

CULTURE. IT'S OUR LIFE

REPRESENTED IN THESE SONG TITLES

AND SONG LYRICS.

[HORN PLAYING]

[VOCALIZING]

LOOK AT THIS.

DO YOU HAVE THIS ONE, "UMATU"?

FUNDI: YEAH, I HAVE IT.

MEKALA: OK, COOL.

KAFI: WHAT'S GOING ON?

MEKALA: WHOO! LOOKING SO GREAT.

KAFI: HOW YOU DOING?

MEKALA: THANKS FOR COMING, MAN.

KAFI: WHAT WE GONNA PLAY?

MEKALA: PLAYING "UMATU," PLAYING

"ADONDE," AND THEN MIKE'S TUNE,

JESSE'S CUT.

KAFI: IF I SAY, DO YOU HAVE

LEELAND'S SONG, DO WE HAVE THAT?

MEKALA: PARTS OF IT. SOME OF IT.

KAFI: BECAUSE I'VE BEEN WANTING

TO DO THAT FOR THE LONGEST.

MEKALA: YEAH. YOU WANT TO DO

LEELAND'S SONG?

KAFI: YEAH. BEEN WANTING TO DO

IT.

FUNDI: DO YOU HAVE SCORES? IF

YOU HAVE SCORES.

KAFI: I DON'T HAVE NO SCORES. I

JUST GOT MY PART.

FUNDI: YEAH, BECAUSE I HAVE

THAT.

KAFI: CALVIN MASSEY. WE AIN'T

DONE NONE OF THAT IN YEARS.

WHAT WE GOT BY CALVIN MASSEY?

YOU FAMILIAR WITH CALVIN MASSEY?

MEKALA: YEAH.

KAFI: OK.

FUNDI: SO THAT'S WHY SITTING

DOWN AND TALKING IT, LIKE WE'RE

DOING THIS.

KAFI: THIS IS WHAT WE SHOULD BE

DOING.

FUNDI: THIS IS A CONNECTION.

KAFI: THERE'S NO PROTOCOL ON

THE PHONE.

FUNDI: THAT'S WHAT I'M SAYING.

KAFI: EVERYBODY THAT WANTS TO

PLAY, SHOW UP WHEN IT'S TIME TO

PLAY. JUST CATS SHOWING UP WHEN

WE HAVE A GIG, THAT'S BULL...

FUNDI: THAT'S NOT WHAT THIS

MUSIC IS. THAT'S WHAT THE MUSIC

INDUSTRY HAS DONE, MAN. BUT

THAT'S NOT WHAT THIS MUSIC IS,

AND WE NEED CATS TO UNDERSTAND.

MEKALA: EVERYONE IN THE ARK HAS

THEIR OPINION OF WHAT THEY WANT

IT TO BE OR WHAT IT SHOULD BE OR

WHAT IT COULD BE REALIZED TO BE.

SO IT'S A CHALLENGE TO KIND

OF BALANCE ALL OF THOSE WITH MY

OWN DIRECTION.

KAFI: I PRACTICE EVERY SINGLE

DAY, SOMETIME HOURS A DAY. AND

SO WHAT I'M SAYING, NOBODY'S

REALLY TAKING THAT ON BECAUSE I

CAN HEAR IT. AND EVERYBODY'S

PLAYING WITH MUSIC EVERY

CONCERT WE PLAY. THAT'S OUR

TRADITION. WE DON'T PLAY WITH

MUSIC. WE DON'T SIT. WE STAND.

MEKALA: A LOT OF THEM WERE A

PART OF THE ARK WHEN CATS LIVED

TOGETHER, MAN. THERE WAS

LITERALLY HOUSES WHERE 15 OF

THEM WOULD LIVE. THEY USED TO

REHEARSE ALMOST EVERY DAY.

BECAUSE OF SEGREGATION, LIKE

THEY WERE ALL IN THE SAME AREA

ANYWAY. MANY OF THEM DIDN'T HAVE

JOBS. THIS WAS ALL THEY DID. WE

CAN'T HELP BUT LIKE COMPARE IT

TO THAT.

KAFI: THIS IS NOTHING ON YOU.

YOU'RE DOING A GOOD JOB. BUT

DON'T BE AFRAID TO GET NO HELP,

MAN. THIS IS A LOT OF ...

HORACE HAD CATS DELEGATED.

HORACE COULDN'T DO ALL THAT ...

THAT WE DID, MAN. IT WOULDN'T BE

POSSIBLE. HE COUNTED ON ALL US.

FUNDI: ESPECIALLY WHEN YOU HAVE

CATS AROUND WHO CAN GET THINGS

DONE THAT NEED TO BE DONE.

KAFI: SO I'M NOT PUTTING NOTHING

ON YOU LIKE YOU NOT READY OR

NOTHING, THAT'S NOT WHAT I'M

SAYING. I'M SAYING WE ON THE

RIGHT TRACK, BUT WE HAVE A LONG

WAY TO GO.

FUNDI: WE SUPPOSED TO BE

WHOOPIN' ASS, THAT'S ALL I KNOW.

MEKALA: THAT'S WHAT

I'M TRYING TO DO. THAT'S WHAT

WE'RE GONNA DO. YEAH, MAN.

[PLAYING JAZZ MUSIC]

FUNDI: ALL RIGHT, I'M STILL

ALIGNED HERE.

♪ AHH ♪

THAT LITTLE HIT AT THE END.

MEKALA: ♪ BUH BUH BUH ♪

FUNDI: YES.

MEKALA: YEAH, WHOEVER HAS THAT,

DEFINITELY PLAY IT.

EVERY SINGLE ONE OF YOU, IF I

HAVEN'T TOLD YOU ALREADY YET,

WE GOT NEW YEAR'S EVE. THAT'S A

BIG, BIG GIG.

WE'RE PLAYING GRAND PERFORMANCES

AT GRAND PARK ON NEW YEAR'S

EVE. WE'RE HEADLINING, TOO.

WOMAN: AND GETTING PAID.

MEKALA: YEAH! IT'S A REAL PAID--

WOMAN: I'M TALKING REAL PAID.

'CAUSE I AIN'T GIVING--

MEKALA: WE GOT NEW YEAR'S EVE.

SO IF YOU AIN'T GOT NEW YEAR'S

EVE PLANS, YOU DO NOW. I'LL CALL

YOU AND GIVE YOU ALL THE

DETAILS. LET'S GO.

MAN: THAT'S REALLY COOL. YEAH.

THAT'S GREAT.

MEKALA: THIS NEW YEAR'S EVE GIG

IS GOING TO BE THE BIGGEST SIZE

THAT THE ARK HAS HAD IN A REALLY

LONG TIME.

AND I MEAN, IT'S AT GRAND PARK

IN THE MIDDLE OF DOWNTOWN LOS

ANGELES ON NEW YEAR'S EVE. IT'S

EVIDENCE THAT PEOPLE STILL CARE

ABOUT THIS MUSIC AND THIS

LINEAGE. I FEEL LIKE MY HOPES

FOR THE BAND ARE HIGHER THAN

ANYBODY ELSE'S BECAUSE I KNOW

HOW FAR WE CAN GO.

WHOO! ALL RIGHT. NEW YEAR'S EVE.

ME ON DRUMS, FRITZ WISE ON

DRUMS, DERF RECKLAW ON

PERCUSSION, AND THEN JAMAEL

DEAN. FOR BASS WE HAVE ROBERTO

MIRANDA ON UPRIGHT BASS AND THEN

LAWRENCE SHAW ON ELECTRIC.

AND THEN WE'LL DO 5 SONGS.

WHAT IS THE ROSS G SONG CALLED?

JIMETTA: "I MET A MOUNTAIN."

MEKALA: ♪ I MET A MOUNTAIN ♪

JIMETTA: YES.

MEKALA: COOL. I'M THINKING

THAT'S THE FOURTH SONG.

JACK: DO WE HAVE A RECORDING OF

IT?

JIMETTA: ON MY PHONE I DO.

JACK: I HAVE A REHEARSAL

RECORDING.

MEKALA: OK, COOL.

JACK: JUST PLAY IT A LITTLE BIT.

SO THAT SKIPS THE INTRO, WHICH

IS...

MEKALA: WHOA, WHOA, WHOA.

ROSS G IS A LEIMERT PARK

PRODUCER WHO WAS A REALLY BIG

PART OF THE COMMUNITY OF

MUSICIANS THAT WAS ACTIVELY

DOING SHOWS IN LEIMERT.

JIMETTA: G WAS A BROTHER, A

FRIEND.

AND SO WHEN I HEARD OF HIS

PASSING, IT WAS UNEXPECTED AND

REALLY DEVASTATING.

THIS SONG, IT WAS JUST EXACTLY

HOW I FELT IN LOSING MY FRIEND

BUT KNOWING THAT HE WAS MUCH

MORE THAN JUST MY FRIEND. A

IMMOVEABLE THING IS GONE. YOU

KNOW, LIKE HE'S GONE FROM

US, BUT HE'S SO WITH US STILL.

MEKALA: THIS IS THE BLUES AND

THIS IS THE GOSPEL. AND IT IS

FOR A VERY, VERY POWERFUL MAN.

AND IT'S CLOSING OUT THE YEAR.

IF YOU DON'T KNOW ABOUT ROSS G,

YOU DO NOW. ANY

PREFERENCES ON WHAT INSTRUMENTS

YOU WOULD LIKE TO SOLO IN THIS?

JIMETTA: I DEFINITELY WANT TO

HEAR THE PIANO. BUT THEN I FEEL

LIKE--I FEEL LIKE...

MEKALA: P.S. JAMAEL'S GOING TO

TEAR THIS ONE UP.

JIMETTA ROSE IS THE FOUNDER AND

LEADER OF THE VOICES OF

CREATION, A LARGE COMMUNITY

CHOIR THAT SHE MADE AND

REHEARSES IN LEIMERT PARK.

VOICES OF CREATION: ♪ BLACK

PEOPLE RISING IN CONSCIOUS... ♪

MEKALA: JIMETTA IS ONE OF THE

MANY ARTISTS LIVING IN THE

NEIGHBORHOOD WHO SHARE A LOT OF

THE SAME MISSION THAT I DO IN

MUSIC.

THERE'S ZEROH...

BUS DRIVER, DEF SOUND. I HAVE

SO MUCH TO LEARN FROM THEM JUST

FROM MAKING MUSIC TOGETHER WITH

THEM, FROM BEING IN THEIR BANDS

AND DOING LIVE SHOWS.

DEF SOUND: ♪ STREETS WHERE

THEY GREW US AT

MIRROR SCENES FROM MIRAMAX

WE WASN'T BANGING GAS... ♪

MEKALA: I LOVE COLLABORATING

WITH THIS GENERATION THAT'S

SLIGHTLY OLDER THAN ME THAT I

REALLY, REALLY RESPECT.

DEF SOUND: ♪ COULDN'T BE

SENSITIVE

THIS MY ANTITHESIS

PICTURE THIS LIVING CONDITIONS

THIS IS PHOTOSYNTHESIS

MEMORY, PHOTOGENIC THIS

PARK AND JEFFERSON

THAT WAS MY INNOCENCE

THAT'S THE BEGINNING OF THIS

WAS MY GENESIS

SURROUNDED BY

DORSEY AND CRENSHAW

BROKE ALL MY KIN SAW

RIGHT WHERE WE CAME FROM

CAN'T TAKE MY SKIN OFF... ♪

MEKALA: I WANT TO PUSH MY

ABILITIES AS A DRUMMER, AS A

MUSICIAN, AND AN ARTIST AND LIKE

EXPAND FROM THERE.

DEF SOUND: ♪ FIRST WITH A

BIRTHRIGHT

WE BURST THE BURST LIKE

GOT TO SAY MY FIRST LIGHT

THIS FEELING IS GOOD LIKE... ♪

MEKALA: THIS SPACE, THIS

PHYSICAL SPACE IN MY GARAGE JUST

GIVES ME THE OPPORTUNITY TO MAKE

A COMMUNITY.

DEF SOUND: ♪ FEELING GOOD,

RIGHT? ♪

MEKALA: WHAT I'M DOING NOW IS

EXACTLY WHAT HORACE DID IN THE

SIXTIES. THE FIRST ARK WAS IN

HIS GARAGE. THEY WERE JUST

REHEARSALS. THERE WASN'T EVEN A

GIG.

AND THAT'S WHAT IT IS, DUDE.

ANYBODY THAT COMES BACK THERE,

IT ENCOURAGES CREATIVE ENERGY.

WE JUST KEEP AT THAT. THAT'S

WHAT THE ARK WAS.

DEF SOUND: THIS PROBABLY

ISN'T GOING TO MAKE THE ALBUM.

BUT IT'S GOING TO BE A SINGLE.

[SONG PLAYING ON RECORDING]

MEKALA: DUDE, I DON'T KNOW IF I

TOLD YOU, BUT LIKE, I LOVE

HIP-HOP, SO LIKE I WRITE IN

BARS, TOO. MY PROCESS IS

FREAKING AGONIZING, DUDE.

I TAKE WEEKS TO FINISH ANYTHING.

DEF SOUND: THAT'S GOOD. THAT'S

GOOD. SO MANY TIMES I THOUGHT I

HAD NOTHING LEFT TO SAY. I FELT

SO DRAINED. AND THEN I WALKED IN

AND I HEARD WHAT THEY WAS DOING,

I WAS LIKE, "WHAT Y'ALL GOT UP

HERE? WHAT Y'ALL DOING?"

AND I WAS LIKE, SOMETIMES

IT'S JUST THE ENVIRONMENT OF

THE ROOM.

MEKALA: BUT THEN YOU JUST GET

CATS LIKE ZEROH AND DRIVER WHO

JUST TRANSCEND EVERYTHING, AND

IT'S LIKE, WHO ARE YOU, DUDE?

DEF SOUND: THEY'RE JAZZ. THAT'S

WHAT THEY ARE.

MEKALA: ABSO-FREAKIN-LUTELY.

JAZZ MUSICIANS.

DEF SOUND: YEAH, THAT'S IT.

MEKALA: YEAH, MAN.

DEF SOUND ON TAPE: ♪ YEAH

TOOK ME TO MY MID-THIRTIES

TO GET WHAT DOES... ♪

MAN: WHAT ABOUT THE HIP-HOP

ARTISTS AND THE RAP ARTISTS?

WHAT DIRECTION ARE THEY GOING

MUSICALLY? ARE THEY EXPLORING

JAZZ? ARE THEY WORKING WITH JAZZ

MUSICIANS?

HORACE: THAT'S THE BEST PART

ABOUT IT. SEE, OUT OF 10

HIP-HOPPERS 7 AND HALF OF THEM

ARE NOW INTERESTED IN THE REST

OF THE CULTURE. SAYING, WELL,

LISTEN, THIS DIDN'T START FROM

NOWHERE. THIS HIP-HOP, IT HAD

TO BEGIN SOMEWHERE.

MAN: [INDISTINCT RAPPING]

HORACE: SO THEY BEGIN DOING

RESEARCH ON THEMSELVES, ON THE

MUSIC, ESPECIALLY IN THE

SO-CALLED JAZZ MUSIC. YOU KNOW,

THEY'RE REALLY A PART OF THAT.

AND NOWADAYS YOU BEGIN TO

REALIZE THAT HIP-HOP IS JUST

THE GRANDCHILD. AND, YOU KNOW,

THOSE KINDS OF THINGS ARE

MESHING AND MENDING AND ADDING

TO THIS WHOLE THING TO MAKE

THIS CULTURE ONE RECOGNIZABLE

THING. IT'S NOT SPLIT UP IN

PARTS.

MEKALA: MUSIC IS JUST AFFECTED

BY THE TECHNOLOGY OF THE TIME.

AND IT ALL GOES IN CYCLES.

DEF SOUND: ♪ YOU KNOW, FEELING

LIKE SHE WATER TREATED... ♪

MEKALA: WHAT IS FREESTYLE? IT'S

JUST SOLOING WITH WORDS. IT'S

THE SAME THING. THESE PEOPLE ARE

DOING THE EXACT SAME THING THAT

THE ARK WAS DOING.

DEF SOUNDS: THAT'S THE WRONG

LINE, BUT IT FELT RIGHT.

JUST KIND OF LEAN

INTO THOSE MOMENTS. LIFE IS

JAZZ.

MAN: ♪ WHEN YOU FALL IN LOVE

IT GONNA MAKE YOU PRAY ♪

MEKALA: THE CLIMATE HAS CHANGED

AND THE TECHNOLOGY HAS CHANGED,

BUT THE MISSION IS EXACTLY STILL

THE SAME BECAUSE ULTIMATELY IT

IS OUR VOICE.

ZEROH: JAZZ IS JUST A CULTURE,

TOO. IT'S NOT SO MUCH A GENRE OF

MUSIC.

MEKALA: BUT THAT'S

WHAT'S SO COOL ABOUT JAZZ.

ZEROH: LIVING EXPERIMENTS.

MEKALA: IT'S LIKE

SUPER INDESCRIBABLE.

ZEROH: AFRICAN-AMERICAN MUSIC. I

MEAN, THAT SAUCE, THAT

UNIQUE--WE CAME UP WITH THIS,

YOU CAN'T NOTATE IT. YOU KNOW,

YOU DIDN'T TEACH US, SO WE

LEARNED ON OUR OWN.

MEKALA: THAT FEELING.

THAT FEELING IS JAZZ.

ZEROH: YEAH.

MEKALA: THAT FEELING IS TRUE

HIP-HOP. THAT'S WHAT WE'RE OUT

HERE DOING, BRO. THAT'S WHAT

WE'RE TRYING TO COLLECT FROM

THE OLD HEADS AND PASS TO THESE

NEW KIDS THAT ARE JUST CHOPPING

IT UP.

I WANT TO CREATE THIS ORGANIC,

UNTITLED NEW MUSIC...

THAT IS HIP-HOP, IS JAZZ, IS

BLACK MUSIC.

[PLAYING JAZZ MUSIC]

JIMETTA: JAZZ IS CLASSICAL MUSIC

THAT IS STILL MOVING FORWARD.

AND SO IT'S LIKE THIS

JUXTAPOSITION BETWEEN THE

TRADITIONAL AND THE UNIMAGINED.

MEKALA: I WANT TO PUSH

BOUNDARIES WITH THIS MUSIC.

LIKE, I WANT TO EXPRESS WHAT IT

FEELS LIKE TO LIVE

RIGHT NOW IN THIS AREA

WITH THESE PEOPLE IN MUSIC.

RENEE: YOUR MUSIC IS NOW

INCLUSIVE BECAUSE OUR COMMUNITY

HAS CHANGED AND OUR COMMUNITY IS

INCLUSIVE. AND THEY HAVE STORIES

TO TELL, TOO. AND SOME OF THOSE

HAVE BEEN INTERWOVEN INTO YOUR

NEW ARK.

JIMETTA: WELL, SEE, THAT'S WHAT

I'M EXCITED ABOUT RIGHT NOW. I

FEEL LIKE WE'RE WITNESSING A

TIME WHERE THE CHANGING OF THE

GUARD IS HAPPENING. AND LOOK AT

US, WE'RE OUT HERE. WE'RE READY.

WE ARE AWAKE AND WILLING TO

CREATE.

WILLING TO CREATE NEW WAYS, NEW

SOUNDS, NEW THOUGHTS, NEW

FAITH.

AND THAT'S A DANGEROUS,

DANGEROUS FOE TO HAVE, SOMEONE

WHO IS AWAKE AND WILLING TO

CREATE.

[PLAYING INSTRUMENTS]

JACK: BOB, UP, UP, UP, UP, UP,

UP, UP, UP, UP, AND

THAT WILL BUILD. THAT WILL BE A

DYNAMIC THING. OK.

ROBERTO: "E" MINOR 7?

WITH AN "F" IN THE BASS?

JAMAEL: NO, JUST WITH "E." AND

THEN IT GOES BACK TO "F."

ROBERTO: OH, OK.

MEKALA: YEAH, AARON. NO

RANDALL. POP, CZAR, K.

YO, PHIL,

DID YOU TALK TO RANDALL AT ALL?

I'M KEEPING IT LIGHT, MAN,

BECAUSE IF I STRESS OUT, LIKE

THE WHOLE SHIP FALLS APART.

ENERGY IS IMPORTANT. YOU CAN'T

PROPAGATE NERVOUS ENERGY. YOU

HAVE TO STAY COOL EVEN WHEN IT'S

HOT.

DID EVERYBODY GET THIS E-MAIL

THAT I SENT BECAUSE I TRIED TO

MAKE SURE THAT EVERYBODY GOT IT.

IF YOU DIDN'T GET IT--I KNOW, K,

YOU PROBABLY DID NOT. I DIDN'T

HAVE YOUR E-MAIL LYING AROUND,

BUT THE E-MAIL HAS LIKE PARKING

MAPS AND JUST LIKE TIME

INFORMATION AND ALL THAT. SO IF

YOU AIN'T GOT IT, HIT ME.

JIMETTA: HEY, WHAT'S UP,

EVERYBODY? I'M SO HAPPY TO BE

PLAYING WITH Y'ALL. MY NAME'S

JIMETTA, I'M HONORED TO HAVE YOU

ALL PLAY MY SONG THAT I'VE

WRITTEN. AND, LIKE, IT'S JUST

BEYOND MY WILDEST DREAMS. I

WROTE THE SONG AS A TRIBUTE TO

G. HE'S MY FRIEND, AND THAT'S

MY FEELINGS THAT CAME OUT. AND

TO HAVE YOU ALL BRING TO LIFE

THE WHOLE MUSIC IS JUST AN

HONOR.

MEKALA: UM. LET'S GET IT.

[PLAYING JAZZ MUSIC]

JIMETTA: WITH THE CHOIR, LIKE I

REHEARSE THEM EVERY WEEK BECAUSE

THEY'RE LESS EXPERIENCED

SINGERS, SOME OF THEM, AND SOME

OF THEM ARE EXPERIENCED. SO IT'S

LIKE A MIXTURE IN THE GROUP.

SINGING ABILITY WASN'T THE MAIN

THING I WAS LOOKING FOR. THE

MAIN THING I WAS LOOKING FOR WAS

WILLING HEARTS.

CHOIR: ♪ I MET A MOUNTAIN

HE WAS STILL AS BIG

HE WAS ALIVE

HE WAS A FRIEND TO ME... ♪

MEKALA: THAT'S ONE OF MY

FAVORITE PARTS ABOUT THE

ARKESTRA. LIKE, IT'S ABOUT LIKE

YOUNG AND OLD, VETERAN AND

NOVICE, MEN AND WOMEN. AND THEN

WE ALL COME TOGETHER FOR THIS

ONE VERY UNIQUE SOUND. THE

NOVICES RISE TO THE OCCASION.

THE OLD HEADS ARE VERY INSPIRED

BY THE NEW HEADS.

ROBERTO: I THINK ONE OF THE WAYS

IN WHICH AN ELDER CAN REMAIN

VIABLE IS TO ACCEPT THE LESSONS

THAT THE YOUNGER GENERATIONS CAN

TEACH US. IT'S NOT JUST ABOUT

THEM STANDING ON OUR SHOULDERS

AND GOING FORWARD. IT'S ABOUT US

STILL RUNNING THE RACE WITH

THEM. WE MAY NOT BE ABLE TO MOVE

AS FAST, BUT WE CAN SAY, "OH,

YEAH, THAT'S NICE. I GOT THAT

ONE."

[CHOIR VOCALIZING]

MICHAEL: WHEN YOU SAW THE ARK,

YOU SAW MEN AND WOMEN, YOUNG,

OLD, INTERMEDIATE TO SUPER

ADVANCED MUSICIANS PLAYING ON

THE SAME SPIRITUAL LEVEL. TO SEE

EVERYBODY PLAY ON THAT SAME

LEVEL SO FREE AND OPEN BUT

PURE, IT WAS INCREDIBLE TO ME.

CHOIR: ♪ CAN YOU SEE HIM RISING

JUST LIKE ♪

[CONTINUES INDISTINCT]

MEKALA: YEAH.

[CHOIR SINGING]

MEKALA: I HAVE A RESPONSIBILITY

TO PASS DOWN THIS CULTURE AND

THIS LEGACY. I CAN DO THAT WITH

THE ARK JUST AS HORACE DID.

THIS GENERATION, LIKE IF WE

DON'T PASS IT ON, IT DISAPPEARS.

IT'S SO AMAZING TO ME THAT I

KIND OF HAVE THE OPPORTUNITY TO

TRY TO LEAD THE ARK INTO THIS

NEW TIME WITH MY FATHER,

YOU KNOW, WITH MY UNCLES, WITH

MY FRIENDS.

CHOIR: ♪ CAN YOU SEE HIM? ♪

MEKALA: SO I DO ALL OF THIS FOR

THEM, FOR US TO REPRESENT NO

MATTER WHERE WE ARE.

CHOIR: ♪ HE WAS A MOUNTAIN

OH, WHOA, WHOA, WHOA ♪

[CHEERS AND APPLAUSE]

HORACE: IF YOU LOOK AROUND AND

LISTEN, YOU'LL SEE THERE ARE

A LOT OF YOUNG PEOPLE COMING

OUT OF THE WALLS

AND ARE PLAYING ALL KINDS OF

MUSIC. ESPECIALLY HERE IN LOS

ANGELES. YOU GO AWAY, THEY ASK

ABOUT LOS ANGELES. THEY'VE BEEN

HEARING ABOUT THE BURST OF MUSIC

THAT'S BEEN THERE. HOWEVER, THE

MUSIC HAS BEEN HERE, AND THE

YOUNGER MUSICIANS TODAY ARE

TAKING ADVANTAGE OF THE FACT

THAT THEY HAD AN ORCHESTRA HERE.

THEY HAD SOMETHING REFER TO,

TRYING TO EDUCATE THEM AND LET

THEM KNOW THAT THE RACISM IS

ALWAYS THERE, BUT, YOU KNOW,

THERE ARE WAYS THAT YOU CAN

BREAK THROUGH THROUGH THE ARTS.

YOU GET TO PEOPLE'S MINDS AND

SOULS WITH THE MUSIC AND THE

ART.

AND I'M PRETTY HAPPY THAT THEY

HAVE SO MUCH LEGACY HERE THAT'S

STILL GOING.

[ECHOES] GOING, GOING, GOING.

[DISTANT SIREN]

ANNOUNCER: THIS PROGRAM WAS

MADE POSSIBLE IN PART BY A

GRANT FROM ANNE RAY FOUNDATION,

A MARGARET A. CARGILL

PHILANTHROPY, THE CITY OF LOS

ANGELES DEPARTMENT OF CULTURAL

AFFAIRS, THE LOS ANGELES COUNTY

DEPARTMENT OF ARTS & CULTURE,

AN AWARD FROM THE NATIONAL

ENDOWMENT FOR THE ARTS ON THE

WEB AT ARTS.GOV, AND THE

CALIFORNIA ARTS COUNCIL.