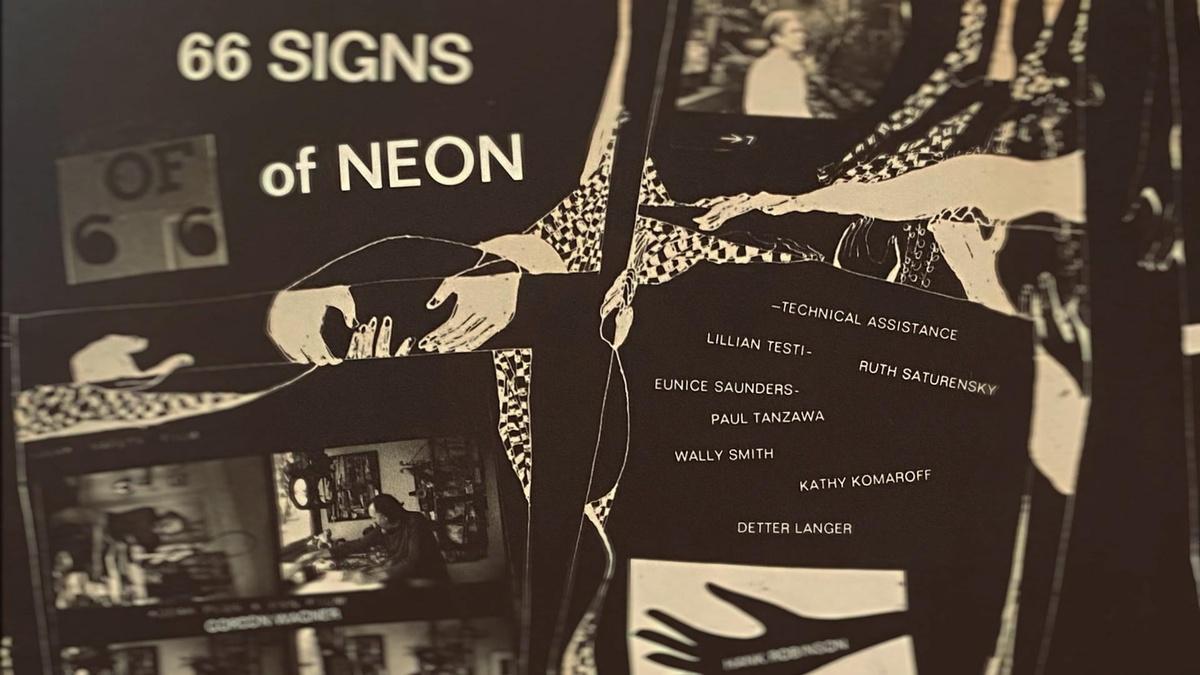 S11 E4 | CLIP
The Life, Death and Afterlife of '66 Signs of Neon'
"66 Signs of Neon" was an eye opening installation that traveled the country, but it was an unconventional art work. Noah Purifoy and art historians recount the beginnings of the seminal "66 Signs of Neon," its eventual demise and significance today.
TRANSCRIPT

MAN: IN MOST INSTANCES, THESE

ARTISTS WERE WORKING WITHOUT

REFERENCE TO ANY WESTERN CANONS

OF ART. THEY WERE WORKING OUT

OF A SHEER NEED TO COMMUNICATE

SOMETHING BASED ON WHAT THEY

HAD TO WORK WITH. TO A LARGE

DEGREE, I THINK THEY WERE DOING

IT EVEN BEFORE SOME OF THE

ARTISTS THAT WE'VE COME TO KNOW

AS DOING ASSEMBLAGE. I THINK

THEY WERE PIONEERS.

PURIFOY: SO WE INVITED SOME

OTHER ARTISTS TO COME IN AND

CART AWAY SOME OF THE JUNK AND

MAKE SOMETHING FOR THE FIRST

FESTIVAL, WHICH WAS AT MARKHAM

HIGH SCHOOL.

LEWIS: AND WITH ANOTHER GROUP

OF ARTISTS, THEY PUT TOGETHER

"THE 66 SIGNS OF NEON."

PURIFOY: THE EXHIBIT GOT ITS

TITLE FROM THE DRIPPINGS OF

NEON SIGNS UPON THE GROUND

MIXING WITH THE SAND AND DIRT.

SO WHAT JUDSON AND I DID WAS

JUST SIMPLY TAKE THE SHAPES OUT

OF THE SAND AND BRUSH THEM OFF

AND MOUNT THEM ON SOMETHING AND

SOLD THEM, AND THEY WENT LIKE

HOTCAKES.

WOMAN: FOR 3 YEARS, THE SHOW

TRAVELED TO 9 VENUES BOTH

NATIONALLY AND INTERNATIONALLY.

IT WAS EXTREMELY SUCCESSFUL. IT

REACHED A REALLY WIDE AUDIENCE,

AND PEOPLE FOUND IT REALLY

MOVING. THE REBELLION ITSELF

WAS A CALL FOR CHANGE, AND THE

ARTISTS THAT WORKED WITH THE

LITERAL MATERIALS THAT THEY

COLLECTED AFTERWARDS WERE

SHOWING HOW WE COULD CREATE

CHANGE AND UPLIFTING PEOPLE.

PURIFOY: AND WE SOLD A LOT OF

STUFF, AND WE'D SEND THE MONEY

BACK, AND WE WOULD MAKE SOME

MORE STUFF. SO WE ALWAYS HAD 66

PIECES TO DISPLAY, BUT THERE

WERE DIFFERENT PIECES FROM TIME

TO TIME BECAUSE WE MADE SALES,

AND THAT'S HOW WE EXISTED, BUT

FROM WASHINGTON, D.C., THE

EXHIBIT TRAVELED, AND ABOUT

1969, IT CAME BACK IN A TRUCK

JUST ABOUT IN THE SAME SHAPE IT

WAS WHEN WE FOUND IT IN WATTS,

IN THE SMOLDERING EMBERS OF THE

WATTS RIOT. IN OTHER WORDS, THAT

WAS THE END OF "SIGNS OF NEON. "

IT WAS BACK IN

ITS ORIGINAL STATE, JUNK!