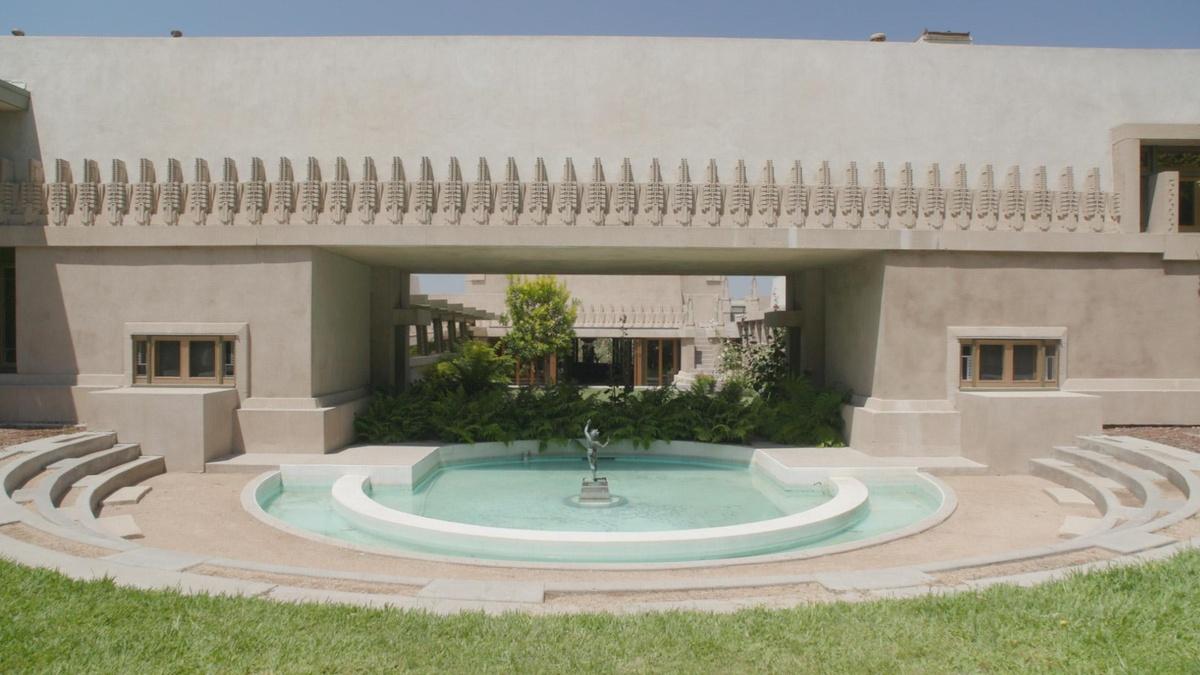 S9 E1 | FULL EPISODE
That Far Corner: Frank Lloyd Wright in Los Angeles
During his time spent in Southern California in the late 1910s and early 1920s, Frank Lloyd Wright accelerated the search for L.A.'s authentic architecture that was suitable to the city's culture and landscape. Writer/Director Chris Hawthorne, architecture critic for the Los Angeles Times, explores the houses the legendary architect built in Los Angeles.
TRANSCRIPT

NARRATOR: I'VE BEEN AN

ARCHITECTURE CRITIC IN LOS

ANGELES FOR NEARLY 15 YEARS,

AND IN ALL THAT TIME I DON'T

THINK I'VE EVER COME ACROSS A

BUILDING QUITE AS INSCRUTABLE,

AS STRIKINGLY MYSTERIOUS AS

THIS ONE.

IT'S THE ALICE MILLARD HOUSE BY

FRANK LLOYD WRIGHT, IN PASADENA.

ONE OF 5 REMARKABLE HOUSES

WRIGHT DESIGNED AND BUILT IN

SOUTHERN CALIFORNIA IN THE

EARLY 1920S.

MY CURIOSITY ABOUT THE HOUSE

DEEPENED WHEN ITS OWNER ASKED

ME A FEW YEARS AGO IF I WANTED

TO SEE THE INSIDE.

IT WAS JUST SITTING THERE

EMPTY, SAID THE OWNER, A MAN

WHO COLLECTED FAMOUS HOUSES THE

WAY OTHER PEOPLE COLLECT

PICASSOS OR DIEBENKORNS.

I COULD EVEN SPEND THE NIGHT,

IF I WANTED; HE'D JUST LEND ME

THE KEY.

IT WAS THRILLING, AND A BIT

EERIE, TO SPEND 24 HOURS ALONE

IN THAT HOUSE.

WHAT I REMEMBER MORE THAN

ANYTHING IS HOW MUCH OF A

TEMPLE IT SEEMED INSIDE AND

OUT, WITH ITS ROWS OF

PRE-COLUMBIAN ORNAMENT, EVEN

HOW CRYPT-LIKE.

I MEAN, LOOK AT THE PLACE.

IT'S NOT EXACTLY WARM,

WELCOMING, OR ESPECIALLY

DOMESTIC IN ANY TYPICAL SENSE

OF THAT WORD.

IT'S SOMETHING ELSE: OPAQUE AND

TOUGH TO READ, TIGHT-LIPPED.

I STARTED TO WONDER: WHY DOES

THE HOUSE LOOK THIS WAY?

WHY DID L.A. ELICIT THIS KIND

OF WORK FROM WRIGHT?

I REMEMBERED A LINE BY BRENDAN

GILL, ONE OF THE ARCHITECT'S

MOST PERCEPTIVE BIOGRAPHERS,

WHO WROTE THAT WRIGHT'S L.A.

HOUSES ARE "BETTER SUITED TO

SHELTERING A MAYAN GOD THAN AN

AMERICAN FAMILY."

WAS HE RIGHT ABOUT THAT?

AND WHY A MAYAN GOD?

WHAT WAS IT ABOUT PRE-COLUMBIAN

ARCHITECTURE SPECIFICALLY THAT

MADE IT SO ATTRACTIVE TO WRIGHT

IN THOSE YEARS?

WHAT YOU'RE ABOUT TO SEE IS THE

STORY OF MY ATTEMPT TO FIND

ANSWERS TO THOSE QUESTIONS.

AS IT TURNS OUT, THE ANSWERS

MAKE UP A STORY MORE

FASCINATING, AND MORE

COMPLICATED, THAN I EVER WOULD

HAVE GUESSED.

A STORY THAT EVEN A NOVELIST

MIGHT COMPLAIN WAS MELODRAMATIC

AND OVERSTUFFED; ONE INVOLVING

A MID-LIFE CRISIS OF EPIC

PROPORTION, A LOVE AFFAIR,

AND A BRUTAL MASS MURDER.

A STORY STARRING AN ARCHITECT

WHO TRIED TO REINVENT HIMSELF

AS SO MANY OTHER AMERICANS HAVE

DONE IN SOUTHERN CALIFORNIA, A

PLACE WRIGHT WOULD LATER

DESCRIBE AS "THAT FAR CORNER OF

THE UNITED STATES."

THE FIRST THING TO DO, IN

LEARNING EXACTLY HOW FRANK

LLOYD WRIGHT WOUND UP IN

SOUTHERN CALIFORNIA, SEEMED

OBVIOUS: I HAD TO GO BACK TO

THE BEGINNING, TO OAK PARK, THE

SUBURB JUST WEST OF CHICAGO

WHERE WRIGHT OPENED AN OFFICE

IN 1893, AFTER WORKING WITH THE

ACCLAIMED ARCHITECT LOUIS

SULLIVAN.

WRIGHT AND HIS WIFE CATHERINE,

KNOWN AS KITTY, WOULD SOON HAVE

6 CHILDREN.

I ALSO HOPED TO SIT DOWN WITH

SOME EXPERTS ON WRIGHT'S WORK

FROM THAT PERIOD.

I BEGAN WITH A FELLOW

ARCHITECTURE CRITIC.

BLAIR KAMIN: IT'S FASCINATING

TO WATCH HIS TRAJECTORY. I MEAN,

HE BEGINS WITH A SHINGLE STYLE

HOUSE, THE HOME AND STUDIO IN

OAK PARK, AND USES THAT AS A

KIND OF LABORATORY, A WAY TO

BREAK OUT OF THE VICTORIAN BOX.

HAWTHORNE: WRIGHT'S HOME AND

STUDIO, FEATURING A PLAYROOM

WITH VAULTED CEILING FOR HIS

GROWING FAMILY, WAS REALLY A

DECLARATION OF WAR ON

TRADITIONAL, HIDEBOUND

VICTORIAN ARCHITECTURE.

IN THE DESIGNS THAT FOLLOWED,

WRIGHT PRODUCED A MARKEDLY NEW

KIND OF HOUSE--THE PRAIRIE

HOUSE--THAT HUGGED THE

GROUND, WITH A HORIZONTAL

MOMENTUM PERFECTLY SUITED TO

THE MIDWEST.

IN A SERIES OF HOUSES JUST

AFTER 1900, WRIGHT BROUGHT THIS

TYPE NEARER AND NEARER TO

PERFECTION.

KAMIN: YOU SEE THAT CULMINATE,

REALLY, IN THE ROBIE HOUSE.

THIS KIND OF GREAT STATEMENT

WHICH IS, YOU KNOW, SEEMINGLY

BOTH GROUNDED IN THE EARTH OF

THE MIDWEST AND FLYING FORWARD,

LIKE A SHIP, WITH ITS

CANTILEVERED ROOFS.

IT'S A TREMENDOUS STATEMENT OF

A HOUSE THAT SEEMS BOTH ROOTED

AND STATIC BUT ALSO INCREDIBLY

DYNAMIC.

HAWTHORNE: MY NEXT STOP WAS TO

TALK WITH A FORMER ARCHITECTURE

CRITIC, LEE BEY, WHO NOW WORKS

AT CHICAGO'S DUSABLE MUSEUM OF

AFRICAN-AMERICAN HISTORY.

BEY: SO, IN 1909, IT PROVIDES AN

INTERESTING BREAK IN HIS CAREER

BECAUSE UP UNTIL THEN,

PARTICULARLY THE LAST FEW

YEARS, HE'S REALLY HAD AN

INCREDIBLE CREATIVE OUTBURST.

HAWTHORNE: IN THESE YEARS,

WRIGHT WAS BEGINNING TO MOVE

BEYOND RESIDENTIAL ARCHITECTURE

TO LARGER PROJECTS.

BEY: IF HIS CAREER WERE TO STOP

THERE, HE'D BE A LEGEND, BUT AS

WE KNOW, IT GOES ON BEYOND THAT.

HAWTHORNE: DESPITE THIS

PROFESSIONAL SUCCESS, WRIGHT

BEGAN TO FEEL STIFLED IN OAK

PARK.

HE WAS REACHING MIDDLE AGE.

AND HE HAD PUSHED THE PRAIRIE

STYLE JUST ABOUT AS FAR AS IT

WOULD GO.

ONE OF THE MOST STRIKING OF THE

PRAIRIE HOUSES, JUST A

HALF-MILE FROM HIS OWN, WAS

DESIGNED FOR A COUPLE NAMED

EDWIN AND MAMAH CHENEY.

MAMAH BORTHWICK CHENEY WAS AN

INTELLECTUAL, A TRANSLATOR,

AND A FEMINIST.

A WOMAN WHO COULD MORE THAN

HOLD HER OWN IN DEBATES WITH

WRIGHT.

THE ARCHITECT AND HIS WIFE

BEGAN SOCIALIZING WITH THE

CHENEYS,

AND BEFORE LONG, ACCORDING TO

TIM SAMUELSON, CHICAGO'S

CULTURAL HISTORIAN, PEOPLE

BEGAN TO TALK.

SAMUELSON: THERE WERE CERTAINLY

WHISPERS ABOUT THE IDEA OF A

RELATIONSHIP BETWEEN FRANK

LLOYD WRIGHT AND MAMAH

BORTHWICK CHENEY.

IT'S NOT UNUSUAL FOR THINGS

LIKE THAT TO GO ON, BUT WRIGHT

WAS A PRETTY UNCONVENTIONAL

FIGURE.

HE LOOKED DIFFERENT, HE ACTED

DIFFERENTLY, AND SO, THIS IS

SOMETHING THAT WOULD CATCH

PEOPLE'S CURIOSITY.

HAWTHORNE: WRIGHT'S RELATIONSHIP

WITH MAMAH CHENEY SEEMED TO

GIVE HIM A NEW TASTE FOR

ADVENTURE.

SAMUELSON: THIS IS SOMEBODY WHO

CHALLENGED WRIGHT, WHO COULD BE

ON EQUAL WITH HIM.

WHO I THINK YOU CAN SAY, IN

ALL CONFIDENCE, WAS THE LOVE OF

HIS LIFE.

HAWTHORNE: IN THE FALL OF 1909,

WRIGHT ABRUPTLY SHUTTERED HIS

OFFICE, LEFT HIS WIFE AND

CHILDREN BEHIND, AND SAILED TO

EUROPE WITH MAMAH.

SAMUELSON: ONCE HE LEAVES, THEN

THE JOURNALISTS TAKE OVER.

IT BECOMES SENSATIONALISTIC.

KAMIN: WRIGHT IS A TABLOID

NEWSPAPER EDITOR'S DREAM. I

MEAN, HE'S RIGHT OUT OF CENTRAL

CASTING IN TERMS OF HOW HE

LOOKS, HIS BRAGGADOCIO.

HE'S A GUY WHO MANIPULATES THE

MEDIA, WHO HAS A LOVE-HATE

RELATIONSHIP WITH THE MEDIA.

THE MEDIA HELPS MAKE HIM AND IT

ALSO HELPS TEAR HIM APART.

HAWTHORNE: FRANK AND MAMAH

SETTLED IN ITALY'S TUSCAN

COUNTRYSIDE.

WRIGHT ALSO TRAVELED WIDELY,

SEEING THE NEWEST LANDMARKS OF

EUROPEAN MODERNISM, AND SPENT

SIGNIFICANT TIME IN BERLIN.

SAMUELSON: HE IS ENGAGED TO

PRODUCE THE PLATES FOR A

PUBLICATION OF HIS WORK IN

EUROPE FOR THE GREAT GERMAN

PUBLISHING HOUSE OF WASMUTH.

BEY: THIS LEAVING WAS ONE OF A

STUNNING PROFESSIONAL GROWTH

AS WELL.

HE COMES BACK TO AMERICA A

DIFFERENT ARCHITECT THAN HE DID

WHEN HE--WHEN HE LEFT IT.

HAWTHORNE: ON HIS RETURN IN

1910, WRIGHT TRIED TO

REESTABLISH HIS ARCHITECTURAL

PRACTICE IN OAK PARK, BUT IT

SOON BECAME CLEAR THAT THE

SCANDAL HAD HARDLY DISSIPATED

WHILE HE WAS AWAY.

WHEN I SAT DOWN INSIDE THE

ROBIE HOUSE WITH THE CHICAGO

ARCHITECT ARIC LASHER, HE TOLD

ME THAT WRIGHT HAD OTHER

PRIORITIES THAN QUIETING THE

TABLOIDS.

LASHER: HE WAS SOMEONE DRIVEN

BY ARTISTIC IMPULSES ABOVE ALL

OTHERS.

OBVIOUSLY, SOCIAL PROPRIETY AND

OTHER OBLIGATIONS WERE LESS

IMPORTANT THAN HIS MISSION AS

AN ARTIST AND AS A CREATIVE

THINKER.

HAWTHORNE: THAT MAY SOUND IN

THE ABSTRACT LIKE BOILERPLATE

PRAISE, THE KIND OF THING YOU'D

HEAR FROM A TOUR GUIDE, BUT I

THINK THIS POINT IS A KEY ONE.

WHAT I WAS BEGINNING TO LEARN

WAS THAT WRIGHT, WHEN FACED

WITH A CHOICE BETWEEN PRODUCING

ARCHITECTURE THAT HE KNEW WAS

POPULAR AND ARCHITECTURE THAT

MIGHT PUSH HIS WORK IN NEW

DIRECTIONS, ALMOST ALWAYS TOOK

THE RISKIER PATH.

IT WAS A KIND OF COMPULSION FOR

HIM, THIS INSTINCT.

AS ONE WRITER PUT IT, "WRIGHT

SEEMED UNCOMFORTABLE AS SOON AS

HIS LIFE REACHED ANY SORT OF

EQUILIBRIUM."

AS HE HAD THE YEAR BEFORE,

WRIGHT DECIDED HE NEEDED TO GET

AWAY.

SAMUELSON: HE RETURNS TO WHAT

WAS PART OF HIS ROOTS, THE

HILLSIDE OF WISCONSIN, THE

FAMILY LAND OF THE LLOYD

JONESES.

THIS WOULD BE HIS MOTHER'S

FAMILY.

HAWTHORNE: AS A REFUGE FOR

HIMSELF AND MAMAH, WRIGHT BUILT

A REMARKABLY AMBITIOUS HOUSE

AND STUDIO.

THE MATERIALS HE FOUND ON

THE SITE OR CLOSE BY, WITH SAND

FROM THE WISCONSIN RIVER USED

TO MAKE STUCCO THE SAME OCHER

COLOR AS THE RIVER'S BANKS.

BEY: AND IN A SENSE, HE'S HOME,

RIGHT? HE'S WELSH

BY EXTRACTION AND HE

NAMES IT TALIESIN, "SHINING

BROW," A WELSH WORD.

SO, IT'S HIM RETURNING TO

SOMETHING, AND SOMETHING DEEPER

AND--AND SOMETHING ROOTED.

HAWTHORNE: WALKING THROUGH

TALIESIN, I WAS REMINDED THAT

IT'S WITHOUT ANY DOUBT ONE OF

THE SUPREME ACHIEVEMENTS OF

WRIGHT'S CAREER.

IT WAS SYMBOLIC FOR HIM OF TWO

THINGS: HIS BREAK WITH

CONVENTIONAL SOCIETY IN OAK

PARK AND HIS INTEREST IN

CREATING AN ARCHITECTURE THAT

SEEMED NOT ONLY TO GROW FROM

THE LANDSCAPE BUT TO BE ALMOST

CONTINUOUS WITH IT.

BUT WRIGHT DIDN'T CUT TIES WITH

CHICAGO ALTOGETHER.

SAMUELSON: HE MAINTAINED A

CHICAGO OFFICE WHERE HE COULD

MEET CLIENTS, AND THERE WERE

SOME BIG PROJECTS. SOME WERE

DREAM PROJECTS.

FOR EXAMPLE, THE MIDWAY GARDENS

IN CHICAGO, WHICH WAS LIKE MADE

FOR WRIGHT, BECAUSE IT WAS

SOMETHING THAT WAS MADE TO

APPEAL TO ALL THE SENSES.

HAWTHORNE: IT WAS WHILE WRIGHT

WAS WORKING AT THE MIDWAY

GARDENS SITE ONE AFTERNOON IN

AUGUST OF 1914 THAT HE

RECEIVED THE NEWS THAT WOULD

RADICALLY CHANGE HIS LIFE.

SAMUELSON: WORD REACHES HIM OF

AN UNFOLDING TRAGEDY AT

TALIESIN, SOMETHING THAT WAS

TOTALLY UNIMAGINABLE.

A SERVANT UP AT TALIESIN HAD

MURDERED NOT ONLY MEMBERS OF

THE STAFF, BUT MURDERED

BRUTALLY THE LOVE AND PASSION

OF HIS LIFE, MAMAH BORTHWICK

CHENEY.

HAWTHORNE: THE KILLER WAS A

COOK AND HANDYMAN NAMED JULIAN

CARLTON.

HIS MOTIVE REMAINS UNCLEAR,

ALTHOUGH HIS WIFE TOLD POLICE

HE'D BEEN GROWING INCREASINGLY

PARANOID IN THE WEEKS BEFORE

THE CRIME. AFTER

SERVING LUNCH TO MAMAH AND HER

TWO CHILDREN, HE ATTACKED AND

KILLED ALL 3 OF THEM

WITH A HATCHET.

THEN HE LIT THE TALIESIN STUDIO

ON FIRE AND KILLED SEVERAL

MEMBERS OF WRIGHT'S STAFF IN

THE SAME GRUESOME FASHION. WITH

7 DEAD, IT WAS, AND REMAINS

TO THIS DAY, THE LARGEST MASS

MURDER IN WISCONSIN HISTORY.

JUST DOWN THE HILL FROM

TALIESIN, I VISITED THE GROUNDS

OF THE CHAPEL WHERE WRIGHT

BURIED MAMAH IN A PLAIN PINE

COFFIN. THIS WAS AN INTENSELY

PERSONAL SPOT FOR WRIGHT:

THE CHAPEL ITSELF

WAS THE FIRST BUILDING HE EVER

HELPED DESIGN, AS A TEENAGER,

AND HIS MOTHER'S FAMILY, THE

LLOYD JONESES, ALL WORSHIPPED

THERE AND WOULD EVENTUALLY BE

BURIED THERE.

IT TOOK ME A WHILE

TO FIND MAMAH'S GRAVE.

UNLIKE THOSE OF WRIGHT'S

BLOOD RELATIVES, WHICH ARE

QUITE PROMINENT, IT'S HIDDEN

AWAY AT THE BASE OF A TREE.

IN DESPAIR AFTER THE MURDERS,

WRIGHT BROKE OUT, JOB-LIKE, IN

BOILS AND THOUGHT HE WAS GOING

BLIND.

ULTIMATELY, THOUGH, MAMAH'S

DEATH WOULD LEAVE A MARK FAR

MORE PSYCHOLOGICAL THAN

PHYSICAL.

AS WRIGHT LOOKED ON THE RUINS

OF TALIESIN, HE BEGAN TO SEE

HIMSELF.

"THE GAPING BLACK HOLE LEFT BY

FIRE IN THE BEAUTIFUL

HILLSIDE," HE WROTE, "WAS NO

LESS EMPTY, CHARRED, AND UGLY

IN MY OWN LIFE."

IT WAS IN THAT SHAKY STATE OF

MIND THAT WRIGHT MADE HIS FIRST

TRIP TO SOUTHERN CALIFORNIA, IN

JANUARY OF 1915, LESS THAN 6

MONTHS AFTER THE MURDERS. BACK

IN LOS ANGELES, I SAT DOWN WITH

THE WESTERN HISTORIAN WILLIAM

DEVERELL TO ASK HIM WHAT KIND

OF CITY WRIGHT FOUND HERE.

DEVERELL: LOS ANGELES COMES OUT

OF THE 19TH CENTURY BRASH.

SO, THE POPULATION GROWTH IN

SOUTHERN CALIFORNIA IS

PRODIGIOUS, FROM THE FIRST

3 DECADES OF THE 20TH CENTURY.

HAWTHORNE: THE L.A.

OF THAT ERA WAS ALMOST

PERFECTLY SUITED TO DISTRACTING

A GRIEVING ARCHITECT WITH THE

PROSPECT OF NEW WORK AND NEW

CLIENTS.

DEVERELL: SOUTHERN CALIFORNIA,

AND CALIFORNIA GENERALLY, HAD

SINCE THE ERA OF THE GOLD RUSH

BEEN SEEN AS A PLACE FOR

REINVENTION.

SO, IT HAS THAT REHABILITATIVE

FEEL TO IT.

IT ALSO HAS A RECUPERATIVE FEEL

TO IT.

SO, PEOPLE COME OUT HERE IN THE

LATE 19TH AND EARLY 20TH

CENTURY BECAUSE THEY WANT TO

GET BETTER, THEY WANT TO GET

WELL, THEY WANT TO CONVALESCE.

HAWTHORNE: ONE OF WRIGHT'S MOST

IMPORTANT STOPS ON THAT TRIP TO

CALIFORNIA WAS A VISIT TO THE

PANAMA-CALIFORNIA EXPOSITION IN

SAN DIEGO. THERE

HE CAME FACE TO FACE WITH A

RICH VARIETY OF BUILDING MODELS

AND DRAWINGS SHOWING

PRE-COLUMBIAN DESIGNS,

ARTIFACTS OF THE MAYA,

AND OTHER CULTURES THAT ROSE TO

PROMINENCE MORE THAN A THOUSAND

YEARS AGO, IN THE CENTURIES

BEFORE THE ARRIVAL OF THE

SPANISH. ACCORDING

TO MEGAN O'NEIL AND JESSE

LERNER, THE EXPERTS IN

PRE-COLUMBIAN CULTURE I SPOKE

WITH NEXT, THE SAN DIEGO EXPO

CELEBRATED MAYA DESIGNS AS PART

OF A REGIONAL ARCHITECTURE

INDIGENOUS TO THE AMERICAS.

O'NEIL: THE 1915 EXPOSITION IN

SAN DIEGO, THE EXTERIOR OF THE

CALIFORNIA BUILDING WAS SPANISH

COLONIAL, AND THEN THE INTERIOR

WAS THIS SORT OF MAYA FANTASY

WORLD, LET'S SAY, THAT WAS

PARTIALLY VERY ARCHAEOLOGICAL,

I THINK, BUT THEN ALSO ABOUT

THIS FANTASY IMAGINATION OF

RUINS, ET CETERA.

LERNER: ALL THE VISITORS TO THE

SAN DIEGO EXHIBITION WOULD HAVE

HAD A CHANCE TO SEE VERY

ACCURATE REPRODUCTIONS OF MAYA

SCULPTURE AND SOME MORE

FANCIFUL REPRESENTATIONS OF

MAYA CITIES AT THEIR PRIME.

HAWTHORNE: IN ADDITION, THE

EXPO MAY WELL HAVE CEMENTED IN

WRIGHT'S MIND A LINK BETWEEN

THIS ARCHITECTURE AND DEATH.

PRE-COLUMBIAN TEMPLES WERE

SOMETIMES NOT ONLY THE SETTINGS

FOR HUMAN SACRIFICE BUT ALSO

PART OF COMPLEXES WHERE

IMPORTANT FIGURES WERE BURIED.

PLACES WHERE THE LIVING COULD

COMMUNE WITH AND REMEMBER THE

DEAD.

SAMUELSON: WITH WRIGHT'S MIND,

HE SEES IT ALL.

HE TAKES IT ALL IN.

IT BECOMES PART OF HIS TOOLBOX

FOR FUTURE USE.

HAWTHORNE: WRIGHT HAD SEEN

PRE-COLUMBIAN ARCHITECTURE

BEFORE.

HE'D SEEN IT AT THE 1893

WORLD'S COLUMBIAN EXPOSITION IN

CHICAGO. AND

ACCORDING TO THE UCLA

ARCHITECTURAL HISTORIAN THOMAS

HINES, THERE WERE ALSO MEMORIES

FROM HIS CHILDHOOD.

HINES: HIS PARENTS, HIS MOTHER,

HAD GIVEN HIM BOOKS WITH

PICTURES OF THE BUILDINGS FROM

CENTRAL AMERICA, MEXICO,

AND THE YUCATAN.

THOSE IMAGES STAYED IN HIS MIND

MOST OF HIS LIFE.

LERNER: IN THE 1840S, THERE ARE

4 BOOKS, A SERIES OF TWO

VOLUMES CALLED "INCIDENTS OF

TRAVEL IN YUCATAN" AND

"INCIDENTS OF TRAVEL IN CENTRAL

AMERICA, CHIAPAS, AND YUCATAN,"

THAT WERE VERY SUCCESSFUL.

THEY WENT THROUGH MANY

REPRINTINGS AND THEY ARE REALLY

THE PRINCIPAL SOURCE OF U.S.

AWARENESS OF THE RUINS OF THE

ANCIENT MAYA.

THE AUTHOR OF THESE 4 BOOKS

IS JOHN LLOYD STEPHENS, AND HE

TRAVELED WITH AND COLLABORATED

WITH A PHOTOGRAPHER AND

ILLUSTRATOR CALLED FREDERICK

CATHERWOOD.

SHORTLY AFTER THE PUBLICATION

OF THOSE 4 BOOKS, YOU START

TO SEE ALL KINDS OF REFERENCES

TO THE ANCIENT MAYA AND TO

MAYAN RUINS IN POPULAR CULTURE.

HAWTHORNE: THOSE REFERENCES

INCLUDED THIS PAIR OF SIBLINGS

THAT P.T. BARNUM

PUT IN HIS FREAK SHOWS, THOUGH

HE CALLED THEM AZTEC, NOT MAYAN.

AND, INCREDIBLY, THESE FLOATS,

AT LEAST ONE WITH A FAKE DEAD

BODY DRAPED ACROSS IT, DESIGNED

BY ARCHITECT SUMNER HUNT.

THEY WERE PART OF THE LA FIESTA

PARADE IN 1895 THROUGH THE

STREETS OF L.A.

SO, LET'S PAUSE HERE TO CONSIDER

THE EVIDENCE WE'VE COLLECTED SO

FAR AND WHAT IT MEANS FOR THE

DIRECTION OF WRIGHT'S WORK

AFTER THE MURDERS AT TALIESIN.

WHAT DO YOU GET WHEN YOU ADD UP

WRIGHT'S INTEREST IN

PRE-COLUMBIAN ARCHITECTURE, THE

ROLE OF DEATH IN THAT

ARCHITECTURE, AND THE MURDER OF

MAMAH BORTHWICK?

YOU GET THIS, ONE OF THE FIRST

MAJOR BUILDINGS WRIGHT DESIGNED

AFTER RETURNING TO THE MIDWEST

FROM HIS TRIP TO CALIFORNIA.

IT'S A WAREHOUSE COMMISSIONED

BY A WHOLESALE GROCER NAMED A.D.

GERMAN FOR A SITE IN WRIGHT'S

BIRTHPLACE, THE SLEEPY

WISCONSIN TOWN OF RICHLAND

CENTER. I

GOT A TOUR FROM A COUPLE OF

LOCAL RESIDENTS WHO ARE WORKING

TO BRING THE BUILDING BACK TO

LIFE. TO PUT IT MILDLY,

IT DOES NOT LOOK

LIKE A TRADITIONAL WAREHOUSE,

OR A FRANK LLOYD WRIGHT DESIGN,

OR THE KIND OF BUILDING YOU'D

EXPECT TO FIND IN SMALL-TOWN

WISCONSIN. IT

LOOKS A TEMPLE, LIKE SOMETHING

STRAIGHT OUT OF A CATHERWOOD

DRAWING.

LERNER: IF YOU PUT THAT SIDE BY

SIDE WITH THE SO-CALLED NUNNERY

STRUCTURE AT UXMAL, ONE OF THE

BUILDINGS THAT HE WOULD HAVE

SEEN REPRODUCED BOTH AT THE

CHICAGO COLUMBIAN EXPOSITION

AND PHOTOGRAPHS OF IN SAN

DIEGO, YOU CAN SEE A REAL SORT

OF DIALOGUE AT THE VERY LEAST.

HAWTHORNE: IT'S CLEAR THAT

WRIGHT WAS USING THE RICHLAND

CENTER COMMISSION TO TEST OUT

THE MAYAN AND OTHER

PRE-COLUMBIAN MOTIFS THAT HE'D

JUST SEEN IN SAN DIEGO AND THAT

WOULD SOON FORM THE BASIS OF

HIS RESIDENTIAL WORK IN LOS

ANGELES. AND

THOUGH HE WAS IN A NEW

RELATIONSHIP BY NOW, A

TEMPESTUOUS ONE, WITH A WOMAN

NAMED MIRIAM NOEL, WHOM HE

WOULD LATER MARRY AND THEN

QUICKLY DIVORCE, HE WAS ALSO

STILL STRUGGLING TO RECOVER

EMOTIONALLY FROM THE MURDERS,

AND INCREASINGLY DESPERATE TO

WORK ANYWHERE BUT THE MIDWEST.

LUCKILY FOR WRIGHT, HE FOUND

TWO COMMISSIONS THAT HELPED HIM

ACCELERATE HIS ESCAPE. HE

WAS ASKED TO DESIGN THE GIANT

IMPERIAL HOTEL IN TOKYO, AND

IN CALIFORNIA HE BEGAN WORK ON

A PROJECT THAT WOULD ULTIMATELY

BE DUBBED HOLLYHOCK HOUSE, FOR

A WEALTHY, AMBITIOUS, AND

INCONSTANT NEW CLIENT NAMED

ALINE BARNSDALL.

HINES: WRIGHT WAS IN NEED OF

ESCAPE AND HELP.

PART OF IT HE FOUND IN JAPAN,

THE IMPERIAL HOTEL COMMISSION,

AND HERE IN THE BARNSDALL

COMMISSION.

THOSE TWO GREAT, RATHER EXOTIC

COMMISSIONS IN EXOTIC PLACES

FROM HIS MIDWESTERN STANDPOINT,

AND THOSE WERE IMPORTANT

SOURCES OF HEALING, REALLY, FOR

HIM.

HAWTHORNE: ACCORDING TO JEFFREY

HERR, WHO NOW OVERSEES

HOLLYHOCK HOUSE, ALINE

BARNSDALL HOPED TO BUILD NOT

JUST A RESIDENCE BUT A

PERFORMING-ARTS COMPLEX.

HERR: SHE WAS EDUCATED IN

EUROPE AND BECAME INTERESTED

IN THEATRE, SPECIFICALLY

AVANT-GARDE THEATRE.

HAWTHORNE: WHILE WRIGHT WAS OFF

IN TOKYO, SHE FOUND A 36-ACRE

HILLTOP SITE ON THE EASTERN

EDGE OF HOLLYWOOD, A SPOT

CALLED OLIVE HILL.

HINES: WITH ALINE BARNSDALL'S

MONEY, HER INHERITED FORTUNE

FROM HER FATHER WHO HAD BEEN AN

OIL BARON, THERE WERE LIMITLESS

POSSIBILITIES.

HAWTHORNE: AND WHILE HER DREAMS

OF BUILDING A THEATER WERE

NEVER REALIZED, THE HOUSE

WRIGHT PRODUCED FOR HER IS

PLENTY THEATRICAL ON ITS OWN.

HERR: WHEN WRIGHT DESIGNED

HOLLYHOCK HOUSE, HE NOT ONLY

CONCEDED TO ALINE BARNSDALL'S

IDEA THAT THIS HOUSE WOULD BE

NAMED HOLLYHOCK HOUSE BECAUSE

IT'S HER FAVORITE FLOWER, BUT

HE WENT 10 STEPS FURTHER

DESIGNING AN AMAZING

ABSTRACTION OF THE PLANT AND

THEN RIFFING ON THAT WITH

INNUMERABLE ADAPTATIONS

OF THAT DESIGN.

HAWTHORNE: THERE IS A RANGE OF

STYLES IN HOLLYHOCK HOUSE,

INCLUDING VIENNESE MODERN AND

JAPANESE ARCHITECTURE.

BUT IT IS, ABOVE ALL, A MAYA

TEMPLE.

HERR: IF YOU LOOK AT THE WEST

FACÇADE, YOU HAVE THIS MONUMENTAL

SORT OF TEMPLE-STYLE BUILDING.

IT HAS ORNAMENTATION THAT IS

CERTAINLY REMINISCENT OF MAYAN

OR PRE-COLUMBIAN RUINS.

HAWTHORNE: IN THE FINAL

ANALYSIS, DESPITE ITS

UNORTHODOX POWER AND MOMENTS OF

REAL BRILLIANCE, HOLLYHOCK

HOUSE WAS AN IMPERFECT L.A.

DEBUT FOR WRIGHT.

IT NEVER CAME CLOSE TO

FULFILLING BARNSDALL'S

AMBITIONS, THAT'S FOR SURE.

AND IN A FORESHADOWING OF

WRIGHT'S L.A.

HOUSES TO COME, IT NEVER

SUCCEEDED AS A RESIDENCE, A

DOMESTIC SETTING. BARNSDALL

STARTED THINKING ABOUT DONATING

IT TO THE CITY OF LOS ANGELES

BEFORE IT WAS EVEN A YEAR OLD,

AND SHE WOULD MAKE THE GIFT

OFFICIAL IN 1927.

IT'S PROBABLY DIFFICULT

FOR US TO REALIZE NOW JUST HOW

IDIOSYNCRATIC A HOUSE DESIGNED

TO RESEMBLE A MAYA TEMPLE WOULD

HAVE SEEMED IN THE LOS ANGELES

OF THAT TIME.

DEVERELL: BY THE TEENS, AND

CERTAINLY BY THE 1920S, THE

ELITE ARCHITECTURAL CLIENTS

HAVE MORE OR LESS CHOSEN THAT

THE ARTICLE OF FAITH IS THE

SPANISH COLONIAL STYLE.

HAWTHORNE: WRIGHT WAS FULL OF

DISDAIN FOR THIS ARCHITECTURE

AND ITS SUITABILITY FOR LOS

ANGELES.

HE CALLED IT "FRAUDULENT" AND

COMPLAINED THAT THE RED TILE

ROOFS OF SPANISH COLONIAL AND

MISSION-STYLE BUILDINGS HERE

"GIVE BACK THE SUNSHINE

STAINED PINK."

WHEN I WENT TO SEE

KATHRYN SMITH, AMONG THE LEADING

AUTHORITIES IN L.A.

ON WRIGHT'S WORK, SHE EXPLAINED

SOMETHING IMPORTANT: THAT

WRIGHT'S DISLIKE FOR THE

SPANISH COLONIAL WAS PART OF

HIS BROADER IMPATIENCE WITH THE

IDEA THAT AMERICAN ARCHITECTS

SHOULD LOOK TO EUROPE FOR THEIR

CULTURAL INSPIRATION.

SMITH: FRANK LLOYD WRIGHT

WANTED TO CREATE A GENUINE,

ORIGINAL AMERICAN ARCHITECTURE.

SO, EVEN FROM THE 1890S TO THE

1900S, HE REJECTED VICTORIAN

ARCHITECTURE, GREEK

ARCHITECTURE, ROMAN REVIVAL,

ROMANESQUE REVIVAL.

HINES: WRIGHT WAS ALWAYS

SOMETHING OF A CULTURAL

NATIONALIST DETERMINED TO FIND

THE ROOTS OF AN AMERICAN

CULTURE.

HAWTHORNE: WRIGHT WAS ARGUING,

IN EFFECT, THAT PRE-COLUMBIAN

ARCHITECTURE WAS MORE AMERICAN

THAN THE SPANISH COLONIAL AND

THAT LOS ANGELES HAD MORE IN

COMMON IN TERMS OF CLIMATE,

LANDSCAPE, AND CULTURE WITH

PRE-COLUMBIAN MEXICO THAN WITH

NEW YORK OR SPAIN. THIS

POINT OF VIEW WAS IN CERTAIN

WAYS DEEPLY NAIVE.

WRIGHT NEVER VISITED ANY

PRE-COLUMBIAN RUINS IN PERSON.

AS HE WOULD LATER DO WITH

NATIVE AMERICAN DESIGNS, WRIGHT

TENDED TO RATHER

INDISCRIMINATELY MIX TOGETHER

MAYA CULTURE WITH AZTEC OR INCA.

LASHER: THERE IS SOMETHING

PECULIAR ABOUT LOOKING TO

INDIGENOUS ARCHITECTURES OF

NORTH AND CENTRAL AMERICA AND

APPROPRIATING THEM WHEN, IN

FACT, YOU'RE THE DESCENDANT OF,

YOU KNOW, WHITE SETTLERS THAT

ACTUALLY PUSHED THESE

INDIGENOUS CULTURES ASIDE.

HAWTHORNE: AND YET THERE WAS

ALSO SOMETHING GENUINE IN

WRIGHT'S USE OF PRE-COLUMBIAN

FORMS.

WHAT HE WAS EXPRESSING WAS A

KIND OF HEARTFELT, IF

SCATTERSHOT, PAN-AMERICAN PRIDE.

"WE CAN'T LEARN ANYTHING FROM

EUROPE," HE SAID. "THEY HAVE TO

LEARN FROM US."

BY EARLY 1923, DESPITE THE FACT

THAT THE BARNSDALL JOB HADN'T

WORKED OUT THE WAY HE'D HOPED,

WRIGHT DECIDED HE WANTED TO

SETTLE IN LOS ANGELES FOR GOOD.

HIS SON FRANK LLOYD WRIGHT JR.,

KNOWN AS LLOYD WRIGHT AND AN

ARCHITECT LIKE HIS FATHER, HAD

PRECEDED HIM TO L.A.

FRANK LLOYD WRIGHT FOUND A

STUDIO AT THE CORNER OF

FOUNTAIN AND HARPER AVENUES, IN

WHAT'S NOW WEST HOLLYWOOD.

SMITH: FORTUNATELY FOR HIM,

THERE WAS SOMEONE HERE WHO

KNEW HIM, AND THIS WAS A WOMAN

NAMED ALICE MILLARD.

SHE AND HER HUSBAND HAD

COMMISSIONED HIM FOR A HOUSE IN

CHICAGO.

HAWTHORNE: MILLARD HAD MOVED TO

CALIFORNIA AFTER HER HUSBAND

DIED AND ASKED WRIGHT TO DESIGN

A HOUSE FOR A PIECE OF LAND

SHE'D FOUND IN PASADENA.

IT WAS A COMMISSION THAT WOULD

PROPEL HIS WORK IN A DRAMATIC

NEW DIRECTION. WRIGHT

WANTED TO OFFER AN ANSWER TO

THE LEAN, MACHINE-MADE

MODERNISM THAT WAS GAINING

TRACTION IN EUROPE,

BUT HE WANTED TO DO IT IN A WAY

THAT WOULD NOT ONLY SEEM

INDIGENOUS TO SOUTHERN

CALIFORNIA BUT THAT MIGHT BE

DEMOCRATIC, AFFORDABLE ON A

MASS SCALE. SO,

WRIGHT DEVISED A BRAND-NEW

MODULAR SYSTEM MADE,

SURPRISINGLY ENOUGH, OF

CONCRETE BLOCKS CREATED WITH A

RECIPE THAT USED SOIL FROM THE

BUILDING SITE ITSELF.

CONCRETE BLOCKS THAT COULD BE

CHEAPLY PRODUCED AND THEN

STACKED QUICKLY BY HAND.

SAMUELSON: YOU HAVE CONCRETE,

WHICH IS A NATURAL MATERIAL

THAT IS OF THE EARTH ITSELF.

ITS MATERIALS ARE PART OF THE

EARTH, BOUND TOGETHER BY THE

NATURAL SANDS AND THE CRUSHED

GRANITES THAT ARE PUT TOGETHER

BY CONCRETE INTO BLOCKS AND

FORMED.

HAWTHORNE: CONCRETE ALSO

APPEALED TO WRIGHT BECAUSE HE

COULD EASILY STAMP THE BLOCKS

WITH THE MAYA PATTERNS HE'D

GROWN SO FOND OF.

THE MATERIAL OF THE HOUSE AND

THE DECORATION ON THE HOUSE

WOULD BE ONE AND THE SAME.

PERHAPS THINKING BACK TO

TALIESIN, WRIGHT TOLD ALICE

MILLARD THAT ONE VIRTUE OF THE

BLOCKS WAS THAT THEY WERE

FIREPROOF. WHEN

I WENT TO SEE UCLA'S MICHAEL

OSMAN, AN EXPERT IN THE

MATERIALS OF MODERN

ARCHITECTURE, HE TOLD ME THAT

THERE WERE SOME BASIC

CONTRADICTIONS INHERENT

IN WRIGHT'S NEW SYSTEM.

OSMAN: WHEN I THINK ABOUT

WHAT AN ARCHITECT

IS DOING WHEN THEY TRY AND MAKE

A MODULAR SYSTEM OUT OF

CONCRETE, IT SEEMS TO ME TO BE

AGAINST THE GRAIN OF THAT

MATERIAL, WHICH IN A CERTAIN WAY

LENDS ITSELF TO BEING MORE OF A

MASS AND LESS OF A UNIT. SO,

WITH WOOD, BECAUSE IT GROWS IN A

TREE AND YOU TAKE THE TREE DOWN,

YOU'RE ALREADY GIVEN A UNIT,

THE LOG, AND THERE'S A LOT OF

INVESTIGATION INTO WHAT THE LOG

CAN DELIVER IN TERMS OF LUMBER.

BUT WHEN IT COMES TO AN

AGGREGATE MADE UP OF SAND,

CEMENT, GRAVEL, AND

REINFORCEMENT BARS, IT'S A

FRANKENSTEIN BODY IN A WAY, SO,

TO MAKE IT INTO A UNIT IS A KIND

OF COUNTERINTUITIVE THING, EVEN

THOUGH PEOPLE NOW, WE TAKE IT

FOR GRANTED THAT CONCRETE COMES

IN MODULAR UNITS.

HAWTHORNE: CONCRETE WAS FAR

FROM A HIGH-DESIGN MATERIAL IN

THOSE DAYS. WRIGHT CALLED IT THE

"CHEAPEST AND UGLIEST THING IN

THE BUILDING WORLD."

AND, IN FACT, THIS WAS PART OF

THE CHALLENGE FOR HIM.

AS HE PUT IT, "WHY NOT SEE WHAT

COULD BE DONE WITH THAT GUTTER

RAT?"

OSMAN: CONCRETE WAS A GUTTER

RAT IN CERTAIN CIRCLES, FOR

SURE WITH JOHN RUSKIN IN THE

SEVEN LAMPS OF ARCHITECTURE,

THE LAMP OF TRUTH IS NEVER

USE--THERE'S A FOOTNOTE: NEVER

USE CONCRETE BECAUSE IT HAS NO

CHARACTER.

IT DOESN'T COME FROM NATURE,

AND THEREFORE IT ONLY TAKES ON

THE CHARACTER OF EITHER WHAT

YOU COVER IT WITH, OR THE

FORMWORK THAT IT'S POURED INTO.

HAWTHORNE: FOR WRIGHT, THIS

QUALITY WAS CENTRAL TO

CONCRETE'S APPEAL.

HE SAW THE MATERIAL AS A

SHAPESHIFTER, CAPABLE OF

SOLVING SEVERAL ARCHITECTURAL

PROBLEMS AT ONCE.

SMITH: SO, WITH THIS ONE

ELEMENT, THE SQUARE BLOCK, FRANK

LLOYD WRIGHT CREATED SOMETHING

THAT WAS STRUCTURAL, MODULAR,

MATERIAL, AND A POETIC

CONNECTION TO THE SITE ITSELF.

HAWTHORNE: ONCE WRIGHT HAD AN

APPROACH IN MIND FOR ALICE

MILLARD'S PROPERTY, HE DECIDED

TO PUT THE HOUSE NOT IN THE

PERFECTLY FLAT MIDDLE OF THE

LOT, AS PRETTY MUCH ANY OTHER

ARCHITECT WOULD HAVE DONE, BUT

DOWN IN A RAVINE ALONG ONE

EDGE. THOUGH THIS MADE

THE HOUSE SUSCEPTIBLE

TO FLOODING FROM DAY ONE, IT'S

ALSO WHAT GIVES THE DESIGN,

VEILED BY TREES, SUCH AN

OTHERWORLDLY LOOK.

THE RESULT, WHICH

WRIGHT NICKNAMED

"LA MINIATURA," IS A SINGULARLY

BRILLIANT WORK OF L.A.

ARCHITECTURE, ONE THAT SEEMS TO

GROW ALMOST INEXORABLY FROM ITS

SITE WHILE ALSO CLOSING ITSELF

OFF FROM THE WORLD AT LARGE.

FLAT-ROOFED LIKE A WORK OF

A EUROPEAN MODERNIST, BUT

ALTOGETHER MORE MYSTERIOUS,

CLOSED-OFF, AND DRAMATIC.

A SMALL TEMPLE IN A EUCALYPTUS

GROVE. REMEMBER

BRENDAN GILL'S MAYAN GOD?

HE MIGHT HAVE FELT VERY MUCH AT

HOME HERE.

O'NEIL: WHEN I SAW THE DESIGNS

ON THE MILLARD HOUSE WITH THAT

CROSS, I THOUGHT, "WELL, COULD

THAT BE A REFERENCE TO THIS

MESOAMERICAN UNDERSTANDING OF

THE SHAPE OF THE UNIVERSE?"

THE MESOAMERICAN UNIVERSE, OF

WHICH THE MAYA WERE A PART,

SHARED WITH THE MAYA, AZTECS,

MIXTECS, ZAPOTECS, ALL THESE

CULTURES, THE CARDINAL

DIRECTIONS AND INTERCARDINAL

DIRECTIONS WERE ABSOLUTELY

IMPORTANT TO ESTABLISHING

THE UNIVERSE.

SO, YOU GET STORIES OF GODS OR

HEROES WHO MEASURE OUT THE

SIDES OF THE UNIVERSE.

SO, WHEN YOU SEE THIS CROSS,

LET'S SAY, EQUIDISTANT, IT IS

SHOWING, IT'S POINTING TO THOSE

CARDINAL DIRECTIONS,

ESTABLISHING OR SHOWING THE

SHAPE OF YOUR UNIVERSE.

BUT THAT SPECIFIC DESIGN IS

ALSO THE SYMBOL FOR GOLD FOR

THE AZTECS.

AND I HAVE NO IDEA IF FRANK

LLOYD WRIGHT KNEW THAT, BUT

IT'S PRETTY NEAT TO SEE THE

MILLARD HOUSE WITH ALL OF THESE

DESIGNS FOR GOLD.

IT'S SORT OF THIS SORT OF

CHANGING OF MATERIALS WHERE YOU

GET CONCRETE TURNING INTO GOLD,

SO, SORT OF TRANSUBSTANTIATION

OR SOMETHING LIKE THAT.

HAWTHORNE: BY THIS POINT, I'D

SPOKEN TO A NUMBER OF EXPERTS

ON WRIGHT'S WORK, BOTH IN THE

MIDWEST AND IN LOS ANGELES.

WHAT I HADN'T DONE IS SPEAK TO

ANYBODY WHO LIVES IN ONE OF

THESE HOUSES. AND

WHILE THAT WAS IMPOSSIBLE IN A

LITERAL SENSE--NONE OF WRIGHT'S

L.A. HOUSES IS NOW USED AS A

FULL-TIME RESIDENCE--I FOUND

THE NEXT BEST THING VIA MY

8-YEAR-OLD DAUGHTER.

[PIANO PLAYING]

WOMAN: BEAUTIFUL.

HAWTHORNE: SHE TAKES PIANO

LESSONS IN THE STUDIO ATTACHED

TO THE MILLARD HOUSE, WHICH

WRIGHT'S SON LLOYD

ADDED IN 1926.

HER TEACHER, CINDY LAM, ACTS AS

A CARETAKER FOR THE MAIN HOUSE.

LAM: TWO.

NOTES WERE CORRECT.

I DID THINK IT WAS

STRANGE-LOOKING.

WHEN I FIRST SAW PICTURES OF

THIS PLACE, I THOUGHT, "REALLY?

LIKE, WHO MAKES A CONCRETE

HOUSE? THAT'S JUST, LIKE, SO

UGLY. WHO DOES THAT?" [LAUGHS]

I DIDN'T REALLY SEE THE

DARKNESS. I THINK

I SAW THIS PLACE--REALLY, IT

REPRESENTED STRENGTH AND BEAUTY

TO ME.

I HAD A BREAK-UP WITH A

BOYFRIEND AND WE WERE IN THE

PROCESS OF BREAKING UP AND HE

WAS SAYING ALL THESE THINGS TO

ME THAT WERE, YOU KNOW, LESS

THAN DESIRABLE.

I JUST REMEMBER THERE WAS LIKE

A MOMENT, LIKE THIS LIGHT BULB

WENT OFF AND I THOUGHT, "THIS

IS MY FORTRESS. YOU DON'T GET

TO BE IN HERE. YOU NEED TO

LEAVE NOW."

THIS HOUSE REALLY EMBOLDENS

PEOPLE.

I'VE FOUND PEOPLE IN THE YARD.

I HAVE A SIGN OUT FRONT THAT

SAYS THAT THERE ARE NO TOURS

BUT IF YOU FEEL ENTITLED TO ONE

THEN YOU CAN LEAVE A BOTTLE OF

WINE AND WE CAN TALK ABOUT IT.

[LAUGHS]

SO FAR, NO WINE. I THINK PEOPLE

GET A LITTLE BIT SHAMED BY THAT

MESSAGE AND THEY GO THEIR OWN

WAY.

HAWTHORNE: THE NEXT HOUSE

WRIGHT DESIGNED IN LOS ANGELES,

AFTER MILLARD, HAS ALWAYS BEEN

SOMETHING OF AN ENIGMA.

AND SO IS THE MAN IT'S NAMED

FOR, A DOCTOR FROM WISCONSIN

NAMED JOHN STORER.

SMITH: WE DON'T KNOW A LOT

ABOUT HIS BIOGRAPHY, BUT

THROUGH THE DRAWINGS AND SOME

CORRESPONDENCE, IT HAS COME TO

LIGHT THAT THIS WAS PROBABLY A

SPEC HOUSE, SOMETHING THAT

STORER WAS BUILDING FOR RESALE.

MARTHA STEWART: ONE OF MY

FAVORITE THINGS TO DO IS TO LOOK

AT ARCHITECTURE, AND TODAY I'M

LOOKING AT ONE--

HAWTHORNE: THOUGH THE CURRENT

OWNER TURNED DOWN OUR REQUEST

TO FILM THERE,

WE GOT A PEEK INSIDE THANKS TO

MARTHA STEWART, WHO FEATURED

THE HOUSE ON HER TELEVISION

SHOW NEARLY 20 YEARS AGO. THE

FOOTAGE SUGGESTS A GOOD DEAL OF

CONTINUITY WITH THE MILLARD

HOUSE, WITH A STRONG MAYA

INFLUENCE, STACKED CONCRETE

BLOCKS, A REDWOOD CEILING, AND

A RATHER STANDOFFISH

RELATIONSHIP TO THE STREET.

HINES: YOU LOOK UP AT IT FROM

HOLLYWOOD BOULEVARD, THAT

LITTLE STRETCH OF HOLLYWOOD

BOULEVARD, AND IT'S A REAL

PRESENCE THERE.

YOU'RE NOT GOING TO MISS IT.

IT DOES NOT NESTLE IN.

HAWTHORNE: WRIGHT PUT THE LIVING

ROOM ON THE TOP FLOOR,

INSIDE A TALL CENTRAL

PAVILION THAT OPENS ONTO A PAIR

OF TERRACES.

THE HOUSE IS EVEN MORE VERTICAL

AND TEMPLE-LIKE THAN MILLARD AS

SEEN FROM THE STREET, BECAUSE

INSTEAD OF BEING SUNK INTO A

RAVINE, IT STARTS ON A HILLSIDE

AND GOES UP FROM THERE. THE

AUTHOR AND WRIGHT EXPERT ROBERT

SWEENEY TOLD ME THAT AS THE

STORER HOUSE WAS UNDER

CONSTRUCTION, WRIGHT WAS

CONTINUING TO EXPERIMENT WITH

THE CONCRETE BLOCK SYSTEM.

SWEENEY: HE DID A DESIGN FOR

ALINE BARNSDALL ON OLIVE HILL

CALLED THE LITTLE DIPPER; IT

WAS A KINDERGARTEN.

AND THERE ARE MANY DRAWINGS

SHOWING THE EVOLUTION OF THE

CONCRETE BLOCK SYSTEM.

IT WAS WORKED OUT FOR THE

LITTLE DIPPER.

HAWTHORNE: ONE CHANGE FROM

MILLARD WAS THAT THE BLOCKS

COULD BE STACKED WITHOUT ANY

MORTAR, REQUIRING LESS SKILLED

LABOR, AND THEN WOVEN TOGETHER

WITH VERTICAL AND HORIZONTAL

STEEL RODS.

WRIGHT CALLED IT A

TEXTILE BLOCK SYSTEM.

SWEENEY: WRIGHT WENT BACK TO

WISCONSIN DURING CONSTRUCTION

OF THE STORER HOUSE AND TURNED

THE PROJECT OVER TO HIS SON

LLOYD.

HAWTHORNE: WHEN HE RETURNED TO

CALIFORNIA, WRIGHT WAS DEEPLY

DISAPPOINTED.

COMPARED TO ALICE MILLARD,

STORER WAS A LESS INVOLVED AND

DEDICATED CLIENT.

ON TOP OF THAT, WRIGHT'S BLOCK

SYSTEM WAS PROVING TRICKY TO

EXECUTE, ESPECIALLY ON A

HILLSIDE.

WRIGHT TOLD LLOYD THAT HE

CONSIDERED THE HOUSE A

"TRAGEDY" AND THAT IT WAS

"LACKING JOY."

IN LATER YEARS, ONE RESIDENT OF

THE HOUSE, EVEN IN PRAISING IT,

COMPARED THE LIVING ROOM TO "A

DRAMA OF SOPHOCLES," AS IF

WRIGHT'S OWN FAMILY STRIFE AND

VIOLENT RECENT PAST WERE

WRITTEN INTO THE CONCRETE

BLOCKS THEMSELVES.

THE HOUSE, TO BE FAIR, HASN'T

ALWAYS PROMPTED THAT SORT OF

REACTION.

IN THE 1980S, THE FILM PRODUCER

JOEL SILVER BOUGHT IT AND

UNDERTOOK A COMPLETE AND

ENTHUSIASTIC RESTORATION.

IN THE PROCESS, HE BECAME SO

OBSESSED WITH WRIGHT THAT HE

BEGAN DROPPING REFERENCES TO

THE ARCHITECT INTO HIS WORK.

IN "DIE HARD," THERE'S A TV NEWS

STATION CALLED KFLW, AND THE

MOVIE'S VILLAIN, HANS GRUBER,

PLAYED BY ALAN RICKMAN, PAUSES

AT ONE POINT TO ADMIRE A BRIDGE

DESIGN THAT WRIGHT IN REAL LIFE

PROPOSED NEAR THE END OF HIS

CAREER FOR SAN FRANCISCO BAY.

GRUBER/RICKMAN: --EXACTNESS,

THE ATTENTION TO EVERY

CONCEIVABLE DETAIL.

IT'S BEAUTIFUL.

HAWTHORNE: THE STORER HOUSE

ITSELF DOESN'T SHOW UP IN ANY

OF SILVER'S MOVIES, OR ANY

FAMOUS MOVIES, FOR THAT

MATTER. BUT

FOR THE NEXT OF WRIGHT'S LOS

ANGELES HOUSES, FOR THE COUPLE

CHARLES AND MABEL ENNIS, IT'S A

COMPLETELY DIFFERENT STORY.

[DOOR CREAKING]

[MAN LAUGHING]

VINCENT PRICE: I'M VINCENT

PRICE, AND YOU'RE INVITED TO MY

PARTY IN THE HOUSE ON

HAUNTED HILL.

HAWTHORNE: I VISITED THE

ENNIS HOUSE NOT LONG AFTER THE

COMPLETION OF AN IMMACULATE

RESTORATION OVERSEEN BY ITS NEW

OWNER--RON BURKLE.

WHAT STRUCK ME WAS THAT THE

HOUSE IS NOT JUST THE BIGGEST

BUT THE MOST IMPOSING OF

WRIGHT'S L.A.

DESIGNS, ONE THAT MANAGES TO

WRING GENUINE GRANDEUR FROM

CONCRETE BLOCK.

LOOMING OVER LOS FELIZ, IT'S

THE APOTHEOSIS OF WRIGHT'S

VISION OF A PRE-COLUMBIAN

TEMPLE RELOCATED TO SOUTHERN

CALIFORNIA--MONUMENTAL AND

IMPENETRABLE.

HINES: THAT BULWARK, THAT

BASTION UP THERE.

QUITE WONDERFUL, QUITE

STRIKING, BUT NOT INTIMATE.

HAWTHORNE: MANY OF THE DETAILS,

THE WROUGHT-IRON DECORATION AND

STAINED GLASS IN PARTICULAR,

REFLECT THE ENNISES' TASTE MORE

THAN THEIR ARCHITECT'S.

SMITH: THEY WERE AN INTERESTING

COUPLE. WE DON'T REALLY KNOW

A LOT ABOUT THEM.

I DON'T THINK IT'S EVEN PINNED

DOWN AT THIS MOMENT HOW THEY

MET FRANK LLOYD WRIGHT.

SWEENEY: I HAVE WRESTLED FOR

YEARS WONDERING WHY THEY BUILT

THIS ENORMOUS HOUSE.

IT'S A MAYA PALACE.

SMITH: THEY WERE JUST CLIENTS,

AND THEY WANTED TO HAVE THE

HOUSE THAT THEY WANTED TO HAVE

BUILT, AND SO, THERE ARE PARTS

OF THE ENNIS HOUSE, MAJOR, MAJOR

ELEMENTS THAT POP OUT TO

PEOPLE, WHERE THEY TURN TO THE

KIND OF DECORATIVE WORK OF THE

PERIOD.

IT SORT OF LOOKS LIKE NORMA

DESMOND'S HOUSE IN "SUNSET

BOULEVARD."

AND PEOPLE WONDER ABOUT THAT,

BUT THAT'S BECAUSE THEY WANTED

TO HAVE IT CARRIED OUT AND

COMPLETED TO THEIR OWN WISHES.

IT'S ATTRACTED A CERTAIN AURA

ABOUT IT, WHICH PERHAPS HAS

BEEN MADE MORE SO BY THE NUMBER

OF HOLLYWOOD FILMS THAT IT'S

BEEN IN.

BUT I THINK EVEN BEFORE THAT,

IT WAS IN THE HOLLYWOOD FILMS

BECAUSE IT COMMUNICATED THIS

KIND OF MYSTERIOUS AURA

ABOUT IT.

APPIS: OH, MRS. ESTEE

DECIDED THE POOL NEEDED A

DEAD HORSE IN IT, SO,

WE GOT ONE.

HAWTHORNE: IF THE ENNIS HOUSE

WAS TYPICAL OF WRIGHT'S L.A.

WORK IN SUGGESTING DARK, EVEN

SINISTER OVERTONES, IN SEEMING

TO REPEL THE VERY IDEA OF

NORMAL FAMILY LIFE, THE

EXCEPTION CAME IN THE

ARCHITECT'S FOURTH

CONCRETE BLOCK HOUSE, IN THE

HOLLYWOOD HILLS. THE

CLIENTS WERE A YOUNG BOHEMIAN

COUPLE NAMED HARRIET AND SAMUEL

FREEMAN; THEY'D SCRAPED

TOGETHER THE MONEY TO BUY A

PIECE OF LAND THAT OFFERED A

VIEW STRAIGHT DOWN HIGHLAND

AVENUE.

WHAT THE FREEMANS LACKED IN

MONEY THEY MADE UP FOR IN

ENTHUSIASM FOR WRIGHT'S WORK.

THE ARCHITECT, IN RETURN,

PRODUCED A HOUSE THAT SEEMED TO

FIT THEM LIKE A GLOVE, WITH

A BIG, OPEN LIVING ROOM WHERE

HARRIET, A DANCER, COULD HOLD

PERFORMANCES AND SALONS.

THEY LIVED THERE FOR THE REST

OF THEIR LIVES, MORE THAN 60

YEARS.

AND UNDER THE STEWARDSHIP OF

USC, TO WHICH THE FREEMANS

DONATED THE HOUSE IN 1986, IT'S

BEEN THE SETTING FOR AT LEAST

ONE MORE SUCCESSFUL

RELATIONSHIP.

HARRIS: I'M HANK HARRIS. I'M AN

ACTOR. MY WIFE--

TIMME: IS ELIZABETH TIMME, AND

I'M AN ARCHITECT AND

MY DAD WAS THE DEAN OF THE

SCHOOL OF ARCHITECTURE AT USC

FROM 1994 TO 2005 AND--

HARRIS: WE MET AND FELL IN

LOVE IN THE FREEMAN HOUSE.

TIMME: AND I HAD THE BENEFIT OF

BEING ABLE TO STAY THERE WHILE

I WAS A STUDENT.

HARRIS: ME, TOO.

TIMME: AND HIM, TOO.

HAWTHORNE: YOU'VE PROBABLY

NOTICED BY NOW THAT THE FREEMAN

HOUSE IS IN PRETTY TERRIBLE

SHAPE. IN

PART BECAUSE OF ITS STEEP LOT,

AND PERHAPS BECAUSE THE

FREEMANS DIDN'T HAVE THE

RESOURCES OF THE ENNISES OR

EVEN ALICE MILLARD, THE HOUSE

HAD STRUCTURAL PROBLEMS FROM

THE BEGINNING.

WRIGHT HAD CLEARLY NOT

PERFECTED HIS NEW

CONCRETE BLOCK SYSTEM.

THESE ISSUES WERE COMPOUNDED BY

THE 1994 NORTHRIDGE EARTHQUAKE.

HARRIS: THE TEXTILE BLOCKS

WOULD ABSORB RAIN TO A POINT

AND THEN IT WOULD JUST BEGIN TO

DRIP THROUGH CONSTANTLY.

TIMME: AND I REMEMBER MY DAD

JUST COMING OVER WITH,

LIKE, TARP.

HARRIS: YEAH, IT WAS JUST

PLASTIC EVERYWHERE, JUST TO KEEP

THE WATER OFF THE FLOOR, AND

WE'D GET UP AND SQUEEGEE IT OFF

EVERY MORNING.

TIMME: SO, IT FELT LIKE A RUIN,

WHICH WAS REALLY CRAZY TO BE

INSIDE SOMETHING THAT FELT VERY

MUCH LIKE ANGKOR WAT.

IT JUST FELT VERY MUCH LIKE

SOMEONE ELSE'S KIND OF BIZARRE

"BLADE RUNNER" FANTASY.

HAWTHORNE: OUR NEXT INTERVIEWEE,

WHO OVERSEES THE HOUSE FOR USC,

UNDERSTANDS AS WELL AS ANYBODY

HOW DIFFICULT THESE PROBLEMS

ARE TO SOLVE.

SANDMEIER: WE'RE TAKING THE

APPROACH THAT, YOU KNOW, THIS IS

A VERY COMPLICATED KNIT SWEATER

AND WE DON'T WANT TO PULL THE

WRONG THREAD FIRST AND UNRAVEL

THE WHOLE THING.

IT IS A COMBINATION OF NOT

ENOUGH MONEY TO DO IT AND

TRYING TO DECIDE WHAT THE RIGHT

APPROACH AND, WITH THE SMALL

AMOUNT OF MONEY WE HAVE, WHAT

INTERVENTION IS THE MOST

IMPORTANT.

WE USE IT NOW, WE TAKE STUDENTS

UP THERE ALL THE TIME, AND IT'S

IN A CONDITION WHERE IT

ACTUALLY PROVIDES SOME REALLY

GREAT LESSONS ABOUT HOW THIS

HOUSE WAS ACTUALLY BUILT.

YOU CAN SEE A LOT OF THE

INFRASTRUCTURE. YOU CAN SEE THE

SYSTEMS. THEY'RE EXPOSED RIGHT

NOW.

THAT'S AMAZING FOR ARCHITECTURE

STUDENTS.

HAWTHORNE: THERE ARE TIMES WHEN

IT CAN SEEM LIKE FOLLY TO KEEP

FIXING A HOUSE THAT IN MANY

WAYS HAS PROVED STUBBORNLY

UNFIXABLE.

SMITH: AND I'VE THOUGHT A LOT

ABOUT THE SYSTEM, BECAUSE IT WAS

EXPERIMENTAL, BUT THEN, ON THE

OTHER HAND, THERE'S NO DOUBT

THAT IT WAS FLAWED.

AT THE VERY BEGINNING, I

BELIEVED THAT THE TEXTILE BLOCK

SYSTEM SHOULD BE HELD

SACROSANCT, BUT IF YOU GO TO

JAPAN, YOU SEE, IF YOU FOLLOW

OUT THE IDEA OF BUILDING A

BUILDING IN CONCERT WITH NATURE,

IN CONCERT WITH NATURE MEANS

THAT IT HAS A LIFE.

AND WHEN YOU CARRY FORWARD

WITH A LIFE, AT SOME TIME,

A LIFE ENDS.

IN SOME WAYS, I KNOW THIS WOULD

BE HORRIFIC TO AN AMERICAN

MENTALITY, BUT PERHAPS THEY

SHOULD JUST HAVE BEEN ALLOWED

TO DETERIORATE, AND THAT WOULD

HAVE BEEN THE LOGICAL

CONCLUSION OF THE SYSTEM.

TIMME: WE ALWAYS JOKED THAT WE

WOULD, IF WE GOT REALLY RICH

AND FAMOUS, WE WOULD GO

BACK THERE AND PAINT IT

GOLD AND THEN BURN IT DOWN.

HARRIS: YEAH, YOU CAN'T BURN

CONCRETE, THOUGH.

TIMME: I KNOW. THAT'S WHY IT'S

A FUNNY--

HARRIS: --IT'S A JOKE.

TIMME: IT'S A JOKE.

WE COULD MELT IT.

HARRIS: YEAH.

HAWTHORNE: SOME HISTORIANS HAVE

STRESSED THE DIFFERENCES

BETWEEN THIS HOUSE AND THE

CONCRETE BLOCK DESIGNS THAT

PRECEDED IT, EVEN SEEING IN ITS

CORNER WINDOW THE SEEDS OF THE

CASE STUDY MODERN HOUSES OF

POST-WAR LOS ANGELES. BUT

MORE STRIKING IS HOW SIMILAR

THE CONCRETE BLOCK HOUSES ARE

AS A GROUP, HOW CONSISTENTLY

DENSE AND INTROVERTED. THE

FREEMAN HOUSE, AS SEEN FROM THE

STREET, IS JUST AS WINDOWLESS,

SECRETIVE, AND OFF-PUTTING,

JUST AS SUGGESTIVE OF A CRYPT,

AS THE MILLARD HOUSE, THE FIRST

OF WRIGHT'S CONCRETE

EXPERIMENTS HERE.

SMITH: BY THE END OF 1923, HE

WAS FEELING THAT THERE WASN'T

GOING TO BE A BIG FUTURE FOR

HIM.

AND HE SORT OF WAS AT A DEAD

END. HE DIDN'T FEEL COMFORTABLE

HERE. HE FELT ALIENATED FROM

THE REAL ESTATE MARKET OF

LOS ANGELES.

DEVERELL: CALIFORNIA

HISTORY IS FILLED WITH PEOPLE

WHO COME OUT TO CALIFORNIA

IMAGINING A FUTURE FOR

THEMSELVES THAT NEVER TAKES

PLACE. THEY NEVER DISCOVER GOLD,

THEY NEVER GET FAMOUS, THEY

NEVER STAR IN A FILM, THEY NEVER

FIND OIL, SO, THEY GO HOME.

SWEENEY: HE WAS NOT

WELL-RECEIVED IN SOUTHERN

CALIFORNIA.

PEOPLE WERE NOT PEOPLE WILLING

TO TAKE THE RISK OR BE

EXPERIMENTAL ENOUGH TO BUILD

WITH THESE CONCRETE BLOCKS, AND

I THINK MANY PEOPLE SIMPLY

DIDN'T LIKE THE HOUSES.

THEY ARE NOT DOMESTIC IN ANY

CONVENTIONAL SENSE.

SAMUELSON: HE WAS SOMEBODY WHO

WAS IMPULSIVE AND HE

WOULD CHANGE.

HE WAS PERCEPTIVE. AND SO, IF

IT LOOKED LIKE IT WASN'T GOING

WHERE IT WANTED TO GO,

[SNAPS FINGERS] THAT'S IT.

HE WENT BACK HOME.

HAWTHORNE: AFTER LEAVING LOS

ANGELES AT THE END OF 1923,

WRIGHT MAINTAINED SOME

CONNECTIONS HERE. HIS

SON LLOYD STAYED ON IN L.A.,

AND EVEN CONTINUED THE FAMILY

TRADITION OF DESIGNING HOUSES

COVERED IN PRE-COLUMBIAN

ORNAMENT.

VISITING THIS HOUSE BY

LLOYD WRIGHT IS

TELLING, THOUGH.

WHAT LLOYD PRODUCED HAS NONE OF

THE GRAVITY, THE POWER, OF HIS

FATHER'S L.A. HOUSES.

IT FEELS LIKE A STAGE SET, SOME

CORNER OF DISNEYLAND.

THE HOUSE IS A PASTICHE IN A

WAY FRANK LLOYD WRIGHT'S L.A.

HOUSES ARE NOT. ACROSS L.A.,

AS THE 1920S WORE ON,

PRE-COLUMBIAN ARCHITECTURE

BECAME ALL THE RAGE, THOUGH

WITH MORE FLAMBOYANCE AND

POPULISM THAN HAD MARKED

WRIGHT'S USE OF IT.

MOST NOTABLY, A BRITISH

ARCHITECT NAMED ROBERT

STACY-JUDD CAME HERE, FULLY

EMBRACED PRE-COLUMBIAN CULTURE,

AND NEVER LOOKED BACK.

HE BUILT THE AZTEC HOTEL IN

MONROVIA. HERE

HE IS DOING A MADE-UP

PRE-COLUMBIAN DANCE IN MADE-UP

PRE-COLUMBIAN COSTUME.

AND HERE'S A DANCER PERFORMING

SOME OF THAT SAME CHOREOGRAPHY

IN FRONT OF THE ENNIS HOUSE IN

THE LATE 1920S. LATER

ON, FRANK LLOYD WRIGHT WOULD

COME BACK TO DESIGN THE 1939

STURGES HOUSE IN BRENTWOOD, A

CANTILEVERED VERSION OF

WRIGHT'S SMALL USONIAN HOUSES.

IN THE 1950S, HE DESIGNED THIS

SMALL SHOPPING CENTER ON RODEO

DRIVE IN BEVERLY HILLS. BUT

NONE OF THOSE LATER DESIGNS

HAVE THE PECULIAR FORCE OR

DENSITY OF THE L.A.

HOUSES OF THE 1920S.

NOW NEARLY A CENTURY OLD, THESE

CONCRETE BLOCK HOUSES RETAIN

THEIR WILDLY ANOMALOUS

CHARACTER. THEY STAND APART

FROM WRIGHT'S WORK, AND APART

FROM THE REST OF THE LOS

ANGELES ARCHITECTURE OF THE

PERIOD.

OSMAN: THE L.A. HOUSES ARE

MUSCULAR, THEY'RE

BRUTAL, THEY'RE ROMANTIC,

THEY'RE FANTASTIC, YOU KNOW.

THEY'RE STRANGE.

HAWTHORNE: AND ALL THESE YEARS

LATER THEY'VE SETTLED INTO AN

ODD PLACE IN THE CULTURE,

POPPING UP NOT JUST IN THE

MOVIES BUT IN THE DIGITAL WORLD.

IT TURNS OUT WRIGHT'S BLOCKS

WORK EXCEPTIONALLY WELL IN THE

GAME MINECRAFT, WHICH RELIES ON

A SIMILAR MODULAR LOGIC.

THERE'S ALSO A COMPOSITE

VERSION OF THE

BLOCK HOUSES IN A VIDEO GAME

STARRING BUFFY THE VAMPIRE

SLAYER, IN WHICH BUFFY FIGHTS

OFF UNDEAD OPPONENTS IN A

SERIES OF APPROPRIATELY DARK

AND MOODY WRIGHTIAN SPACES.

TO GET A FINAL AND MORE PERSONAL

PERSPECTIVE ON WRIGHT'S TIME IN

L.A., I DROVE OUT TO MALIBU ONE

MORNING TO MEET ERIC LLOYD

WRIGHT, FRANK'S GRANDSON AND

LLOYD'S SON, AND AN ARCHITECT

IN HIS OWN RIGHT WHO HAS WORKED

ON RESTORING SEVERAL OF HIS

GRANDFATHER'S HOUSES. ERIC

WRIGHT LIVES WITH HIS WIFE

MARY IN A COMPOUND OVERLOOKING

THE PACIFIC THAT FEELS VERY

MUCH LIKE THE END OF THE ROAD.

IF FRANK LLOYD WRIGHT SOUGHT IN

L.A. THAT FAR CORNER OF THE

U.S., HIS GRANDSON, NOW 88,

SEEMS TO HAVE FOUND THAT FAR

CORNER OF LOS ANGELES ITSELF.

WE MET IN AN UNFINISHED BUILDING

MADE, APPROPRIATELY ENOUGH,

OUT OF CONCRETE ON THE EDGE OF

HIS PROPERTY. WE

TALKED ABOUT THE TEXTILE BLOCK

SYSTEM, HIS RELATIONSHIP WITH

HIS GRANDFATHER, AND ABOUT HIS

WORK ON SOME OF THE L.A.

HOUSES. I ASKED HIM WHY

HE THOUGHT WRIGHT

HAD COME HERE AFTER MAMAH'S

MURDER. WHAT HAD DRAWN HIM

TO LOS ANGELES?

WRIGHT: WELL, HE, OF COURSE,

WAS, HAD BEEN VERY UPSET ABOUT

THE DEATH OF HIS COMPANION AND

ALL THE ADVERSE PUBLICITY THAT

HAD COME ABOUT BECAUSE OF HIS

LIVING WITH HER AND BEING

TOGETHER.

SO, HE THOUGHT THAT

LOS ANGELES,

THIS WAS A NEW TOWN, COMING UP,

HE COULD HAVE A NEW LIFE.

HAWTHORNE: AND THEN, FOR ME, A

KEY QUESTION: WHEN FRANK LLOYD

WRIGHT BEGAN WORKING IN LOS

ANGELES, WHAT WAS HIS STATE OF

MIND?

WRIGHT: WELL, IT WAS ONE OF, I

THINK, SORROW BECAUSE HE HAD,

THEY HAD HAD A WONDERFUL LIFE.

HE HAD HAD WITH MAMAH BORTHWICK

A WONDERFUL LIFE UNTIL HER

DEATH.

HAWTHORNE: THAT BRINGS US

BACK TO MY OVERNIGHT STAY AT

THE MILLARD HOUSE AND THE

QUESTION I POSED AT THE START:

WHY DO THE L.A.

HOUSES LOOK THE WAY THEY DO?

ARE THEY EXPRESSIONS NOT JUST

OF A DESIRE FOR PRIVACY AND

ESCAPE BUT EXPRESSIONS, TO USE

ERIC WRIGHT'S WORD, OF "SORROW"?

SOME OF THE PEOPLE I

INTERVIEWED TOOK ISSUE WITH

THAT IDEA.

SAMUELSON: MANY PEOPLE HAVE

LOOKED AT THE CALIFORNIA

HOUSES, PARTICULARLY THE

CONCRETE BLOCK HOUSES OF 1923,

AS THINGS THAT ALMOST SEEM LIKE

MAUSOLEUMS, OR THEY'RE HEAVY,

AND THAT THIS REFLECTS AN IDEA

OF GRIEF. NOW, I CAN'T GET INTO

WRIGHT'S HEAD. I DON'T KNOW

THAT I QUITE BUY THAT.

HAWTHORNE: AFTER A WHILE, IT WAS

IMPOSSIBLE NOT TO NOTICE A

SPLIT.

HISTORIANS HAVE TENDED TO PLAY

DOWN THE PRE-COLUMBIAN ASPECTS

OF THE HOUSES AND ESPECIALLY

THEIR CONNECTIONS TO DEATH AND

TO PLAY UP THEIR WIDE RANGE OF

OTHER INFLUENCES. ARTISTS,

FILMMAKERS, HOLLYWOOD LOCATION

SCOUTS, AND VIDEO-GAME

DESIGNERS, ON THE OTHER HAND,

HAVE ALL HAD A SIMPLER AND

PERHAPS MORE INSTINCTIVE TAKE.

THEY'VE SEEN WHAT'S RIGHT IN

FRONT OF THEM, RIGHT IN FRONT

OF ALL OF US: THAT THESE HOUSES

ARE SHADOWED BY VIOLENCE AND

EVEN DEATH.

OVER TIME I CAME TO AGREE WITH

THIS MORE DIRECT VIEW, EVEN TO

THINK OF THE HOUSES AS A

PRECURSOR TO L.A. NOIR.

AND FOR ME, IT HARDLY FELT LIKE

A LEAP.

IF MY EXPERIENCE AS A CRITIC

HAS TAUGHT ME ANYTHING, IT'S

THAT IF YOU SPEND ENOUGH TIME

IN A BUILDING AND LISTEN

CLOSELY ENOUGH TO WHAT IT'S

SAYING, IT WILL TELL YOU PRETTY

MUCH EVERYTHING YOU NEED TO

KNOW. AND

YOU'D HAVE TO BE PUTTING YOUR

FINGERS IN YOUR EARS NOT TO

HEAR HOW CLEARLY WRIGHT'S LOS

ANGELES HOUSES ARE

COMMUNICATING THEIR MORE

FUNEREAL ASPECTS.

WHAT'S MORE, THE VOCABULARY

THAT HAS GROWN UP AROUND THE

HOUSES, SOME OF IT FROM WRIGHT

HIMSELF, IS CONSISTENTLY DARK

AND EVEN MACABRE: DRAMA OF

SOPHOCLES; BRUTAL; SINISTER;

TRAGEDY; LACKING JOY.

PART OF WHAT'S HAPPENING HERE,

I THINK, IS THAT SCHOLARS

ARE UNDERSTANDABLY RELUCTANT TO

EMBRACE THE CRUDE CARICATURE OF

PRE-COLUMBIAN CULTURE AND ITS

VARIOUS DEATH CULTS, ESPECIALLY

THAT OF THE AZTECS, THAT WAS AN

IMPORTANT PART OF THE WAY

AMERICANS UNDERSTOOD THOSE

RUINS DURING WRIGHT'S DAY.

YET THERE'S NO DOUBT THAT THOSE

CARICATURES SHAPED WRIGHT'S

UNDERSTANDING OF PRE-COLUMBIAN

DESIGNS AND THEIR MEANING.

AND IT'S NOT AS THOUGH WRIGHT

WAS ONE TO DISCOURAGE A

PSYCHOLOGICAL READING OF HIS

ARCHITECTURE.

TO THE CONTRARY, AS THE CRITIC

HERBERT MUSCHAMP ONCE POINTED

OUT, "WRIGHT EXPLICITLY OFFERED

UP HIS LIFE ALONG WITH HIS WORK

FOR CRITICAL APPRAISAL,

INSISTING THAT NEITHER COULD BE

ADEQUATELY UNDERSTOOD WITHOUT

THE OTHER."

KAMIN: HIS ARCHITECTURE SAVES

HIM, IN A SENSE.

IT BECOMES, YOU KNOW, IT'S THIS

MISSION, THIS PROJECT THAT

HELPS HIM TO RECOVER FROM THAT,

YOU KNOW, JUST

CATASTROPHIC PERSONAL TRAGEDY.

HAWTHORNE: IN THE END, I CAME

DOWN ON THE SIDE OF THE IDEA

THAT WRIGHT'S L.A.

HOUSES, THESE STRANGE

APPARITIONS, ARE NOT JUST HEAVY

BUT HEAVY-HEARTED. THERE

WAS SOMETHING IN PRE-COLUMBIAN

ARCHITECTURE, ITS STARKNESS,

ITS STATE OF RUIN, THAT

SUGGESTED TO WRIGHT A

SENSIBILITY THAT MIGHT SUIT

SOUTHERN CALIFORNIA AND HIS OWN

UNCERTAIN FRAME OF MIND IN THE

YEARS FOLLOWING THE MURDERS. I

DON'T THINK IT'S THE CASE THAT

THE HOUSES LOOK OFF-PUTTING AND

CRYPT-LIKE TO US BECAUSE

THEY'RE EMPTY, BECAUSE NONE OF

THEM IS NOW USED AS A FULL-TIME

RESIDENCE. I

THINK THE OPPOSITE IS TRUE: I

THINK NONE OF THEM IS NOW USED

AS A FULL-TIME RESIDENCE

PRECISELY BECAUSE THEY'RE

OFF-PUTTING AND

CRYPT-LIKE. BECAUSE

THEY WERE A MEANS FOR WRIGHT OF

FINALLY PUTTING A TROUBLED

PERIOD BEHIND HIM FOR GOOD.

MAMAH BORTHWICK IS BURIED IN

A LITTLE GRAVEYARD I VISITED

NEXT TO UNITY CHAPEL IN SPRING

GREEN. SHE'S

ALSO BURIED IN LOS ANGELES.