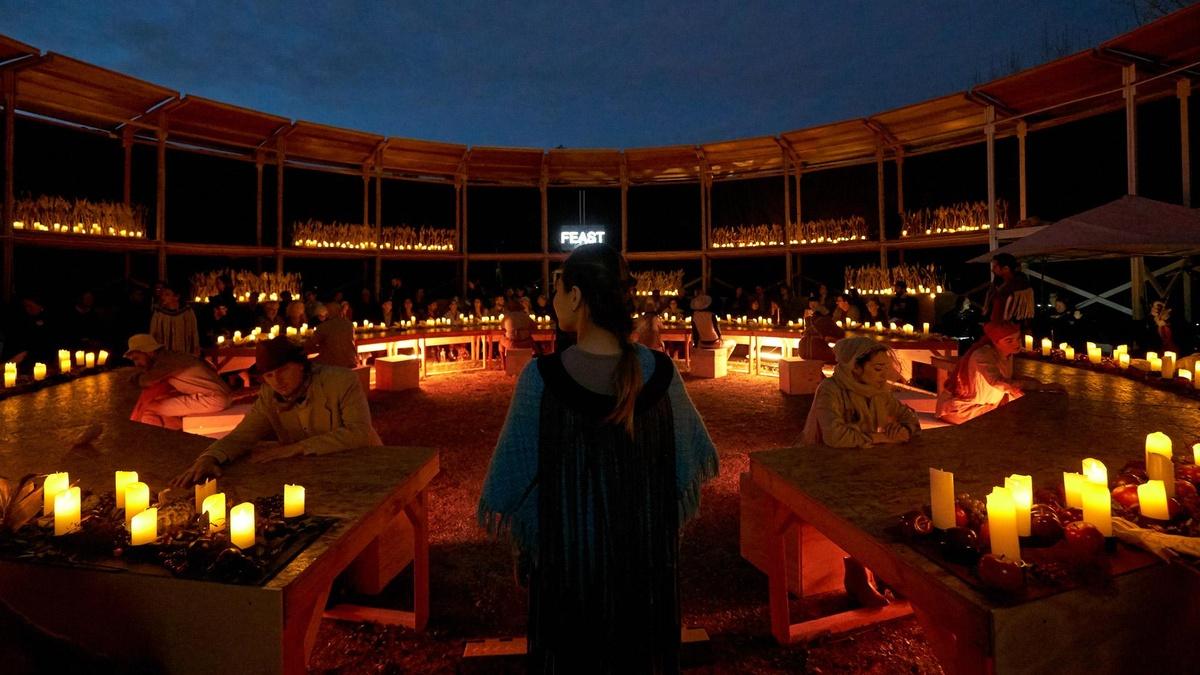 S12 E3 | FULL EPISODE
Sweet Land: The Making of a Myth
Learn how "Sweet Land," named the Best Opera of 2020 by the Music Critics Association of North America, was made. See how it recasts the origin story of the United States through the eyes of Native Americans and immigrants. Explore how this revisionist opera was shaped by an unusual collaboration of diverse creative voices and what it says about the roots of our divided nation today.
TRANSCRIPT

MAN: FOR ME, "SWEET

LAND" IS A DREAM.

[SINGERS VOCALIZING]

IN DREAMS, YOU DON'T ACTUALLY

MOVE. YOU'RE IN ONE PLACE, AND

THE WORLD BENDS AND SHIFTS

AROUND YOU AND COMES AT YOU.

[ORCHESTRA PLAYING]

THERE'S IDEAS THAT CREATE MORE

QUESTIONS THAN ANSWERS.

WOMAN: ♪♪ WHAT IS THIS PLACE? ♪♪

SECOND WOMAN: ♪♪ THE LORD

BLESS YOU ♪♪

THIRD WOMAN: ♪♪ AND TO KEEP YOU ♪♪

FOURTH WOMAN: MOST PEOPLE

WOULDN'T THINK THAT YOU CAN

HAVE THESE KINDS OF

CONVERSATIONS IN AN OPERA.

CHORUS: ♪♪ WE'LL ALWAYS MAKE

A PLACE FOR YOU

IN OUR SWEET, SWEET LAND ♪♪

[TRAIN CLATTERING]

ANNOUNCER: THIS PROGRAM WAS

MADE POSSIBLE IN PART BY: ANNE

RAY FOUNDATION, A MARGARET A.

CARGILL PHILANTHROPY; VISION

MAKER MEDIA; CITY OF LOS

ANGELES DEPARTMENT OF CULTURAL

AFFAIRS; L.A. COUNTY DEPARTMENT

OF ARTS AND CULTURE; NATIONAL

ENDOWMENT FOR THE ARTS; FREIDA

BERLINSKI FOUNDATION; AND THE

NATIVE ARTS AND CULTURE

FOUNDATION.

[RATTLE SHAKING]

[SINGING IN INDIGENOUS LANGUAGE]

MAN: "SWEET LAND" ORIGINATED

FROM A CONVERSATION THAT I HAD

WITH THE ARTISTIC DIRECTOR OF

BOSTON LYRIC OPERA, WHO IN

2016 WAS TRYING TO COME UP WITH

SOME SORT OF OPERATIC PROJECT

THAT COULD COMMEMORATE THE

400th ANNIVERSARY OF THE

LANDING ON PLYMOUTH ROCK, AND

FOR SOME REASON, SHE THOUGHT

THAT I MIGHT BE A GOOD PERSON

TO TALK TO YOU ABOUT THIS. I

ACTUALLY RESISTED THE IDEA

PRETTY CONSIDERABLY AT FIRST,

AND I HAD TO THINK ON A BROADER

SCALE WHETHER OPERA WAS EVEN THE

RIGHT MEDIUM TO BE TALKING ABOUT

ALL THE ISSUES RELATED TO

PILGRIMS AND NATIVE AMERICANS.

MAN: YUVAL CONTACTED ME. I WAS

VERY SKEPTICAL OF THAT KIND OF

PRODUCTION OR TO EVEN RESPOND

TO THAT. FOR ONE, IT'S NOT MY

TRIBE. I MEAN, IT IS INDIGENOUS

PEOPLE WHO THAT IS ABOUT, BUT I

WAS WONDERING "WHY ME, YOU

KNOW? WHY SHOULD I RESPOND TO

THAT?" BUT I WAS--I WAS WILLING

TO CONSIDER WHAT WE COULD DO.

WHAT SHOULD WE TALK ABOUT?

MAN: THE PRODUCTION WAS

CENTERED AROUND THIS IDEA OF

RETELLING THE FIRST

THANKSGIVING. THAT WAS SORT OF

THE SEED IDEA. IT WASN'T

SOMETHING THAT WE WERE EXCITED

ABOUT DOING.

DUNCAN: IT WAS HIGH-RISK.

KEARNEY: IT WAS HIGH-RISK.

SHARON: AT THE EARLY STAGES OF

"SWEET LAND," I DID THINK TO

MYSELF THAT "WE'RE THE WRONG

PEOPLE TO BE DOING THIS. THIS

IS THE WRONG MEDIUM. THIS IS--

THIS IS WELL-SERVED FOR

DOCUMENTARY. THIS IS

WELL-SERVED FOR HISTORIANS,"

BUT I THINK I STARTED TO THINK

ABOUT WHERE DOES OPERA HAVE ITS

POWER?

MAN: ♪♪ SWEET LAND, SWEET LAND

THE SWEETEST LAND OF ALL ♪♪

SHARON: BECAUSE OF THE MULTIPLE

VIEWPOINTS INHERENT IN WHAT

OPERA IS, I THINK IT CAN

ACTUALLY REALLY CREATE A NEW

LANGUAGE, AND I THINK THAT IF

WE'RE TALKING ABOUT ALL OF

THESE REALLY DIFFICULT TOPICS

AROUND OUR OWN IDENTITY AND OUR

OWN PAST THAT, IN A WAY, THE

BEST THING WE CAN TRY AND OFFER

THE CONVERSATION IS NEW FORMS

OF LOOKING AT IT AND NEW

LANGUAGE WITH WHICH TO SPEAK

ABOUT IT.

[SINGERS VOCALIZING]

AT THE EARLY STAGES WHEN WE

WERE FIRST MEETING, THAT'S WHEN

I THINK WE REALLY THOUGHT TO

OURSELVES, "THIS IS NOT A PIECE

THAT'S GOING TO WORK INSIDE."

WE STARTED THINKING ABOUT WHAT

PARTICULAR SITES IN LOS ANGELES

WOULD HAVE THIS SORT OF

CONNECTION TO L.A.'s INDIGENOUS

ROOTS, AND OF COURSE THE ANSWER

TO THAT IS BASICALLY

EVERYWHERE, EVEN THE PLACE WE'RE

SITTING IN NOW.

CARMELO: IT'S ALL NATIVE LAND

TO US, SPECIFICALLY FOR MY

ANCESTORS, THE TONGVA PEOPLE.

WE TRULY ARE A SOVEREIGN

NATION. WE HAVE NEVER CEDED OUR

LANDS IN ANY WAY, SHAPE, OR

FORM. ALL OF THE VILLAGES THAT

EXISTED TO US, WE STILL HONOR

THEM.

SHARON: THE L.A. STATE HISTORIC

PARK HAS A PARTICULAR

SIGNIFICANCE BECAUSE IT WAS THE

MOST IMPORTANT TONGVA VILLAGE

YAANGA.

CARMELO: SO YAANGA WAS A PLACE

OF INFLUENCE, IT WAS A PLACE OF

PROSPERITY, IT WAS A PLACE OF A

LOT OF HUSTLE AND BUSTLE JUST

AS IT IS TODAY. THE SPANISH

INVADERS CAME IN, AND THEY SAW

THAT IT WAS RIGHT BY THE PAAYME

PAXAAYT, WHICH IS THE LOS

ANGELES RIVER, AND THEY SAW

THAT IT WAS A GOOD PLACE TO

BRING THEIR ZANJA MADRE, WHICH

IS THE MOTHER DITCH, WHICH WAS

LARGELY BUILT WITH INDIGENOUS

LABOR, AND THAT WAS THE FIRST

MUNICIPAL WATER SYSTEM FOR

LOS ANGELES. FURTHER, IT ALSO

BECAME ONE OF THE ROUTES OF THE

SOUTHERN PACIFIC RAILROAD, AND

THAT BROUGHT IN EVERYBODY

FROM ALL DIFFERENT PLACES IN THE

UNITED STATES AND BEYOND, AND

THAT IS WHY WE CURRENTLY

HAVE LOS ANGELES AS WE KNOW

IT TODAY BUT STARTING

WITH THE TONGVA PEOPLE.

SHARON: BECAUSE OF THE NOTION

OF THE STORIES THAT WE WERE

TELLING, BECAUSE OF THE LAYERS

OF HISTORY, IT FELT LIKE THE

PERFECT CONVERSATION PARTNER

FOR EXACTLY WHAT THE--WHAT THE

OPERA NEEDED TO MAKE SURE IT

FELT ROOTED AND DID NOT JUST

FEEL LIKE WHAT WE WERE DOING

WAS GOING TO BE AN ARTISTIC

EXERCISE THAT DOESN'T REALLY

GRAPPLE WITH THESE ISSUES IN

ANY HARD-HITTING. WAY. WE

DIDN'T WANT TO LET THE AUDIENCE

OFF THE HOOK, AND THE MAIN

WAY TO DO THAT WOULD BE TO

INVITE THEM INTO A DIRECT

EXPERIENCE OF THE LAND ITSELF.

CARMELO: IT'S A PLACE THAT HAS

ITS OWN SONG, AND IT'S ALLOWED

TO BE ONE OF THE CHARACTERS IN

THIS OPERA. THE AUDIENCES WHEN

THEY COME, THEY GET TO REFLECT

ON THAT.

MAN: IT'S ALL PART OF THE SHOW.

[INDISTINCT CHATTER]

MAN: "SWEET LAND" BEGINS THE

MOMENT YOU DECIDE TO COME TO

"SWEET LAND." 200 AUDIENCE

MEMBERS WILL BE SITTING AT A

FACADE OF A THEATER AND WILL

EXPERIENCE THE INITIAL CONTACT.

[WOMAN VOCALIZING]

SHARON: EVERYONE'S GONNA SEE

THIS MYTHIC SCENE OF AN

ENCOUNTER BETWEEN TWO GROUPS, A

HOST AND ARRIVAL. IT'S A

DECISIVE MOMENT, AND IT'S ALSO

AN ELEMENTAL ONE. IT'S THE SHIP

RUNNING AGROUND ON A LAND.

CHORUS: ♪♪ WHAT A BEAUTIFUL

PLACE... ♪♪

AT THAT POINT, THE AUDIENCE

SPLITS. HALF THE AUDIENCE WILL

EXPERIENCE A SCENE CALLED

"FEAST." THE OTHER HALF OF THE

AUDIENCE WILL EXPERIENCE A

DIFFERENT SCENE IN A DIFFERENT

PART OF WHERE WE'RE DOING THIS

PERFORMANCE CALLED "TRAIN."

[VIOLIN PLAYING ATONAL MUSIC]

ONE OF THE KEY THINGS THAT

WE STARTED WITH WAS ERASURE.

THERE'S A KIND OF A

BEFORE-AND-AFTER EXPERIENCE OF

CERTAIN SCENES.

MAN: THE FIRST TIME YOU GO TO

"TRAIN" AND "FEAST," YOU

EXPERIENCE AN HONEST TELLING OF

IT. IT'S NOT THE TRUTH. WE

CAN'T KNOW THE TRUTH. ALL WE

CAN KNOW IS, LIKE, WHAT HAPPENS

WITH THESE TWO PARADIGMS WHEN

THEY ENGAGE IN THESE PLACES.

SHARON: AND THE AUDIENCE

IS USHERED OUT.

YOU COME BACK, AND EVERYTHING

HAS CHANGED, AND YOU HAVE NO

IDEA HOW, AND YOU ALSO ARE

BEING TOLD A BRAND-NEW STORY.

MAN: THE STORY NOW IS THE STORY

THAT WE'VE ALL HEARD AND

EXPERIENCED THROUGH HISTORY

BOOKS AND NARRATIVES,

NARRATIVES WHERE TO THE VICTOR

GOES THE SPOILS, YOU KNOW. IF

YOU CAN TELL THE STORY, YOU CAN

EMBELLISH IT AND CHANGE IT ANY

WHICH WAY YOU WANT.

[WOMAN VOCALIZING]

MAN: ♪♪ ANOTHER CYCLE

OF RECIPROCITY ♪♪

KEARNEY: THE NAME "SWEET LAND"

COMES FROM THE SONG "MY COUNTRY

TIS OF THEE."

♪♪ MY COUNTRY TIS OF THEE

SWEET LAND OF LIBERTY ♪♪

SO "SWEET LAND" OPERATES IN

THIS SORT OF SPACE WHERE IT'S

AN ALLUSION TO AN IDEA OF THE

UNITED STATES.

[ORCHESTRA PLAYING]

WE KIND OF WERE RIFFING ON ONE

OF THE WAYS IN WHICH A NATION

BUILDING PROCESS, A

NATION-BUILDING PROJECT IS

ALWAYS ABOUT A SORT OF

SELF-MYTHOLOGIZATION.

CHACON: IF WE'RE CONSIDERING

THAT THESE EARLY ENCOUNTERS ARE

NOT ACCURATELY TOLD, THIS WAS

AN OPPORTUNITY FOR US AS

CREATIVE PEOPLE TO MAKE UP NEW

MYTHOLOGIES, NEW CREATION

STORIES.

MAN: ♪♪ AH AH AH AH ♪♪

WOMAN: "SWEET LAND" ORIGINATED

AS AN AMERICAN STORY, BUT I

THINK MORE THAN THAT "SWEET

LAND" IS A NOW STORY.

MAN: IT'S REALLY JUST LOOKING

AT DIFFERENT POWER STRUCTURES

AND THE COLLISION OF PARADIGMS

AND WHAT HAS BEEN REDACTED FROM

OUR HISTORY AND OUR EXPERIENCE

AS PARTICIPANTS IN A WORLD THAT

HAS BEEN DOMINATED.

[DRUMS PLAYING]

ANY COLONIZING COUNTRY THAT HAS

ENGAGED IN EITHER SETTLER

COLONIALISM OR EXTRACTIVE

COLONIALISM ARE TELLING THESE

STORIES AND HAVEN'T EVER SHOWN

US THE REDACTED STATEMENT OF

THE EXPERIENCE. THEY EVEN

UNDERMINED THEIR OWN SUFFERING

IN THESE STORIES, IN THE

RETELLING OF A STORIES. THEY'VE

DEVELOPED A MYTH THAT IS THEIR

HISTORY, AND SO WE'RE JUST

TRYING TO DEVELOP MORE AND MORE

MYTH TO STACK ON TOP OF THAT TO

CREATE SOMETHING CONTRARY TO

OUR--OUR LEARNED EXPERIENCE

AND REINFORCE THE IDEA THAT WHAT

WE KNOW AS HISTORY IS ILLUSION.

[WOMEN SINGING OVERLAPPING

MELODIES]

WOMAN: MOST PEOPLE THINK OF

OPERA ONE WAY, VERY

EUROCENTRIC, VERY AUSTERE, YOU

KNOW.

SHARON: I THINK WE HAVE TO FACE

IT. OPERA CAN FEEL LIKE A VERY

COLONIALIST ART FORM,

ESPECIALLY HERE IN AMERICA.

MOST OF THE WORKS PERFORMED

HERE ARE PREDOMINANTLY ITALIAN,

GERMAN, AND FRENCH. I THINK

PEOPLE IMAGINE THAT IT IS THIS

HIERARCHICAL AND IMPERIAL TYPE

ART FORM WHERE IT'S ALL ABOUT A

SOLE POINT OF VIEW OR A SOLE

VISION, AND WHEN YOU LOOK AT

TRADITIONAL OPERATIC THEATERS,

THEY REINFORCE THAT NOTION

BECAUSE YOU HAVE ALL OF THESE

HIERARCHICAL BALCONIES WITH--YOU

KNOW, WITH PEOPLE KIND OF IN

DIFFERENT LEVELS ALL THE WAY TO

THE TOP, AND THE REALLY THE ONE

PRIVILEGED PERSPECTIVE WAS

RESERVED FOR THE KING. YOU KNOW,

WHEN YOU CREATE OPERAS THAT WAY,

YOU REINFORCE SOCIAL IDEAS, YOU

REINFORCE POLITICAL IDEAS,

AND YOUR REINFORCE THE IDEA THAT

THIS IS HOW THE SOCIETY WE

LIVE IN SHOULD BE ORGANIZED.

WOMAN: ♪♪ COME ON ♪♪

I'M CLASSICALLY TRAINED, AND I

FIND THAT A LOT OF THE

TRADITIONAL OPERAS ARE

OBVIOUSLY EUROCENTRIC. I REALLY

DIDN'T SEE MYSELF DOING

LARGE-SCALE OPERAS BECAUSE I

THOUGHT, "OH, WELL, YOU KNOW,

THERE'S NO SPACE FOR

THESE DIFFERENT TYPES OF

SOUNDS."

WASHINGTON: YES, THERE IS A LOT

OF CLASSICAL SINGING, AND, YES,

THERE'S A LOT OF CLASSICAL

SOUNDS, BUT THERE IS SO MUCH

MORE THAN THAT.

[SINGING IN INDIGENOUS LANGUAGE]

HA HA HA! HOW'S THAT

FOR OPERA? HA HA HA!

[VOCALIZING]

SHARON: THERE'S A LOT OF WAYS

IN WHICH WE BASICALLY TRIED TO

COMPLETELY DECONSTRUCT ANY

NOTION OF HIERARCHY WITH THIS.

CERTAINLY, ONE REALLY EASY WAY

IS THE FACT THAT THERE'S TWO OF

EACH OF US. YOU KNOW, THERE'S

TWO DIRECTORS. THERE ARE TWO

COMPOSERS, TWO WRITERS, TWO SET

DESIGNERS. THERE'S THAT SENSE

THAT NO ONE PERSON CAN DO THIS

BY THEMSELVES, THAT NO ONE

PERSON HAS THE PRIVILEGED

PERSPECTIVE OF SAYING, "HISTORY

IS THE WAY THAT I SEE IT

AND ONLY THE WAY THAT I SEE IT."

MAN: WE HAVE 3 INDIGENOUS

PEOPLE ON THE ARTISTIC TEAM. I

AM MANDAN, HIDATSA, ARIKARA,

AND LAKOTA. I'M NORTHERN

PLAINS. I'M, LIKE, RIVER PEOPLE

FROM UP THAT WAY. RAVEN CHACON,

THE COMPOSER, IS DENE AND IS

FROM THE SOUTHWEST, AND AJA

COUCHOIS DUNCAN IS OJIBWE FROM,

LIKE, AROUND THE GREAT LAKES

REGION. OUR ENVIRONMENTS HAVE

TRANSFORMED OUR CULTURES SO

COMPLETELY THAT WE BRING

DIVERSITY EVEN UNDER THE

UMBRELLA OF NATIVE AMERICAN. OUR

CULTURES ARE SO VASTLY

DIFFERENT. WE ALL SPEAK TOTALLY

DIFFERENT LANGUAGES, OUR

CULTURAL PRACTICES ARE

DIFFERENT, AND SO WHEN YOU START

TELLING STORIES AROUND AN

INDIGENOUS/NON-INDIGENOUS

NARRATIVE, IT'S IMPORTANT THAT

YOU REMEMBER HOW DIFFERENT EACH

OF US ARE. WE NEEDED TO DEVELOP

COMPLEXITY UNDER SOME OF THESE

UMBRELLAS, YOU KNOW, AND SO

WORKING WITH DOUGLAS AND YUVAL

AND DU YUN, EVERYBODY'S COMING

TOGETHER TO BRING THEIR BIT

OF EXPERIENCE. IT'S A CORE GROUP

THAT'S GOING TO TRY TO EXPRESS

TO THE LARGEST AUDIENCE. THIS

STORY HAS HIT ALMOST EVERY SHORE

IN THE GLOBE, AND WE'RE

STUCK ASKING THE QUESTION

"WHO GETS TO TELL THIS STORY?"

WHEN WHAT ACTUALLY HAS

TO HAPPEN IS SOMEBODY

BETTER START TELLING THIS STORY.

SHARON: FROM THE BEGINNING, I

THOUGHT THE INDUSTRY--IF WE'RE

GOING TO TRY AND MAKE OPERA AS

ACCESSIBLE AS POSSIBLE, AS

DEMOCRATIC AS POSSIBLE IN TERMS

OF NOT JUST THE CREATION BUT

ALSO THE PARTICIPATION OF THE

AUDIENCE, THEN WE HAVE TO GET

OUT OF THIS HIERARCHICAL

ARCHITECTURE.

WOMAN: I THINK NATURALLY, TOO,

WHEN YOU'RE OUT HERE AND YOU

SEE ALL THIS ORGANIC MATERIAL,

THE SPACES VERY EARLY ON WERE

DECIDED THAT THEY WOULD BE

CIRCULAR.

SHARON: THIS...YEAH.

LUGER: IS THIS SET UP

CARDINALLY?

ORELLANA: I THINK IT SHOULD BE.

SHARON: YEAH. THE TUNNEL IS

COMING IN HERE, RIGHT? SO

THAT'S NORTH. THE

LUGER: THE TUNNEL IS NORTH?

SHARON: YEAH. LIKE, WHEN PEOPLE

WALK IN, THEY WALK IN FROM

NORTH.

LUGER: YEAH. OK.

SHARON: WHERE'S THE ORCHESTRA?

ORELLANA: UM...

SHARON: IS IT OVER HERE?

ORELLANA: THE ORCHESTRA

THEN IS HERE.

SHARON: IS THERE. OK.

MAN: IT'S SUCH A HUGE PROJECT.

YOU KNOW, IT'S SO IMMERSIVE,

AND THERE ARE THESE

ARCHITECTURAL SPACES.

ORELLANA: WE REALLY WANTED THE

SETS TO ALL HAVE SORT OF A

LARGE GESTURE TO THEM.

MAN: ♪♪ WE ARE

NASCENT BODIES ♪♪

SHARON: WE NEEDED TO CONSTRUCT

THESE PIECES BASED ON THE IDEA

THAT WE COULDN'T STAKE INTO THE

GROUND VERY DEEPLY. WE COULD

ONLY GO, I THINK, TWO FEET INTO

THE GROUND TO PROTECT ANY

ARCHAEOLOGICAL REMAINS THAT ARE

STILL HERE. SO THAT GOT US

THINKING ABOUT HOW IT CAN BE A

STRUCTURE THAT ACTUALLY CAN

REALLY JUST SIT ON THE GROUND,

AND I THINK THAT THAT REALLY

WORKS IN THE SENSE OF IT BEING

THIS TEMPORARY ARCHITECTURE ON

THIS TEMPORARY TRACE ON THE

LAND--ON THE LAND ITSELF, BUT

THAT HAS MEANT WE'VE HAD TO COME

UP WITH SOME REALLY CREATIVE

ENGINEERING CHALLENGES TO FIGURE

OUT HOW THAT CAN WORK.

[ORCHESTRA WARMING UP]

WOMAN: FOR "FEAST" WHEN YOU

WALK INTO THE ROOM AND YOU SEE

THIS BEAUTIFUL BANQUET AND YOU

SEE THE DIRT AND THE MUD ON THE

ON YOUR FEET AND IT'S COLD,

YOU'RE CHALLENGING THE AUDIENCE

TO BECOME PART OF THE

ENVIRONMENT, AS WELL, NOT JUST

A SPECTATOR.

[INDISTINCT CHATTER]

LUGER: IN "FEAST," THE ARRIVALS

JUST GOT OFF OF A SHIP THAT

THEY HAD BEEN ON FOR AT LEAST

66 DAYS. THEY'RE TIRED, THEY'RE

HUNGRY, AND THEY ARE NOT

BRINGING TO THIS NEW WORLD A

CIVILIZATION AND A GOLDEN

SOLUTION. THEY'RE STARVING TO

DEATH, AND THEY NEED HELP.

SHARON: THE "FEAST" SPACE IS

CIRCULAR, AND YOU ARE INVITED

TO SIT AT THE TABLE WITH THE

PERFORMERS, AND WE SEE IN THIS

FIRST SCENE THIS RITUAL MEAL

THAT THE ARRIVALS ARE INVITED

TO SHARE.

MAN: ♪♪ MY FAMILY THANKS YOU

FOR COMING TO THIS FEAST

MY PEOPLE THANK YOU

FOR SHARING WHAT WE EAT

MORE THAN FOOD

WE HAVE TO SHARE

SOMETHING FOR YOUR

SPIRITS TO EAT

MY DAUGHTER MAKWA

DANCES THE UNSEEN WORLD ALIVE ♪♪

MAKWA: ♪♪ AH AH AH AH ♪♪

HAHN: MAKWA IS REALLY THE

LEADER OF HER FAMILY, AND I

PRESENT THE SPIRIT TO ALL OF

OUR GUESTS. I BRING THE

COYOTE...

[COYOTE VOCALIZING]

LUGER: BUT I THINK YOU

UNDERSTAND COYOTE NOT AS JUST

AN ANIMAL BUT AS THIS TRICKSTER

ENTITY, THIS, LIKE--YOU KNOW AS

A FORCE. COYOTE IS A FORCE TO

YOU, YOU KNOW, SO SOME SORT OF

SENSE OF REVERENCE AND--AND

THAT IT'S REALLY SPECIAL THAT

COYOTE'S HERE.

[COYOTE VOCALIZING]

[MAN SINGING INDISTINCTLY]

LUGER: I DIDN'T EVEN KNOW I

COULD HAVE AN INTEREST IN

OPERA. YOU KNOW, LIKE, IT WAS

SO FAR OUT OF MY SCOPE THAT I

NEVER EVEN CONSIDERED. I

ACTUALLY CAME ON TO THE OPERA

AS A COSTUME DESIGNER. ABOUT A

WEEK AFTER BRINGING ME ON,

YUVAL WAS LIKE, "I THINK THAT I

WANT TO ASK YOU IF YOU WOULD

LIKE TO BE CO-DIRECTOR," AND I

WAS LIKE, "I DON'T KNOW. I

DON'T KNOW ANYTHING ABOUT

OPERA," BUT HE AND I HAD GOOD

RAPPORT, SO HE WAS LIKE, "THIS

IS--THIS IS WHAT CO-DIRECTION

WILL LOOK LIKE, YOU KNOW,"

SO I SAID YES.

[HARPSICORD PLAYING]

MAN: ♪♪ YOUR GENEROSITY

IS WELCOME ♪♪

SHARON: LAST TIME THAT WE SPOKE

ABOUT YOUR RELATIONSHIP TO

JIMMY GIN, I THINK WE SAID THAT

YOU GUYS ALL LOOK AT JIMMY GIN

AS A KIND OF--LIKE, HE'S YOUR

HERO, AND I WOULD LIKE TO TRY

SOMETHING A LITTLE DIFFERENT.

I'D LIKE TO SAY THAT IN "FEAST

2" HE IS LIKE YOUR HERO/SAVIOR,

BUT IN "FEAST 1," HE'S ACTUALLY

KIND OF ONE OF THE RIFFRAFF

THAT--THAT SOME OF YOU THINK

ARE BELOW YOU.

MAN: WE TALKED ABOUT IN

REHEARSALS HE'S KIND OF LIKE

THE DRUNK PERSON THAT GETS UP

AT A WEDDING TO GIVE A SPEECH

AND IS MAYBE NOT NECESSARILY

THE BEST PERSON TO BE TAKING

THE FLOOR.

♪♪ THIS LAND

AS THEIR OWN ♪♪

SHARON: HE SEES MY MAKWA, AND

EVEN JUST THE SIGHT OF HER

FILLS HIM WITH THIS IDEA OF

POTENTIAL CONQUEST IN EVERY

SINGLE WAY.

BELLUZ: JIMMY SORT OF

IMMEDIATELY BRINGS INTO THE

WORLD THIS IDEA OF--OF

COLONIALISM, OF EUROPE, OF

WHITENESS.

JIMMY GIN: ♪♪ YOUR GENEROSITY

IS WELCOME

AS IS THE LAND

ON WHICH WE STAND

BUT YOUR GENEROSITY

HAS GONE

TO THE FATE OF BETTER MEN ♪♪

HAHN: HE IS A COUNTERTENOR,

WHICH I THINK IS SUCH A NICE

CONTRADICTION TO THE MESSAGE

HE'S PORTRAYING AS THIS VERY

MANLY--ERR--KIND OF GUY, AND

HE SINGS IN A VERY HIGH

REGISTER, WHICH I THINK IS A

REALLY PLAYFUL JUXTAPOSITION.

JIMMY GIN: ♪♪ I PICKED

THIS FLOWER

AS PAYMENT

FOR YOUR FUTURE GROOM ♪♪

HAHN: AND I REACT VERY STRONGLY

BECAUSE I AM NO ONE'S PROPERTY,

LET ALONE THIS STRANGER.

MAKWA: ♪♪ I WOULD NO MORE

BE WITH YOU

THAN WELCOME AN INVASION

OF MAGGOTS

INTO MY CHE-EH-EH-EST ♪♪

SHARON: I WONDER IF IT ENDS

WITH JIMMY GIN ON THE FLOOR,

AND SHE'S, LIKE, GOT THE KNIFE

ABOVE HIM, AND EVERYONE--THE

ARRIVALS ALL RUN OUT.

KELCI, I THINK YOU

SHOULD CHASE HIM.

HAHN: OH, OK.

LUGER: AND I THINK YOU

SHOULD RUN AWAY.

SHARON: AND YOU SHOULD

RUN AWAY SCARED.

HAHN: SO I IMMEDIATELY SWITCH

GEARS, AND HE BECOMES SOMEBODY

WHO IS A THREAT. HE'S A THREAT

TO ME AS A WOMAN. HE'S A THREAT

TO ME AND MY FAMILY. HE'S A

THREAT TO THE LAND AND THE

FUTURE OF MY HERITAGE, AND IT

JUST ESCALATES UNTIL IT TURNS

INTO A FULL-ON BRAWL, AND I

PRESUMABLY TRY TO KILL JIMMY

GIN...

[COYOTE VOCALIZING]

JIMMY GIN: ♪♪ YOUR WAY OF LIFE

MUST END ♪♪

SHARON: BUT RIGHT BEFORE SHE

KILLS HIM, THE WHOLE SCENE

FREEZES.

[ORCHESTRA PLAYING DRONE]

TOBIN: SO "CROSSROADS" IS THE

SECTION OF THE OPERA WHERE THE

ERASURE ACTUALLY HAPPENS, AND

IT'S PURPOSELY ABSTRACT.

[SINGERS VOCALIZING]

SHARON: FOR ME, ONE OF THE

POWERFUL EXPERIENCES WAS

LEAVING "FEAST" AND COMING OUT

AND SEEING DOWNTOWN. AS YOU

WALK OUT TO THAT AREA OF THE

PARK WHERE "CROSSROADS"

HAPPENED, YOU SUDDENLY SAW ALL

OF THE SKYLINE OF LOS ANGELES,

AND IT FEELS LIKE--IT FEELS SO

JARRING AFTER THIS WARM, COZY

ENVIRONMENT OF "FEAST."

[MUSIC CONTINUES]

I THINK PART OF THAT POWER WAS

TO NOT SHOW THAT CHANGE

HAPPENING, TO HAVE THE AUDIENCE

LEAVE THE SPACE AND COME BACK

TO A TOTALLY DIFFERENT REALITY

AS IF WE'RE JUST BEING GASLIT

AS TO WHAT REALLY HAPPENED.

TO US, IT SEEMS SO IMPORTANT TO

BRING THE AUDIENCE VISCERALLY

AND EMOTIONALLY AND POWERFULLY

INTO WHAT ERASURE ACTUALLY

FEELS LIKE, SAYING, "I WAS IN

THIS SPACE. I SAW THIS THING

HAPPEN, AND NOW I'M BEING SOLD

A DIFFERENT TAKE ON IT."

[MUSIC CONTINUES]

WOMAN: "FEAST" HAS A

RELATIONSHIP IN LIGHTING

BETWEEN AN ORGANIC FEELING AND

THE ARTIFICIAL. THE INTENT IS

TO HAVE, LIKE, A SENSE OF

INTIMACY. SO THERE ARE ABOUT

700 FLICKERING CANDLES, AND

THEN WHEN YOU COME BACK IN

"FEAST 2," IT BECOMES MUCH MORE

ARCHITECTURAL AND MODERN, SO I

PICK LIGHTING INSTRUMENTS AND

QUALITY THAT HIGHLIGHT THAT

IDEA.

[CUTLERY CLATTERING ON DISHES]

HAHN: IN "FEAST 1," YOU SEE

BOUNTY, YOU SEE LIFE, YOU SEE

COLOR. THERE'S APPLES, THERE'S

FIRE, THERE ARE--EVERYBODY'S

COSTUMES ARE COLORFUL. THERE'S

JUST A VIBRANCY, AND THEN

ERASURE IS SO CLEARLY THE

DICHOTOMY WHEN YOU SEE "FEAST

2" BECAUSE THERE'S NO COLOR.

[ORCHESTRA PLAYING SLOW,

OMINOUS MUSIC]

WOMAN: ♪♪ DEAR, DEAR

RIGHT THERE

IS WHERE YOU'LL STAND

OUR BLESSED BRIDE ♪♪

CHORUS: ♪♪ OUR BLESSED BRIDE ♪♪

HAHN: I THINK WE PRETTY MUCH

SEE JUST THE DOMINATION OF THE

OTHER CULTURE ON OURS, AND I

WAKE UP, AND I SEE THAT NOTHING

IS THE SAME. IT'S--THERE'S NO

COLOR, THERE'S NO LIFE, THERE'S

NO HEART. THERE'S JUST PAIN AND

EMPTINESS. I SEE MY FAMILY IS

ALL DEAD. I'M VERY CONFUSED AND

VERY DISORIENTED.

MAKWA: ♪♪ WHERE IS MY FAMILY?

THEY WERE BY MY SIDE

WHERE ARE MY PEOPLE? ♪♪

CHORUS: ♪♪ YOU'LL GET A RING

A PRETTY RING ♪♪

HAHN: THERE'S A LOT OF

DIFFERENT TEXTURES IN THE MUSIC

IN "FEAST 1," AND IT REALLY

PARES BACK INTO "FEAST 2." IT

BECOMES A LOT MORE ABOUT THE

VOICE. THERE'S A LOT MORE VOCAL

KIND OF PLAY.

WOMAN: ♪♪ BLOOD

UPON AN APPLE

OR KETCHUP ON A CHERRY ♪♪

WOMAN: WINDIGO IN "SWEET LAND,"

I'M THIS, LIKE, HUNGRY,

NEVER-SATISFIED GHOST

CHARACTER. THERE ARE HUNGRY

GHOSTS IN MANY DIFFERENT

CULTURES. WINDIGO, LIKE THE

CHINESE HUNGRY GHOST, IS THIS

BEING THAT IS BORN OUT OF

VIOLENCE AND GREED AND EATS

BABIES AND PEOPLE, AND NO

MATTER HOW MUCH HE EATS IS

NEVER SATISFIED.

MAN: ♪♪ THEY ARE N-N-N-NOW ♪♪

TOBIN: IN THE SHOW, WE USE A

LOT OF DIFFERENT VOCAL

TECHNIQUES, NOT JUST

TRADITIONAL OPERATIC SINGING

BUT EXTENDED TECHNIQUES THAT

INCLUDE LIKE ULULATION, HOWLS,

YELLS, HEIGHTENED SPEECH,

WHISTLE TONES, INHALED SINGING,

VOCAL FRY, ALL OF THAT GOOD

STUFF.

COYOTE: ♪♪ AN APPETITE

CAN BITE YOU BACK

FOR THE ONE WHO OUTGROWS

THE SPIRIT ♪♪

CHACON: SOMETIMES, THERE'S A

LOT OF CONTRAST AND A LOT OF

CLASHING, BUT SONICALLY, IT

WORKS.

WOMAN: ♪♪ MOUTH IS A HOLE

IN HIS BELLY

IS IT THE S-S-S-SAME

WHERE YOU'RE FROM? ♪♪

[HOWLING]

KIM: WINDIGO IS ALL GENDERS,

AND SO I'M PLAYING WITH, LIKE...

♪♪ HIGH ♪♪

LIKE, FEMALE, LIKE--LIKE HIGH

SOUNDS. YOUNG SOUNDS, OLD

SOUNDS, GROWLS, LIKE, KIND OF

LIKE MASCULINE, FEMININE.

WINDIGO: ♪♪ GETTING READY

FOR TOMORROW ♪♪

KIM: A LOT OF GROWLING,

A LOT OF SHRIEKING.

HAHN: A LOT OF THE TIMES, THE

COMPOSERS WERE, LIKE, "WELL,

JUST TRY SOMETHING, DO

SOMETHING, LIKE," AND THEY'LL

WRITE IN, LIKE, "WAIL," WITH

THIS SYMBOL AND THEN A THIS

SYMBOL AND THEN A THIS SYMBOL,

AND I'M LIKE, "ALL RIGHT." THIS

SOUNDS LIKE...

[ULULATING]

THAT KIND OF STUFF, I GUESS,

AND THEN WE'LL SEE, LIKE, A

THIS SYMBOL, AND IT'S LIKE A...

♪♪ AHH AHH AHH AHH ♪♪

I DON'T KNOW. I AM A CLASSICAL

MUSICIAN, CHORAL MUSICIAN. I'M

A VERY STRAIGHT-LACED KIND OF

TYPE-A LADY, SO IT WAS REALLY

TOUGH BREAKING OUT OF THAT MOLD

AND SEEING SHEET MUSIC AND

ALWAYS BEING LIKE, "WELL, THIS

IS WHAT'S ON THE PAGE." YOU'RE

LIKE, "YEAH, WELL, SCREW WHAT'S

ON THE PAGE. DO WHAT YOU WANT,"

AND I'M LIKE, "OH, MY GOD."

[DIGITAL PERCUSSION PLAYING]

CHACON: IT DEFINITELY WAS A

CHALLENGE, AND KNOWING THAT

IT WAS GOING TO BE A CHALLENGE

WAS ONE OF THE REASONS I WANTED

TO DO THE PROJECT. WHAT ENDED

UP HAPPENING WITH THIS PIECE

FOR ME IS IT BECAME AN

OPPORTUNITY TO EXPERIMENT.

WRITING MUSIC FOR STORIES IS

NOT SOMETHING THAT I DO

NORMALLY.

YUN: WORKING WITH THE RAVEN IS

SO GREAT BECAUSE WE DECIDED

THAT WE DO NOT WANT TO HAVE A

CLEAN CUT OF, "OK. THIS IS YOU,

AND THIS IS ME," AND WE ALSO

DECIDED THAT WE WILL SWAP THE

SCENES WITH EACH OTHER SO THAT

THE AUDIENCE DON'T JUST GET THE

DU YUN TRACK OR THE RAVEN TRACK.

CHACON: I WOULD WRITE ONE

MEASURE, AND SHE WOULD WRITE

THE NEXT MEASURE. MAYBE WE'D

BOTH WRITE A MEASURE OF MUSIC

TOGETHER. MAYBE THERE'S A

SECTION WHERE I FILLED IN THE

ORCHESTRATION AND SHE WROTE FOR

THE VOICE AND VICE-VERSA.

MAN: O-UH-UH-NE, TWO-O-O,

THR-E-E-E.

[CHORUS VOCALIZING]

YEAH. NOW A LITTLE LONGER. JUST

A LITTLE LONGER. TWO-O-O-O

THREE.

[CHORUS VOCALIZING]

YEAH. ONE-E AND A TWO-E

AND A THREE-E AND A.

[VOCALIZING]

YES.

YEAH, YEAH, YEAH, YEAH.

WOMAN: MUCH BETTER.

MAN: GOOD, GOOD, GOOD. NOW

LET'S GET INTO IT FROM THE

FIRST 5/4.

[PIANO PLAYING]

2, 3, 4, 5.

1, 2, 3...

[CHORUS VOCALIZING]

YES. YES. MUCH CLEAR--MUCH

CLEARER.

CHACON: THERE'S BEEN SOME RULES

WE PUT UPON OURSELVES TO BEGIN

WITH. WE REALLY DIDN'T WANT TO

QUOTE ANY EXISTING TRIBAL

MUSIC. WE DIDN'T WANT TO

REFERENCE ANY SPECIFIC PEOPLE

OR EVEN REGION, NOR DID WE WANT

TO MAKE ANY KIND OF

PANINDIGENOUS MUSIC. THE SAME

GOES FOR THE CHARACTERS WE'RE

CALLING THE ARRIVALS. THE ONLY

INFORMATION WE HAVE IS THAT

THEY COME FROM SOMEWHERE THAT

ISN'T THIS LAND.

[DRONE AND HIGH BELLS PLAYING]

WASHINGTON: MUSIC IS VERY

POWERFUL. IT HAS A VERY STRONG

EFFECT ON PEOPLE'S MENTAL

STATE. IT HAS A VERY STRONG

EFFECT ON PEOPLE'S PHYSICALITY,

SO WHY NOT HAVE THESE

CONVERSATIONS IN MUSIC?

TOBIN: I THINK OPERA IN

PARTICULAR WITH THE KIND OF

VISCERAL POWER OF THE HUMAN

VOICE LENDS ITSELF COMPLETELY

TO THIS TYPE OF STORY BECAUSE

WE HAVE SO MANY DIFFERENT

PERSPECTIVES THAT WE'RE TRYING

TO PORTRAY HERE, AND SO TO HAVE

IT BE IMMERSIVE ON TOP OF THAT

AND HAVE IT BE THIS GRAND ART

FORM THAT ENCOMPASSES ALL THESE

DIFFERENT TYPES OF PERFORMANCE,

I THINK, THERE COULD BE NO

OTHER WAY TO REALLY TELL THIS

STORY.

SHARON: BUT PART OF THE OTHER

ASPECT THAT I WOULD ALSO LIKE

TO CORRECT FROM OUR PRACTICE AS

A COMPANY IS THINKING ABOUT WHO

IS WRITING THESE OPERAS, WHO IS

PERFORMING IN THESE OPERAS, AND

WHO ARE THESE OPERAS FOR?

TOBIN: FOR ME, THE STORY IS

INCREDIBLY IMPORTANT BECAUSE IT

DECENTERS WHITENESS, AND WE'RE

TALKING ABOUT IMMIGRATION,

WE'RE TALKING ABOUT PEOPLE OF

COLOR, WE'RE TALKING ABOUT THE

PLIGHT OF NATIVE AMERICANS, AND

WE'RE TALKING ABOUT--THERE'S

REAL DYNAMICS OF COLONIALISM

AND HOW THEY STILL EXIST TODAY.

YOU KNOW, I HAVEN'T BEEN

INVOLVED IN ANOTHER PIECE LIKE

THIS THAT ALSO INVOLVES SO MANY

PEOPLE OF COLOR.

WASHINGTON: EVERYBODY'S VOICE

IS IMPORTANT, AND EVERYBODY'S

VOICE AND PERSPECTIVE IS BEING

HEARD.

[TRAIN RUMBLING]

[POUNDING]

MAKWA: ♪♪ I FEEL SHAME

FOR WHAT CAME BEFORE

THE FEAST WE SET FOR YOU

AND YOUR FOLK

MY MEMORY

IS SMOTHERED

UNDER HEAVY SMOKE ♪♪

BELLUZ: "FEAST 2" FOR JIMMY IS

HE'S REALLY ARRIVING, YOU KNOW,

FOR--FOR HIS WEDDING DAY.

KEARNEY: IT'S A WEDDING DINNER.

IT'S JUST THAT THE BRIDE HASN'T

SAID YES AND DOESN'T KNOW SHE'S

ABOUT TO GET MARRIED.

HAHN: YOU KNOW WHEN YOU'RE

PARALYZED AND YOU CAN'T SAY

ANYTHING, BUT YOU'RE SCREAMING

ON THE INSIDE, JUST HOPING THAT

SOMEONE CAN SEE YOUR INNER

TURMOIL BUT ON THE OUTSIDE YOU

SEE NOTHING? THAT'S WHAT "FEAST

2" WAS LIKE FOR ME.

SHARON: BUT SHE TRIES TO

REENACT MOMENTS FROM "FEAST 1,"

MOST POWERFULLY WHEN SHE TRIES

TO ATTACK JIMMY GIN WITH THE

SAME KNIFE, WITH THE SAME EXACT

GESTURE THAT ENDS "FEAST 1,"

WITH LIFTING THIS KNIFE AND

ABOUT TO COME CRASHING DOWN ON

HIM, YOU KNOW. INSTEAD, JIMMY

GIN VERY EASILY DISARMS HER,

VERY EASILY JUST GRABS HER BY

THE HAND AND TAKES THE KNIFE.

YOU KNOW, IT'S SOMETHING THAT'S

RIDICULOUSLY SIMPLE FOR HIM

BECAUSE NOW HE'S IN

CHARGE OF THE STORY.

CHORUS: ♪♪ KNIFE, KNIFE, KNIFE ♪♪

MAKWA: ♪♪ I KNOW YOU

YOU WERE THE ONE ♪♪

JIMMY GIN: ♪♪ THE ONLY ONE

WHO CAN HOLD YOU

TILL TOMORROW ♪♪

[CHORUS SINGING IN INDIGENOUS

LANGUAGE]

SHARON: I'D WORKED WITH DOUGLAS

KEARNEY BEFORE. HE ACTUALLY

WROTE THE LIBRETTO FOR THE VERY

FIRST OPERA THAT THE INDUSTRY

EVER GOT PRODUCED, WHICH WAS

ANNE LeBARON'S OPERA "CRESCENT

CITY."

KEARNEY: WHAT IS WOOD TO WATER?

WHAT WOULD WADE IN THE WATER?

SOMEONE BRING THE RIVER.

SHARON: HE ALSO HAS SPENT SO

MUCH TIME THINKING ABOUT

LANGUAGE AND ITS ROLE IN

SHAPING IDENTITY.

KEARNEY: WE ARE THE SOUL OF THE

OPERA. WE LIBRETTIZE. WE

LIBBRETATE. WE WRITE THE WORDS

FOR THE OPERA AND ALSO DO A BIT

WITH STORY.

DUNCAN: YEAH. I LIKED HOW YOU

WERE TALKING ABOUT US AS STORY

BEARERS.

KEARNEY: YEAH.

DUNCAN: I'VE WRITTEN

SCREENPLAYS AND PLAYS,

MONOLOGUES, AND THINGS LIKE

THAT, BUT I HAVEN'T DONE THE

JUXTAPOSITION OF CHARACTER AND

MUSIC.

AND BECAUSE YOU HAD HAD

EXPERIENCE, YOU KNOW, DOING

OPERA AND WRITING LIBRETTOS

BEFORE, I THINK, THAT GOING

THROUGH THAT PROCESS REALLY

HELPED ME UNDERSTAND, YEAH,

WHAT WAS REALLY POSSIBLE OR

WOULD BE INTERESTING OR WOULD

REALLY SUPPORT THE GENRE OF

OPERA.

KEARNEY: AT FIRST, WE WERE

STILL GOING TO BE WORKING WITH

THIS KIND OF TWO-TRACK IDEA.

DUNCAN: RIGHT. YEAH.

KEARNEY: AND AT THAT POINT, IT

WAS GOING TO BE ONE LIBRETTIST

AND ONE COMPOSER WERE GOING TO

WRITE FOR THE PILGRIMS, AND ONE

LIBRETTIST AND ONE COMPOSER

WERE GONNA WRITE FOR THE

INDIGENOUS PEOPLE, AND SO THERE

SEEMED TO BE THIS SORT OF

AUTOMATIC ASSUMPTION THAT

"WELL, OF COURSE, WE'LL GET THE

INDIGENOUS LIBRETTIST AND THE

INDIGENOUS COMPOSER TO WRITE

FOR THE INDIGENOUS PEOPLE, AND

WE'LL GET THE

AFRICAN-AMERICAN"--

DUNCAN: TO WRITE FOR THE

PILGRIMS. I MEAN, WHO WOULDN'T

WANT THAT?

KEARNEY: "AND THE CHINESE

COMPOSER TO WRITE FOR THE"--SO

I WAS LIKE--I WAS ALL-IN. I WAS

LIKE--MY RISK LEVEL WAS PRETTY,

LIKE--YOU KNOW, IN TERMS OF,

LIKE, EXISTENTIALLY, I WAS

LIKE, "NO. LET ME AT THOSE

PILGRIMS. I WANT TO DO THAT."

DUNCAN: YEAH. YOURS

WAS A GOOD GIG.

KEARNEY: I WAS LIKE, "WHAT

COULD POSSIBLY GO WRONG?" BUT I

REMEMBER--I REMEMBER EARLY ON

YOU AND RAVEN SAID, "HOW COME

WE NEVER GET TO WRITE FOR THE

WHITE PEOPLE? HOW COME WE NEVER

GET TO BE THE WHITE PEOPLE?"

AND THERE WAS THIS MOMENT WHERE

IT WAS LIKE HAD WE NOT STARTED

OFF BEING WILLING TO, LIKE,

EVEN IMAGINE HOW THAT WOULD

HAVE GONE--THAT QUESTION TO ME

HAS BEEN SORT OF THE CREATIVE

BIG QUESTION THAT REALLY DROVE

THE FIRST STAGES OF

DEVELOPMENT OF THIS OPERA.

DUNCAN: YEAH, YEAH, YEAH.

KEARNEY: THAT TO ME--WE

WOULDN'T HAVE GOTTEN THAT.

DUNCAN: THAT'S TRUE.

KEARNEY: IF WE HADN'T

STARTED THERE, RIGHT?

DUNCAN: YEAH.

[VIOLINS PLAYING ATONAL MUSIC]

WOMAN: THIS IS, LIKE, ONE I'D

HAD IN MY HEAD FOR HER HAIR.

IT'S A FLOATING

FRENCH BRAID. I WAS TRYING TO

EXPLAIN IT, BUT I COULDN'T

FIGURE OUT HOW TO EXPLAIN IT,

BUT I JUST DID IT ON HER. IF

YOU LIKE IT OR NOT. IF NOT, WE

CAN TRY THEM A MORE TRADITIONAL

FRENCH BRAID.

LUGER: HOW DO YOU FEEL.

HAHN: ME?

LUGER: YEAH.

HAHN: I MEAN, I FEEL,

ATTACHED TO MY HEAD.

LUGER: COULD YOU--COULD

YOU DO IT?

HAHN: YEAH, YEAH.

WOMAN: SHE CAN DO IT. IT'S EASY.

HAHN: IT'S NOT THAT HARD.

WOMAN: IT'S MUCH HARDER THAN

A REAL FRENCH BRAID.

LUGER: ROCK IT.

WASHINGTON: WHEN WE TALK ABOUT

NATIVE CLOTHING, TRADITIONAL

NATIVE CLOTHING, WE DON'T CALL

THEM COSTUMES BECAUSE WHEN YOU

WEAR A COSTUME YOU'RE PUTTING

ON SOMETHING, YOU KNOW, YOU'RE

STEPPING INTO A ROLE THAT MAYBE

THAT'S NOT WHAT YOU ARE. WE

CALL OUR TRADITIONAL CLOTHING

REGALIA.

LUGER: COSTUME TO ME IS

SOMETHING THAT YOU PUT ON

WITHOUT ANY EFFORT TO EARN IT.

REGALIA IS EARNED. THE CLOTHING

OF INDIGENOUS POPULATIONS,

EVERY SINGLE IMAGE AND SHAPE

THAT YOU SEE, EVERY DESIGN

THAT'S CUT INTO IT, EVERY

TRIANGLE, EVERY SQUARE, THEY

ALL HAVE MEANING, EVERY--EVERY

FEATHER OR HAIR LOCK OR TOOTH

OF AN ANIMAL. YOU DIDN'T JUST

FIND THESE AND--AND SLAP THEM

ON. YOU HAD TO EARN THEM IN

ORDER TO WEAR THEM. SITTING

IN THIS CONTEXT IN THE 21st

CENTURY AND TELLING YOU ABOUT

ALL OF THIS--ALL--EVERYTHING

THAT I DO IS ACTUALLY ALSO

CONTRARY TO THE CUSTOMS OF MOST

INDIGENOUS PEOPLE. IT'S NOT

COOL TO TALK ABOUT YOURSELF, AND

THE REGALIA COMPLETES THAT SO

THAT YOU CAN ENTER INTO A ROOM,

AND IF PEOPLE HAVE THE KNOWLEDGE

OF THE VISUAL LANGUAGE THAT IS

THE REGALIA THAT THE PEOPLE

WEAR, THEN THEY DON'T HAVE TO

TALK ABOUT THEMSELVES. EVERY

SINGLE THING ON THEM TELLS THEIR

STORY, AND THEY'LL NEVER HAVE TO

UTTER THEIR ACCOMPLISH--YOU KNOW

ACCOMPLISHMENTS, AND

SO FOR ME THE DIFFERENCE BETWEEN

REGALIA AND COSTUME IS

THAT YOU EARN REGALIA.

MAN: STILL COSTUMES.

LUGER: IT'S COSTUMES HERE.

YEAH, YEAH. BY THE END OF THE

RUN, THEY MAY HAVE EARNED IT.

MAN: HEH HEH.

LUGER: BECAUSE EACH FORM IS SO

DEPENDENT ON THE OTHER, YOU

START A METAPHOR IN THE MUSIC,

AND YOU FINISH IT IN A COSTUME.

I'M NOT A COSTUME DESIGNER. YOU

KNOW, EVEN COMING ONTO THIS

PROJECT, I DON'T KNOW THE

PROTOCOLS OF OPERA OR THEATER

EVEN AND HOW THINGS ARE

DEVELOPED AND PRESENTED FOR

STAGE, SO WHAT I DID IS I MADE

THE ARTWORK THAT I MAKE. I

BECOME THE CONDUIT FOR WHAT IS

THAT THEME, WHAT ARE THE

NARRATIVES, HOW DO--HOW ARE

THESE REGALIA PIECES

EARNED FOR THIS HOST

COMMUNITY? IT'S ALL MADE UP.

[SINGERS VOCALIZING]

THE CHALLENGE ON THIS FOR ME

WAS TO DEVELOP A HOST COMMUNITY

THAT WASN'T SPECIFIC TO ANY

CULTURE THAT REALLY EXISTS. I

TRIED TO USE INDUSTRIAL FELT

BECAUSE IT LEANS INTO THE

INDUSTRIALIZATION OF THE WORLD.

I'M ALSO USING SPORT EQUIPMENT

AS INFRASTRUCTURE TO HOLD THEM,

SO SPORT PADS REALLY, SO SHIN

GUARDS AND FOOTBALL PADS, BUT I

THOUGHT I WOULD REALLY KIND OF

LEAN INTO THIS IDEA OF

ATHLETICISM. SOME OF THE--SOME

OF THE REGALIA THAT I USE IS

ACTUALLY BASED ON STICK GAMES,

WHICH THEN EVENTUALLY

BECAME LACROSSE, YOU KNOW, WHICH

IS AN INDIGENOUS SPORT.

HAHN: I LOVED MAKWA'S COSTUMES.

I THOUGHT THAT--I THINK THAT

SHE LOOKS SO GOOD, AND THEY'RE

SO VIBRANT AND EXCITING.

TOBIN: MY COYOTE SPIRIT, RIGHT,

IS THIS SHAWL THAT'S MADE OUT

OF THIS WOVEN BLANKET, AND A

LOT OF PEOPLE SAY, "OH, THAT

LOOKS LIKE A BLANKET THAT,

LIKE, MY GRANDMOTHER HAD OR

SOMETHING LIKE THAT." CANNUPA

MADE THIS BEAUTIFUL COYOTE HEAD

OUT OF FELT AND SCULPTED FELT.

WHEN I PUT MY ARMS OUT LIKE

THIS, I CAN ACTUALLY ACTIVATE

THE ANIMAL.

MAN: ♪♪ RECIPROCITY ♪♪

KIM: IT'S REALLY OPPRESSIVE.

IT'S, LIKE, SO HEAVY AND SO

HOT. IT'S MADE OF DOZENS OF

WIGS MAYBE. AS SOON AS I PUT IT

ON, THERE'S A LOT OF HEAT, A

LOT OF FIRE. WHEN I MOVE MY

ARM, IT'S REALLY SLOW, AND THE

SLOWNESS BUILDS MORE HEAT, AND

SOMETIMES I IMAGINE THE HEAT AS

THE VIOLENCE. IT'S LIKE I'M

BURNING AND I'M GOING TO MAKE

THE WHOLE WORLD BURN WITH ME.

AS SOON AS THE SCENE IS OVER,

I'M LIKE, "GET IT OFF."

JIMMY GIN: ♪♪ SO YOU SEE

WHAT YOU REMEMBER

DOESN'T MATTER

MIGHT OVER MORAL HAS COME

AND IT'S SO MUCH BETTER ♪♪

MAKWA: ♪♪ I REMEMBER

WHEN YOU CAME

YOUR SKIN REEKED

OF DROWNING

YOU WERE HUDDLED

WRETCHED, AND POOR

IN YOUR SHIP

WE TOLD YOU

THIS LAND IS OUR KIN

WHEN WE FED YOU

OUR FAMILY'S BOUNTY

WE SHIELDED YOU

FROM DYING ♪♪

HAHN: "FEAST 2" IS JUST ABOUT

ME COMING TO THE REALIZATION

SLOWLY THAT I DON'T HAVE A

VOICE, I DON'T HAVE ANYTHING. I

AM PROPERTY TO THESE EMPTY

PEOPLE, AND JIMMY GIN AND HIS

PEOPLE HAVE WON.

KEARNEY: THE MOMENT OF BREACH

HAS NOW BEEN TURNED INTO IN

"FEAST 2" THE MOMENT OF

"YES, I DO."

JIMMY GIN: ♪♪ I VOW TO HOLD YOU

HERE FOREVER

IN OUR SWEET, SWEET LAND ♪♪

MAKWA: ♪♪ I WAS A SEER

I KNEW THE FUTURE

BUT I DIDN'T SEE

OUR ERASURE

THAT DAY MAY COST US

EVERYTHING ♪♪

HAHN: AND THAT'S "FEAST 2," AND

IT ENDS WITH ME RESIGNING

MYSELF TO A LIFE OF SERVITUDE.

SHARON: FROM THE POINT OF VIEW

OF SOMEONE WHO IS NOT NATIVE,

OF COURSE, I CONNECT SO

STRONGLY WHEN I HEAR MAKWA

SINGING AT THE END OF "FEAST

2." WHAT THEY'RE DOING IS AN

ACT OF SURVIVAL, AND WHAT

THEY'RE DOING IS ACTUALLY

TRYING TO CARRY THAT STORY

FORWARD IN WHATEVER WAY THEY

CAN, EVEN KNOWING THAT THEY'RE

IN THIS COMPROMISED SITUATION.

BELLUZ: THE LAST IMAGE OF

"FEAST 2" IS JIMMY AND MAKWA

STANDING ALMOST LIKE THE BRIDE

AND GROOM FIGURINE ON TOP OF A

WEDDING CAKE.

MAKWA: ♪♪ I'LL SAY I WILL

I'LL SAY I DO ♪♪

CHORUS: ♪♪ WE'LL ALWAYS MAKE

A PLACE FOR YOU

IN OUR SWEET, SWEET LAND ♪♪

[ORCHESTRA PLAYING

OMINOUS MUSIC]

SHARON: I THINK THIS PARTICULAR

REHEARSAL IS A REALLY GREAT

OPPORTUNITY TO RECONNECT WITH

THE IDEAS THAT WE'RE TRYING TO

COMMUNICATE, THE IDEAS OF THE

PIECE, WHAT IT'S ABOUT, AND WHY

WE'RE DOING IT. SO IT'S A

LITTLE BIT--MAYBE TAKE ONE

LESS--A LITTLE BIT LESS

PRESSURE OFF OF THE FEELING OF

"I GOT TO GET THIS, RIGHT. I

GOT TO GET THIS RIGHT" AND MORE

REMEMBERING THE CONTENT AND

REMEMBERING THE IDEAS BECAUSE

WHEN THAT IS RIGHT,

EVERYTHING ELSE WILL WORK.

LUGER: I DON'T KNOW. I'M JUST

TOTALLY INSPIRED BY HOW MUCH

EFFORT IS PUT FORWARD TO CREATE

THIS EXPERIENCE, AND--AND WHAT

DO WE DO WITH IT? WE SHARE IT

AND WE GIVE IT AWAY, YOU KNOW?

IT'S INCREDIBLY BEAUTIFUL. SO I

JUST WANTED TO SAY THANK YOU IN

CASE I'M TOTALLY INSANE FOR THE

NEXT TWO DAYS AGO.

[CHEERING]

SHARON: WE BEGIN THE PROCESS

TOGETHER. WE MEET AGAIN IN THE

MIDDLE, AND WE END THIS PIECE

TOGETHER, BUT IN BETWEEN, WE'VE

HAD RADICALLY DIFFERENT

EXPERIENCES.

TOBIN: WE ARE RETURNED TO KIND

OF THE PRESENT AND ALSO KIND OF

THE FUTURE, AND WE'RE NO LONGER

IN, YOU KNOW, THE STRUCTURES

THAT THE OPERA EXISTED IN.

WE'RE OUTSIDE BY THE TRAIN

TRACKS.

[DRUM BEATING, WOMAN VOCALIZING]

SHARON: FOR THIS FINAL SCENE OF

"SWEET LAND," THE AUDIENCE

COMES BACK TOGETHER TO THE

EXACT SAME LOCATION WHERE THEY

FIRST SAW THIS ENCOUNTER

BETWEEN HOSTS AND ARRIVALS, BUT

INSTEAD OF THAT MYTH, INSTEAD

OF THAT FICTION, WE ARE NOW

CONFRONTED WITH THE REAL

LANDSCAPE. YAANGA IS NOW THIS

CONSTRUCTION SITE FOR SOME

COMPLETELY UNKNOWN FUTURE, AND

WITHIN IT ARE ALL OF THESE

SUPPRESSED STORIES AND

SUPPRESSED MEMORIES, AND ALL OF

THOSE STORIES START TO INTERSECT

AND ARE PROJECTED, LITERALLY

PROJECTED ONTO THE SURFACE OF

A LANDSCAPE THAT WANTS TO

PRETEND LIKE NOTHING HAPPENED.

I'M GOING TO JUMP RIGHT INTO

IT AND CUT TO THE CHASE AS I'M

SURE EVERYONE IS QUITE ANXIOUS

TO HEAR ABOUT HOW WE ARE

PROCEEDING IN THE--IN THE WAKE

OF. SO--OF A CONSTANTLY

SHIFTING, VERY FLUID

CIRCUMSTANCE WITH PUBLIC

HEALTH. IT'S JUST NO LONGER THE

RIGHT THING TO DO TO PROCEED

WITH THE PERFORMANCES. SO

BEFORE ANYONE PANICS, I DO WANT

TO SAY THAT WE ARE GOING

FORWARD WITH A DECISION TO

CANCEL THE REMAINDER OF THE RUN.

[TRAIN CLATTERING]

KEARNEY: WE CAN'T TALK ABOUT

THE RUN OF "SWEET LAND" HAVING

BEEN CUT SHORT BY A PANDEMIC

WITHOUT IMAGINING THE IRONY.

LUGER: A PANDEMIC DEVASTATED

OUR POPULATIONS IN THE UNITED

STATES AS INDIGENOUS PEOPLE.

DISEASE WAS REALLY, WHAT GAVE

THE COLONIAL POWERS AN ABILITY

TO HAVE A FOOTPRINT HERE. IT

WOULD HAVE BEEN A DIFFERENT

STORY WITHOUT DISEASE.

SHARON: I KNEW THAT EVERY

PROJECT THAT THE INDUSTRY DOES

IS LIKE A TIGHTROPE WALK AND

THAT AT ANY MOMENT WE COULD

PLUNGE TO OUR DEATHS, BUT THE

ONE THING I CAN THINK ABOUT IS

THAT THE PIECE IS SO

FUNDAMENTALLY ABOUT SURVIVAL.

THE STORY OF MAKWA, THE STORY

OF THESE HOSTS IS THE STORY OF

SURVIVAL. THESE EUROPEAN

IMMIGRANTS WON THE DAY, AND SO

THEIR STORY IS THE ONLY ONE

THAT COUNTS, BUT ACTUALLY

HISTORY IS MADE UP OF A LOT OF

INTERSECTING STORIES AND A LOT

OF INTERWEAVING STORIES. IN MANY

WAYS, I WISH THAT "SWEET LAND"

DIDN'T JUST HAVE TWO TRACKS BUT

HAD 10.

LUGER: "SWEET LAND"

UNFORTUNATELY REMAINS RELEVANT,

WILL REMAIN RELEVANT.

KEARNEY: IN THINKING ABOUT THE

EVENTS OF JANUARY 6, THE COUP,

AND PEOPLE, YOU KNOW, CRYING,

"OH, THIS IS NOT WHO WE ARE!

THIS ISN'T WHO WE ARE!" LIKE,

ABSOLUTELY IT'S WHO WE ARE.

IT'S WHO WE ARE. THAT THERE,

THAT STATEMENT, "THIS IS THIS

ISN'T WHO WE ARE," THAT'S THE

BEGINNING OF YET ANOTHER MYTH.

"SWEET LAND" IN THIS CURRENT

MANIFESTATION DOES WORK THAT I

THINK IS IMPORTANT FOR IT TO

DO. EVEN IF WE SOLVED ALL THE

PROBLEMS, WE WOULD NEED

SOMETHING TO REMIND US WHAT

THOSE PROBLEMS ARE AND TO ALWAYS

REMIND US HOW EASILY, HOW EASILY

IT CAN BE FOR US TO SLIP

INTO THE KIND OF WORLD

THAT WE SAW ON JANUARY 6

AND THAT WE WERE MYTHOLOGIZING

IN "SWEET LAND."

YUN: IF WE DON'T THINK THIS

STORY IS PART OF OUR STORIES, I

THINK MOST SOCIETIES WILL HAVE

TROUBLES.

DUNCAN: I THINK THINKING ABOUT

THE EVENTS OF THE PAST YEAR AND

THE MANY, MANY THINGS THAT HAVE

TRANSPIRED HAVE MADE ME A

LITTLE BIT HUNGRY FOR SORT OF A

THIRD POSSIBILITY IN THE TWO

TRACKS, AND I WOULD REALLY BE

DELIGHTED IF WE NOW COULD DO A

THIRD ONE WHERE IT'S LIKE,

"WHAT IS THIS POSSIBLE FUTURE

THAT WE WANT TO CREATE

TOGETHER?"

LUGER: THERE ARE SO MANY

DIFFERENT NARRATIVES AROUND WHO

WE CELEBRATE AS FOREFATHERS

AND, YOU KNOW, ENGAGE IN THIS--

IN THIS PLACE, BUT WE DON'T

RECOGNIZE HOW DIFFICULT AND

HARD THAT WAS. WE DON'T

RECOGNIZE THE SUFFERING AND THE

DISPLACEMENT THAT'S INVOLVED IN

THAT, AND IF WE DON'T RECOGNIZE

THAT, THEN THAT JUSTIFIES US TO

BE COLD TO THOSE WHO SEEK

REFUGE TODAY. THIS STORY IS TO

REMIND US THAT WE ALL BELONG TO

A PLACE RATHER THAN A

PLACE BELONGING TO YOU.

WOMAN: ♪♪ HERE

NO SWEET LAND HERE

NO SWEET LAND HERE

NO SWEET LAND HERE

NO SWEET LAND HERE

NO SWEET LAND HERE ♪♪

[TRAIN RUMBLING]

ANNOUNCER: THIS PROGRAM WAS

MADE POSSIBLE IN PART BY: ANNE

RAY FOUNDATION, A MARGARET A.

CARGILL PHILANTHROPY; VISION

MAKER MEDIA; CITY OF LOS

ANGELES DEPARTMENT OF CULTURAL

AFFAIRS; L.A. COUNTY DEPARTMENT

OF ARTS AND CULTURE; NATIONAL

ENDOWMENT FOR THE ARTS; FREIDA

BERLINSKI FOUNDATION; AND THE

NATIVE ARTS AND CULTURE

FOUNDATION.