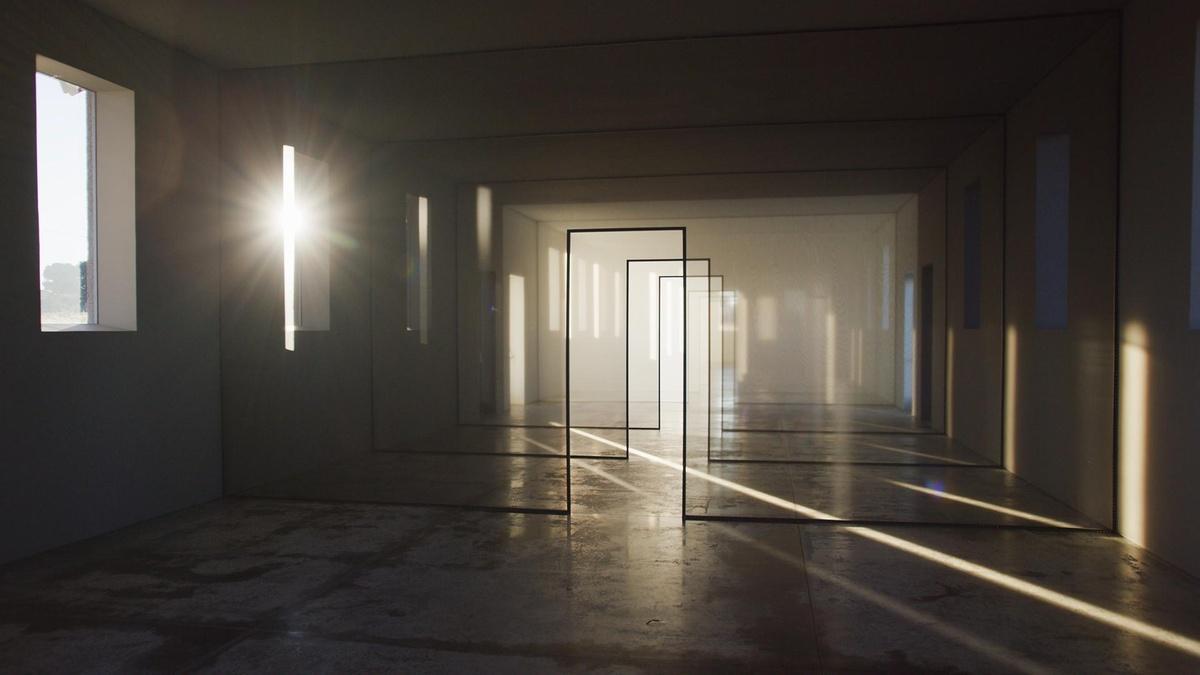 S11 E1 | FULL EPISODE
Light & Space
In a world filled with noise, distractions and chaos, a number of artists seek to push the boundaries of perception and experience. The Light and Space movement of the 1960s explored minimalism with a uniquely Californian spin — with a keen attention to the interaction of light and space.
TRANSCRIPT

WOMAN: IN THE 1960s AND THE

1970s, THERE WAS A LOOSELY

AFFILIATED GROUP OF ARTISTS

LIVING IN LOS ANGELES WHO GREW

UP WORKING THROUGH PAINTING AND

INFLUENCED BY ABSTRACT

EXPRESSIONISM, BUT BY THE

MID-SIXTIES, THEY WERE LOOKING

FOR EVER SUBTLER KIND OF

EFFECTS, AND SO YOU COULD

ALMOST SAY THAT LIGHT WAS THEIR

MEDIUM.

MAN: RATHER THAN PAINT AND

CANVAS, YOU'VE GOT SOMETHING

THAT HAS 3 DIMENSION AND IS

FULL OF AMBIGUITY AND FULL OF

MYSTERY.

DIFFERENT MAN: IRWIN AND LARRY

BELL AND HELEN PASHGIAN, ALL OF

THESE ARTISTS, ARE AT THE TOP

OF THEIR GAME NOW.

ANNOUNCER: THIS PROGRAM WAS

MADE POSSIBLE IN PART BY: A

GRANT FROM ANNE RAY FOUNDATION,

A MARGARET A. CARGILL

PHILANTHROPY; THE CITY OF LOS

ANGELES DEPARTMENT OF CULTURAL

AFFAIRS; THE LOS ANGELES COUNTY

DEPARTMENT OF ARTS AND CULTURE;

AN AWARD FROM THE NATIONAL

ENDOWMENT FOR THE ARTS, ON THE

WEB AT ARTS.GOV; AND THE

CALIFORNIA ARTS COUNCIL.

WOMAN: I SPENT A GREAT DEAL OF

TIME AT THE BEACH GROWING UP.

FROM THE AGE OF 3 OR 4, I CAN

REMEMBER RUNNING DOWN THE

BEACH, MY TINY LEGS, TO THE

TIDE POOLS, AND I CAN REMEMBER

BEING FASCINATED WITH THE

RIPPLE OF LIGHT ACROSS THE

SURFACE, AND I WOULD LOOK

INSIDE AND SEE THE TINY

CREATURES MOVING, AND THEN I

WOULD SEE THE LIGHT GOING

THROUGH THE WATER AND MAKING

PATTERNS ON THE SAND OR ON THE

ROCKS, THAT I WOULD STAY THERE

FOR HOURS AND PUT MY LITTLE

FINGERS IN THERE AND PLAY

WITH THE WATER. I CAN

REMEMBER THAT VERY CLEARLY.

WOMAN: IN THE 1960s AND THE

1970s, THERE WAS A LOOSELY

AFFILIATED GROUP OF ARTISTS

LIVING IN LOS ANGELES WHO GREW

UP WORKING THROUGH PAINTING AND

INFLUENCED BY ABSTRACT

EXPRESSIONISM, BUT BY THE

MID-SIXTIES, THEY WERE LOOKING

FOR EVER SUBTLER KIND OF

EFFECTS, AND SO YOU COULD

ALMOST SAY THAT LIGHT WAS THEIR

MEDIUM.

THERE WAS AN INTEREST AMONG

CRITICS AND CURATORS TO COME UP

WITH A NAME OR A CATEGORY TO

DESCRIBE THIS KIND OF WORK, AND

SO AMBIENT ART, ENVIRONMENTAL

ART, AND LIGHT AND SPACE WERE

ALL TERMS THAT WERE COINED AND

USED AT DIFFERENT TIMES.

MAN: WELL, THERE WAS NO CATEGORY

WHEN I STARTED OUT. I MADE THE

CATEGORY.

MAN: LIGHT AND SPACE. YOU CAN'T

SEE ANYTHING IF THERE'S NO

LIGHT, AND YOU CAN'T PUT

ANYTHING DOWN UNLESS THERE'S

SPACE, SO EVERYTHING THAT HAS

ANYTHING TO DO WITH WEIGHT AND

MASS HAS TO DO WITH LIGHT AND

SPACE ALSO.

PASHGIAN: IT'S ABOUT THE

EXPLORATION, IT'S ABOUT THE

ENCOUNTER, IT'S ABOUT THE

JOURNEY INTO THAT WORK. SO IT'S

A DIFFERENT EXPERIENCE, BUT

IT'S ALL ABOUT THE EXPERIENCE.

MAN: THERE IS CLEARLY A SHARED

INTEREST IN LIGHT, IN THE LIGHT

CHANNELING PROPERTIES OF

DIFFERENT KINDS OF MATERIALS,

IN THE BREAKING FREE OF

CONVENTIONAL FORMATS, OF

SCULPTURE AND PAINTING OR

MOVING INTO LARGER

ENVIRONMENTAL ENGAGEMENTS WITH

SPACE.

PART OF WHAT UNITES THESE

ARTISTS IS THIS INTEREST IN

ALLOWING PERCEPTION TO KIND OF

GROW BEYOND THE CATEGORIES OF

HABITUAL EXPERIENCE, THE WAY

THAT WE ORGANIZE THE WORLD AND

COME AT IT WITH CERTAIN

CATEGORIES INTACT.

BEYOND THIS, THERE IS AN

INTEREST IN AMBIGUITY, THE

AMBIGUITY OF SHAPE AND FORM

AND--TO THINK ABOUT THE WAY

HELEN PASHGIAN PUTS THIS--THIS

DISCONNECT BETWEEN WHAT WE SEE

AND WHAT WE THINK WE KNOW ABOUT

WHAT WE'RE SEEING.

PASHGIAN: IT ALL REVOLVES

AROUND THE SUN, THE LIGHT, THE

PERVASIVE LIGHT IN SOUTHERN

CALIFORNIA, WHICH I'VE ALWAYS

THOUGHT OF AS VERY COOL AS

OPPOSED TO THE WARM

MEDITERRANEAN LIGHT OF THE

SOUTH OF FRANCE OR SPAIN.

PEOPLE CAME HERE AND BUILT A

LOT OF WHITE BUILDINGS STARTING

WITH THE OLD SANITARIUMS THAT

WERE DONE IN THE MOUNTAINOUS

TOWNS, AND THEN AS THE CAR

CULTURE GREW AND AS MORE AND

MORE OF SOUTHERN CALIFORNIA

BECAME PAVED OVER, THE LIGHT

CHANGED I THINK. I THINK IT WAS

ALWAYS REFRACTING AND

REFLECTING OFF OF ALL THESE

SURFACES. THE LIGHT IS ALWAYS

SHIFTING HERE.

RATHER BY DEFAULT, I STUDIED

ART HISTORY. I WAS FASCINATED

BY DUTCH PAINTING PARTICULARLY,

NOT JUST THE VERMEERS BUT SOME

OF THE OUTDOOR LANDSCAPES. MANY

OF THESE PAINTINGS HAD A VERY

COOL LIGHT, WHICH I RESPONDED

TO BECAUSE I THOUGHT IT WAS

LIKE THE CALIFORNIA LIGHT.

AND THE INTERIORS OF VERMEER

WITH VERY CALM, VERY COMPOSED

SETTINGS. I WAS INTERESTED IN

THE LIGHT THAT ALWAYS CAME FROM

A SINGLE SOURCE OUTSIDE A

WINDOW AND WOULD DEFINE THE

INTERIOR OF THE ROOM. I WAS

INTERESTED IN THE LIGHT, THE

ATMOSPHERE THAT SEEMED TO

PERVADE THE ROOM. I WAS TRYING

TO UNDERSTAND HOW THAT WORKED.

IT WAS MOST INTRIGUING TO ME

AND STILL IS.

WHEN I BEGAN TO WORK, I WAS

TRYING TO CAPTURE THE LIGHT AS

IT ENTERED THE ROOM.

IRWIN: I STARTED AS A PAINTER,

YOU KNOW, AND I MADE THESE

PAINTINGS, WHICH WERE VERY

TEDIOUS AND LABORED. THEY

LOOKED EFFORTLESS, BUT THEY

WERE NOT...

AND THEN SLOWLY, I STARTED

LETTING IT TAKE OVER AND RUN

WITH IT, YOU KNOW. I BECAME A

KIND OF HALF SCULPTOR. STARTED

TRYING TO FIGURE OUT WHAT IS IT

WE'RE REALLY DOING HERE, AND

WHAT IS IT THAT ART

CONTRIBUTES? WHAT IS THE

DIALOGUE? WHAT IS THE MATERIAL

AND THE PROCESS THAT ONE IS

INVOLVED IN IN MAKING ART? IS

THERE INFORMATION HERE THAT'S

ADDING TO, IN A SENSE, THE

OVERALL DIALOGUE, AND IF IT'S

NOT, THEN WHAT EXACTLY DOES

ART DO? A LOT OF IT'S JUST

GAME PLAYING, YOU KNOW?. PLAYING

GAMES WITH YOUR OWN HEAD.

PLAYING GAMES WITH YOUR OWN EYE,

PUSHING, PUSHING, PUSHING,

TRYING TO FIGURE OUT WHAT

MAKES SOMETHING INTERESTING.

ONE OF THE THINGS ABOUT BEING

AN ARTIST FOR ME WAS IT WAS A

GREAT PLAYPEN.

THERE WERE NO RULES. I TRIED

NOT TO WORK WITH ANY RULES.

BELL: WELL, MY FIRST REAL

STUDIO WAS IN OCEAN PARK. IT

WAS A BIG EMPTY ROOM EXCEPT

THAT IT WASN'T REALLY EMPTY. IT

WAS FULL OF CORNERS. THERE WERE

CORNERS EVERYWHERE. I REALIZED

THAT IT DIDN'T TAKE VERY MUCH

STUFF TO OCCUPY A SPACE, AND

EACH OF THOSE THINGS BECAME

DYNAMIC ELEMENTS. THAT MEANT

THAT...

THE CORNERS OCCUPIED THE SPACE

TOO, AND SO THE WORK I MADE WAS

KIND OF A RESPONSE TO THE

VOLUME THAT I WORKED IN. IN THE

BEGINNING, I WAS PAINTING FLAT

SURFACES, AND THEY ENDED UP

BEING ILLUSTRATIONS OF VOLUMES,

AND AFTER A CERTAIN POINT, I

REALIZED THAT I WAS NOT GETTING

ANYWHERE WITH THIS ILLUSTRATION

OF A VOLUME. I DECIDED I WOULD

MAKE THE VOLUMES INSTEAD OF

MAKING ILLUSTRATIONS OF THEM,

AND I'D USE GLASS TO DO SO, AND

ALL OF A SUDDEN, I WAS A

SCULPTOR INSTEAD OF A PAINTER,

AND JUST THE TRANSITION INTO

THAT PLACE WAS SO NATURAL I FELT

I HAD A RIGHTEOUS DRIVE GOING

AND I BEST NOT GIVE UP ON IT. I

FELT STRONG. IT GAVE ME A

SENSE OF STRENGTH WHICH LED TO A

SENSE OF PURPOSE. I THINK THAT'S

WHEN I STARTED TO BECOME A REAL

ARTIST, IF THERE'S SUCH A THING.

PASHGIAN: I THINK THE ART WORLD

WAS TINY, AND I DIDN'T KNOW

ANYTHING ABOUT IT. I WAS

BRAND-NEW TO IT.

IT WAS A VERY, VERY SMALL GROUP

OF PEOPLE, AND I REALLY KNEW

NONE OF THEM. THE YOUNG ARTISTS

ALL LIVED IN VENICE.

BELL: VENICE WAS AN INTERESTING

PLACE TO HAVE A STUDIO. IT WAS

AN AREA IN EXTREME DECLINE.

HOWEVER, IT WAS QUITE

REASONABLE IN TERMS OF PRICE

BECAUSE ALL THE STORES WERE

EMPTY, AND LANDLORDS WERE HAPPY

TO HAVE ANYBODY IN THERE TO

KEEP THE SQUATTERS OUT, AND

APARTMENTS WERE ANYWHERE FROM

$18 TO $30 A MONTH FOR A VERY

LIVABLE LITTLE PLACE RIGHT AT

THE BEACH. THE AIR IS GREAT

THERE, AND IT WAS A COLLECTION

OF VERY INTERESTING PEOPLE.

THERE WAS A LOT OF CREATIVITY,

AND MY FRIENDS HAD STUDIOS

ON THE NEXT STREET.

IRWIN: WE JUST WORKED ALL DAY,

AND THEN WE'D GO TO CHEZ JAY'S

FOR BEER AT NIGHT. IT WAS A

VERY EXCITING, JAZZED UP SCENE.

BELL: WE'D GO TO BARNEY'S

BEANERY, OR THE GUYS WOULD COME

TO THE CLUB THAT I WORKED IN.

IT WAS FUN. WE HAD A GOOD TIME.

I AND MY FRIENDS DID A LOT OF

SURFING. KENNY PRICE AND ED

MOSES AND BILLY AL BENGSTON AND

BOB IRWIN AND ALL THOSE PEOPLE

WERE ALL BOARD SURFERS. NOT VERY

MANY PEOPLE, BUT THE WATER WAS

PERFECT, AND THE SURF WAS GREAT.

PASHGIAN: I GUESS WE WERE ALL

SURFERS AS FAR AS I KNOW. THIS

IS HOW WE GAVE THE IMPRESSION

THAT WE WERE FRIVOLOUS, THAT

THIS WAS OF NO IMPORTANCE, AND

I THINK THE ARTISTS, IN FACT,

WERE VERY SERIOUS ABOUT WHAT

THEY WERE DOING.

CLARK: SO FOR THE ARTISTS IN

L.A. WHO WERE INTERESTED

PARTICULARLY IN PERCEPTION AND

LIGHT AND ENVIRONMENTAL EFFECTS

MORE THAN MAKING DISCRETE

OBJECTS, THEY LANDED ON USING

TRANSPARENT, TRANSLUCENT, AND

REFLECTIVE MATERIALS TO KIND OF

CREATE AN ENVIRONMENT AND MAKE

A PERSON MORE AWARE OF THEIR

OWN SURROUNDINGS, AND THEY USED

MATERIALS THAT THEY BORROWED

FROM THE AEROSPACE INDUSTRY AND

FROM COMMERCIAL SIGNAGE AND

EVEN FROM AUTOMOTIVE CULTURE,

AND THESE INCLUDED SPRAY

LACQUERS THAT WERE USED ON CARS

AND SURFBOARDS, DIFFERENT TYPES

OF RESINS AND ACRYLICS THAT WERE

USED IN COMMERCIAL INDUSTRY, AND

EVEN IN THE MILITARY INDUSTRY,

AND THEY WERE MOST ATTRACTED TO

THE TRANSPARENCY AND REFLECTIVE

QUALITIES OF THESE MATERIALS AND

HOW FROM ONE ANGLE THEY WOULD

HAVE A CERTAIN ASPECT OR

APPEARANCE AND FROM

ANOTHER ANGLE THEY MIGHT

LOOK COMPLETELY DIFFERENT.

PASHGIAN: I FOUND THIS

POLYESTER RESIN AS A LITTLE KIT

FOR CRAFT MAKERS AND STARTED

MAKING SOME VERY SMALL PIECES.

I WAS EXCITED ABOUT THOSE, AND

I WAS DOING DIFFERENT SHAPES

AND EXPERIMENTING WITH IT, AND

THEN IT GREW AND GREW AND GREW.

THAT MATERIAL HAD NEVER BEEN

AVAILABLE BEFORE BECAUSE IT WAS

DECLASSIFIED FOR WORLD WAR II,

AND SOMEHOW IT MADE ITS WAY TO

THESE SHOPS. MANY OF US FOUND

IT. 6 OR 7 OF US OR MORE FOUND

IT AT THE SAME TIME. BECAUSE

OF THIS TOXICITY, IT WAS VERY

DIFFICULT TO USE, BUT THIS WAS A

DRAW. THESE MATERIALS WERE

SO SEDUCTIVE. YOU COULD ADD

COLOR DYES TO THEM, YOU COULD

MANIPULATE THEM. MANY OF THEM

SELF-DESTRUCTED IF THEY WERE

OVER OR UNDER CATALYZED, BUT YOU

HAD TO--I LEARNED EARLY ON THAT

YOU HAD TO BE EXTREMELY CAREFUL,

OR THEY WOULD CONTROL YOU, THE

ARTIST. THERE WAS REALLY NO

ONE TO GUIDE ANY OF US AT THAT

TIME, SO WE JUST WENT OFF TO OUR

STUDIOS, AND WE WORKED WITH

IT UNTIL WE GOT SOMETHING

THAT SEEMED TO WORK, AND

THEN WE WOULD EXPAND ON IT

AND GET BIGGER AND BIGGER.

THE AEROSPACE INDUSTRY BEING

HERE HAD A GREAT DEAL TO DO

WITH THIS KIND OF MATERIAL THAT

WE USE AND MANY OTHERS.

NARRATOR: THIS IS JPL, THE JET

PROPULSION LABORATORY.

PASHGIAN: AND SO IT WAS A GREAT

PLACE FOR ARTISTS AT THAT TIME

TO EXPERIMENT WITH NEW

MATERIALS. THEY WERE VERY

WILLING TO HELP US, TO HELP PUT

US IN TOUCH WITH SOME OF THE

CHIEF CHEMISTS THAT WERE

THEMSELVES EXPERIMENTING BUT IN

A VERY DIFFERENT WAY, AND SO WE

LEARNED LITTLE BY LITTLE. I

THINK PROBABLY WE LEARNED

MOSTLY FROM OUR OWN

EXPERIMENTS, IN MY CASE MOSTLY

FAILURES.

FOR A COUPLE OF YEARS, I WAS A

RESIDENT ARTIST AT CALTECH, AND

THERE WERE A FEW OF US WORKING

IN THIS MATERIAL. ABOUT THAT

TIME, IT BECAME CLEAR TO MANY

OF THE ARTISTS THAT THIS WAS

TOO DANGEROUS TO USE. I MYSELF

BEGAN EXPERIMENTING WITH

EPOXIES THAT WERE SUPPOSED TO

BE NOT QUITE SO DANGEROUS. NOW

I'M WORKING WITH URETHANES. SO

IT'S BEEN A PROCESS. IT'S BEEN

A LONG TIME.

[HISSING]

SIMMS: HELEN IS INTERESTED IN

THE WAY THAT LIGHT CHANGES AS

IT MOVES INTO A MEDIUM LIKE

PLASTIC THAT IS ANALOGOUS IN

SOME WAYS TO WATER BECAUSE IT

SLOWS LIGHT DOWN, AND BECAUSE

OF THAT, THERE ARE DISTORTIONS

THAT HAPPEN, ILLUSIONS THAT

TAKE PLACE THAT YOU'RE LOOKING

AT, REFRACTION. THERE ARE

LITTLE RAINBOWS AND ALL KIND OF

THINGS THAN HAPPEN. THERE IS

THIS CONSISTENT INTEREST IN

THAT INTERPLAY OF LIGHT THAT

VERY OFTEN INVOLVES AN

INTERPLAY BETWEEN REFLECTIVE

SURFACES AND THEN CAST

THINGS THAT ARE INSIDE.

YOU'RE ALWAYS INVITED TO LOOK

INTO HER PIECES. WHETHER YOU

CAN GRASP WHAT'S INSIDE OR NOT

IS ANOTHER QUESTION. SHE'S SUCH

AN IMPORTANT ARTIST, AND SHE IS

AN INNOVATOR. NO OTHER ARTIST

IN THAT MIX DOES OR HAS DONE

WHAT SHE IS DOING. SHE'S TRYING

TO SEE HOW CAN YOU CREATE A

SCULPTURE THAT RESPONDS THIS

MUCH TO ITS CONTEXT, THAT IS NO

LONGER AN OBJECT ON A PEDESTAL

BUT PULLING IN ITS ENVIRONMENT.

I LIKE TO THINK OF THEM AS,

LIKE, ORGANISMS. THEY ARE ALIVE

IN THEIR ENVIRONMENT, AND

THEY'RE NEVER NOT INTERACTING

WITH IT. THEY'RE NEVER OFF, AS

IT WERE. THEY'RE ALWAYS ON.

PASHGIAN: AND NOW, FOR THE LAST

FEW YEARS, I'VE BEEN WORKING ON

AN IDEA THAT I DID INITIALLY AT

CALTECH IN 1970 OR 1969, WHICH

WAS A 5-FOOT DISC. IT'S AN

OBJECT, IT'S ON A PEDESTAL, BUT

IT DISSOLVES TO BE FLOATING

COLOR IN SPACE, AND IT'S STILL

TECHNICALLY QUITE CHALLENGING

AND AESTHETICALLY VERY

CHALLENGING, BUT IT'S COMING

INTO PLACE.

SO THIS ROOM IS COMPLETELY

DESIGNED AROUND A SINGLE PIECE

RIGHT IN THE MIDDLE.

I'M GOING TO BRING THE LIGHT

DOWN LOW. WATCH WHAT HAPPENS

WHEN THE COLOR BEGINS TO

CONTRACT AND WHAT HAPPENS WITH

YOUR EYE AND YOUR BRAIN.

CLARK: I THINK THE WORK IS

ABOUT MATERIALITY AND

IMMATERIALITY, ABOUT SOMETHING

IN THE STATE OF BECOMING OR

DISSOLVING, A PERSON TAKING THE

TIME TO CONTEMPLATE THOSE KINDS

OF IDEAS AND BEING TRANSPORTED

TO ANOTHER KIND OF WAY OF

THINKING.

WOMAN: IT'S FUNNY. I DON'T LIKE

THE SUN IN NEW YORK, BUT I LIKE

IT HERE.

MAN: WELL, I'M GLAD YOU DO

BECAUSE YOU'RE GOING TO GET A

LOT OF IT, BABY.

WOMAN: A LOT OF SUN?

CLARK: SO IN THE SIXTIES AND

SEVENTIES IN THE STATES, YOU

HAD ARTISTS WORKING WITH LIGHT,

PARTICULARLY IN LOS ANGELES,

AND THEIR KIND OF PEERS WORKING

IN NEW YORK, WHO WERE FOCUSING

ON MAYBE SERIAL GEOMETRIC FORMS

THAT WOULD BE ALIGNED WITH

THINGS LIKE MINIMALISM.

SIMMS: LIGHT AND SPACE IS

SOMETIMES REFERRED TO AS WEST

COAST MINIMALISM. THE

DIFFICULTY--AND THIS IS MAYBE

TRUE OF MORE THAN JUST THE

LIGHT AND SPACE GROUP BUT

MINIMALISM AND ALL THE

OTHERS--IS THAT THESE

CATEGORIES TEND TO HAVE BEEN

GENERATED BY ART CRITICS FIRST

AND THEN RECYCLED BY ART

HISTORIANS SECOND SO THAT THEIR

FUNCTION IS TO CLEAN UP THE

FIELD, TO GET EVERYBODY INTO

THESE KIND OF GROUPS

SO THAT THEY CAN THEN BE

PITTED AGAINST EACH OTHER.

PASHGIAN: THE EAST COAST VERSUS

WEST COAST SCHISM, I MIGHT CALL

IT--THERE WAS REAL ANTAGONISM

TO WHAT THEY CALLED "CALIFORNIA

ART," IN QUOTES, OFTEN, AND I

THINK THAT THEY THOUGHT THAT

FRIVOLOUS WASN'T A GOOD THING,

THAT, YOU KNOW, THESE WERE KIDS

IN CALIFORNIA. WE WERE ALL VERY

YOUNG, SOME OF THEM WERE MAKING

SURFBOARDS, USING THE SAME

MATERIALS USED TO MAKE

SURFBOARDS, AND THAT WE WOULD

BE EASILY DISTRACTED AND START

SURFING, AND THEY SAID, "THIS

IS NOTHING. THIS IS JUST

ATMOSPHERE. THIS IS ABSOLUTELY

NOTHING. IT JUST SHOWS, YOU

KNOW, THAT THOSE PEOPLE OUT

THERE DON'T KNOW

WHAT THEY'RE DOING. TOO

MANY DRUGS, YOU

KNOW, TOO MUCH--BRAINS

ARE FRIED BY THE SUN,"

THE USUAL THINGS.

SIMMS: I THINK THAT THEY HAVE

BEEN, YOU KNOW, HISTORICALLY

LESS TALKED ABOUT BECAUSE

NEW YORK WAS SEEN AS THE CENTER

OF THE ART WORLD BUT ALSO

BECAUSE OF CERTAIN, YOU KNOW--

FRANKLY, SOME BIASES AGAINST

WHAT A WEST COAST ART WOULD BE,

THAT IT MIGHT BE, YOU KNOW,

SURFING AND SUNSHINE AND ALL

THESE THINGS OR, ON THE OTHER

HAND, CORRUPTED BY AEROSPACE AND

THE MILITARY-INDUSTRIAL COMPLEX.

THE L.A. ARTISTS, BECAUSE THEY

WERE WORKING WITH THINGS LIKE

PLASTICS OR OTHER KINDS

OF MATERIALS THAT SEEMED

NEW, BECAME ASSOCIATED

WITH THESE INDUSTRIES.

CLARK: FOR THE ARTISTS WHO

REALLY WORKED ON CULTIVATING

PRISTINE SURFACES, LIKE HELEN

PASHGIAN AND LARRY BELL AND

OTHERS WHO WORKED WITH RESIN

LIKE PETER ALEXANDER, DE WAIN

VALENTINE, SOMETIMES THAT FOCUS

ON SURFACE WAS MISINTERPRETED

AS BEING SUPERFICIAL, THE FACT

THAT FOCUSING ON THE PHYSICAL

SURFACE QUALITIES OF THE WORK

SOMEHOW MEANT THAT THERE WAS

NOTHING DEEPER TO BE

EXPERIENCED THERE, BUT IT'S NOT

TRUE THAT THE EAST COAST

CRITICAL ESTABLISHMENT

COMPLETELY IGNORED THIS

WORK EITHER. I MEAN, BY THE

SEVENTIES, JAMES TURRELL WORKING

WITH LIGHT AND ROBERT IRWIN WERE

GAINING TRACTION AND HAVING SOLO

SHOWS IN IMPORTANT MUSEUMS, AND

IN FACT, LARRY BELL HAD HIS

FIRST SOLO SHOW IN NEW YORK IN

THE MID-SIXTIES AT PACE GALLERY,

AND IT COMPLETELY SOLD OUT.

ARTISTS WHO WERE FOCUSING

PRIMARILY ON LIGHT AND

EXPERIENCE AND THE ARTISTS WHO

WERE INTERESTED IN KIND OF HARD

GEOMETRIC SCULPTURAL FORMS

ASSOCIATED WITH MINIMALISM, THEY

WERE ALL KIND OF MOVING THROUGH

AND SHEDDING AND OVERCOMING THE

DOMINANT IDIOM OF ABSTRACT

EXPRESSIONISM. THE LIGHT ARTISTS

WERE KIND OF DISSOLVING FORM AND

CREATING ENVIRONMENTS, AND THE

MINIMALISTS WERE CREATING

KIND OF VERY CONCRETE FORMS, BUT

WHAT THEY SHARED WAS AN INTEREST

IN SHAKING OFF A KIND OF GESTURE

THAT SEEMED OVERTLY EMOTIONAL

OR EXPRESSIONISTIC, THEY

WERE SHAKING OFF ANY KIND OF

REPRESENTATION OR ILLUSTRATION

QUALITIES, AND THEY WERE ALSO

SHAKING OFF AUTOBIOGRAPHY.

BELL: DURING THOSE YEARS, THERE

WAS A GREAT DEAL OF RESEARCH

INTO PLASTICS AND EPOXIES AND

ADHESIVE MATERIALS AND ALL

KINDS OF STUFF, BUT I WAS

INTERESTED IN SOMETHING ELSE. I

HAD A LITTLE JOB WORKING IN A

PICTURE FRAMING SHOP FOR A

WHILE, AND PART OF THE

RESPONSIBILITIES OF THE JOB WAS

TO CUT GLASS FOR PICTURE

FRAMES. I GOT REALLY ENGAGED IN

THE SURFACE QUALITY OF GLASS.

IT WAS SOMETHING THAT'S

UBIQUITOUS IN OUR LIVES, IT'S

SOMETHING WE ALL TAKE FOR

GRANTED LOOKING OUT THE WINDOW.

GLASS WAS ONE OF THE MOST

INTERESTING MATERIALS THAT I HAD

EVER COME ACROSS BECAUSE,

IN FACT, GLASS IS A SOLID

LIQUID, AND IT DID 3

THINGS THAT NOTHING ELSE THAT

I KNEW OF DID. IT TRANSMITTED

LIGHT, IT ABSORBED LIGHT, AND IT

REFLECTED LIGHT ALL AT THE SAME

TIME AND HAD A BRITTLENESS AND A

KIND OF STABILITY BECAUSE OF

IT BEING MELTED SAND. IT HAD

AN EXTRAORDINARY POTENTIAL SHELF

LIFE, MILLIONS OF YEARS. SO I

WAS REALLY INTERESTED IN THE

FACT THAT IT BROKE A CERTAIN WAY

AND THAT IT REFLECTED A CERTAIN

WAY AND THAT IT CONTAINED A

CERTAIN SPACE AND THAT THE SPACE

BETWEEN ONE SIDE AND ANOTHER

SIDE COMPRESSED THE LIGHT IN A

VERY INTERESTING MANNER. NOTHING

I KNEW OF OTHER THAN THAT DID

THAT, AND SO SINCE IT WAS

AVAILABLE EVERYWHERE, IT WAS NOT

VERY EXPENSIVE, IT SEEMED LIKE A

PERFECT MATERIAL TO USE FOR

ARTWORK. SO I GOT HOOKED ON IT.

[INDISTINCT CHATTER]

MAN: COMMUNICATION. LIFTOFF.

IRWIN: I GOT INVOLVED WITH A

MAN NAMED ED WORTZ, WHO WAS

DOING ALL THE PHYSIOLOGY FOR

THE WALKS ON THE MOON. SO WE

STARTED WORKING TOGETHER. I

STARTED PLAYING AROUND WITH

SOME OF HIS TOYS, KIND OF

THINGS THAT HE DID.

WE ALSO DID A SYMPOSIUM FOR

NASA ON LONG-TERM SPACE TRAVEL.

YOU DON'T GET AN OPPORTUNITY

LIKE THAT VERY OFTEN TO SIT

DOWN WITH PEOPLE FROM ANOTHER

DISCIPLINE. IN THIS CASE, SOME

OF THE MOST INTERESTING

RESEARCHES BEING DONE WAS ALL

THE QUESTIONS ABOUT BEING

DISCONNECTED IN SPACE OVER A

LONG PERIOD OF TIME, AND THOSE

RAISE ALL KINDS OF QUESTIONS

ABOUT ATMOSPHERE AND ABOUT THE

NATURE OF THINGS, THE NATURE OF

MATERIALS, AND THE KIND OF

STUFF THAT'S GOING ON AROUND

YOU WHEN NOTHING'S GOING

ON AROUND YOU, BUT IT IS,

AND ESSENTIALLY, ALL THAT

FED BACK INTO MY WORK.

BEING AN ARTIST STARTED

BECOMING MUCH MORE A THING

ABOUT INQUIRY. IT WAS NOT ABOUT

MAKING PICTURES AND NOT ABOUT

TELLING STORIES. IT WAS ABOUT

EXAMINING WHO WE ARE,

PERCEIVING BEINGS, AND

INFORMATION IS COMING IN ON ALL

KINDS OF LEVELS, AND CAN I WORK

WITH THEM? CAN I PLAY WITH

THEM? CAN I MAKE SOMETHING FROM

THEM?

SIMMS: HE BEGAN TO DEVELOP THE

IDEA OF AN ART THAT WOULD BE

RESPONSIVE TO CONTEXT RATHER

THAN SORT OF GENERATED IN THE

STUDIO.

HIS IDEA WAS THAT, WELL, THE

ART IS ALREADY HERE. IT'S JUST

A MATTER OF TAKING WHAT'S

ALREADY HERE AND TURNING IT

INTO SOMETHING, TURNING IT INTO

AN EVENT WHERE ONE STOPS AND

NOTICES RATHER THAN JUST

LOOKING AT THE ROOM AS A

RECEPTACLE FOR SOMETHING ELSE.

AND I THINK THAT REALLY KIND OF

KICKED OFF THIS NEW NOTION OF

WHAT IT MEANT TO MAKE ART.

RATHER THAN CREATING AN

AESTHETIC OBJECT AND RELEASING

IT INTO THE WORLD, IT WAS

FINDING WHAT WAS ALREADY OF

AESTHETIC INTEREST IN THE WORLD

AND MAKING IT POP SOMEHOW,

DRAWING ATTENTION TO IT.

NARRATOR: ART IS ONE OF THE

WAYS THROUGH WHICH PERCEPTION

IS CHANGED. THE ARTIST REORDERS

OUR SENSES SO THAT OUR

EXPERIENCE OF THE WORLD IS

GIVEN NEW DIMENSION. HE FORCES

US TO QUESTION WHAT WE SEE AND

IF WE SEE.

IRWIN: ART IS, IN A SENSE, YOU

KNOW, BASICALLY NOT ANY

DIFFERENT THAN ANY OTHER

DISCIPLINE IN THAT SENSE. IT

STRUCTURES THE WAY YOU SEE, THE

WAY YOU LOOK, OR THE WAY, IN A

SENSE, WHAT YOU LET IN AND HOW

DO YOU DEFINE YOUR IDEA OF

REAL. IT HAS DEVELOPED ITS OWN

RATIONALE FOR ME, IT HAS NO

OTHER REASON, NO OTHER FUNCTION,

NO OTHER PURPOSE,

NO OTHER BEING, IN A WAY,

EXCEPT THE QUESTIONING OF JUST

THE IDEA OF CONSCIOUSNESS.

CLARK: ONE THING I WOULD SAY

THAT UNITES THE WORK OF IRWIN

AND BELL AND PASHGIAN IS THE

SENSE OF DISCOVERY. ONE AT

FIRST ENCOUNTERS A ROOM OR A

SHAPE OR AN OBJECT OR A PLAY OF

LIGHT, AND THESE THINGS CHANGE

OVER TIME AND REWARD CLOSE

LOOKING AND SLOW EXPERIENCE,

AND IT IS THAT EXPERIENCE, I

THINK, THAT IS AT THE CORE OF

THESE WORKS.

ALTHOUGH THEY STARTED

PIONEERING THIS WORK OF

THINKING ABOUT LIGHT AND

PERCEPTION AS LONG AGO AS THE

EARLY SIXTIES, THEY'RE STILL

WORKING IN THIS VEIN, AND

THEY'VE CONTINUED TO EXPLORE

THESE IDEAS, AND THEY'VE

CONTINUED TO GROW, AND EACH OF

THEIR PRACTICES HAS BLOSSOMED

AND EXPANDED.

BELL: I MOVED HERE IN 1973 AND

BEGAN A ROUTINE OF WORKING FOR

3 WEEKS IN L.A. AND THEN COME

HOME AND WORK FOR 3 WEEKS

PREPARING THE STUFF AND SO ON.

ONE THING I REALIZED THAT YOU

COULD DO HERE THAT I COULDN'T

DO IN VENICE IS CONTROL MY

DISTRACTIONS. THERE WAS SO MUCH

LESS TO DO HERE SOCIALLY, AND I

REALIZED THAT ONCE I GOT MYSELF

TO WORK HERE IT WOULD BE GREAT.

THIS IS VERY SLIPPERY,

SO WATCH YOUR STEP.

HOW YOU DOING?

MAN: GOOD, LARRY. HOW ARE YOU?

BELL: I WANTED THE SCULPTURES

TO OPERATE IN PERIPHERAL VISION

RATHER THAN JUST FOVEAL VISION

JUST RIGHT IN FRONT OF YOU

BECAUSE I LIKED THE FEELING OF

STUDYING THE SURFACES, BUT I

WANTED THEM TO ENCOMPASS ME,

AND SO I DECIDED TO ELIMINATE

THE SHAPE OF THE CUBE AND JUST

USE THE STRUCTURE OF THE CUBE,

WHICH IS THE RIGHT ANGLES, AND

MAKE THE PARTS MUCH LARGER.

CLARK: HE DECIDED HE WANTED TO

WORK ON A LARGER ARCHITECTURAL

SCALE, AND HE DEVELOPED A BODY

OF WORK CALLED STANDING WALLS,

WHICH WERE ABOUT 6 FEET TALL

AND SOMETIMES 6 FEET WIDE, AND

THESE BECAME ENVIRONMENTS THAT

WERE IMMERSIVE.

BELL: I LIKE TO WORK

PROGRESSIVELY FAST, AND IF I

WORK FAST, IT TENDS TO BE MORE

SPONTANEOUS AND INTUITIVE, AND

THE DECISIONS ARE MORE

IMPROVISATION. I MAKE UP THE

CONFIGURATION OF THE PIECES.

HOW THEY SIT ON THE FLOOR IN

ANY GIVEN SPACE IS UNIQUE TO

THE SPACE. THE WHOLE THING IS

KIND OF A SURPRISE. EACH TIME

YOU EXPERIENCE IT, THE LIGHT

WILL BE DIFFERENT. IT WAS JUST

THE AMBIENT LIGHT COMING THROUGH

THE WINDOWS, WHICH CHANGED

ACCORDING TO THE CLOUDS IN THE

SKY AND THE TIME OF DAY.

SO THE PIECE WAS ALWAYS

DOING SOMETHING DIFFERENT,

AND I LIKED THAT FEELING.

CLARK: IN CERTAIN AREAS, THE

WAY THIS GLASS AND THE FILMS

PLAYED AGAINST EACH OTHER

CREATED A VERY KIND OF

ATMOSPHERIC, ALMOST MISTY

QUALITY IN THE SPACE, AND IN

OTHER PLACES, IT CAST VERY

CRISP REFLECTIONS, SO YOU MOVED

THROUGH DIFFERENT SORT OF TONES

OR MOODS WITHIN THE PIECE, AND

THAT WAS ASTONISHING.

BELL: MY 45-YEAR-OLD DAUGHTER

WROTE THAT WHEN SHE WAS ABOUT

9. HA HA HA!

PASHGIAN: I WANTED TO CREATE IN

THE LACMA SHOW, FIRST OF ALL,

THE RELATION OF THE COLUMNS TO

THE HUMAN BODY.

I WAS INTERESTED IN WHAT PEOPLE

WOULD VISUALLY DISCOVER AS THEY

MOVED AROUND THEM BECAUSE AS

YOU MOVED AROUND ON ONE SIDE

YOU WOULD SEE AN IMAGE AT EYE

LEVEL, LET'S SAY, THAT WOULD

BEGIN TO DISAPPEAR AND, SO YOUR

BRAIN WOULD TELL YOU, "AH. IF I

WALK AROUND THIS WAY, IT WILL

COME INTO FULL FOCUS," WHEREAS

IN FACT IF YOU DID THAT IT

WOULD DISAPPEAR ENTIRELY. SO

THERE WAS AN INTERESTING

FRUSTRATION AND COMPETITION

BETWEEN THE EYE AND THE

BRAIN AND WHAT ONE OBSERVED.

CLARK: WHAT WAS WONDERFUL IN

LOOKING AT THESE COLUMNS IS

THAT SOME SORTS OF FORMS, AS

YOU MOVED AND THE LIGHT HIT

THEM A CERTAIN WAY, WOULD

EMERGE, AND AS YOU KEPT MOVING,

THEY WOULD THEN RECEDE AGAIN,

AND IT WAS A LITTLE BIT LIKE

THE EXPERIENCE OF SWIMMING IN

THE OCEAN, AND FORMS AND PLANTS

AND CREATURES AND FISH MAY COME

TOWARDS YOU AND THEN RECEDE

AGAIN, AND IT WAS A KIND OF

NOCTURNAL, OCEANIC EXPERIENCE

IN THAT SPACE THAT WAS

BOTH DARK AND LUMINOUS

AND QUITE MYSTERIOUS.

IRWIN: THEORETICALLY, ART HAS

SOMETHING TO DO WITH FEELINGS

AND EXPERIENCE AND WHAT HAVE

YOU, BUT THESE ARE ALL KINDS OF

NEW EXPERIENCES. TO

BRING IT INTO THE FORE,

SUDDENLY IT'S LIKE A NEW

MEDIUM. RATHER THAN PAINT AND

CANVAS, YOU'VE GOT SOMETHING

THAT HAS 3 DIMENSION AND IS

FULL OF AMBIGUITY AND FULL OF

MYSTERY.

THE PIECE ISN'T JUST ONE

DIMENSIONAL. IT'S NOT JUST SOME

PAINTING ON A WALL. IT ACTUALLY

IS SOMETHING THAT ACTS IN THE

ROOM, IN A SENSE, HAS A KIND OF

REVERBERATION TO IT, VISUAL

REVERBERATIONS, SOUND

REVERBERATIONS. I MEAN, A WHOLE

DIFFERENT KIND OF INFORMATION

YOU'RE STARTING TO DEAL WITH.

BUT ALL THOSE THINGS ARE GOING

ON ALL THE TIME. ARE THEY PART

OF THE PIECE? ARE THEY PART OF

THE EXPERIENCE? COULD YOU START

PLAYING WITH THESE PIECES OF

INFORMATION, TACTILE

INFORMATION, AUDIO INFORMATION?

A LOT OF WHAT YOU'RE DOING, YOU

DON'T EVEN KNOW HOW IT'S GOING

TO TURN OUT. MOSTLY IT'S

FINDING OUT ABOUT IT YOURSELF,

YOU KNOW, AND THEN IN A WAY IN

THE PROCESS OF DOING THAT, IT

HAS SOME KIND OF PRODUCT, AND

THE PRODUCT PASSES AS ART, BUT

IT MAY OR MAY NOT BE DEPENDING

ON HOW YOU DEFINE THE TERM ART.

CLARK: ONE OF THE MOST

INCREDIBLE WORKS THAT IRWIN HAS

MADE IS CALLED "1 DEGREE 2

DEGREE 3 DEGREE 4 DEGREE," AND

IT'S INSTALLED AT THE MUSEUM OF

CONTEMPORARY ART IN LA JOLLA ON

A LOCATION IN A ROOM WITH 3

GLASS WALLS THAT OVERLOOKS A

CLIFF AND THE OCEAN, AND THE

ROOM IS SO SPECTACULAR THAT ANY

ARTIST WHO'S OFFERED THE

OPPORTUNITY TO MAKE WORK THERE

HAS A HUGE CHALLENGE BECAUSE

IT'S HARD TO THINK OF WHAT YOU

COULD PUT IN THAT SPACE TO MAKE

IT BETTER THAN IT ALREADY IS. SO

WHAT IRWIN DID WAS HE ACTUALLY

CUT SQUARE APERTURES IN THE

WINDOWS OF THE WALLS, AND WHEN A

PERSON WALKS INTO THE ROOM,

IT'S NOT CLEAR, AT FIRST,

WHAT'S HAPPENING. FIRST,

THEY'RE PROBABLY STUNNED BY HOW

BEAUTIFUL THE SPACE IS AND THE

VIEW. THEN THEY SEE THIS KIND OF

FLOATING RECTANGULAR SHAPE ON

THE WINDOWS, AND THEY THINK

IT MIGHT BE SOMETHING ON THE

WINDOW, AND THEN ONLY BY KIND OF

TAKING A BREATH AND EXPERIENCING

THE SPACE DO THEY SMELL THE SALT

OF THE OCEAN AND FEEL THE BREEZE

AND REALIZE THAT THEY'RE

ACTUALLY HOLES IN THE WINDOWS.

HE REALIZED THE ONLY WAY TO

MAKE THAT ROOM BETTER WAS

TO TAKE SOMETHING AWAY, NOT

TO PUT SOMETHING INSIDE IT.

BELL: I SAW SOME LAMINATED

GLASS THAT WAS--THE GLASS

ITSELF WAS CLEAR, BUT THE COLOR

OF THE GLASS WAS PIGMENTED. I

DECIDED TO TRY AND SEE WHAT I

COULD DO WITH THAT. IN THE CASE

OF THE PIECE THAT WE DID FOR

MOCA, I WANTED TO PLAY AROUND

WITH RED LIGHT, AND SO WE MADE

THE SCULPTURE OUT OF DIFFERENT

FLAVORED REDS. IT'S A HOT

COLOR, AND IT'S GOT A LOT OF

ENERGY TO IT. IN THE CASE OF

THE LAMINATE GLASS, THERE'S

ALMOST AN INFINITE NUMBER OF

REDS THAT ARE AVAILABLE TO

WORK WITH. WE HAVEN'T EVEN BEGUN

PLAYING WITH MIXING THESE

LAMINATE FILMS, SO IT'S ALL

FRESH AND NEW, AND RED IS A

PERFECT COLOR TO START WITH.

SOMETIMES, THE SKY TURNS A RED

THAT'S EXACTLY THE SAME AS THE

RED OF THE PIECE, AND SO THAT

MAKES A WHOLE NOTHER

ENVIRONMENT, YOU KNOW, BUT I

CAN'T PLAN ANY OF THAT. THAT

HAS TO DO WITH HOW MUCH

POLLUTION THERE'S IN THE AIR AT

SUNDOWN, YOU KNOW. THE PIECE AT

MOCA IS TOTALLY DIFFERENT IN

THE LATE AFTERNOON THAN IT IS

IN THE MORNING, AND SO THAT

MEANS EVERY ANGLE THAT YOU VIEW

IT IS TOTALLY DIFFERENT, ALSO.

CLARK: I THINK EVEN MORE THAN

MANY OTHER FORMS OF ART THIS

KIND OF LIGHT-BASED WORK NEEDS

TO BE EXPERIENCED IN PERSON.

THE DIFFICULTY OF PHOTOGRAPHING

IT HAS LED SOME ARTISTS TO EVEN

REFUSE TO HAVE IT BE

REPRODUCED, AT LEAST FOR A

WHILE, AND THE DIFFICULTY OF

WRITING ABOUT IT IS SOMETHING

THAT MANY PEOPLE REMARK UPON.

IT IS A VERY SUBJECTIVE

EXPERIENCE AND OFTEN A

DURATIONAL EXPERIENCE. MUCH OF

THIS WORK UNFOLDS FOR YOU THE

LONGER YOU CAN SPEND TIME WITH

IT.

[TRAIN HORN BLOWING]

[CROSSING SIGNAL DINGING]

IRWIN: MARFA WAS A GREAT

SITUATION FOR ME. I MEAN, THAT

SOUTHWEST DESERT IS MAGICAL.

IT'S REALLY MAGICAL, OR IT'S

NOTHING. I MEAN, IT DEPENDS ON

WHAT YOU'RE DOING OUT THERE.

I TOOK ON AN OLD BUILDING. IT

WAS THIS BASE HOSPITAL, SO IT

HAD A KIND OF NICE QUALITY

ABOUT IT, AND IT ALLOWED ME TO

DO SOMETHING THAT WAS LOW-KEY

AND ALSO VERY MARFA, YOU KNOW.

THE KIND OF STUFF YOU CAN'T DO

ANYPLACE ELSE OR WOULDN'T WORK

ANYWHERE ELSE.

YOU GO THERE AND SPEND TIME

GOING AROUND AND AROUND AND

AROUND AND RUNNING YOUR HANDS

OVER IT, GETTING A FEEL FOR IT.

FIND OUT WHAT ITS PROPERTIES

ARE OR WHAT'S NICE, WHAT'S

INTERESTING.

WE'RE NOT SEEKING ANSWERS NOW.

WE'RE FINDING, "OOH," WHAT THAT

FEELS LIKE, WHAT THAT SOUNDS

LIKE, WHAT'S GOING ON THERE,

WHAT'S THE QUALITY OF THAT

MOMENT?

SIMMS: WHAT MARFA HAD WAS THIS

RELATIONSHIP TO THE SKY, WHICH

WAS UNIQUE, THAT THE SKY AND

THE WEATHER AND THE CLOUDS, THE

WAY THINGS COME IN REALLY LOW

OVER YOUR HEAD AND DRAMATICALLY

AND CONSTANTLY, CONSTANTLY

CHANGING AND VARYING THEN THAT

QUALITY OF LIGHT. THE RUIN OF A

BUILDING WHEN HE ENCOUNTERED IT

WAS AT ONCE

HEARTBREAKING--BECAUSE IT WAS

IN THIS TERRIBLE SORT OF

STATE--BUT AT THE SAME TIME

EXHILARATING BECAUSE IT WAS

DOING ALL THIS AMAZING STUFF.

ALL THE ROOFS WERE MISSING AND

ALSO THE FLOOR, AND ALL THE

GLASS WAS MISSING FROM THE

WINDOWS, SO YOU JUST HAD THIS

KIND OF EMPTY SKELETON IN A WAY

THAT WAS OPEN TO THE ELEMENTS.

IRWIN: THE QUALITY OF LIGHT WAS

THE EVENT OF THE MOMENT, THE

EVENT OF THE DAY. NOTHING ELSE

IS GOING ON. AFTER YOU SPEND A

LITTLE TIME THERE, YOU START

SEEING THINGS THAT YOU WOULDN'T

HAVE EVEN THOUGHT OF.

SO BASICALLY, I BROUGHT AS

LITTLE TO IT AS POSSIBLE. ALL I

DID WAS ADD ONE ELEMENT, WHICH

WAS THE SCRIM MATERIAL, BUT

OTHER THAN THAT, I DIDN'T DO

ANYTHING. THEIR QUALITY OF THE

LIGHT CHANGES ALL DAY, EVERY

DAY, ALL YEAR LONG.

SIMMS: THE FIRST TIME I WENT

AFTER THE PIECE HAD BEEN

COMPLETED, I BEGAN TURNING

LEFT...

AND THAT TOOK ME INTO THE EAST

WING, WHICH IS THE DARKER WING.

AND THERE'S THAT LONG DOUBLE

SCRIM, THE BLACK ONE, ON THAT

SIDE.

WHAT YOU WIND UP SEEING IN

THERE OR FEELING--IT'S MORE

THAN SEEING. IT'S A WHOLE KIND

OF EMBODIED ENCOUNTER THAT

TAKES PLACE. BECAUSE IT WAS

THIS DARKER WING, IT STARTED TO

FEEL VERY SMOKY TO ME SOMEHOW.

AS YOU MOVE DOWN, YOU START TO

SEE THESE SUBTLE INTERESTING

KINDS OF--I GUESS THIS

DIFFRACTION OF LIGHT IN THE

SCRIMS, WHICH CREATES THE

IMPRESSION OF BLUE AND RED KIND

OF APPEARING AND KIND OF LIKE

ZAPPING HERE AND THERE, JUST

SPARKLING IN THE SCRIM...

AND SO BECAUSE EVERYTHING

IS STRIPPED DOWN SO

MUCH, THESE LITTLE

EVENTS MATTER, YOU START TO PAY

ATTENTION TO THAT, AND AS YOU

MOVE ALONG, YOU'RE LOOKING OUT

THE WINDOWS. BECAUSE YOU'RE

WALKING AND MOVING, BECAUSE

THERE'S ALWAYS A WINDOW

SOMEWHERE IN YOUR FIELD

OF VISION, THINGS OUTSIDE

ARE CHANGING AS YOU MOVE.

SO THE MOVEMENT INTO THE BACK,

INTO THE SOUTH, NOW YOU TURN

AND YOU MOVE THROUGH THESE

PORTALS...

AND THEN, THERE'S THIS AMAZING,

ALMOST BLINDING EXPERIENCE OF

LIGHT BECAUSE YOU'RE MOVED

TOWARDS THE WHITE SCRIMS, THOSE

PORTALS THAT TAKE YOU INTO THAT

LIGHT WESTERN WING...

WHERE THE STUCCO'S A LITTLE

LIGHTER, WHERE THERE'S NO

WINDOW TINTING, AND WHERE THERE

IS THIS WHITE DOUBLE SCRIM, AND

THEN, COMING DOWN THE LIGHT

SIDE, ESPECIALLY IF YOU'RE AT

SUNSET THERE--BECAUSE THE IDEA

IS THAT'S THE DUSK, THAT'S THE

SIDE WHICH IS THE SUNSET

SIDE--THE PLACE JUST LIGHTS UP.

IT'S UNBELIEVABLE.

THEN, LET'S SAY, YOU TURN

AROUND AND WALK BACK. IT'S NOT

AS THOUGH YOU'RE JUST REPEATING

YOUR STEPS. IT'S A WHOLE NEW

KIND OF UNFOLDING THING WHERE

YOU HAVE NEW DISCOVERIES, AND

SO THAT'S WHERE YOU GET THAT

OPPORTUNITY TO BE THE ARTIST

BECAUSE FOR IRWIN THE ART IS

NOT WHAT YOU SEE THERE. IT'S

WHAT'S HAPPENING, YOU KNOW, IN

YOUR EXPERIENCE AS YOU MOVE

THROUGH IT, AND YOU GO THIS

WAY, AND THEN YOU MOVE BACK THE

OTHER WAY. IT'S ALWAYS

DIFFERENT, EVEN IF ONLY SUBTLY.

SO THAT FOR IRWIN MOVING BACK

AND FORTH IN THIS BUILDING IS

A CONSTANT FORWARD STEPPING.

THERE'S NO POINT IN WHICH

YOU'RE REPEATING YOUR STEPS.

YOU'RE TAKING FORWARD

STEPS ALL THE WAY THROUGH.

[TRAIN HORN BLOWING]

CLARK: ROBERT IRWIN, LARRY

BELL, AND HELEN PASHGIAN ARE

STILL WORKING AND, IN FACT,

MAKING SOME OF THE MOST

AMBITIOUS WORK OF THEIR

CAREERS, BUT IT'S ALSO TRUE

THAT YOUNGER GENERATIONS OF

ARTISTS COMING UP HAVE EMBRACED

ASPECTS OF THIS WORK AND MADE

IT THEIR OWN. I THINK MAYBE THE

MOST PROMINENT EXAMPLE OF THAT

IS THE DANISH ARTIST OLAFUR

ELIASSON, WHOSE IMMERSIVE LIGHT

ENVIRONMENTS HAVE BEEN

INCREDIBLY INFLUENTIAL AND

POPULAR. HE ACKNOWLEDGES

A DIRECT DEBT TO THE ARTISTS WHO

WERE MAKING THIS WORK INITIALLY.

SIMMS: PEOPLE ARE DISCOVERING

HOW AMAZING THIS ART IS, AND

THEY'RE SEEING GREAT EXAMPLES

OF THIS WORK. IT'S BEING SHOWN

NOW IN FAR MORE VISIBLE WAYS

THAN HAS BEEN DONE IN THE PAST.

ALL OF THESE ARTISTS ARE THE

TOP OF THEIR GAME NOW.

BELL: THE DEDICATION TO THE

WORK PROCESS THAT WE ALL SEEM

TO HAVE THAT MEANS WHEN IT'S

TIME TO WORK THAT'S WHAT YOU

DO, AND, I MEAN, OUT OF ANY

DAY'S WORK, HALF OF IT WILL BE

JUNK, BUT WHAT YOU LEARNED

DURING THAT HALF DAY, THAT'S

THE REAL VALUABLE STUFF, AND

HOW YOU TAKE THAT TO THE NEXT

DAY AND THE NEXT DAY AND THE

NEXT DAY AND THE NEXT DAY AND

SO ON IS A PART OF THE WORK

ETHIC THAT, I THINK, ARTISTS

HAVE TO HAVE.

PASHGIAN: THIS IS COMPLICATED

WORK. IT'S DECEPTIVELY SIMPLE,

AND IT TAKES A LONG TIME TO

LEARN. PEOPLE ALWAYS SAY,

"WELL, DON'T YOU WISH YOU COULD

HAVE DONE THIS WORK WHEN YOU

WERE 35 OR 25?" TO BE PERFECTLY

HONEST, I DIDN'T KNOW ENOUGH

THEN. I HAD TO KEEP WORKING AND

EXPERIMENTING AND WORKING AND

WORKING AND WORKING AND

WORKING. IT'S FINALLY FALLING

TOGETHER.

IRWIN: I MEAN, THE WHOLE THING

ABOUT THE LIGHT AND SPACE STUFF

WAS THAT IT WASN'T REALLY ABOUT

LIGHT AND SPACE. IT'S ABOUT

BEING A PERCEIVING BEING.

WHAT I DO RIGHT NOW I RESPOND

TO SITUATIONS THE WAY I'M

RESPONDING TO A QUESTION, AND I

TRY TO ALTER HOW YOU PERCEIVE

THAT SITUATION. IT'S MUCH MORE

OF AN INTUITIVE THING. IT'S

SOMETHING VERY NATURAL IN TERMS

OF YOUR OWN PHYSICALNESS IN THE

WORLD AND CAN BE RELATED TO ON

THAT LEVEL. EVERYONE HAS THE

CAPABILITY OF UNDERSTANDING IT.

IT'S JUST A QUESTION OF WHETHER

OR NOT YOU WANT TO, YOU KNOW,

GIVE IT A CHANCE IN A WAY.

YOU BREAK THE FRAME OF BEING A

PAINTER, ALL THE ACCOUTREMENTS

OF BEING AN ARTIST, AND YOU

TURN IT INTO A GAME ABOUT AN

INQUIRY. HOW DO I SEE? WHAT DO

I SEE? WHAT DOES IT FEEL LIKE?

WHAT DO I DO WITH IT? IN WHAT

WAY DO I EMBRACE THIS THING? IS

THERE SOMETHING I CAN KNOW AND

LEARN FROM THIS? AND THERE IS.

SIMMS: I THINK THAT IF ONE CAN

THINK OF AN OVERALL LESSON OF

THIS ART IT IS THAT THE

AESTHETIC HAS THIS VALUE OF

OFFERING AN OPPORTUNITY TO SLOW

DOWN AND STEP OUTSIDE OF THE

SORT OF DAILY PRESSURES, THE

PATTERNS OF LIFE THAT WE'RE

SURROUNDED WITH. IT'S NOT AN

ESCAPE BY ANY MEANS, BUT THAT

ART WOULD GIVE US AN

OPPORTUNITY TO SUSPEND THAT,

MAYBE JUST TEMPORARILY, AND

THEN TO ENCOUNTER THE WORLD IN

A DIFFERENT WAY.

AND SO THE CULTIVATION OF THE

IMMERSIVE ENVIRONMENTS, THE

IDEA OF RETURNING TO A SENSE OF

EMBODIED PERCEPTUAL EXPERIENCE,

FINDING THE VALUE IN A SLIGHT

DISTINCTION, TO THOSE SHIFTS IN

LIGHT, THAT ALL THOSE THINGS

ARE MORE IMPORTANT NOW THAN

EVER.

IRWIN AND LARRY BELL AND HELEN

PASHGIAN, ALL OF THEM IN

DIFFERENT WAYS HAVE TALKED

ABOUT THAT SENSE OF QUALITY OF

EXPERIENCE, THE QUALITY OF THAT

TIME TO BECOME IMMERSED IN AN

AESTHETIC EXPERIENCE, AND THAT

IS NOT GOING TO BE EVERYBODY'S

DEFINITION OF ART, AND THAT'S

FINE, AND THEY'LL BE THE FIRST

TO SAY THAT. EVERYBODY HAS A

RIGHT TO DEFINE ART AS THEY

WANT TO DO IT, BUT I THINK

SOMETHING THEY HAVE IN COMMON

IS THIS SENSE THAT ART IS

A RESPITE OF SOME KIND.

ANNOUNCER: THIS PROGRAM WAS

MADE POSSIBLE IN PART BY: A

GRANT FROM ANNE RAY FOUNDATION,

A MARGARET A. CARGILL

PHILANTHROPY; THE CITY OF LOS

ANGELES DEPARTMENT OF CULTURAL

AFFAIRS; THE LOS ANGELES COUNTY

DEPARTMENT OF ARTS AND CULTURE;

AN AWARD FROM THE NATIONAL

ENDOWMENT FOR THE ARTS, ON THE

WEB AT ARTS.GOV; AND THE

CALIFORNIA ARTS COUNCIL.