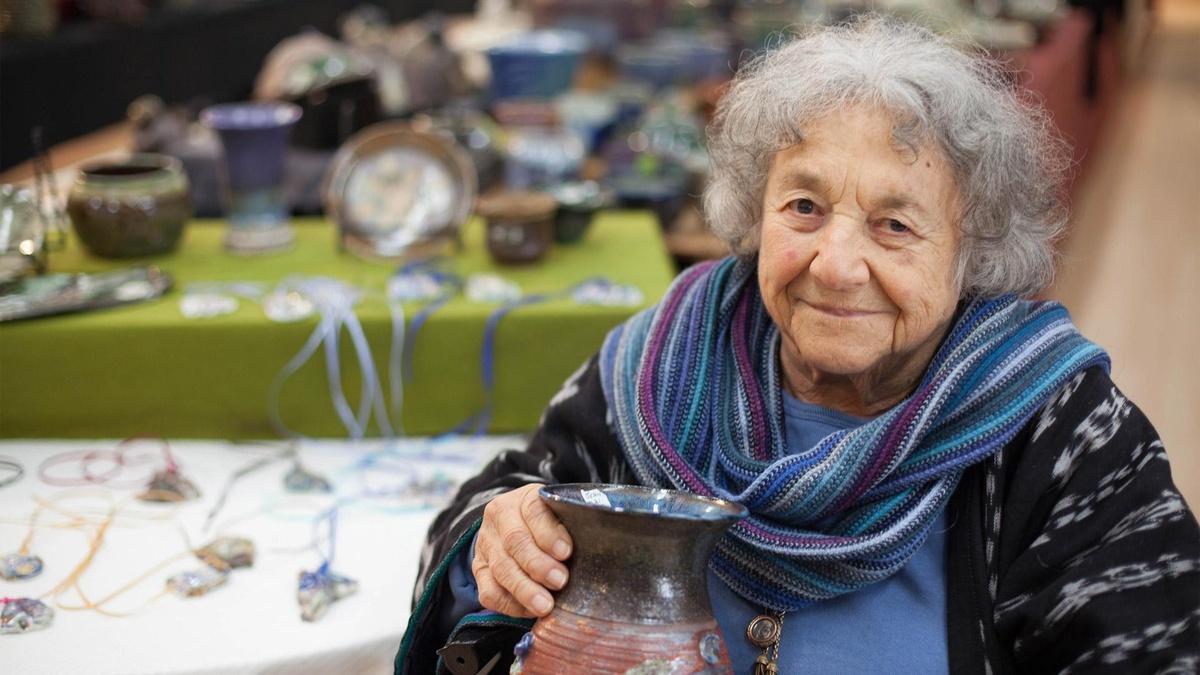 S12 E2 | FULL EPISODE
Life Centered: The Helen Jean Taylor Story
Renowned ceramist and educator Helen Jean Taylor has not only crafted timeless artworks inspired by colors found in home gardens, but also helped her students improve their mental health through the art of throwing clay.
TRANSCRIPT

WOMAN: THERE'S SO MUCH INVOLVED

IN WORKING WITH CLAY ON SO MANY

DIFFERENT LEVELS THAT I FIND IT

TOTALLY FASCINATING.

WHEN YOU'RE THROWING, IF YOU'RE

REALLY INTO IT, YOU CAN LOSE

YOURSELF COMPLETELY,

BUT IT ALSO CENTERS YOU

INTELLECTUALLY AND EMOTIONALLY

SO THAT YOU ARE TOTALLY

ONE WITH THE CLAY.

A LADY WHO CAME AND STOOD IN

FRONT OF ME AND SAID, "YOU KNOW,

I'M NOT REALLY ARTISTIC," AND I

LOOKED AT HER AND SAID, "YES,

YOU ARE ARTISTIC.

YOU JUST DON'T KNOW IT, YOU

HAVEN'T EXPERIENCED IT. COME AND

FEEL A PIECE OF CLAY IN YOUR

HANDS AND MOVE IT AROUND

AND SEE WHAT THAT DOES.

I THINK YOU MAY CHANGE

YOUR MIND."

ANNOUNCER: THIS PROGRAM

WAS MADE POSSIBLE IN PART BY

CITY OF LOS ANGELES DEPARTMENT

OF CULTURAL AFFAIRS,

LOS ANGELES COUNTY DEPARTMENT OF

ARTS & CULTURE,

NATIONAL ENDOWMENT FOR THE ARTS,

AND THE FRIEDA BERLINSKI

FOUNDATION.

STERN: CLAY LITERALLY COMES

FROM THE GROUND,

AND YOU COULD GO TO

THE CREEK BED AND DIG IT OUT

YOURSELF.

HULL: YOU'VE GOT MUD

IN YOUR HANDS.

YOU'VE GOT THE EARTH IN YOUR

HANDS.

THE WHOLE IDEA OF CENTERING IS

PARAMOUNT TO CERAMICS.

YOU HAVE THE CLAY THERE.

IT HAS A MIND OF ITS OWN,

SO YOU NEED TO COLLABORATE

WITH IT.

KAJER: CENTERING IS THE ACT

OF TAKING THIS WEIRD BALL OF

CLAY AND MAKING IT

ONE WITH THIS SPINNING DISC

THAT IS THE WHEEL.

AND THAT IS A PROCESS OF RAISING

THE CLAY AND THEN PUSHING IT

BACK DOWN AND BRINGING IT UP

AND PUSHING IT DOWN

UNTIL YOU FEEL THAT

EVERYTHING IS MOVING AT THE SAME

RATE, AT THE SAME PACE,

AND IS OF A ONE.

HELEN JEAN TAYLOR: WHEN YOU'RE

CENTERING THE CLAY,

YOUR WHOLE BODY GOES INTO IT.

HULL: YOU'RE PUSHING DOWN,

YOU'RE PUSHING ON THE SIDE.

YOU'RE BALANCING THE WHOLE

THING.

SO IT CREATES A BALANCE WITHIN

YOUR BODY.

KAJER: YOUR FOCUS MUST BE ON

WHAT YOU'RE DOING IN FRONT OF

YOU BECAUSE OTHERWISE YOU REALLY

WILL BE COURTING DISASTER.

COOPER: IT'S METICULOUS.

IT'S NOT EASY TO GET SOMETHING

TO STAND UPRIGHT WHEN IT

DOESN'T REALLY WANT TO.

IT'S REALLY A FORM OF FOCUSING.

IT REMINDS ME OF SOMETHING THAT

JEAN SAID TO ME WHEN I WAS

HAVING A FRUSTRATING DAY.

"I JUST CAN'T CENTER!" AND JEAN

WOULD SAY, "WELL, YEAH, THAT'S

BECAUSE YOU'RE NOT CENTERED,

LAURA."

FOR HER, THAT IF I CAN'T

GET THE CLAY CENTERED,

IT'S BECAUSE I'M NOT CENTERED,

RIGHT?

SO WHAT DO I NEED TO INTERNALLY

ADJUST IN ORDER TO BE ABLE TO

GET TO THAT PLACE?

WHEN I GET TO THAT PERFECT

LUMP OF CLAY AND MY HANDS AREN'T

MOVING BUT IT'S SPINNING AROUND,

AND ALL OF A SUDDEN,

I AM AT THE CENTER OF

THE UNIVERSE IN STILLNESS WITH

MOVEMENT ALL AROUND ME,

I DON'T EVEN NEED TO THROW

A BOWL. IT'S JUST ABOUT THAT.

IT'S A PHYSICAL PLACE THAT THEN

IS NOT ONLY INSIDE OF YOU,

BUT IT'S ALSO IN YOUR MATERIAL.

HELEN JEAN TAYLOR: WE MOVED

TO WINDYRIDGE

WHEN I WAS 9 MONTHS OLD.

MY GRANDFATHER, WHO ACTUALLY

BUILT THE HOUSE FOR US,

HE CAME TO LIVE WITH US.

BEING AN ONLY CHILD, I WAS

INCREDIBLY LONELY.

I SPENT A LOT OF TIME BEING

RATHER ILL.

AND, IN FACT, I MISSED A WHOLE

YEAR OF SCHOOL TO RECUPERATE

WITH MY MOTHER.

I LIVED ENTIRELY IN MY

IMAGINATION.

MY MOTHER HAD BEEN TRAINED

AS A HORTICULTURIST AND

AGRICULTURALIST.

SHE WAS A INCREDIBLE GARDENER.

WHILE SHE HAD A THOUSAND HEAD

OF CHICKEN AND DUCKS--

A TREMENDOUS NUMBER--

BUT MY MOTHER'S ANOTHER STORY.

I WAS LEFT TO WANDER 4 1/2 ACRES

FULL OF 32 VARIETIES OF HEATHER.

THE HEATHER WAS SO TALL THAT

WHEN I WAS SMALL,

YOU COULDN'T SEE ME.

HUGE AZALEA BEDS WITH EVERY

COLOR OF AZALEA. WENT DOWN

A HILL, A THOUSAND HEAD

OF DAFFODILS.

AND THEY WOULD BE ALL COLORS--

JUST YELLOW AND WHITE AND JUST

FABULOUS.

AND THEY HAD

THE MOST AMAZING AROMA.

AND SOMETIMES TODAY, I CAN CLOSE

MY EYES AND I CAN FEEL

THE EARLY-MORNING DEW AND ALSO

THE SMELL OF THESE INCREDIBLE

LITTLE FLOWERS.

I WOULD PLAY UP THERE.

IN THE WINTERTIME WHEN THERE

WAS SNOW EVERYWHERE,

I WOULD SEE JACK FROST

ON THE WINDOWS.

I COULDN'T WALK IN THE GARDEN

AND PLAY, BUT IN THAT, I'D SPEND

MY TIME MOSTLY PAINTING.

WHEN I LOOK BACK ON IT NOW,

THE EXPERIENCE WITH THE COLORS

OF NATURE, WHICH I BECAME

PASSIONATELY FOND OF,

MY INTEREST IN COLOR GREW.

MY MOTHER WAS AN EXTRAORDINARY

WOMAN, AND FROM MY EARLIEST

YEARS, SHE WOULD TEACH ME

ABOUT COLOR.

SHE LOVED THE EARLY FRENCH

TAPESTRIES, AND THOSE COLORS ARE

VERY MUTED AND SO DEEPLY

EMOTIONAL THAT I INHERITED

ALL OF THAT.

AND WITHOUT REALIZING IT,

IT BECAME PART OF MY OWN

GLAZING TECHNIQUE.

WHEN I THINK ABOUT MY GLAZING

ON POTTERY, THE BASIS OF THAT

COLOR WAS REALLY WHAT I

BEGAN TO EXPERIENCE

AS A CHILD PAINTING.

I WAS ABLE TO MARRY COLORS

TOGETHER THAT OTHER PEOPLE

DIDN'T THINK OF.

STERN: HER CERAMIC WORK IS

SO PAINTERLY, AND IT GOES

BEYOND THE VESSEL.

YOU KNOW, SHE FOCUSES ON

VESSELS, MAKING THESE BEAUTIFUL

PLATTERS AND CUPS AND THINGS

LIKE THAT.

BUT REALLY WHAT'S SO MAGICAL IS

THAT IDEA OF PAINTING ON

THE SURFACE AND USING GLAZES

AS A WAY TO EXPRESS HERSELF.

COOPER: WHEN I MET JEAN, IT WAS

REALLY CLEAR TO ME THAT SHE WAS

AN ARTIST, THAT SHE WAS

A PAINTER, AND THAT SHE WAS

A PAINTER WHO HAPPENED TO BE

WORKING IN CERAMICS.

AND THAT KIND OF CONFOUNDS

WHAT SOMETIMES ARE THE BOXES WE

GET PUT INTO. SHE'S IN THE ART

CATEGORY, BUT SHE'S ALSO REALLY

PLEASANTLY BLURRING ALL OF THOSE

BOUNDARIES.

CLAY COMES OUT OF

THE EARTH, AND IT HAS ITS OWN

NATURE.

THIS IS WHAT I LIKE ABOUT IT.

IT'S NEVER JUST HOW DO YOU

IMPOSE YOUR WILL ON IT.

IT HAS A WILL, AND YOU HAVE

A WILL, RIGHT?

AND SOMEHOW YOU HAVE TO SORT OF

COME TOGETHER TO A PLACE WHERE

SOMETHING HAPPENS.

THEN IF YOU'RE PAINTING

AND YOU'RE GLAZING,

THERE'S ALL KINDS OF SORT OF

SURPRISES AND ALCHEMY

THAT ARE GOING TO COME OUT

OF IT. AND THEN THAT'S

THE NATURE OF IT.

THE NATURE OF THE MATERIALS THAT

YOU'RE WORKING WITH AND THE IDEA

OF NATURE IN A PICTORIAL KIND

OF WAY,

THEY'RE COMING TOGETHER IN

JEAN'S WORK.

JEAN TAYLOR: WE MOVED IN HERE,

1969. AND FOR THE FIRST TIME,

I HAD A BACKYARD.

WHEN WE TOOK IT OVER, IT WAS

NOTHING BUT FRUIT TREES

AND GRASS.

MY GRANDSON JULIO DID SOME

DRAWINGS OF AN IDEA OF WHAT WE

WANTED AND HELPED US DESIGN AND

MAKE THE GARDEN JUST FABULOUS.

HULL: GINA'S A GARDENER

AT HEART. SHE GREW UP WITH

GARDENS,

HER MOTHER WAS A HUGE GARDENER,

AND SHE'S FOUND INSPIRATION IN

THAT. I THINK THAT BRINGS HER

COLOR IDEAS,

IT CONNECTS HER TO THAT

INNER PART OF HERSELF.

SHE'S ALWAYS BROUGHT THAT OUT.

I WENT TO SEE HER THE OTHER DAY.

AND THE FIRST THING SHE SAID

WAS YOU HAVE TO GO TAKE A TRIP

AROUND THE GARDEN.

YOU WON'T BELIEVE THE ZUCCHINI.

YOU WON'T BELIEVE THE PALOVERDE

IS BLOOMING.

KAJER: SHE'S BECOME

A CALIFORNIAN.

MAYBE SHE CAN'T HAVE THE FORMAL

ENGLISH GARDEN OF HER YOUTH, BUT

SHE HAS A CALIFORNIA VERSION

OF IT.

SHE'S THAT WAY. SHE CAN TURN IT

INTO SOMETHING THAT STILL FEELS

HERS AND REMINISCENT OF THOSE

THINGS THAT SHE SHARED WITH HER

MOTHER WHEN SHE WAS A CHILD.

BUT SHE'S DONE IT HERE IN

CALIFORNIA.

JEAN TAYLOR: WHEN I USED TO

THROW HERE AT HOME, SITTING IN

MY GARAGE WHERE I HAVE

MY TINY CORNER STUDIO AND WOULD

LOOK DOWN THE DRIVEWAY, SEE

BOUGAINVILLEA AND BRANCHES OF

TREES,

IT'S EASY TO SIT THERE FOR HOURS

AND THROW.

IT'S LIKE A MEDITATION.

IN JULY 1939,

WE CELEBRATED MY PARENTS'

WEDDING ANNIVERSARY WITH

PHEASANT AND PEAS AND CHAMPAGNE.

I WAS 12.

ON SEPTEMBER 3, 1939,

WE LISTENED TO CHAMBERLAIN

DECLARING WAR ON GERMANY.

NEVILLE CHAMBERLAIN: THIS

MORNING, THE BRITISH AMBASSADOR

IN BERLIN HANDED THE GERMAN

GOVERNMENT

A FINAL NOTE--A STATE OF WAR

WOULD EXIST BETWEEN US...

TAYLOR: AND MY FATHER, WHO

HAD BEEN IN THE FIRST WAR,

I CAN REMEMBER HIS BITTERNESS

TO BE FIGHTING

TWO WARS IN HIS LIFETIME.

AND MY FATHER STARTED THAT VERY

DAY WHEN WE GOT HOME TO BUILD

THE AIR-RAID SHELTER.

[APPLAUSE]

TAYLOR: WE WERE WALKING,

AND WE SAW THIS HUGE CROWD

GATHERING, SO WE CAME AND JOINED

THE CROWD. AND JUST AS WE DID,

CHURCHILL DROVE UP...

WINSTON CHURCHILL: THIS WILL

BE NO VINDICTIVE TRIUMPH...

TAYLOR: AND HE STOOD UP

IN THE CAR TO TALK TO

THE CROWD.

IT'S QUITE AN EXPERIENCE SEEING

HIM AND HEARING THAT FAMOUS

VOICE.

CHURCHILL: AND NEVER SHALL WE

FAIL IN EXERTION AND RESOLVE.

[CHEERING AND APPLAUSE]

IT HAPPENED TO BE

MY FATHER'S BIRTHDAY.

WE HEARD THE BOMBERS COMING.

AND MY FATHER WENT OUTSIDE TO

LOOK, AND THERE WERE

ANTI-AIRCRAFT GUNS GOING OFF.

AND HE CAME IN AND SAID, "JEAN,

YOU HAVE TO COME SEE THIS."

AND I'LL NEVER FORGET IT. 500

PLANES AND THE ANTI-AIRCRAFT

GUNS POPPING OFF ENDLESSLY.

[EXPLOSIONS]

THE WHOLE OF THE SKY OVER LONDON

WAS BLOOD RED.

[AIR-RAID SIREN]

AND HE SAID, "THIS IS HITLER'S

PRESENT TO ME."

AND I WAS LYING ON MY BED.

AND I HEARD THIS WEIRD SOUND.

AND I PUSHED THE CURTAIN BACK

WITH MY FINGER, AND THERE

COMING STRAIGHT TOWARDS ME

WAS THIS GIGANTIC V-1 ROCKET

WITH FLAMES COMING OUT THE BACK

AND THE SOUND I HEARD, OF

COURSE, WAS THE SOUND OF IT

GOING THROUGH THE AIR.

[IMITATES BUZZING]

THAT LANDED JUST DOWN THE STREET

ON A BLOCK OF FLATS.

IT WAS HORRENDOUS.

THEN SOME DAYS LATER, MY

MOTHER AND I WERE TAKEN

UP TO LONDON

TO DO SOME SHOPPING. AS WE

DROVE, THERE WERE GREAT WATER

PIPES FROM THE FIRE ENGINES

CRISS-CROSSING THE ROADS,

AND PEOPLE WHO HAD BEEN

BOMBED OUT JUST STANDING

AROUND HELPLESSLY.

IT WAS A HORRIBLE SIGHT.

BUT IN A WAY, I'M GLAD I SAW IT

BECAUSE YOU NEED TO SEE SCENES

LIKE THAT.

WHEN YOU THINK OF THE PEOPLE

TODAY IN PLACES LIKE SYRIA, YOU

KNOW THE HORROR THEY ARE GOING

THROUGH. AND MORE PEOPLE SHOULD

KNOW WHAT IT'S LIKE TO

EXPERIENCE WAR. AND YOU REALIZE

THAT IT'S NOT A WAY OF LIFE.

I NEVER WENT TO A CONCERT,

NEVER WENT TO THE THEATER.

NO CONCERTS, NO THEATER,

NO MUSEUMS. NOTHING.

MY FATHER WAS GETTING VERY

ANNOYED THAT I WASN'T DOING

ANYTHING.

I LEFT SCHOOL, AGED 18.

I WAS FREE TO GO TO COLLEGE.

I WAS IN LOVE WITH THE THEATER.

SO THAT'S WHY I WENT TO

THE GUILDHALL SCHOOL OF MUSIC &

DRAMA.

I HAD STAGE-MANAGED 2 OPERAS

WHILE I WAS AT GUILDHALL.

APPLYING TO REPERTORY COMPANIES

SEEMED TO ME THE BEST THING

TO TRY. ALL THE ARMY PEOPLE

WERE COMING BACK, AND

ALL THE REP COMPANIES

WERE FORMED

WHEN I JUST HAPPENED TO HEAR

A RADIO PROGRAM.

WOMAN: ...BRITISH RADIO...

TAYLOR: THEY WERE INTERVIEWING

PEOPLE IN DIFFERENT DEPARTMENTS

OF THE BBC.

THEY WERE TALKING TO

PROGRAM ENGINEERS.

SO I THOUGHT, "HMM, THAT'S LIKE

STAGE MANAGING.

I COULD DO THAT."

THAT'S HOW I GOT MY JOB AT

THE BBC.

MAN: ...IN STORE FOR YOU FOR

THE NEXT HALF AN HOUR,

LADIES AND GENTLEMEN.

TAYLOR: I WANTED TO GET

OUT THERE AND FIND OUT

WHAT WAS GOING ON. AND WHEN I

REALIZED WHAT WAS OUT THERE,

OH, MY GOODNESS. I HAD A BALL.

I HAD MET JIM AT CHRISTMAS 1955

IN AUSTRIA.

WE WERE BOTH INTENSE

NATURE LOVERS.

JIM WANTED TO GO ON A CYCLE TRIP

ALL ROUND ENGLAND, AND I SAID TO

HIM, "IF MY PARENTS KNOW THAT

I'M GOING ON A TRIP,

AN UNMARRIED WOMAN WITH A YOUNG

MAN, THEY WILL HAVE A FIT."

SO HE SAID, "WELL, HOW ABOUT

IF WE GOT ENGAGED?"

THAT WAS ALL RIGHT BY ME.

ENDED UP 500 MILES OF CYCLING,

AND HERE I WAS A LITTLE OUT OF

SHAPE.

BUT OTHER THAN THAT, WE HAD

A TERRIFIC TRIP.

WE SPENT THE NEXT THREE YEARS IN

CAÑADA.

KARYN WAS BORN A YEAR LATER.

THEN THEY OFFERED JIM A JOB AS

A TRADE COUNSELOR FOR

THE CANADIAN GOVERNMENT.

IN JUNE, HE CALLED ME AND HE

SAID, "GUESS WHAT.

WE'RE GOING TO JOHANNESBURG."

WE SPENT THE NEXT 3 1/2 YEARS

IN JOHANNESBURG.

JEANINE HAD BEEN BORN.

SHE WAS REALLY TINY.

APARTHEID WAS IN ABSOLUTE

FULL BORE.

A MAID I HAD AT THAT TIME WAS

DISCUSSING WITH ME

THEIR TERRIBLE POLITICAL

SITUATION.

AND SHE TURNED TO ME.

SHE SAID, "WHAT ARE WE GOING TO

HAVE TO DO, MA'AM?"

AND I SAID, "WELL, YOU KNOW, YOU

MIGHT HAVE TO FIGHT FOR IT,"

AND SHE LOOKED AT ME IN HORROR.

SHE SAID, "MA'AM, WHAT WOULD I

DO THAT FOR?

I DON'T OWN MY OWN HOUSE.

I DON'T OWN MY OWN LAND."

SHE SAID, "ALL I OWN IS THE

CLOTHES I STAND UP IN." AND THAT

WAS THE STATE OF DESPERATION.

I HAD BEEN ATTENDING THE

COLLEGE IN JOHANNESBURG, DOING

CERAMICS

WITH A MOST FABULOUS TEACHER.

HE WAS BRITISH, FROM

STOKE-ON-TRENT, WHICH IS THE BIG

POTTERY TOWN AREA, AND HE WAS A

CHEMICAL ENGINEER BY PROFESSION.

HE HAD THE MOST FANTASTIC

GLAZES.

HE NEVER LECTURED.

HE HAD A CONVERSATION.

I COULD HEAR HIM IN MY EAR ALL

THE TIME WHEN I WAS TEACHING.

HULL: JEAN COMES OUT OF

THAT WHOLE TRADITION OF

STUDIO POTTERY.

STERN: A STUDIO ARTIST IS

SOMEBODY WHO'S TAKING THOSE

MEDIUMS AND USING THEM TO CREATE

ONE-OF-A-KIND OR, YOU KNOW, KIND

OF A SERIES OF ARTWORK.

THEY'RE DOING IT IN A KIND OF

PERSONALIZED ENVIRONMENT,

SO THEY'RE NOT IN AN INDUSTRIAL

SETTING. YOU KNOW, THEY COULD BE

IN THEIR STUDIO.

HULL: STUDIO POTTERY COMES OUT

OF THE ARTS AND CRAFTS MOVEMENT

WHERE THERE WAS HAND

PUT BACK INTO THE CRAFT,

WHICH WAS A REACTION TO THE

INDUSTRIAL AGE WHERE CERAMICS

WAS JUST MANUFACTURED BY

MACHINE.

STUDIO POTTERY WAS DEVELOPED BY

BERNARD LEACH.

HE WAS IN JAPAN STUDYING AND

WORKING AND WAS KIND OF INFUSED

WITH THE JAPANESE WAY OF

WORKING WITH CLAY.

SHOJI HAMADA, A JAPANESE

CERAMIST, HELPED LEACH

START HIS POTTERY IN ST. IVES.

A STUDIO POTTERY MEANS

EVERYTHING'S DONE BY THE SAME

HAND.

SO IT'S ONE PERSON MIXING

THE CLAY, MAKING THE GLAZES,

MAKING THE POTTERY, FIRING

THE KILN. YOU DO IT ALL, AND IT

BROUGHT IT INTO

A SINGULAR STUDIO.

STERN: YOU KNOW, YOU'RE WORKING

IN THIS STUDIO ENVIRONMENT

THAT YOU'RE CONTROLLING,

AND YOU'RE KIND OF

WRITING YOUR OWN CHAPTER IN HOW

YOU'RE USING THIS MATERIAL.

CERAMICS WAS A HUGE PART OF THAT

BECAUSE CERAMICS IS A MATERIAL

THAT EVERYONE KNOWS ABOUT.

EVERYONE USES IT IN THEIR HOUSE.

HULL: THERE WAS A SHOJI HAMADA

SHOW AT USC.

JEAN WAS VERY INFLUENCED BY

THAT.

BUT I THINK THE THING THAT,

REALLY, SHE LOVED ABOUT IT WAS

THE SIMPLICITY OF IT.

IT WASN'T TRYING TO BE ANYTHING

ELSE, IT WASN'T TRYING TO BE

MORE THAN WHAT IT WAS.

JEAN TAYLOR: WE LEFT

SOUTH AFRICA IN 1963.

MY HUSBAND AND I HAD COME TO

LOS ANGELES.

THE ARRANGEMENT WAS THAT I WOULD

JOIN HIM BACK IN OTTAWA AT

THE END OF THE SCHOOL YEAR, BUT

SOMETIME AFTER HE LEFT, I HEARD

THAT HE HAD TAKEN HIS SECRETARY

WITH HIM.

AND SO I REALIZED THAT OUR

MARRIAGE HAD COME

TO A CONCLUSION.

I WAS LEFT HERE WITH THE GIRLS,

WHO WERE AT THAT TIME EIGHT AND

FIVE, VERY YOUNG.

HULL: WHAT SHE WENT THROUGH

AFTER THE DIVORCE WAS

VERY DIFFICULT.

SHE HAD TWO CHILDREN TO SUPPORT,

NO JOB REALLY.

TAYLOR: PSYCHOLOGICALLY HAVING

TO DEAL WITH THE FACT

THAT MY MARRIAGE

HAD NOT BEEN WHAT IT HAD BEEN,

I HAD TO PULL MYSELF OUT OF THAT

STATE, WHICH WAS VERY, VERY

DIFFICULT.

WHEN I HAD TO DECIDE WHAT I WAS

GOING TO DO,

CERAMICS SEEMED TO ME

THE THING THAT MOST APPEALED TO

ME. IT WAS JUST A QUESTION OF

FINDING A JOB.

I STARTED TO TEACH AT

THE LA CAÑADA YOUTH HOUSE.

WHEN I TOOK OVER THE STUDIO, I

HAD TO LITERALLY START FROM

SCRATCH.

IT WAS A HUGE LEARNING

EXPERIENCE FOR ME.

I HAD VERY FEW STUDENTS TO

BEGIN WITH.

THERE WERE ONLY FIVE WHEELS, AND

THEY WERE ALL VERY, VERY OLD.

THE TEACHER WHO WAS OUTGOING,

SHE SAID, "I HOPE YOU KNOW MORE

ABOUT GLAZES THAN WE DO.

WE'RE KIND OF WORKING

IN THE DARK."

I HAD TRIED TEACHING IN LONDON.

IT WAS A DISASTER, BUT NOT

GIVING THAT A THOUGHT, I

PLUNGED IN.

FOR EXAMPLE, I'D START OFF AT

9:00 IN THE MORNING HERE.

AT 11:00,

I WOULD GET IN MY CAR AND DRIVE

TO SIERRA MADRE AND START

TEACHING THE CLASS TO ADULTS

AT 11:30 TILL 2:30.

THEN I'D GET BACK IN MY CAR AND

DRIVE BACK HERE FOR A CLASS THAT

STARTED AT 3:30

TO THE OLDER CHILDREN.

THEN I'D GET BACK IN THE CAR,

DRIVE HOME, PUT A MEAL

TOGETHER, PUT IT ON THE TABLE

FOR KARYN AND JEANINE, AND THEN

GET BACK IN MY CAR WITH MY OWN

PLATE AND EAT MY DINNER IN THE

CAR TO COME BACK HERE FOR

AN EVENING CLASS AT 7:00.

IT WAS A CRAZY LIFE.

WHEN I FIRST STARTED TO TEACH

AND WE HAD NO MONEY, LIVING HERE

WITH THE GIRLS ALONE WAS TOUGH.

I COULDN'T AFFORD TO DO

EXPENSIVE VACATIONS.

SO CALIFORNIA IS THE MOST

PERFECT PLACE TO CAMP IN.

UP AND DOWN THE COAST, INTO

THE MOUNTAINS. YOU NAME IT.

YOU HAVE TO FIND PEACE

SOMEWHERE.

SO, FOR ME, PEACE IS TO BE FOUND

WHERE I BEGAN IN NATURE.

COOPER: I THINK ONE OF

THE THINGS I REALLY APPRECIATED

ABOUT THE WAY THAT JEAN TEACHES

COMES FROM

THAT CORE EXPERIENCE THAT IS

ALSO GROUNDED IN MODES OF

LEARNING AND CHILDHOOD EDUCATION

AND ATTITUDES TOWARDS LEARNING

THAT WE'VE REALLY GOTTEN

FAR AWAY FROM.

I GET SAD ABOUT THAT.

SOMETIMES I THINK THAT LEAVING

A KID ALONE OUT IN NATURE TO GET

DIRTY AND MAKE THINGS IS QUITE

INCREDIBLY IMPORTANT.

I MAY BE AN ARTIST SO THAT

I CAN KEEP DOING THAT.

SO, JEAN REPRESENTS SOMETHING,

I THINK, THAT'S REALLY

A POSSIBILITY

WE SHOULDN'T LET GO OF.

JEAN TAYLOR: WHEN I FIRST

STARTED TO TEACH, I HAD VERY FEW

STUDENTS TO BEGIN WITH.

BY MY SECOND YEAR, I HAD GAINED

MOSTLY CHILDREN'S CLASSES, BUT

THE ADULT PROGRAM WAS GROWING.

AND BY THE END OF TWO YEARS,

I HAD A DECENT ADULT GROUPING.

THEY LITERALLY CHALLENGED ME,

BUT THEY WERE ALSO

TREMENDOUSLY HELPFUL.

I'D BE RACING AROUND BECAUSE I

DID ALL THE GLAZE MIXING,

ALL THE KILN FIRING,

AND ALL THE TEACHING OF ADULTS.

IT WAS INCREDIBLY DIFFICULT

TO DO ALL THAT BY MYSELF.

AND WHAT WAS AMAZING--

A STUDENT WOULD COME UP TO ME

AND SAY, "JEAN, IS THERE

SOMETHING I CAN DO TO HELP YOU?

CAN I MIX A GLAZE FOR YOU?"

I SAID, "YES, I'LL TRAIN YOU."

SO THEY NOT ONLY HELPED ME, BUT

THEY HAD A LEARNING EXPERIENCE

IN THE PROCESS.

STERN: JEAN CAME ALONG AT A TIME

WHEN PEOPLE WERE JUST FEELING

THAT BLOOM OF EXPRESSION, THAT

SENSE OF CREATIVITY AND

INNOVATION. YOU GET TO DETERMINE

WHAT'S BEAUTIFUL.

YOU CAN BE AN ARTIST.

YOU CAN BE A STUDIO ARTIST.

YOU CAN TAKE THIS POTTER'S WHEEL

AND YOU CAN MAKE POTTERY.

KAJER: TOOK ME A LITTLE WHILE

TO UNDERSTAND

WHAT IT WAS ABOUT, AND IT WAS

ABOUT INQUIRY.

YOU KNOW, IF I WANTED TO KNOW

HOW TO DO SOMETHING, I ASKED.

COOPER: JEAN IS REALLY DELIGHTED

ABOUT INDIVIDUALITY. EVEN THOUGH

I WAS A BEGINNER AND HAD

NO SKILLS, SHE FOUND

SOMETHING THERE, WHICH

SHE DOES WITH EVERYBODY.

McWATTERS: I SO FELL IN LOVE

WITH HER THAT I WOULD LIKE,

LITERALLY--OK, DON'T TELL

ANYONE--I WOULD ARRANGE MY WORK

SO THAT I COULD BE HERE

FRIDAY MORNINGS.

MARTINEZ: SHE'S ALMOST LIKE

A CELEBRITY.

PEOPLE ARE ALWAYS TALKING ABOUT

HER WHEN SHE COMES IN, PEOPLE

ARE ALWAYS HAPPY TO SEE HER.

TAYLOR: PICTURE A JUG

WHERE THE SPOUT AND THE LIP

AND THE HANDLE ALL BECOME ONE

FLOWING LINE.

[INDISTINCT CONVERSATION]

JEAN TAYLOR: MY LIFE AT

THAT TIME ESCALATED.

AS THE PROGRAM GREW,

THE ONLY SAD PART ABOUT IT WAS

IT EFFECTUALLY MADE ME

AN ABSENT MOTHER.

AND KARYN WAS 11 YEARS OLD.

SHE SAID TO ME, "MOM,

YOU DON'T NEED A BABYSITTER.

I'LL LOOK AFTER JEANINE."

SHE ALSO BECAME A LITTLE

MINI-HOUSEWIFE,

AND WOULD CLEAN UP THE HOUSE

AND FORCED JEANINE TO

DO THE SAME THING,

WHICH JEANINE HATED.

I'LL NEVER FORGET, ONE TIME

I WAS DRIVING HOME, AND THERE

WAS A FIRE ENGINE IN FRONT OF ME

WITH ITS...WAILING,

AND I'M THINKING, SAYING,

"PLEASE, DEAR GOD, LET

THAT NOT BE MY HOME," BECAUSE I

WOULD WORRY ALL THE TIME.

THEY WERE STILL VERY YOUNG.

THEY SURVIVED IT,

AND I SURVIVED IT.

MY YOUNGER DAUGHTER JEANINE,

WHO WAS BEAUTIFUL,

GENTLE, KIND,

SHE WAS A CREATIVE SOUL,

BUT SHE WAS BIPOLAR.

MY HUSBAND WAS BIPOLAR, AS WAS

HIS MOTHER AND POSSIBLY OTHER

MEMBERS OF THE FAMILY.

HE WAS TOTALLY FUNCTIONAL OUT IN

THE BUSINESS WORLD.

JEANINE, ON THE OTHER HAND, WAS

TOTALLY INCAPABLE OF DOING THAT.

SHE WAS EXTREMELY GIFTED.

SHE WAS ARTISTIC. SHE COULD SEW,

SHE COULD PAINT, SHE MADE

LITTLE THINGS IN CLAY.

HER PASSION WAS SMALL THINGS.

WHILE KARYN WAS UP

AT SANTA CRUZ,

JEANINE FOLLOWED HER UP THERE

AND WENT TO COLLEGE,

BUT SHE COULDN'T COMPLETE IT.

SHE CAME BACK HOME.

WE SENT HER TO NEW YORK TO STUDY

DANCING.

AGAIN, SHE COULDN'T COMPLETE IT.

SO HERE WAS THIS TALENTED

BUT DEEPLY EMOTIONALLY

DISTURBED PERSON.

A LADY WALKED INTO THE STUDIO

ONE DAY WITH A CIGARETTE IN

ONE HAND AND A LARGE PLASTIC CUP

WITH A STRAW IN THE OTHER.

AND SHE HAD NEVER TOUCHED CLAY

IN HER LIFE.

I GAVE HER CLAY TO WORK WITH.

AT THE END OF A SEMESTER,

SHE CAME TO PICK UP HER CERAMIC

WORK, AND SHE SAID TO ME, "JEAN,

I WANT TO THANK YOU FOR

HAVING ME HERE.

MY DOCTOR SENT ME TO YOU."

SHE HAD THIS TREMENDOUS NEED TO

DO SOMETHING VERY PACIFIC,

CALMING, AND DEMANDING HER WHOLE

PHYSICAL ATTENTION.

SO PSYCHOLOGICALLY, IT WAS

IMPORTANT.

IT WAS THE REASON WHY SO MANY

STUDENTS FOUND A SORT OF PEACE

THERE.

STERN: A LOT OF PEOPLE

HAVE TOLD ME HOW ESSENTIAL

THIS HAS BEEN FOR THEM

TO COME HERE AND TO OPEN THAT

FRESH BAG OF CLAY AND SINK THEIR

HANDS INTO IT.

IT'S SOMETHING THAT THEY HAVE

CONTROL OVER.

KAJER: GERALDY, ONE OF

OUR INSTRUCTORS,

LOST HIS FATHER TO COVID.

GERALDY MARTINEZ: LITERALLY,

THE DAY AFTER MY DAD PASSED,

I WENT TO THE STUDIO.

IT'S THERAPEUTIC.

SO GOING THROUGH SUCH

A DIFFICULT TIME,

IT WAS KIND OF NICE TO JUST

GO AWAY AND FOCUS ON

SOMETHING ELSE.

AND SO I JUST STARTED MAKING

STUFF AND TRYING TO--

IT JUST HELPED ME KIND OF

DEAL WITH EVERYTHING,

JUST GET AWAY FROM EVERYTHING,

ESPECIALLY THE ENVIRONMENT, YOU

KNOW. AT HOME, OBVIOUSLY, WHEN

SOMEONE--ONCE YOU LOSE

SOMEBODY, IT'S JUST--

IT'S NOT THE SAME.

SO IT GAVE ME SOMEWHERE TO GO,

SOMETHING TO DO, AND JUST HELPED

ME DEAL WITH EVERYTHING.

STERN: WHEN YOU'RE CREATING

SOMETHING IN THE STUDIO

LIKE THIS, IT'S GOING TO GO

IN A KILN.

IT'S GOING TO GET FIRED AT 2,000

DEGREES, AND IT'S GOING TO COME

OUT A GLASSY, SHINY, BEAUTIFUL

SURFACE ON THIS OBJECT THAT YOU

MADE, AND THAT OBJECT'S GOING TO

BE HERE FOREVER.

YOU'RE MAKING SOMETHING

SUBSTANTIAL, AND IT REALLY

DOES MATTER.

HULL: CLAY IS JUST A VERY

COMMUNAL DISCIPLINE.

IT DOES SHOW HOW WONDERFUL

A COMMUNITY CAN BE, AND JEAN

REALLY NURTURED THIS COMMUNITY

FROM THE GROUND UP.

JEAN TAYLOR: PEOPLE FROM

THE JET PROPULSION LAB

IN PASADENA,

WHO ARE HIGHLY-TRAINED,

WORKING IN A VERY

HIGHLY STRUCTURED FIELD,

THEY NEEDED SOMETHING TO BRING

IT ALL DOWN TO A CALM LEVEL.

McWATTERS: AT WORK, I HAVE TO BE

AT THE TOP OF MY GAME.

YOU KNOW, MY INTELLECTUAL,

MY EXPERIENCE, MY KNOWLEDGE, MY

WORKING IN LARGE, COMPLEX

TEAMS.

JEAN TAYLOR: AND THESE PEOPLE--

SCIENTISTS--ATTACH TO MATTERS

OF GEOLOGY AND THE EARTH,

SO WORKING WITH CLAY WAS

A COMPLETELY NATURAL THING.

I FOUND I COULD APPEAL TO THOSE

PEOPLE IN WAYS ONE WOULDN'T HAVE

IMAGINED.

McWATTERS: SO, I COME HERE, AND

I COULD BE A CHILD, YOU KNOW,

COVERED WITH MUD,

WEARING A T-SHIRT, MAKING

DECISIONS THAT NOBODY SHOULD

CARE ABOUT.

THAT'S WHAT ATTRACTED ME TO

THIS.

IT REALLY IS JUST THAT ONE AREA

OF MY LIFE WHERE THERE'S

NO CONSEQUENCES.

TAYLOR: THAT LEARNING EXPERIENCE

FOR THEM HELPED ME ALSO TO GROW.

THEIR NEEDS PROMPTED ME TO MOVE

FORWARD ARTISTICALLY. ALL THAT

HAS EDUCATED MY OWN PERSONAL

EXPERIENCE SPIRITUALLY,

PSYCHOLOGICALLY,

AND FINALLY, IN THE ABILITY TO

HELP OTHER PEOPLE THROUGH CLAY.

STERN: IN ORDER TO INNOVATE

IN THIS MEDIUM,

YOU KIND OF TAKE WHAT'S THERE

AND YOU FIND YOUR VOICE. IN

ORDER TO WORK WITH CERAMICS AND

REALLY DEDICATE YOUR LIFE TO IT

AND UNDERSTAND IT,

YOU HAVE TO UNDERSTAND SOME OF

THAT SCIENCE. JEAN HAD

THE EXPERIENCE OF LEARNING ABOUT

GLAZES, ABOUT CHEMICALS, ABOUT

THE SCIENCE OF CLAY. SHE BROUGHT

THAT TO THE COMMUNITY CENTER

STUDIO BY CREATING ALL THESE

FANTASTICAL COLORS IN GLAZE.

McWATTERS: I DIDN'T REALIZE THAT

ACTUALLY SO MUCH EXISTS

IN JEAN, TOO, IS THIS CROSS

BETWEEN THE SCIENCE OF GLAZING

AND THE ART OF IT.

SHE WAS BOTH.

MARTINEZ: ONE OF THE BIGGEST

IMPACTS IS IN HER GLAZING.

HER GLAZE COMBINATIONS,

HOW SHE GLAZES, YOU KNOW.

STERN: AND WHAT'S DIFFICULT

ABOUT HIGH-FIRE CERAMICS IS

THE HOTTER YOU GET,

ALL THOSE MAGICAL COLORS,

THEY WANT TO BURN AWAY.

JEAN DEVELOPED A LOT OF

DIFFERENT TYPES OF GLAZES THAT

WORK WITH HIGH-FIRE CERAMICS,

AND SOME INCREDIBLE COLORS--REDS

AND PURPLES AND GREENS

AND BLUES.

COOPER: WHEN WE'RE GLAZING, WE

ALL GO BACK TO THIS BOOK

THAT SHE HAS WHERE SHE'S GOT

ALL THESE RECIPES.

STERN: HER REAL SPECIALTY WAS

IN MIXING THOSE COLORS TOGETHER

AND FINDING THE SECONDARY

HUES.

COOPER: PUT THESE THREE

THINGS TOGETHER ON RAW SPOT,

AND THIS IS WHAT HAPPENS. PUT

THEM TOGETHER ON PORCELAIN,

AND THAT HAPPENS.

JEAN TAYLOR: MY WORK

I BEGAN TO VIEW DIFFERENTLY,

AND I LOOKED FOR

A MORE ABSTRACT WAY OF GLAZING.

THE THING THAT MATTERED MORE TO

ME THAN ANYTHING WAS NATURE.

ROSENMAN: A PLATE THAT SHE

WOULD THROW IS JUST A CANVAS

READY FOR ONE OF HER LANDSCAPES.

SHE'S NOT PAINTING REALISM.

SHE'S PAINTING THE EMOTION.

MORE SENSES ARE TRIGGERED

WHEN YOU LOOK AT HER WORK.

SHE'S ALMOST LIKE AN EMPATH.

YOU KNOWS, SHE'S PAINTING

THE FEELING OF WHAT YOU WOULD

GET FROM NATURE.

COOPER: WHEN YOU LOOK AT

SOMETHING WITH A HORIZON LINE,

THERE'S ALWAYS A KIND OF

SETTLING INTO IT.

THOSE BEAUTIFUL PLATES,

I THINK OF THEM AS BEING

ROTHKO-ESQUE.

I MEAN, THEY'RE LANDSCAPES BUT

THEY ARE ABSTRACTIONS.

AND LIKE HIM, SHE'S KIND OF

ABSORBED THAT.

JEAN TAYLOR: THESE LITTLE

PLATES, I LOOK AT EACH ONE

AS A POSSIBLE LANDSCAPE

BUT IN A VERY SIMPLIFIED FORM.

I'M CREATING

A MOOD RATHER THAN ANYTHING THAT

IS DIRECT AND UNDERSTANDABLE.

JUST UNDER, OVER LEFT, EVER

SO SLIGHTLY UNDER THE RED.

AND I TRULY DO NOT KNOW EXACTLY

WHAT THAT COLOR WILL TURN OUT TO

BE BECAUSE SOMETIMES I CAN MAKE

A VERY EDUCATED GUESS.

BUT THERE'S ALWAYS A FACTOR

THAT IS OUTSIDE OF ME,

AND THAT IS THE KILN.

IT'S LIKE A SUNSET.

YOU NEVER KNOW QUITE HOW

THE LIGHT IS GOING TO AFFECT

THE LAND

YOU HAVE IN FRONT OF YOU.

IT CAN CHANGE RADICALLY.

KAJER: WE ALL SORT OF BESEECH

THE KILN GOD WHEN THINGS GO IN

BECAUSE WE DON'T KNOW

WHAT THE RESULT'S GOING TO BE.

COOPER: ONCE THE CLAY GOES INTO

THE KILN, IT'S UP TO THAT FIRING

AND HOW YOU PUT THE GLAZE ON.

IT'S A GLASS, THEN IT MELTS,

AND YOU DON'T GET TO GO IN THERE

AND GO, "OH, NO, NO! STOP."

[CHUCKLES]

YOU GET THINGS THAT RUN, YOU GET

THINGS THAT CRACK, AND THEN YOU

GET THINGS THAT COME OUT

GORGEOUS.

JEAN TAYLOR: KILNS ARE AFFECTED

IN DIFFERENT WAYS,

ACCORDING TO HOW THE WEATHER IS,

HOW THE INDIVIDUAL WHO'S FIRING

THE KILN CHANGES

THE NATURE OF THE FIRING

IN SOME SUBTLE WAY.

IT MAY TOTALLY ALTER MY GLAZE

AWAY FROM ANYTHING THAT I COULD

HAVE IMAGINED.

AND SOMEHOW THAT DOESN'T

BOTHER ME.

COOPER: THE KILN GODS.

I PRAY TO THE KILN GODS, YES!

HA HA! BECAUSE WHO KNOWS?

JEAN TAYLOR: THESE AREAS

OF GLAZE I GLAZED FIRST.

COOPER: WHEN JEAN WAS TEACHING,

WE WOULD ALL LINE UP WITH

THE THINGS THAT CAME OUT OF

THE KILN.

JEAN TAYLOR: SHE'S USED SOME

IRON WHERE THE DESIGN IS...

COOPER: AND SHE CAN ALWAYS

DO DETECTIVE WORK.

JEAN TAYLOR: LONG BEACH BLUE,

I THINK...

ROSENMAN: THINGS GO IN

THE KILN. IT COMES BACK OUT.

EVERY TIME IT GOES IN,

IT'S A CIRCULAR DIALOGUE.

IT COMES OUT TO ME.

I CAN SEE WHAT THE RESULTS ARE.

I CAN SEE WHAT MY CHALLENGES

WERE, WHAT THE SUCCESSES WERE,

THE FAILURES, AND THEN I TAKE

THAT KNOWLEDGE, AND I DO IT

AGAIN.

KAJER: THE COMMUNITY COMES FROM

SOMETHING BEAUTIFUL HAS COME OUT

OF THE KILN, AND THE QUICK

DISCUSSION TO THE WHOLE ROOM

ABOUT HOW A GLAZE WAS

ACCOMPLISHED.

JEAN TAYLOR: THIS IS ALL

THE DIFFERENT WHITES WE HAVE,

WHITE SHINO, WHICH

WHERE IT'S THIN, IT'S GONE

WITH THE RED...

KAJER: THERE WAS ALWAYS THESE

KINDS OF CONVERSATIONS HAPPENING

IN STUDIO.

JEAN TAYLOR: HERE AGAIN, THAT'S

NOT MY MOST FAVORITE GLAZE,

AND FOR THIS REASON: YOU SEE

IT'S NICE COLOR HERE, BUT THEN

HERE, IT TOTALLY DISAPPEARS.

IT'S LIKE WALKING INTO YOUR

GARDEN OR INTO A FIELD OR

ON A MOUNTAIN.

THE WEATHER CHANGES.

IT'S SUDDENLY BLOWING LIKE HECK,

OR IT'S RAINING CATS AND DOGS.

IT'S GOING TO ALTER EVERYTHING.

YOU HAVE TO TAKE WHAT

NATURE OFFERS YOU.

YOU HAVE TO HAVE A CERTAIN

STATE OF MIND.

JEANINE HAD

THREE MANIC ATTACKS.

SHE LOOKED ABSOLUTELY APPALLING.

SHE SAID, "YOU KNOW HOW HARD IT

IS TO TRY AND STARVE YOURSELF

TO DEATH?"

SO SHE WAS NOT EATING, HER COLOR

WAS TERRIBLE. AND I COULDN'T

IMAGINE HOW SHE WAS FEELING.

I WENT DOWN TO THE HOUSE

TO PICK HER UP.

WE'RE DRIVING AROUND ENDLESSLY,

AND SHE KEPT MAKING ME GO BACK

TO THE ARROYO, WHICH IS

A WALKWAY WITH TREES AND A HUGE

BRIDGE OVER IT, AND SHE GOT OUT.

AND I SAID, "I'LL WAIT HERE TILL

YOU'LL GET BACK." AND SHE SAID,

"NO, LEAVE ME.

I'LL CALL YOU WHEN I AM READY."

I SAID, "JEANINE, YOU DON'T HAVE

A CELL PHONE ON YOU.

HOW ARE YOU GOING TO CALL ME?"

AND SHE JUST SAID, "MOM, I'LL

FIND A WAY OF REACHING YOU."

AND SHE WAS ADAMANT, SLAMMED THE

CAR DOOR, AND STARTED TO WALK

AWAY.

AND SHE TURNED BACK TO LOOK AT

ME.

SHE WAS, I DON'T KNOW, MAYBE

ANGRY.

BUT THE LOOK SHE GAVE ME WAS

QUITE DEFINITE.

AND I THOUGHT, "WELL, WHAT AM I

GOING TO DO HERE?

DO I JUST SIT HERE?

HOW DO I KNOW SHE'LL COME BACK

HERE IN THE MOOD SHE'S IN?

ANYTHING COULD HAPPEN."

SO I DROVE HOME.

I LOOKED OUT THE WINDOW, AND

THERE WAS THE POLICE COMING UP

THE DRIVEWAY.

AND I WENT TO THE DOOR, AND HE

ASKED ME IF I HAD A DAUGHTER

CALLED JEANINE.

AND I SAID, "YES."

WE SAT DOWN, AND THEY TOLD ME

THEY HAD JUST FOUND HER.

SHE TOOK HER OWN LIFE.

SHE HAD JUMPED FROM THE BRIDGE.

SHE WAS SO DETERMINED TO DO

WHAT SHE INTENDED TO DO.

IT WOULDN'T HAVE MATTERED.

EVEN IF YOU HAD BEEN ABLE TO

STOP IT THAT DAY,

IT WOULD HAVE HAPPENED SOONER

OR LATER,

WHICH IS A TRAGEDY.

IT WAS '84.

AND THAT'S A TERRIBLE SHOCK.

AND FOR ALL FAMILIES WHO ARE

FACED WITH ANY KIND OF MENTAL

DISORDER, THE STRAIN ON

THE FAMILY IS ENORMOUS.

IT JUST GRADUALLY ERODES

THE FAMILY STRUCTURE.

WE ALL SUFFERED, AND TO REBUILD

FROM THAT POINT WAS INCREDIBLY

HARD.

SOMEHOW YOU LEARN TO LIVE

WITH IT, WHICH IS DIFFICULT,

BUT THERE'S NO OTHER WAY.

BUT YOU HAVE TO KEEP GOING, YOU

HAVE TO SUPPORT, YOU HAVE TO DO

WHAT IS RIGHT.

THE PERSON WHO HAD THE GRIT AND

WAS THE GLUE WAS

MY OLDER DAUGHTER.

SHE HAS AN ENORMOUSLY STRONG

CHARACTER, AND SHE WAS ABLE TO

SUPPORT ME.

I COULD NOT HAVE DONE IT ALONE.

CAN YOU REACH THE SPONGE FOR ME,

KARYN?

KARYN: THIS ONE OR THIS ONE?

JEAN TAYLOR: THAT DEEP

EXPERIENCE ONLY HEIGHTENED

WHAT WAS ALREADY WITHIN ME,

THE NEED TO HELP

PEOPLE THROUGH CLAY

TO FIND A CENTER.

CLAY, YOU WALK ON IT EVERY DAY.

IT'S THE STUFF THAT WE GROW

PLANTS IN, AND THE PLANTS GO

INTO THE POTS, AND THE POTS

THAT WE HAVE MADE COOK THOSE

PLANTS, OR WE SERVE

THE FOOD UP IN THOSE POTS.

AND SO THERE'S THIS CIRCLE OF

CLAY, CLAY WHICH WE ARE BORN OF

AND WHICH WE GO BACK TO

WHEN WE DIE.

IT IS A COMPLETE CIRCLE.

AND THAT INTEREST AND FEELING

FOR CLAY HAS DEEPLY INFLUENCED

HOW I APPROACH CLAY

WITH MY STUDENTS.

I USED TO TELL STUDENTS IT'S

A LIFE BUILDER, A LIFE-LEARNING

EXPERIENCE BECAUSE YOU REQUIRE

PATIENCE, YOU REQUIRE TO

HAVE A PHILOSOPHY

AND A DISCIPLINE.

IF YOU HAVE THOSE THREE THINGS

IN YOUR INNER BEING,

YOU'RE SET FOR LIFE.

[MUSIC ON SOUNDTRACK]

HULL: I THINK THE ARTS

ARE HEALING IN THAT THEY

PULL YOU INTO WHO YOU ARE.

YOU CAN'T REALLY CREATE UNLESS

YOU'RE YOU. AND A LOT OF TIMES,

TRAGEDY TAKES US OUTSIDE OF

OURSELVES.

THERE'S SOMETHING ABOUT

CREATIVITY THAT BRINGS YOU IN

AND ALLOWS YOU TO SETTLE AND

CALM YOURSELF WITHIN YOURSELF.

AND THAT IS, I THINK, PART OF

THE HEALING PROCESS OF IT.

JEAN TAYLOR: RIGHT.

[LAUGHTER]

JEAN TAYLOR: I WAS TEACHING

PEOPLE FROM ALL KINDS OF

WALKS OF LIFE WITH ALL

KINDS OF DIFFERENT NEEDS, AND I

WAS VERY AWARE THAT WHEN PEOPLE

CAME TO CLASS, THEY OFTENTIMES

CARRIED WITH THEM PERSONAL

ISSUES OF THEIR OWN, WHICH THEY

NEEDED TO ADDRESS. THE INCLUSION

OF ART INTO THEIR LIFE HELPED

THEM DO THAT.

McWATTERS: IT IS HEALING.

IT IS VERY--IT COMPENSATES.

IT COMPENSATES FOR ALL THAT

STRESS.

TAYLOR: I HAD BELONGED AT THIS

CHURCH IN ENGLAND TO

A YOUTH GROUP CALLED KOINONIA,

A WORLD THAT MEANS "SPIRITUAL

FELLOWSHIP" IN GREEK. AND THAT

MEMORY OF THAT

CHURCH EXPERIENCE,

ALTHOUGH IT WAS BASED IN

RELIGION,

IT WAS WHAT IT DID TO YOU IN

TERMS OF YOUR INNER SELF,

YOUR OWN PEACE OF MIND.

IN THE STUDIO,

I WANTED TO RECREATE THAT TO

GIVE PEOPLE A SENSE OF

SOLITUDE OR RELAXATION THAT THEY

NEEDED.

AND THE RESULT OF THAT WAS

THAT PEOPLE FORM FRIENDSHIPS.

HULL: YOU ALMOST CAN'T BE

IN CERAMICS

UNLESS YOU'RE IN A COMMUNITY.

JEAN TAYLOR: I ELABORATED ON

THAT BY HAVING DAYS WHEN WE

WOULD MEET TOGETHER

TO COOK CHICKENS IN THE KILN.

I'D PUT A LAYER WITH ROSEMARY

AROUND THE CHICKEN WITH

SEASONING AND THEN A LAYER OF

CLAY AND PUT THEM IN THE KILN

AND BAKED THEM.

THAT WAS ENORMOUS FUN.

AND IT CREATED THIS GREAT SENSE

OF COMPANIONSHIP WITHIN

THE GROUP, WHICH IN TURN,

PAID BACK TO ME

INVALUABLE.

THE WHOLE ATMOSPHERE OF

THE GROUP GREW TREMENDOUSLY.

I GAVE UP THE DIRECTORSHIP, AND

I CONCENTRATED ON TEACHING, AND

THEN GRADUALLY, IT WHITTLED DOWN

TO TWO CLASSES A WEEK

ON A FRIDAY.

AND MY FRIDAY GROUP BECAME

SOME OF MY VERY BEST FRIENDS.

AT 91, YOU START SEARCHING

YOUR LIFE--WHAT IT HAS

MEANT, AND I'VE HAD AN EXTREMELY

VARIED LIFE.

I'VE MADE MANY, MANY MISTAKES IN

MY LIFE, AND I'VE HAD TO PULL

MYSELF UP PSYCHOLOGICALLY.

CERAMICS WAS INDEED

MY SALVATION.

GROUP: ♪♪ HAPPY BIRTHDAY,

DEAR JEAN, HAPPY BIRTHDAY TO

YOU ♪♪

[APPLAUSE]

TAYLOR: ALL THROUGH 50 YEARS OF

TEACHING, WHICH HAS BEEN SUCH

A JOY AND A PRIVILEGE TO TEACH

THAT LONG IN THE SAME PLACE.

AND FOR THAT, I HAVE TO SAY

A TREMENDOUS THANK YOU.

IT MATTERS DEEPLY TO ME THAT THE

STUDIO CLASSROOM SHOULD NOT

BE JUST A PLACE OF LEARNING BUT

THAT IT SHOULD BE A PLACE OF

COMMUNITY, TOO.

WORKING TOGETHER IS ALWAYS

A LEARNING EXPERIENCE.

AND THAT'S WHAT I WANTED MOST,

WAS PEOPLE NOT ONLY TO

LEARN BUT TO ENJOY.

ROSENMAN: JEAN HAS MADE THIS

STUDIO THE SAFE PLACE TO WORK

AND COME HERE AND ALMOST COME

FOR HEALING.

COOPER: JEAN IS MY GLAZE GURU.

HULL: I MEAN, TO ME, GO

OUT AND FIND YOUR JEAN.

ANNOUNCER: THIS PROGRAM WAS MADE

POSSIBLE IN PART BY

CITY OF LOS ANGELES

DEPARTMENT OF CULTURAL AFFAIRS,

LOS ANGELES COUNTY DEPARTMENT OF

ARTS & CULTURE,

NATIONAL ENDOWMENT FOR THE ARTS,

AND THE

FRIEDA BERLINSKI FOUNDATION.