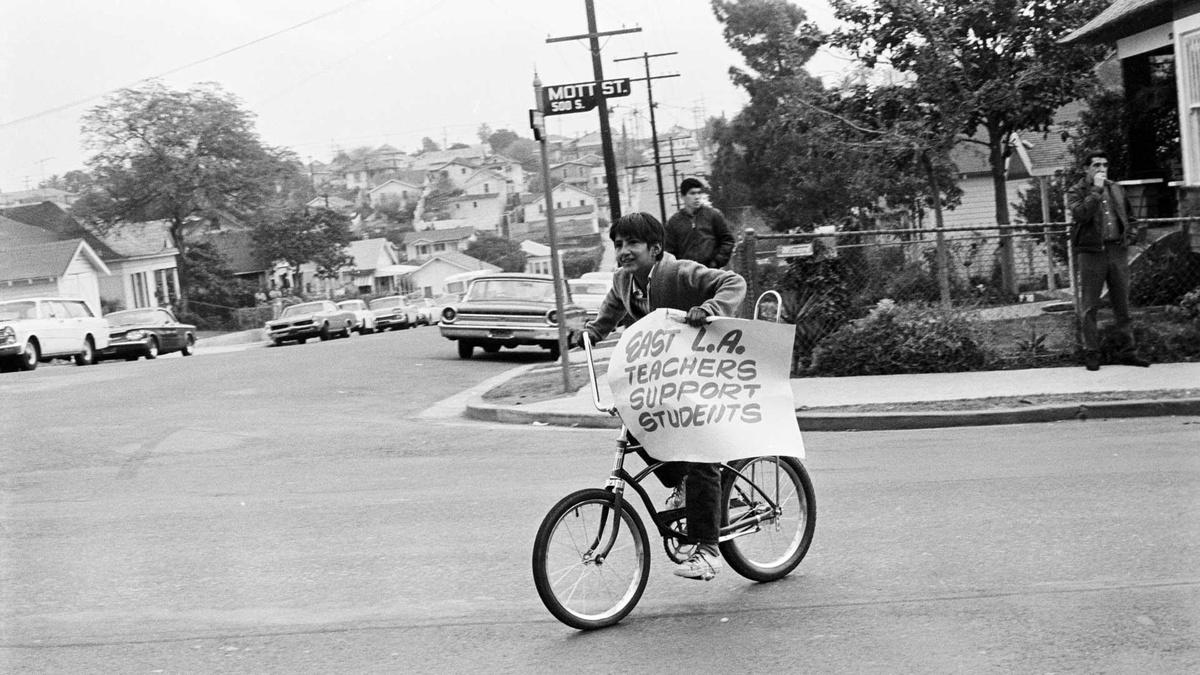 S9 E5 | FULL EPISODE
La Raza
In East Los Angeles during the late 1960s and 1970s, a group of young activists used creative tools like writing and photography as a means for community organizing, providing a platform for the Chicano Movement in the form of the bilingual newspaper/magazine La Raza.
TRANSCRIPT

[TYPING]

DEVRA WEBER: "LA RAZA" WAS A

NEWSPAPER IN EAST LOS ANGELES.

IT WAS THE PAPER THAT RECORDED

THE DEMONSTRATIONS AND THE

ORGANIZING, TALKED ABOUT THE

MEETINGS THAT OCCURRED, AND ALSO

TALKED ABOUT THE ISSUES OF

CONCERN TO THE EAST L.A.

CHICANO COMMUNITY.

LUIS GARZA: YOU HAD A MOVEMENT

THAT WAS TAKING PLACE AMONGST A

BROAD COMMUNITY THAT "LA RAZA"

AS A PUBLICATION WAS A PART OF

AND WAS REPORTING ON AND GIVING

COVERAGE THAT THEY WOULD NEVER

HAVE GOTTEN OTHERWISE BECAUSE

MAINSTREAM MEDIA WAS LIMITED

AND WAS NOT INTERESTED IN THE

SUBJECT.

RAUL RUIZ: A LOT OF US WANTED TO

BRING OUT THE TRUTH OF WHO WE

WERE. WE WANTED TO COME OUT WITH

OUR OWN NEWS, WITH OUR OWN

VERSION, WITH OUR OWN STORY.

MOCTESUMA ESPANZA: "LA RAZA"

NEWSPAPER WAS ONE OF THE KEY

INSTRUMENTS, TOOLS THAT WE USED

TO THEN COMMUNICATE OUR IDEOLOGY

OF CHICANISMO, THE EQUIVALENT TO

WHAT IS TODAY FACEBOOK AND

TWITTER. THAT'S HOW WE GOT THE

MESSAGE OUT.

JOE RAZO: "LA RAZA" WAS NOT

COMPOSED BASICALLY OF BROWN

PEOPLE. DEVRA WEBER WAS WHITE,

BUT SHE WAS MORE CHICANA THAN

MOST CHICANOS.

WEBER: IN THE LATE SIXTIES AND

EARLY SEVENTIES, I WAS A YOUNG

21-YEAR-OLD, 22-YEAR-OLD. I WAS

PASSIONATE, EXCITED ABOUT

THINGS, INVOLVED WITH THINGS,

CURIOUS, AND ENTHUSIASTIC.

RAZO: GIL LOPEZ AND PATRICIA

BORJON, WHO ARE OF

NATIVE-AMERICAN ANCESTRY.

GILBERT LOPEZ: PROBABLY ONE OF

THE MOST ENLIGHTENING

EXPERIENCES I HAD AT "LA RAZA"

WAS BECOMING A PHOTOGRAPHER.

PATRICIA BORJON-LOPEZ: WE

CONTRIBUTED AND EDUCATED ONE

ANOTHER ON THOSE SPECIFIC SKILLS

THAT POSSIBLY WE HAD THAT OTHERS

DIDN'T. FOR INSTANCE, MANUEL

BARRERA, HE WAS SO INSTRUMENTAL

IN EDUCATING ME ABOUT

PHOTOGRAPHY, ABOUT DEVELOPING

FILM. RAUL RUIZ WAS MORE OF THE

POLITICAL SIDE. HE KNEW ABOUT

THE POWERS THAT BE AND HOW

GOVERNMENT WORKED AND WHAT

ISSUES WE SHOULD KEY-IN ON FOR

OUR COMMUNITY.

RUIZ: MARIA MARQUEZ SANCHEZ,

SINGLE MOM, A VERY, VERY

DEDICATED YOUNG WOMAN. MARIA

WORKED IN EVERY SINGLE ASPECT OF

"LA RAZA."

MARIA SANCHEZ: I STARTED ON A

35 MILLIMETER NIKON.

LOUIE GARZA, LUIS GARZA, WAS A

PHOTOGRAPHER AT THE MAGAZINE AT

THE TIME. HE MENTORED ME AS FAR

AS DEVELOPING THE FILM AND

USING THE CAMERA.

GARZA: IT WAS A MIX OF

PERSONALITIES AND TALENTS, OF

AGES, OF GENDER. SOME WERE

PARENTS, SOME WERE STUDENTS. THE

AMOUNT OF ENERGY AND TALENT BOTH

PROFESSIONAL AND RAW WAS REALLY

ECLECTIC. EVERYBODY WAS

DEDICATED TO TELLING THE STORY.

BORJON-LOPEZ: JOE RAZO WAS

EVER THE LAWYER, ALWAYS KEEPING

US ON THE STRAIGHT AND NARROW.

RAZO: THERE WERE SOME PEOPLE

THAT WERE PRIMARILY

PHOTOGRAPHERS.

OSCAR CASTILLO: I WAS A

CONTRIBUTOR. I WAS NOT PART OF

THE DECISION-MAKING OR THE, AS

THEY SAY, THEIR BOARD OF

DIRECTORS. I WAS NOT REALLY A

COMMUNITY ACTIVIST, ALTHOUGH IN

MY OWN WAY, I'VE USED MY

PHOTOGRAPHS TO SHARE WITH THE

COMMUNITY.

RAZO: BUT AT LEAST A GOOD CORE

OF US WERE ORGANIZERS.

ESPANZA: DISCRIMINATION THAT

CHICANOS HAD SUFFERED IN THE

UNITED STATES WERE THE

INSPIRATION AND MOTIVATION FOR

ME SEEKING TO BE TRAINED AS AN

ORGANIZER, FINDING A GROUP OF

YOUNG CHICANOS AND CHICANAS WHO

FELT AND BELIEVED THAT WE NEEDED

TO DO SOMETHING.

VIRGINIA ESPINO: "LA RAZA"

COVERED A WIDE RANGE OF ISSUES,

FROM EVERYDAY LIFE OF THE

CHICANA AND CHICANO TO

ANTI-POLICE BRUTALITY.

IN BETWEEN THEY LOOKED AT ISSUES

AROUND EDUCATION, ANTI-RACISM

PROTEST. THEY ALSO COVERED

ISSUES AROUND IMMIGRATION.

WOMAN: THERE IS A WIND OF CHANGE

BLOWING AMONG MEXICAN AMERICANS.

"LA RAZA" HAS TRIED TO SHOW IN

ITS PAGES THE REAL STORY OF

CHANGE. THE FOLLOWING PAGES

REFLECT THE ISSUES WHICH THE

PEOPLE CONSIDERED SO RELEVANT

THAT THEY HAVE BEEN WILLING TO

RISK STATUS AND JOBS, FRIENDS

AND ADVANTAGES, AND EVEN THEIR

LIVES TO SEEK REDRESS.

AMY SCOTT: THE HISTORICAL

ACHIEVEMENTS OF "LA RAZA"

RELATIVE TO THE MEXICAN-AMERICAN

COMMUNITY REALLY HAS TO DO WITH

THE WAYS IN WHICH IT CONSTRUCTED

A POWERFUL, PERSUASIVE, AND

PROVOCATIVE IMAGE OF MEXICAN

AMERICANS. SO IT PAINTED A

PICTURE THROUGH PHOTOGRAPHY,

ART, AND POLITICAL SATIRE OF A

COMMUNITY THAT WAS BOTH WITHIN

AND WITHOUT AMERICAN CULTURE,

DEPRIVED OF SOME OF ITS

FUNDAMENTAL RIGHTS.

WEBER: "LA RAZA" WAS

HEADED AT THAT TIME

BY ELIEZER RISCO, WHO WAS CUBAN

OF ORIGIN, AND RUTH ROBINSON.

THEY HAD COME DOWN FROM WORKING

IN DELANO, I BELIEVE, WITH EL

MALCRIADO, TO REALLY SET UP "LA

RAZA."

ESPINO: THE STORY TAKES YOU

FROM THE CENTRAL VALLEY TO

LINCOLN HEIGHTS, THE CHURCH OF

THE EPIPHANY, WHERE FATHER LUCE

WAS THE PRIEST, AND HE ALSO WAS

ENAMORED WITH THIS IDEA OF

EMPOWERING THE POOR MEXICAN

AMERICANS TO STAND UP FOR THEIR

CIVIL RIGHTS.

RAZO: AND THIS IS THE CHURCH OF

THE EPIPHANY IN THE BASEMENT

WHERE "LA RAZA" FIRST STARTED.

THIS IS WHERE FATHER LUCE USED

TO HAVE A CLOTHES HANGER, AND HE

HAD HIS VESTMENTS HERE. THIS IS

WHERE WE HAD OUR GETTY MACHINE

IN WHICH WE USED TO TYPE OUR

NEWSPAPER. AND WE HAD A DESK

LIKE THIS WHERE WE USED TO

LAY OUT THE STORIES AND PASTE

THEM ON CARDBOARD BEFORE WE TOOK

THEM TO PRESS.

WE WOULD GO DOWN, BREAK DOWN

BARRIERS, CONFRONT

INSTITUTIONS, WHAT I WOULD CALL

THE SPEARHEAD OF THE MOVEMENT,

AND THAT WAS OUR PRIMARY ROLE,

TO HIDE BEHIND THAT FIRST

AMENDMENT BY PUBLISHING A

NEWSPAPER, AND WHEN THE COPS

STOPPED US, TO SAY, "I AM A

JOURNALIST. I AM CARRYING A

CAMERA."

SANCHEZ: AND SO WE WERE

COMMUNITY ACTIVISTS ALL IN THE

SAME MINDSET THAT WE DID WANT TO

SEE SOCIAL CHANGE AND WE DID

WANT TO ADDRESS THE ISSUES OF

SOCIAL INJUSTICE WITHIN THE

COMMUNITY.

WEBER: THERE DEFINITELY WAS A

DESIRE TO WORK TOGETHER TO

HIGHLIGHT CERTAIN ASPECTS OF THE

COMMUNITY, BOTH THE CHALLENGES

THE COMMUNITY WAS FACING, BUT

ALSO THE GUTS AND CREATIVITY

WITH WHICH THEY WERE RESPONDING

TO THOSE.

MAN: 2, 3, GO!

[SINGING IN SPANISH]

ESPANZA: WE WENT THROUGH A DEEP

AWAKENING, A DISCOVERY THAT WE

HAD A HISTORY AND THAT THERE

WAS ACTUALLY SOMETHING THAT WE

COULD BE PROUD OF IN OUR OWN

CULTURE, OUR OWN TRADITION. WE

DECIDED THAT WE WERE GONNA MAKE

A DIFFERENCE.

[MAN SINGING IN SPANISH]

ESPINO: I LOOK AT THE CHICANA

AND CHICANO MOVEMENT AS PART OF

A LONG STRUGGLE FOR CIVIL RIGHTS

THAT GOES BACK TO THE TIME WHEN

MEXICO LOST PART OF ITS

TERRITORY TO THE U.S. MEXICAN

AMERICANS HAVE CONSTANTLY BEEN

STRUGGLING AND ADVOCATING TO BE

RECOGNIZED AS EQUAL CITIZENS.

AND I THINK THIS ASPECT OF

SELF-DETERMINATION AND FREEDOM

AND LIBERTY WAS REALLY A GLOBAL

ISSUE. YOU SAW PEOPLE IN THE

STREETS IN MEXICO IN '68

CHALLENGING OPPRESSION, IN

PARIS, AND IN OTHER PARTS OF THE

WORLD, SO I THINK IT WAS REALLY

A GLOBAL PHENOMENON.

BORJON-LOPEZ: INTERNATIONALLY WE

HAD LETTERS, PHONE CALLS FROM

PEOPLE TALKING ABOUT THEIR

MOVEMENTS. WE DID FORM

RELATIONSHIP WITH THE CIVIL

RIGHTS MOVEMENT, WHICH WAS A

GREAT INSPIRATION TO US.

WEBER: THERE WERE LOTS OF

ISSUES IN EAST L.A.

WOMAN: THE PLACA PATROLS THE

CHICANO NEIGHBORHOODS LIKE THE

CHICANO WAS SOME TYPE OF ANIMAL

WHICH HAS TO BE KEPT IN A CAGE.

AMERICAN SERVICEMEN FROM

MEXICAN DESCENT HAVE A HIGHER

DEATH RATE IN VIETNAM THAN

OTHER GIs.

THE TEACHERS ARE IGNORANT OF

CHICANO HISTORY AND CULTURE AND

DON'T CARE TO LEARN ABOUT IT.

AND WHENEVER THE CHICANOS ASK

FOR CHANGE, THE ANGLO ALWAYS

SAYS MANANA. CHICANOS ARE NOW

SERVING NOTICE THAT MANANA IS

NOW TODAY AND THAT CHICANOS ARE

NO LONGER ASKING FOR THEIR

RIGHTS, BUT DEMANDING THEM NOW.

YA BASTA. YA BASTA.

ESPINO: THE WALKOUTS THAT

EXPLODED IN 1968 REALLY STARTED

MUCH EARLIER. YOU HAD A LEGACY

OF YOUNG MEXICAN AMERICANS BEING

DISSATISFIED WITH THE KIND OF

EDUCATION THAT THEY WERE

RECEIVING.

RUIZ: THE REALITY OF

EDUCATION IN EAST L.A., IT

WASN'T ACADEMICALLY ORIENTED.

MOST OF THESE SCHOOLS WHERE YOU

HAD LARGE POPULATIONS OF LATINO

KIDS, MEXICAN KIDS, WERE

VOCATIONALLY CENTERED. THE

WALKOUTS WERE IN REPUDIATION OF

THIS IDIOCY AND RACISM,

CLASSICISM ON THE PART OF

SCHOOL ADMINISTRATORS AND THE

GENERAL PUBLIC AT LARGE THAT

OUR KIDS JUST SIMPLY WERE NOT

CAPABLE OF GOING TO COLLEGE, SO

GIVE THEM THAT KIND OF

PREPARATION. OUR KIDS

WANTED ACADEMIC PREP.

ESPANZA: WE HAD BEEN PLANNING

THE WALKOUTS FOR MONTHS.

STUDENTS HAD BEEN MEETING ON

THEIR OWN HIGH SCHOOL CAMPUSES.

THE COLLEGE STUDENTS HAD BEEN

MEETING ON COLLEGE CAMPUSES. WE

HAD BEEN MEETING AT "LA RAZA"

NEWSPAPER. AND THE PLAN WAS THAT

BEFORE THE NEXT GROUP

GRADUATED THAT WE WOULD WALK

OUT.

WOMAN: THE FIRST 15 DAYS OF

MARCH OF THE YEAR 1968 WILL BE

KNOWN IN THE NEW HISTORY OF

THE SOUTHWEST AS THE DAYS OF

THE BLOWOUT. CHICANO STUDENTS

DEFINE "BLOWOUT" AS HIGH SCHOOL

STUDENTS WALKING OUT FOR BETTER

EDUCATION. DURING THOSE DAYS,

MORE THAN 10,000 HIGH SCHOOL

STUDENTS, MOST OF THEM CHICANO,

WALKED OUT.

RAZO: AN INCIDENT WAS THE SPARK

THAT TRIGGERED IT ALL. AND THAT

WAS AT WILSON HIGH SCHOOL,

PROBABLY THE LEAST ORGANIZED OF

ALL THE SCHOOLS THAT HAD INPUT

FROM THE CHICANO MOVEMENT

DECIDED, "HEY, ON OUR OWN, WE'RE

WALKING OUT."

ESPANZA: THERE WAS A PROTEST AND

A WALKOUT OVER THE PRINCIPAL'S

DECISION TO CANCEL A STUDENT

PLAY.

RAZO: SO ABOUT 200 KIDS SPARKED

THE WALKOUTS. AND THAT'S WHERE

WE'RE INVOLVED. ONCE WE KNEW

THAT WILSON HAD WALKED OUT,

THERE WAS NO HOLDING BACK ON ALL

THE OTHER SCHOOLS. WE MET OVER

AT THE CHURCH OF THE EPIPHANY,

IN THE BASEMENT OF FATHER LUCE'S

CHURCH WITH SOME PARENTS,

DECIDING TOMORROW'S GOT TO BE

THE DAY, AND WE'RE GOING OUT.

RUIZ: THE IDEA WAS TO HAVE THE

KIDS GO INTO THE SCHOOL, AND

THEN AT A SET TIME TO START

WALKING OUT SIMULTANEOUSLY

THROUGH ALL THE CLASS LEVELS

THAT WERE THERE.

[SCHOOL BELL RINGS]

CAME THAT DESIGNATED TIME, NONE

OF THE KIDS WERE OUT. SO A LOT

OF US IN THE COMMUNITY WENT INTO

THE SCHOOL AND BEGAN TO YELL TO

THE KIDS TO COME OUT.

ESPANZA: AND WE KEPT RUNNING

THROUGH THE HALLWAYS YELLING

"WALK OUT." AND THE NEXT THING,

THOSE DOORS OPENED AND HUNDREDS

AND HUNDREDS OF STUDENTS WALKED

OUT OF LINCOLN HIGH SCHOOL,

THEN IT BECAME THOUSANDS. THERE

WERE 3,000 STUDENTS AT LINCOLN,

AND MOST OF THEM WALKED OUT.

RAZO: AS THEY WERE WALKING OUT

OF SCHOOL, MANY OF THE UMA's

STUDENTS WOULD START ADDRESSING,

"FORM AN ORDERLY LINE. WE'RE

GOING TO MARCH TO HAZARD PARK,

AND WE'RE GOING TO HAVE A

TEACH-IN." AND THE VARIOUS

COLLEGE STUDENTS WOULD LINE UP

ALONG WITH SOME BERETS AND

PROTECT THEM.

ESPARZA: NOW, WHAT I SAID TO YOU

IS THAT I REALIZED THAT ARE

LIMITATIONS, BUT I'M ALSO SAYING

THAT WE, THE STUDENTS, ARE

DEMANDING THAT THEY COME. WE ARE

ONLY ASKING YOU TO RELAY THIS

INFORMATION.

RUIZ: THE FOLLOWING DAY,

WALKOUTS CONTINUED AT ROOSEVELT

HIGH SCHOOL.

WEBER: SO AS I REMEMBER, BY THE

TIME WE WERE SHOOTING

PHOTOGRAPHS AT ROOSEVELT HIGH

SCHOOL, IT WAS A LARGE NUMBER OF

STUDENTS WHO WERE STANDING ON

STAIRS GOING UP THE SIDE OF A

BUILDING, LOCATED AT THE FENCES

WITH THEIR FACES PRESSED TO THE

WIRES, LOOKING OUT AT THE

PROTESTERS. YOU SAW IN ONE SHOT,

FOR EXAMPLE, THE STUDENT WHO

MANAGED TO CLIMB OUT WITHOUT

BEING STOPPED BY THE TEACHERS

AND POLICE ON THE OTHER SIDE OF

THE FENCE THAT IS WITHIN THE

PROPERTY OF THE SCHOOL. AND

THERE IS GREAT CHEERING AND JOY

WHEN HE ACTUALLY DID GET OVER

THE FENCE, TOO. YOU SAW IN ONE

SHOT, FOR EXAMPLE, SOMEONE WHO

MAY HAVE BEEN A TEACHER OR MAY

HAVE BEEN A PARENT WITH THE SUIT

ON, A MAN WITH A SUIT ON SAYING

BY "ANY MEANS NECESSARY,"

ECHOING SOMETHING WE'D HEARD

WITH MALCOLM X AND SOME OF THE

MILITANT MEMBERS OF THE

AFRICAN-AMERICAN COMMUNITY AT

THAT TIME. THERE WERE ALSO

STUDENTS ON THE LINE, ONE IS A

WOMAN WHO HAS A SIGN, SOMETHING

ABOUT LA RAZA, BUT THEN ALSO

A JACKET WITH THE BLACK EAGLE

PAINTED ON IT AND SIGNS PAINTED

ON IT. SO THAT WHEN YOU WOULD

SEE THESE HANDMADE SIGNS, NONE

OF THESE WERE PRINTED, IT WAS

THINGS THAT PEOPLE HAD MADE,

YOU WERE ALSO HEARING THEIR

VOICES THROUGH THOSE SIGNS. YOU

WOULD SEE IT IN THE FACES AND

DISCUSSIONS, AND THAT'S WHAT

YOU'RE ALSO, OR I WAS, TRYING TO

CAPTURE ON FILM, THE INVOLVEMENT

OF DIFFERENT PEOPLE

IN THAT DEMONSTRATION,

IN THOSE WALKOUTS.

RUIZ: AND ROOSEVELT WAS REALLY

VERY, VERY DIFFICULT IF ONLY

BECAUSE THE POLICE WERE ACTING

VERY, VERY HARSHLY AND IN SOME

CASES ARRESTING AND BEATING

KIDS.

I WAS TAKING PICTURES,

TAKING PICTURES OF KIDS, TAKING

PICTURES OF COPS, TAKING

PICTURES OF THINGS THAT WAS

GOING ON. I WAS ACTUALLY ACTING

VERY RESPONSIBLY AS A REPORTER.

I'D SEEN THIS YOUNG GIRL, A

YOUNG TEENAGE GIRL, AND SHE HAD

BEEN FLOORED, LITERALLY THROWN

TO THE SIDEWALK, AND I WENT UP

TO WHERE THEY WERE AT.

I SAID, "WHY ARE

YOU DOING THAT TO A LITTLE

GIRL?" AND THAT SEEMED TO

ACTIVATE ANGER AMONGST SOME OF

THE DEPUTIES, SOME OF THE

POLICEMEN THAT WERE THERE. AND

THEY GRABBED ME, PULLED ME

AROUND, SLAMMED ME TO THE

SIDEWALK. I HAD THROWN MY CAMERA

AT ONE OF MY FRIENDS TO TAKE IT.

AND THEN THEY GRABBED ME AND

THREW ME INTO THE SQUAD CAR, AND

THEN THEY DROVE ME TO THE ALLEY

AND BEAT THE HELL OUT OF ME AND

WARNED ME, "WE DON'T WANT TO

EVER SEE YOU AGAIN,"

AND THEN THEY, BOOM,

THEY PUSHED ME OUT AND

LEFT ME THERE IN THE ALLEY. AND

THEN I WALKED OUT AND WENT

BACK TO ROOSEVELT.

WEBER: ALL OF THESE

DEMONSTRATIONS, THERE WERE

PLAINCLOTHES POLICEMEN IN

UNMARKED CARS TAKING

PHOTOGRAPHS OF PEOPLE, IN YOUR

FACE.

RAZO: BUT ALL THAT WAS COMPILED

INTO THE INTELLIGENCE FILES,

WHICH LATER ON LED TO ARRESTS.

WOMAN: THE ESTABLISHMENT-RUN

POLICE DEPARTMENT OF THE CITY OF

LOS ANGELES SHOWED THEIR TRUE

COLORS IN A WEEK LONG TO BE

REMEMBERED AS LOS ANGELES' WEEK

OF SHAME. ACCORDING TO OFFICIAL

FIGURES RELEASED BY THE DA's

OFFICE, WARRANTS HAD BEEN

ISSUED FOR THE ARREST OF 13

CHICANO LEADERS.

ESPANZA: THERE WAS ONE NIGHT

THAT WE WERE IN THE BASEMENT

THERE OF FATHER LUCE'S CHURCH

AND WE TALKED ABOUT THE

LIKELIHOOD THAT WE MIGHT GET

ARRESTED. IT WAS IN EARLY MAY. A

FEW WEEKS LATER, GRAND JURY

INDICTED US, CONSPIRACY TO

COMMIT A MISDEMEANOR, DISRUPTING

PUBLIC SCHOOLS, 15 COUNTS. THERE

WERE FELONIES, EACH COUNT WAS

WORTH 3 YEARS, AND THE DISTRICT

ATTORNEY WAS PROSECUTING US,

SEEKING CONSECUTIVE SENTENCES,

WHICH MEANT THAT WE WERE FACING

45 YEARS.

RAZO: WHEN WE WERE ARRESTED, I

WAS IN THE OFFICE WITH ELIEZER

RISCO. AND THEY JUST CAME IN AND

DIDN'T SHOW US ANY SEARCH

WARRANT OR ANYTHING, THEY JUST

SAID, "YOU'RE UNDER ARREST," AND

THEY STARTED GATHERING ALL

SORTS OF PAPERS. THEY WANTED TO

KNOW WHO OUR SUBSCRIBERS WERE.

ELIEZER RISCO WAS HANDCUFFED,

AND THEN I WAS HANDCUFFED. WE

WERE TAKEN DOWN TO PARKER

CENTER OF THE LOS ANGELES

POLICE DEPARTMENT.

ESPANZA: WHILE I WAS PICKETING

THE HOLLENBECK POLICE STATION

OVER A CASE OF POLICE BRUTALITY,

AND I WAS WALKING IN FRONT WITH

A GROUP OF ANOTHER 20

PICKETERS, AND THE POLICE JUST

CAME RIGHT OUT AND GOT ME. THE

NEXT THING I KNEW I WAS IN

THE PARKER CENTER, WHICH WE

CALLED THE GLASS HOUSE. THERE

WAS ELIEZER RISCO. WE WERE ALL

JAILED THERE.

RAZO: RISCO HAD AN ORGANIZING

BACKGROUND WITH CESAR CHAVEZ,

PROPOSED THAT WE GO ON A HUNGER

STRIKE. AND ONCE WE STARTED A

HUNGER STRIKE, THEN THEY

DECIDED, LET'S GET ALL OF THESE

GUYS TOGETHER. AND SO THEN THEY

PUT 13 OF US TOGETHER SO THAT

THEY COULD KEEP A WATCH ON US.

AND WE WERE LOOKED UPON, NOT

NECESSARILY AS CRIMINALS, BUT AS

POLITICAL PRISONERS.

ESPANZA: WE WROTE A WHOLE SERIES

OF NUMBERED COMMUNIQUES.

WOMAN: WE ARE ENTERING OUR THIRD

DAY ON THE HUNGER STRIKE. MAKE

NO DOUBT ABOUT IT, WE ARE

POLITICAL PRISONERS AND WE ARE

PAYING FOR OUR POLITICAL

VIEWPOINTS. AND WE ARE SERVING

NOTICE TO JEFE PLACA AND HIS

PUPPET YOUNGER THAT WE WILL

CONTINUE TO EXERCISE OUR RIGHTS

AND WILL FIGHT BACK WITH EVERY

TOOL AVAILABLE. DO NOT WORRY. WE

KNOW OUR CAUSE WILL TRIUMPH.

ESPANZA: AND WE COULD HEAR

INSIDE THE JAIL THAT THERE WERE

THOUSANDS OF PEOPLE OUTSIDE

PROTESTING, CHANTING. WE COULD

ACTUALLY HEAR IT INSIDE THE

JAIL. AND LATER, I HEARD THAT

THERE WERE 10,000. THAT WAS AN

EXCITING MOMENT THAT WE ACTUALLY

EMBRACED. AND WE DECIDED THEN

AND THERE THAT OUR DEFENSE

WOULD BE A POLITICAL STATEMENT.

RUIZ: THE EAST L.A. 13 BECAME

THE FIRST POLITICAL TRIAL OF THE

CHICANO MOVEMENT HERE IN

CALIFORNIA. THE EAST L.A. 13

TRIAL PROVED WAS THAT OUR

COMMUNITY WAS CONVINCED THAT

THE ONLY WAY WE WERE GOING TO

BRING ABOUT CHANGE WAS TO

COMMIT OURSELVES TO LEGITIMATE

PROTEST AND NON-VIOLENT PROTEST.

WOMAN: AFTER 72 HOURS OF A

HUNGER STRIKE, CRUZ OLMEDA, JOE

RAZO, ELIEZER RISCO, MOCTESUMA

ESPARZA, AND DAVID SANCHEZ

ENJOYED A BANQUET OF MEXICAN

SOUL FOOD AT THE RESTAURANT

LAS 4 MILPAS.

RUIZ: AFTER SEVERAL MONTHS, THE

WHOLE ISSUE OF THE ARREST OF THE

EAST L.A. 13 WAS DROPPED, NEVER

WENT TO TRIAL. IT WAS A

VIOLATION OF THE LAW ON THE PART

OF THE POLICE DEPARTMENT THAT

WANTED TO DEPRIVE OUR COMMUNITY

OF THE RIGHT TO LEGITIMATELY

PROTEST, WHICH IS A

CONSTITUTIONAL RIGHT.

RAZO: AS I MENTIONED TO NUMEROUS

PARENTS, LOOK, YOUR KIDS ARE

FOLLOWING US, SO IT'S BETTER FOR

YOU IF YOU OBJECT TO WHAT WE

ARE DOING, GET INVOLVED. ALL OF

A SUDDEN, SE LES PRENDER

FOCO, A LIGHT BULB WENT ON AND

PARENTS STARTED GETTING

INVOLVED TO CONFRONT THE BOARD

OF EDUCATION. AND DURING THE

COURSE OF THAT, THEY ALSO

LEARNED WHAT IT IS TO BE

MILITANT, AND THAT'S BECAUSE

THEIR SONS AND DAUGHTERS WERE

INVOLVED.

WOMAN: A CROWD OF ABOUT 400

MEXICAN-AMERICAN SUPPORTERS OF

SAL CASTRO INVADED THE BOARD OF

EDUCATION LAST THURSDAY

DEMANDING THE RETURN OF CASTRO

TO HIS RIGHTFUL PLACE AT

LINCOLN HIGH SCHOOL BY THE TIME

SCHOOL OPENS NEXT MONTH.

ESPANZA: BECAUSE SAL CASTRO WAS

A SCHOOL TEACHER AND HE HAD BEEN

ARRESTED WITH A FELONY

INDICTMENT, THE SCHOOL BOARD

DECIDED TO TAKE HIM OUT OF

THE CLASSROOM AND TO DENY HIM

THE ABILITY TO BE A TEACHER AND

TO INSTEAD PUT HIM INTO SOME

ADMINISTRATIVE BACK OFFICE

FUNCTION WHERE HE COULD NOT BE

IN TOUCH WITH STUDENTS. SO WE

AGAIN DECIDED TO PROTEST AND TO

OCCUPY THE SCHOOL BOARD BECAUSE

THEY REFUSED OUR REQUEST TO

REINSTATE HIM. AND WE SAT-IN, WE

SLEPT IN AT THE SCHOOL BOARD,

AND THAT LASTED FOR WEEKS.

RAZO: WELL, THE FINAL DAY WHEN

WE HAD HEARD THAT IF WE DIDN'T

GET OUT, WE WERE GOING TO BE

ARRESTED, WE SELECTED THOSE OF

US WHO WERE GOING TO STAY. SO 35

OF US REMAINED THERE DETERMINED

TO MAKE OUR POINT CLEAR AND OUR

COMMITMENT CLEAR. WE WERE

WILLING TO RISK ARREST.

WEBER: I'D GONE OUTSIDE BECAUSE

PEOPLE THAT WERE GETTING

ARRESTED ALSO WANTED TO TAKE

SOME THINGS OUT OF THERE,

DIFFERENT THINGS THAT THEY

DIDN'T WANT TO BE ARRESTED WITH.

AND SO, CAMERA BAGS ARE VERY

USEFUL FOR THAT. SO I HAD A

WHOLE BUNCH OF THINGS IN MY

CAMERA BAG, AND ALSO IT WAS TO

TAKE PICTURES OF PEOPLE WHEN

THEY WERE BEING ESCORTED TO THE

PADDY WAGONS OUTSIDE. SO I WENT

AROUND TO THE BACK, AND THAT'S

WHERE I TOOK A NUMBER OF SHOTS,

BUT ONE OF THEM IS OF ALICIA

ESCALANTE WALKING DOWN THE

STAIRS WITH GRACE AND EASE AND

CONFIDENCE, SOMEONE WHO, YOU

KNOW, STARTED THE EAST L.A.

WELFARE RIGHTS ORGANIZATION AND

WAS ALWAYS THERE TO SUPPORT

STUDENTS DURING THE WALKOUTS.

THAT'S ONE OF MY FAVORITE

PHOTOGRAPHS, ACTUALLY.

ESPANZA: THIS CREATED THE

CRISIS, FRONT PAGE NEWS. IT WAS

CONSTANT. THE SCHOOL BOARD

COULDN'T FUNCTION, THAT THEY

FINALLY VOTED TO REINSTATE SAL

AND PUT HIM BACK IN THE

CLASSROOM. AND THERE WAS AN

AMAZING PHOTOGRAPH OF SAL BEING

CARRIED ON THE SHOULDERS OF

SEVERAL BROWN BERETS IN VICTORY.

THE SCHOOL BOARD HAD CAVED IN

AND HAD REINSTATED HIM.

[CHEERS AND APPLAUSE]

CHON NORIEGA: MY NAME IS CHON

NORIEGA, AND I'M THE DIRECTOR OF

THE UCLA CHICANO STUDIES

RESEARCH CENTER. AND WE HOUSE

THE "LA RAZA" COLLECTION OF THE

NEWSPAPER AND MAGAZINE,

PHOTOGRAPHS, AND ALSO A DIGITAL

ARCHIVE OF OVER 25,000 IMAGES

THAT WERE SHOT BY "LA RAZA"

PHOTOGRAPHERS.

BY THE TIME YOU SEE THE MAGAZINE

FORM, IT'S BECOME MORE

PROFESSIONALIZED. THE SHIFT IN

FOCUS IS A LITTLE DIFFERENT.

THERE'S MUCH GREATER USE OF THE

PHOTOGRAPHY. THIS IS A POINT OF

ORIGIN WHERE A CERTAIN KIND OF

PHOTOGRAPHIC STYLE EMERGED. IT

WAS NOT JUST FORMAL AND

TECHNICAL. IT ALSO HAD TO DO

WITH HOW DO YOU APPROACH A

SUBJECT THAT HAS BEEN LEFT OUT

OF PHOTOGRAPHY. IT'S REALLY

FASCINATING. AND YOU CAN GO

THROUGH AND LOOK AT THESE 25,000

IMAGES. YOU CAN LOOK ACROSS THEM

AND SAY, WELL, THERE'S SOMETHING

INTERESTING WHERE THEY WANT TO

DO PORTRAITS IN PUBLIC SPACE.

THEY WANT OF DO IT OF CHILDREN.

AND THESE AMAZING PHOTOGRAPHS

WHERE YOU SEE THE CHILD REALLY

OPENING UP IN FRONT OF SOMEBODY.

SOMETIMES THEY ARE IN THE MIDDLE

OF A PROTEST, THEY ARE HOLDING

PICKET SIGNS, BUT THEY KNOW THAT

SOMEBODY THAT KNOWS THEM AS A

MEMBER OF THEIR COMMUNITY IS

TRYING TO TAKE THEIR

PHOTOGRAPH. THEY ARE THE FUTURE.

THEY ARE VIEWED WITH A SENSE OF

HOPE, AND THEY'RE ALSO VIEWED

WITH A SENSE OF SUPPORTING

THEIR COMMUNITY. WHEN THEY DO

THEM OF ADULTS, IT'S OFTEN NOT

WHAT YOU WOULD EXPECT. IT'S NOT

LIKE EVERYBODY STANDING THERE,

STAGED. SOMEONE LIKE OSCAR

CASTILLO IS A VERY DRAMATIC

EXAMPLE OF SOMETHING A LOT OF

PHOTOGRAPHERS WERE DOING, WHICH

IS PHOTOGRAPHING PEOPLE FROM

BEHIND AS THEY STAND LOOKING

OUT AT SOMETHING. IN A SENSE,

THAT IS SAYING TO THE VIEWER,

YOU ARE IN THAT PERSON'S PLACE.

YOU ARE NOT JUST LOOKING AT

SOMEBODY IN THAT SPACE. YOU ARE

PRIVY TO THE PERSPECTIVE THAT HE

OR SHE HAD LOOKING AT THEIR

COMMUNITY, LOOKING AT A

STREET PROTEST. THAT'S A VERY

POWERFUL WAY OF USING

PHOTOGRAPHY TO CREATE EMPATHY,

BUT ALSO FOR THE PEOPLE FROM

THAT COMMUNITY TO REALLY

EMPHASIZE THIS IS HOW YOU WOULD

BE LOOKING AT IT. AND WE HAVE

NOW MADE THAT INTO AN IMAGE THAT

CAN CIRCULATE AROUND THE WORLD.

SCOTT: THE "LA RAZA"

PHOTOGRAPHERS COLLECTIVELY

UNDERSTOOD THE POWER THAT THE

CAMERA ENTAILED IN MAKING ONE'S

OWN IMAGE AND IN MAKING AN IMAGE

OF THE COMMUNITY FROM WITHIN THE

COMMUNITY. IN THAT WAY, THEY

WERE ABLE TO REDEFINE WHAT IT

MEANT TO BE A MEXICAN AMERICAN

IN LOS ANGELES AND IN THIS

NATION. SO THIS IMAGE OF, BY

RAUL RUIZ, IT'S A GREAT IMAGE

OF TEENAGERS BEING TEENAGERS.

AND IT'S THAT SORT OF BOY-GIRL

THING THAT TAKES PLACE WITHIN

THE IMAGE AND WITHIN THE MIDST

OF THIS VERY SERIOUS POLITICAL

MOMENT AND CAPTURING THE MORE

DAY-TO-DAY SORT OF EXCHANGES

AND CONNECTIONS BETWEEN

ACTIVISTS, BETWEEN PEOPLE FROM

ACROSS THE COMMUNITY IN WAYS

THAT ARE RELATABLE ON A HUMAN

LEVEL.

NORIEGA: YOU TYPICALLY WOULD NOT

SEE THESE IMAGES IN THE "LOS

ANGELES TIMES." THE PHOTOGRAPHS

THAT THEY WOULD TAKE OF PEOPLE

WHO'D BEEN BEATEN UP BY THE

POLICE. YOU SEE THESE PEOPLE

THAT HAVE BEEN BRUTALIZED, WELTS

AND BRUISES AND EVERYTHING ON

THEIR BODIES, BUT THEY'RE VERY

RELAXED AND VERY CALM AS THEIR

FRIENDS GO ABOUT DOCUMENTING

WHAT HAPPENED TO THEM. YOU

HAVE A VERY DIFFERENT

SET OF RELATIONS TAKING

PLACE. I THINK IT'S ONE

OF THE THINGS THAT MAKES THIS

COLLECTION SO POWERFUL.

SANCHEZ: ONE OF THE THINGS THAT

WE DID HAVE AT THE MAGAZINE WAS

A DARK ROOM. I WOULD GO IN THERE

AND START DEVELOPING ROLLS OF

FILM AND THEN DEVELOPING

PICTURES, AND BEFORE I KNEW IT,

IT WAS THE NEXT DAY.

ESPANZA: WHEN I WOULD GO HOME

AND I HAD 3 OR 4 ROLLS OF FILM,

I WAS AFRAID BECAUSE OF

THE SENSITIVITY OF THE MATERIAL.

AND SO I WOULD GO TO MY

NEXT-DOOR NEIGHBOR AND TELL HIM,

"RALPH, WOULD YOU TAKE CARE OF

MY FILM?"

SANCHEZ: WE WERE BEING FOLLOWED

AND WATCHED BY THE LAPD AND THE

FBI. AND THEY DIDN'T TRY TO HIDE

WHO THEY WERE. THEY'D STAND

OUTSIDE OF THE MAGAZINE WITH

CAMERAS AND TAKE PICTURES OF

PEOPLE THAT WERE COMING IN AND

OUT.

WEBER: AND I THINK THAT WAS A

WASTE OF RESOURCES BECAUSE WE

WEREN'T DOING ANYTHING ILLEGAL.

ESPANZA: WE USED EVERY TYPE OF

CAMERA AND EVERY TYPE OF FILM.

SOME WERE PHOTOGRAPHY MAJORS OR

PROFESSIONAL PHOTOGRAPHERS.

OTHERS WERE LIKE ME, YOU PICKED

UP A CAMERA STRICTLY AS A TOOL

FOR ORGANIZING.

LOPEZ: I WAS MORE CONCERNED

ABOUT THE STORY LINE AND THE

SUBJECT WE WERE SHOOTING. AND IF

WE SHOT PHOTOGRAPHS THAT HAD A

LOT OF ARTISTIC DIMENSION, THEN

FINE, BUT THAT WASN'T OUR

PRIMARY OBJECT. OUR OBJECT WAS

TO TELL--DOCUMENT HISTORY AND TO

TELL A STORY.

SANCHEZ: IT WAS KIND OF A

CONFLICT FOR ME BECAUSE I WANTED

TO BE PART OF THE DEMONSTRATION.

I LOVED BEING WITH EVERYONE,

MARCHING, QUE VIVA LA RAZA, QUE

VIVA LA CAUSA.

I WOULD TRY TO STAY FOCUSED ON

THE CROWDS. THAT'S WHY I WOULD

BE UP ON LAMP POSTS OR ON TOP OF

BRIDGES OR CLIMBING UP ON

SOMEONE'S SHOULDERS OR TRYING TO

GET THAT PANORAMIC SHOT.

BORJON-LOPEZ: I DIDN'T COME IN

TO THIS BEING A PHOTOGRAPHER. I

HAD TO LEARN HOW TO PRODUCE AND

DOCUMENT A CERTAIN ACTIVITY THAT

WOULD TELL A STORY, AND THAT WAS

ON THE MOVE, SO MANY TECHNICAL

ASPECTS ON THE RUN AND THE

MOTION, THE MOTION OF THE

PEOPLE.

WEBER: I TOOK A NUMBER OF

PHOTOGRAPHS AT THE MORATORIUM,

AND ONE OF THEM WAS OF A SIGN

THAT WAS HELD BY A GUY WITH A

HAT AND SUNGLASSES THAT WAS "MY

FIGHT IS IN THE BARRIO, NOT IN

VIETNAM" WITH AN IMAGE OF CHE

GUEVARA. IN THAT SHOT, THERE IS

ALSO A GUY IN MILITARY UNIFORM

STANDING NEXT TO HIM. THE SENSE

OF THAT MORATORIUM WAS

CERTAINLY AGAINST LATINOS GOING

AND DYING AND BEING KILLED IN A

WAR THAT WAS INCREASINGLY

UNPOPULAR. BUT THERE WAS ALSO, I

THINK, A LINKAGE WITH BROADER

STRUGGLES AS WELL. CHE GUEVARA

HAD BEEN KILLED, I THINK, A YEAR

OR TWO BEFORE, SO HE WAS VERY

FRESH IN OUR MINDS. HE WASN'T

SIMPLY A FACE ON A T-SHIRT.

LOPEZ: AND WHAT INSPIRED ME

ABOUT THE CHICANO MORATORIUM IS

THAT IT WASN'T JUST CALLING FOR

ENDING THE WAR IN VIETNAM.

ESPINO: THERE WAS AN IMPORTANT

REPORT THAT CAME OUT IN THE LATE

1960s THAT SHOWED MEXICAN

AMERICANS WERE OVER REPRESENTED

IN THE NUMBER OF CASUALTIES IN

VIETNAM.

ESPANZA: AND SO THERE WERE A

WHOLE SERIES OF MARCHES THAT

WERE PREPARING TO LEAD UP TO THE

AUGUST 29th MORATORIUM THAT

ROSALIO MUNOZ, BOBBY ELIAS, AND

RAMSES NORIEGA, WHO WERE THE

3 CO-CHAIRS, HAD BEEN ORGANIZING

FOR OVER A YEAR AND A HALF.

THERE WERE OVER 20,000 WHO

MARCHED DOWN WHITTIER BOULEVARD

AND FAMILIES AND KIDS.

SANCHEZ: SO I WAS THERE WITH MY

FAMILY, WITH MY THEN HUSBAND,

CHRIS MARQUEZ, MY MOTHER. I HAD

AN INFANT DAUGHTER AT THE TIME,

SOME OF MY YOUNGER COUSINS AND

MY AUNT.

WEBER: FOR THE BEGINNING

OF THE MARCH AND MOST OF THE

MARCH, I WAS TAKING PHOTOGRAPHS,

WHICH MEANT YOU'RE BASICALLY

MOVING AROUND AND TAKING

PHOTOGRAPHS OF PEOPLE IN THE

MARCH AND CONTINGENCIES. AND

THERE WERE PEOPLE FROM DENVER.

THERE WERE PEOPLE FROM BACK

EAST. THERE WERE ALLIES AS WELL.

THERE, I THINK, WERE SOME YOUNG

LORDS. SO THESE DIFFERENT GROUPS

THAT WERE THERE, IT WAS A VERY

CHEERFUL, FESTIVE MARCH.

[CROWD CHANTING]

AND THAT LASTED UNTIL WE GOT TO

WHAT IS NOW SALAZAR PARK, BUT

WAS LAGUNA PARK, AND PEOPLE

SETTLED IN.

ESPANZA: AND THERE WERE

MARIACHIS AND THERE WERE

FOLKLORICOS AND THERE WAS FOOD,

AND THE FAMILIES

WERE HAVING A GREAT TIME.

CASTILLO: I WAS USING TWO

CAMERAS, ONE BLACK AND WHITE,

ONE COLOR, AND CONTINUED TO TAKE

PICTURES THERE. THE STAGES WERE

OVER THERE IN THE FAR CORNER.

THAT'S WHERE THE BANDS WERE, THE

PERFORMANCES, AND THE SPEECHES.

BUT I WAS HERE WITH SOME OTHER

FRIENDS.

BORJON-LOPEZ: I POSITIONED

MYSELF AT THE ENTRANCE TO THE

PARK WHERE THE MARCHERS WERE

COMING IN, BUT

I STAYED IN THE BACK. I WANTED

TO DOCUMENT PEOPLE COMING IN. AT

A CERTAIN POINT, I DON'T EVEN

THINK HALF OF THE MARCH WAS IN,

I REALLY DON'T BELIEVE THAT,

BECAUSE WE HADN'T FILLED THE

PARK YET, AND THERE WERE

THOUSANDS OF MARCHERS.

RUIZ: SO MOST OF US WERE

GATHERED AT THE FAR CORNER OF

THE PARK ABOUT A BLOCK AWAY FROM

THE SO-CALLED GREEN MILL LIQUOR

STORE, WHICH SUPPOSEDLY 300

PROTESTERS HAD CRASHED THE

LIQUOR STORE AND WERE STEALING

THINGS AND CAUSING ALL SORTS OF

DISTURBANCE. THE OWNER GOT

UPSET, LOCKED THE DOORS, AND THE

PEOPLE WERE BANGING ON THE

DOORS, AND THAT CREATED THAT

SO-CALLED INCIDENT.

[SIRENS]

BECAUSE THE POLICE WERE CALLED

BY SUPPOSEDLY BY THE OWNER, THEY

CAME WITH THE SIRENS BLASTING.

RAZO: APPARENTLY, THE SHERIFFS

DISPERSED THE CROWD, AND INSTEAD

OF DRIVING THAT CROWD AWAY FROM

THE PARK, THEY DROVE THEM TO THE

PARK. SO IT'S OBVIOUS TO ME

THAT IF YOU WANT A

CONFRONTATION, YOU DRIVE THEM

TO WHERE THE PUBLIC IS.

LOPEZ: AND THEN ALL OF A SUDDEN

AT THE OTHER END OF LAGUNA PARK,

WE STARTED TO HEAR AND SEE THAT

THE POLICE WERE RUSHING ON, AND

THEN IT BECAME THIS CRAZY MELEE.

WEBER: AS I WAS TAKING

PICTURES IN THE FRONT,

THEN SOMEBODY CAME

UP AND GRABBED ME AND HE SAID,

"YOU BETTER GET BACK HERE. THE

SHERIFFS ARE ATTACKING FROM

THE BACK." AND I WENT AROUND

BACK AND THERE WAS A SEA OF

SHERIFFS COMING TOWARDS PEOPLE.

RAZO: THEY WERE FIRING TEAR

GAS CANISTERS.

RUIZ: WHEN THE KIDS STARTED

RUNNING, THEY'RE RUNNING AROUND,

THERE'S NO WAY OUT. SO NOW THEY

EITHER HAVE TO TURN AROUND AND

CONFRONT, YOU KNOW, THESE PEOPLE

THAT ARE ATTACKING THEM, WHICH

IS WHAT THEY DID.

WEBER: AND KIDS, AND I

MEAN LIKE 10, 11, WERE TRYING TO

PUSH BACK, HOLD BACK THE

SHERIFFS SO THEY WOULDN'T ATTACK

A SITTING CROWD, THE MAJORITY

OF WHOM WERE NOT AWARE THIS WAS

GOING ON.

LOPEZ: AND THEN WE WERE THROWING

BACK AT THEM THE TEAR GAS

CANISTERS.

BORJON-LOPEZ: AT THAT POINT, THE

SHERIFFS WERE REALLY UPSET AND

STARTED HITTING PEOPLE WITH

THEIR BATONS. THE PEOPLE WERE

STILL TRYING TO PUSH THEM AWAY,

TRYING TO DEFUSE IT SO IT

WOULDN'T GET MORE VIOLENT, BUT

THE SHERIFFS WERE NOT HAVING

ANY OF THAT, AND THEY CLOSED

OFF THE STREETS WITH THEIR

VEHICLES AND THEIR BODIES, AND

PEOPLE HAD NO PLACE TO RUN TO.

THEY TRIED TO GO INTO THE SIDE

STREETS AND THEY WERE MET WITH

THIS FORCE, WITH THE SHERIFFS

WITH THEIR BATONS, AND IT

WAS VERY FRIGHTENING.

WEBER: SO WHAT HAD BEEN A SORT

OF JOYFUL CELEBRATION AND

GETTING TOGETHER OF PEOPLE, ALL

OF A SUDDEN BECOMES A TRAP

BECAUSE YOU'RE BEING ATTACKED BY

THE SHERIFFS.

BORJON-LOPEZ: AND SO I WAS

TAKING PHOTOGRAPHS OF THE PARK

WITH THE DEBRIS ALL SCATTERED

AROUND, SHOES, JACKETS,

INSTRUMENTS, A GUITAR, DIFFERENT

THINGS, AND THEN I THINK IT WAS

JOE WHO TOLD ME, "IT'S NOT SAFE,

YOU NEED TO LEAVE."

WEBER: FAIRLY EARLY ON I

WENT OUT TO THE STREETS TO TAKE

MORE PHOTOGRAPHS AND SOMEBODY

STOPPED ME WHO I KNEW, I DON'T

REMEMBER WHO, BUT SAID, "YOU

KNOW, YOU BETTER GET OUT OF HERE

BECAUSE THE SHERIFFS KNOW WHO

YOU ARE." AND I THINK THEY WERE

ABSOLUTELY RIGHT. I WOULD

HAVE BEEN A TARGET.

SANCHEZ: SO WE SPLIT FROM THE

GROUP. CHRIS WAS TAKING

PICTURES. HE TOOK A PICTURE OF

SOMETHING. WE WERE ON WHITTIER

BOULEVARD AND THE POLICE WERE

COMING IN AND GOT HIM AND THREW

HIM DOWN. AND THEN I TURNED

AROUND AND SCREAMED AND REACHED

FOR HIM, AND THEN THE POLICE

GRABBED ME AND THREW ME DOWN,

AND WE WERE BOTH ARRESTED THAT

DAY. WE WERE PUT IN THE BUS,

HANDCUFFED US TO THE SEATS, AND

MACED US IN THE FACE, AND

LAUGHED AT US, SAID DEROGATORY

THINGS TO US. SO THAT WAS A REAL

TURNING POINT IN MY LIFE.

WOMAN: DO YOUR HELMETS PRESS

INWARDLY, THE WHATEVER BRAIN

YOU MIGHT POSSESS.

DO YOU KEEP THEM ON AS SHIELDS

TO DROWN OUT CRIES AND CHEERS

OF CHICANO WOMEN, CHILDREN,

OF HUMANITY? TELL US, DO YOU

FEAR CHICANO MEN?

CASTILLO: I WAS PHOTOGRAPHING

THE REMNANTS OF THE VIOLENCE. IT

KIND OF REMINDED ME OF AN

AFTERMATH OF A BATTLE, WHICH

BASICALLY IT WAS.

SCOTT: SO THIS IMAGE BY OSCAR

CASTILLO IS ONE OF THOSE IMAGES

THAT REALLY INVITES A CLOSE

READING, BEGINNING WITH THE POLE

IN THE MIDDLE OF THE SCENE, SORT

OF BREAKS THE IMAGE INTO TWO

IMAGES, ALMOST LIKE A FILM

STRIP IN WHICH YOU HAVE THE

POLICE ADVANCING ON THE LEFT

AND SORT OF THE EMPTY SPACE

THAT THEY'VE LEFT ON THE RIGHT.

AND YOU SEE, OF COURSE,

THROUGHOUT THE IMAGE JUST SORT

OF SCATTERED DEBRIS AND THE

FLYERS THAT HAVE BEEN TRAMPLED

AS REMNANTS OF THAT RAID. IT

SPEAKS TO THE WAYS IN WHICH

CHICANOS AND MEXICAN AMERICANS

WERE REMOVED FROM THE CITY,

WERE REMOVED FROM THEIR

NEIGHBORHOODS.

RAZO: THE PEOPLE WERE MAD.

AND AS THEY WENT DOWN WHITTIER

BOULEVARD, I CALLED RAUL OVER

AND I SAID, "LET'S GO DOWN

WHITTIER BOULEVARD AND TAKE

PHOTOS. YOU TAKE ONE SIDE OF THE

STREET, I TAKE THE OTHER SIDE OF

THE STREET, AND LET'S KEEP

OURSELVES VISIBLE ALL THE TIME

FOR SAFETY PURPOSES."

WE CAME DOWN WHITTIER BOULEVARD

THE SAME ROUTE THAT RUBEN

SALAZAR AND HIS CREW HAD COME

5 MINUTES BEFORE.

ESPINO: RUBEN SALAZAR WAS A

JOURNALIST, WRITER. HE IS

PROBABLY THE MOST WELL-KNOWN

JOURNALIST OF THE "LOS ANGELES

TIMES," AND HE WAS ONE OF THE

FEW WHO WOULD ACTUALLY TAKE THE

TIME TO DOCUMENT IN A REAL WAY

THE CHICANA AND CHICANO

COMMUNITY. SO HE REALLY UPLIFTED

THE VOICE OF MEXICAN AMERICANS

AT A TIME THAT THEY WERE FEELING

NOBODY CARED ABOUT THEIR

INTERESTS.

RUIZ: BY THE TIME WE GET TO

THE INTERSECTION OF WHITTIER AND

LAVERNE, I HAD THE SENSE THAT

IT WAS OVER, YOU KNOW, WE'RE

GONNA REST. AND THAT'S WHY JOE

AND I WENT OVER THERE TO GRAB A

SODA.

RAZO: AND I SAID, "THERE'S SOME

ACTION GOING OVER BY THIS BAR."

AND WHAT WAS GOING ON ALLEGEDLY

BY THE COPS IS THEY WOULD LATER

YELL, AND THAT WAS MEN WITH

GUNS HAD GONE INTO THE SILVER

DOLLAR.

RAUL STARTED SHOOTING

ON THAT CORNER. I STARTED

SHOOTING SOMEWHERE IN THE CORNER

HERE. AND THEN LATER ON, AS WE

SHOT A NUMBER OF PHOTOS, THEN WE

CONVERGED.

RUIZ: IF THE ISSUE IS A MAN WITH

A GUN, YOU GOT THESE PEOPLE

HERE, PULL THEM OUT, AT LEAST

THEY ARE NOT IN DANGER ANYMORE.

BUT THEY PUSHED THEM IN. AND

THEY SHOT AND SHOT INTO THE BAR

TEAR GAS, SHOTGUN, A REVOLVER. I

COUNTED THE NUMBER OF TEAR GAS

FIRINGS ABOUT 3 OR 4 TIMES, THEN

THEY TURNED THE CAR AROUND AND

THEY PARK IT RIGHT THERE, THE

SQUAD CAR, AND FROM THERE,

McLAUGHLIN BEGINS FIRING TEAR

GAS IN HERE.

REMEMBER, THE TEAR

GAS PROJECTOR WAS REALLY A

BAZOOKA SHELL. IT WAS SUPPOSED

TO BE USED IN BARRICADED

SITUATIONS. THIS PROJECTILE CAN

GO THROUGH WALLS AND THEN SPEW

GAS ON THE OTHER SIDE. WELL,

THAT'S WHAT THESE DEPUTIES USED

IN AN OPEN DOORWAY WHEN THEY

KNEW IT WAS CROWDED WITH

PEOPLE.

DEPUTY SPARKS GETS OUT OF THE

SQUAD CAR, COMES OVER HERE, AND

KNEELS BEHIND THE POST,

AND HE BEGINS SHOOTING INTO THE

BAR. I WAS EVEN ASKING HIM,

"WHAT THE HELL ARE YOU SHOOTING

AT? THERE'S NOBODY THERE. IT'S

AN OPEN DOORWAY." THEN AND ONLY

THEN DID HE GET INTO HIS

INTERCOM, "YOU IN THERE IN THE

SILVER DOLLAR COME OUT." LATER

ON IN THE EVENING AS WE'RE

TALKING IN THE OFFICE OF "LA

RAZA," YOU HEAR IN THE NEWS THAT

A BAR IN EAST L.A. HAD BEEN THE

SITE OF A CONFRONTATION. AND

IT'S ALLEGED THAT NEWSPAPER

REPORTER RUBEN SALAZAR HAD BEEN

KILLED. AND I WAS SAYING TO

MYSELF, "GOD, I WISH WE--I MEAN,

WE WERE THERE. HOW COME WE

WEREN'T THERE?" I KEPT THINKING,

"OH, MY GOD, I THINK WE WERE

THERE." IT WAS THAT LITTLE BAR,

I THINK, THAT WE SHOT.

RAZO: I SAID, "LET'S DEVELOP

THIS."

RUIZ: WE WENT IMMEDIATELY INTO

THE DARK ROOM AND BEGAN TO

DEVELOP OUR PHOTOGRAPHS, AND

SURE ENOUGH, IT WAS THE SILVER

DOLLAR CAFE.

RAZO: ONCE WE KNEW THAT WE HAD

THE PHOTOS, THEN WE SAID, OK,

WE HAVE TO GET A SPECIAL EDITION

OUT REGARDING RUBEN'S DEATH.

AND WE WERE USING RAUL'S SHOT

OF THE SHERIFF POINTING THE GUN

AND FORCING THE PEOPLE BACK

THROUGH THE DOOR AS THE COVER

OF THE MAGAZINE. LATER ON, WE

HAD A PRESS CONFERENCE,

PRESENTED THEM TO THE PRESS

CORPS.

RUIZ: EVERYBODY WAS THERE, ALL

THE NEWSPAPERS, TELEVISION

STATIONS CAME, AND THEY SAW THE

PHOTOGRAPHY.

RAZO: AND RAUL PRESENTED THOSE

UNBEKNOWNST TO ME TO THE "L.A.

TIMES."

RUIZ: I SAID IT ONLY ONE

PROVISO, I WILL NOT ACCEPT ANY

MONEY FROM ANY OF THIS

PHOTOGRAPHY. ONLY THING WE WANT

IS CREDIT FOR OURSELVES AS

PHOTOGRAPHERS, JOE RAZO AND

MYSELF, AND ALSO "LA RAZA." A

LITTLE TINY, ITTY-BITTY

COMMUNITY NEWSPAPER HAD SCOOPED

THE "L.A. TIMES," AND ALL OUR

PHOTOGRAPHY WAS THERE ON THE

FRONT PAGE, THE SECOND PAGE,

THIRD PAGE, AND IT JUST WENT ON

FOR THE NEXT 3 OR 4 DAYS.

BORJON-LOPEZ: THE REPRESSION

THAT TOOK PLACE AT THE AUGUST 29

MORATORIUM HAD A HUGE IMPACT ON

THE ACTIVISM OF THE

MEXICAN-AMERICAN COMMUNITY. PART

OF THE REASON WAS THE DEATH OF

RUBEN SALAZAR, THAT WAS TRAGIC

REALITY FOR EVERYONE. NOBODY HAD

EXPECTED THAT KIND OF VIOLENCE

TO TAKE PLACE.

SANCHEZ: YOU KNOW, IT DOES HURT

TO THINK OF HOW MUCH THE

COMMUNITY SUFFERED THAT DAY,

BECAUSE IT WAS THE FIRST TIME IN

CHICANO HISTORY THAT MOTHERS AND

FATHERS AND GRANDMOTHERS AND

AUNTS AND UNCLES AND CHILDREN

AND THE WHOLE COMMUNITY CAME

OUT, AND THERE WAS SUCH A SENSE

OF EMPOWERMENT, SO MUCH HOPE

THAT DAY. AND LIKE SAL CASTRO

WOULD SAY, IT WAS A WONDERFUL

DAY TO BE A CHICANO. THE MESSAGE

WAS LOUD AND CLEAR, YOU COME OUT

AND YOU TRY TO DEMONSTRATE FOR

RIGHTS, WE WILL PUT YOU IN YOUR

PLACE.

RUIZ: JANUARY 31, 1971. IT'S

THE MARCHA POR JUSTICIA AGAINST

POLICE VIOLENCE. IT WAS A HARD

PROTEST. IT WAS NO LONGER

NECESSARILY A COMMUNITY EVENT.

IT WAS MOSTLY HARDCORE ACTIVISTS

AND A LOT OF THE YOUNG PEOPLE,

AGAIN, IN ANGER BECAUSE OF WHAT

HAPPENED ON AUGUST 29 AND IN

ACCUMULATION OF OTHER ISSUES.

THEY WANTED TO GO PROTEST ON

WHITTIER BOULEVARD. THEY MET

AGAIN IN BELVEDERE, AND THEN

THEY RAN UP TOWARDS ONE OF THE

SIDE STREETS, ARIZONA. AT

ARIZONA AND WHITTIER, THEY WERE

CONFRONTED THERE BY THE

SHERIFF'S DEPARTMENT THAT WAS

LINED UP.

GARZA: THE DEMONSTRATION TURNS

CONFRONTATIONAL BETWEEN THE

SHERIFFS AND THE COMMUNITY. AND

AT THAT TIME THERE WERE NO

RUBBER BULLETS OR THE USE OF

RUBBER BULLETS. WHEN THE

SHERIFFS SHOT, THEY SHOT.

RUIZ: AND WHAT THEY WERE DOING

IS SHOOTING WITH SHOTGUNS RIGHT

IN FRONT OF THE KIDS. SHOTGUN

PELLETS WERE SHOOTING UP AND

WOUNDING A LOT OF KIDS IN THE

GROIN, IN THE LEGS, IN THE

FEET. THAT'S WHEN I CAPTURED

THAT SCENE WHERE MONTAG, WHO I

THOUGHT WAS A CHICANO KID, HAD

BEEN KILLED.

GARZA: SO THERE'S A SERIES OF

PHOTOGRAPHS THAT I TOOK JUST

AFTER HE GETS SHOT, THEN HE'S

PICKED UP BY SOME OF THE YOUNG

PEOPLE AND THEY ARE CARRYING

HIM ACROSS THE FIELD AND ONTO

THE SIDEWALK. PEOPLE START

GATHERING. HIS LIFE IS

EXPIRING. AND THERE'S AN OLD,

STAINED BLANKET, SARAPE,

AND IT'S COVERING

THE BODY. AND RAUL HAS

THIS MEXICAN FLAG WITH HIM, A

SMALL, LITTLE MEXICAN FLAG WITH

HIM, AND RAUL PLACES THE FLAG

UPON HIM, THINKING THAT HE IS

CHICANO. HE WAS A JEWISH KID,

IMMIGRANT KID FROM THE BOYLE

HEIGHTS AREA OF LOS ANGELES. HE

PASSED AWAY. THAT WAS ONE OF

THE MOMENTS THAT I CAPTURED.

WOMAN: IN LIGHT OF THE

REPRESSIVE MEASURES SUCH AS MASS

ARRESTS AND REPEATED RIP-OFFS OF

LEADERSHIP WHICH HAVE OCCURRED

IN OUR BARRIOS DURING THE PAST

YEAR, A SHIFT IN THE MOOD OF

THE COMMUNITY HAS BEEN NOTED.

ESPANZA: I THINK THAT WE ALL

WITHDREW TO A CERTAIN EXTENT

FROM COLLECTIVE ACTION, FOCUSED

ON WHAT WE COULD DO MORE

INDIVIDUALLY. AND I THINK THAT

WAS SOMETHING THAT NOT ONLY

AFFECTED US, BUT ALL OF THE

MOVEMENTS IN THAT MOMENT.

ESPINO: THE MID-SEVENTIES WAS A

PERIOD OF REFLECTION FOR THE

CHICANA AND CHICANO ACTIVISTS.

SOME WERE AFRAID TO TAKE TO THE

STREETS BECAUSE OF THE POLICE

VIOLENCE. THE POLICE WERE

DEFINITELY SURVEILLING. MANY

FELT LIKE THEY HAD TO GO INTO

HIDING IN ORDER TO STAY OUT OF

JAIL.

ESPANZA: IT WAS NO LONGER A RISK

THAT WE WOULD BE ARRESTED FOR

DISTURBING THE PEACE, A

MISDEMEANOR. THE RISK NOW

BECAME OUR LIVES.

RAZO: YOU WERE TOO BUSY LIKE DON

QUIXOTE STABBING AT THE

WINDMILLS, SAVING THE WORLD,

WHEN IN ESSENCE YOU HAVEN'T

TAKEN CARE OF YOUR FAMILY, AND

SOMETIMES YOU ARE AWAY FROM THE

CHILDREN SO MUCH THAT YOU DON'T

SEE THEM GROW UP, AND THAT'S

DEFEATING THE PURPOSE OF WHAT

"LA RAZA" STANDS FOR, AND THAT'S

LA FAMILIA.

RUIZ: FROM 1971 TO ABOUT 1975,

WE WERE VERY MUCH INVOLVED WITH

LA RAZA UNIDA, ESTABLISHING THE

PARTY, RUNNING CAMPAIGNS. IN AND

OF ITSELF, THAT ABSORBED A LOT

OF TIME, A LOT OF ENERGY AND

RESOURCES. IT DIDN'T NECESSARILY

COME TO FRUITION. "LA RAZA"

PEOPLE BEGIN TO MOVE ON MORE

INTO THEIR OWN INDEPENDENT,

INDIVIDUAL LIVES, WHICH IS ALSO

LEGITIMATE. I BASICALLY CLOSED

THE OFFICES IN 1977. GILBERT AND

PAT GOT MARRIED, WHICH IS GOOD.

LOPEZ: I MET MY WIFE AT "LA

RAZA." SHE WAS ALREADY THERE.

SHE HAD BEEN THERE FOR SEVERAL

YEARS, AND SHE WAS AN ACTIVIST

THERE.

BORJON-LOPEZ: YEAH, WE WERE BOTH

STUDENTS AT THE TIME, BOTH AT

USC, AND EVENTUALLY WE MET, AND

WE'VE BEEN MARRIED NOW FOR 44

YEARS, SO I GUESSED IT WORKED

OUT.

LOPEZ: AND WHEN I LEFT "LA

RAZA," I WENT TO LAW SCHOOL,

WHERE I BECAME AN ACTIVIST WITH

THE SUBJECTS OF DEFENDING

UNDOCUMENTED WORKERS AND

DEFENDING IMMIGRATION RIGHTS.

RUIZ: PEDRO ARIAS, PROBABLY

THE MOST DEDICATED

OF ALL. HE WENT TO

FIGHT IN NICARAGUA WITH THE

SANDINISTAS.

LOPEZ: I AM VERY PROUD OF

THAT PERIOD OF TIME IN MY LIFE.

I'M VERY PROUD OF IT BECAUSE

I MET SUCH GOOD PEOPLE, SUCH

DEDICATED PEOPLE THAT GAVE

EVERYTHING. THEY HAD SKIN IN

THE GAME. THEY GAVE TIME, GAVE

MONEY, GAVE, IN SOME CASES,

BLOOD TO A CAUSE THEY BELIEVED

IN.

NORIEGA: IT'S EXTRAORDINARY THAT

A GROUP OF VOLUNTEERS WERE ABLE

TO DO THIS OVER A 10-YEAR

PERIOD. FOR THIS GENERATION WHO

ARE IN THEIR SEVENTIES AT THIS

POINT, IT'S A REAL QUESTION,

THAT WHAT HAS CHANGED?

BORJON-LOPEZ: IT JUST REALLY

HURT THAT WE HAVE NOT GAINED AS

MUCH AS WE HAD HOPED WE WOULD

FROM THIS MOVEMENT.

WEBER: SOME THINGS I THINK WE

DID INFLUENCE IN CHANGE, AND I

THINK OTHERS WE DIDN'T.

ESPANZA: I THINK THE LEGACY OF

THE CHICANO MOVEMENT IS IN FACT

THAT WE HAVE BROKEN THROUGH.

ALTHOUGH THERE IS MUCH TO BE

DONE, THERE IS NOW AN EDUCATED

CHICANO CLASS--DOCTORS,

LAWYERS, BUSINESSMEN,

BUSINESSWOMEN.

THERE IS NOW A HUGE

NUMBER OF ELECTED OFFICIALS.

LOPEZ: THE WAY I HAD ALWAYS

ENVISIONED IT IS THAT THOSE

THINGS WOULD HELP US AND BE

VEHICLES THAT HAVE PEOPLE IN

POWERFUL POSITIONS TO LIFT THE

REST OF THE CHICANO POPULATION

SO THAT THE DROP-OUT RATES WOULD

HAVE IMPROVED, THAT JOBS WOULD

HAVE IMPROVED, POVERTY WOULD

HAVE AMELIORATED ITSELF. AND SO

MAYBE IT JUST WASN'T THE FACT

THAT WE NEEDED MORE

PROFESSIONALS, BUT THAT WE ALSO

HAD TRAPPINGS OF WANTING TO

BRING PEOPLE FORWARD, TOO, THAT

HAD LESS.

RUIZ: SINCE THE CHICANO MOVEMENT

CAME AND WENT, MORE BOOKS HAVE

BEEN WRITTEN, PUBLISHED, PEOPLE

HAVE BECOME PROFESSORS AND PhDs

THAN ANY OTHER GENERATION. I'M

JUST A LITTLE BIT HAPPY THAT I

WAS A SMALL PART OF IT.

NORIEGA: THE IMPORTANCE OF

REALLY PRESERVING THIS MATERIAL.

IT'S ON THE VERGE OF

DISINTEGRATING. WE'RE LOOKING

AT SOMETHING THAT IS 50 YEARS

OLD, 1968, BUT YOU CAN SEE HOW

FRAGILE THIS HISTORY IS. IT'S

MUCH MORE FRAGILE THAN

NEWSPAPERS FROM THE

19th CENTURY, WHICH HAD A HIGHER

RAG CONTENT. AND THESE DIDN'T,

AND SO THEY'VE YELLOWED AND

THEY'VE CRACKED. AND WHAT WE'VE

DONE IS TO TRY AND ASSEMBLE A

COMPLETE SET SO THAT PEOPLE HAVE

THE ABILITY TO COME IN AND

LOOK AT WHAT WAS DONE AND TO

LOOK AT THE WAY IN WHICH A GROUP

OF YOUNG PEOPLE TOOK UP THE ROLE

OF JOURNALISTS, PHOTOGRAPHERS,

PEOPLE BEING ACTIVE IN THE

POLITICAL ARENA, AND HOW THEY

COMMUNICATED WITH EACH OTHER

ABOUT WHAT WAS HAPPENING.

RUIZ: BY PRESERVING THE

DOCUMENTS, THE ACTUAL MAGAZINES

THEMSELVES, THE NEWSPAPERS,

THE PHOTOGRAPHY, WHAT LITTLE

THERE IS IN RECORDINGS, YOU'RE

PERPETUATING A LEGACY.

LOPEZ: I THINK THE PHOTOS TELL A

STORY OF WHAT WERE THE

CONDITIONS AT THE TIME AND THAT

MANY DEMONSTRATIONS AND PICKETS.

WE SHOW HOW THINGS WERE TOUGH AT

THE TIME THAT STILL EXIST

TODAY, SO IF PEOPLE CAN

TRANSLATE THOSE PHOTOS INTO

SAYING, WELL, WAIT A MINUTE, IF

THOSE GUYS HAD TO PUT THEIR

FOOT IN THE DOOR AND THEY WERE

IMPROVING THINGS FOR US TO HAVE

THESE POSITIONS, WE SHOULD PUT

OUR FOOT IN THE DOOR. THE

INERTIA OF THE MOVEMENT IS

REALLY WHAT PEOPLE DO WITH

THEIR TIME AND HOW THEY PUT

THEIR EFFORTS INTO IT, THAT

THAT'S SOMETHING THAT'S ALWAYS

GOING TO CONTINUE.

BORJON-LOPEZ: WE ALWAYS

ENVISIONED THAT SOMEDAY THESE

PHOTOGRAPHS SHOULD BE IN A PLACE

WHERE PEOPLE COULD COME AND SEE

THAT HISTORY, UNDERSTAND THAT

HISTORY, LEARN ABOUT IT,

BECAUSE THAT WAS LOS ANGELES.

CASTILLO: THE IMPORTANCE OF THE

ROLE THAT "LA RAZA" PLAYED BACK

THEN IS IMPORTANT, BUT I THINK

IT'S MORE SO NOW TO PROVIDE A

HISTORICAL PERSPECTIVE TO

YOUNGER CHILDREN.

SANCHEZ: SO THAT THAT GENERATION

UNDERSTANDS THAT THE ISSUES THAT

ARE OCCURRING CAN BE ADDRESSED.

RAZO: FOR OUR COMMUNITY, THEY

NEED TO KNOW THE GAINS THAT HAVE

OCCURRED AS EACH GENERATION

GOES BY AND WHAT THEY NEED TO

STRIVE FOR AND AIM FOR.

ESPINO: CHICANA AND CHICANO

HISTORY IS PART OF U.S. HISTORY,

AND IT'S AN IMPORTANT STORY THAT

NEEDS TO BE INCORPORATED INTO

MAINSTREAM U.S. HISTORY

NARRATIVES.

SCOTT: A BIG PART OF WHAT THE

"LA RAZA" ARCHIVE AIMS TO DO

REALLY IS ABOUT HAVING A MORE

VISIBLE PRESENCE AND ROLE IN

SOCIETY AND IN AMERICAN

DEMOCRACY.

BORJON-LOPEZ: IT WAS INSPIRING

TO SEE SO MANY PEOPLE WHOSE

WHOLEHEARTEDNESS WAS FOR THE

NEXT GENERATION TO BE BETTER

THAN THEY WERE, TO HAVE MORE

BENEFITS THAN THEY HAD, TO BE

MORE INCLUDED INTO CIVIL

DISCOURSE THAN THEY ARE.

GARZA: TO YOU, THE VIEWER, TO MY

RAZA.

ANNOUNCER: "ARTBOUND" IS MADE

POSSIBLE IN PART BY THE LOS

ANGELES COUNTY BOARD OF

SUPERVISORS, THROUGH THE LOS

ANGELES COUNTY ARTS COMMISSION,

THE CITY OF LOS ANGELES

DEPARTMENT OF CULTURAL AFFAIRS,

THE CALIFORNIA ARTS COUNCIL, AND

OTHERS.