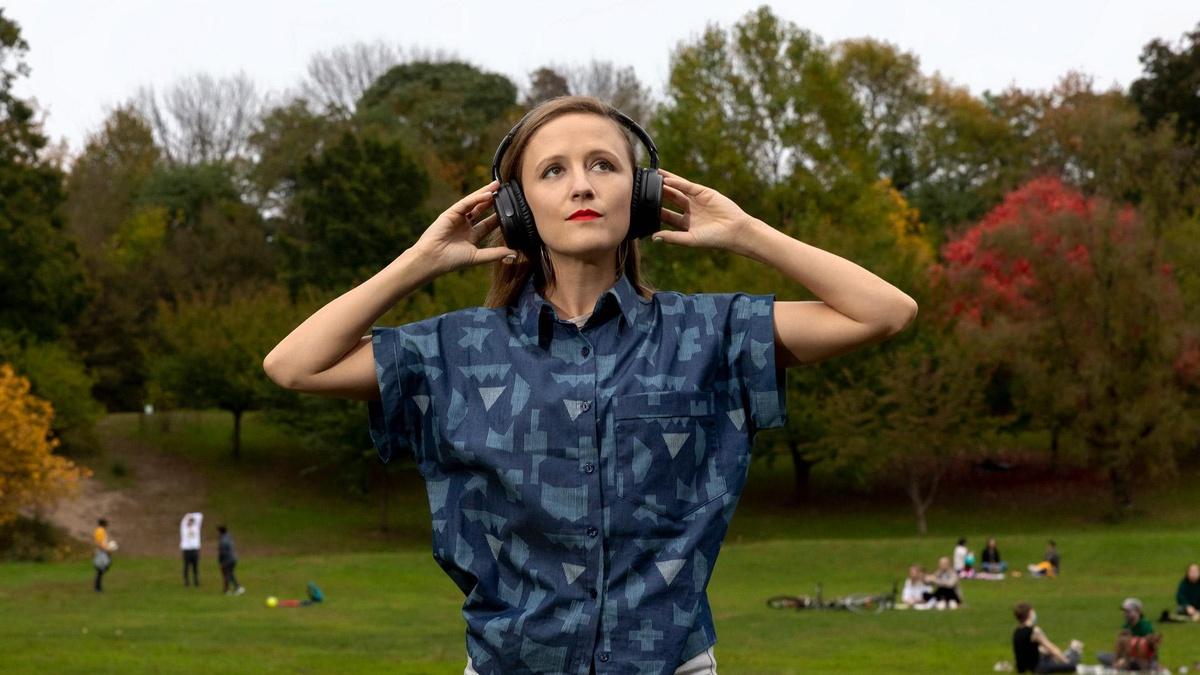 FULL EPISODE
Ellen Reid's Griffith Park Soundscape
In her latest work 'Soundwalk,' Pulitzer Prize-winning composer Ellen Reid has created a GPS-enabled work of public art that uses music to illuminate the natural environment, shaping a walk in Griffith Park into something more extraordinary.
TRANSCRIPT

[music]

-Music does something to us.

It makes us see things differently,

it brings us closer to other parts in our life,

and also thinking about the future.

Soundwalk is a free and open work of public art.

It uses music to illuminate the landscape around you.

I think of the park as my collaborator.

The music brings half, and the park brings half of the experience.

[music]

[music]

We premiered as the first SoundWalk in Central Park.

Right now, we have eight soundwalks all over the US.

Griffith Park was top of my list for doing another SoundWalk.

I love Griffith Park,

it's a special place to me.

It's so beautiful and otherworldly.

When March of 2020 rolled around and all of the concerts were cancelled,

everything was just full-stop, off a cliff,

we took a second and reassessed and realized

that the Soundwalk Project could move forward,

and if it moved forward now, it would have a different meaning.

It felt really exciting to be able to create a full vision at this moment.

[music]

[music]

[music]

Landscapes, no matter what they are, evoke sound for me.

If it's a park, it evokes a certain type of sound,

or if it's an urban landscape, it invokes a different type of sound.

Sometimes, it's about the shapes of the architecture

or about the design of a park.

Sometimes it's about the other sounds that are happening in the places.

Specifically, [?] nature sounds is too limiting,

where I don't even know what that means, honestly.

Soundwalk is in a lot of parks that are in urban landscapes.

What makes Griffith Park

even more powerful is when you look at and you see the city, right?

It's about that play between the nature and the urban.

That's friction,

and that's awesome.

[music]

[music]

[music]

[music]

[music]

[music]

I grew up in Oak Ridge, Tennessee, which is a small town outside Knoxville.

Music is really part of the landscape.

I grew up singing in church choir.

That was something that we started before I can remember.

One of my first connections to music was through singing in choir.

I went to grad school at CalArts, and I really fell in love with LA.

I felt really connected to the city immediately,

and it's been such a rich place to make work.

The center has all of these sound banks,

and I usually start searching for quality of sound.

[music]

There's also arpeggiator, which is really fun.

Let's make it really a lot of octaves, going down.

[music]

[music]

Change the speed.

[music]

[music]

I would write music in my studio

and then I would program it so that I could walk through it

and think about how they can work

based on the different features of the park,

how the paths twists and turns.

Other programs that do this kind of thing,

I found really limiting

because you could only go in one direction,

and this one developer knew how to program

so that the listener could move in any direction,

which is what made all the difference in the world.

The apps that drives SoundWalk is called Ellen Reid SOUNDWALK,

you go to the App Store, you download it

and then you have to download the sounds,

and then when you're in the park,

plug in your headphones, hit start,

and just start walking and it will follow you.

You don't have to do anything.

[music]

[music]

Usually my intention in a concert setting

is to take the audience and take them somewhere else.

You have to grab people with the sound and with this intensity

and take them to this imaginary place of the music.

With SoundWalk, what I was hoping to do was

to bring the listener back into themself

and back into the environment.

I had to walk through all of the different soundscapes myself

to see if they impacted me at all.

[music]

[music]

I'd make map like this

that would convey the big picture of the park,

thinking about how different sections relate to each other,

and how all of it works together.

I would also break down the sections into diagrams like this

that help me think about how it all worked in time and space.

I'd write these little segments of music

that could happen in different ways,

and then try to think about how they would enter in space and time.

[music]

Say, for example, that you go the Griffith Observatory,

there'll be a few different layers of music

that are working together.

I think of it like a kaleidoscope,

there are these different cells of music

that work together to create the full artistic experience of it.

Every time you're there, it's slightly different.

You've turned the kaleidoscope,

the music interacts slightly differently,

and you're in this lush synth bed

that was inspired by the observatory.

[music]

[music]

If you decide to go up the Charlie Turner Trail,

and go into the trees before the Berlin Forest,

the music transitions and plays something,

that is a warm vocal,

that to me feels like it's holding you the way that the trees there feel like.

[music]

[music]

[music]

The sound transitions again to push you up that trail towards the Captain's Roost.

[music]

[music]

The music of SoundWalk is spacious enough

that you can hear your footsteps,

you can hear the nature happening around you,

you can hear the wind in the trees, or a bird calling,

and that was intentional

so that those things, weave into the soundscape.

Your pace changes how the music interacts with itself,

so if you're walking at a slower pace,

then the way the music interacts

is going to slightly different than if you're moving faster.

There's a possibility for each time to be slightly different

and for the music to align

with the different walks in different ways.

[music]

[music]

[music]

[music]

[music]

[music]

[music]

[music]

[music]

It felt really important at this moment

to make something that was free and open to the public,

in addition to having that flexibility of experience.

Soundwalk is going to continue

to be installed in Griffith Park for three years.

These moments of incredible change,

open up possibilities,

and that we're dipping our toes into what's next.

Nobody really knows any more about anything, really.

[music]

[music]

[music]

[music]

-This program was made possible in part

by City of Los Angeles Department of Cultural Affairs,

LA County Department of Arts and Culture

and the California Arts Council.