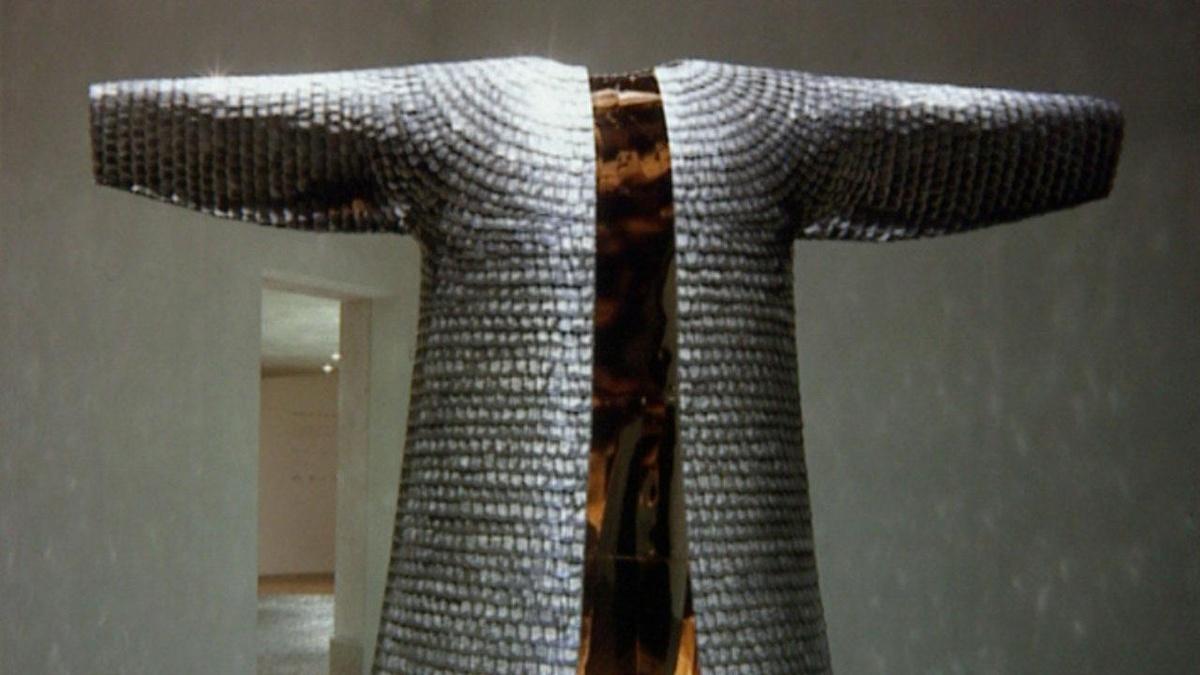 S2 E1 | FULL EPISODE
Stories
Artists tell stories in their work, reveal narrative traditions, and record and describe the world around us. Featuring artists Kara Walker, Kiki Smith, Do-Ho Suh, and Trenton Doyle Hancock, with an introduction by Charles Atlas and John Waters.
TRANSCRIPT

IF YOU WANT TO DO IT AGAIN,

I WILL.

OH, HI, I'M JOHN WATERS.

I LOVE COLLECTING ART BECAUSE IT

MAKES OTHER PEOPLE INSANE.

I FIRST REALIZED THIS DELIGHTFUL

FACT AS AN 8-YEAR-OLD KID

WHEN I BOUGHT THIS

MASS-PRODUCED MOREAUX PRINT

AT THE BALTIMORE MUSEUM OF ART

GIFT SHOP,

AND TOOK IT HOME AND HUNG IT

ON MY BEDROOM WALL.

"THAT'S AWFUL,"

YELLED MY UNSOPHISTICATED

CHILDHOOD PLAYMATES.

"IT'S UGLY, IT'S STUPID,"

THEY TAUNTED.

AND I SUDDENLY DISCOVERED

THE WONDERFUL, EXHILARATING

POWER AND AGGRESSION

OF CONTEMPORARY ART.

I LIKE ART THAT

AT FIRST MAKES YOU MAD.

GOOD ART PROVOKES AND INSPIRES,

IT BAFFLES AND EVEN SHOCKS US --

SOMETIMES WITH ITS BEAUTY,

SOMETIMES WITH

ITS AMAZING UGLINESS.

AS A FILMMAKER,

I'VE WRITTEN STORIES

ABOUT THE FILTHIEST

PEOPLE ALIVE,

SERIAL KILLER MOMS, AND LESBIAN

POLITICAL CORRUPTION.

NOT EVERYBODY LIKES

THE STORIES I TELL.

BUT IF THEY HAVE

A STRONG REACTION,

EVEN IF SOME PEOPLE HATE THEM,

I GUESS I'M DOING MY JOB.

VISUAL ART CAN ALSO TELL TALES

IN MANY DIFFERENT WAYS.

IN THIS PROGRAM, YOU'LL MEET

FOUR VERY DIFFERENT ARTISTS --

TRENTON DOYLE HANCOCK,

KIKI SMITH,

DO-HO SUH, AND KARA WALKER.

YOU CAN FIND

A CONNECTION TO A STORY

IN EACH OF THESE ARTISTS' WORK.

WHETHER AUTOBIOGRAPHICAL,

FICTIONAL,

SATIRICAL, OR HISTORICAL.

AND NOW, WELL,

LET'S GET ON WITH THE SHOW.

Walker: WELL, THE CYCLORAMA,

YOU KNOW

WAS A MAJOR PHENOMENON

IN THE 19th CENTURY.

BUT IT'S JUST BEFORE CINEMA,

YOU KNOW, AND IT'S IN THE ROUND,

SO YOU ENTER INTO THIS ROTUNDA,

IT'S LIT.

IT'S LIKE THE PEAK

OF THE PAINTER'S

CREATIVE ENTERPRISE,

YOU KNOW, TO MAKE THE PAINTING

SURROUND THE VIEWER

AND TO CREATE THE ILLUSION

OF DEPTH AND OF SPACE,

AND TO LURE THE VIEWER

INTO THE FEELING

OF BEING A PART OF THE SCENE.

Walker: MOST OF MY WORK IS --

THE ILLUSION IS THAT

IT'S ABOUT PAST EVENTS,

THE ILLUSION IS THAT IT'S

SIMPLY ABOUT

A PARTICULAR POINT IN HISTORY

AND NOTHING ELSE.

AND IT'S REALLY PART OF

THE RUSE THAT I TEND TO LIKE

TO APPROACH THE COMPLEXITIES

OF MY OWN LIFE

BY DISTANCING MYSELF

AND FINDING A PARALLEL

IN SOMETHING PRETTIER

AND MORE GENTEEL,

LIKE THAT PICTURE OF

THE OLD SOUTH

THAT'S A STEREOTYPE.

I STARTED TO READ THE BOOK

"GONE WITH THE WIND"

AND WAS THRILLED

HOW, YOU KNOW,

ENGROSSING THAT STORY WAS

AND HOW GROTESQUE IT WAS

AT THE SAME TIME.

THE ROMANCE OF IT,

THE STORYTELLING,

IT WAS SO RICH AND EPIC.

AND THAT WAS WHAT

I HADN'T EXPECTED.

I HADN'T EXPECTED TO BE

TITILLATED IN THE WAY THAT,

YOU KNOW, STORIES LIKE THAT ARE

MEANT TO TITILLATE.

IT WAS SO MUCH FODDER

FOR THE WORK

THAT I WANTED TO DO.

THE DISTRESSING PART

WAS ALWAYS BEING

CAUGHT UP IN THE VOICE

OF THE HEROINE, SCARLETT O'HARA.

SCARLETT, IN HER DESPERATION IS,

YOU KNOW, DIGGING UP

DRIED UP ROOTS AND TUBERS DOWN

BY THE SLAVES' QUARTERS

AND SHE'S OVERCOME BY

"A NIGGERY SCENT"

AND VOMITS.

AND IT'S SCENES LIKE THAT THAT,

YOU KNOW, MIGHT GO WASHED OVER

BY THE SORT OF VAST

EPIC STRUCTURE OF THE STORY,

BUT THAT IS AN EPIC MOMENT.

A LOT OF MY WORK

HAS BEEN ABOUT THE UNEXPECTED...

KIND OF WANTING

TO BE THE HEROINE AND YET

WANTING TO KILL THE HEROINE

AT THE SAME TIME.

AND THAT KIND OF DILEMMA,

THAT PUSH AND PULL,

IS THE UNDERLYING TURBULENCE

THAT I BRING TO EACH OF

THE PIECES THAT I MAKE.

THE SILHOUETTE LENDS ITSELF TO

AVOIDANCE OF THE SUBJECT,

YOU KNOW, NOT BEING ABLE

TO LOOK AT IT DIRECTLY.

MY EARLIEST MEMORY

OF WANTING TO BE AN ARTIST,

I WAS THREE,

I WAS SITTING ON MY DAD'S LAP,

AND HE WAS DRAWING

IN HIS STUDIO,

WHICH WAS THE GARAGE OF OUR

HOUSE IN STOCKTON, CALIFORNIA.

AND I REMEMBER

THINKING TO MYSELF

THAT I WANTED TO DO WHAT HE DID.

AND HE USED TO GIVE ME CHALK

TO DRAW ON THE SIDEWALK,

AND, YOU KNOW,

HE WOULD DOCUMENT MY CREATIONS.

WHEN WE MOVED

FROM CALIFORNIA TO GEORGIA,

I KNOW THAT

I WAS HAVING NIGHTMARES

ABOUT MOVING TO THE SOUTH.

YOU KNOW, THE SOUTH WAS ALREADY,

IT'S A PLACE LOADED WITH,

LIKE I SAID, MYTHOLOGY

BUT ALSO A REALITY OF,

YOU KNOW, VICIOUSNESS.

AND IT WAS JUST SUCH

A FRIGHTENING PROSPECT

TO BE SORT OF BORDERLINE

BETWEEN CHILD AND TEENAGER

AND GOING INTO AN ENVIRONMENT

WHERE BLACK KIDS

ARE BEING TARGETED.

STONE MOUNTAIN, GEORGIA,

THIS IS WHERE I DID

MOST OF MY GROWING UP.

IT'S LIKE A MOUNT RUSHMORE

TYPE OF THING

OF THE CONFEDERATE HEROES.

THAT IS PRETTY SIGNIFICANT.

STONE MOUNTAIN WAS A HAVEN

FOR THE KU KLUX KLAN.

SO THAT PLACE HAD A LITTLE BIT

MORE RESONANCE.

IT WAS JUST SO IN YOUR FACE,

THERE WAS NO REAL

HIDING THE FACT.

YOU KNOW, WHAT BLACK STANDS FOR

IN WHITE AMERICA

AND WHAT WHITE STANDS FOR

IN BLACK AMERICA

ARE ALL LOADED WITH OUR DEEPEST

PSYCHOLOGICAL PERVERSIONS

AND FEARS AND LONGINGS.

MOST OF THE PIECES, I GUESS,

HAVE TO DO WITH

EXCHANGES OF POWER,

ATTEMPTS TO STEAL POWER

AWAY FROM OTHERS.

I WAS TRACING OUTLINES

OF PROFILES,

YOU KNOW,

THINKING ABOUT PHYSIOGNOMY

AND RACIST SCIENCES

AND MINSTRELSY

AND SHADOW

AND THE DARK SIDE OF THE SOUL.

AND I THOUGHT, YOU KNOW,

I'VE GOT BLACK PAPER HERE.

AND I WAS MAKING

SILHOUETTE PAINTINGS,

BUT THEY WEREN'T THE SAME THING.

AND IT SEEMED LIKE

THE MOST OBVIOUS ANSWER,

IT TOOK ME FOREVER TO COME TO,

WHICH WAS JUST TO MAKE A CUT

IN THE SURFACE

OF THIS BLACK THING.

YOU KNOW, I HAD THIS BLACK PAPER

AND IF I JUST MADE A CUT IN IT,

I WAS CREATING A HOLE.

YOU KNOW, IT WAS LIKE THE WHOLE

WORLD WAS IN THERE FOR ME.

I'VE ALWAYS BEEN INTERESTED

IN THE MELODRAMATIC,

AND SORT OF OUTRAGEOUS GESTURES.

I LOVE HISTORY PAINTING,

AND THIS ARTISTIC

PAINTERLY CONCEIT,

WHICH IS TO, YOU KNOW,

MAKE A PAINTING A STAGE

AND TO THINK OF YOUR CHARACTERS

OR YOUR PORTRAITS OR WHOMEVER,

AS CHARACTERS ON THAT STAGE...

AND TO FREEZE FRAME A MOMENT

THAT IS FULL OF

PAIN AND BLOOD AND GUTS

AND DRAMA AND GLORY.

THIS WORK IS TWO PARTS RESEARCH

AND ONE PART PARANOID HYSTERIA.

IT'S CALLED "INSURRECTION."

OUR TOOLS WERE RUDIMENTARY,

YET WE PRESSED ON.

AN IMAGE OF A SLAVE REVOLT

IN THE ANTEBELLUM SOUTH,

WHERE THE HOUSE SLAVES

GOT AFTER THEIR MASTER WITH

THEIR UTENSILS OF EVERYDAY LIFE.

AND, REALLY, IT STARTED WITH

A SKETCH OF A SERIES OF SLAVES

DISEMBOWELING THE MASTER

WITH A SOUP LADLE.

MY REFERENCE IN MY MIND WAS

THE SURGICAL THEATER PAINTINGS

OF THOMAS EAKINS.

OVERHEAD PROJECTORS

CREATED A SPACE

WHERE THE VIEWER'S SHADOW WOULD

ALSO BE PROJECTED INTO THE SCENE

SO THAT MAYBE THEY WOULD,

YOU KNOW, BECOME IMPLICATED.

OVERHEAD PROJECTORS ARE

A DIDACTIC TOOL.

THEY'RE A SCHOOLROOM TOOL

SO THEY'RE ABOUT --

I MEAN, IN MY THINKING --

THEY'RE ABOUT CONVEYING FACTS.

THE WORK THAT I DO

IS ABOUT PROJECTION FICTIONS

INTO THOSE FACTS.

I BEGAN TO LOVE

THE KIND OF SELF-PROMOTION

SURROUNDING THE WORK

OF THE SILHOUETTE ARTIST.

YOU KNOW, THEY WOULD HAVE TO

SHOW UP IN DIFFERENT TOWNS

AND ADVERTISE THEIR SKILLS

IN SOMETIMES

VERY OVERBLOWN LANGUAGE

DESCRIBING THEIR

INCREDIBLE SKILLS.

YOU KNOW, ABLE TO CUT, Y KNOW,

IN LESS THAN A MINUTE,

YOU KNOW,

10 SECONDS FOR YOUR SITTING

FOR YOU LIKENESS,

ACCURATE LIKENESSES.

AND I'D ALSO BEGUN TO QUESTION

THIS WHOLE IDEA

OF ACCURATE LIKENESSES.

THE WORK TAKES ON

THIS NARRATIVE STRUCTURE,

CREATES ALL THE ELEMENTS

OF THE STORY.

AND I JUST NEED THE VIEWER,

LIKE AN AUTHOR NEEDS A READER,

TO FILL IN THE REST OF

THE TENSION OF THE STORY.

THIS IS A BOOK I MADE IN 1997

CALLED "FREEDOM, A FABLE"

"A CURIOUS INTERPRETATION

OF THE WIT OF A NEGRESS

IN TROUBLED TIMES."

THE NEGRESS, AS A TERM THAT

I APPLY TO MYSELF,

IS, YOU KNOW, A REAL

AND ARTIFICIAL CONSTRUCT.

EVERYTHING I'M DOING IS TRYING

TO SKIRT THE LINE

BETWEEN FICTION AND REALITY.

IT'S NOT JUST EXAMINATION OF

RACE RELATIONS IN AMERICA TODAY.

I MEAN, THAT'S A PART OF IT.

IT'S PART OF BEING AN

AFRICAN-AMERICAN WOMAN ARTIST.

BUT IT'S ABOUT HOW DO YOU MAKE

REPRESENTATIONS

OF YOUR WORLD

GIVEN WHAT YOU'VE BEEN GIVEN?

Smith: THERE AREN'T

COMMEMORATIVE SCULPTURES

FOR WITCHES.

SO THEN I THOUGHT, WELL,

I WANTED TO MAKE

THESE WOMEN ON PYRES.

THEIR ARMS ARE OUT LIKE CHRIST,

YOU KNOW, SAYING,

"WHY HAVE YOU FORSAKEN ME?"

THEY SHOULD BE IN

ALL THESE TOWN IN EUROPE.

YOU KNOW, SO NO ONE HAS NEEDED

IT IN THEIR TOWN YET, BUT...

BUT, YOU KNOW,

I THOUGHT I COULD HAVE --

YEAH, I'LL JUST

MAKE THEM ANYWAY.

ART IS SOMETHING

THAT MOVES FROM YOUR INSIDES

INTO THE PHYSICAL WORLD.

AND AT THE SAME TIME,

IT'S JUST A REPRESENTATION

OF YOUR INSIDES

IN A DIFFERENT FORM.

BASICALLY, I THINK ART IS --

IT'S JUST A WAY TO THINK.

YOU KNOW, IT'S LIKE STANDING IN

THE WIND AND LETTING IT PULL YOU

WHATEVER DIRECTION

IT WANTS TO GO.

AND, YOU KNOW,

THINGS START SAYING,

"PAY ATTENTION TO THIS

AND MAKE THIS."

I THINK WHEN I WAS IN SCHOOL

IT WAS

VERY DIFFICULT FOR ME

TO LEARN HOW TO READ,

AND SO I JUST HAD TO LEARN

FROM LOOKING AT THINGS.

I A SAW A PICTURE

IN THE LOUVRE OF GENEVIEVE

WITH THE -- SITTING WITH

THE WOLVES AND THE LAMBS.

AND GENEVIEVE IS LIKE

THE SAVIOR OF PARIS.

SO I DREW MY FRIEND GENEVIEVE

AS THE GENEVIEVE.

THEN I CUT UP

AND MADE CARTOONS OUT OF HER.

THEN I MADE SCULPTURES

AFTERWARDS.

FIRST I MADE A GENEVIEVE

WHERE SHE'S JUST STANDING

NEXT TO A WOLF.

AND THEN I MADE "RAPTURE,"

WHERE THE WOMAN'S

WALKING OUT OF THE WOLF.

THIS IS HER RESURRECTION.

I JUST HAVE

THIS INVENTORY OF IMAGES,

AND I CAN START MIXING THEM UP.

AND IF YOU MAKE THEM LIKE

A KIND OF CHARACTER,

THEY GET TO LIVE AGAIN.

THEY GET TO HAVE THIS LIFE

OUTSIDE OF JUST ONE VERSION.

I HAVE ONE STANDING GENEVIEVE.

YOU KNOW, AND I JUST CUT HER UP

OVER AND OVER AND OVER AGAIN.

THEN RECONFIGURING IT AND SORT

OF SMOOTHING THE SMS OUT.

THIS COULD HAVE

A LITTLE BIT OF HEAT,

YOU KNOW,

JUST TO SMOOTH OUT SLIGHTLY.

A LOT OF TIMES,

I GO INTO THE MOLDS

AND JUST MAKE

PAPIER-MACHE SCULPTURES.

AND THEN YOU CAN

CUT THEM UP REALLY EASILY

AND, YOU KNOW,

PUT THEM BACK TOGETHER.

AND WAX IS MUCH MORE

COMPLICATED.

AND WE SPEND, YOU KNOW,

ENDLESS QUANTITIES OF TIME

TRYING TO FIX THEM.

IT WOULD BE MUCH FASTER,

IN A WAY,

JUST TO CAST ANOTHER PERSON

AND REDO IT.

BUT I DON'T KNOW,

IT'S JUST FUNNY TO ME,

TO MAKE IT ALL KEEP COMING OUT

OF THE SAME SCULPTURE.

THEN THIS I'LL MAKE IN ALUMINUM.

AND THEY'LL GO ON THESE

SORT OF WOOD CRUTCHES.

SO IT WILL KIND OF LEAN BACK.

UM, IT WILL LEAN BACK

A BIT LIKE THAT.

AND THEN IT WILL BE ON THESE,

SORT OF FLOATING IN AIR.

TO ME THERE'S SOMETHING

INTERESTING ABOUT SCULPTURE

OR SOMETHING HOVERING

OFF THE GROUND

OR HAVING THIS, LIKE,

A DIFFERENT RELATIONSHIP

TO THE GROUND.

IT COULD BE LIKE THAT.

OR IT CAN BE LIKE THAT.

Man: ABOUT 5 MINUTES.

Walker: OH, THAT'S GREAT.

IT'S GOING TO BECOME A DEAD

WITCH UNDER A PILE OF WOOD.

YOU KNOW, AND THEN I THOUGHT I'D

LIKE ABOUT THE --

THE WICKED WITCH

IN THE "WIZARD OF OZ"

BECAUSE SHE'S UNDER THE HOUSE.

SO I THOUGHT, WELL,

I'M JUST UNDER A WOOD PILE.

WHEN I WAS A KID, MY FATHER HAD

MY GRANDMOTHER'S DEATH MASK.

SHE DIED, LIKE, ABOUT 20 YEARS

BEFORE I WAS BORN.

THEN WHEN MY FATHER DIED,

MY SISTER, BEBE, AND I

MADE A DEATH MASK

OF HIS HEAD AND HANDS.

Woman: DO YOU WANT

TO SIT DOWN?

Woman:

KIKI, SIT RIGHT UP.

Smith: AND THEN WHEN MY SISTER

DIED, THEN I WENT BACK

AND I MADE A DEATH MASK

OF HER HANDS AND HEAD.

AND SO I HAVE, LIKE, THREE

GENERATIONS OF DEATH MASKS.

THAT'S PRETTY GOOD.

WE WERE A LITTLE BIT LIKE

THE ADDAMS FAMILY.

WE LIVED IN THIS BIG HOUSE

AND THERE WAS A GRAVESTONE

WITH OUR NAME

IN FRONT OF THE HOUSE,

AND, UM,

WITH THIS ENORMOUS SCULPTURE

IN THE BACK OF THE HOUSE.

AND, YOU KNOW,

WE WERE REALLY UNPOPULAR.

AND THE KIDS WOULD SAY

I WAS A WITCH.

AND MY FATHER HAD

A BEARD AND A PORSCHE,

AND WE WERE LIKE MORTIFIED,

EMBARRASSED,

YOU KNOW, THAT HE HAD

A CAR LIKE THAT

AND DIDN'T HAVE A BIG,

WOODY STATION WAGON.

WE MADE MOSTLY

PAPER MODELS FOR HIM,

LIKE THOUSANDS OF TETRAHEDRON-,

OCTAHEDRON-FLATTENED MODELS.

AND THEN WE WOULD SIT

AND PUT THEM TOGETHER

AFTER SCHOOL EVERY DAY.

IN MY FAMILY, THERE WAS

ALWAYS A KIND OF MORBIDITY.

MY FATHER WOULD ALWAYS SAY THAT

IT'S IRISH CATHOLIC.

ONE WHOLE PART

OF OUR HOUSE WAS ALL

MY FATHER'S PARENTS' CLOTHING,

ALL FROM, YOU KNOW,

THE LATE 1800s.

AND TEETH, YOU KNOW,

PEOPLE'S DENTURES.

IT WAS ALL, YOU KNOW, LOTS OF

DEATH, DEATH EVERYWHERE.

SO.

YOU KNOW, I SPENT A COUPLE OF

YEARS DRAWING DEAD ANIMALS.

I HAD THIS VISION OF

THAT I WAS SUPPOSED TO MAKE

ANOTHER NOAH'S ARK,

BUT IT WAS OF DEAD ANIMALS.

THIS WAS WHEN MY CAT DIED.

THAT I MADE

ALL THESE SORT OF PIETA,

SORT OF SELF-PORTRAIT PIETA

OF ME HOLDING MY DEAD CAT.

I'VE MADE LIKE 50 BILLION PRINTS

OF DEAD ANIMALS.

THEN I THINK, "HM, HOW COME

I OWN ALL THOSE PRINTS STILL?"

MY BIG INVESTMENT IN MY FUTURE.

OH, JUST CALM DOWN.

VERY EASY TO CATCH.

AH, NO, YOU'RE SUPPOSED TO GO

DOWN, YOU DUMB BIRD.

OH, COME HERE.

I THINK I REALLY LOVE

PRINT MAKING.

IT'S JUST THIS SCRATCHY,

SCRATCHY, SCRATCHY MOTION

THAT I LIKE THE BEST.

Man: THE PLATE IS SO WARM,

IT DRIES THE STUFF RIGHT AWAY.

IF YOU WERE TO UNDERSTAND

THAT THE WAY SHE WORKS,

THIS IS JUST NORMAL,

BECAUSE EVERY FIBER OF HER BODY

IS ABOUT ART.

SHE CAN'T DO ANYTHING

BUT WHAT SHE DOES.

Smith: MY FATHER TAUGHT US

TO TRUST OUR INTUITION.

YOU KNOW, MY MOTHER WOULD ALWAYS

SAY BELIEVE YOUR INTUITION,

THAT ALWAYS YOU GET IN TROUBLE

WHEN YOU DON'T PAY ATTENTION

TO IT.

AND I THINK THAT NOT IN OTHER

ASPECTS OF MY PERSONAL LIFE

OR DAILY LIFE DO I DO THAT,

BUT ALWAYS IN MY ART I DO THAT.

AND SOMETIMES I DON'T LIKE WHERE

MY ART'S GOING OR SOMETHING,

BUT I ALWAYS KNOW THAT --

YOU KNOW, AND I ALWAYS

KIND OF GO LIKE,

WHY DO I HAVE TO BE

MAKING THESE THINGS

WHERE IT'S EMBARRASSING

OR SOMETHING LIKE THAT?

BUT I ALWAYS TRUST THAT,

THAT'S WHAT'S APPROPRIATE

FOR ME TO BE DOING.

AND FOR ME,

I'M JUST TRYING TO HAVE

AS MANY EXPERIENCES AS I CAN

IN SORT OF PLAYING

IN DIFFERENT FORMS.

I LOVE DOMESTIC LIFE.

I LIKE CUPBOARDS

AND BLANKETS AND DISHES.

THE FIRST BLANKET I MADE HERE,

SHE WAS A WITCH

WITH HER CONSORTS OF ALL

HER FAMILIARS, HER ANIMALS.

AND THEN I THOUGHT THIS CAN BE

ANOTHER FEMALE IMAGE

WITH ANIMALS.

I AM A BIG VIRGIN MARY FAN.

CATHOLICISM IS ABOUT

STORYTELLING,

YOU KNOW, ABOUT REITERATING

OVER AND OVER AGAIN

THESE SORT OF

MYTHOLOGICAL STORIES.

DOLLS AND THINGS LIKE THAT

ARE IN THE REALM OF FICTION.

I'LL CARRY THEM AROUND

THEN I'LL BREAK THEIR LEG OFF

OR, YOU KNOW, THEIR HEAD GETS

KNOCKED OFF OR SOMETHING.

BUT NONE OF THAT IS REALLY SEEN

IN THE END AT ALL,

BUT TO ME, THAT'S REALLY

A BIG PART ABOUT MAKING IT.

THIS STUFF MAKES ME NERVOUS

BECAUSE THEY'RE SO SPECIFIC.

LIKE A STORY, I DON'T WANT TO BE

SO DECLARATIVE LIKE THAT.

YOU KNOW, I'D RATHER MAKE

SOMETHING THAT'S VERY OPEN-ENDED

THAT THEN -- LIKE,

IT CAN HAVE A MEANING TO ME

BUT THEN IT ALSO CAN HAVE

A MEANING TO -- SOMEBODY ELSE

CAN FILL IT UP

WITH THEIR MEANING.

OH, IT DOESN'T MATTER.

HI, HOW ARE YOU?

I HAVE NO INNATE ABILITY FOR

DOING THINGS PHYSICALLY

AND STUFF, SO I HAVE TO REALLY

LEARN AND TRY TO DO IT.

AND, UM, AND TO ME,

THAT'S THE PLEASURE IN IT.

A FRIEND OF MINE'S SON DIED,

AND I WENT TO A BAPTIST FUNERAL.

AND I'D NEVER BEEN

IN A BAPTIST CHURCH.

AND ALL THE WOMEN WORE NURSES'

UNIFORMS, ALL THE USHERS.

AND THEY STOOD THERE WITH

KLEENEX BOXES.

AND IT WAS SO MOVING TO ME TO

SEE, LIKE, GOD'S NURSES.

YOU KNOW, THESE WOMEN,

THEY'RE JUST WITH KLEENEX.

LIKE, IT WAS SO SIMPLE

AND SO BEAUTIFUL.

AND I THOUGHT ABOUT SAINTS,

LIKE LITTLE SAINT SCULPTURES

OR SOMETHING LIKE THAT.

AND ALSO THEY MAKE

EACH ONE UNIQUE.

THE MORE YOU MANIPULATE IT,

THE MORE ACTUAL LIFE

YOU PUT INTO IT.

LIKE, I THINK PEOPLE

DON'T LIKE IT IF YOU SAY

YOU DON'T HAVE ANY, LIKE,

LIKE GENETICALLY INNATE ABILITY

FOR MAKING THINGS.

LIKE, THEY GO, "OH, NO,

THAT'S NOT TRUE, YOU DO."

PEOPLE LIKE THIS FANTASY OF,

LIKE, ARTISTS ARE CREATING

OR, YEAH, HAVING THIS, LIKE,

INSPIRATION ALL THE TIME.

AND SO FOR ME, I THINK WHAT I

LIKE ABOUT THE FOUNDRY ALSO

IS IT'S WORK.

YOU KNOW, LIKE, 90% OF IT IS

THAT YOU HAVE TO COME HERE

AND, LIKE, YOU KNOW,

FILE OUT YOUR BAD MISTAKES

AND STUFF LIKE THAT.

OR IT GIVES YOU

THIS ENORMOUS FREEDOM

IN JUST FILING AND DOING THINGS

LIKE THAT FOR HOURS ON END.

LIKE, I ALWAYS KNOW WHAT TO DO.

I NEVER HAVE A MOMENT IN MY LIFE

WHEN I DON'T KNOW WHAT TO DO.

I ALWAYS KNOW THERE'S

SOME FILING TO DO, YOU KNOW.

Suh: ONCE MY FORTUNE TELLER

TOLD ME THAT I HAVE FIVE HORSES.

THAT MEANS THAT I TRAVEL A LOT

SO I'M BASICALLY DESTINED

TO LEAVE HOME

AND LIVE SOMEWHERE ELSE.

I THINK I WANTED TO LEAVE HOME

BECAUSE OF MY FATHER.

HE'S A SUCCESSFUL PAINTER.

SOMEHOW I FELT THAT HIS FAME

OVERSHADOWED ME.

AND I WANTED TO DO MY OWN THING.

YOU KNOW, NEW YORK IS CRAZY.

REALLY, REALLY NOISY.

AND I COULDN'T SLEEP THAT WELL.

AND I WAS THINKING WHEN WAS

MY LAST TIME

TO HAVE A REALLY GOOD SLEEP.

AND THAT WAS BACK IN KOREA.

SO I THOUGHT, LIKE, UM, HOW AM I

GOING TO BRING THAT SPACE.

PHYSICALLY, IT'S IMPOSSIBLE.

SO I CAME UP WITH THIS IDEA

OF TRANSPORTABLE FABRIC.

I WANT TO CARRY MY HOUSE,

MY HOME, WITH ME ALL THE TIME,

LIKE A SNAIL.

MY HOUSE PROJECT,

"SEOUL HOME/L.A. HOME,"

IS THE REPLICA OF THE INTERIOR

OF MY PARENTS' HOUSE.

I GREW UP IN THE HOUSE.

IT'S A VERY TRADITIONAL

KOREAN HOUSE.

MY FATHER BUILT THE EXACT

REPLICA OF THIS FAMOUS

TRADITIONAL BUILDING.

I JUST DIDN'T WANT TO SIT DOWN

AND CRY FOR HOME.

I JUST WANTED TO MORE ACTIVELY

DEAL WITH THE ISSUES OF LONGING.

MY MOM HELPED ME TO FIND

NATIONAL TREASURES.

BASICALLY PEOPLE WHO KEEP

TRADITIONAL TECHNIQUES,

CRAFTSMANSHIP,

AND THINGS LIKE THAT.

THOSE LADIES TAUGHT ME HOW TO

SEW CERTAIN SEAMS.

THERE'S AN EXPRESSION IN KOREA,

"YOU WALK THE HOUSE."

PEOPLE ACTUALLY

DISASSEMBLE THE HOUSE

AND THEN REBUILD

IN A DIFFERENT LOCATION.

SO I HAD TO MAKE SOMETHING

THAT YOU CAN PUT IN A SUITCASE

AND BRING IT WITH ME

ALL THE TIME.

I WAS A ABLE TO DISCOVER SO MANY

THINGS WHEN I WAS MEASURING.

AND THAT WAS A REALLY PERSONAL

AND KIND OF

EMOTIONAL EXPERIENCE.

YOU OFTEN FIND LITTLE MARKS THAT

YOU DID WHEN YOU WERE A KID.

AND THAT BRINGS ALL THE MEMORIES

OF YOUR CHILDHOOD.

AND WHEN YOU GO THROUGH

THAT PROCESS,

THE SPACE BECOMES, REALLY,

PART OF YOU.

I REALLY LF2E THIS IDEA

OF MY ART BECOMES

A PART OF THE ARCHITECTURE.

IT STARTED FROM MY INTEREST

IN THE NOTION OF SPACE,

PARTICULARLY THIS NOTION

OF PERSONAL SPACE,

OR INDIVIDUAL SPACE.

SEOUL IS A VERY CROWDED CITY.

AND ON THE STREET,

PEOPLE BUMP INTO EACH OTHER.

AND, YOU KNOW,

SOMEBODY COULD JUST, YOU KNOW,

HIT YOUR SHOULDER.

AND THAT'S NORMAL.

BUT I REALIZE

THAT'S DIFFERENT HERE.

SO MY PERCEPTION

OF THIS PERSONAL SPACE

HAS, I THINK, CHANGED.

IT WAS JUST FOR ME VERY NATURAL

TO THINK ABOUT

THE INTERPERSONAL SPACE,

THE SPACE BETWEEN PEOPLE.

AND SO THAT'S HOW

THIS IDEA OF AN INDIVIDUAL

AND A COLLECTIVE CAME IN.

I INTENTIONALLY CHOSE THAT POSE.

IF YOU LOOK AT THEIR, AT

THE FIGURES' FACIAL EXPRESSIONS,

THEY DON'T LOOK OPPRESSED.

SO THEIR HANDS ARE LIKE KIND OF

POSITIVE GESTURE.

BUT WHAT THEY'RE DOING IS

ACTUALLY JUST BEARING WEIGHT.

AND I DON'T REALLY MAKE ANY, UM,

STATEMENT ON THAT.

IT'S JUST REALLY

UP TO THE VIEWER.

I WAS ASKED TO DO

SOME PUBLIC SCULPTURE

IN THIS PUBLIC PLACE.

AND I STARTED TO THINK ABOUT

WHAT IT MEANS, PUBLIC SPACE,

AND WHAT'S THE MEANING

OF PUBLIC ART OR MONUMENT.

I TRIED TO RETHINK

THIS WHOLE NOTION OF A MONUMENT.

WHEN YOU PUT THIS

STATUE UP ON ME,

MAKE SURE THAT IS

POLISHED VERY WELL.

I WANT IT TO BE VERY SHINY.

Suh: USUALLY, IT'S

A BIGGER-THAN-LIFE SIZE

INDIVIDUAL,

ILLUSTRIOUS FIGURES.

BUT WHAT I DID

WAS I TOOK IT DOWN

AND MAKE IT SMALLER

AND MAKE IT INTO MULTIPLES.

I JUST WANT TO RECOGNIZE

ANONYMOUS, EVERYDAY LIFE,

PEOPLE WHO PASS THAT SPACE.

FOR ME IT WAS MORE IMPORTANT,

ACTUALLY,

COMING FROM KOREA

TO THE UNITED STATES.

AND THAT KIND OF DISPLACEMENT,

THE CULTURAL DISPLACEMENT,

ALLOWS ME TO COMPARE

TWO DIFFERENT CULTURES.

SO I WAS ABLE TO ACTUALLY LOOK

BACK AND THINK ABOUT

THESE ISSUES OF THE INDIVIDUAL

AND THE COLLECTIVE.

I SCANNED THE PORTRAIT

OF 60 STUDENTS

FROM MY HIGH SCHOOL YEAR BOOK

INTO THE COMPUTER.

AND I PUT MY FACE FIRST,

AND THE REST SUPERIMPOSED

ON THE TOP OF EACH OTHER.

SO YOU CREATED

THIS AVERAGE OF ONE CLASS.

IN A WAY, IT'S A SELF-PORTRAIT.

AND I COLLECT YEARBOOKS

FROM 1917 TO '93,

OR SOMETHING LIKE THAT.

AND I SEE THE SAME FACE

FROM DIFFERENT YEARBOOKS.

SO MAYBE WE ARE NOT THAT UNIQUE.

I WAS CURIOUS WHAT WE SHARE

AND WHAT WE DON'T.

AND HOW THESE SORT OF

INDIVIDUALS CONVERGE.

THE WHOLE KOREAN SOCIETY

IS VIRTUALLY BASED

ON THIS KIND OF MILITARISTIC,

VERY HIERARCHICAL STRUCTURE.

WHEN YOU FINISH

YOUR ELEMENTARY SCHOOL,

YOU ENTER MIDDLE SCHOOL

IN KOREA.

THAT'S PROBABLY AGE OF 13.

AND THEN YOU SHAVE YOUR HAIR

AND THEN HAVE UNIFORM

AND THE CAP.

AND I THINK IT BECAME SOME KIND

OF TRAUMA FOR MOST OF THE KIDS.

AND ALSO YOU WERE CALLED

BY NUMBERS.

NUMBER 37

OR SOMETHING LIKE THAT.

MY NUMBER WAS FORTY...

46.

OKAY.

READY?

YEAH.

KOREANS, THEY ALL HAVE

THIS KIND OF NOSTALGIA,

THIS KIND OF PERSONAL ATTACHMENT

TO THE UNIFORM.

I MEAN, IT'S A FUNNY THING

ABOUT THE UNIFORM

BECAUSE WE HATED

TO WEAR THAT UNIFORM.

IT WAS VERY STRICT.

AND IF YOU DON'T FOLLOW THAT

UNIFORM, YOU WERE PUNISHED.

BUT WE TRIED OUR BEST

TO DIFFERENTIATE

OUR UNIFORM FROM ONE ANOTHER.

FROM THE MOMENT

THAT YOU'RE BORN,

YOU KNOW THAT YOU'RE GOING TO BE

IN THE MILITARY

BECAUSE EVERYBODY HAS TO GO.

SO THAT'S A GREAT DEAL

OF THE KOREAN MAN'S IDENTITY.

I WAS IN THE ARMY

FOR ALMOST TWO YEARS.

IT WAS QUITE AN IMPORTANT PART

OF MY WHOLE LIFE,

AND I THINK IT JUST

COMES OUT IN MY WORK.

I FOUND THIS ARMY SURPLUS STORE,

AND THE OWNER HAPPENED TO BE

THIS OLD KOREAN GUY.

AND HE GAVE A LOT OF

FREE DOG TAGS

AND ALLOWED ME TO USE

THIS SPECIAL TYPEWRITER

TO TYPE DOG TAGS, YOU KNOW,

LETTERS AND NUMBERS.

EVERY MAN TALKS ABOUT THEIR OWN

EXPERIENCE IN THE MILITARY,

YOU KNOW, WHEN YOU HAVE A DRINK,

AND THEY'RE

UNBELIEVABLE STORIES.

I WAS REALLY GOOD

AT MANY THINGS.

I WAS SHARPSHOOTER.

AND I HAD A BLACK BELT

BEFORE THE MILITARY.

AND I COULD RUN REALLY FAST

AND I WAS VERY HEALTHFUL.

BUT THE PROGRAM WAS BASICALLY

PUSH YOUR PSYCHOLOGICAL

AND THE PHYSICAL

TO EXTREME SO ACTUALLY YOU

CAN KILL SOMEONE.

I REALLY SORT OF EXPERIENCED

WHAT IT MEANS TO BE DEHUMANIZED.

SO FOR ME, LIKE, EVERYTHING WAS

SOMETHING TO THINK ABOUT.

IN MY WORK, I CAN LET OTHER

PEOPLE SEE THINGS DIFFERENTLY.

I THINK THIS DESPERATE SENSE

OF DISPLACEMENT

GIVES ME A SPACE

TO HAVE SOME KIND OF

CRITICAL DISTANCE TO EVERYTHING.

♫WHAT DO YOU KNOW

ABOUT JESUS?♫

♫I KNOW HE'S ALL RIGHT♫

♫WHAT DO YOU KNOW

ABOUT JESUS?♫

♫I KNOW HE'S ALL RIGHT♫

♫I KNOW HE'S ALL RIGHT♫

♫HE'S GONNA RETURN ONE DAY♫

♫YES, HE'S GONNA

RETURN ONE DAY♫

Hancock: I GREW UP IN

A VERY RELIGIOUS FAMILY.

THERE WERE SEVERAL MINISTERS

IN MY FAMILY.

YOU KNOW, IT WAS

A SENSE OF COMMUNITY.

IT WAS FILLED

WITH BEAUTIFUL STORIES

AND GREAT MUSIC.

AND THOSE STORIES ARE THINGS

THAT YOU CAN JUST KIND OF

TAKE ALONG IN YOUR POCKET

AND TAKE OUT WHENEVER

YOU NEED THEM.

I THOUGHT I WANTED TO BE

A COMIC BOOK ARTIST,

BUT OVER TIME, YOU KNOW,

I BECAME INTERESTED

IN DIFFERENT KINDS OF ART.

BUT I NEVER LOST THAT LOVE FOR

THAT KIND OF STORYTELLING,

YOU KNOW,

THIS IDEA OF SUPERHEROES

AND THIS

PANEL-BY-PANEL NARRATIVE.

I LIKE TO PICK LANGUAGE THAT HAS

A CERTAIN KIND OF A CADENCE.

AND I LIKE TO PICK WORDS

THAT HAVE DOUBLE MEANINGS,

OR IF YOU TAKE A LETTER AWAY,

IT'LL BE MAYBE EVEN

AN OPPOSITE WORD.

SOMETIMES WORDS EXPLODE,

AND IT'S JUST ABOUT

EACH INDIVIDUAL LETTER.

OH, COOL.

SEE, I'M GOING PUT

MORE COLOR IN THESE,

THEY'RE NOT FINISHED.

THAT, OH,

I WANT THAT ONE.

THAT ONE'S FUNNY.

Girl: WHAT IS IT?

Hancock: MOUNDS ARE THESE

HALF-HUMAN, HALF-PLANT MUTANTS

THAT CAME TO LIFE ABOUT

50,000 YEARS AGO

WHEN AN APE-MAN MASTURBATED

IN A FIELD OF FLOWERS.

HIS HUMAN PARTS ARE COMMINGLING

WITH THE PLANT PARTS.

AND LIKE IT'S STARTING

TO BUBBLE AND BOIL

AND SOMETHING'S ABOUT

TO SPROUT OUT OF THIS MESS.

AND THAT'S THE MOUNDS.

THE STORY COMES TO ME

AS VISIONS.

AFTER I REALIZED

WHAT MOUNDS WERE,

I HAD A LOT OF QUESTIONS

FOR MYSELF.

SO WHERE DO THEY COME FROM?

HOW TALL ARE THEY?

DO THEY EAT?

LIKE, JUST ALL OF THESE

TYPES OF THINGS.

AND IN ASKING A QUESTION,

YOU CAN THEN

ALMOST HAVE, LIKE, AN EPIPHANY.

AND FROM THERE,

YOU JUST KEEP GOING,

AND IT ACTUALLY SNOWBALLS.

AND TO ME THAT'S WHAT

THE VISION IS ALL ABOUT.

THIS PAINTING HERE IS CALLED

"BY AND BY."

AND THIS IS THE LAST

IN A SERIES OF PAINTINGS

THAT ARE ABOUT THE LIFE OF DEATH

OF MOUND #1.

AND HIS NAME WAS "THE LEGEND."

AND THE SKELETON OF MOUND #1

HAS BEEN LEFT IN THE FOREST.

AND ALL OF THE FOREST ANIMALS,

AND EVEN SOME ANIMALS

THAT AREN'T FROM THE FOREST,

HAVE COME TO GRIEVE

AND TO PAY THEIR RESPECTS.

I'VE ALWAYS LIKED

THE STORY OF NOAH'S ARK

AND THE IDEA

OF ALL OF THESE ANIMALS

THAT PUT THEIR DIFFERENCES ASIDE

TO COEXIST IN THIS ONE SPACE.

AND THAT'S KIND OF

WHAT'S HAPPENING HERE.

ALL OF THE ANIMALS FROM AROUND

THE WORLD HAVE GATHERED TOGETHER

TO PAY HOMAGE

TO THIS GREAT CREATURE.

WHEN YOU SEE BLACK AND WHITE

OR WORDS WITHIN PAINTINGS,

IT'S LOID.

AND LOID IS KIND OF

A FATHER TYPE OF AN ENERGY.

AND HE'S ALSO ALL ABOUT KIND

OF BLACK AND WHITE,

THERE'S NO IN BETWEEN.

PAINTER IS A SPIRIT ENERGY

WHO IS KIND OF A MOTHERING TYPE

OF AN ENERGY.

ANY TIME YOU SEE COLORS

WITHIN THE PAINTINGS,

THAT'S AS A RESULT

OF PAINTER'S PRESENCE.

A LOT OF IT COMES BACK

TO MY MOTHER.

SHE IS PAINTER AND SHE IS LOID

WRAPPED UP INTO ONE.

YOU KNOW, SHE IS

THE SMILING FACE OF PAINTER.

SHE IS THE COLOR

THAT YOU GET FROM PAINTER.

BUT AT THE SAME TIME,

SHE WAS STERN.

WHEN SHE SPOKE HER WORD,

YOU HAD TO LISTEN.

SO SHE WAS ALSO LOID.

Woman:

A LOT OF HIS ART, I THINK,

IS WHAT HE HAS SEEN OVER

THE YEARS, OVER HIS CHILDHOOD.

SOME OF THE HURTFUL THINGS,

I THINK.

AND HE WANTED TO GET IN THERE

AND DO SOMETHING ABOUT IT.

AND I THINK HE HAS CREATED

SOMEONE TO DO THAT,

AND THAT HAS BECOME

HIS TORPEDO PERSON.

Hancock: TORPEDO BOY

IS KIND OF MY ALTER EGO.

AND I CREATED HIM WHEN I WAS,

I'D SAY, IN THE FOURTH GRADE.

HE CAN FLY, HE CAN LIFT THINGS.

HE'S A SUPERHERO.

AND HE'S SUPER STRONG,

EXCEPT HE HAS AN INFLATED EGO.

Briley: I THINK EVENTUALLY HE

WILL REALLY FIND OUT

WHO CAN ACTUALLY SOLVE IT ALL.

AND THAT GOES RIGHT BACK TO

HIS ROOTS AND TO THE BIBLE.

Hancock: PAINTER AND LOID,

WITH THEIR SON TORPEDO BOY,

IS A LOT LIKE THE HOLY TRINITY.

YOU KNOW, GOD SENT HIS SON

DOWN TO SAVE THE EARTH.

TORPEDO BOY WAS SENT TO, LIKE,

PROTECT THESE MOUND CREATURES

AND TO DO GOOD THINGS.

BUT TORPEDO BOY

IS TERRIBLY FLAWED.

HIS PRIDE

AND OTHER HUMAN EMOTIONS

GET IN THE WAY OF HIM PERFORMING

HIS DUTIES.

HE LOOKS LIKE ME, HE IS ME.

I EVEN I HAVE A TORPEDO BOY

OUTFIT THAT I WEAR

WHILE I'M PAINTING.

IN THE SHOW,

"IT CAME FROM THE STUDIO FLOOR,"

TORPEDO BOY IS THE PROTAGONIST.

AND WE ARE TAKEN STEP-BY-STEP

THROUGH WHERE HE WAS

WHEN MOUND #1 WAS ATTACKED

AND KILLED.

SO WE GET TO SEE WHAT, YOU KNOW,

WHAT WAS THE HOLD UP,

WHY DIDN'T HE MAKE IT IN TIME

TO SAVE MOUND #1.

IN A WAY, THE SCALE OF THE SHOW

IS KIND OF HEROIC,

LIKE THERE'S A GIANT TORPEDO BOY

"T" PAINTED ON THE WALL.

BUT HE AROSE AND FELL

ALL IN THE SAME SHOW.

IT'S PRETTY PATHETIC.

I TEND TO HAVE AN ENTOURAGE

WITH ME WHEREVER I GO.

NOT NECESSARILY PEOPLE,

BUT OBJECTS.

I HAVE A COLLECTION OF GROCERY

LISTS, PLASTIC TOPS,

AMATEUR PAINTINGS, PHOTOS THAT

I FIND ON THE GROUND.

BALLOONS -- NEVER HAVE

TOO MANY BALLOONS.

THIS BELONGED TO MY GRANDFATHER,

WHO WAS A BUTCHER.

AND I GUESS HE USED THIS TO

SHIELD HIMSELF FROM OFFAL

AND VARIOUS MEAT JUICES.

I DON'T KNOW, I JUST LIKE TO

HAVE ECHOES OF MY FAMILY AROUND.

AND THEN THEY ECHO

INTO THE WORK.

EVEN HERE AT HOME,

I LIKE TO HAVE THINGS

OUT ALL THE TIME.

I'M A BIG TOY COLLECTOR.

AND I'VE BEEN ACTIVELY TRYING TO

PIECE TOGETHER MY CHILDHOOD

BY FINDING ALL OF THOSE TOYS.

IT'S JUST AN EFFORT TO RECONNECT

WITH A TIME WHEN I WAS

JUST A LITTLE BIT MORE OPEN

AND RECEPTIVE TO THINGS.

AND IT'S JUST GREAT TO HAVE

THESE THINGS AROUND ME

AS A REMINDER.

IT'S ALMOST

A DANGEROUS OBSESSION.

LIKE, I HAVE TO GET

ALL OF THE TOYS.

SINCE SOME OF MY TOYS

WERE TAKEN AWAY,

I HAVE TO NOW GET

ALL OF THEM BACK.

I HAD ONE WHEN I WAS A KID,

BUT IT GOT THROWN AWAY, SO.

Woman: SOME PEOPLE PUT THINGS

IN FILES OR FOLDERS

OR STACKS, BUT HE DOESN'T STACK,

HE JUST PILES.

I'M GETTING BETTER ABOUT FILING

THINGS BECAUSE OF HER.

BECAUSE SHE'S ORGANIZED,

SHE CAN DO THAT,

BUT IT'S HARD.

ANYWHERE I MOVE, THESE MOUNDS

SEEM TO MOVE WITH ME.

IT'S LIKE IN MY CAR,

THERE'S, LIKE, A PILE OF THINGS.

THAT'S A MOUND.

IN MY STUDIO, THERE'S PILES OF

THINGS ALL OVER THE PLACE,

AND THAT'S HOW --

I PICK FROM THESE PILES.

WHAT'S HAPPENING WITH THE PIECES

THAT ARE IN THE STUDIO,

I SEE THOSE AS

COLORFUL BLASTS OF ENERGY

OR COMMUNICATION FROM MOUNDS.

THESE VISIONS OF HOPE.

SO IN A WAY IT'S LIKE GOD'S

PROMISE WITH THE RAINBOW

AFTER THE FLOOD.

IN MY WORK, I FEEL I'M FINALLY

BEING ABLE TO BRING TOGETHER

THE WORLDS OF

COMIC BOOK NARRATIVES

AND, UM, THE HISTORY

OF ABSTRACTION.

TO LEARN MORE ABOUT

"ART:21 -- ART IN

THE TWENTY-FIRST CENTURY,"

AND TO DOWNLOAD

THE FREE EDUCATOR'S GUIDE,

PLEASE VISIT PBS ONLINE

AT pbs.org.

"ART:21 -- ART IN

THE TWENTY-FIRST CENTURY"

IS AVAILABLE ON

VIDEO CASSETTE OR DVD.

THE COMPANION BOOK TO

THE SERIES IS ALSO AVAILABLE.

TO ORDER, CALL PBS HOME VIDEO

AT 1-800-PLAY-PBS.