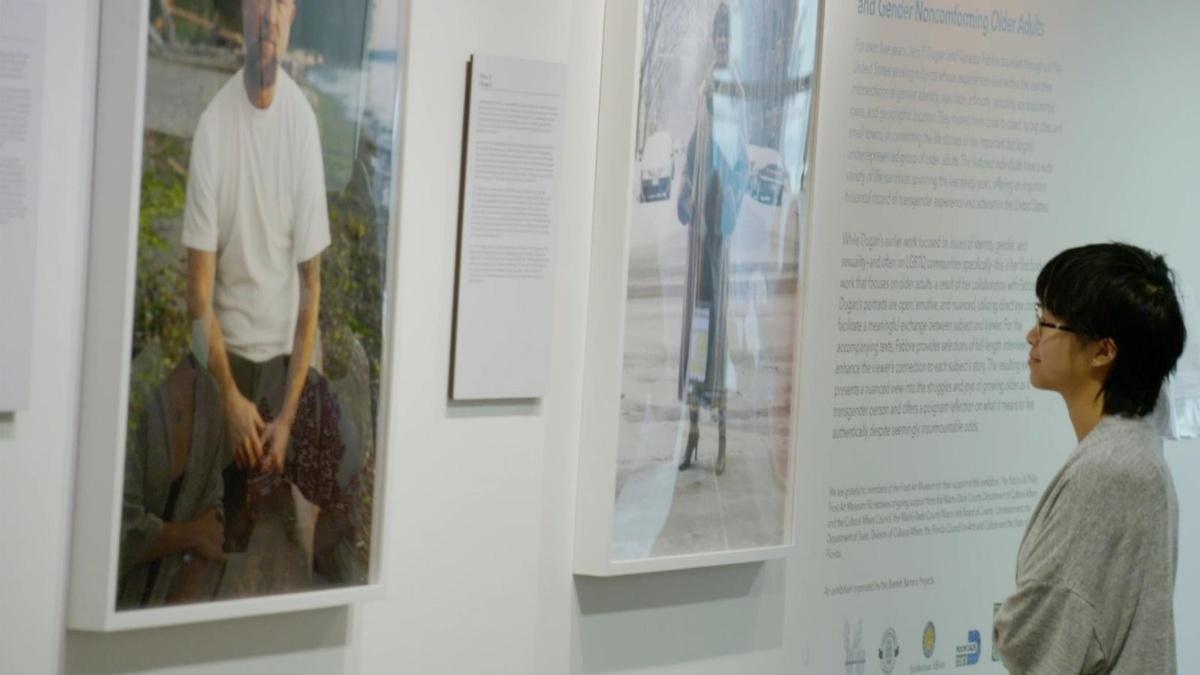 S7 E9 | FULL EPISODE
Interacting with Art | Art Loft 709
On this episode of Art Loft, Jess T. Dugan spent five years photographing and speaking with transgender and gender nonconforming older adults. ARTECHOUSE debuts its first digital installation in Miami, with technology so new, the artists designed it just for their pieces. And former Miss Palm Beach Pride winner, Rihanna Petrone, wears her crown in a new setting, at The Book Cellar in Lake Worth.
TRANSCRIPT

On this episode of Art Loft, Jess T. Dugan spent five years photographing and speaking

with transgender and gender nonconforming older adults. ARTECHOUSE debuts its first

digital installation in Miami, with technology so new, the artists designed it just for their

pieces. And former Miss Palm Beach Pride winner, Rihanna Petrone, wears her crown in a new

setting, at The Book Cellar in Lake Worth.It's all ahead on Art Loft.

[announcer] Art Loft is brought to you by

[announcer] Where there is freedom, there is expression. The Florida Keys and Key West.

[announcer] The MiamiDade County Tourist Development Council, the MiamiDade Department of Cultural

Affairs, and the Cultural Affairs Council, the MiamiDade County mayor, and the Board

of County Commissioners. And by the Friends of South Florida PBS.

Hi, I'm Jumaane N'Namdi, and for arts in South Florida, this, this right here, this is Art

Loft. Photographer Jess T. Dugan set out to reveal the lack of representation for older

adults who identify as transgender and gender nonconforming. In a collaboration with the

Vanessa Fabbre, those photographs and conversations are on display now at the Frost Museum at

FIU. The lives of the people they capture span the last 90 years. We wanna take to that

exhibition and on a tour of the Frost. It has so much to offer. I'll let you in on a

little hot art tip. It's all free.

My name is Jess T. Dugan. I'm a photographer who works primarily with portraiture, and

often, within LGBTQ communities. I'm here at the Frost Art Museum because my exhibition,

To Survive On This Shore, photographs and interviews with transgender and gender nonconforming

older adults is on display in Miami. In this exhibition, one of my missions is to educate

about issues faced by transgender older adults.

Jess is more than on the rise. She's really quite established now as a photographer, who

has very much a humanitarian view of different communities.

I feel that photography is a very powerful storytelling vehicle, and so I often have

my subjects look right at the camera, because I really want the viewer to be engaged in

a moment and a relationship with them, and to be met by their gaze, and have to think

about how they feel being in that situation. I want them to reflect on their own assumptions

about the person that they're looking at, and for the act of viewing the photograph

to be a really energized, engaged one, rather than a passive one. I want them to be in a

moment with them, and look them right in their eyes, and feel this very human connection

that I think makes it very difficult to discriminate against someone or to be hateful towards someone.

If you've really come that close to understanding who they are. I made this project in collaboration

with my partner, Vanessa Fabbre, who's a social worker, and assistant professor at Washington

University in St. Louis and her research focuses on the intersection of LGBTQ communities and

aging, so when we met, we realized we had overlapping interests from working within

the trans communities, and we decided to create this project that had both the portrait and

the interview narrative from each person.

And it is funny, because you know, there's always this conversation in museums about

how much text do you want in your text? You should be looking at the work, but I think

in this exhibition, the stories, they enhance the work of art, they are a necessary component.

The portraits immediately capture people's attention, but the, the stories allow us to

talk about some of the other issues, some of the things like housing discrimination,

or employment discrimination or fear that people have about growing older as a transgender

person, or conversely, joys that they experience or triumphs of their life. One of the subjects

in the exhibition, Justin Vivian, identifies as nonbinary, and she spoke about her decision

to take estrogen being motivated, in part, by wanting to have a medical record of her

transness, because she was worried, if she grew older and lost her ability to advocate

for herself, that she would end up being treated as a man. I met Susie and Cheryl a few years

ago, and it's been really great to get to know them because there's such love between

them, and there's such a groundedness and commitment that I think is amazing.

All we do is go out in public and just be public, you know, don't hide, 'cause we're

proud of who we are. We love each other, we're not interfering with anybody's lives, we just

wanna live our life the best we know how, and to show everybody that it's okay.

Having their story and you know, reading about how they were together before Susie transitioned,

and their marriage has morphed and changed but they're more committed and in love than

ever before is really beautiful and really exciting, and I think it gives a lot of hope

to people who may be struggling with that question. I think there is this focus on youth,

and there's not a lot of representations of transgender older adults, and so, they wanted

to share their stories, and provide a kind of roadmap for what a life could look like

for younger trans folks, who, in most cases, have never seen an older transgender person,

and they've never seen an image of what it might look like to grow older, and so, I was

incredibly moved to the extent to which people wanted to help others, by sharing their own

story.

We are a very inclusive museum. We like to expose the Miami public to all kinds of art

as well as subject matter. We have, of course, a number of exhibitions on view at once, and

they're all quite different from each other, so it's sort of, I like to say, a buffet of

offerings. You never know what you might end up liking. We are the only museum to have

free admission in Miami. We are a university museum, which means we are on the campus of

FIU, and we serve the faculty and students, and greater Miami. We have a collection of

6,000 objects. It's really a treasure trove, and we went through it, to define what we

have. As it turns out, we have a very good collection of Asian art that's rapidly growing.

So on view in our Grand Galleries is an exhibition that explores the Maritime Silk Road, 'cause

people think of the Silk Road as across land, but it was, in fact, of course, many of these

works of art were ship, shipwrecks reveal their treasures, and I'm really hoping, as

the director, that people come and see us as a place where they can come back and enjoy

our collection, enjoy temporary exhibitions, and when they see our collection, know that

we are a collecting institution, and that is part of my ruse here, is to get people

to think of us as a place to donate, you know, really high caliber works of art for our students

and for our community. And I should also point out the building itself, as really, I think,

one of the premier pieces of architecture in Miami, and that's really the first thing

that somebody will notice. The architect, Yann Weymouth, worked under I. M. Pei, and

I. M. Pei's office, so it feels very much like he's been influenced by Pei. It's a beautiful

facility. And we recognize that anybody who walks in here may have no experience with

art museums. You know, you want everybody to feel comfortable here. This should not

be a difficult experience where you're made to feel like you wouldn't belong. We like

to be inclusive in so many ways, and that is really our, I think our unique and special

position in frankly, the world of museums,and certainly, in South Florida.

We love the offering at the Frost, and those photographs from Jess T. Dugan. They really

gave us an intimate look into people's lives. Here, in this exhibition, Terence Price II

is also giving us a personal look into his neighborhood. Let's find out more about his

photography. I'm here with Terence Price II. Where you from?

[terence] I'm from Carol City, which is known as Miami Gardens now.

Okay, well, tell me a little bit about your photography. So do you kinda document your

experiences, your life, your friends? Whatare you really working towards?

Mostly, document my experience amongst my community, so the type of photography I do

is called street photography.

Okay.

And basically, what I do is I document the human condition.

[jumaane] So is this exhibition, do the piecespan, how long do they span?

[terence] The piece in here span for about four years.

When you started your photograph, were people like, man, put the camera down, you get out

of my face?

Yes. Dealing with a lot of family, and when I'm in the streets, you know, it's like, it's

kinda like a roll of dice type of thing. Some people are welcoming, some people are not

welcoming.

[jumaane] Everything's black and white, mostly,or do you do color as well?

[terence] Sometimes, I do color, but mostly black and white.

That's kinda your thing?

Yeah, I feel like black and white, it speaks louder to me. Usually, a lot of colors makes

the image a little bit distracting.

Right.

Because I feel like, everybody is attracted to a certain color more, so it distracts them

from what's going on in the entire image.

ARTECHOUSE has opened in Miami. It's a new kind of gallery that unites art, the science,

and technology. Now there, there is no Do Not Touch signs. Visitors are encouraged to

interact with all the artwork. Their inaugural installation is by French artists, Adrian

M and Claire B and it explores the 4th dimension of time. Check it out.

My name is Lena Galperinia. I'm the Visitor Experience Director at ARTECHOUSE. ARTECHOUSE

is an innovation art space dedicated to showcasing artists who use technology to create and what

we wanna be is a space where artists can explore and our visitors can get to know this new

medium. What the artists of the 21st century are doing is they're using the tools at their

disposal, so Adrian and Claire are the artists that, at this time, we're sharing with our

audience. In this case, you know, the artists are using projections as a source of light,

as well as actual physical frames and the hardware like computers. They're using 3D

cameras to be able to see where a person is, and capture their movement, and they're using

their own software that they've created. XYZTC Abstract Landscapes takes root in nature.

The artists spend almost two years just outside, and observing how living things move, what

the tree looks like in sunlight as the wind blows through the leaves, what it looks like

when birds fly together in the sky, and how it almost seems impossible that they're not

crashing into each other, but they're moving in this beautiful pattern. They're able to

give their digital work such a living quality, where these pieces feel like they're living,

they're breathing, and the movement is very natural. You know, the artists created an

environment that has an invitation, it's inviting everyone to come in and bring themselves,

to bring their interests, to bring their experiences, and their own creativity. Sometimes, you almost

feel like you're experiencing senses that you're not experiencing, so because it's so

organic and it makes you feel like you're almost like in a living environment like a

forest, or some people say they feel like they're submerged underwater, through your

memory, it might make you remember smells of that environment, or it's, you know, even

if you're not touching something, it might feel like it's a delicate thing, and it gives

you that sensation, and I think it's the combination of visual and auditory stimuli really can

create an experience that's very immersive. So we're standing in front of Shifting Clouds,

and it's an experience that takes shape of your body. This installation also follows

you. The movement that you see in the piece is actually inspired by the movement of bees

or birds, as they all fly together in unison. We're standing in Abstract Landscapes. The

artists wanted to give people a small performance, where your body and your presence awakens

the art around you. And right now, we're actually transitioning from the first sequence, which,

as you saw, was letters. It has a bit more of a sensory environment experience as they

move around you, to one of the interactive sequences, which I have named the fireflies,

but in this part, as these little dots come up, your presence will be able to move them,

and affect them, and it's this element of how your body is able to express emotion and

ideas through motion. So when I step closer to the piece, I'm able to control the installation

and the environment around me. And it's something that depending on if you make a bigger motion

or if you're kinda have a more tentative motion, you're able to really control the overall

installation and be playful with it. Each of these pieces can be experienced one on

one, where you have a very direct contact with it because you're essentially, through

the sensor, the piece is observing you. Typically, you know, in this space, up to three other

people could join us, and then, it plays a little bit differently, because then, the

installation sees three different, essentially human bodies in this space. When I walk into

this field of vectors, immediately, my presence changes its state of being, so I think that's

something to keep in mind, in terms of our, as human beings, we interact with our environment,

whether it's the natural environment or our social environment, but you know, every action

has a reaction, has an effect. There are also two pieces that also use touch, in which case,

it's a very tactile sensation, versus taking a step back and moving with your body. The

Letter Tree is the one piece in this entire exhibition that does not have sensors, so

in effect, it can't see you, but I think that doesn't take anything away from its impact.

It's actually a beautiful piece to contemplate, spend time with, and just can be very meditative,

and it's a tree that is, it comes to be, it writes a poem in the wind, and then it goes

away. It's constantly creating and it's outputting this creative energy into the world, and that's

something beautiful to behold, and to me, as somebody who tries to paint more, is a

nice reminder that just keep creating, keep doing, and something beautiful will come out

of it. There was a period of months and years, where Adrian was actually working and developing

the software, of course, testing, even coming up with things like the physical structure

of the pieces and how do you create this experience? What is the scale that you do it on? All of

these things were taken into consideration, and it took them years to make, and then,

the beautiful thing about working with technology, you know, if you do a painting, for example,

you finish the painting, and it's done, so even as it's being shown in different locations,

it's still the same piece, it's just being moved. With technology, what artists do, and

Adrian and Claire are part of that is with each experience, as more and more people interact

with it, they're able to tweak it, they're able to learn from the interactions, they're

able to enhance it. It's beautiful to have somebody who's five years old, that has always

lived in a world of digital technology be in their space with their grandparents, who

grew up with a lack of digital technology in their everyday life, but still see them

be playful together, and experience an environment together, and I think that's the beauty of

the direction in which art is heading, and this new medium is really empowering artists

to go is to create an experience that's not passive, but very active, where people can

really engage with it, and bring themselves, and what they put into it really magnifies

what they get out of it.

ARTECHOUSE will continue to bring the latest in digital technology art, as they continue

to introduce new exhibits. Now, artist Terence Price II is also using video as part of his

installation. Let's check it out. Now I know you have a couple videos here. Tell me a little

bit about the one that has your grandmother in it?

Yes, that piece is called Take Your Time.

Okay.

And what I did was I went through all my family archives or photos that she really didn't

know that we had.

[grandmother] You found this picture?

Mmhmm. So I kind of put a slideshow together, and I let her know that I was recording her,

and I wanted her to tell me about each photo.

[grandmother] You really found a lot, them pictures?

But she was like, going through the images, she got some of them wrong, but we all did

it one take, so.

Oh, nice.

And that's that mix.

Rihanna Petrone says she wishes that there were events like Drag Story Time when she

was a kid, hosted by Compass and The Book Cellar Lake Worth, we take you to an inclusive

event for adults, kids and teens, check it out.

My name is Rihanna Petrone. I'm a female illusionist in West Palm Beach, Florida. I'm here at The

Book Cellar in downtown Lake Worth, to read to children. This is my first time, I'm a

little nervous, but okay, it's okay. I'm gonna do a little book for you. This is gonna be

The True Story of the Three Little Pigs. This sort of thing was taboo when I was a kid.

You know, I never saw drag queens when I was a kid, I didn't see my first drag queen until

I was 17. And that was at a drag show in West Palm. I would've definitely enjoyed something

like this as a kid, definitely. Everybody knows the story of the three little pigs.

Or, at least, they think they do. I think it'll be interesting for the kids, and this,

I think, the 3rd time they've done this, so a lot of the other queens said they had a

lot of fun doing this, so I'm excited. I want youth to understand what type of, there's

other things out there, other than just, you know, your daily life. There's men that dress

up in drag, and perform and dance, and read to children, in this case. Wolf's honor. Little

Lady Gaga thing there. I've doing drag for about 12 years. Professionally, about 10.

I actually do this for a living. I don't have a regular, like nine to five job. It's more

like 9:00 til 5:00 in the morning. I do multiple shows throughout Palm Beach, Broward, and

MiamiDade counties. A lot of drag brunches, which are a lot of fun for people. I also

host my own show, actually, across the street from here, on Wednesday nights, called Propaganda

Dug Rocks. The performance is actually my favorite part, and then makeup would be second.

I am now a former Miss Palm Beach Pride. Miss Katalena Davenport Depree won, and we're very

excited what she's gonna do this year. My giveup was amazing. I had so many, so much

love and acceptance and joy in the room, it was wonderful. That's it. The real story,

I was framed. But maybe you could loan me a cup of sugar? Now does anybody have any

questions for me as an entertainer or as a person?

[woman] I've seen them do makeup on TV, and I know you didn't just throw it on. How long

does it normally take you?

Oh, to do my makeup is about an hour.

[woman] Yeah, yeah.

Hair

It looks fantastic.

Hair and body and all the rest, that takesabout another 30 minutes.

[woman] It looks fantastic.

Thank you.

[woman] What advice would you give to a youth or a teenager or a young adult that think

they may wanna also go in the same area that you're going into?

Practice, practice, practice. Yes, YouTube videos are great. They're a great way to learn

how to do makeup, but the best way to do it is take your, focus on the music. 'Cause the

music is actually what you're actually portraying.

So do you have any advice for any young kids that are trying to come out as LGBT? Loaded

question, I know.

Yeah, it's a loaded question. I mean, I came out when I was 18. I waited, just to save

myself the heartache, but I believe you should be who you are, no matter what, no matter

the bullying, no matter the ridicule from faimily or friends, which they're not your

friend if they don't like that. Be who you are. Come out, show the world, and be exactly

who you should be. 'Cause I did. And now I dress in drag and look like a woman. We

like to We like to We like to set this place on fire We like

to We like to We like to set this place on fire It's an emergency

This place is going up in flames Everybody's on the dance floor going insane

I've actually been opened up with wide arms, to say the least. Compass has supported me

for many, many years. I'm also a part of the organizations in Fort Lauderdale and Miami,

so I do a significant amount of traveling, so I, honestly, I think children watch me

is another feat, I guess. I mean, I see children at Pride and stuff, 'cause that's one of the

only parts of my job that I get to perform for children, so I do enjoy it very much.

Oh, oh, oh, oh, oh Oh, oh, oh, oh, oh Oh, oh

It's a little bit of a dream, and I'm glad I get to do it.

You could check out Rihanna Petrone on her Facebook page, as well as the Compass Community

Center, and The Book Cellar Lake Worth always has events on their website. Now let's get

back to our interview with Terence, and his awesome residency and his life. The exhibition's

entitled, Dancing in the Absence of Pain.

The idea behind Dancing in the Absence of Pain is that we know a lot of communities,

especially here in Miami are starting to disappear, and also, we have a lot of shooting, a lot

of gun violence, a lot of trauma that's been going on, and I feel like the opposite of

pain, of course, is joy, so these moments in these pictures that I'm capturing, these

are the little fragments of happiness, and the joy that I feel when I'm capturing these

images, so it relates to, like what would the world be without pain type of thing? And

these moments that I'm capturing, that's the dance and the movement.

This has been a great episode, we really got to tap into a lot of artists' experiences

through photography and video. You know, connect with us @artloftsfl, you wanna hear more about

these awesome artists, and I have the pleasure of being here with Terence Price II, thank

you very much. It's an honor to be here atyour exhibition and meeting you.

Nice meeting you.

[jumaane] Tell us how we can learn more about you, and follow you.

[terence] You can check me out on Instagram,@mxlawkii, and my website.

All right. Well, for Art Loft, I'm Jumaane N'Namdi. Now remember, art imitates life,

so do what?

Live a beautiful life.

Peace. That's my man, all right, later.

We are standing in front of Anamorphosis in Time. The key piece is that the installation

plays with a T, or time. My head is actually four seconds ahead of my feet, there's a four

second distortion along the Y axis.

[announcer] Art Loft is brought to you by

[narrator] Where there is freedom, there is expression. The Florida Keys and Key West.

[announcer] The Miami-Dade County Tourist Development Council, The Miami-Dade County

Department of Cultural Affairs, and the Cultural Affairs Council, the Miami-Dade mayor, and

the Board of County Commissioners, and by the Friends of South Florida PBS.