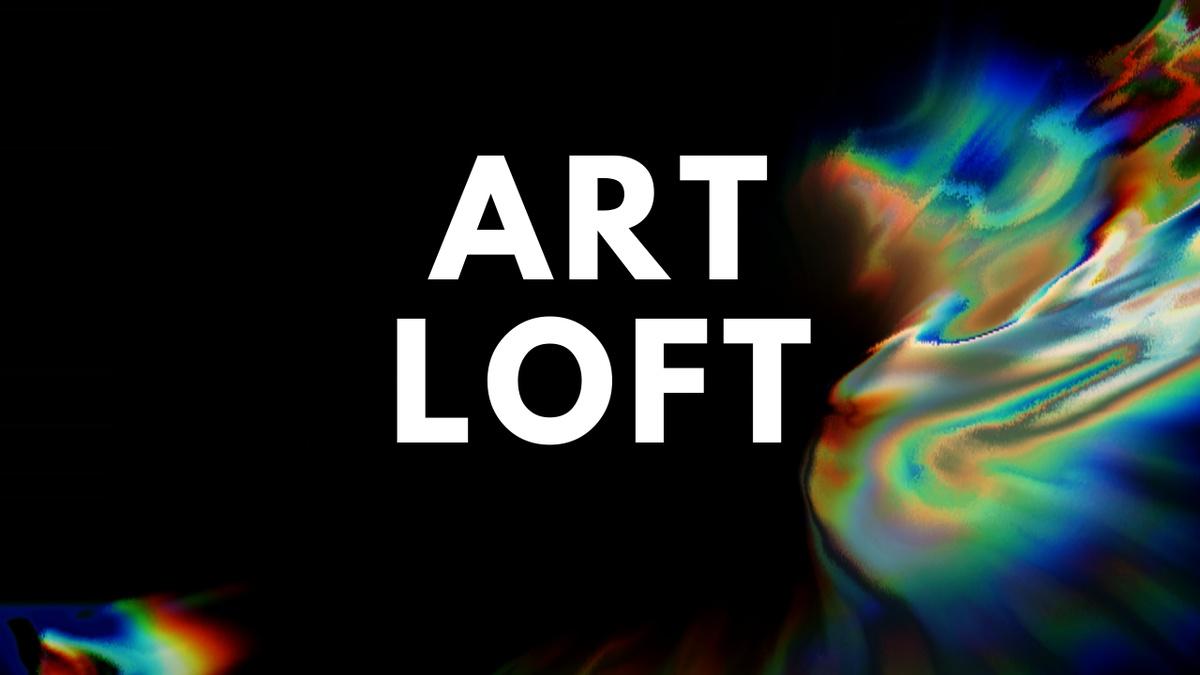 S9 E10 | FULL EPISODE
Season 9 Finale | Art Loft 910 Episode
In our season 9 finale, the art is big, bold, and immersive…and it makes a statement.
TRANSCRIPT

[female voiceover] Art Loft is brought to you by,

[male voiceover]

Where there is freedom, there is expression. The Florida Keys and Key West.

[female voiceover] The City of Coral Gables and the Friends of South Florida PBS.

[announcer]

In this episode, Art Loft Season Nine Finale. The art is big, bold, and immersive

and it makes a statement.

Here, I wanna show you something. My name is Natasha Tsakos and I am,

Are you ready? A Show maker.

I went to New World School of the Arts for college. I've realized very quickly is that I,

I didn't want to just be an actor. I wanted to tell my own stories.

I was excited about the potential of theater, but not so much about its execution at the moment.

[woman] I create things that do not exist yet.

Meanwhile at New World, I was performing in nightclubs and performing in the streets to

support myself. When you're a street performing or when you're interacting, this level of interaction

you are sharing a magic moment. And so all these worlds sort of collapsed and coalesced naturally,

right? The club culture elements came in and the rawness and the interactivity from the streets,

the classical training.

And so I think naturally when I graduated, I realized, well I wanna write my own

shows and I start doing that. And the result was so rigid and linear. Whatever I was imagining was

shapeshifting. It was like a drug trip. I don't do drugs, but I feel like I naturally trip. And

I feel like that is how I want to express the stories and the journeys that I want to share.

As I realized that I didn't wanna produce the shows, those linear rigid shows.

I had this epiphany and realized the words were the very problem, because the words grounded us

in the literal, instead of lifting us up to another level and that is what's interesting.

So I stripped the words from the equation and I said, "Well where do I go from there?"

So I started doodling, literally my next story and the doodles took

form and one doodle and next, and the next, and the next, and the next. And then I suddenly had

an adventure. I had a journey. I had a story.

Upwake tells the story of Zero, who is a modern day toon character. Going to work with his life

in a suitcase stuck between dream and reality and not able to make altitude. And it's definitely a

commentary on the modern day life in a way. I want it to make it dynamic. And I wanted

drawers to open and crazy things to come out. And I want it Zero's co-workers to be headless,

of course because Zero while he's always dreaming is the only one who has his head on his shoulder.

And then making his way to a ginormous, almost like what is now a data room, right?

A folders and files where all these headless men come out of books. And then of course he has to

scan himself because we know we need to be more than one in order to do anything these days.

We're living the literal life, all of us. The unliteral is so much more the abstract,

right? It's so much more interesting. And that is sort of the realm in which I like to live in.

The story always comes first and then the technology needs to support

that process. But then there's a feedback loop because as we then start to go into production,

technology will also inspire possibilities that I might not have thought of.

I'm not trying to do anything with the stage, I'm trying to do something to people

and that leads me to Humanode, which is what I've been working on for four and a half years

nearly. So I went to a program called Singularity University based in NASA and Moffett Field,

California. We are tasked to come up with an idea that will positively impact the lives of a billion

people. How can we convert the emotions and energy generated during a show into tangible actions

that have positive impact and then scale that. Humanode tells the story of the last human brain

kept captive in a surreal scientific traveling show led by a demented headmaster. And tonight

the brain escapes into people's phones as it tries to make sense of the world.

We're going through this extraordinary ride. Ride that highlights and raises awareness on

some of the most important causes. And then at key moment, your phone is being triggered to

do something about it if you wanted to. You'll actually get to donate sign petitions. It will

be a live, epic production when the time is right, but it can also be an interactive reality movie.

I'd push the envelope by asking "what now, what next? and what if?"

[woman] Expanding and accelerating. I am... Imagination.

[announcer]

Head to NatashaTsakos.com for even more and how she stages impossible dreams in the real world.

Most of the pieces I find in public art, you see something new and different every time.

Catherine Cathers, Arts and Culture Specialist for the City of Coral Gables. Coral Gables was

founded on the arts and many of the pieces of the infrastructure for the City were designed

by artists. Miami-Dade County actually has one of the oldest Art in Public Places Programs in

the country. And following in their footsteps, the City of Coral Gables was starting to do a lot more

development and so they decided to adopt their own Art in Public Places Policy in 2007,

which went into effect in 2010. One of the most popular Art in Public Places pieces that we have

is a sculptural piece called Old Shoes. And that is by the artist Hector Lambada, he's from

Cartagena, Colombia and the pieces developed from a poem. Many of our early works were donations. So

not only the sister City pieces like the Old Shoes but also pieces by a prominent artist, Jean Ward.

All of the artworks that we have in our collection you can view 24/7 wherever they are.

So Alice A. Cox piece was the first artwork that we were able to have access into Art

Basel in Miami beach. That led us to our next piece, which was by Carlos Cruz Diaz, another

world renowned artists who did the design of the painted crosswalks that are in front of City Hall.

Giralda Plaza was one of those happy accidents, happy moments where doing overhead artwork and

installation was not part of the design of the Plaza but as the trees were growing up

and we had these open especially on either end of the Plaza, we saw it as an opportunity to

incorporate art and immersive experiences like the Umbrella Sky Project.

When we have the opportunity to work with Kiki Smith for Blue Night piece which is consisting

of 42 drawings of constellations. That particular piece can also be experienced through an augmented

reality application where you see Kiki's drawing itself and then the lines for the constellation

show up at the same time. You can put it in the sky and try to line it up that way.

The majority of the people that are viewing the works and experiencing it

are the people that are passing by. So whether they're residents that live nearby and they see

it every day or they're visitors that are just passing through it becomes part of the

fabric of the community itself. And actually the piece here, A Midsummer Night's Dream,

you may not notice it when you're passing by but then you glance over your shoulder

or as you're approaching it and it has that very much of an Aha effect.

For us, each and every one of our pieces is to be a place of encounter. Rosario likes

to call it an Eastern landmark at the same time. So our pieces kind of double

as Eastern landmarks and places of encounter. And because of that we like to call

our artworks kind of social sculptures because they're meant to bring people together.

The pieces are meant to be used by the people and the people are the owners of the piece.

In this case for us it was important to bring a piece of home outdoors. We make the piece very

familiar, if you wish. It's something that we have seen on the one hand but at the same time,

it's quite extraordinary. He's like a frozen memory in stone and being coralled

in stone the sulfur is actually made of Coral Gables. So for us, this is one of our...

Most site specific pieces that we have ever done.

pieces ever. Yeah. Together with a history of Coral Gables where the

fantastic has always been part of somehow everyday life. The Venetian pool. The piece

is pretty much part of that very tradition of the fantastic as part of everyday life.

The fantastic becoming part of everyday life, the tree-

Oh, yeah.

The sofa and the tree are one,

are one.

So Illuminate Coral Gables started years ago when the mayor first started talking about the idea

of adding more light and light-based artwork to the City. And there's a wide variety of artworks

in the exhibition. So everything from large scale projection works to pieces that are more subtle.

The City of Coral Gables is founded on the arts

and has been important to our past history and is equally important to our history moving forward.

We're continuing to expand the collection and continuing to seek out artists and develop

opportunities that we have as a City itself and with our private developers.

[announcer] For more information visit CoralGables.com/ArtinPublicplaces.

Adriano Berengo wanted to start this project where you make it relevant

to the contemporary world again. By bringing contemporary artists who are not glass artists

to work in a new medium and work with these maestros who have...

They're generations of experts, these people know everything there is to know about glass.

The artist as certainly we have seen this last year have responded to contemporary events.

Tim Tate's work that is really about the pandemic.

[kathleen] This is his second pandemic because he's an HIV positive artist,

but he did go through. So many people dying of AIDS.

The whole idea of Glasstress is endemic from the very beginning,. From the very concept something

that was born of fire and becomes this amazing object that is at once fragile but also there's a

durability about it. There's a toughness about it. I mean I think of the works like Nancy Burson's

DNA Has No Color, these block letters which has a very strong message to it. Or behind me,

you see Vik Muniz's large goblets that he takes a simple wine goblet and makes it life-size.

[kathleen] You just associate Venice with those colors and that imagery and

even in... You see those goblets in paintings, Venetian paintings over the centuries.

It's almost impossible to come to a glass workshop and not to be fascinated with the material. Glass

is so flexible. Glass can become almost anything you want. It belongs already to the creative rail.

[irvin] So these works are very different from one another just as each of the artists are different

and that's what is really so brilliant about the Berengo Studio. He's inviting artists of all sorts

of persuasions and really test the will of the maestros of who are adept at turning this liquid

form into something that's provocative and fragile and as we see in this exhibition full of meaning.

[kathleen] A video artists could actually make something out of glass.

Or an installation artist, it's wide open. So it's just for the artist to

come up with an idea and for their maestros to figure out how to do it.

I was invited by the curator to participate in Glasstress

and I thought this is a great opportunity to try

new material. I have never tried to work with glass before because I know that the technique is

so difficult. And I happened to be a sculptor that likes to put the hands and the material. So for me

glass was a fascination. At the same time I had a certain sense of not being entirely with it.

Another one that's interesting is Renate Bertlmann. She represented Austria in the

Venice Bienalle and you'd see the glass flowers but they did a field of over 200

red glass flowers, Berengo Studio did for the Austrian Pavilion.

Some artists take the traditional and update it like the piece behind you. It's the traditional

Murano Glass Mirror from the 18th century style. But with this ghost image of a battered woman.

I think this exhibition that is born out of Venice which has seen such

difficulties last year. I think it really underscores the resilience that art has.

[announcer]

Head to Instagram @MiamiCityBallet to see more of these pop-up performances called

To Miami With Love.

[woman]

All right. Whenever you're ready.

George Floyd. Demaine Martin. Jomar Rollins.

Willie James MacDonald. Antonio Butler. Germane McDean. Barry Gadias. Travis McNeil.

Dick Carbomore. Nico Crooks. Lyn Whetherspoon.

I started to incorporate social justice in my work, probably in college.

I was given the freedom to address social issues in my work while learning principles.

And I started to really put in text and feeling and specific imagery to send a message.

Gregory Ellers Junior. Roberto Ornellas. Salvador Ellswood. So the origin of the series of Memorial

Portraits, it started in 2016 after the death of a six-year-old child named King Carter.

I remember seeing a video of his father. Once I saw that video I remember feeling helpless,

hopeless, angry, all of these things. And I remember asking myself,

"What can you do about it?" So the answer to that question was you do what you do best. You create.

And so I started to create portraits. And in the process of doing research,

I came across other victims of gun violence that weren't known.

My father once told me that when you say someone's name that they're remembered. My niece,

Rabiya Akmar, she had a cosmetology business. She was a creative, she was very creative.

She was very passionate about her craft. While she was in her home, she was shot on July the 31st

and she was six months pregnant at the time of her death.

Lawrence McCoy, Jr.

My sister sent me an article that guested Chire and what she was doing.

I saw the article in October. I remember it because I remember thinking to myself,

"She's been doing this since July. Why am I just hearing about this?"

So I said, "I'm gonna go down there. I'm gonna go see what she's doing."

Dale Roy.

To see the names on the wall. Yes, it was sad but at the same time, it was a heartfelt feeling

because they would be in remembering. And I told her how happy it made me to see this.

I kept that card, that no mother wants to give up.

This is his ashes. This is the hat he had on when he was murdered, when he was shot. You can

see the blood up on it. The blood stains. Jack was my oldest son. He had a promising career.

Now I'ma talk about the shot.

It was so amazing that this woman could drop pitch off your child.

Just like he was... It's like I could see Jack again.

You're not gonna have closure but there is a sense of peace and calm that you do see

when you come out here and see your loved one's name on the wall.

Gibson Bellezar.

It's humbling to hear what a work of art can do for someone who is not really

from the art world. That appreciation and the ability to have dialogue helped me and

informed my work as much as it's helped families.

Eric L. Scott. Sincere M. Williams. Edward Foster III.

[female voiceover]

Art Loft is brought to you by,

[male voiceover] Where there is freedom, there is expression. The Florida Keys and Key West.

[female voiceover] The City of Coral Gables and The friends of South Florida PBS.