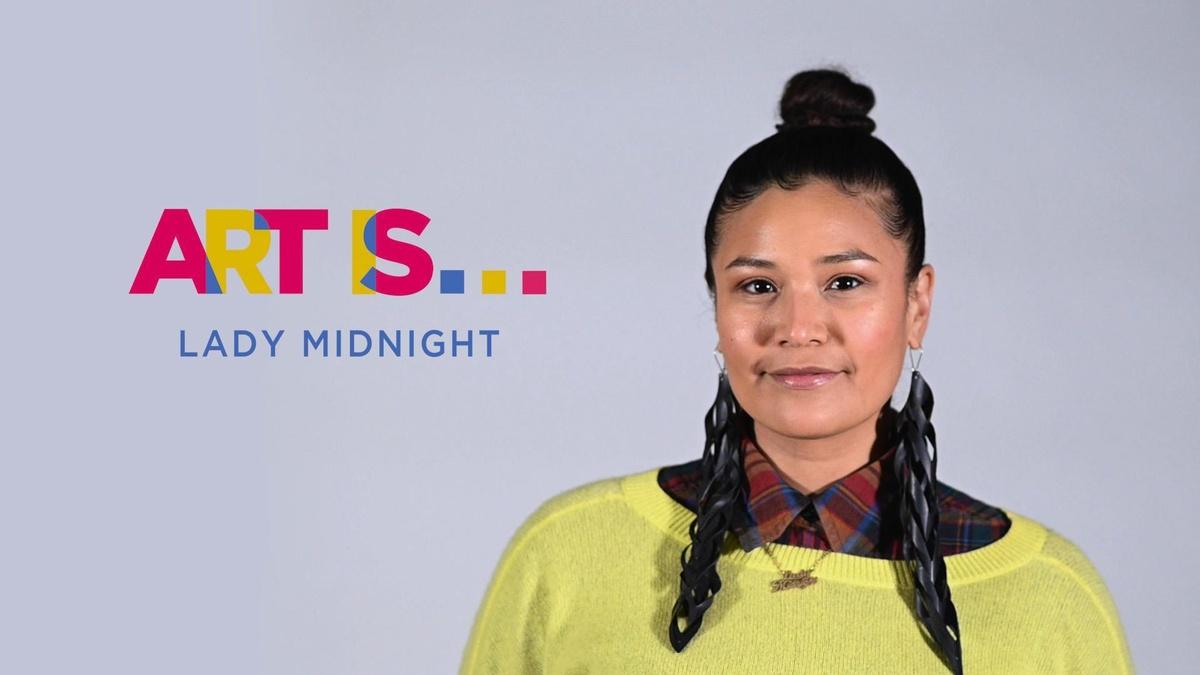 FULL EPISODE
Art Is: Lady Midnight
Lady Midnight (Adriana Rimpel) is an ethereal vocalist and performance artist who draws upon her multidisciplinary background in visual art, dance and Afro-indigenous roots to create work that timelessly reflects our collective lives. She was named City Pages' Best Twin Cities Vocalist for 2017 and has recorded with Bon Iver, P.O.S., Brother Ali, Common, Moby, and Aloe Blacc, among others.
TRANSCRIPT

(serene music)

- My music is meant to move energy, to change something.

Something that feels heavy, I wanna create lightness.

Something that feels too dark,

I wanna be able to bring a spot of light to it.

My name is Lady Midnight and I am a visual artist,

performing artist, and vocalist.

I was born and raised in St. Paul.

I claim the west side is where I grew up

so I feel like I'm connected because just of my childhood

but I also know that my mother

is connected to that space, too.

♪ Que bonitos ojos tienes

♪ Debajo de esas dos sejas

♪ Debajo de esas dos sejas

♪ Que bonitos ojos tienes

♪ Ellos me quieren mirar

♪ Pero si tu no los dejas

♪ Pero si tu no los dejas

♪ Nisiquiera parpadear

♪ Malaguena salerosa

♪ Besar tus

♪ Labios quisiera

♪ Besar tus labios quisiera

♪ Malaguena salerosa

Describing my work to people is really difficult.

I think it's a mixture of performance.

It's a mixture of ritual.

It's a mixture of meditation.

Also a groove and also space.

Space is something that I've been obsessed with,

particularly with visual art.

I started doing photography when I was in high school.

My father was a photographer

and so I felt a connection with him.

He passed away when I was 13

and so this felt like something that I could do

to sort of bring me closer to him.

And I went to the Minneapolis College of Art and Design.

I studied that and I felt this huge responsibility

to photograph my community

because nobody else was photographing them.

So, this is a series that I did.

I think it was shown in a coming-of-age exhibition

at the Minnesota Museum of American Art.

So, the work first started, I think, as portraiture

and then it started to shift

to more of an internal investigation.

Kind of creating characters but then also

creating these still lives.

That kind of mimicked, I think,

the process of what was happening internally for me.

And then, you know, totally the aesthetic of Lady Midnight.

That then shifted into music

and I recognized how freeing it was to become somebody else.

♪ From the quiet streams and average hearts ♪

♪ Came from great eruptions from the start ♪

I've always sang.

I sang myself to sleep as a baby.

As an infant, I would just hum to myself

until I fell asleep.

So, I don't know if I ever was apart from music.

So, this is my first notebook

when I started writing songs when I was seven.

It shifted from this fascination of love and longing.

Of course, as an adolescent,

you're just feeling everything so intensely.

And I think it became more of an investigation

of the world around me, not just the world inside of me.

My artwork has always been a catalyst

for me to understand myself

and to understand really difficult events

that have happened in my life,

with the album itself being about a lot of death,

"Death Before Mourning," you know,

and it was a way that I processed a lot of loss.

So even though this is a really poppy song and everything,

it's still dealing with this message

of investigation of self.

In college, I was asked to create a self-portrait.

Just had to shoot, develop, and print this work

and I put it up on the wall and had everybody critique.

And almost immediately, my professor asked me

what my relationship was with my father.

And I was stunned and I said, "Well, he's no longer living."

She could tell because of the piece

and I never even thought about how my art can be

such a window into really difficult things.

I had thought that I had healed from that

but in making my work, it just showed me that

there was so much more that I hadn't actually discovered.

Sometimes it happens in my songs as well.

Either intentionally or unintentionally,

things will come up.

So, I see art as a direct link

for me to be able to find healing,

for me to be able to investigate myself,

and I translate that process and share it with other people

to help them to do the same thing.

When I released "Death Before Mourning,"

I was really intentional with having it function

to heal people.

I think that I have a gift also kind of a duty

coming from descendants of healers

to be able to use my work in a way that helps people.

I don't call myself a healer.

I don't think I'm a healer; I think I'm an artist.

But I think that my work can have healing qualities.