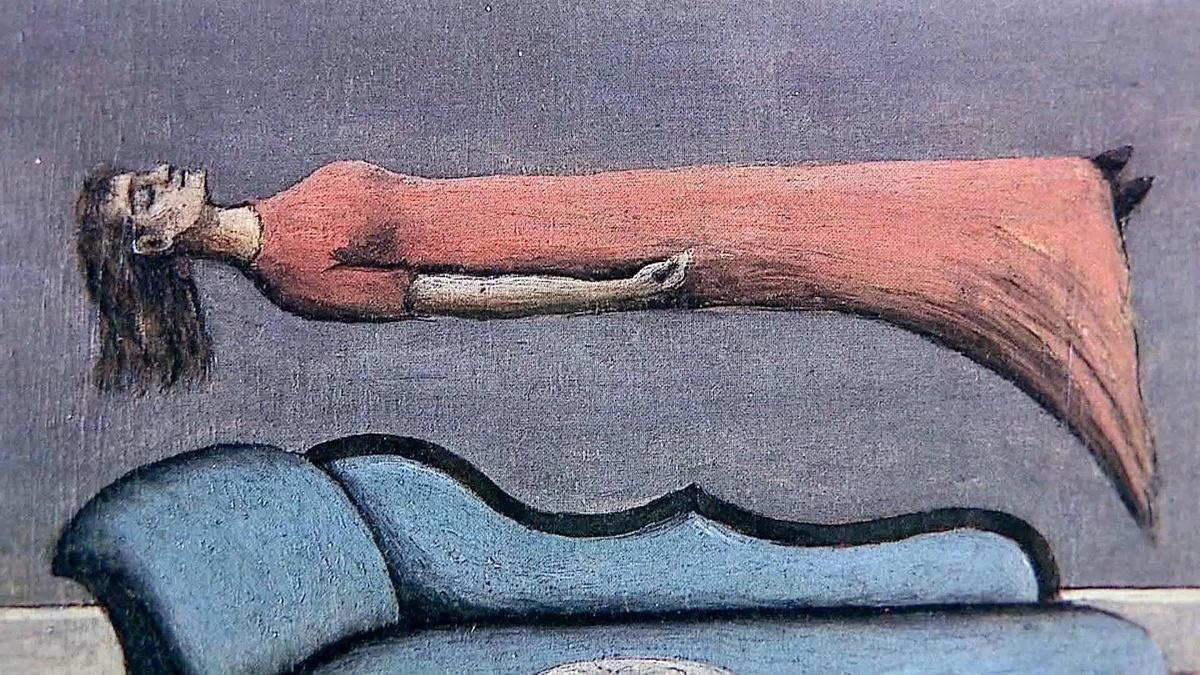 S1 E4 | FULL EPISODE
Off the Grid
Hosted by muralist/educator Miguel Aguilar, who introduces us to painter Gertrude Abercrombie, with author Thomas Dyja and writer/artist Audrey Niffenegger; naïve author/artist Henry Darger; the Hubbard Street Gallery Scene of the early 1970s; photographer Vivian Maier; and artist Joseph Yoakum.
TRANSCRIPT

ANNOUNCER: ART & DESIGN

IN CHICAGO IS FUNDED BY

THE TERRA FOUNDATION

FOR AMERICAN ART,

WITH PRESENTING PARTNER THE

RICHARD H. DRIEHAUS FOUNDATION,

AS PART OF THE CITY-WIDE

INITIATIVE, ART DESIGN CHICAGO.

MUSIC. GRAPHICS: ART & DESIGN IN CHICAGO. OFF THE GRID.

- MIGUEL AGUILAR: IN A CITY - AS BIG AS CHICAGO,

AN ARTIST HAS TO

WORK HARD TO STAND OUT.

BUT SOME CRAVE AND

THRIVE ON ANONYMITY.

WELCOME TO OUR FINAL EPISODE

OF "ART AND DESIGN IN CHICAGO,"

WHERE WE TAKE A LOOK AT ARTISTS

WHO CHOSE TO

OPERATE OFF THE GRID.

WHETHER SEEKING FREEDOM

OUTSIDE OF THE MAINSTREAM,

OR HIDING IN PLAIN SIGHT,

THEIR LIVES AND WORK

ARE AMONG CHICAGO'S MOST

COMPELLING STORIES,

- GIVING THE CITY ITS REPUTATION - AS A PLACE

WHERE GREAT ART CAN BE MADE

JUST ABOUT ANYWHERE.

- AUDREY: WHEN I THINK OF - GERTRUDE ABERCROMBIE,

- THIS IS THE KIND OF - IMAGE I THINK OF.

THE FEMALE FIGURE,

THE MYSTERIOUS BUILDING,

THE LITTLE MOON UP THERE.

THERE'S NO LOGIC TO THIS WORLD

EXCEPT GERTRUDE'S LOGIC.

THE LAWS OF PHYSICS HAVE BEEN

THROWN OUT THE WINDOW

- AND LIGHT DOESN'T COME - FROM ANYWHERE.

SHE WAS REALLY GOOD AT

CREATING A STRANGE FEELING

THAT'S ALL HER OWN.

- NARRATOR: GERTRUDE ABERCROMBIE - STARTED PAINTING

HER HIGHLY PERSONAL WORKS

IN THE 1930S.

- AUDREY: THE WAY - THE PIECES ARE BALANCED,

THERE'S ALWAYS THIS FEELING

THAT EVERYTHING IS SO STATIC

THAT NOBODY CAN DEPART FROM

THE WAY IT IS RIGHT THEN.

OR LIKE IN JUST A SECOND,

EVERYTHING IS GOING

TO BLOW APART.

- NARRATOR: - A SOUTH SIDE RESIDENT,

A FIXTURE IN LOCAL CIRCLES,

SHE HAD EXHIBITS IN CHICAGO

AND AROUND THE COUNTRY.

THOMAS: SHE IS

PARTICIPATING VERY MUCH

IN THE ART SCENE IN HYDE PARK.

- THERE ARE NEWSPAPER - ARTICLES ABOUT HER.

PEOPLE LIKE STUDS TERKEL

WERE HER FRIENDS.

STUDS: DIZZY GILLESPIE SAID

THAT YOUR PAINTINGS

ARE LIKE HIS BOP MUSIC.

GERTRUDE: NO,

THAT WASN'T QUITE RIGHT.

- AUDREY: SHE SOUNDS LIKE SOMEBODY - WHO WOULD HAVE BEEN FORMIDABLE

TO DEAL WITH

AND I CAN IDENTIFY WITH THAT.

THOMAS: SHE WAS PROBABLY NEVER

REALLY COMFORTABLE IN HER SKIN.

AUDREY: AND THIS

LED HER TO BEFRIEND

SOME EXTRAORDINARY PEOPLE.

- THOMAS: A LOT OF HER FRIENDS - WERE GAY MEN.

NARRATOR: LIKE JAMES PURDY,

WHO MADE HER A CHARACTER

IN TWO OF HIS NOVELS.

THOMAS: A LOT OF HER FRIENDS

WERE BLACK JAZZ MUSICIANS.

- NARRATOR: ABERCROMBIE OPENED - HER HOUSE TO MUSICIANS

LIKE DIZZY GILLESPIE,

MILES DAVIS AND SONNY ROLLINS.

SHE PLAYED PIANO AT

IMPROMPTU JAM SESSIONS.

- THOMAS: SHE MUST - HAVE BEEN PRETTY GOOD

- BECAUSE CERTAINLY - SOMEBODY LIKE MILES

WAS NOT GOING TO SUFFER

FOOLS GLADLY, SO.

- NARRATOR: AND COMPOSER - RICHIE POWELL

HONORED HER WITH

"GERTRUDE'S BOUNCE."

- AUDREY: A VERY - SELF-SATISFIED PERSON

- MIGHT NOT HAVE - REACHED OUT

TOWARD ALL THESE AMAZING

ARTISTS AND WRITERS.

THOMAS: SHE WORKED TO

PROVIDE REFUGE FOR HERSELF

AND FOR OTHER PEOPLE.

I THINK IT WAS A KIND

OF DE-MILITARIZED ZONE,

FOR PEOPLE WHO WERE AT THE

TIME CONSIDERED OUTSIDERS.

AUDREY: SHE MADE HER SCENE.

NARRATOR: BUT WHEN

SHE DIED IN 1977,

- ABERCROMBIE'S WORK - WAS HARD TO COME BY.

- AUDREY: I WAS AT THE - SCHOOL OF THE ART INSTITUTE

AND MADE A LONG SERIES FEATURING

FEMALE FIGURES IN THESE KIND OF,

VERY PRIMITIVE LOOKING

LANDSCAPES

WITH WEIRD LITTLE STRUCTURES,

AND INSTRUCTORS SAID TO ME,

"YOU REALLY SHOULD LOOK AT THE

WORK OF GERTRUDE ABERCROMBIE."

I DIDN'T SEE HER WORK UNTIL,

I DON'T KNOW,

5 YEARS AFTER THAT.

SHE WAS VERY ELUSIVE.

I DON'T HAVE LIFELONG INFLUENCE

FROM GERTRUDE,

- BUT I CAN SEE THAT - WE'RE WALKING

THE SAME ARTISTIC PATHS

IN PARALLEL.

SHE WOULD MAKE LOTS

AND LOTS OF SELF-PORTRAITS.

- I'VE DONE A LOT - OF SELF-PORTRAITS.

THIS IMAGE, "FLOATING LADY,"

IS INTRIGUING TO ME

BECAUSE FOR 30 SOME YEARS

I'VE BEEN MAKING

IMAGES OF PEOPLE LEVITATING.

SHE CLAIMS MAGRITTE

AS A VERY DIRECT INFLUENCE

AND HE WAS ON ME AS WELL.

- PERHAPS, PART OF IT - IS GROWING UP

LOOKING AT THE COLLECTION

IN THE ART INSTITUTE.

WHATEVER YOUR HOME MUSEUM IS

IT SORT OF LODGES IN YOU

AND IT'S IMPOSSIBLE TO

GET RID OF IT, EVER.

SHE'S A CHICAGO SURREALIST

FOR SURE.

IF YOU ARE INTERESTED IN CHICAGO

ART THEN NOTHING ELSE WILL DO.

IT'S AN AMAZING CITY

TO BE IN FOR ART,

BUT IT'S ALSO A LITTLE BIT

OF A SECRET.

I FOUND MYSELF WONDERING IF THE

FATE OF ALL CHICAGO ARTISTS

IS TO BE UNREMEMBERED

ANYWHERE BUT CHICAGO.

GERTRUDE: I WOKE UP ONE MORNING

AND THIS THING WAS IN MY HEAD

AND RIGHT AWAY

I GOT UP AND PAINTED IT.

IT WAS A DREAM.

- NARRATOR: WHAT WOULD - COME TO MIND

- IF YOU WERE TOLD THAT WHAT - YOU ARE LOOKING AT IS ONE PAGE

OF A 15,145 PAGE

UNPUBLISHED NOVEL,

WHICH FEATURES

HUNDREDS OF ILLUSTRATIONS?

- AND THAT THE ART HAS BEEN - EXHIBITED IN MUSEUMS

AROUND THE COUNTRY, BEEN THE

SUBJECT OF DOCUMENTARY FILMS.

KIYOKO: CLOSE TO

300 PIECES OF PAINTINGS,

WHICH, MOST OF THEM, BOTH SIDES.

30,000 PAGES OF WRITTEN WORK.

- NARRATOR: THE FOCUS - OF MANY BOOKS

AND THAT THE CREATOR OF THESE

INCREDIBLE, SUCCESSFUL WORKS

HAD NO ART TRAINING,

USED INEXPENSIVE ART MATERIALS,

INCLUDING CHILDREN'S

ART SUPPLIES,

TRACED MUCH OF HIS WORK,

PHOTOGRAPHED, PRINTED,

- CUT AND PASTE - THE REST OF IT,

- AND DID THIS CONSISTENTLY - FOR YEARS,

ALL THE WHILE SHARING THE WORK

WITH VIRTUALLY NO ONE AT ALL,

HAVING LITTLE TO NO EXPECTATION

- THAT IT WOULD BE - SEEN BY ANYONE ELSE, EVER?

- HOW WOULD YOU RESPOND IF YOU - LEARNED THE SUBJECT

OF THIS LONG BOOK WAS THE

STRUGGLE OF SEVEN SISTERS,

CALLED THE VIVIAN GIRLS,

TO SURVIVE A PROLONGED

WAR OF REBELLION

AGAINST TYRANNICAL MEN

WHO WORE UNIFORMS

RESEMBLING THOSE OF

CONFEDERATE SOLDIERS?

- AND THAT IN THE PROCESS - OF TRYING TO ENSLAVE

THE VIVIAN GIRLS, THE MEN

STRANGLED THEM AND CUT THEM UP.

- AND THE VIVIAN GIRLS - WERE OFTEN NAKED,

- AND APPEARED TO - BE HERMAPHRODITES?

HOW DOES IS IT SOUND TO YOU WHEN

I SAY THE 15,000 PLUS PAGE BOOK

WAS ONLY ONE OF 4,

THE VIVIAN GIRLS

APPEARING IN A SECOND BOOK

THAT RUNS OVER 10,000 PAGES,

TITLED "CRAZY HOUSE:

FURTHER ADVENTURES IN CHICAGO?"

WOULD IT BE SURPRISING TO

DISCOVER THAT THE ARTIST/WRITER

HAD A SISTER IMMEDIATELY

GIVEN UP FOR ADOPTION

- AFTER HIS MOTHER DIED - IN CHILDBIRTH?

OR THAT HE BEGAN WRITING

IN 1912 AT THE AGE OF 20

- WHEN A CHERISHED - NEWSPAPER ARTICLE

ABOUT THE DISAPPEARANCE

AND MURDER OF A 5 YEAR-OLD GIRL

WAS STOLEN

FROM HIS LOCKER AT WORK?

WOULD IT BE SURPRISING TO LEARN

THAT THE ARTIST WAS A JANITOR

AT A CATHOLIC HOSPITAL FOR

MUCH OF HIS ADULT LIFE?

- AND THAT HE LIVED IN THE SAME - ONE-ROOM APARTMENT

ON THE CITY'S NORTH SIDE

FOR 43 YEARS,

ATTENDED MASS DAILY,

AND RARELY TALKED TO ANYONE.

- IT WOULD BE HARD TO IMAGINE - THIS RECLUSIVE MAN

HAD AS HIS LANDLORD

NATHAN LERNER,

AN ACCOMPLISHED AND WELL

RESPECTED PHOTOGRAPHER,

A STUDENT OF LASZLO MOHOLY-NAGY

AT THE NEW BAUHAUS.

WHEN THE ARTIST DIED IN 1973,

LERNER ENTERED THE ROOM

FOR THE FIRST TIME

AND QUICKLY UNDERSTOOD THE VALUE

OF WHAT THE RECESSES

OF THIS OVERSTUFFED

SPACE OBSCURED.

HE INVITED TWO ART STUDENTS,

COLEEN FITZGIBBON

AND MICHAEL THOMPSON,

TO FILM THE APARTMENT

WITH THEIR SUPER 8 CAMERA.

NO ONE ANTICIPATED THAT

THE DENSITY OF STUFF WAS HIDING

THE OWNER'S METICULOUS RECORD

KEEPING OF ITS CONTENTS.

YOU MIGHT LIKE TO KNOW THAT

SCHOLARS AND ART HISTORIANS

SPENT HOURS IN THE ROOM,

AND BEFORE THE BUILDING

WAS TORN DOWN IN 2000,

THEY CAREFULLY MEASURED

THE SPACE,

PACKING ITS CONTENTS UP FOR

REBUILDING IN THE BACK ROOM

OF A NEARBY ART GALLERY DEVOTED

TO THE WORK OF OUTSIDER ARTISTS.

- WRITERS, CRITICS - AND ART HISTORIANS

HAVE TRACED CONNECTIONS TO WORK

IN MASS MARKET MAGAZINES

LIKE THE SATURDAY EVENING POST

AND GOOD HOUSEKEEPING,

THE NOVELS OF CHARLES DICKENS

AND L. FRANK BAUM,

COMIC STRIPS LIKE

"LITTLE ANNIE ROONEY"

AND "MANDRAKE THE MAGICIAN."

- AND ONE SCHOLAR FOUND DIRECT - LINKS TO THE WRITING

OF 19TH CENTURY NATURALIST

REV. J.G. WOOD.

WHAT IS IRREFUTABLE ARE

DOCUMENTED ELEMENTS

OF HIS LIFE STORY.

- HE WAS ORPHANED - AT A YOUNG AGE,

INSTITUTIONALIZED IN A HOME

FOR FEEBLE-MINDED CHILDREN,

- AND FOR DECADES HAD - A CLOSE RELATIONSHIP

WITH A MAN 13 YEARS

HIS SENIOR.

ONE BIOGRAPHER STRONGLY SUGGESTS

THE TWO MEN WERE LOVERS.

THE ARTIST'S NAME

WAS HENRY DARGER,

HE LEFT BEHIND ONE OF THE

LARGEST BODIES OF WORK

BY AN UNTRAINED AND

UNKNOWN ARTIST EVER.

JACK: IN THE 70S, '73, '76,

WAS A DEEP RECESSION.

- LYNNE: JUST A LOT - OF EMPTY LOFTY,

KIND OF BUILDINGS

WITH STOREFRONTS...

JACK: HUBBARD STREET ALL THE

WAY UP TO CHICAGO AVENUE.

LYNNE: LIGHT

MANUFACTURING LOFTS.

JACK: FUNKY,

BUT IT'S BIG SPACES.

LYNNE: IT WAS REAL CHEAP.

- NARRATOR: CHEAP SOUNDED - RIGHT TO A GROUP OF MOSTLY MALE

SCHOOL OF THE ART INSTITUTE

STUDENTS EAGER TO SHOW

CONTEMPORARY ART THEY

BELIEVED NO ONE ELSE IN TOWN

HAD THE COURAGE TO SHOW.

THEY OPENED N.A.M.E. GALLERY

AND MOVED INTO 9 WEST HUBBARD,

NORTH OF THE RIVER,

NEAR STATE STREET.

LYNNE: BY '77, THAT SCENE

WAS REALLY PERCOLATING

BECAUSE THE TWO WOMEN'S

GALLERIES, ARTEMISIA AND ARC,

HAD BOTH JOINED THE SCENE.

- BARBARA: WELL, - WE WERE IN THAT BUILDING

AND N.A.M.E. GALLERY

WAS ON THE FIRST FLOOR,

- AND WE WERE ON THE SECOND FLOOR - WITH THESE BIG WHITE LETTERS

THAT SAID ARTEMISIA ACROSS

THE WINDOWS THERE.

DAN: THERE'S WOMEN GALLERIES,

THERE'S MEN GALLERIES.

- WE'RE NOT TALKING ABOUT ONE, - TWO, THREE, FOUR PEOPLE,

WE'RE TALKING ABOUT

A MULTITUDE OF INDIVIDUALS.

YOU SEE PEOPLE WHO ARE

WORKING UNDER A SURVIVAL MODE.

- NARRATOR: ALL THREE GALLERIES - WERE NOT-FOR-PROFIT COLLECTIVES,

EACH WITH THEIR OWN AGENDA.

LYNNE: THE N.A.M.E GALLERY GUYS

WERE ADAMANTLY ANTI-IMAGIST.

NARRATOR: ARTEMISIA GALLERY WAS

A WOMEN'S COOPERATIVE FORMED BY

ARTISTS ASSOCIATED WITH THE

SCHOOL OF THE ART INSTITUTE.

IT WAS NAMED FOR 17TH CENTURY

PAINTER ARTEMISIA GENTILESCHI,

APPLAUDED FOR HER SKILL

AND HER BRAVERY FOR

DEPICTING POWERFUL WOMEN.

BARBARA: NOT TO MENTION THE FACT

THAT SHE WAS RAPED BY HER MENTOR

AND WENT AND TESTIFIED

AGAINST HIM...

PHYLLIS: RIGHT, THAT'S TRUE...

BARBARA: AND WAS TORTURED.

THAT REALLY MUST

HAVE RESONATED IN 1973.

PHYLLIS: YEAH.

BARBARA: HOW DID YOU

HEAR ABOUT ARTEMISIA?

DID IT JUST, LIKE...

PHYLLIS: A MEETING WAS CALLED...

BARBARA: A MEETING WAS CALLED.

- PHYLLIS: AT THE - SCHOOL OF THE ART INSTITUTE.

BARBARA: OK.

- NARRATOR: PHYLLIS BRAMSON - WAS ONE OF MANY WOMEN

- WHO WENT TO HEAR ELLEN LANYON, - A CHICAGO ARTIST

WHO BECAME PART OF A FEMINIST

COOPERATIVE IN NEW YORK.

LANYON PUSHED THEM TO ORGANIZE

AND ADVOCATE FOR THEIR OWN

PROFESSIONAL DESTINIES.

PHYLLIS: SO SHE WAS

COMING AS THE WISE PERSON,

TO LECTURE US ABOUT... WE NEEDED

TO GET OUR ACT TOGETHER.

- NARRATOR: LANYON - WAS ALSO INSTRUMENTAL

IN THE CREATION OF ARC,

OR ARTIST RESIDENT CHICAGO.

LIKE ARTEMISIA, ARC WAS

A WOMEN'S COOPERATIVE,

BUT A LITTLE DIFFERENT.

CHERI: ARTEMISIA,

THEY WERE A LITTLE EDGIER,

BUT THERE WAS MORE

DIVERSITY AT ARC.

- LYNNE: THE WOMEN - ARTISTS WHO WERE MARRIED

AND LIVED IN THE SUBURBS.

- CHERI: THE HORRIBLE - SUBURBS, RIGHT?

- LYNNE: SO THERE WAS A BIT - OF A DISCRIMINATION GOING ON

WITHIN THE ART WORLD ABOUT

WHO WAS A REAL ARTIST.

- DAN: I WAS IN, IN FACT, - INVITED TO A SHOW,

I THINK IT WAS THROUGH ARC,

CALLED "WOMEN INVITE MEN."

- LYNNE: AT SOME POINT, - THEY GOT ACCESS TO THE BASEMENT

AND THEY RENAMED IT RAW SPACE

BECAUSE IT WAS

VERY RAW DOWN THERE.

- BARBARA: I THINK IT - HAD A DIRT FLOOR.

CHERI: RAW SPACE

WAS REALLY NOTORIOUS.

BARBARA: YOU KIND OF WENT

DOWN THIS DARK STAIRCASE.

CHERI: IT WAS A SPACE FOR

ARTISTS TO DO INSTALLATION WORK.

NARRATOR: BY THE LATE 70S,

- HUBBARD STREET WAS HOME - TO 6 ALTERNATIVE GALLERIES,

INCLUDING CHICAGO FILMMAKERS.

DAN: I REMEMBER GOING TO

OPENINGS BACK IN THE 70S.

OH MY GOSH, THE ENERGY.

- BARBARA: IT WAS - USUALLY THE FIRST FRIDAYS.

- EVERYONE OPENED - AT THE SAME TIME.

- DAN: YOU COULD EXCHANGE A LOT - OF IDEAS WITH DIFFERENT PEOPLE.

BARBARA: FREE CHEAP WINE.

DAN: TALK ABOUT ART...

- BARBARA: WE USED TO GET QUITE - A FEW HOMELESS PEOPLE

WHO WOULD WANDER IN

AND DRINK THE WINE.

DAN: OR TALK ABOUT ANYTHING.

- BARBARA: AND PEOPLE WOULD - JUST SPILL OUT IN THE STREET

AND MOVE FROM ARTEMISIA,

GO DOWN TO N.A.M.E.

LYNNE: YOU NEVER QUITE KNEW

WHAT YOU WERE GOING TO SEE,

ESPECIALLY AT N.A.M.E.

AND THEN THERE WERE ARTISTS

LIVING THERE IN THE LOFTS.

- JACK: WELL, THEY WEREN'T - DOING IT LEGALLY.

DAN: FOUND MYSELF GETTING INTO

A LOFT OVER ON ILLINOIS STREET,

I THINK I PAID MAYBE A $100

AND, OH WOW, IT WASN'T A LOT.

- JACK: THE CITY DOESN'T - HAVE ENOUGH INSPECTORS

- TO INSPECT EVERY BUILDING - AND EVERY FLOOR.

- DAN: WE USED TO HAVE - GREAT PARTIES UP THERE.

JACK: CERTAINLY NOT LEGAL.

DAN: I WAS AN ARTIST!

- NARRATOR: THE GALLERIES - HAD A FINANCIAL ALLY

- IN THE NATIONAL ENDOWMENT - FOR THE ARTS.

- BARBARA: ILLINOIS ARTS COUNCIL - GRANTS,

- NATIONAL ENDOWMENT - FOR THE ARTS GRANTS.

LYNNE: IT WOULD GO TO A SPACE,

AND THEN WOULD BE DISTRIBUTED

THROUGH THAT SPACE

TO VARIOUS ARTISTS.

BARBARA: GRANTS WERE

GENEROUS AND FAIRLY EASY TO GET.

LYNNE: THAT LASTED

FOR ABOUT TEN YEARS.

- BARBARA: RONALD REAGAN - GETTING ELECTED.

PHYLLIS: YEAH.

BARBARA: BECAUSE OF THE ENABLING

BY THE NATIONAL ENDOWMENT,

IT CREATED THIS

INCREDIBLE FLOWERING.

- LYNNE: IT REALLY DID CHANGE THE - COURSE OF WHAT WAS CONSIDERED

SHOWABLE IN CHICAGO.

BARBARA: IT WAS PERFORMANCE

ART, TEMPORARY INSTALLATION ART,

ARTS THAT WERE TRADITIONALLY

THOUGHT OF AS CRAFT,

LIKE FIBER ARTS, STITCHERY.

THERE WAS THIS LIBERATION FROM A

MARKET DRIVEN WAY OF MAKING ART.

WE HAD SOME PIGEONS IN A...

ALICE AYCOCK HAD A...

PHYLLIS: ALICE AYCOCK.

BARBARA: SOMEONE

CALLED ANIMAL WELFARE

- BECAUSE THEY - WERE PECKING EACH OTHER,

THEY WERE PART OF

THE INSTALLATION.

JACK: THINGS WENT

PRETTY SWIMMINGLY UNTIL...

- AND THIS HAPPENED - IN SOHO AS WELL,

IT'S HAPPENED IN EVERY AREA,

THEN IT BECOMES CHIC

TO BE THERE.

BARBARA: THEY BRING IN A FEW

RESTAURANTS AND THE RENTS GO UP.

JACK: SOME DEVELOPER WILL TAKE

A RISK AND BUY SOME BUILDINGS.

- BARBARA: THE ARTISTS - ARE DISPLACED.

JACK: IT'S A CYCLE.

DAN: AND YOU REFLECT BACK AGAIN

ON PLACES LIKE N.A.M.E.

PHYLLIS: FOUR, FIVE,

SIX COOPERATIVES

ALL AT THE SAME TIME.

- LYNNE: IT WAS REALLY ABOUT - WORKING IN A COMMUNITY

AND FORMING A COMMUNITY RATHER

THAN LAUNCHING YOUR CAREER

AND BECOMING A FAMOUS ARTIST.

DAN: IT EXISTS, I GUESS,

TODAY IN POP UPS.

BARBARA: THESE IDEAS

THAT WERE SORT OF FOSTERED

IN COOPERATIVES,

ABOUT PERFORMANCE,

- ABOUT IF THE PERSONAL - IS POLITICAL,

ABOUT ALLOWING AN EXPLORATION

OF YOUR OWN PERSONAL HISTORY,

THESE THINGS DIDN'T DIE.

- DAN: IF YOU HAVE - NO PLACE TO SHOW,

FIND A PLACE TO SHOW.

HAVE NO PLACE TO WORK?

FIND A PLACE TO WORK.

CARL: NO LANDSCAPE PAINTING

I HAVE EVER SEEN

RESEMBLES JOSEPH YOAKUM'S WORK.

HE GOT A COMMAND FROM GOD.

HE HAD A DREAM

AND THE LORD WANTED HIM

TO REVEAL THE SPIRITUAL

ENFOLDMENTS OF HIS LIFE.

SUPPOSEDLY, THE ARTWORK

THAT HE DID IN HIS LIFETIME

ARE BASED ON TRUE TO LIFE

EXPERIENCES OR ENCOUNTERS.

NARRATOR: JOSEPH YOAKUM BEGAN

MAKING ART AT THE AGE OF 60.

THE MISSOURI-BORN MAN TOLD

MANY STORIES ABOUT HIMSELF,

AND SOME OF THEM

MIGHT EVEN BE TRUE.

CARL: SAID HE WAS

BORN IN WINDOW ROCK, ARIZONA,

AND THAT HE WAS NATIVE AMERICAN.

BUT HE WOULD PRONOUNCE

IT NAVA-JOE.

HE WAS ACTUALLY

AFRICAN-AMERICAN AND ASIAN.

NARRATOR: YOAKUM TOLD TALES

ABOUT FIGHTING IN WORLD WAR I

AND TRAVELING THE WORLD

WITH THE CIRCUS.

EVENTUALLY YOAKUM MOVED

TO CHICAGO AND MADE ART.

JIM: HE WAS SHOWN

IN A SMALL COFFEE HOUSE

- IN THE HYDE PARK AREA - CALLED "THE WHOLE."

THAT WAS IN THE FALL OF '67

AND BY THE SPRING OF '68,

THE WORK WAS EXHIBITED

AT SHERBEYN GALLERY.

CARL: AND THAT WAS THE BONANZA

- THAT REALLY TURNED - EVERYBODY'S HEAD.

JIM: OH BOY, I MEAN IT JUST IT

JUST KNOCKED YOUR SOCKS OFF!

- CARL: EVENTUALLY - WHITNEY HALSTEAD,

WHO WAS BOTH AN ARTIST

AND A TEACHER AT THE

SCHOOL OF THE ART INSTITUTE,

REALIZED THERE WAS

SOMETHING QUITE MAGICAL

AND QUITE IMPORTANT

ABOUT THIS BODY OF WORK.

- JIM: I WAS ALSO IN SHOCK THAT - THERE HAD BEEN SOMEBODY

MAKING THIS WORK IN CHICAGO

AND I'D NEVER HEARD OF HIM.

- NARRATOR: THE ATTENTION - OF ARTISTS LIKE JIM NUTT,

AND OTHER CHICAGO IMAGISTS,

FED YOAKUM'S GROWING FAME.

CARL: THE IMAGISTS

FLOCKED TO HIM.

PROBABLY ONE OF THE MOST

IMPORTANT ONES

WAS CHRISTINA RAMBERG,

OH MY WORD, AND RAY YOSHIDA,

WERE STARTING TO RECOGNIZE

THE VALUE OF PEOPLE

BEYOND SOMEONE WHO WAS

ACADEMICALLY TRAINED.

GLADYS: IT'S SEEING THE

INCREDIBLE NEED TO TAKE THIS

AND THIS AND DO

SOMETHING WITH IT.

JIM: HE WAS A VERY LARGE MAN,

AND HE HAD HUGE HANDS.

GLADYS: AND THE IDEA OF

THESE ENORMOUS HANDS

DOING THIS DELICATE WORK

WAS FASCINATING.

- CARL: HE DREW WITH - BALLPOINT PEN AND COLOR PENCIL,

AND YOU NEVER SEE

CORRECTIONS MADE

ON ANY OF HIS DRAWINGS.

- JIM: THERE WAS A FIRMNESS - ABOUT HIS DRAWINGS,

A SENSE OF PURPOSE IN

WHERE HE WANTS THE LINE TO GO.

CARL: THERE'S OFTEN FACES

THAT ARE CONFRONTING EACH OTHER.

GLADYS: AND I CAN REMEMBER

WHITNEY TELLING US

THAT HE TRYING TO SEE IF IT

WAS A PURPOSEFUL THING,

AND ALL YOAKUM WOULD SAY WAS,

"WELL, IF YOU SAY SO."

- NARRATOR: CHICAGO WAS - INTELLECTUALLY PRIMED

FOR ART LIKE YOAKUM'S

THANKS IN PART TO JEAN DUBUFFET.

IN 1951, THE FRENCH ARTIST

DELIVERED A TALK

AT THE CITY'S ARTS CLUB

TITLED "ANTICULTURAL POSITIONS."

DUBUFFET STATED AN ARTIST'S JOB

IS NOT TO MAKE BEAUTIFUL THINGS,

- BUT TO CREATE FROM A PLACE - WHERE NATURE AND HUMANITY'S

HIDDEN IMPULSES FIND COMMUNION.

CARL: DUBUFFET SAW THE COMMON

MAN'S EXPRESSION

AS IMPORTANT TO HIS OWN CREATION

OF HIS OWN ARTWORK

AND HE CHALLENGED

THE NOTION OF WHO COULD DO ART.

NARRATOR: YOAKUM'S ART WAS

DISPLAYED ALONGSIDE THE IMAGISTS

AT THE MUSEUM OF

CONTEMPORARY ART IN 1969.

- CARL: QUITE A TRIBUTE - TO SOMEBODY

WHO NEVER LEARNED TO DO THINGS

THE WAY THE ART SCHOOL

WOULD HAVE THEM DO IT.

JOSEPH YOAKUM DIED ON

CHRISTMAS DAY 1972,

PROBABLY ONE OF THE MORE

REMARKABLE STORIES

OF SOMEONE LAUNCHING HIMSELF

OFF INTO THE CLEAR BLUE,

AND ENDING UP BEING

THIS SIGNIFICANT ARTIST.

RICH: I TALKED ABOUT

THE BOOK "THE PEARL,"

AND THE BOOK WAS

ABOUT A COUPLE

WHO FOUND

THE WORLD'S LARGEST PEARL.

- AT FIRST, THEY THOUGHT - THIS WOULD BRING GREAT WEALTH

AND HAPPINESS,

BUT IT WAS TOO BIG FOR THEM,

- IT WAS TOO OVERWHELMING - FOR THEM,

- AND IT DICTATED - THE REST OF THEIR LIVES.

- NARRATOR: VIVIAN MAIER'S - PHOTOGRAPHS

WERE UNLEASHED

ON THE WORLD IN 2009

BY PHOTO COLLECTOR

AND ARTIST JOHN MALOOF,

AND PEOPLE IMMEDIATELY

FELL IN LOVE WITH THEM.

- JOHN: EVERYBODY CAN - UNDERSTAND HER WORK.

RICH: YOU CAN BE

THE MOST SCHOOLED,

SOPHISTICATED PHOTOGRAPHER,

OR YOU COULD BE SOMEBODY WHO'S

NEVER GONE TO A PHOTO SHOW

IN YOUR LIFE, AND LOVE IT.

RON: THEY JUMP OUT AT YOU.

- RICH: I CAN'T THINK OF - MANY PHOTOGRAPHERS LIKE THAT.

JOHN: THEY SHOWED PEOPLE IN

VULNERABLE PLACES IN THEIR LIFE

EVERYBODY COULD RELATE TO.

- RON: VIVIAN MAIER'S - GOT THE THING.

NARRATOR: VIVIAN MAIER HAD

BEEN A COMPLETE UNKNOWN,

AND YET HER WORK WAS A HIT

WITHOUT GOING THROUGH

THE WORLD OF GALLERIES, MUSEUMS,

COLLECTORS AND CRITICS.

PAMELA: BECAUSE OF SOCIAL MEDIA,

SHE BECAME INTERNATIONALLY

FAMOUS ALMOST INSTANTANEOUSLY.

JOHN: MOST ARTIST

HAMMER ON GALLERIES

- AND CIRCLE THEM LIKE SHARKS AND - TRY TO GET THEIR WORK IN THERE,

VIVIAN MAIER

DID NONE OF THAT.

NARRATOR: MAIER WAS NOT AN

ACTIVE PLAYER IN HER OWN FAME.

SHE HAD PASSED AWAY PENNILESS,

HER PHOTOGRAPHY IN STORAGE UNITS

SHE COULD NOT AFFORD.

MALOOF AND OTHERS

BOUGHT THEM AT AUCTION.

RON: I GOT NEGATIVES,

I GOT VINTAGE PRINTS,

A LOT OF PAPERWORK.

NARRATOR: AND THEN THERE WAS

THE QUESTION OF WHO MAIER WAS.

MALOOF AND CHARLIE SISKEL'S

"FINDING VIVIAN MAIER"

- DOCUMENTS THEIR QUEST - TO FIGURE IT OUT.

- THEY FOUND PEOPLE - WHO RECALLED MAIER

- AS THEIR - FRENCH-ACCENTED NANNY.

CAROLE: SOME PEOPLE,

I MEET AND THEY'RE VERY OPEN.

SHE WAS NOT AN OPEN PERSON,

SHE WAS A CLOSED PERSON.

- JOHN: THEY KNEW - NOTHING ABOUT HER PAST,

WHERE SHE CAME FROM,

THAT SHE TOOK THESE

BEAUTIFUL PHOTOGRAPHS.

- THEY KNEW THAT - SHE HAD HER CAMERA,

- AND THAT SHE TOOK LIKE - SNAPS OF THE FAMILY,

- BUT THEY DIDN'T KNOW THAT SHE - WAS A REALLY GOOD ARTIST.

- NARRATOR: IT TURNED OUT - MAIER WAS INTENSELY PRIVATE,

BUT LOVED TAKING PICTURES.

- SHE JUST DIDN'T SEEM TO CARE - IF ANYONE ELSE EVER SAW THEM.

PAMELA: SHE STOPPED DEVELOPING

HER FILM AT A CERTAIN POINT.

THERE IS THIS MODERNIST NOTION

THAT A PHOTOGRAPH ISN'T COMPLETE

- UNTIL SOMEBODY - HAS VIEWED IT.

SHE CLEARLY WASN'T

INTERESTED IN DOING THAT.

NARRATOR: MALOOF

PUBLISHED BOOKS OF MAIER'S WORK.

COLLECTOR JEFF GOLDSTEIN

MADE FINE PRINTS

FROM MAIER'S NEGATIVES AND

SOLD THEM IN TOURING SHOWS.

GOLDSTEIN'S COLLECTION WAS

THE FOUNDATION FOR BOOKS

- BY RICH CAHAN AND - MICHAEL WILLIAMS.

PAMELA: THIS IS THE ROLLEIFLEX.

NARRATOR: PHOTOGRAPHY PROFESSOR

PAMELA BANNOS DID DEEP RESEARCH

ON MAIER'S

MOMENT-TO-MOMENT MOVEMENTS,

UNCOVERING DETAILS

ABOUT HER PROCESS.

- PAMELA: SHE TOOK - THE PICTURE THIS WAY,

- IN A ROOM WHERE THERE WAS - A MIRROR ON THE CEILING.

AND THEN THIS CAMERA,

IS CALLED THE ROBOT.

- NARRATOR: A ONE-WOMAN SHOW - AT CHICAGO'S CULTURAL CENTER

IN 2011 WAS A SENSATION.

- RICH: YOU GO FIND THREE MILLION - PEOPLE WHO WILL SAY

- THAT THEY WERE AT OPENING - NIGHT AT THAT SHOW.

I WAS ONE OF THEM.

- PAMELA: WHEN THE CULTURAL CENTER - EXHIBITION WAS UP,

I ACTUALLY TOOK A CLASS THERE.

- JOHN: THAT WAS THE BIGGEST - TURNOUT THEY'VE EVER HAD.

- RICH: AND THERE WAS - A GUARD THERE

- AND THE GUARD - WOULD STAND THERE

- AND HE WOULD JUST - STAND LIKE THIS.

NARRATOR: BUT IN 2014,

THAT ALL CHANGED.

- DAVID DEAL, - A LAWYER AND PHOTOGRAPHER,

FILED A LAWSUIT IN

U.S. DISTRICT COURT

ON BEHALF OF A CLIENT CLAIMING

TO BE AN HEIR TO MAIER'S ESTATE.

RICH: I WENT TO FRANCE

WITH JEFFREY GOLDSTEIN

TO FIND OUT HER LINEAGE.

JOHN: WE GOT TO THIS ONE HEIR

THAT ACTUALLY KNEW HER.

WE COULDN'T FIND ANY MORE LEADS.

RICH: GENEALOGY EXPERTS

ASSURED THEM

- THAT THEY HAD FOUND - THE RIGHT PERSON.

NARRATOR: EVERYONE ADJUSTED.

RICH: WE STOPPED

PRINTING OUR BOOKS.

JOHN: JEFF STOPPED.

- JEFFREY: - THERE'S NO INCENTIVE

- FOR ME TO START - THIS PROJECT BACK UP.

AND I CERTAINLY HOPE THINGS

GET WORKED OUT

- FOR FUTURE - VIVIAN MAIER PROJECTS.

- JOHN: ALL THE OTHER PEOPLE - THAT WERE WORKING WITH HIM

HAD TO STOP TOO.

- JEFFREY: WHO WANTS - TO HAVE LIABILITIES?

JOHN: I WAS NEVER SUED,

I WAS NEVER IN COURT

ABOUT ANY OF THIS STUFF

BECAUSE I MADE AN AGREEMENT

RIGHT AWAY.

- RON: WHEN KEN GOLDEN, - MY LAWYER, SAID,

- DON'T PRODUCE THE VIVIAN MAIER - WORK, I LISTENED TO HIM.

AND UNTIL THINGS RESOLVE

THEMSELVES, I CAN WAIT.

- NARRATOR: THE ESTATE MOVED INTO - THE HANDS OF LOCAL AUTHORITIES.

- PAMELA: EVERYTHING HAS TO - HAPPEN IN FRONT OF A JUDGE.

- RICH: WE'VE ALL LOST - ABOUT THREE YEARS.

JOHN: IT'S NOT FUN STUFF

TO TALK ABOUT, OR TO EXPLAIN.

- PAMELA: IT'S WHEN THERE'S - A LOT OF MONEY AT STAKE

THAT THINGS GET

MORE COMPLICATED.

- NARRATOR: MAIER'S PICTURES - SHOW HER POWERFUL ABILITY

TO WITNESS DECADES

OF LIFE IN CHICAGO.

- RON: SHE DID LAND IN - ONE OF THE BEST PLACES

TO TAKE PICTURES IN THE NATION.

- JOHN: THERE'S A BITTERNESS - HERE IN CHICAGO

THAT I THINK CREATES

A POINT OF VIEW.

IT'S MORE RAW, IT'S MORE REAL.

IT'S GOOD FOR ARTISTS.

RON: THERE'S ALWAYS BEEN

PEOPLE COMING TO CHICAGO,

AND CHICAGO WILL BEAT YOU UP,

- AND CHICAGO WILL LEAVE - YOU WITH NOTHING,

- AND THEN YOUR PHOTOS - END UP AT A FLEA MARKET.

SERIOUSLY, IT'S THE TRUTH.

- JOHN: I DON'T KNOW - IF SHE COULD HAVE HAD THIS

WHILE SHE WAS ALIVE.

- I DON'T KNOW - IF SHE COULD HANDLE IT.

MAYBE IT'S MEANT TO BE THAT

IT HAPPENED AFTER SHE DIED.

I DON'T KNOW.

RICH: THE LAST 9 YEARS

SEEMS LIKE 90 YEARS.

FOUND, EXPOSED,

THE WORLD APPLAUDS,

PUT BACK INTO A CLOSET.

- MIGUEL: TO LEARN MORE ABOUT THE - ARTISTS FEATURED ON THIS EPISODE

OF "ART AND DESIGN IN CHICAGO"

CHECK OUT OUR WEBSITE.

- THERE YOU'LL ALSO - FIND THE FULL SERIES,

WITH STORIES ABOUT THE

CITY'S CREATIVE INSTITUTIONS,

AFRICAN-AMERICAN ARTISTS

AND COMMERCIAL ARTISTS

AND DESIGNERS.

THANKS FOR WATCHING!

GRAPHICS: SHOW CREDITS.

ANNOUNCER: ART & DESIGN

IN CHICAGO IS FUNDED BY

THE TERRA FOUNDATION

FOR AMERICAN ART,

WITH PRESENTING PARTNER THE

RICHARD H. DRIEHAUS FOUNDATION,

AS PART OF THE CITY-WIDE

INITIATIVE, ART DESIGN CHICAGO.