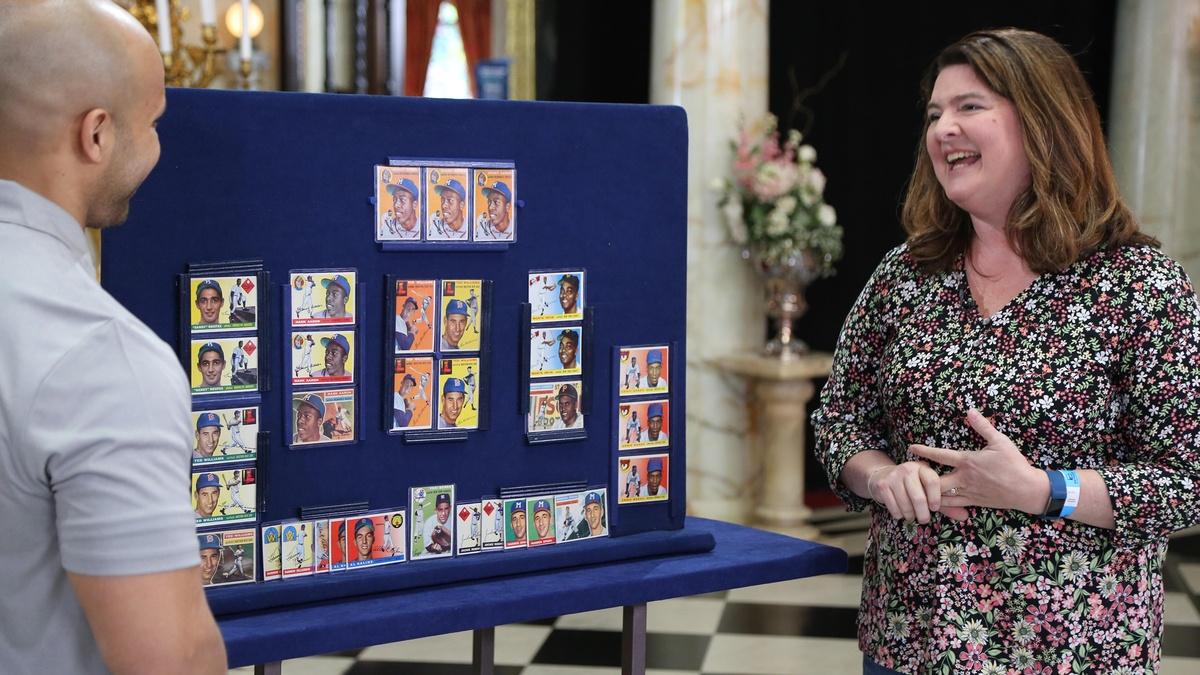 S23 E4 | FULL EPISODE
Ca' d'Zan, Hour 1
Travel to sunny Sarasota for standout finds at Ca' d'Zan, the home of circus royalty John and Mable Ringling! Highlights include 1954-1956 Topps baseball cards, a The John Ringling Hotel plate, and a Harry Bertoia bronze. Which is $30,000-$50,000?
TRANSCRIPT

MARK WALBERG: "Antiques Roadshow" is looking

for the greatest treasures on Earth

at the Ringling's Ca' d'Zan in Sarasota, Florida.

WOMAN: I called my dad, and he said, "Stop what you're doing.

(laughing): Is there any Mickey Mantle card in there?

APPRAISER: Have you opened up the opal?

I didn't know it opened.

♪

WALBERG: How did this Venetian, Gothic-style mansion

known as Ca' d'Zan

end up in the gulf city of Sarasota, Florida?

It was the dream home

of a circus king and his Europhile wife,

John and Mable Ringling.

The Ringlings discovered Sarasota

in the early 1900s

after the Ringling Brothers Circus

had become a major success,

and John's many entrepreneurial pursuits

made the couple very wealthy.

The Ringlings helped to advance the city

throughout most of the 1920s

by developing real estate and building infrastructure,

by creating the Ringling Museum of Art,

and by erecting this incredible Mediterranean Revival residence,

where "Roadshow" has put up its version of a big top tent today.

What treasures have captured our appraisers' attention

here at Ca' d'Zan?

Take a look.

♪

(people talking in background)

Good morning!

♪

My neighbor was moving,

and I was looking out the window,

and they were taking a lot of junk out to the curb.

And I said, "She's leaving that for junk?"

Totally free!

If they tell me 20 bucks, I think I did well.

APPRAISER: You might take it to a good framer

who understands archival framing.

It'll preserve it for another 100 years.

And then when you come back here then,

we'll do it all over. Right. (laughs)

Wonderful, thank you so much-- wonderful.

It's nice-- all right, appreciate it.

Wonderful information.

My dream has been to come to the Antiques Roadshow,

that, why not take them and find out?

It was from the estate of Donald Marshman,

and his son gave it to me as a gift.

Donald was one of the co-screenwriters,

with Billy Wilder and Charles Brackett

for the movie "Sunset Boulevard."

And this is the Polish version of the poster.

It is the Polish version.

We also have the artist's signature up there,

which, a lot of movie posters,

we actually don't know

who the artist was that did them.

This is a very famous Polish poster designer,

Waldemar Swierzy.

The real value in this, though, is the fact

that this is "Sunset Boulevard."

And what's interesting to me is mostly,

just like in the book market,

if you want a first edition,

you want the original country of issue.

So, generally, movie posters are worth more

if they're the United States version if it's a U.S. movie.

That is still true here, but unlike most foreign posters,

this one actually does retain a great deal of value

because the graphic is so important.

And in addition, we have this personalized inscription

from Billy Wilder.

He signed it to "Mac," D.M. Marshman.

I think his middle name was McGill.

So he must have had his nickname as Mac. Right.

Wilder brought him in in 1948,

when they were very close on the script.

But they needed an outside eye.

And they won an Oscar for their work on this film.

So you have a lot going on here.

If it weren't signed by him,

at auction, it's a $4,000 to $6,000 poster.

Oh, right. Because the inscription's there,

I think you can up that to at least $5,000 to $7,000.

Awesome, wonderful, wonderful.

WOMAN: I brought a piece of Murano glass

that I purchased in 1964,

when I was traveling through Europe on my own.

And I brought it back home to Ohio for my mom and dad.

Do you remember how much you paid for it?

No more than $50.

Maybe $20, $30, $40.

I just don't recall.

But I know it couldn't have been much.

So this is an aquarium.

It's actually called an aquarium block.

Oh, okay.

And I've always wanted to appraise one of these.

Oh, really?

Because I love them.

I think it's so clever that, within a piece of glass,

you have the fish, you have all the parts,

and you don't have to feed it.

That's true, true.

And these are pretty famous.

They're designed by Alfredo Barbini,

and Barbini was born in Murano in 1912,

and he came from a family of glass makers.

And he worked with all the great glass makers of Murano.

In 1947, he became partners with Gino Cenedese.

And they started making them around 1950.

Okay.

They come in all kinds of sizes.

Okay.

This is one of the smaller ones.

But it's really a gem.

And in this market today, it would probably bring

between $700 and $900 in a retail store.

Very good, very good.

WOMAN: When I was in college, one of my favorite professors,

my philosophy professor, Ron,

became one of our closest friends.

And we've been friends now 30 years.

He and his wife don't have their own kids,

so they've always taken a special interest in my son,

who is a huge baseball fan.

And when he was eight or nine years old,

they noticed he was collecting baseball cards.

So they said, "Hey, we've got some baseball cards."

These were cards

that Ron collected when he was a little boy.

I didn't know a lot about them.

There were several hundred.

And I sort of flipped through and found the ones

that I recognized

as being influential or important players.

Well, let's go over your picks.

And I think you did okay. Okay.

So what you've got, essentially,

is many of the 1950s Hall of Famers.

You've got Sandy Koufax, Ted Williams, and, again,

you've got quite a few Ted Williamses.

You got Harmon Killebrew.

Al Kaline, Yogi Berra, Jackie Robinson, Warren Spahn.

You've got Ernie Banks, closer to you.

Roberto Clemente, Monte Irvin, over here.

Of course, Hank Aaron.

More Ted Williams.

(laughing): A particular...

More Hank Aaron.

You are missing

arguably one of the most important cards

in the Mickey Mantle. Oh, I know.

When these arrived in the mail, I called my dad,

because my dad was a huge baseball fan.

And he said, "Stop what you're doing.

Is there any Mickey Mantle card in there?"

And so that was the first thing I looked for,

and we didn't have any Mickey Mantles.

That was the first thing I looked for. (laughing)

These are all Topps cards from 1954 to 1956.

And this is an era when they were called

the Topps Chewing Gum Company.

Now they're popularly known as Topps.

So within your collection,

you've got the Sandy Koufax rookie,

you've got two of them.

Did you know any of this information

when you were picking them?

I tried to make educated guesses.

I looked on the back of the card,

and if they only had one year of data represented,

I figured that must be their rookie card.

But it was truly a guess.

A lot of these cards do have just one year,

but it's a prior year. Oh.

So it wasn't necessarily their first year.

It was their most recent performance, okay? I see.

Ted Williams is a great example.

This is now toward the end of his career.

Right. In '56.

That was not his rookie card. Uh-huh, got it.

You do have some rookie cards.

Do you happen to know which ones they are?

I think we figured out,

maybe this is Hank Aaron's rookie card,

but that's a guess. Bingo.

Hank Aaron, Sandy Koufax.

So good work, okay? Yay!

Condition is everything with baseball cards.

For example, you look at the corners of the cards. Okay.

You look at the even spacing

of the lines,

and generally, whether there's any paper loss,

any foxing and discoloration. Okay.

Card creators are going to hate hearing me say this,

but they're finicky people. (laughs)

And on a scale of one to ten,

ten being pristine and undamaged in every respect,

you've got about an average of twos,

and that affects value. Okay.

Of course, the tens, that's what you read about.

Yeah, right.

That's retirement money. Yeah, right.

But you've got twos. Okay.

At auction, these that we selected--

you have more, but we selected just these--

are worth $3,000 to $5,000.

Oh, wow, that's awesome! Okay?

These three in particular, Hank Aaron's rookie cards... Yeah.

...can each sell in this condition

for around $800.

Okay, that's good to know. Okay?

Awesome-- thanks!

That Clemente card, in perfect condition,

is a $15,000 card.

Oh, wow. If it's a perfect card.

I see.

♪

These been hanging on the wall for, what, 50 years or so?

50 years.

My parents' home and then in our home.

They bought a home

and they were property of the original owners.

And the people that owned the house were world travelers,

so they probably picked these up somewhere...

somewhere in this world of ours.

Maybe Africa, we're thinking.

But we're not sure.

♪

WALBERG: Ca' d'Zan, stretching nearly 80 feet high and 200 feet wide,

with 36,000 square feet of living space,

was completed in 1926 at a cost of about $1.5 million.

Belonged to my grandmother.

Uh-huh.

And I don't know where she got it.

She had a lot of nice things.

Okay.

Well, the funny thing about pottery and porcelain--

and this may be true in other disciplines,

this happens to be mine--

but so often, they lie.

They lie about what they are.

And this one, I mean, it's really a piece of pottery,

and I can tell you a lot about it,

but I'll tell you what it's not.

There's an artist's signature there,

which suggests that it's hand-painted.

And it's not, it's a transfer-decorated piece,

but they put a signature to make it look hand-painted.

And then over here on the back, it says, "Dresden China."

Well, Dresden is a town in Germany

where great porcelain was made,

but this is the name of the company in America.

(laughs) They just usurped the name.

Just like there's a company in America called Limoges,

and you think it's...

Limoges is the porcelain-making town in France.

And china, well, china is supposed to be porcelain,

high-fired, translucent.

And this is pottery.

So the three things this tells you it is,

which is hand-decorated German china,

it's transfer-decorated American pottery. Oh, okay.

And I find that really fascinating about this.

Also, you see all this gold?

Yes.

This is about a micron thick.

If you were to scrape it all off,

it might be 11 cents in gold.

But it looks really rich.

It was probably made during the Depression in America

when people didn't have any money,

so they wanted things to look really luxe.

In terms of value, at auction, five or ten dollars today.

Okay, thank you very much. Okay?

Thank you.

It's pretty anyway.

It is pretty, it's beautiful.

APPRAISER: So tell me what you brought us in today.

WOMAN: An opal bracelet.

Opal bracelet?

And how did you get it?

I inherited it from my great-aunt.

Where was she from?

Chicago. Chicago.

She had a collection of opals that I inherited.

Have you opened up the opal?

I haven't.

I didn't know it opened. Yeah, it...

It was too small for me to wear... It opens...

It opens right up here like that.

Oh, cool.

And it exposes the face of the watch underneath there.

Awesome.

It's a very nice watch.

It was made by Rolex. Really?

Yes. Okay.

Manufactured around 1950.

Okay.

It's all 18-karat gold.

The condition of it is really incredible.

It shows very little wear at all.

The bracelet of that watch has no damage to it.

We look at the dial of the watch,

and on the face of the watch right there,

it's all original, untouched.

You have a cabochon opal here,

and it's really a nice shape, too.

And sometimes opals don't really survive the time,

but this one has done very well.

I gotta tell you,

I've never seen a Rolex with an opal on it.

I'm going to take it off for a minute.

And you see, there's the Rolex crown right there.

Okay.

On the dial.

And on the buckle right here,

you've got the Rolex logo,

the Rolex crown right here. Okay.

But look at the iridescence of the opal on that.

Isn't that great? Yeah, it's gorgeous.

Look at the colors.

I mean, you've got flashes of green, red.

Red is really the most desirable color in opals.

So it's a really exceptional opal.

There's no crazing on it.

It's just really wonderful.

Any idea as to the value?

I don't know.

Maybe $1,500?

Your watch is very collectible.

The market on these are not so much in the United States,

it's more in Asia.

And your watch today would easily retail

for approximately $10,000 to $12,000.

Okay.

(laughing): Awesome.

Wow.

Insurance, easily a minimum of $15,000

should be put on it for insurance valuation.

Okay.

Terrific, thank you.

That's surprising.

Good surprise?

Very good surprise.

That's cool.

WOMAN: I'm not sure where it came from originally,

but it belonged to my husband's family.

And every Christmas,

he comes out and sits and watches us.

It's a Santa figure,

it is made in Germany,

and it's dressed in crepe paper clothing.

And what is really interesting about this

is that while this is sort of papier-mâché,

the face is bisque, which is a fired pottery.

Right.

And probably made by a doll manufacturer,

not unlike, say, someone like Simon and Halbig,

which lifts this into another category of value

because so many of these Santa Claus figures

were papier-mâché faces, which were not as durable. Face, right.

It really dates from right around 1890 to 1900.

Really? Okay.

It even has his sack on his back,

which is really nice.

But he was more than just a Christmas decoration.

He was, in a way, a Christmas present, because...

He's what we call a candy container. Oh!

Good, good.

So in this condition, cause he is a little darkened,

an auction value I would say,

I would expect somewhere in $600 to $700.

Really? Yes.

Well, now I believe in Santa.

(laughing): That's great!

♪

This is a backpack from the Philippines, apparently.

I was sure that it was, like, an old wheat carrier

from, like, Provence, somewhere, in France.

It's worth about $20, but you can see

that I only paid $3.99 for it at Goodwill.

And we actually use it to store our old grocery bags in

before we take them back to the grocery store,

so it's just going to keep on doing that.

WOMAN: This badge is the badge of my great-grandfather.

He was the first black customs official in New York City.

He started working for the customs department in 1907.

And he worked there until he died in 1945.

And this is his badge that he wore,

and that's a picture of him in his uniform.

He did serve at Ellis Island.

And he was fluent in Italian.

He was very connected to his family

and what he did in the community of Harlem.

He participated in the founding of the Harlem Y.M.C.A.

where he grew up. So he was a leader.

He was a leader in the community, yes, he was.

The badge itself is quite a rare badge.

Without the association to your great-grandfather,

it's still an unusual badge and hard to find.

It's actually numbered on the back.

Okay.

It's enameled, gilt bronze.

And the badge itself, without any history,

is a $200 or $300 badge.

Really? Yeah?

Then we connect that with the photo,

and he's actually wearing the badge on his hat in the photo.

So it elevates it to something where you'd have folks

interested in African-American history

who would seek it out. Right, right.

So the photograph and the badge together now brings that

to something that, obviously, is priceless to the family.

To the family, right.

But if this had to go to auction,

it's easily an $800 to $1,200 item.

Really?

So it's just an amazing thing.

And he sounds like an amazing guy. Yeah.

Yeah.

♪

WALBERG: John and Mable Ringling

had separate but adjoining master suites.

The gilt bronze and mahogany bedroom suite in John's room

was made by Maison Krieger.

Mable's bedroom suite, made by François Linke,

features panels depicting a playful monkey on a swing.

♪

MAN: I have a plate from the John Ringling Hotel

that was a famous iconic landmark in Sarasota,

up until it was demolished in the late '90s.

APPRAISER: Do you know where we're standing right now?

Yes, sir, I do.

We're standing in John Ringling's bedroom.

So I think he'd be very proud of us

for having this here today, so...

This would be considered something that probably

he wouldn't see.

It was originally called the El Vernona Hotel

that was renamed in about 1929, when he purchased it.

When John Ringling died in 1936,

the hotel was actually taken over by his nephew,

John Ringling North.

That was sort of the heyday of the hotel,

was the 1940s and '50s,

and there are incidents

where he strung trapezes in the dining room,

and he actually turned it into a sort of circus hotel,

which is, of course, very aptly named.

This would have been, like, a side plate,

probably for vegetables.

And this was the room service- type stuff,

so it was very durable.

The stuff for the dining room was gold trim,

very nice porcelain.

This is the stuff that you could really-- ugh!

So a lot of it had a rough life.

But this one's doing okay.

You think?

I do.

The hotel closed,

and some say it was haunted.

Yes. Nice ghost hotel.

It's the legend of the town.

What do you think it's worth?

Maybe $100.

I think in Spokane, Washington, this is five dollars.

But here in Sarasota, Florida,

it's probably closer to $300, I think, so...

Oh.

So I think you did pretty well.

So do I.

I like it.

MAN: Those were my parents'.

They bought them in the early '70s.

My parents had kind of an Art Deco, colorful style.

We lived in Baltimore.

They just bought these pieces of furniture.

They thought they were neat.

They would not have a room in the house

that was anything that was white.

Everything was always colorful.

So they were, always tried to stay modern, I guess.

That's what these chairs are all about.

This design was done by a couple,

Erwine and Estelle Laverne.

Okay.

And they were a husband-and-wife team

who designed modern things.

Both of their families were artistic,

but when they first got married,

they started making handmade wallpaper,

and then, by the '50s,

they were the ones that came up with these designs

that are based on flowers.

And using the highest-technology materials at that time, Lucite,

which is basically just clear plastic,

and this whole group was referred to

as The Invisible Group.

Oh, I didn't know that.

Yeah, some people call them ghost chairs.

Mr. Laverne was quoted as saying

that the chairs weren't important.

They were invisible so that they wouldn't show up,

that the only thing that was important in the room

was people.

But they came up

with several different floral designs for chairs.

This particular design is called "The Daffodil."

They did a tulip, a jonquil.

And they all were these really nice sort of flowing forms.

And they're very comfortable.

Yeah, we never really sat in them, too.

They were more...

They were in a den... type.

And so...

Yeah, with white carpet and all of that.

So you never really sat in them.

You just kind of looked at them.

You said your parents got them in the early '70s?

Yes.

And they bought them new then.

They're fabulous.

The only thing that you look for in these

in terms of the condition

is whether or not they have any scratches,

which these have very few.

There's a few along the back of this one.

And, really, the only thing

that I would say is a condition issue

is this crackled area here.

Was that on there when you got them?

No.

Okay, so are they sitting in the sun or...

They were sitting, actually,

not in air conditioning for a while.

So they weren't in the sun.

They were in the garage for a little while.

Okay, that's probably what did it.

This is called the sickness.

And it's all these little crackles.

And that means

that a serious collector would probably not go after these,

because they were mass-produced,

and so there's more of them out there,

and a really particular collector

would probably look for a perfect pair,

but these are still fabulous.

That's not a deal-killer from a value point of view.

It's going to hurt it some,

but in today's world, at auction,

a pair like this would probably be

$2,500 to $3,500.

You'll find a lot of examples of them for sale out there.

MAN: I was in a store, I saw it,

it was an original, and I liked it.

I had never heard of Sam Vinikoff,

so doing some research,

found out he was called the Everglades Artist.

Because it was on sale at 50% off at a thrift store,

I paid three dollars.

You're a wild guy.

(laughs)

Let me tell you a little bit about Vinikoff.

As you said, he was the Artist of the Everglades,

and he started doing caricatures in Miami Beach,

which mustn't have been all that interesting at the time.

Yeah.

And then he went down to the Everglades,

and just fell in love with it, and spent over 30 years

painting and capturing the Everglades.

We have a Key deer here.

Correct.

Osprey?

Osprey.

Egret? An egret.

It's in great condition.

It's an oil on canvas.

It's signed and dated '86.

In terms of value, I would say for insurance,

probably around $1,500.

I think I love it.

I think I love it, too. And I'll keep it, too.

♪

WALBERG: Ca' d'Zan, or House of John,

was Mable and John Ringling's palatial Venetian-style home.

Being so fond of Venice,

Mable even brought a gondola back from Italy

and had it tied up at the bayfront dock.

♪

WOMAN: I probably paid about $25,

and that was about 50 years ago.

This was an exhibition in France in 1961.

And the poster is really sort of classic Chagall. Yeah.

This French version of the poster

tends to sell at auction

between $600 and $900.

I'm happy with that.

I got good bang for my buck.

You did, indeed.

WOMAN: This is a birthday gift from my father.

His father was in the jewelry business,

and this is part of the family collection of random things.

And it's a little music box.

It plays "Happy Birthday."

Wow-- "Happy Birthday" for a birthday girl.

(chuckling): Yes.

It's an American 14-karat gold musical charm from the 1960s,

set with glass gems,

and the motif on the back is music.

Yeah, isn't that cute?

It was probably worn on one of those

great big charm bracelets with all of that heavy gold on it.

Got you.

It's a little clockwork in there.

It's a little music box.

And such a thing sells now in an antique shop

for around $500.

Really? Wow!

I thought maybe $20.

That's amazing.

Could you show us how this works?

Yeah, you've got to pull out the little knob here

and turn it up.

(playing "Happy Birthday")

MAN: When I was living in Birmingham, Alabama,

I attended a regional arts and crafts show in Tuscaloosa.

And Howard Finster was there in person.

His family was also promoting his artwork.

I sort of fell in love with it because of its uniqueness.

And I ended up purchasing it.

When was it?

Around 1996,

according to the date on the work.

But he has since passed away.

Howard started having visions as a young man,

and by the time he was in his teens,

he was already preaching.

He preached for over 40 years.

He worked very hard to get his message out about the Gospel,

and he felt he wasn't being heard.

So in the 1940s, he started building

these sort of garden museums.

And he built one

around his home,

and he ran out of space.

And he was desperate to get the message out,

so he built a larger one in Pennville,

which he began in 1961.

And this became the Plant Farm Museum.

He was a minister,

but to pay the bills and take care of his family,

he was also a fix-it man.

He was a house painter.

He was a carpenter, a bricklayer.

He fixed bicycles and lawnmowers.

And so when he started

his museum garden,

he incorporated all of the bicycle parts and Coke bottles

and fake jewelry and toys, and verses from the Bible,

into this amazing, magical garden.

And you can still go and see this wonderful garden today.

It's now called the Paradise Garden.

His art started to take off from there.

People would come to the garden

and would actually request pieces

that he would carve out of walkways

for them.

And then in 1976, he had another vision.

This time it was a vision, God told him he needed to paint.

The order from God was,

he needed to paint 5,000 pictures

to get the Gospel out to the people.

So he would number his pictures.

So what we're seeing on the front

is a lengthy verse,

and it's signed down here by Howard Finster.

And we have the date, as well.

What we also have is the number.

He kind of made his goal. Goal.

It's a combination of media.

He worked in oil, but he also used regular house paint.

So he tended to use whatever he had available.

We can see there's even more information on the reverse.

The number is repeated on the back,

as well as the date.

And the verse continues.

And often, as he would paint for people,

he would preach, as well.

He was just a man who loved an audience.

Yes.

And quite the character.

In the early 1980s,

a rock band by the name of R.E.M.,

who was also from Georgia,

saw his garden,

and they filmed their music video...

Oh, very interesting.

"Radio Free Europe"... Very interesting.

"Radio Free Europe" was filmed in, in his Paradise Garden.

And from that moment,

he came into more of the mainstream.

He did album covers for R.E.M.,

and for the Talking Heads.

Can you tell me what you paid for it at the time?

As I remember, approximately $300.

And in the current market,

you're probably looking more like $1,000 to $1,500,

were you to sell it at auction.

That's very good.

I'll enjoy it.

If you were to insure it,

I would probably just about double that figure.

Very good.

WOMAN: The table has been in my husband's family for...

I would say over a hundred years.

His great-aunt lived in Manhattan,

and she had a lovely apartment,

and it was filled with antiques.

The table is a papier-mâché table.

That's the surface of it.

And the painting is called

"The Olden Time at Bolton Abbey."

Okay.

And the artist's name-- who did not paint the table,

but did the original painting--

is called Sir Edwin Henry Landseer.

And the table is actually stamped by the company

that made it.

Oh!

And right here,

there is a stamp that says, "Jennens and Bettridge."

Oh, I never noticed that before.

And then, "Birm," B-I-R-M, which stands for Birmingham.

Birmingham.

So we know the table was made around 1820

in Birmingham by Jennens and Bettridge.

There are some condition issues.

Unfortunately, the surface has got what we call craquelure,

where there's been heat and sun exposure,

and so the surface is cracked. Yes.

There's not a great deal you can do to fix that,

unfortunately.

And then, also, around the base, there's some wear,

and just general love to the table that has happened.

Yes, over the years.

When it comes to value, condition is a big issue here.

And so if I were to see this come up for auction today,

I would suggest a value of between about $1,000 and $1,500.

Okay.

It's good to know.

You've made me like it even more.

MAN: I inherited it from my grandmother.

My mother was born in 1908, and this was hers.

Did your mother or your grandmother

ever tell you anything about her?

Not-- no, no.

I really don't know much about her,

except that her head is made in Germany, I think.

Well, your doll is made in Germany,

and she was made by a company called Kammer and Reinhardt.

They made the dolls, but the heads were actually made

by another German firm called Simon and Halbig.

And we can see that mark on the back of her head.

Kammer and Reinhardt is indicated with a "K,"

a star of David, and "R."

And then you'll see Simon and Halbig,

and then you'll see the mold number.

This doll was made about 1912,

but she has a little secret for you.

She actually was marketed as Phillip.

Phillip.

So somewhere in the 1950s,

somebody decided this little boy Phillip...

No kidding!

...needed to be a little girl.

(both chuckling)

So she's had a little bit of a change along her long life.

She was made as one of the very popular character dolls.

Beautiful head made of bisque with glass sleep eyes,

and the other wonderful thing about your doll

is that it has a toddler body,

and that means that the legs

are a little bit chubbier and chunky,

like a young toddler would be.

That's very desirable with collectors.

We do have a wig that's been changed out.

The clothes, the shoes, everything's different.

So that does affect her value.

But retail value for this doll would be $2,000 to $2,500.

(chuckling): Wow.

I had no idea it was that... that much.

That's amazing.

Thank you very much.

(chuckles)

Wow.

♪

WALBERG: Although the mansion was built during the Prohibition era,

John Ringling included this taproom,

which was acquired in 1925

from the Cicardi restaurant in St. Louis.

Alcohol was stored in a vault on the third floor,

hidden behind a false wall.

♪

WOMAN: It's been in my family a real long time.

My dad was an appraiser.

He did appraisals for the government, customs.

And he said to me one day, "Whatever you do,

"when you throw all the junk out,

this isn't junk-- don't get rid of it."

So it's been sitting in our living room

for a really long time.

It just has a lot of sentimental value to me.

Sure.

Well, first of all, it's such a wonderful example

of Victorian extravagance.

I mean, you've got this wonderful shell

being held up by coral, with other shells and seaweed,

and then there's several tones of gold decoration on it.

Is it-- is it gold?

Is it actual gold, or it's gold paint?

Well, there is some gold in the paint, yes,

but they used other materials to bind it. Uh-huh, okay.

And then we've got this terrific lizard.

It was made by Royal Worcester, right around the 1880s.

Really?

Yeah. Oh, my God, that's impressive.

So it's terrifically old.

And when this was new, this was a fairly expensive object.

It was a luxury item that you would have bought

in a very nice store.

This is made of porcelain. Okay.

And it came both with and without the lizard,

but I personally like it better with the lizard.

Much more... Me, too.

That's what caught my eye.

That's why I didn't get rid of it. Right.

They also made this same piece in majolica.

So it was a fairly popular model when they made it.

Wow-- it's beautiful.

It's beautiful.

So, you know, I'm crazy about it.

It's... in terms of value,

it does have good value these days, but not spectacular.

It would, retail price today would be around $400 to $600.

Mm-hmm.

Well, the value to me is, my father asked me to keep it,

and being here today with you guys is the best part of it all.

I bought them at a couple of estate sales.

The one closest to me I bought with my mother,

and the one on your side, I bought with my mother-in-law.

What drew you to them?

The people I bought them with urged me to buy them.

And they were just interestingly made.

I had never seen anything made that way, so I bought them.

Terrific. They're pretty.

The piece closest to me dates from about 1905.

Okay.

It is a classic shape.

It is made of a tape lace, which is a type of lace.

It has a classic high collar

from 1905, of course.

These wonderful full sleeves, catching at the elbow.

It has what we call as a powder pigeon chest.

At the time, they were going to be wearing these corsets

that threw your body into sort of an S-shaped curve.

It would have tilted you forward--

your back back and your forward forward.

And it gives you sort of a monobosom,

it's very blousy up front.

And then long and straight with a lovely, lovely train.

It is an afternoon tea gown.

Oh, I thought it might be a wedding dress, but...

No, probably not.

It's a tea gown.

Of course, you had a lot of different changings of clothes

during, during the day,

so this is an afternoon summer tea gown.

It would have had a slip underneath it,

just a plain white, white slip.

I don't know where this dress was made.

It could have been made in America very easily.

The piece closest to you is later,

about 20 years later.

It is what we call Irish crochet, or Irish lace.

And things would be shipped over to America

and distributed in major cities.

This also would have had a slip, as well.

And how much did you pay for both of these?

I almost didn't buy this one.

My mother said I had to.

And I thought it was

a little bit much for $35.

So I probably didn't pay much more than that

for the other one.

Well, the piece on the left here,

it has a waistband that's been changed.

It has sort of a big, cotton waistband.

But I still think it's going to be,

in the retail market,

about $1,000.

Okay, nice.

The piece closest to you

is not as elaborate as some of the ones we see.

It's all handmade.

That's not... Okay, I wondered about that.

Absolutely.

The ones that are much more expensive

have these sort of three-dimensional quality.

So yours is later in the history of Irish lace.

It is incredibly wearable.

It has a retail value

of about $750.

Okay, wow. Yeah!

So you did very well.

Thanks, Mom.

(both laughing)

♪

This is a painting done

after this woman turned 74 years old.

She was a social worker, then went to law school.

One of the very first women ever to be enrolled

into the Georgia Bar Association.

APPRAISER: It's probably from the last 25 years of the 19th century.

They were transitioning from the style of tapestry

that was being made in the 17th and 18th century.

And in the 19th century,

they became a little bit more commercial.

And they came up with some ways of producing them

that allowed them to make them more quickly.

They don't have the same degree of flexibility

that one of the earlier ones would have,

but they still have good decorative value.

MAN: Who owns the chair?

I do.

Who has to carry the chair?

I do. She does.

She's younger than me.

♪

MAN: I've been told that it belonged to my mother's great-aunt,

and that's all we know about it.

This is an interesting piece of Ohio pottery.

This was made by Roseville

in the Roseville-Zanesville area of Ohio,

probably about 1915.

And what's interesting about it is, this is done with a decal.

Now, that sounds like five-and-dime stuff.

And that's exactly what this was in its day.

It doesn't hold up real well.

The decal becomes scratched.

It's ceramic, it can break, so these are fairly rare.

This is a line that Roseville called "Tourists,"

probably in reference to the cars.

There was usually an automobile involved.

It's a very nice piece.

It's clean.

The decal is in great shape.

The color's good.

Everything about it is fine.

In today's auction value,

we're probably looking at somewhere

between $1,200 and $1,700.

Okay.

My father-in-law had a great career.

His whole career was with Nabisco Foods.

At one point, he moved back to the main headquarters

in New Jersey,

and he had a beautiful office there.

And when he retired, he was invited

to take all of the artwork from that office with him

as a retirement gift.

And this was one of the pieces that was in his office.

We've had it in the family for a long time, and...

So we're just curious what the story is.

Did he tell you why he chose this artwork?

Was he a hockey fan?

Well, he was not the hockey fan.

Ross Johnson, who was the chairman

who purchased this for the company,

was a big hockey fan.

He was Canadian, so, clearly,

that's all you need to know about that.

So this is Wayne Gretzky,

and that was the reason that he chose this piece.

Of course, this is Wayne Gretzky.

This is a portrait of Canadian royalty here.

(chuckling): Yeah.

What's interesting is that this is, of course, Andy Warhol.

And the title of this is "Wayne Gretzky #99,"

which was his number.

He's the most famous hockey player

in the history of the game.

Famous Edmonton Oiler, Hall of Famer.

And what's fascinating about this print

is that Warhol really didn't know anything about hockey.

(chuckling): Not surprising.

My artist friends don't know anything about hockey, either.

But Warhol specialized in taking celebrities,

and this was really what he perfected with his screenprints,

is taking celebrities

and giving them this pop icon status.

And Wayne Gretzky certainly had that at this time.

This print was made in 1984.

In 1984, he was basically bestowed

the equivalent of knighthood in Canada.

Two years before, he had been Sportsman of the Year.

I mean, he was an amazing athlete.

He was the first NHL player to get MVP

his first year in the game.

So he was really an outstanding sports player,

but he became something larger than life.

This is a later Warhol.

Warhol died in 1987,

so this is towards the end of his career. Yeah.

But he did these great portraits,

and, of course, other sports figures,

like Muhammad Ali,

also had the Warhol treatment.

This is a color screenprint,

and it's done in an edition of 300.

So 300 were printed, plus about 50 artist's proofs.

In addition to signing it himself

and numbering it part of the limited edition of 300,

it's also signed here by Wayne Gretzky,

and it was done with the printer

that Warhol worked with his entire late career.

Rupert Jasen Smith was a master screenprinter.

And these are thick layers of print.

They have a real painterly quality.

So it's printed on a very stiff,

what's called museum board,

to really make it stand up.

It is a popular print, comes up often.

And today, its auction value would be $7,000 to $10,000.

Oh, terrific-- excellent. Yeah.

Great, well, thank you.

♪

WALBERG: The impressive painted scenes on the game room ceiling

were executed by Hungarian artist Willy Pogany,

a well-known book illustrator and set designer,

who included this self-portrait.

Here, the artist has playfully depicted John and Mable Ringling

at a Venetian carnival.

WOMAN: I brought a letter that I inherited

from my great-aunt Martha,

and it is a letter that J.D. Salinger gave to her

when they had a relationship.

They met on a cruise to Cuba in the late '40s.

And they fell in love.

They were engaged.

They did not, ultimately, marry

because of his faith and her faith.

He was Jewish, and she was not.

And her family--

my family did not accept that at the time.

And it's actually a letter that he wrote

from his dog to her dog.

So his dog's name was...

Herman. ...Herman.

And her dog's name was?

Jigger. Jigger.

In the third line down, he's saying--

the dog, Herman, is saying, "I can type.

"I can type it better than he and could write better stories,

"if I felt like it.

The trouble is, I ain't got the time."

It just shows a very charming side of him.

J.D. Salinger was an incredibly private man,

and he didn't correspond to too many people,

so we do not see

many of his letters at auction.

This letter is entirely typed.

On the reverse,

there are a few pencil notes,

and they kind of reflect the same play with letters

that is on the opposite side.

I think a conservative estimate at auction for the letter

would be about $600 to $800.

It would be more interesting if it actually had

the signature or something that J.D. Salinger

put on there himself.

And the way this is written, I would really need

to verify whether or not it is Salinger's writing.

It is a beautiful letter, and I will cherish it forever.

♪

APPRAISER: It is a schoolbook.

It's from the 1880s.

But there were lots of these schoolbooks.

When I was piecing through this, there's a birthday card.

Probably the music book is worth ten or $15.

The card's probably worth ten or $15.

But I think the card's a whole lot more fun

than the music book. More fun than the music...

APPRAISER: What'd you pay for it?

WOMAN: I think $700.

That was a retail price a long time ago.

Unfortunately, Steuben glass has come way down.

Oh, okay.

In today's market, probably would be about $150 to $200.

Oh, wow, okay.

Good, well, I wasn't going

to do anything with it, anyway, so...

Yes.

♪

MAN: I went to a farm auction in 1999, and I simply bid on it.

It was my birthday, so I decided I was going

to get this for myself for my birthday.

It caused quite a commotion at the table

because it truly is beautifully done.

It is a pipe bag.

When you weren't smoking,

out of the sacredness of the pipe,

you would take the pipe bowl and separate it from the pipe stem.

Oh, wow.

And put it in your bag.

Very nice.

So it was a man's... accoutrement.

And you have some arm garters there, too.

The pipe bag

is from the-- we believe--

from the Plains Cree,

the body of it.

And then the panel drop underneath it

is probably Sioux.

it was made around 1880.

As you can observe, the beads on the panel,

above the fringe,

are the same beads that are used

in the making of the arm bands,

which means they were made about the same time.

The beads are seed beads that...

Many of them ceased to exist

in manufacture after 1880.

They were traded in to the Native Americans.

They came from primarily Venice, Belgium.

The person who executed this bag was a master.

It was a woman.

The body of the bag itself is made of deer hide,

and it has deer hide fringe, it's incredibly supple.

At an auction market today,

we feel conservatively that it would be--

the bag itself would be $7,000 to $9,000.

(whispers): Wow.

That's nice.

And you paid how much?

$67.

There you go. (chuckles)

The set of armbands at auction

would sell for $1,000 to $1,200.

Oh, really?

There's a specialness to this that made us all, you know,

a little chilled.

It's a treasure.

It was a thrill.

Thank you very much.

WOMAN: My uncle left this

to my sister and me.

It was given to him by an American author

named Marie Killilea,

who he was very good friends with.

This is a Chinese jade carving.

It's likely that this would have been given originally,

so in China, as a wedding gift.

Firstly, it's a seated boy.

In the Chinese culture it was hoped that the bloodline

would continue through marriage

and that the married couple would have many boys.

These are actually representative of linked coins.

Oh!

This is a celestial ribbon linking coins. (gasps)

So with marriage, one hopes for children,

and we also hope for wealth.

So it's a wonderful wedding gift,

if one was to receive this during dynastic China.

Now, dating the object,

this is a celadon jade.

There's a little bit of skin to the top,

which is that brown hue.

The collectors of Chinese jades like skin.

It is an imperfection.

It is an anomaly to the celadon ground.

Okay.

But it doesn't detract from the value.

At times, it actually adds to the value. Okay.

The carving, one could date

to the 17th or the 19th century.

The reason I'm omitting 18th is,

there was a desire for more pure white jades,

and the carving were often ultra-hyper-realistic,

so very crisp.

This is a little bit more into that 17th or the 19th century.

So let's say it could date 200 or 300 years.

Okay.

But dynastic, Qing dynasty China.

The stand is likely something done in the '20s

to help a dealer or collector elevate the jade,

present the jade for sale.

It was just common that most of the stands

were unrelated to the figure.

Do you have any idea of value?

I have no idea.

(chuckling): I have no idea.

In a retail setting,

it would probably carry a price tag of $7,000.

(chuckling): Oh, very nice.

Thank you.

Years ago, I worked at Knoll Associates,

before it became Knoll International.

And one of the exhibitors in the showroom

was Harry Bertoia and his furniture.

He had some of his sculptures in the showroom,

and, apparently, I had sold one

to a customer,

because I was

in communication with him.

And I asked him if he ever had a sculpture,

and specifically this one,

that I would be interested in buying it.

And he wrote back and said,

well, he didn't have one at the moment.

And a few months later, I had a letter from him

saying this sculpture was in the mail, that it would be $250.

I was thrilled that I could have it.

So after it arrived, I put it on the showroom floor,

and architects went crazy for it.

I had offers all over the place for it.

But I said, "Nope, I want it myself."

At the time I received it,

these little balls were bright gold.

I did take it to a restorer.

It would be laborious, and I'm just wondering,

is it worth it for me to do that?

And did you actually know him,

or was it all corresponding? No, I never met him.

But I think I must have talked to him,

because there was other communications,

probably by phone, so I don't have any record of that.

I just have a couple of letters.

Well, Bertoia was born in Italy, just north of Venice,

and he came to the United States

when he was 15 years old, which was in 1930.

Wound up in Detroit,

and he studied at the Cranbrook Academy.

And that's where met Florence Knoll,

and he also met Charles Eames--

who were major, major designers of furniture

in the 20th century.

And he was very successful as a metal worker,

and he actually headed the metal-working department

at Cranbrook,

and he made jewelry.

He made lots of sculptures.

But the sculptures didn't come till a little bit later

because he went out to California

and worked with the Eameses on their molded plywood furniture,

and he was very, very innovative,

making the tools and the jigs to make up the pieces.

And then through his friendship with Florence Knoll,

he moved to Pennsylvania and started designing furniture.

And he made sculptures.

His most famous sculptures are these ones

that are called Sonambient.

And they were basically long rods with tops on them,

all in bronze.

And they would be pushed together,

and they made sounds and music.

And he actually recorded it, and he produced records, LPs,

and sell them as music.

He also did these, which are called the Bush Series.

So it's made of bronze.

And the pieces are welded together,

rather than being cast, like most bronze is.

And the letter is dated in 1969.

So I think it was probably made around 1969.

Looking through all the auction records, I was really fascinated

because they all say, "Untitled, Bush Series."

And interestingly enough, in your letter,

it actually says over here what the title is, "Golden Tree."

And that's something that, that I haven't come across

in any of the auction records.

I think that's really fascinating. Oh!

If you wanted to restore it, it's pretty labor-intensive,

because you'd have to actually polish each one of these balls.

So I think you probably would be looking

at a couple of thousand dollars to restore it.

I don't think that's necessary.

It is wonderful, and as I said,

the market is very, very hot for this.

In the current auction market for this,

the value is between $30,000 and $50,000.

(chuckles)

How nice.

I think so.

(laughing)

It's a long way from $250, huh?

(laughing): Yes.

WALBERG: You're watching "Antiques Roadshow" from Ca' d'Zan

WALBERG: And now it's time for the Roadshow Feedback Booth.

BOTH: Lotta bling, bada-bing.

Love "Antiques Roadshow."

I brought this antique doll from the 1890s,

but, sadly, found out that she had plastic surgery

and was refurbished in the '50s.

So instead of being worth thousand of dollars,

she's worth about $400.

And this is a Friendship 7 space capsule

from Project Mercury.

Originally it came from the Tower Theater

in Upper Darby, Pennsylvania, when I was at the movies.

And it cost a dime because it had a grape drink in it.

And I've used it as a penny bank when I was a kid.

And now it's worth $50 to $75.

Not too bad.

We drove down here 26 hours, we're Thelma and Louise,

and we have a cardboard Brad Pitt in the backseat of our car.

And we decided we were going to take the trip in two days.

On the way back, we're not driving straight through,

because that was insanity.

We made it! Yeah!

(chuckling)

This is a picture of the last khedive

for the Ottoman ruler of Egypt, Abbas Hilmi II.

And we found out that Abbas is not worth quite as much

as my wristwatch... my pocket watch,

which turns out to be my great-grandmother's

instead of my great-grandfather's.

(chuckles)

"Antique Roadshow"...

By the sea.

A beautiful home. Couldn't ask for more.

WALBERG: I'm Mark Walberg, thanks for watching.

See you next time on "Antiques Roadshow."