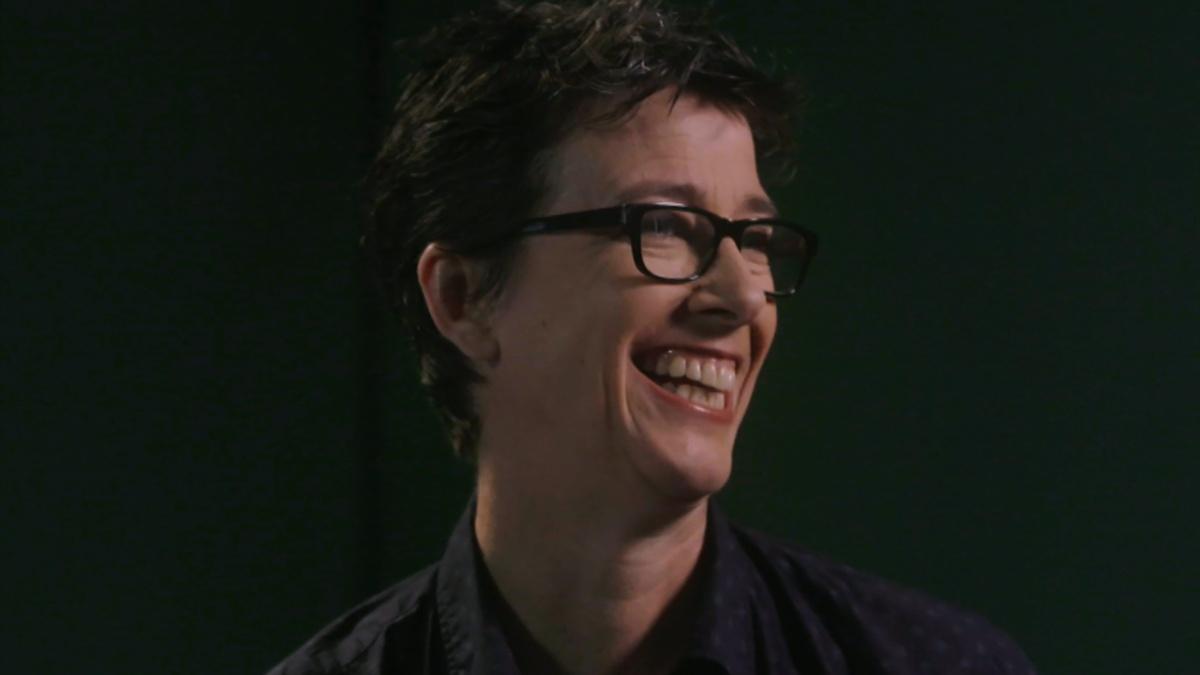 S2019 E4 | FULL EPISODE
Rachel Hauck, Tony Award Nominee, "Hadestown"
In this episode of "And the Tony Nominees Are…" Rachel Hauck, Tony Award Nominee, Best Scenic Design of a Musical, "Hadestown" talks about the moment she knew she'd be a theatrical set designer and how the team arrived at a tavern as the main setting of the show.
TRANSCRIPT

The play was William Inge's "Picnic,"

and an architect had designed the set,

and so the model was amazing.

I took one look at that model, and I just understood it.

I just understood it, and I knew then,

weirdly, specifically, that that's what I wanted to do,

and that's what I pursued from that moment.

The play was William Inge's "Picnic,"

♪♪

♪♪

My name's Rachel Hauck, and I am nominated

for the set design of "Hadestown."

I find it weird, because we had been to a lot of plays, right?

My parents were subscribers at South Coast Rep.

We'd been to a ton of plays, and I never sat in the audience

and looked at it from that perspective

and had that response.

It was being in the room with that model.

I mean, it was a high-school play

in a teeny-tiny theater, right?

So it was flat, and we painted the perspective lines

of the house.

We painted the collaborate lines of the house in perspective.

So it was, like, hours of measuring,

taping, painting the gray line,

then taping a smaller thing and painting the dark gray line,

and then putting some spatter on it.

And when you took a step back, it was magic to me.

And I loved every bit of it.

I loved -- I mean the minute I had my hands in it,

I just never wanted to do anything else.

And I'd never been very book smart,

but I've always been really visual.

You know, I think every kid loves a LEGO, right?

But that's my strongest childhood,

is playing with that stuff.

We had a big wicker basket full of LEGOs,

and I remember that.

But we had a beautiful sun-room,

and we played in that sun-room all the time, my sister and I,

and made stuff out of all kinds of little things.

When I design, I make models, which is a very hands-on,

visceral way to create these designs.

That's always been familiar to me,

having a tool in my hand and making something --

that's always been something I could do from the minute

that I needed it for this -- to do this, I could do it.

And I had a friend, the same friend

who wanted to be an actress for five seconds.

Her mom was a sculptor, and they had this, you know,

house in Irvine, California,

and, secretly in the backyard, a giant kiln,

and she was making big, public artworks,

and the inside of the house was like a museum.

Being part of that world was really formative to me,

really great to sort of realize

there's so many different ways to move through the world.

My parents brought us --

every weekend, we went somewhere.

We were always in a museum.

We were always at a play.

We went to see everything.

We were exposed to, brought to, enjoyed arts

at every level our whole childhood.

That went deeper.

Then there was that moment where I was like,

"I'm gonna be an artist," and they were like,

"No, no, no, no.

Please choose a reasonable career."

I totally watched all these award shows as a child.

They're incredibly inspiring to me --

snips of all the big musicals before I could come see them,

to, you know, see people recognized for their work,

it's always been a dream.

I can't really deal with it.

It's so exciting.

It's completely overwhelming.

The amount of outpouring and love

that has come my way in the last two weeks is overwhelming.

People from my entire life.

So many people wish you congratulations,

and then every now and then,

somebody would say the full sentence,

"Congratulations on your Tony nomination,"

and I would freak out.

I still do a little bit.

It's incredible. It's incredible.

Hands down, my family has supported me the most.

They have been by my side for so many years.

They have been to all of these productions, good and bad.

Learning curves, you know?

But I am incredibly fortunate.

They have been by my side my entire life,

and I'm really grateful to them.

I wish my dad was still here.

One of my parents' friends sent me a note that said,

"Your father would be proud," which made me weep instantly.

Incredible.

♪♪

♪♪

♪♪

The play was William Inge's "Picnic,"