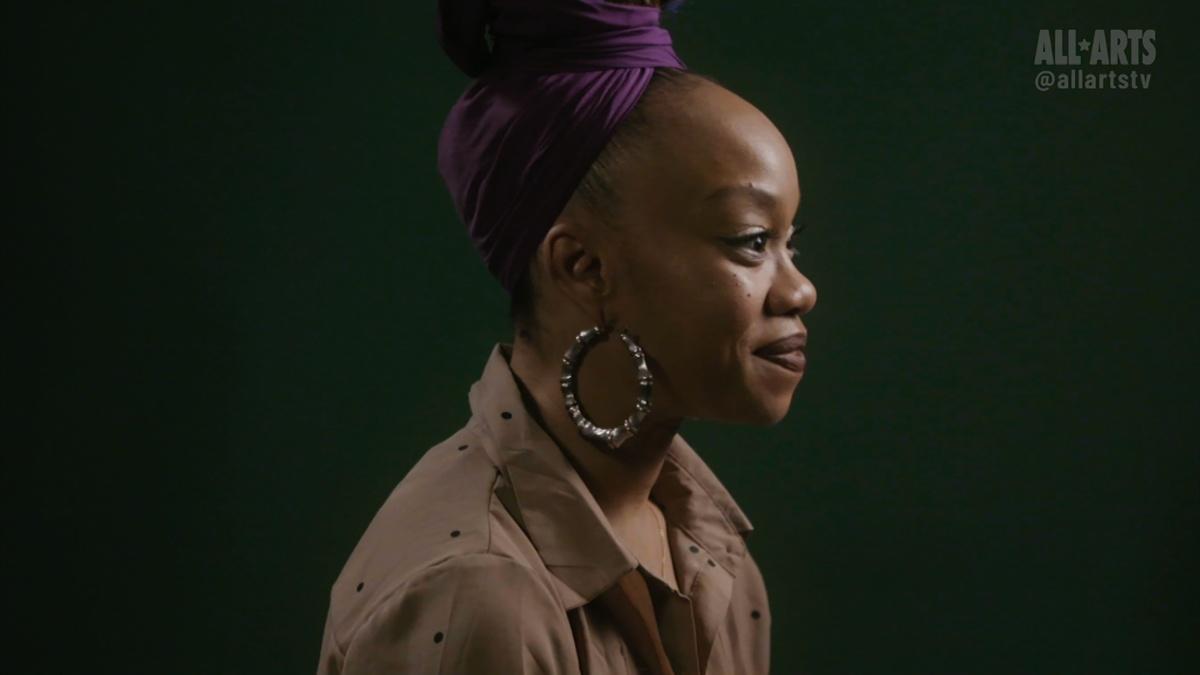 S2019 E1 | FULL EPISODE
Camille A. Brown, Tony Award Nominee, "Choir Boy"
In this episode of "And the Tony Nominees Are…" Camille A. Brown, 2019 Tony Award Nominee, Best Choreographer for her work on "Choir Boy" talks about finding her voice through movement, putting on shows for her family as a kid, her mother's influence, her struggles in college, the inspiration for the movements in "Choir Boy" and the significance of being a Black woman nominated in this category.
TRANSCRIPT

The largeness came as a dancer.

You know, people say that

I'm a completely different person on stage,

but it's because it's my safe space.

The vastness of space -- you know,

I want to take it up on stage, and I believe that I can.

I believe that all things are possible when I'm on stage.

I can do anything, I can be anything,

and that's not something that I necessarily felt comfortable

doing when I was growing up.

♪♪

♪♪

Hi, my name is Camille A. Brown, and I'm Tony nominated

as the choreographer for "Choir Boy".

I have a small voice. I've always had a small voice.

I mean, 20 years ago, it was even higher than it is now,

and I didn't really talk a lot because I was always teased,

so I felt very insecure.

Movement was always a way for me to express myself

and to communicate to other people how I was feeling.

I've always wanted to --

I've always liked putting things together,

putting shows together for my family.

You know, we had family gatherings

and then I would tell them,

"At 8:00, we're gonna have a show,"

even though that was probably torture for them.

So, I always loved to do that,

I just didn't know it was choreography.

My mom loves dance.

It was something that she always loved.

She's a retired social worker,

but she was actually the one that introduced me to musicals.

"Jelly's Last Jam," "Damn Yankees," "Chorus Line,"

"Bring in 'da Noise, Bring in 'da Funk."

So, it's because of her that I'm here.

I definitely loved it,

I just didn't know if it was a profession.

In school, you're taught teacher, lawyer, doctor.

I went to LaGuardia High School and The Ailey School.

From high school to college,

I felt like there was gonna be something new, a new experience.

I had been struggling with body issues and weight,

and I felt like, "Okay, well,

this is a new atmosphere, new state.

That's not gonna follow me."

And it totally did.

It was heartbreaking, and I wanted to transfer immediately.

And I told my mom, and she said, "Okay, well, you just got there,

so let's finish out the semester

and then have a conversation about transferring,

but in the meantime, you have to find something that you love

that you can stay focused on."

Trish Casey was my first teacher at NCSA.

She was actually asking us, "What do you think about moving,

and what is your personality?"

And I'd never thought of it like that.

I didn't necessarily know then that I wanted

to be a choreographer because I just thought,

"Okay, this is something to keep me, you know..."

And I mean, I graduated,

and there weren't a lot of representations of black women,

black female choreographers.

I knew Marlies Yearby and Dianne McIntyre and Katherine Dunham,

but I had to do the work to see them.

"Choir Boy" specifically,

the movements that are in the show,

are rooted in Juba dance,

which is an African-American social dance

that started during slavery.

The enslaved Africans were not allowed to have instruments

on a lot of the plantations because there was fear

that they would be communicating to each other

through those signals.

The enslaved Africans used their bodies to make sounds,

and your body is an instrument, as well,

so they used that to communicate.

Also, step, which is an African-American social dance,

which is also connected to Juba.

And I was also thinking about South African gumboot dance,

which comes from South Africa and it's the miners --

were wearing boots and they weren't allowed to speak

to each other during their work.

So in order to communicate, in order to keep the rhythm,

they would start making noise very much like Juba dance.

You are doing something that is culturally specific

in front of people who may not necessarily understand.

Are you gonna water it down

or are you gonna tell it like it is?

Trip Cullman -- the director -- and Tarell Alvin McCraney,

they really gave me the space to do that because it's a play.

So they could've said, "Well, this is a play.

They don't dance. What are you doing?"

But they didn't.

I never thought I would be here, as a black woman.

The last black woman nominated in this category

was Marlies Yearby for "Rent" in 1996,

so it's been 23 years.

So that means a lot.

It means that I have an opportunity

to thank Marlies and Dianne and Katherine Dunham

who paved the way for paved the way for me

and other black female choreographers.

But also, I hope that this gives me a platform

where a young black girl like myself looks

and sees a reflection of herself and goes,

"Oh, I can choreograph, too.

I can make my own dances."

I may be getting teased, but I can create my own voice,

so that's what it means.

I mean, it means a lot of things,

but I just think about those...

♪♪

Yep.

♪♪

♪♪

♪♪