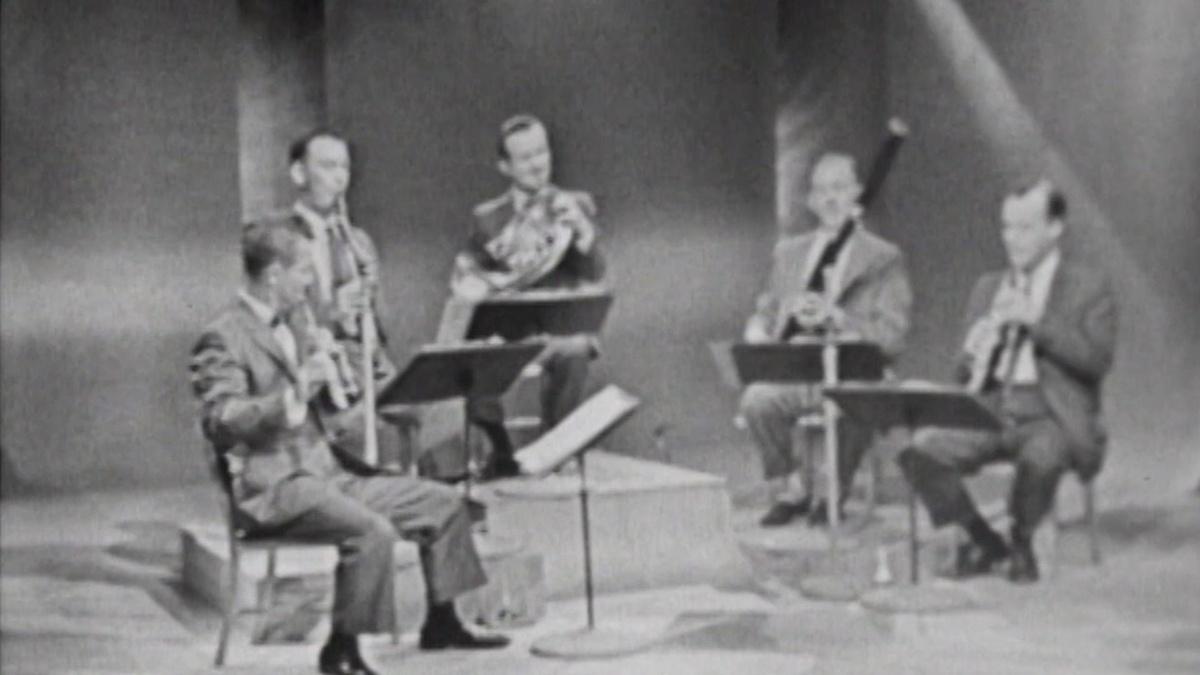 FULL EPISODE
Two Hundred Years of Woodwinds #8
This 1959 series features members of The Philadelphia Woodwind Quintet, made up of flute, oboe, clarinet, French horn, and bassoon. The musicians play a piece, then break it down in order to show how their instruments evoke certain images through music. They also explain the history of the instruments and how they were grouped - eventually culminating in the modern day quintet.
TRANSCRIPT

Welcome to the All Arts Vault. I'm Maddie Orton.

The Vault is the place to go

for special access to all things arts.

So we're going into the archives

to uncover some of our greatest gems

and share these programs with you

as they would've been seen decades ago

when they first aired.

Join us for a deep dive into a rich programming history

of over 50 years of archival content.

♪♪

♪♪

♪♪

♪♪

♪♪

♪♪

♪♪

Narrator: Paris at the beginning of the 19th century

was the scene of events

that were literally shaking the world.

A new order under Napoleon was fostering music

and the arts under an educational system

never before so readily available to the people.

The revolution brought a return of music

to the people in which the leaders of the revolution wished

to imitate the Greeks and Romans

by having music in all public celebrations.

In imitation of Plato's Republic,

it was decided that musical education

was a responsibility of the government,

and so came into being the Paris Conservatory.

In this atmosphere of change and progress,

there appeared a young Bohemian musician Anton Reicha

who achieved considerable success as a composer

and also as a professor at the Paris Conservatory.

One of Reicha's great interests was the use of woodwinds

in chamber music, an interest which was naturally shared

by the outstanding players of the day.

In the first edition of Reicha's 24 woodwind quintets,

there appears a sort of manifesto

signed by the five instructors of woodwind instruments

at the Paris Conservatory.

It begins with these words --

"For a long time the string instruments have had

the exclusive privilege of holding the attention

at musical evenings.

Is it not regrettable that the wind instruments,

which by their very nature approach the human voice

so closely, should be thus excluded?"

This manifesto continues by explaining

how beautiful performances of these quintets

will encourage composers

to write more for the woodwind quintet.

♪♪

♪♪

♪♪

♪♪

♪♪

♪♪

♪♪

♪♪

♪♪

♪♪

♪♪

♪♪

♪♪

♪♪

♪♪

♪♪

♪♪

♪♪

♪♪

♪♪

♪♪

♪♪

♪♪

♪♪

♪♪

♪♪

♪♪

♪♪

♪♪

♪♪

♪♪

♪♪

♪♪

The horn call at the end of that movement reminds us

of Beethoven.

For in every work that Beethoven wrote

including horn that is chamber music works,

he includes this horn fanfare

somewhere along the line.

It is small wonder that Anton Reicha used the same technique.

He and Beethoven were lifelong friends.

They were born in the same year,

1770, they played in the same orchestra together in Bonn.

Beethoven was a violist and Reicha a flutist.

They were 16 at the time.

In our preparation of this quintet,

"Opus 100 Number 3" of Reicha,

we have noted an amazing correlation

with Beethoven's third symphony, his "Eroica."

Both are in the key of E flat.

Both have four movements, two of which are a funeral march

and a scherzo, and the tempo or meter

or speed of each movement is very similar.

Now we can best illustrate this for you

by playing some musical excerpts.

Let's play first the Beethoven funeral march.

♪♪

♪♪

Now the Reicha funeral march.

♪♪

♪♪

Now the scherzo in Beethoven's "Eroica"

♪♪

And the Reicha scherzo.

♪♪

As you listen to our rendition of the second

and third movements of this Reicha quintet,

we invite you to draw your own conclusions.

♪♪

♪♪

♪♪

♪♪

♪♪

♪♪

♪♪

♪♪

♪♪

♪♪

♪♪

♪♪

♪♪

♪♪

♪♪

♪♪

♪♪

♪♪

♪♪

♪♪

♪♪

♪♪

♪♪

♪♪

♪♪

♪♪

♪♪

♪♪

♪♪

♪♪

♪♪

♪♪

♪♪

♪♪

♪♪

♪♪

♪♪

♪♪

♪♪

♪♪

-The fact that he played the flute gave Anton Reicha

a particular interest in woodwind chamber music,

and it also gave him a knowledge of the possibilities

of these instruments.

He wrote well over 100 works for woodwinds

including these 24 quintets. His novel use

of the woodwind colors attracted the musical public,

and his works were very popular about Paris in 1815.

This Czech-born composer who had been a friend of Beethoven's

both in Bonn and in Vienna

and also Haydn came to Paris about 1808 to make his home.

He immediately established himself as a composer

and a teacher.

He even wrote a couple of volumes of works on theory.

A little later, he became a professor of counterpoint

at the Paris Conservatory.

During his entire life -- during the course of his life

Reicha became so important in the musical life of France

that he was elected to a chair in the Beaux-Arts,

which is the highest honor that can be awarded

in France, musically

It seems incredible that Anton Reicha is a name

which most people and even most musicians don't know.

He was a master theoretician to whom many composers of the day

brought their unsolvable musical problems.

As a composer, he was full of originality and novelty.

Imagine 130 years ago, he wrote that quarter tone music

would be an interesting and rewarding departure.

He had the audacity in one of his compositions

to write for eight kettle drums

tuned to a section of the chromatic scale.

However, Reicha's indelible stamp on music

was made through the influence on his students,

not on his composition -- not of his compositions.

Certainly we've all heard the works of Liszt

in his orchestral works.

His writing for woodwinds,

undoubtedly bear the stamp of his teacher Anton Reicha.

Charles Gounod's opera "Faust" and his petite

symphony for winds are unquestionably influenced

by his teacher Reicha

César Franck, another student of his

was the first composer to write for English horn

and bass clarinet in his very well-known symphony.

Now we come to that master innovator and nonconformist

Hector Berlioz in his "Fantastique" Symphony,

he wrote for woodwinds with an understanding

that was certainly influenced by Reicha.

In his Requiem "Berlioz," outdid his teacher

and all composers of the day. He wrote for 200 voices.

He wrote for a huge symphony orchestra,

16 kettle drums, and four brass bands.

Next week -- our next program we're going to speak about

another student of Reicha's, George Onslow,

perhaps lesser known but important in the woodwind world.

There is little doubt

that through these famous students of his, Anton Reicha

had an important part in the formation of modern music.

The fourth movement of this quintet we're playing today

is an Allegro

in which all of the instruments play very brilliant parts.

♪♪

♪♪

♪♪

♪♪

♪♪

♪♪

♪♪

♪♪

♪♪

♪♪

♪♪

♪♪

♪♪

♪♪

♪♪

♪♪

♪♪

♪♪

♪♪

♪♪

♪♪

♪♪

♪♪

♪♪

That was the final movement,

the fourth movement of the quintet

for flute, oboe, clarinet, bassoon, and French horn

by Anton Reicha.

The ancients had a saying that all roads lead to Rome.

To paraphrase that a bit, in the history

and development of woodwinds,

we should say that all roads lead to Paris.

We have seen how woodwind playing became important,

first in Germany and then again in Italy

with the wonderful works of Bach and Vivaldi.

And how the German world

and the Italian world blended together and met in Vienna

and the wonderful music of Haydn, Mozart, and Beethoven.

And the phenomenon of the Mannheim Orchestra,

which spread its influences all over Europe,

and then again, moved down to Munich

where it was even more prominently felt.

And now, we have Anton Reicha, who came from Prague

and moved on to Paris.

And truly, all paths for woodwind music met in Paris

and came to the highest point of flowering.

Now, there are many reasons for this,

and they are interesting ones.

For one, we have a royal court in Paris

with a rather high cultural level,

which was able to afford the finest musicians in Europe

whether they brought Lully from Italy to Paris

or Gluck from Germany,

it was always at a very high level.

Then again, the French revolution

brought about a school of music,

which not only made this available

to the musical population,

but also, they achieved a standardization of all methods

for all instruments so that there was only one concept

and one fourth for music.

And that is basically the way

it is today in the Paris Conservatory.

There are also other factors such as the presence

of the very fine cane fields in the south of France,

so that players of the clarinet and the oboe

and the bassoon have a selection of the finest reeds,

and many other interesting reasons too numerous

to account at this point.

Now we're going to stay in Paris for a while, and we're going to

show you the transition from Paris to the United States

where these principles of wooden playing

are firmly embedded today.

♪♪

♪♪

♪♪

♪♪

♪♪

♪♪

♪♪

This is National Educational Television.