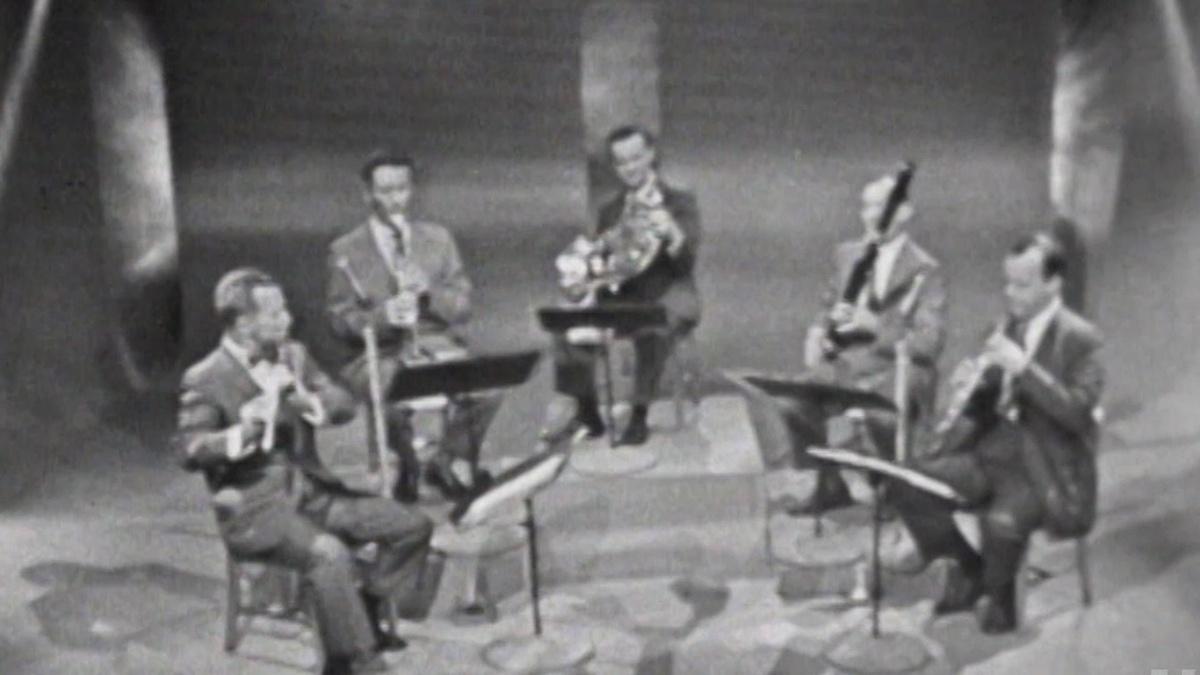 FULL EPISODE
Two Hundred Years of Woodwinds #6
This 1959 series features members of The Philadelphia Woodwind Quintet, made up of flute, oboe, clarinet, French horn, and bassoon. The musicians play a piece, then break it down in order to show how their instruments evoke certain images through music. They also explain the history of the instruments and how they were grouped - eventually culminating in the modern day quintet.
TRANSCRIPT

Welcome to the All Arts Vault. I'm Maddie Orton.

The Vault is the place to go

for special access to all things arts.

So we're going into the archives

to uncover some of our greatest gems

and share these programs with you

as they would've been seen decades ago

when they first aired.

Join us for a deep dive into a rich programming history

of over 50 years of archival content.

[ Orchestral music plays ]

♪♪

♪♪

♪♪

♪♪

♪♪

♪♪

Man: [ Speaking German ]

Narrator: This enthusiastic review was read by

the music-loving Viennese one fine morning in 1805.

The concert?

Another first performance

of works by Vienna's favorite adopted son.

The composer dismissed the work as a trifle

tossed off in a single night,

but the sketchbooks of Ludwig van Beethoven

showed the painstaking work of 10 years.

Today, we love the freshness and high spirits of this work

with its opening largo reminiscent of

the winds' military heritage

and the toy-trumpet clarinet of the following allegro

in the first movement

as arranged by the Philadelphia Woodwind Quintet.

[ Beethoven's "Sextet For Winds In E-Flat Major, Op. 71: I. Adagio - Allegro" plays ]

♪♪

♪♪

♪♪

♪♪

♪♪

♪♪

♪♪

♪♪

♪♪

♪♪

♪♪

♪♪

♪♪

♪♪

♪♪

♪♪

♪♪

♪♪

♪♪

♪♪

♪♪

♪♪

♪♪

♪♪

♪♪

♪♪

♪♪

♪♪

♪♪

♪♪

♪♪

♪♪

♪♪

♪♪

♪♪

♪♪

♪♪

♪♪

♪♪

♪♪

♪♪

♪♪

Beethoven's preoccupation with the freedoms and rights

of the individual man was not solely confined

to the philosophical and musical level.

His struggle for independence also involved

the practical aspects of his everyday existence,

and when his contemporaries

began to pirate and transcribe his compositions,

he shouted his complaints from the very housetops.

Now, this attitude was not always for artistic reasons.

Beethoven transcribed many of his own chamber works.

It was a question that if such a thing were done,

he wanted to do it,

he wanted to get the credit for it,

and, most important, he wanted to be the one that was paid.

Copyright laws were non-existent at that time,

so, really, all his shouting and complaints were to no avail.

But Beethoven was the first musician

to consider his own work as his property

and to claim protection for this property --

protection that unhappily was not to come

for another 100 years or so.

The string groups probably are the ones

that have profited most by these transcriptions of Beethoven

because many of these compositions

were originally written for woodwinds.

Now, these pieces were sometimes considered

as sketches or experimental pieces,

but we feel that they are better than that.

Now, some of the greatest of those are

the quintet for four winds and piano,

the very popular septet, which we played on a previous program,

and the sextet of today's program,

which is originally for two clarinets,

two bassoons, and two horns.

The music of these works is so convincing

that they have become the cornerstones

of woodwind literature.

Well, this woodwind literature, Mason, also

has many examples of transcriptions.

Transcriptions are usually done for two reasons.

A composer might change the instruments in a composition

by request of a publisher or some friends

so that a number of combinations --

another combination of instruments

could play the same piece.

Then there are many compositions by Haydn, Mozart, Beethoven,

and other composers of that period

that are written for groups

that, well, for lack of a better word,

would best be called, today, inconvenient.

That is that -- such as this septet

for two horns, two bassoons, and two clarinets

The emergence of the woodwind quintet

early in the 18th century as the ideal --

19th century, excuse me -- as the ideal group for woodwinds

led to the increasing difficulty

for playing these works of other combinations.

The next logical step, therefore,

was to transcribe these works for a more convenient group.

Now, there are no groups of men

playing two clarinets, two bassoons, and two horns

travelling around playing concerts.

But there are, throughout the Western world,

dozens of woodwind quintets organized just the same as

our group that travel and concertize,

and in short, this is the modern medium.

The modern woodwind quintet includes the flute,

as you well know, but Beethoven did not write

for flute very much in his wind works.

There was a good reason for that.

The flute of those days was too soft

and could not compete with the more robust instruments.

Now I'm going to ask Bob Cole,

who has a fine 18th-century flute,

to play a few notes.

[ Flute plays ]

Now would you play the same thing on the modern instrument?

[ Flute plays ]

As you can hear, it has much more resonance,

and the flute has taken its place

as a prominent member of the woodwind quintet.

Now, the horn had the same difficulty,

except it was just the reverse.

The horn was too loud, and it had to be softened

in order to be allowed in this select company.

The next movement of Beethoven's Opus 71

is the adagio,

and the melody is carried by the bassoon.

[ Beethoven's "Sextet For Winds In E-Flat Major, Op. 71: II. Adagio" plays ]

♪♪

♪♪

♪♪

♪♪

♪♪

♪♪

♪♪

♪♪

♪♪

♪♪

♪♪

♪♪

♪♪

♪♪

♪♪

♪♪

♪♪

♪♪

♪♪

♪♪

♪♪

♪♪

♪♪

♪♪

♪♪

That beautiful adagio is really so perfect

that Beethoven certainly must have been joking

when he said he wrote it in a night.

He made a series of sketches over a period of 10 years,

and he did this because this was a man

who composed very painstakingly, very laboriously.

He was not like other composers --

Mozart, for instance, who would get up in the morning,

sit down, take his pen,

write off a quartet or something, and that was it.

It was ready for a performance.

Beethoven, rather, was a man

who had to think things out very carefully.

He wrote four or five compositions at a time.

And during this process, he kept countless sketchbooks

on all of these things.

One of his favorite places for contemplating musical ideas

was walking in the country, a place near Kahlenberg.

As a matter of fact, a few years ago,

when we were there with the

Philadelphia Orchestra in Vienna,

we were entertained by the members of Vienna Philharmonic.

They took us up to a very lovely coffeehouse

on top of Mount Kahlenberg,

and as we were having that wonderful Viennese coffee

and those delicious pastries, they pointed with great pride

to that very path where Beethoven used to walk daily.

No doubt, he went out into the country

so that he could find the peace and solitude he needed so badly

so that he could...

Concentrate.

...concentrate on his work.

That's right.

Beethoven was an intense man.

He hated interruptions.

He just couldn't put up with them.

He didn't care when he was working, playing.

He didn't care who it was.

It could be his best friend or even his patron at the moment.

If they interrupted him, he would fly into a rage,

and there's just no telling what he would say.

I can think of one instance in his life

where he handled a situation that most professional musicians

have been in at one time or other.

He handled it in a blunt manner

and certainly an effective manner.

He was entertaining one evening

at the home of one of the princes in Vienna,

and a young nobleman seated in the back

insisted on speaking to an attractive lady

that was seated next to him, and several attempts

to hush him up had been to no avail.

And finally, Beethoven just stopped playing,

and he said, "I refuse to play any longer for these pigs."

And any any amount of persuasion

wouldn't get him back to the piano.

That ended the evening's entertainment.

He certainly was a tempestuous man, wasn't he?

I'll say.

But he had his lighter moments, too, as you will hear in this

next movement that is kind of a scherzo-like minuet

that opens up with a bassoon and a horn playing a hunting call.

And after the minuet, we'll go on to the last movement,

a rondo that contains a light Turkish march in it.

[ Beethoven's "Sextet For Winds In E-Flat Major, Op. 71: III: Minuet" plays ]

♪♪

♪♪

♪♪

♪♪

♪♪

♪♪

♪♪

♪♪

♪♪

♪♪

♪♪

♪♪

♪♪

♪♪

♪♪

♪♪

♪♪

♪♪

♪♪

♪♪

♪♪

♪♪

♪♪

♪♪

♪♪

♪♪

♪♪

♪♪

♪♪

♪♪

♪♪

♪♪

♪♪

♪♪

♪♪

♪♪

♪♪

♪♪

Man: Beethoven's writings for winds reflect

his basic good nature and his peasant love for the outdoors.

But when the tragedy of his deafness descended on him

like a curtain, it cut him off from the outside world.

And, more and more, he turned to his music to express himself.

On his desk, always before him,

he had copied a section from an Egyptian tomb.

And in his almost-illegible scrawl,

this is what he had written.

"I am that which is.

I am all that is, that has been, and that shall be.

No mortal hand has lifted my veil.

He is by himself, and it is to him

that everything owes existence."

[ Orchestral music plays ]

♪♪

♪♪

♪♪

♪♪

♪♪

♪♪

This is National Educational Television.