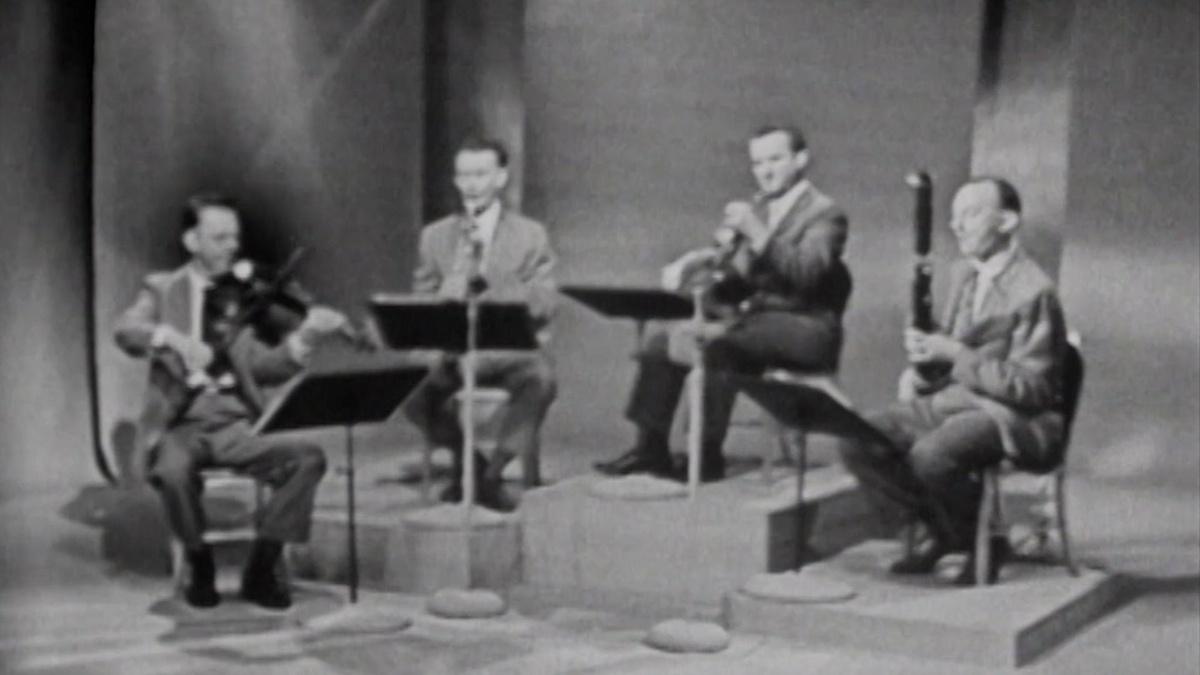 FULL EPISODE
Two Hundred Years of Woodwinds #4
This 1959 series features members of The Philadelphia Woodwind Quintet, made up of flute, oboe, clarinet, French horn, and bassoon. The musicians play a piece, then break it down in order to show how their instruments evoke certain images through music. They also explain the history of the instruments and how they were grouped - eventually culminating in the modern day quintet.
TRANSCRIPT

Welcome to the All Arts Vault. I'm Maddie Orton.

The Vault is the place to go

for special access to all things arts.

So we're going into the archives

to uncover some of our greatest gems

and share these programs with you

as they would've been seen decades ago

when they first aired.

Join us for a deep dive into a rich programming history

of over 50 years of archival content.

It's all here in the Vault.

♪♪

♪♪

♪♪

♪♪

♪♪

♪♪

♪♪

Sol: On our last program week,

we said that a quartet by Mozart

for three strings and one wind -- the oboe.

Today, we're going to play a quartet by Carl Stamitz

for three winds and one viola

played by Carlton Cooley, solo violist

in the Philadelphia Orchestra.

Carlton, you and Carl Stamitz have a lot in common.

He was also a very famous violist.

As a matter of fact, the Stamitz family

was the backbone of musical activity in Mannheim --

that fabulous center of musical and artistic activity

that took place in the middle of the 18th century.

It wasn't only music that thrived there

but also all the arts --

painting, sculpture,

drama, and architecture.

Here is an interior of a palace in Mannheim

showing the advanced decor for that period.

Carl Stamitz played in the Mannheim orchestra.

And he left Mannheim to concertize

as a viola soloist all over Europe.

He not only played the viola but he also conducted

and he composed over 80 symphonies.

Sol, we clarinet players -- and you know,

we're quite a large fraternity --

are very much indebted to Carl's father, Johann Stamitz,

who you might say was the Toscanini of his day.

He was brought to Mannheim, a small city in western Germany,

by that fabulous elector Carl Theodore

who made Mannheim the cultural center of Europe

in the 18th century.

Because of Carl Theodore's generosity,

it was possible for Johann Stamitz

to travel throughout Europe

and to hire the best possible musicians

for his orchestra in Mannheim.

And it became, as you know, the orchestra of Europe

at that time.

During one of his travels,

he was in Paris in 1750, and he happened to hear

a Rameau opera,

which used clarinet.

And that was the first time he had heard the sound

of the clarinet and was really very much taken

with this new sound.

He decided when he went back to Mannheim

that he absolutely must have clarinets in his orchestra.

And it was during one of Mozart's trips to Mannheim

where he heard the clarinet for the first time.

That was a lucky day for the clarinet.

Certainly was.

Because as you know, thereafter,

Mozart wrote his beautiful Clarinet Quintet

and the clarinet concerto.

And Tony do you remember that letter

that Mozart wrote from Mannheim to his father

saying, "Father, if onlywe had clarinets,

you'd have no idea of their lordly effect."

And our own Ben Franklin expressed the same views

when he heard clarinets for the first time

in Bethlehem, Pennsylvania. That's right.

Well, of course, it means you horn players can't complain

because it was while Mozart was visiting Mannheim

that he heard these marvelous virtuosi players

and he was inspired to write the symphony concert time

for four winds and orchestra, and he included the horn.

Well, people loved chamber music in those days.

This elector, Carl Theodore, that you speak about,

he played the flute and he played the cello.

And he loved to sit in with the boys of an evening

and play chamber music.

Thanks to Breitkopf & Hartel,

the venerable German publishers,

we were able to get the original score of this Stamitz quartet.

Chamber music was very flexible in those days.

He indicates in this score that it could be played

by the traditional string quartet

or an oboe could be substituted for the first violin.

But we prefer to play it as originally indicated here

for viola, clarinet, horn, and bassoon.

Carlton, let's tune up and play the Stamitz quartet,

which is in three movements marked allegro moderato

andante, and a real jolly rondo.

[ Tuning instruments ]

♪♪

♪♪

♪♪

♪♪

♪♪

♪♪

♪♪

♪♪

♪♪

♪♪

♪♪

♪♪

♪♪

♪♪

♪♪

♪♪

♪♪

♪♪

♪♪

♪♪

♪♪

♪♪

♪♪

♪♪

♪♪

♪♪

♪♪

♪♪

♪♪

♪♪

♪♪

♪♪

♪♪

♪♪

♪♪

♪♪

♪♪

♪♪

♪♪

♪♪

♪♪

♪♪

♪♪

♪♪

♪♪

♪♪

♪♪

♪♪

♪♪

♪♪

♪♪

♪♪

♪♪

♪♪

♪♪

Pretty catchy music.

That was the Stamitz quartet Opus 8,

and that was some horn part that he gave me to play.

Now, in a later program, I will explain

why this instrument is called a French horn.

But for today, we will discuss the English horn,

and I'd like to call upon John deLancie,

one of our double reed experts,

to explain the English horn.

Thank you, Mason.

And our next composition, we have an English horn

rather than a French horn,

and this gives me the opportunity

to try and shed a little light on what appears to be

the most confusing point concerning wind instruments.

That is the difference between the English horn

and the French horn.

First of all, to add a little to the confusion,

the English horn is neither English

nor is it a horn.

I have here one of the early ancestors of the English horn --

an oboe da caccia, or hunting oboe.

You can see that this instrument

has a shape very similar to a horn

with this flared the bell.

And because of this, the word "horn"

was frequently used when referring to it.

Of course, this instrument was played with a double reed

rather than the cup mouthpiece on a horn,

and it has holes here or fingering the notes,

which of course the horn doesn't have.

As we go on

in these refinements of this instrument,

we arrive at the angled horn,

which is the basis for the confusion --

its name, English horn --

and probably also the explanation.

In French, the word for horn is"cor"

and the word for angle is"anglé."

This angled horn was called acor anglé.

The word in French or English is "anglais" --

spelled a little bit differently

but as you can hear,

has the same sound.

These two words sound almost exactly the same.

And someplace along the road,

somebody made a mistake

and when he was writing down

cor anglé, or angled horn

he wrote this word

and it came out cor anglais, or English horn.

And for some peculiar reason, this was the name that stuck,

and that's how we have the name English horn.

The modern English horn

is no longer curved or angled

as the old instruments were.

By the way, these old instruments that I show you

we have through the kindness

of the University of Pennsylvania Museum.

Now, this modern English horn -- the only angle in it

is this little crook at the top.

It's played also with a double reed,

and it has a mechanism fingering system,

which is exactly the same as the oboe.

In the next composition,

we have an English horn

and it will be played by John Minsker,

the solo English horn of the Philadelphia Orchestra.

The composition is a quintet by Antonio Rosetti

for flute clarinet,

English horn, bassoon, and oboe,

and it has three movements --

allegro, andante, and rondo.

[ Tuning instruments ]

♪♪

♪♪

♪♪

♪♪

♪♪

♪♪

♪♪

♪♪

♪♪

♪♪

♪♪

♪♪

♪♪

♪♪

♪♪

♪♪

♪♪

♪♪

♪♪

♪♪

♪♪

♪♪

♪♪

♪♪

♪♪

♪♪

♪♪

♪♪

♪♪

♪♪

♪♪

♪♪

♪♪

♪♪

♪♪

♪♪

♪♪

♪♪

♪♪

♪♪

♪♪

♪♪

♪♪

♪♪

♪♪

♪♪

♪♪

♪♪

That was the first performance in the United States

of the Rosetti quintet,

which is probably the first

all-woodwind quintet ever written.

You know, we woodwind players have kind of

a universal unofficial club.

Wherever we play --

London, Paris, Moscow,

Los Angeles, Cleveland --

our counterparts in every city

look us up to discuss the refinements

of our respective instruments

and the music available for them.

In this way, there's a constant interchange of information,

and in this way,

I first learned of this Rosetti quintet

from Felix Skowronek,

first flutist of the Seattle Symphony

Through research, Felix knew that this quintet existed,

and while I was serving in Europe

with the 7th Army symphony,

he tracked it down.

He finally located it

and was permitted to photostat it

in the private library

of the descendants of Rosetti's patron.

The name of this library

is the Princely Library and Art Collection

of the Oettingen-Wallerstein family,

and it is located in Schloss Harburg,

not far from Munich.

You know, Bob, in 1778, the Mannheim orchestra

moved to Munich

and that's where Rosetti was very much influenced

by the Mannheim School.

That's true because this quintet was written about 1785.

Sol: Well, Haydn certainly was familiar

with Stamitz and Rosetti

and all of Mannheim school

when he wrote this beautiful chorale

which we use as our closing theme.

♪♪

♪♪

♪♪

♪♪

♪♪

♪♪

♪♪

♪♪

♪♪

This is National Educational Television.