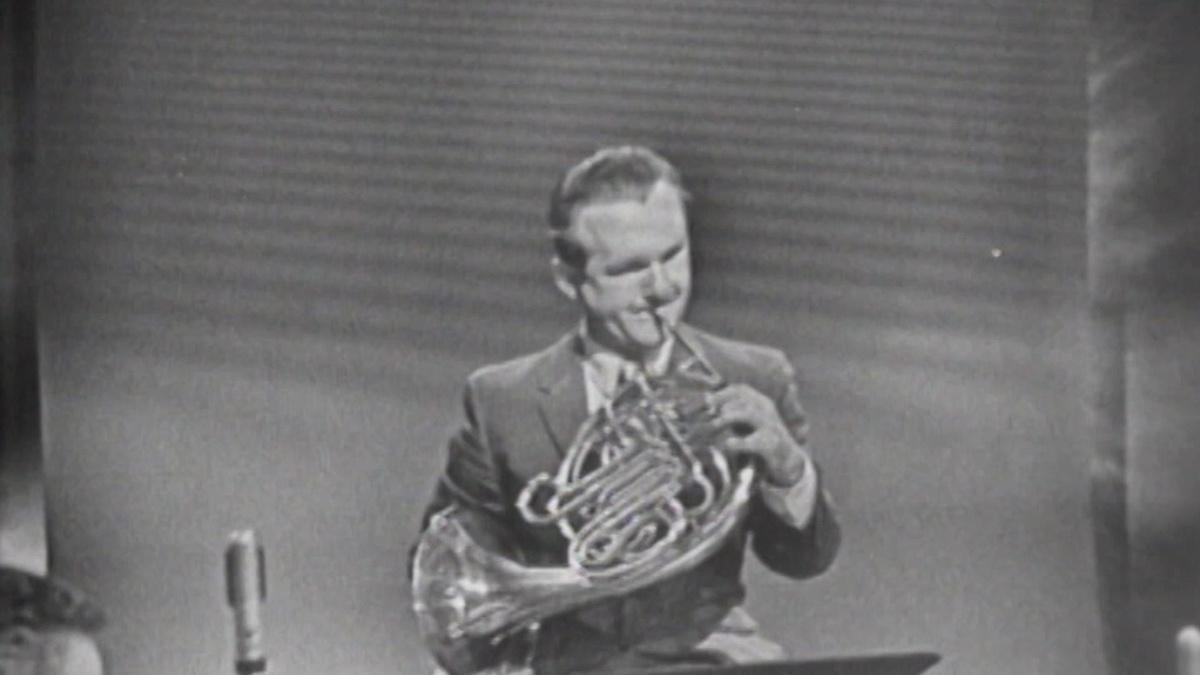 FULL EPISODE
Two Hundred Years of Woodwinds #12
This 1959 series features members of The Philadelphia Woodwind Quintet, made up of flute, oboe, clarinet, French horn, and bassoon. The musicians play a piece, then break it down in order to show how their instruments evoke certain images through music. They also explain the history of the instruments and how they were grouped - eventually culminating in the modern day quintet.
TRANSCRIPT

Welcome to the All Arts Vault. I'm Maddie Orton.

The Vault is the place to go

for special access to all things arts.

So we're going into the archives

to uncover some of our greatest gems

and share these programs with you

as they would've been seen decades ago

when they first aired.

Join us for a deep dive into a rich programming history

of over 50 years of archival content.

It's all here in the Vault.

♪♪

♪♪

♪♪

♪♪

♪♪

♪♪

♪♪

♪♪

♪♪

♪♪

♪♪

Carl Nielsen, the great Danish composer

who wrote this Lutheran hymn tone,

was one of many 20th century composers attracted to woodwinds

as a means of musical expression.

In the early 1920s, he wrote a woodwind quintet.

In the last movement, he uses this very same hymn tune

to introduce variations.

Now, there's no religious significance

in this use of hymn tune.

He merely thought the tune was good enough

to use very well for the variation form.

When we play this music late in the woodwind quintet of Nielsen,

we hope that you will recognize the organ-like quality

that appearance when the woodwinds play.

♪♪

In the larger forms of musical composition,

this man was attracted to the symphony

as a means of expression.

He was a versatile composer and also very prolific.

Besides the six great symphonies,

he wrote operas, ballets,

choral works with orchestra,

and lots of chamber music

and many works for solo instruments,

which included, of course, some solo wind instruments.

But this versatility was not confined

to his musical composition.

Nielsen was for many years the conductor

of the Royal Danish Orchestra,

and he was also outstanding in the field of musical education

as the director of the Royal Conservatory

in Copenhagen.

Robert: Among those solo works you mentioned, John,

there's a flute concerto.

Nielsen seemed to like the varied sounds of the wood.

The French earlier had made the woodwinds as prominent

as any group of instruments in chamber music.

And this idea spread, until now,

composers in all parts of the world

write woodwinds into their music in their own style

to create music that is typical of their own locale.

I think this Nielsen quintet is a perfect example of this.

It certainly is.

The Clarinet Concerto's

certainly another wonderful example.

Nielsen's introduction to music had a very curious beginning.

It seems that when he was six years old

he had a very bad case of the measles.

And while he was bedridden, his mother tried to teach him

many songs which he imitated on the violin

without any previous instruction on the violin.

Well, his father was so impressed with the boy's talent

that he sent him to a professional teacher,

and he studied up until the age of 14

at which time he went into a military band,

curiously as a bugler.

At the age of 18, he was introduced

to the famous Danish musician Gade,

who arranged for him to be accepted

at the Royal Conservatory in Copenhagen.

Tony, his position in Danish music

is very similar to that of Sebelius in Finland

and Greig in Norway.

And these men are literally national heroes

to the Scandinavians.

They have managed to capture in their music

the spirit of Scandinavia --

those great forests and the fjords and glaciers

and the loneliness of man against nature.

Do you remember when we made our trip to Iceland in 1954?

Tony: I do.

You remember when your Bjorn Bjornson asked us

as we emerged from the plane --

His first question was --

did we have a Nielsen quintet in our repertoire.

How they respect and venerated that man,

and rightly so.

Everybody is familiar with the musical compositions

that are entitled "Songs Without Words."

And someone once said that musical authority

sometimes create words without songs.

-[ Chuckling ] -That's pretty good.

And I think the best description of any piece of music

is in the playing.

So, what do you say, fellas? Let's play.

Man: Danish folk music has a flavor all its own.

It is uncomplicated, it always flows or strides,

it has a certain bluntness, yet it can be gentle

and soothing in a masculine unsentimental way.

The idea of a woodwind work came to Carl Nielsen

when he heard his friends

of the Copenhagen woodwind quintet rehearsing Mozart.

And in 1922, he wrote a delectable wind quintet.

It is completely Danish in feeling

yet it is full of Mozartian grace

and the open-hearted humor of Haydn.

And now, the Philadelphia Woodwind Quintet

will perform the first movement

marked allegro ben moderato.

♪♪

♪♪

♪♪

♪♪

♪♪

♪♪

♪♪

♪♪

♪♪

♪♪

♪♪

♪♪

♪♪

♪♪

♪♪

♪♪

♪♪

♪♪

♪♪

♪♪

♪♪

♪♪

♪♪

♪♪

♪♪

♪♪

♪♪

♪♪

♪♪

♪♪

♪♪

♪♪

♪♪

♪♪

♪♪

The second movement of this Nielsen quintet

is a simple minuet.

It begins with a duet between the clarinet and the bassoon.

Then later the flute and the oboe have the honors

and gradually, all of us join in.

I believe that the Mozart influence

is particularly evident in this minuet,

although it is still unmistakably Danish in flavor.

♪♪

♪♪

♪♪

♪♪

♪♪

♪♪

♪♪

♪♪

♪♪

♪♪

♪♪

♪♪

♪♪

♪♪

♪♪

♪♪

♪♪

♪♪

♪♪

♪♪

♪♪

♪♪

♪♪

The next moment as a preludium or prelude

which is marked adagio.

In this movement, Nielsen tries to imitate the sounds of nature

and, you might say,

that this is really the deepest part of the quintet.

It goes back to the most bare kind of nature music.

He does this to a great extent by using the English horn

instead of the oboe. [ Instruments tuning ]

At the end of the preludium,

we play the theme, which is the same hymn

Mason Jones played on the organ in the beginning of the program.

♪♪

♪♪

♪♪

♪♪

♪♪

♪♪

♪♪

♪♪

♪♪

♪♪

♪♪

♪♪

♪♪

♪♪

♪♪

♪♪

♪♪

♪♪

Nielsen takes this theme

and he has a set of variations

which you might say are personalized in character.

For example,

the first variation is played by the oboe

in a rather whimsical or capricious way. [ Instruments tuning ]

And then we have a set of three, which are a lot of fun.

The clarinet, it seems, is a mischievous and impish fellow

who irritates the grumpy bassoon player in no end,

and they get into quite an argument,

which is only subtle when the gentle flute

steps in to make peace.

After this has been accomplished,

the bassoon player sort of states his case

and apologizes for losing his temper.

Then the French horn plays a wonderful variation

all alone as a sort of a reminiscent

of Viking days.

There is a little march which is playful and childlike,

and then we return to this beautiful hymn tune

and end on a note of great exaltation.

♪♪

♪♪

♪♪

♪♪

♪♪

♪♪

♪♪

♪♪

♪♪

♪♪

♪♪

♪♪

♪♪

♪♪

♪♪

♪♪

♪♪

♪♪

♪♪

♪♪

♪♪

♪♪

♪♪

♪♪

♪♪

♪♪

♪♪

♪♪

♪♪

♪♪

♪♪

♪♪

♪♪

♪♪

♪♪

♪♪

♪♪

♪♪

♪♪

♪♪

♪♪

♪♪

♪♪

This is National Educational Television.