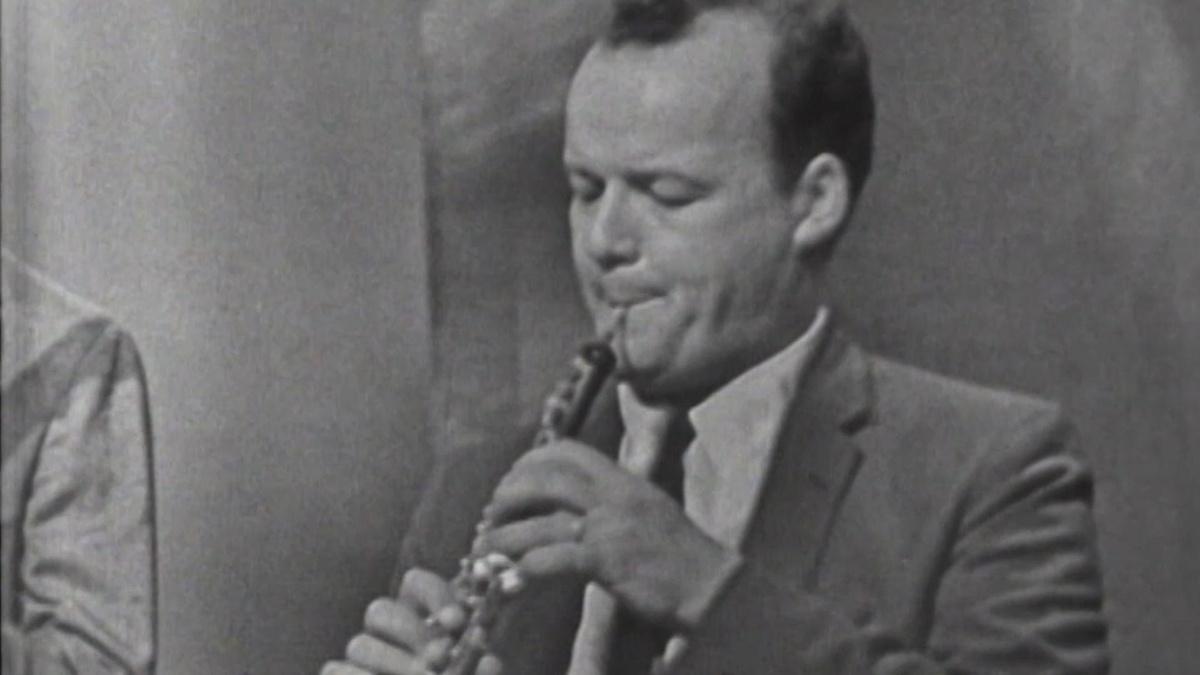 FULL EPISODE
Two Hundred Years of Woodwinds #11
This 1959 series features members of The Philadelphia Woodwind Quintet, made up of flute, oboe, clarinet, French horn, and bassoon. The musicians play a piece, then break it down in order to show how their instruments evoke certain images through music. They also explain the history of the instruments and how they were grouped - eventually culminating in the modern day quintet.
TRANSCRIPT

Welcome to the All Arts Vault. I'm Maddie Orton.

The Vault is the place to go

for special access to all things arts.

So we're going into the archives

to uncover some of our greatest gems

and share these programs with you

as they would've been seen decades ago

when they first aired.

Join us for a deep dive into a rich programming history

of over 50 years of archival content.

It's all here in the Vault.

[ "La cheminée du roi René" plays ]

♪♪

♪♪

♪♪

♪♪

♪♪

♪♪

♪♪

♪♪

♪♪

♪♪

♪♪

♪♪

♪♪

♪♪

♪♪

♪♪

♪♪

♪♪

♪♪

♪♪

♪♪

♪♪

♪♪

♪♪

While we were playing,

you saw a print of a medieval procession,

which is the title of this little piece

that we just played, the first of seven movements

of a suite for woodwind quintet by Darius Milhaud

entitled "La cheminée du roi René."

Now, this is the eleventh in a series of 13 programs

tracing the history of woodwind instruments

over the past 200 years in programs 1 to 7.

We explored the historical and evolutionary development

of these instruments

and also the music written for them.

In the period covered by these earlier programs,

we found that there was really an abundance of music

written for woodwind instruments.

But the combinations used were extremely varied,

ranging from groups of two, three

all the way up to groups as large as 13,

and using just about every instrument known at the time,

even to such oddities as serpents and fifes.

Now, the evolutionary process of trial and rejection

led us to the time when the woodwind quintet

as we see it here today emerged as the ideal combination

for woodwinds or wind instruments,

and thus began its existence as an art form.

Therefore, in programs 8 through 10, we were no longer

so much concerned with the evolution of the group

as with the music written for woodwind quintet

since its firm establishment as an art form,

and with that we arrive at the theme of today's program,

which is program or descriptive music

written for woodwinds.

But, John the history of chamber music

is essentially the same as the history of music.

I think that you'll find composers of chamber music

have resorted to every "ism" or movement,

such as the Expressionistic, Impressionistic, Romantic

Atonal, Polytonal,

but it's very rare indeed to find composers of chamber music

writing this descriptive of programmatic music.

I think that this is a special province

of the woodwind quintet,

and that Milhaud, probably inspired

by the many wonderful woodwind players available in France,

uses this form marvelously in the particular composition

that we're about to play.

So I'd like to point out a delightful descriptive passage

in this procession that you just heard --

It's in the clarinet and your instrument, the bassoon,

where you seem to imitate the strumming of the lute,

Would you play that?

♪♪

Let me add the flute to that.

♪♪

-Would you play that again? -Sure.

♪♪

You know, in the beginning the oboe plays a tune

that's very descriptive.

Yes, it's descriptive because it brings, really,

two things to mind related to the period

about which this music was written, the 15th century,

one of course is the sort of the flavor of the period,

and another is the imitation of the instrument used.

Undoubtedly Milhaud intended to imitate

this bombard that I have here,

which was is an antique oboe,

or one of the ancestors of the oboe

and was used very much in those days.

Now, this particular one is something that I can't play on

because of it's such an old instrument,

but I can try and imitate the sound on a modern instrument.

Probably sounded much like this.

♪♪

♪♪

[ Laughter ]

And you know, those instruments,

we think of them as being obsolete

and disappearing from the scene.

But the bombard is an instrument which is still used today

throughout many sections of Europe,

particularly in France,

and it's used for just this exact sort of thing,

for little processions and parades

and little civic areas, small rural areas.

Are you available for processions, John?

Getting back to the music, as John told you,

this suite has seven movements.

Now, they tell quite a story,

which we will talk about later on in the program.

The second is called "Aubade," or "Morning Serenade,"

and it is a very quiet, peaceful composition

in which the flute and the clarinet play a duet

in the beginning.

[ "Aubade" plays ]

♪♪

Then Sol and I play little accented notes

that give us the impression of the distant church bells.

[ "Aubade" resumes ]

That again, it was a little more of a bell-like accent.

Sure.

♪♪

Now, Milhaud has entrusted me with the dubious honor

of imitating a cow.

[ Oboe plays "Aubade" ]

♪♪

Now let's play the "Morning Serenade."

[ "Aubade" plays ]

♪♪

♪♪

♪♪

♪♪

♪♪

♪♪

♪♪

♪♪

[ "Aubade" continues ]

♪♪

♪♪

♪♪

♪♪

♪♪

♪♪

♪♪

♪♪

♪♪

♪♪

Now that we have heard two movements

of Milhaud's suite,

I think it is high time we should tell you the story.

But first of all, a word about this curious title.

"La cheminée du roi René" --

how to translate "cheminée"?

Well, we have dozens of translations at our fingertips

but the one that we liked the best

in its relation with the story of King René

is an architectural pavilion that he built

and from which he could observe the goings-on of the populace.

Now, he has drawn a picture of this cheminée

or terrace or pavilion,

and we see him being presented with a book

from one of his subjects.

Now, Milhaud's suite describes a day in the life of René.

René lived in Aix-en-Provence in southern France

at about the time

Columbus discovered America.

Milhaud, too, was born and raised in Aix-en-Provence,

hence his intimate knowledge of the history of René

and those people.

It is a special pleasure for me

to talk about this part of France

since I had the good fortune to have spent a year there

as a youngster going to school

while my father was studying at the university.

Now, this René was a mild-mannered,

easygoing fellow, so easygoing

that perhaps he didn't get what was coming to him politically,

but he was way ahead of his time

in the appreciation of books art music and nature.

He also liked to keep tabs on his people,

and he did this in two ways --

one, by taking walks into the country,

and second, by observing their goings-on and their doings

from this vantage point of this pavilion or terrace.

Now, anybody was allowed to come up

and say hello to the king, and some did just that

and sort of converse and pass the time of day.

Others such as tradesmen and artisans

actually did business with him.

The king bought some of their goods.

But what pleased him most was a surprise serenade

rendered by the musicians of the day

who were called "jongleurs."

Now, they word "jongleurs" we translate as "jugglers."

But we must not forget that the jongleur of the Middle Ages

sang, played the fiddle, recited poetry

told stories, did acrobatics stunts,

and magic tricks, as well as juggler.

Now, in Milhaud's music, the "Jongleurs,"

the oboe has the first line.

[ Oboe plays "Jongleurs" ]

Is that the way Milhaud wrote it?

Not exactly.

I was just giving you the bare outline.

He used these little musical devices of little grace notes,

or you might call them curlicues,

to give a little more of this flavor of the medieval ages

we spoke of, and also perhaps the idea of somebody

juggling something comes out like this.

[ Oboe plays "Jongleurs" ]

♪♪

And there's also a little folk tune

that comes up a little bit later in this movement.

[ "Jongleurs" resumes ]

♪♪

Milhaud uses a great deal of folk music in his works.

He seeks it out.

During the first world war,

He was attached to the French Embassy in Brazil,

and while he was there, he listened to native music

wherever he could -- dances, carnivals.

Later he incorporated a great many of these rhythms

and styles into his own works.

Also, he was one of the first serious composers

to appreciate American jazz.

He spent some time in New York City

in the early 1920s,

and many evenings when his friends

would come over to visit with him,

they'd be unable to locate him,

only to learn later that he'd made

one of his periodic pilgrimages to Harlem

to listen to the jazz bands there.

That fellow really really gets around.

We can't resist quoting a passage in this "Jongleurs."

It's near the end where there are four melodies

going on at the same time,

and it reminds us of the wind-up of a juggling act.

[ "Jongleurs" resumes ]

♪♪

♪♪

-Now let's juggle from the top. -All right.

[ "Jongleurs" resumes ]

♪♪

♪♪

♪♪

♪♪

♪♪

♪♪

♪♪

♪♪

♪♪

The title of this next movement,

the fourth movement, is one that presents

quite a few little problems of spelling, pronunciation,

and also to translate.

It's called "La Maousinglade."

Recently when I was in San Francisco

visiting my home, I had the occasion

to talk to Milhaud about this program

and about his music,

and I asked him in particular about this title.

He told me that Maousinglade was the name of a neighborhood

in the city of Aix-en-Provence in the 15th century,

and this neighborhood was kind of sloppy

or rundown and sort of badly arranged.

And this is the connotation that he gave to this --

movements are a badly arranged.

Now, while we're talking about pronunciations

and spelling, why, I think I'd like to show you

how Milhaud spells and pronounces his name.

The name is spelled

M-I-L-H-A-U-D,

and it's pronounced "mee-yoh."

Milhaud is one of the world's great living composers.

He is connected with the Mills College

in Oakland, California,

and has been for quite some time, I believe.

Something like 30 years or so.

Since the end of the Second World War,

he has been dividing his time

between teaching at Mills College in California

and teaching in Paris.

He spends a year in one place and then a year in the other.

And here we have a picture of Milhaud

with his wife, Madeleine,

who is very active also in the musical life

of the San Francisco Bay Area with the the operatic

and producing and directing and direction

with the universities.

We're going on to the fourth movement,

"La Maousinglade," which although he calls it

badly arranged, we think is particularly well-arranged,

and from there we go directly into the fifth movement

called "Joutes Dur L'Arc,"

which means the "jousts on the river Arc,"

but it's a little movement

depicting some of the tourneys of those days.

[ "La Maousinglade" plays ]

♪♪

♪♪

♪♪

♪♪

♪♪

♪♪

♪♪

♪♪

♪♪

♪♪

[ "La Maousinglade" continues ]

♪♪

♪♪

♪♪

♪♪

♪♪

♪♪

♪♪

♪♪

[ "Joutes Dur L'Arc" plays ]

♪♪

♪♪

♪♪

♪♪

♪♪

♪♪

This is the same River Arc

that Cézanne and Van Gogh loved to paint so many times

and so many of the Impressionistic painters

came down to Provence and painted along this river.

As a matter of fact, Sol, this is the same River Arc

where there were many jousting tournaments

in the days of our friend King René.

He became quite an expert in jousting.

He wrote a book about it.

And in this book, he was so explicit

and he went to such great detail

that the book became accepted as the rule book of the times.

sort of the Marquis of Queensbury of jousting.

The idea.

In this next movement, the 6th movement of our suite,

"Chasse a Valabre,"

or "Hunting at "Valabre,"

We go out into the countryside to partake

in another favorite sport of King René's.

In this movement, Milhaud uses a very different sound

from any of the other movements.

He uses a piccolo to depict sort of a fife-like sound.

Tell me something, Bob -- Is there much difference

between the flute and the piccolo?

Well, the piccolo is exactly one-half the length of the flute.

On any given note, it sounds an octave higher.

The word "piccolo" is just part of the Italian name

for the instrument.

It's really "flauto piccolo," and it means little flute,

and that's exactly what it is.

Perhaps in this movement you can hear the scurrying dogs

and the sounds of the horses' hoofs.

[ "Chasse a Valabre" plays ]

♪♪

♪♪

♪♪

♪♪

♪♪

♪♪

[ "Chasse a Valabre" continues ]

♪♪

♪♪

♪♪

♪♪

♪♪

♪♪

♪♪

♪♪

♪♪

We can't have a discussion of Milhaud

without a little word

about the origin of this very music.

It was originally written for a movie

depicting Middle Ages 1830 and 1930,

and Milhaud chose to talk and to write

about the Middle Ages.

In this, we have noticed

Milhaud's extensive use of melody,

and that is one of the trademarks of his work,

and also contrasts will be noted,

especially in contrasting the movement we have just played

and the "Madrigal-Nocturne,"

which we will now play -- the final movement.

[ "Madrigal-Nocturne" plays ]

♪♪

♪♪

♪♪

♪♪

♪♪

♪♪

♪♪

♪♪

[ "Madrigal-Nocturne" plays ]

♪♪

♪♪

♪♪

♪♪

♪♪

♪♪

♪♪

♪♪

♪♪

[ "Madrigal-Nocturne" continues ]

♪♪

♪♪

♪♪

♪♪

♪♪

♪♪

[ "Madrigal-Nocturne" continues ]

♪♪

♪♪

♪♪

♪♪

♪♪

♪♪

♪♪

This is National Educational Television.