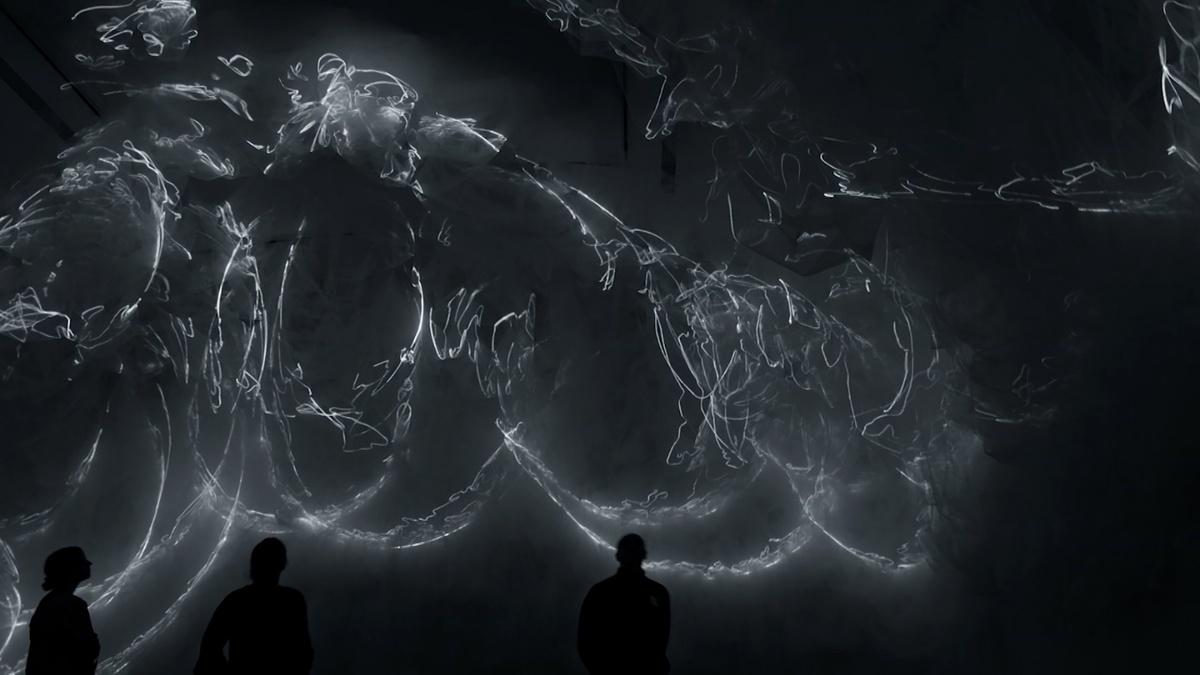 S2021 E1 | FULL EPISODE
Guild Hall: The Sandbox (1931–2021)
Laurie Anderson, Alice Aycock, Bob Balaban, Renee Cox, Jeremy Dennis, Barbara Kruger, Robert Longo and many other notable artists and arts lovers offer a colorful, humorous, and inspiring look at the history of the storied East Hampton institution, Guild Hall, one of the first multi-disciplinary arts centers in the country to combine a museum, theater, and education space under one roof.
TRANSCRIPT

Hello, I'm Alec Baldwin, and welcome to All Arts.

I'm coming to you from the beautiful

and historic Guild Hall in East Hampton, New York.

Guild Hall celebrated its 90th in 2021,

founded on August 19, 1931

by philanthropist Mary Woodhouse.

Over the years, this pioneering multi-disciplinary

arts institution has exhibited

and presented the works of some of the world's

most renowned visual and performing artists.

Even I have taken the stage of their John Drew Theater

on many occasions. Over the next half-hour,

you will see two short documentaries,

a brand-new film in celebration of 90 years,

followed by one produced on the occasion

of Guild Hall's 50th anniversary in 1981.

Enjoy.

♪♪♪

Narrator: At the end of Long Island,

some 100 miles east of New York City,

lies the township of East Hampton,

a year-round retreat

for members of the artistic community.

♪♪♪

♪♪♪

♪♪♪

I always used to talk about the shadow of the city.

I'd say, "I don't want the shadow of the city on me.

If I want that, I'll go into the city.

If I want theater, I'll go to the city.

Who are we kidding?"

If I want to go to a museum, I'll go to the city.

I don't need -- I don't need this.

And then I stopped and thought to myself,

"No. No, no, no."

Any town where people live for any length of time,

to have this available to them is priceless.

So, I like to think of Guild Hall as a sandbox

for creative people.

Mrs. Woodhouse open Guild Hall as an arts town hall.

So she was making a new space

for the community to meet, but also saying,

"Let's bookend that meeting space with visual arts

and performing arts and education."

Woman: Its site, its context in the middle of the village

in a great building.

It's offering of access to those near it.

It's outreach,

and I think Guild Hall has always been wrestling

with that in the most ambitious and best of ways.

Anderson: Guild Hall has a real physicality.

It's just, you know, this kind of low-profile thing

from the outside, and then it's part of the town

in a way that that other exhibition places

or theaters are not.

You know, they're -- so it kind of blends in.

A very deliberate focus

on keeping scale to a modest proportion

that fits with the neighborhood,

that fits with the context, that fits with your history,

and that doesn't diminish anything that you can do here.

In the morning, I would sit

and look at the window and look at the trees

and have coffee, and I'm going,

"Wow, that's why those guys came out here."

I saw Joan Mitchell, I saw Pollock,

I saw all those guys work in the nature,

and it kind of blew me away.

And now I understood why artists were coming out here, for sure.

Look at the sky, look at the ocean,

look at the clouds.

It's a changing visual that you have here.

I find that very energizing.

Niles: And just leaving the city and being in nature

and also just around other artists.

They're in the house and not knowing

what was going to happen.

It was really just such an amazing feeling.

Being there and seeing other successful artists

and talking to them and being mentored

really gave me a vision of what my life could be like.

Work that was exhibited here was,

for the most part, beach related.

So it felt like it was very located in this environment,

and I think that was part of the thrill,

almost like the work was a mirror or an echo

or something of where I live.

It gave you such a sense

that art was very much a part of the community.

I was going to say that. Oh, really?

That's alright. It's alright. It's true.

Madonna: We're constantly blurring the hierarchy

of who is an artist.

The fact that our Student Art Festival

gives 2,000 students

the opportunity to put their work on the same wall

has Pollock and de Kooning is immense.

[ Beeping ]

Grover: So Kenneth Koch wrote a play called "Red Robin,"

and he worked with the artists Howard Kanovitz and Larry Rivers

to put on this production.

When I loved you, then that whole time was like a bed.

And that whole year was like a day bed.

[ Chuckles ]

You're very peculiar.

So it was a playground, is a playground

for artists to collaborate and create new work together.

So when an artist has an exhibition,

they have it wall to wall.

So they can transform the entire space

the way that Barbara Kruger did

Ugo Rondinone or Laurie Anderson.

Laurie did this virtual-reality sort of exhibition.

You were just sort of climbing the walls,

but effortlessly moving through the walls,

through the sky the way you do in your dreams.

Woman: Draw a picture of a birch tree

and add a color,

then fall through it.

Anderson: The people at Guild Hall are the greatest to work with.

Actually kind of bothered to figure out how our stuff

worked in the VR world.

Nobody really does that.

Woman: Alice Hope used soda can tops for her work.

Christine Sciulli did light projections.

Yung Jake, again, had all this detritus in the room.

Yung Jake: ♪ Wake up filthy ♪

♪♪♪

♪♪♪

♪♪♪

[ Applause ]

[ Woman vocalizing ]

♪♪♪

Ferren: I was working in the theater, the John Drew Theater there.

I was in high school, so when I was 14.

I always found that the way I learned best

about things like theater and film and electronics

and almost everything I'm interested in was by doing it.

The overall experience of that theater,

the role it's played in the community

and the role it's actually played

in allowing a lot of people such as myself to get a flavor

and an understanding for theater and the performing arts,

I think that that's in itself

probably the greatest value to my life.

Gladstone: They're little children, and they come here

and they're welcome, and they have a miraculous experience

underneath professional lighting and with professional sound.

And a week later,

Philip Glass will be giving a concert recital here.

♪♪♪

Rattray: So, you know, this was one of those nights

where you sort of -- you don't know

what you're going to expect because it's pairing,

you know, G.E. Smith with people he likes,

but it got more and more emotional.

♪ No sin worth sinnin' ♪

♪ And already seein'... ♪

We're listening to somebody's soul being poured out.

♪ You give thunder in your lovin' ♪

[ Man groaning ]

[ Bell rings ]

Grover: This one theatrical performance

that we did a few years ago called "The Summit"

was created by an actor, Christian Scheider,

and two artists, Isla Hansen and Tucker Marder,

and it was almost like a living sculpture

that came to life on stage.

The fact that Thornton Wilder performed his own play,

"Our Town," at Guild Hall,

that, to me, is like goosebump-inducing

and just gives you an idea of the breadth

and the depth of what goes on at Guild Hall.

We wanted to have a connection between the town people

and the summer people

so they would come together at Guild Hall as neighbors

and have a discussion, you know, like over the dinner table.

Cox: No, just really, you know, I'm actually really happy

to have this opportunity to work with Guild Hall

and to bring in some new faces and new voices

and sort of expand the dialogue that's out there.

It's a candid conversation,

really humanistic kind of conversation.

It's not an academic.

Christina Strassfield, who's your wonderful

director and curator,

I put on my first sculpture show there,

and she was gutsy to do it

because nobody was doing it then.

♪♪♪

I found this old exhibition brochure

of Gaynell Stone's

curated exhibit on the Montaukett Indians,

which traditionally, the Montaukett

span Sag Harbor out to Montauk towards the east.

And so they had a exhibit in the 1990s

where they featured some archeological objects,

some contemporary beadwork and craft.

I'm so fascinated by those past collaborations,

and maybe creating a link to what's happening today.

I was going to more productions,

shows, concerts than I ever would

in New York City.

It was like --

and I would buy, like, multiple tickets to things,

and it's everything from, you know,

the Kronos Quartet to Tig Notaro to Questlove.

The breadth of it is extraordinary.

Because a 21st century artist is everything.

It's a creator, it's a producer,

it's an administrator, it's a community liaison.

Well, I think that what happens is that we're relaxed in a way

that it creates a kind of collegiality.

You're just -- you're feeling more like you want to talk

and exchange ideas in a very different way

than you do in the city.

Ross: So you go to a performance

and maybe there's an intermission

and you're talking to people and going --

maybe you get to go in the green room afterwards

and you meet with the talent.

It just doesn't happen

so often outside of a community like this.

Guild Hall is sort of the soul of East Hampton.

I remember the old Post Office Cinema,

and I remember a little candy store,

but there was always Guild Hall,

and Guild Hall has maintained

its character, which I like.

You know, it hasn't gotten commodified

and it hasn't gotten corporate.

Its Guild Hall.

♪♪♪

So, there is a devotion to Guild Hall

that's not typical.

It's more like the devotion you see

for one's alma mater, hospital,

your synagogue or your church.

It's a devotion to an institution that changes lives.

♪♪♪

♪♪♪

Happy 90th birthday, Guild Hall!

Happy birthday, Guild Hall.

I want to say happy birthday to Guild Hall.

♪ Happy birthday to you ♪

Happy birthday to the grande dame, Guild Hall.

Happy birthday, Guild Hall.

Happy 90th birthday, Guild Hall!

Happy birthday, Guild Hall.

Happy birthday, Guild Hall. Happy birthday, Guild Hall.

Happy birthday, Guild Hall.

What's it feel like to be 90 years old?

I'm glad I don't know yet.

I want to wish Guild Hall -- the great, great Guild Hall --

the great theater enterprise of East Hampton, Long Island,

I want to wish you a happy, happy birthday.

Happy 90th birthday, Guild Hall.

Happy 90th, Guild Hall.

Guild Hall, happy Birthday.

Happy birthday, Guild Hall.

You're -- 90 years! You look good.

Happy 90th birthday, Guild Hall.

You don't look a day over 75. You look fantastic.

Happy birthday, Guild Hall.

Guild Hall, here's to 90 more.

Go for it.

♪♪♪

♪♪♪

♪♪♪

♪♪♪

♪♪♪

♪♪♪

Narrator: This is an art museum.

Not the National Gallery, the Louvre,

the Metropolitan, or the Tate.

But an art museum nevertheless.

This is a theater.

Again, not Drury Lane,

Stratford on Avon, or La Comédie Française,

but an operating playhouse notwithstanding.

This complex for the enjoyment of the arts

is known as Guild Hall,

and it's located in the village of East Hampton, New York.

♪♪♪

East Hampton was founded in 1648

and lies between Long Island Sound

and the Atlantic Ocean at the eastern end

of Long Island.

110 miles due west is New York City,

not far geographically speaking,

but light years away in ambience.

This perfect mating of land and sea

attracted the first settlers

who were seeking the fruits of the rich soil

and the bountiful waters.

In the past century, however,

it has drawn more sophisticated enthusiasts --

the wealthy,

the socially prominent, and the creative.

Unlike the cataclysmic hurricane of 1938,

the artists did not all arrive on the same day.

They have filtered down over the years,

not because they wanted to till the earth or fish the sea,

but rather to proclaim the area's unique charms

through their respective means of expression.

The forerunner of this artistic colonization

was undoubtedly John Howard Payne,

who was born here in 1791.

Payne was an American council, artist,

actor, playwright, and yes, librettist.

His home sweet home has been on the world's hit parade list

for over 150 years.

The homestead itself draws many visitors each year

to pay homage to this Yankee jack

of so many trades, and master of most.

In the 1870s, a number of well-known artists,

including Winslow Homer, Augustus Saint-Gaudens,

Jonathan Scott Hartley, and George Henry Smillie

formed a loose semi social society called the Tile Club,

so named because they would meet at one another's studio

in New York and paint on 8x8-inch Spanish tiles.

Those that exist today are very rare indeed.

The club gravitated to East Hampton in the late '70s,

staying in boarding houses,

including a Miss Hunting's Rowdy Hall.

Charmed by the area,

many of them stayed on and an art colony was born.

The trend gained both momentum and stature

with the arrival of Thomas and Mary Moran,

who built this studio in 1884.

Today it is a national historical landmark.

Nothing could have afforded a greater contrast

to his famous renderings of the Rocky Mountains

and his Turner-esque oils of Venice

than this quiet seaside resort.

A local Indian, one George Fowler,

used to pull his Venetian gondola over this

still pond with the artist and his family as passengers.

The craft's previous owners were said to have been

Robert and Elizabeth Barrett Browning.

It all seems to strike just the right note

for a fledgling colony of artists.

In 1898, an event took place

which would forever change the facade of East Hampton.

Lorenzo E. Woodhouse and his wife,

Mary Kennedy-Woodhouse, joined the community.

They constructed a playhouse on their property in 1911

to accommodate theatricals where both the renown

and struggling artists might perform.

Here is some rare footage taken over 50 years ago of some event

or other hosted by the Woodhouses.

♪♪♪

♪♪♪

♪♪♪

♪♪♪

Let your imagination wander for a moment, if you can,

to Enrico Caruso, a neighbor at one time,

filling the air with his majestic voice

as Ruth St. Denis flitted across this terraced lawn

in the summer moonlight of long ago.

After helping to form the East Hampton Garden club,

Mrs. Woodhouse donated her water garden to the village.

Today, it is known as the Nature Trail.

Here, many a youngster sees up close his first duck.

In 1912, Mr. and Mrs. Woodhouse

earned the title of East Hampton's

most generous benefactors

when they provided the funds to build this charming library.

The Clinton Academy, built in 1784,

was New York State's first chartered preparatory school,

after which it had been used as a social hall for the village.

When the Woodhouses financed its restoration in 1921,

they discovered, to their evident dismay,

that they had inadvertently deprived the town

of a gathering place for local cultural activities --

art exhibition, musicals, and dramatic offerings.

What were they to do?

Typical of these true patrons of the arts,

they found their answer in a piece of property

across the street.

They purchased the plot,

turned to their friend, Aymar Embury II,

one of the foremost architects of the day,

to draw up blueprints for what was to be

their most magnificent gift to their adopted town --

three art galleries and a 400-seat theater

under one roof

to be known simply as Guild Hall.

Here is actual film taken in the winter of 1931

of their dream becoming a reality.

♪♪♪

Guild Hall was dedicated on Wednesday, August 19, 1931.

Having lived and painted in East Hampton for many years,

Childe Hassam said in part,

"I hereby name this gallery after Thomas Moran

and declare it shall be used for those pleasant arts of peace

that are often the most treasured and,

of all records that a people leave,

are perhaps the longest remembered.

Famed stage star Otis Skinner

then rose and declared that henceforth

the name of the new Playhouse would be the John Drew Theater.

John Drew, who was an uncle to the Barrymores

and a matinee idol in his own time,

had long resided in East Hampton.

The South Gallery was named, aptly enough,

after Lorenzo and Mary Woodhouse,

and a third gallery was later to be dedicated

to the memory of their daughter, Marjorie.

Here again is a brief glimpse on film

taken many years ago of Mrs. Woodhouse

in the Guild Hall sculpture garden.

Since its opening over 50 years ago,

thousands of events have taken place

on the stage of the John Drew Theater.

Among the countless stars who will appear are Helen Hayes,

Carlos Montoya, Bert Lahr,

Cornelia Otis Skinner,

Michael Rennie and the then unknown Faye Dunaway,

as well as others who called East Hampton home --

Hal Holbrook,

Anne Jackson and Eli Wallach,

Dina Merrill,

Gwen Verdon, and Bob Fosse.

The dressing rooms have played host to lecturers,

dancers, singers, musicians,

and community amateur groups.

With the recent addition of sophisticated

projecting equipment,

film festivals have been presented.

This splendid facility operates 52 weeks a year,

and according to its present managing director

Anthony Stimac, it is seldom dark.

In 1970, through the efforts of Charles S. Dewey Jr.,

this addition was added to Guild Hall

in this wing of the offices of the organization's staff,

including Enez Whipple, who,

since 1950, has been the full-time

overall head of the entire operation.

On the lower level are facilities

where various craft classes are conducted throughout the year.

Behind these doors is the special vault

containing the permanent art collection.

In this temperature-controlled room are hundreds of

oil paintings, watercolors, prints, and sculptures.

Let us take time to browse through

some of these acquisitions picked at random.

Most are the work of artists who,

at one time or another, have lived in the area.

"Above Tower Falls," painted by Thomas Moran in 1917.

Helen Whitmore's "Phlox."

"Turkish Bath #3" by Harry Nadler.

"The Dancer" by Raphael Soyer.

Adolph Gottlieb's oil "Untitled" number 67.

"The Checker Game" by Warren Brandt.

Arthur T. Hill's "Town Pond," an East Hampton landmark.

"The Landscape of Dr. Pavlov," Saul Steinberg.

Balcomb Greene's "Waiting Figure."

Roy Lichtenstein's "Bull III."

"Devon Yacht Club" by Theodore Hancock.

This picture of Mary Woodhouse's water garden

is the work of Ruger Donoho.

Alfonso Ossorio's "Compatriots."

"Poteep" by James Brooks.

A painting by Childe Hassam,

"Little Old Cottage, Egypt Lane,"

near where the artist lived.

"Abstraction" by Jackson Pollock.

Willem de Kooning's "Head of a Woman."

"Hick's Island" by Alexander Brook.

"Miss Jean Stafford" by Albert Sharp.

The late writer and her husband, A.J. Liebling,

lived here for many years.

May Wilson Preston's "Lady at the Mantel."

"Sag Beach" by Paul Georges.

Jimmy Ernst's print "Red Signal."

Lee Krasner's "Rose Stone."

"Old Boats" by Hilton Leech.

"Girl with Yellow Hair," Lester Johnson.

James Preston's "Pond, Central Park."

And finally, "Home Sweet Home"

by Lemuel Wiles.

These are, of course, but a sampling

of Guild Hall's collection.

Yes, with the coming of the artists

to East Hampton in the innocent 1870s,

the seed which would someday

grow in the Guild Hall was planted.

Pictures are still being painted by artists,

musicians play, dancers dance,

actors act, and singers sing,

all to give pleasure and enrich an audience

of their fellow creatures.

Today, the area is burgeoning, with creative talent,

adding their cultural legacy to the community.

Guild Hall has provided a focal point for their unique gifts.

As in the case of every museum, the complex in East Hampton

is in constant need of financial support.

Over 85,000 visitors go through these doors each year,

and there are 3,500 members.

But it is a living thing that must be nourished

by the same kind of selfless generosity

which saw it become a reality 50 years ago.

Bequests, donations, and support are its life's blood.

Bud Levinson, the current chairman of the board,

and Enez Whipple are not concerned with the past.

They are working and planning for the future

to ensure that Lorenzo and Mary Woodhouse's gift

of Guild Hall will continue to benefit

generations to come

in this charming village by the sea.

I hope you've enjoyed this glimpse at Guild Hall,

the center of arts and culture on the east end of Long Island.

After 90 years of excellence,

Guild Hall looks to the future to continue to grow and evolve.

Thank you for joining me on All Arts.

To learn more about the storied history

of Guild Hall, East Hampton,

visit GuildHall.org.