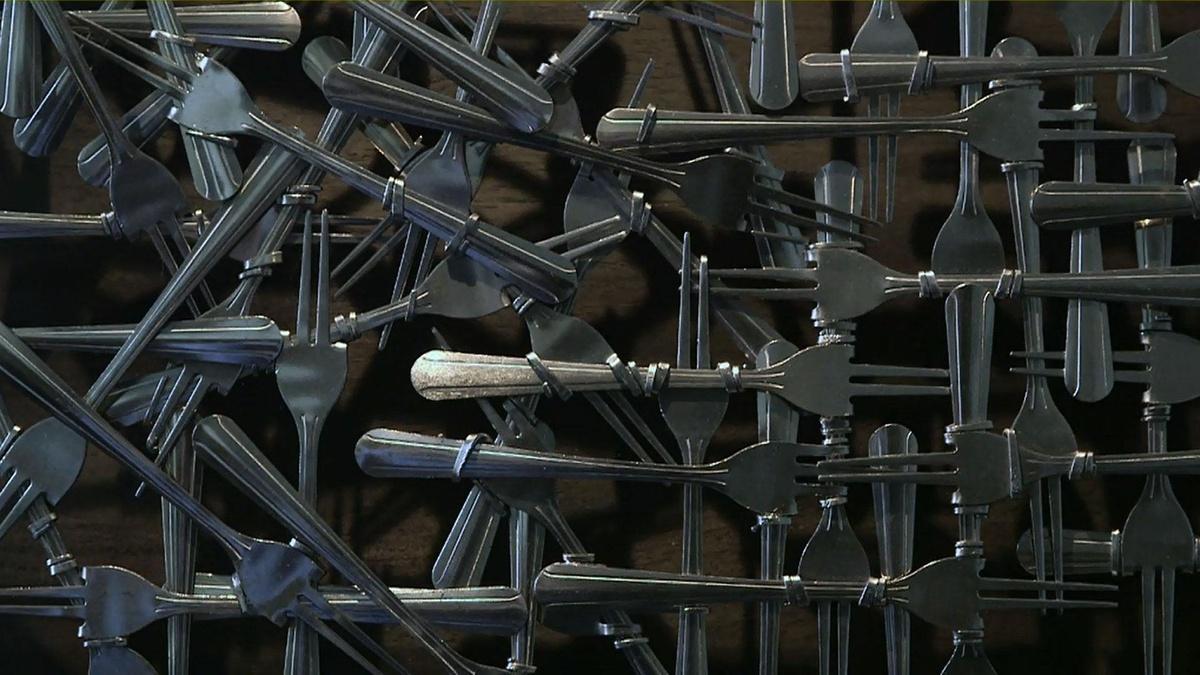 S1 E39 | FULL EPISODE
Resourceful
You'll never look at a fork the same way again once you see artist Matthew Bartik's work. Florida resident Howard Solomon welcomes us into his home and gallery, reminiscent of a medieval castle. Visit the Denver Art Museum in Colorado to see an exhibition offering something for everyone. Finally, meet Wisconsin artist and Renaissance man Bill Reid, whose metal creatures are anything but stiff.
TRANSCRIPT

>> ON THIS EPISODE OF AHA -- FORK IT UP!

>> I DO GET PEOPLE

SAYING, OH, WELL, IT'S NOT REAL ARTWORK.

BECUASE IT'S JUST A FORK.

>> WE TOUR A CASTLE WITH GALLERIES FIT FOR A KING.

AN EXHIBITION CHALLENGING THE TRADITIONAL MEETING OF

FIBER ART.

>> IT'S AN EYE OPENER, WHAT TODAY WE TAKE FOR

GRANTED.

>> MEET A TRUE RENAISSANCE MAN AND ALL HIS CREATIONS.

>> IT'S LIKE BEING A DETECTIVE.

YOU KEEP THE HEAT ON 'TIL THE STEEL TALKS.

>> IT'S ALL AHEAD ON THIS EPISODE OF AHA.

FUNDING FOR AHA HAS BEEN PROVIDED BY YOUR

CONTRIBUTION AND BY CONTRIBUTIONS TO THE WMHT

VENTURE FUND.

CONTRIBUTORS INCLUDE THE LEO COX BEACH

PHILANTHROPIC FOUNDATION, CHET AND KAREN OPALKA,

ROBERT AND DORIS FISCHER MALESARDI, AND THE

ROBISON FAMILY FOUNDATION.

AT M&T BANK WE UNDERSTAND THAT THE VITALITY OF OUR

COMMUNITIES IS CRUCIAL TO OUR CONTINUED SUCCESS.

THAT IS WHY WE TAKE AN ACTIVE ROLE IN OUR

COMMUNITY.

M&T IS PLEASED TO SUPPORT WMHT PROGRAMMING THAT

HIGHLIGHTS THE ARTS AND WE INVITE YOU TO DO THE SAME.

HUGH JOHNSON ADVISORS PROUDLY SUPPORTS THE ARTS

IN OUR REGION.

THE HUGH JOHNSON ADVISORS INVESTMENT TEAM HAS BEEN

PROVIDING INVESTMENT COUNCIL AND FIDUCIARY

ADVICE TO NON-PROFITS AND ENDOWMENTS FOR OVER TWENTY

YEARS.

MORE INFORMATION AT HJADVISORS.COM.

[MUSIC]

>> HI, I'M KATIE G., AND THIS IS AHA, A HOUSE FOR ARTS, A

PLACE FOR ALL THINGS CREATIVE.

ARTISTS ARE CLEVER.

THEY'RE AMAZINGLY RESOURCEFUL AND CAN FIND

WAYS TO USE PRETTY MUCH ANYTHING TO CREATE.

IN TODAY'S SHOW, WE ENCOUNTER SOME PRETTY

RESOURCEFUL ARTISTS.

NOW, HAVE YOU EVER WANTED TO PLAY WITH YOUR FOOD?

HOW ABOUT YOUR SILVERWARE?

AFTER VIEWING THIS PIECE ON LOCAL ARTIST MATTHEW

BARTIK, YOU'LL NEVER LOOK AT A FORK THE SAME WAY

AGAIN.

[MUSIC]

>> I DO GET PEOPLE SAYING, OH, WELL, IT'S NOT REAL

ARTWORK BECAUSE IT'S JUST A FORK.

LIKE, NO, ARTWORK IS ARTWORK, YOU'RE CREATING

SOMETHING FROM SOMETHING ELSE.

IT'S NO DIFFERENT THAN THAT.

WHEN I WAS YOUNGER, I HAD SOMEONE COME UP AND I WAS

SELLING MY WORK OUT IN FRONT OF THE METROPOLITAN

MUSEUM OF ART, AND THIS GUY CAME UP TO ME AND

SAID, YOU DON'T MAKE ANYTHING WORTHY OF BEING

IN A GALLERY.

YEAH, I DO, LOOK AT THIS, THIS AND THIS.

THAT CAN'T SIT WITH SOME OF THE OF THE GREATS.

LIKE, OKAY, WE'LL SEE.

AND WITH NINE MONTHS LATER, I MADE MY FIRST

LARGE NUDE FEMALE, AND SHE STOOD ABOUT 22 INCHES

TALL.

HER HAND WAS RESTING ON A PEDESTAL, AND IT WAS A

PIECE I CALLED "WOMAN STANDING CONTRAPOSTO,"

WHICH IS A VERY, VERY CLASSICAL POSE THAT YOU'LL

SEE IN MANY SCULPTURES FROM THE ROMAN AND GREEK

ERA OF THE SCULPTURE.

GRANTED, I NEVER SAW THE GUY AGAIN, BUT I NOW HAVE

A PIECE THAT WILL SIT IN A GALLERY AND THAT HAS WON

AWARDS, AND JURIED ART SHOWS.

WHEN I FIRST STARTED SELLING MY WORK, I WAS

ABLE TO GET A LOT OF FEEDBACK AS TO WHAT I WAS

DOING, BECAUSE BY SITTING AND WORKING IN FRONT OF

PEOPLE, YOU GET THE RAW INTERACTIONS.

SOME PEOPLE, OH, I CAN DO THAT, THEN I'LL SHOW THEM

A MOTORCYCLE, YEAH, I CAN DO THAT.

THAT TOOK ME 10 HOURS TO MAKE, AND I'VE BEEN DOING

THIS FOR 10 YEARS.

YOU CAN'T DO THAT.

THEN I HAVE SOME PEOPLE WHO WILL COME UP AND LOOK

AT ONE OF THE LARGER PEOPLE THAT I MAKE, LIKE A

WOMAN STANDING IN CONTRAPOSTO OR A WOMAN

LAYING ON A CHAISE LOUNGE AND I'LL HAVE THEM GO WOW,

WHAT IS THAT? WHAT'S THAT MADE OUT OF? BECAUSE

THEY'LL BE SITTING AT IT, LOOKING AT IT FOR SOME

TIME AND THEY STILL CAN'T FIGURE OUT WHAT MATERIAL

IS BEING USED TO MAKE THE PIECE.

[MUSIC]

IT STARTED IN MY COLLEGE DINING HALL, I WENT TO

STATE UNIVERSITY OF NEW YORK AT NEW PALTZ, IT WAS

THE SUNDAY AFTER THANKSGIVING.

IT WAS BRUNCH AND A COUPLE OF FRIENDS AND I WERE

TRYING TO STOMACH THE FOOD AND IT JUST WAS ABSOLUTELY

TERRIBLE.

INSTEAD OF TRYING TO EAT THE FOOD, WE TRIED TO MAKE

A VILLAGE OUT OF IT INSTEAD.

WE HAD LITTLE MUFFIN HOUSES, CHICK PEA PADS

WE HAD A CAR MADE OUT OF A STEAK AND FOUR MEATBALLS.

AND IF YOU'RE GOING TO HAVE ALL OF THAT,

YOU KIND OF NEED TO HAVE STREETLIGHTS, RIGHT?

SO I MADE STREETLIGHTS OUT OF FORKS.

AND THAT WAS KIND OF THE BIRTH OF THE IDEA.

THE NEXT SEMESTER, I GOT AN ASSIGNMENT, MY

THREE-DIMENSIONAL DESIGN CLASS, TO MAKE A

THREE-DIMENSIONAL OBJECT USING 100 FORKS, AND I

MADE A 100 FORK SCULPTURE THAT SAT IN A 20-GALLON

LONG FISH TANK WITH 100 GOLDFISH IN IT, AND I

BACKLIT IT WITH A 1970S CHRISTMAS TREE LIGHT.

ABOUT SIX WEEKS LATER, I HAD A FRIEND SAY, YOU

KNOW, YOU SHOULD START SELLING THAT STUFF.

WHAT DO YOU MEAN?

WELL, YOU COULD GO DOWN TO NEW YORK CITY AND YOU

COULD SELL YOUR WORK AND MAKE MONEY.

HA HA HA, THAT'S FUNNY.

HE SET ME OUT IN FRONT OF THE METROPOLITAN MUSEUM OF

ART, AND I STARTED SELLING MY WORK.

I SOLD IT FOR THREE HOURS AND I MADE $40.

SURE, WHY NOT?

AND I REALIZED AT THAT POINT THAT I ACTUALLY HAVE

AN OPPORTUNITY TO BE AN ARTIST AND MAKE A LIVING.

WHEN I WAS IN HIGH SCHOOL, I HAD PEOPLE ASK ME WHAT I

WAS GOING TO DO.

I'M LIKE, I DON'T KNOW, I'M EITHER GOING TO BE AN

ARTIST OR I'M GOING TO BE A GUY SELLING WATCHES OUT

OF A TRENCH COAT IN NEW YORK CITY.

I DIDN'T REALIZE HOW CLOSE I WAS TO THAT.

I'M SATISFIED IN WHAT I DO BECAUSE I GET TO CREATE

SOMETHING EVERY DAY.

I GET TO USE MY MIND AND A DREAM THAT I'VE HAD SINCE

I WAS -- I CAN'T EVEN REMEMBER.

I WAS 4 OR 5 YEARS OLD WHEN MY MOM SAID I STARTED

DRAWING.

>> NEXT, FLORIDA RESIDENT HOWARD SOLOMON WELCOMED US

INTO HIS HOME AND GALLERY.

A UNIQUE BUILDING REMINISCENT OF A MIDEVIL

CASTLE, STARTING WITH SCRAPS OF METAL, WOOD AND

EVEN PRINTING PLATES, SOLOMON HAS BUILT AN

ARTISTIC FORTRESS THAT CONTINUES TO INSPIRE HIM

AND THOSE WHO VISIT.

>> MY NAME IS HOWARD SOLOMON.

WE'RE IN HARDY COUNTY, I'VE BEEN HERE FOR 41

YEARS.

I THINK OF IT AS MY HOME, A MAN'S CASTLE IS HIS

HOME.

MY INTENTION WAS TO BUILD A COMBINATION HOME AND

STUDIO.

THERE WASN'T ENOUGH HORIZONTAL LAND FOR MY

PLAN.

I BUILT THE CASTLE BECAUSE I HAD HAD TO BUILD UP

INSTEAD OF OUT, AND ONE DAY READING THE LOCAL

PAPER, I SAW THAT THE PAPER HAD AN AD TO SELL

PRINTING PLATES FOR 10 CENTS A PIECE.

I SAID THAT WOULD BE A VERY REFLECTIVE MATERIAL,

IT'S RUSTPROOF AND IT WOULD MAKE A NICE SHINY

CASTLE.

I LEARNED AS I WENT AND I MADE ERRORS ALONG THE WAY,

SOME OF THE ERRORS, I HAVE TO LIVE WITH.

I LEARNED WHATEVER I HAD TO LEARN, AND IT WOUND UP

TO BE SOMETHING LIKE 20 OR 25 DIFFERENT TRADES.

WHEN I LOOK AT A PIECE OF SCRAP METAL OR JUNK, AS WE

CALL IT, IT REMINDS ME OF SOMETHING, IT MIGHT LOOK

LIKE A NOSE, AN EAR OR A HAND.

AND THAT'S THE NUCLEUS OF THE IDEA.

SINCE I HAVE MY OWN JUNKYARD, TO FIND PIECES

TO GO WITH IT AND JUST WELD THEM TOGETHER UNTIL

IT LOOKS LIKE SOMETHING THAT YOU DON'T HAVE TO

GUESS WHAT IT'S SUPPOSED TO BE, IT LOOKS LIKE WHAT

I INTENDED IT TO BE.

I PREFER TO CALL MY WOR IMPRESSIONISTIC REALISM.

>> I STARTED OUT WITH HOOPS MADE OUT OF QUARTER

INCH DIAMETER STEEL, AND THAT CREATES THE BASIC

SHAPE OF THE BODY OR THE HEAD, AND THEN THE NEXT

STAGE IS TO COVER THE WHOLE SCULPTURE IS METAL

CUT FROM OIL DRUMS.

WHAT YOU SAW IN THE ANIMAL ROOM WITH THE COAT

HANGERS, IT'S A WIRE FRAME.

IN THE CASE OF THE ELEPHANT AND THE LION AND

THE EAGLE HANGING FROM THE CEILING AND THE FISHMAN,

THOSE WERE FRAMES COVERED WITH PIECES OF OIL DRUM

MATERIAL.

I BUILT THIS WHEN I LIVED IN THE BAHAMAS IN 1968, I

THINK IT WAS.

THAT'S A LAMPSHADE WITH A TRUMPET VALVE.

THAT'S A 1910 FORD KEROSENE LANTERN FROM A

XEROX MACHINE WITH A SHOCK ABSORBER.

THE ENGINEER IS MADE OUT OF MATTRESS TICKING AND

CLAY.

HIS EYEBROWS ARE ALMOST HUMAN HAIR, FROM 15 IT

DIFFERENT PARTS OF MY BODY, BECAUSE I DON'T

THROW ANYTHING AWAY.

>> GROWING UP AT SOLOMONS CASTLE WAS -- I THOUGHT

EVERYBODY'S DAD WAS INNOVATIVE AND CREATIVE

LIKE MY DAD WAS.

YOU REALLY HAD TO KEEP AN EYE ON YOUR TOYS, THEY

WERE LIABLE TO DISAPPEAR AND BE DEVELOPED INTO A

SCULPTING.

MY DAD IS ALMOST 80 YEARS OLD, I THINK THAT'S WHAT

KEEPS HIM ACTIVE, HE'LL BE IN THE SHOP THREE TO

FOUR HOURS A DAY, SOMETIMES UP TO SIX HOURS.

>> I STARTED OUT MAKING LITTLE OWLS, AND THEN MY

IMAGINATION, LOOKING AT DIFFERENT SHAPES OF SCRAP

WOOD, THEY TURNED INTO POINTY HEAD OWLS OR

GNOMES.

I TAKE THEM OVER TO THE SANDER, TAKE OFF THE HARD

EDGE, TAKE THEM TO THE WELDING TABLE AND BURN OFF

THE FUZZ, PUT SOME DARK COLOR INTO IT WITH A

FORGE, THEN I PUT A LITTLE BIT OF URETHANE ON THEM TO

COVER UP THE BURNED PART SO IT DOESN'T COME OFF ON

YOUR FINGERS, I GLUE IN THE EYES, MAYBE A BUTTON

NOSE AND IT'S ALL DONE.

I MAKE HUNDREDS OF THEM IN A YEAR'S TIME, AND THEY'RE

INEXPENSIVE AND THEY'RE LIKE A SOUVENIR FROM

SOLOMONS CASTLE.

>> PEOPLE ASK HOW DID MY DAD DO, HOW COULD HE

POSSIBLY DO SO MUCH IN A LIFETIME?

HE IS VERY ARTISTIC, BUT I THINK THE DIFFERENCE

BETWEEN MY DAD AND MOST ARTISTS IS HE ALSO HAS A

GREAT BUSINESS MIND.

>> I WAS BORN AN ARTIST, AND RAISED IN A BUSINESS

ATMOSPHERE.

SO I HAVE THE UNUSUAL COMBINATION OF BOTH.

MY UNIQUE SITUATION IS I DON'T HAVE TO SELL

ANYTHING BECAUSE PEOPLE ARE ARE PAYING ME TO LOOK

AT IT.

IF I SELL SOMETHING, NINE TIMES OUT OF 10 I'M GOING

TO HAVE TO REPLACE IT, BECAUSE IT'S FOOLISH TO

SELL SOMETHING PEOPLE ARE PAYING YOU TO LOOK AT.

>> MY DAD PRETTY MUCH RAISED ME TO BELIEVE IN IF

YOU HAVE A DREAM, YOU SHOULD GO AFTER IT.

YOU KNOW, EVEN IF OTHER PEOPLE DON'T REALLY

UNDERSTAND IT OR ACCEPT IT, BE SURE TO KEEP

COMPASSION AT THE FRONT OF YOUR BRAIN AND IN YOUR

HEART, AND AS LONG AS YOU'RE NOT HURTING ANYONE

AND EVEN IF PEOPLE DON'T REALLY ACCEPT YOU OR WHAT

YOU'RE DOING, THEN YOU SHOULD DO WHERE YOUR HEART

LEADS YOU.

>> I TELL PEOPLE THAT I RETIRED WHEN I CAME HERE,

I WAS 37 YEARS OLD, AND MY RETIREMENT BECAME A HOBBY

AND THEN IT BECAME A BUSINESS.

>> NOW WE HEAD TO THE DENVER ART MUSEUM IN

DENVER, COLORADO, TO AN EXHIBITION OFFERING

SOMETHING FOR EVERYONE.

FROM CONTEMPORARY ARTISTS TO THE AMERICAN WEST,

PRECOLUMBIAN WEAVINGS TO NAVAJO DESIGN, SPUN

ADVENTURES IN TEXTILES, IS REDEFINING WHAT SOME MAY

TYPICALLY PERCEIVE AS ART.

66 SPUN AT THE DENVER ART MUSEUM IS A CAMPUS-WIDE

EXHIBIT THAT WRAPS PEOPLE'S MIND IN TEXTILES.

AND FROM PRECOLUMBIAN WEAVINGS TO CONTEMPORARY

LIGHT INSTALLATIONS, HE'S PUSHING THE BOUNDARIES OF

WHAT MIGHT CONSIDER TO BE ART.

>> IT'S AN EYE OPENER, WHAT TODAY WE TAKE FOR

GRANTED.

THIS EXHIBITION FUNCTIONS ON SO MANY DIFFERENT

LEVELS.

ONE IS EXACTLY THAT, FUNCTION, HOW DIFFERENT

TEXTILES MIGHT HAVE BEEN USED OR WERE USED, WHETHER

IT'S FOR WARMTH AND COMFORT WHEN YOU'RE

SLEEPING, PROTECTION, SACRED RITUALS, THERE ARE

SO MANY DIFFERENT TECHNIQUES REPRESENTED IN

THIS EXHIBITION.

PEOPLE THINK OF WEAVING AND EMBROIDERY, PERHAPS,

OFF THE TOP OF THEIR HEADS, BUT QUILTING,

COVERLETS, TAPESTRY, BLOCK PRINTING, SO ALL THE

DIFFERENT WAYS TO DECORATE THAT PIECE OF CLOTH.

>> BUT IT'S NOT JUST ABOUT CLOTH FOR TODAY'S ARTISTS.

MANY ARE EXPERIMENTING, WEAVING TOGETHER

UNEXPECTED MATERIALS AND ECHOING THE LAYERS AND

DEPTHS FOUND IN MORE TRADITIONAL TEXTILE WORKS.

>> THERE IS A PLETHORA OF MATERIAL AVAILABLE TO

ARTISTS TODAY AND THIS IS SUCH A COLLECTION, YOU CAN

SEE WHETHER IT'S TEXTILES, WOOD, CHARRED WOOD, LIGHT,

THERE'S DIFFERENT MEDIUMS THROUGHOUT THIS EXHIBITION

THAT REALLY LURE YOU IN.

THERE'S A MUCH MORE FUNCTIONAL ASPECT TO THE

WORK.

IN THIS SHOW, IT'S MORE ARTISTS OF OUR OWN TIME

THINKING ABOUT ISSUES THAT ARE RELEVANT TO US LIVING

TODAY.

MOST OF THE YOUNG ARTISTS, TAKEN APART TEDDY BEARS,

RECONSTITUTED IN THIS RUG, THIS WALL PIECE, CREATES

SORT OF THIS RORSCHACH PATTERN, THE INKBLOT TEST,

HAVING FUN WITH MATERIALS, THINKING ABOUT HOW WHEN

YOU TAKE THEM OUT OF THEIR NORMAL CONTEXT, THEY MIGHT

MEAN SOMETHING DIFFERENT.

>> I MADE THESE WORKS IN THE EARLY 90S AT THE

HEIGHT OF THE AIDS CRISIS.

A LOT OF MY FRIENDS WERE DYING AND THIS WORK REALLY

WAS IN RESPONSE TO THAT.

SO 10 YEARS OF KNITTING BUT 12 HOURS, 13 HOURS A

DAY, SO IT WAS A WAY FOR ME TO KEEP TRACK, AND ALSO

TO MEDITATE ON THE PASSAGE OF TIME.

>> WHERE YOU LIVE IN THE WORLD, THAT'S GOING TO

INFLUENCE TO A DEGREE WHAT YOUR TEXTILES BECOME.

PEOPLE ARE ALWAYS INCORPORATING THINGS TAKEN

FROM A DISTANCE INTO THEIR OWN.

COLOR CHOICES CAN BE DICTATED BY CULTURE.

YOU'LL SEE A LOT OF INDIGO IN THIS SHOW.

MANY OF THOSE TEXTILES ARE FROM JAPAN, WHEREAS THIS

IS AFLAME WITH COLORS.

THEY ARE IN AN ART MUSEUM AND WE ARE APPRECIATING

THEM FOR EITHER FABULOUS DESIGN, BEAUTIFUL

WORKMANSHIP, BUT ALWAYS THE BEAUTY OF THE OBJECT.

>> SO WE'RE HERE IN THE QUILT STUDIO, WHICH IS

PART OF SPUN.

WHY DID THE MUSEUM WANT TO INCLUDE THIS?

>> THIS IS NOT YOUR GRANDMA'S QUILT STUDIO.

THIS IS REALLY ABOUT CONTEMPORARY PRACTICE, SO

REALLY THINKING ABOUT THE WAYS THAT COLORS AND

PATTERNS AND DIFFERENT IT TEXTURES WORK, WHICH IS

EXACTLY THE SAME PROCESS THAT A PAINTER OR SCULPTOR

GOES THROUGH IN MAKING HIS CREATIVE DECISION.

>> THERE'S LABELS THROUGHOUT THE EXHIBITION,

YOU CAN USE YOUR MOBILE PHONE AND TAKE A PICTURE

OF THE QR CODE BENEATH THE LABEL AND IT TAKES TO YOU

VIDEOS AND THE ARTIST TALKING ABOUT THEIR WORK.

I WOULD VENTURE TO SAY THAT ALL ART IS

INTERACTIVE.

A LOT OF CONTEMPORARY ARTISTS, THE VIEWER

COMPLETES THE PIECE, SO IT IS AN INTERACTIVE THING.

WE ALL BRING BAGGAGE AND DIFFERENT MEANING TO WORK.

ONLY THE ACCESSIBILITY OF YOUNG ARTISTS BEING ABLE

TO WORK WITH TECHNOLOGY TO MAKE A PIECE LIKE THAT,

IT'S ONLY COME ABOUT IN THE LAST DECADE.

YOUR MOVEMENT IS PICKED UP BY CAMERAS THAT YOU DON'T

SEE, TRANSLATED THROUGH SOFTWARE TO CREATE THIS

THIS MOVEMENT THAT'S PROJECTED ON TO THE WALL,

IT CREATES THIS OPTICAL EFFECT AND IT'S QUITE

BEAUTIFUL.

BUT IT ALSO MAKES YOU AWARE OF YOUR OWN BODY AND

MOVEMENTS.

IT'S A VERY POETIC, SIMPLE PIECE.

IT'S A VERY DIFFERENT WAY OF THINKING ABOUT MAKING

ART.

SO IT'S NO LONGER A PAINTING, A SCULPTURE OR

PHOTOGRAPHY FOR THAT MATTER.

SO THAT'S WHAT I LOVE ABOUT CONTEMPORARY ART.

YOU CAN SEE THE SORT OF TRANSGRESSION OF HOW THEY

ALL ARE CONTINUING TO PUSH THE LIMITS OF WHAT A PIECE

OF WOOD CAN DO OR JUST FABRIC AND MATERIALS IN

GENERAL, TO CONVEY THESE VERY DEEP, THOUGHTFUL

EMOTIONAL AND POLITICAL RESPONSES.

>> FINALLY, WE MEET WISCONSIN ARTIST AND

RENAISSANCE MAN BILL REID, WHOSE METAL CREATURES ARE

ANYTHING BUT STIFF.

THEY MOVE, SOME EVEN FLY, ALL ARE TESTAMENTS TO

REID'S ARTISTIC TALENT AND INNOVATIVE MIND.

TAKE A LOOK.

>> WHEN YOU THINK ABOUT I'M WEARING SUNGLASSES,

I'M IN THE DARK, AND LOOKING AT THIS LITTLE

FLAME.

IT'S LIKE BEING A DETECTIVE.

YOU KEEP THE HEAT ON UNTIL IT TALKS.

IT STARTS TELLING YOU TO STOP, AND YOU LISTEN, AND

IT TAKES A LOT OF PATIENCE, SO THEY TAKE A

LOT OF TIME TO MAKE.

AND JUST MAKING UP YOUR OWN WORLD, I THINK IT

REALLY WANTS TO MAKE UP THEIR OWN WORLD.

MY NAME IS BILL REID.

I AM A SCULPTOR AND I LIVE IN RACINE.

I MAKE THINGS OUT OF STEEL IN GENERAL.

I DO PAINTING TOO.

AND I USUALLY PAINT THE STEEL.

AND I LIKE STORIES.

I LIKE MAKING THINGS.

I REALLY LIKE THAT IDEA.

SO I ACTUALLY STARTED -- DID A LITTLE ALUMINUM

CASTING AT THE DID BEGINNING AND GOT INTO

THAT WHOLE TYPE OF THING.

AND THEN I WENT BACK TO WELDING, LIKE ART WELDING,

BIG WIRE STRUCTURES AND BIG THINGS.

FOR ACTUALLY ABOUT 30 YEARS NOW, I'VE BEEN

MAKING THINGS OUT OF SHEET METAL WITH WIRE CAGES,

ANIMALS, AND STORY-RELATED THINGS.

I LIKE THAT BECAUSE YOU CAN DO MECHANICAL THINGS

WITH THEM, THEY CAN BE REALLY LIGHT, BUT THEY'RE

REALLY STRONG.

AND IT GIVES ME LOTS OF OPPORTUNITIES.

I THINK THE STORY THING GIVES IT AN EXTRA

DIMENSION OF JUST BEING A SCULPTURE.

THEY OFTEN START WITH -- IT'S USUALLY JUST A SKETCH

BUT IT'S OFTEN BASED ON WORDS.

I'M INITIALLY WORKING WITH WIRE, AND SHEET STEEL, 24

GAUGE STEEL, AND I USUALLY MAKE A WIRE STRUCTURE.

USUALLY WITH A SILHOUETTE, THEN FILL IT IN WITH THE

WIRE, THEN LAY IT ON THE SHEET STEEL, DRAW THE

PATTERNS, CUT IT OUT, AND I USE AN OXYACETYLENE

TORCH.

IT'S SERIOUSLY HOT BUT IT'S A REALLY TINY LITTLE

FLAME.

THE NICE THING IS, IT JUST -- IT'S JUST STEEL, AND

THE STEEL WANTS TO MELT TOGETHER.

STEEL IS VERY FRIENDLY.

WHEN I'M READY TO PAINT, WHAT I'LL DO IS I'LL RUN

THE TORCH OVER IT AND KNOCK OFF ANY SCALE, AND

THEN I BANG IT ACTUALLY TO REALLY KNOCK OFF ANYTHING

ELSE THAT'S LOOSE.

AND THEN I PUT A GOOD PRIMER ON IT TO PROTECT IT

FROM RUSTING, AND THEN I ACTUALLY USE LIKE HARDWARE

STORE WATER BASED ENAMEL PAINTS.

AND THEY'RE NICE, THEY DON'T HAVE FUMES AND YOU

CAN REALLY PLAY WITH THEM ALMOST LIKE WATER COLORS,

YOU CAN DO LOTS OF LAYERS.

KIDS ASK ME HOW MANY I'VE DONE.

I MUST HAVE DONE AT LEAST 4,000 SCULPTURE, YOU KNOW?

I'VE BEEN DOING OVER A HUNDRED A YEAR FOR 35

YEARS OR SOMETHING.

IT ADDS UP.

THE LAST YEAR OR SO, I'VE BEEN DOING BUNIONS, IF YOU

HAD AN ONION SUIT ON, YOU'D BE CRYING, RIGHT?

SO THESE ARE ONIONS DRESSED UP IN BUNNIES OR

LOOKING LIKE BUNNIES AND SELLING THEIR CHAIRS ON

THE STREET, TRYING TO MAKE A LIVING SOMEHOW OR

ANOTHER.

THAT'S ONE OF MY FAVORITE THINGS IN THE LAST YEAR.

I DID A BIG OWL, LIKE A 6-FOOT TALL OWL.

HE'S GOT A BIG FLAMINGO FLYING OVER THE TOP OF HIS

HEAD A CRANK IN HIS WINGS.

I DID ANOTHER ONE WITH OWLS AGAIN, A LITTLE ONE,

AND IT'S THREE OWLS LIKE THEY'RE MIGRATING, SO YOU

TURN THE CRANK AND THEY'RE ALL GOING THROUGH BUT

THEIR WINGS FLAP UP AND DOWN.

THIS WAS BUILT ON A 1988 FORD ESCORT, IT DOESN'T

LOOK ANYTHING LIKE IT, BUT IT IS CERTIFIED TO DRIVE.

THAT WAS PROBABLY MY MOST AMBITIOUS PROJECT EVER,

JUST BECAUSE I DIDN'T MESS ANYTHING UP MECHANICALLY

WITH IT.

CARS ARE FUN, I LOVE BICYCLES, THEY'RE SIMPLE,

EASY TO FIX, AND THEY'RE FAIRLY EFFICIENT.

THE FIRST ONE I MADE, THE REIDSTER, I HAD HELP FROM

AN ENGINEER FRIEND, WE MADE IT FROM THE FRAME UP,

TOTAL -- EVEN THE FRAME IS MADE BY HAND AND THE

KINGPINS AND ALL THAT, TIRES, AND IT'S A LITTLE

ANT EATER.

IT GOES ALONG REALLY NICE.

AND THEN THERE'S LIKE A MOBY DICK, THE GREAT WHITE

WHALE.

I LIKE TO DO SOMETHING DIFFERENT.

THERE'S SOMETHING REALLY GOOFY WHEN YOU SEE THESE

THINGS MOVING THROUGH SPACE, INSTEAD OF JUST A

STATIC -- ANOTHER STATIC SCULPTURE OR MONUMENT, TO

SEE THEM MOVING THROUGH THE SKY, THROUGH THE AIR,

IS REALLY -- IT'S JUST A WHOLE 'NOTHER DIMENSION

FOR ME.

I GET A LOT OF -- "YOU MUST HAVE A LOT OF TIME ON

YOUR HANDS," BUT MANY PEOPLE, I THINK I GET A

SMILE OUT OF THEM.

KIND OF A DIFFERENT LANGUAGE.

I KIND OF LEARN FROM THINGS, WHAT THINGS WORK,

IN MY MIND, AND THE IDEA OF FINDING THINGS, A NEW

STORY, NEW CHARACTER, JUST, YOU KNOW, I MEAN,

IT'S GREAT TO BE ALIVE AND DOING STUFF FUN LIKE THIS.

I'M LUCKY.

>> AND THAT WRAPS IT UP FOR THIS EDITION OF AHA.

VISIT WMTH DOS.ORG/AHA WHERE YOU'LL FIND FEATURES

ABOUT OUR CREATIVE WORLD IN OUR BACKYARDS AND

AROUND THE COUNTRY.

UNTIL NEXT TIME, I'M KATIE.

THANKS FOR WATCHING.

[MUSIC]

FUNDING FOR AHA HAS BEEN PROVIDED BY YOUR

CONTRIBUTION AND BY CONTRIBUTIONS TO THE WMHT

VENTURE FUND.

CONTRIBUTORS INCLUDE THE LEO COX BEACH

PHILANTHROPIC FOUNDATION, CHET AND KAREN OPALKA,

ROBERT AND DORIS FISCHER MALESARDI, AND THE ROBISON

FAMILY FOUNDATION.

AT M&T BANK, WE UNDERSTAND THAT THE VITALITY OF OUR

COMMUNITIES IS CRUCIAL TO OUR CONTINUED SUCCESS.

THAT IS WHY WE TAKE AN ACTIVE ROLE IN OUR

COMMUNITY.

M&T IS PLEASED TO SUPPORT WMHT PROGRAMMING THAT

HIGHLIGHTS THE ARTS, AND WE INVITE YOU TO DO THE

SAME.

HUGH JOHNSON ADVISORS PROUDLY SUPPORTS THE ARTS

IN OUR REGION.

THE HUGH JOHNSON ADVISORS TEAM HAS BEEN PROVIDING

INVESTMENT COUNCIL AND FIDUCIARY ADVICE TO

NON-PROFITS AND ENDOWMENTS FOR OVER TWENTY YEARS.

MORE INFORMATION AT HJADVISORS.COM.