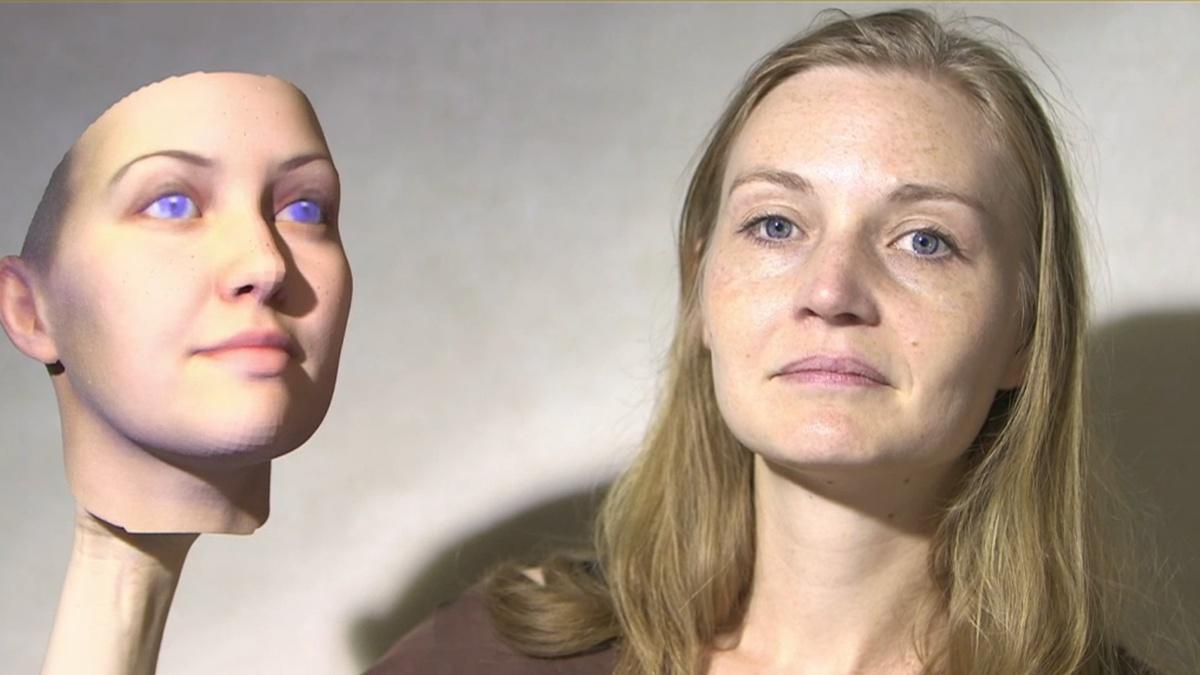 S1 E15 | FULL EPISODE
People
Bio artist Heather Dewey-Hagborg's newest project allows you to become invisible. Also, the Museo de las Americas presents The Legacy Project, focusing on the Chicano movement. Tim Jaeger is a painter who highlights the humanity in everything he paints. And lastly, The Irish Arts Center offers a wide range of performance, exhibition and education programs.
TRANSCRIPT

>> ON THIS EPISODE OF AHA! BECOME INVISIBLE.

>> IF WE'RE ENTERING SURVEILLANCE, WHAT DOES

THAT MEAN AND HOW DO WE PROTECT OURSELVES?

>> CHICANO ARTISTS AT THE BASE OF A CULTURAL

MOVEMENT.

>> THE ART IS EXPRESSED IN OUR DNA.

>> WE ADMIRE HOW A PAINTER BOLDLY EXPRESSES HIS

IDEALS ON CAMPUS >> THEY DON'T HAVE TO GET IT ON A

LEVEL I GET IT, BUT THEY CAN WALK AWAY WITH

SOMETHING MEMORABLE.

>> TAKE A WALK ON THE IRISH SIDE.

>> I REALLY LOVE THE INTIMATE SETTING. I HAVE A

LOT OF FUN WITH THE AUDIENCE BECAUSE I THINK

IT'S NICE.

>> IT'S ALL AHEAD ON THIS EPISODE OF AHA! FUNDING

FOR AHA! HAS BEEN PROVIDED BY YOUR CONTRIBUTION AND

BY CONTRIBUTIONS TO THE WMHT VENTURE FUND.

CONTRIBUTORS INCLUDE THE LEO COX BEACH

PHILANTHROPIC FOUNDATION, CHET AND KAREN OPALKA,

ROBERT AND DORIS FISCHER MALESARDI, AND THE ROBISON

FAMILY FOUNDATION. >> AT M & T BANK, WE UNDERSTAND

THAT THE VITALITY OF OUR COMMUNITIES IS CRUCIAL TO

OUR CONTNIUED SUCCESS. THAT IS WHY WE TAKE AN

ACTIVE ROLE IN OUR COMMUNITY. M & T IS

PLEASED TO SUPPORT WMHT PROGRAMMING THAT

HIGHLIGHTS THE ARTS, AND WE INVITE YOU TO DO THE

SAME.

[ THEME MUSIC ]

>> HI. I'M KATIE G, AND THIS IS AHA! , A HOUSE FOR

ARTS AISH PLACE FOR ALL THINGS CREATIVE. TODAY'S

SHOW IS ABOUT PEOPLE. IT'S ABOUT THE STUFF THAT WE

ARE MADE OF AS WELL AS THE ART PEOPLE MAKE TO EXPRESS

THEMSELVES AND EXEMPLIFY COMPLEX CULTURES WHEN YOU

WERE A CHILD, DID YOU EVER WISH YOU COULD BECOME

INVISIBLE? OUR NEXT ARTIST ALLOWS TO YOU DO JUST

THAT. FOCUSING ON DNA AND BIOLOGICAL SURVEILLANCE,

THIS ARTIST EXPLORES IDENTITIES AND THE ERASURE

OF IT IN HER WORK.

>> IF WE'RE ENTERING AN AGE OF SURVEILLANCE WHAT

DOES THAT MEAN AND HOW DO WE PROTECT OURSELVES? IT'S

A QUESTION THAT NOBODY'S ASKING. SO WHAT I WOULD DO

IS I WOULD CUT OFF A LITTLE PIECE OF THIS AND

THIS IS THE ABSTRACTION PROCESS AND I WOULD HAVE

ACCESS TO YOUR ENTIRE GENETIC CODE, SO

EVERYTHING.

>> I'M HEATHER DEWEY-HAGBORG. I'M AN

ARTIST. I WORK IN AN INTERDISCIPLINARY WAY THAT

IS ART AT THE INTERSECTION OF TECHNOLOGY AND ARTS AND

SCIENCE. IN STRANGER VISIONS, I COLLECT

ARTIFACTS THAT PEOPLE LEAVE IN PUBLIC SPACES AND

GENETIC ARTIFACTS LIKE HAIR AND CIGARETTE BUTTS

AND CHEWING GUM AND FINGERNAILS AND EXTRACT

DNA FROM THEM AND ANALYZE IT TO LOOK SPECIFICALLY AT

REGIONS OF THE DNA THAT ARE CORRELATED WITH

PHYSICAL APPEARANCE, AND THEN I TAKE ALL OF THAT

INFORMATION AND FEED IT INTO THE COMPUTER PROGRAM.

SO THIS IS A PROGRAM THAT IS A MODEL OF A FACE THAT

CAN BE CHANGED OR PARAMETERIZED IN DIFFERENT

WAYS, AND THEN FROM THAT DIGITAL VERSION OF THE

FACE, I'LL EXPORT THAT TO A 39 PRINT PIR PRINT THE

FACE IN FULL COLOR. OUT OF THE 3D PRINTER COMES THESE

LIFE-SIZE SCULPTURES OF PEOPLE'S FACES, SECULAR

VERSIONS OF PEOPLE'S FACES FROM THE GENETIC ARTIFACTS

THAT I FOUND. A LOT OF PEOPLE SAW THE PROJECT AND

SAID, OH, THAT'S SO COOL. AND A LOT OF PEOPLE SAW

THIS PROJECT AND SAID, WOW, THAT'S A HUGE

INVASION OF PRIVACY. AND THAT WAS KIND OF THE

INTENTION.

GENERALLY FOR ME, A PROJECT BEGINS WITH SOME

KIND OF RESEARCH QUESTION, AND THEN THAT QUESTION

MIGHT LEAD ME INTO COMPUTER PROGRAMMING. IT

MIGHT LEAD ME INTO A BIOLOGY LAB. IT MIGHT LEAD

ME TO A SCULPTURE OR MAKING A WEBSITE OR A

VIDEO. IT'S KIND OF-- IT'S JUST THIS QUESTION OF WHAT

FORM IS THIS GOING TO EMBODY THE RESEARCH AND BY

DISCOVERING AND HOW TO TRY TO EFFECTIVELY COMMUNICATE

THEM. WE'RE CONSTANTLY SHEDDING THIS GENETIC

INFORMATION AND ANYONE COULD TURN AROUND AND USE

IT FOR ANYTHING. WHAT DOES THAT MEAN FOR US AS A

CULTURE, AS A SOCIETY? AS THIS BECOMES EASIER TO

ANALYZE, WHAT ARE THE REPERCUSSIONS OF THAT?

INVISIBLE IS THE PRODUCT THAT KIND OF COMBINES ALL

THIS RESEARCH AND THESE STORIES INTO ONE PRODUCT.

>> WE'RE GOING TO BE LIVING IN SURVEILLANCE.

>> THIS IS THE KEY TO OUR PROSPERITY OF A A NATION.

>> THIS IS ME. MY DNA.

>> PEOPLE ARE ARRESTED SIMPLY TO GET THEIR

SAMPLES ONTO THE NATIONAL DNA DATA BASE.

>> POLICE CAN TAKE DNA SAMPLES WITHOUT A WARRANT

>> FROM ANYONE THEY ARREST.

>> ME.

>> ME.

>> YOU DON'T HAVE TO HAVE DONE ANYTHING WRONG.

>> WE'RE ALL FREE.

>> INVISIBLE. INVISIBLE. INVISIBLE. INVISIBLE.

>> SOMETIMES I WISH I WAS INVISIBLE. HAVE YOU EVER

WANTED TO BE INVISIBLE? IT'S A GENETIC PRIVACY

SPRAY KIT. IT IS SORT OF STRADDLING A LINE BETWEEN

BEING ART, A PRODUCT AND A PROVOKATION, BUT IT'S ALL

THOSE THINGS AT ONCE. IT'S REAL. IT WORKS. AND I DO

PLAN TO SELL IT. SO THESE ARE PHOTOGRAPHS I'VE BEEN

WORKING ON FOR INVISIBLE. AND THE FIRST FRAME IN THE

INVISIBLE KIT IS ERASE. IT'S A SURFACE

DECONTAMINANT. SPRAY IT ON AND WIPE IT AWAY. THAT

WILL REMOVE 99.5% OF DNA REST RESIDUE AND IF YOU'RE

CONCERNED ABOUT THAT REMAINING .5%, YOU CAN

SCAN IT WITH A REPLACE SPRAY, WHICH IS LIKE DNA

NOISE. IT'S KIND OF A MASKING SPRAY.

SO ART, I THINK, HAS A POTENTIALLY VERY SPECIAL

POSITION IN THE RELATION TO SCIENCE IN THAT IT CAN

BE A FREE, CREATIVE INQUIRY THAT'S NOT BOUND

BY THE SAME KIND OF GOALS AND THE SAME RESTRICTIONS

OF SCIENCE. SO IT CAN BE LIFE SCIENCE BUT A LITTLE

BIT MORE CREATIVE OR A LITTLE BIT MORE POLITICAL.

IT COULD BE MORE OF A CRITIQUE. I THINK ART HAS

A VERY SPECIAL ROLE THERE. BUT THAT SAID, I THINK

IT'S IMPORTANT TO NOTE THAT FOR ME, IT'S NOT-- I

DON'T FEEL LIKE I'M BRINGING ART TO SOCIETY. I

FEEL LIKE I'M WORKING IN WHATEVER MEDIUM IS

APPROPRIATE TO THE PROFESSIONS I'M INTRIGUED

BY AND THAT COULD FALL INTO ANY NUMBER OF

DIFFERENT CATEGORIES BUT I TRY NOT TO GET TOO

CONCERNED WITH CATEGORIZATION.

>> I GUESS ART IS IN HER DNA. NEXT, IN THE 1960'S

AND '70'S, THE CHICANO ART MOVEMENT WAS AT ITS HEIGHT

IN AMERICA. UP NEXT, WE EXPLORE THE LEGACY

PROJECT, AN EXHIBIT REVOLVING AROUND THE

MOVEMENT AND THE ART IT INSPIRED.

>> THIS MOVEMENT WAS EVOLVED AND WAS GROWN OUT

OF NECESSITY. IN THE 1970S AND 1980S IN

COLORADO, CHICANO ART WAS NOT RECOGNIZED AS AN

AESTHETIC FORM. IT WAS A DIFFICULT POSITION FOR THE

ARTISTS AT THAT TIME TO BE ABLE TO HAVE OPPORTUNITIES

TO EXHIBIT AND TO BE RESPECTED FOR THE WORK

THEY DID. WHAT CHANGED WAS THE POLITICAL MOVEMENT

THEN OF THE 1960S AND '70S, THE CHICANO

MOVEMENT, THE FARM WORKERS' MOVEMENT AND

THOSE OPPORTUNITIES THAT THOSE MOVEMENTS OPENED THE

DOORS.

DURING THAT TIME, EITHER YOU WERE PRESENT AT THE

MOMENT OR YOU WERE GONE. AT THAT TIME, IF YOU

FIRMLY BELIEVE THAT VOLUMES WERE IMPORTANT,

YOU BETTER PUT IT UP IN THE CANVASS AND YOU MAKE

IT YOUR STATEMENT. OUR LIVES WERE A LITTLE

DIFFICULT AT THE BEGINNING. BUT WE NEVER

LOST HOPE, AND WE FORMED A WONDERFUL ORGANIZATION

CALLED CHAC, WHICH IS THE CHICANO HUMANITIES

EXHIBIT. WE COULD SELL OUR WORK AND THEN WE BEGAN TO

DEVELOP OUR NAMES AND THAT IS ACTUALLY OVER 30 YEARS

AGO.

>> I WENT LUISA IN 1980. SHE CAME HERE TO THE

STATES, YOU NOW, WITH VIRTUALLY NO MONEY AND

BECAME A SUCCESSFUL BUSINESSMAN. LUIS HAD A

PROFOUND INTEREST IN THE CIVIL RIGHTS MOVEMENT AND

THE WHOLE CHICANO EXPERIENCE HERE. LUIS, YOU

KNOW, BECAME FAMILIAR WITH WHAT WAS GOING ON IN THE

MOVEMENT.

>> SO HE DEVELOPED THIS IDEA OF BRINGING VERY

IMPORTANT LATIN-AMERICAN AND MEXICAN ARTISTS, THE

BEST THAT HE COULD FIND, INVITE THEM INTO DENVER,

AND THEN INVITE THE CHICANO ARTISTS TO HAVE A

CONVERSATION.

>> MANY ARTISTS AT THAT TIME WHO WERE WORKING

TOGETHER AND TALKING TOGETHER AND PAINTING

TOGETHER WHAT WAS IN THEIR HEART AND EXPRESSED IT IN

ALL THE DIFFERENT WAYS THAT THEY TODAY DID. ALL

OF US MADE A DIFFERENCE TOGETHER.

>> WHAT MAKES THIS EXHIBIT SIGNIFICANT IS THE

PARTICIPATION OF MANNY MARTINEZ AND STEVEN

NISERO, JOHN, JOHN FLORES, PABLO MARTINEZ, DANIEL

SALAVAR, RAMONE KELLY. ALL OF THOSE PEOPLE WHO

CONTRIBUTE TO THE MOVEMENT OF THE CHICANO ART IN

COLORADO.

THIS EXHIBIT FOR ME IS A WAY TO REMIND PEOPLE OF

THE GREAT CONTRIBUTIONS OF CHICANO ARTISTS AND WHO

THEY ARE IN DENVER AND IT'S TO HONOR MY PEERS AND

TO TELL THEM THAT THE WORK THAT THEY HAVE DONE HAS

OPENED DOORS FOR THE NEW GENERATION OF CHICANO

ARTISTS IN THE NEW LATINO AESTHETIC.

>> I SEE YOUNG ARTISTS WHO ARE DOING ART AND INSPIRED

BY THE ARTISTS THAT YOU SEE HERE.

>> THE ART IS EXPRESSED IN OUR DNA. IT'S WHAT

CONNECTS YOU. IT CONNECTS YOU TO YOURSELF AND

CONNECTS YOU TO YOUR COMMUNITY. CONNECTION

CONNECTS YOU TO EVERYONE AROUND YOU. I SEE THE

HISTORY OF WHAT WE DID, WHAT WE ARE DOING, WHAT WE

WILL DO. IT'S BEAUTIFUL.

IT'S CLEAR THAT THE LEGACY PROJECT IS VERY IMPORTANT.

NOW LET'S VISIT A PAINTER WHO HIGHLIGHTS THE

HUMANITY IN EVERYTHING HE PAINTS FROM PEOPLE TO

ROOSTERS. BUT HE DOESN'T STOP AT PAINTING,

EXHIBITING AND SELLING HIS WORK. HE IS ALSO THE

CO-FOUNDER OF TWO ORGANIZATIONS THAT

EMPHASIZE THE ROLE OF VISUAL ART WITHIN

FLORIDIAN COMMUNITY.

ON A CHILLY AFTERNOON, A YOUNG SARASOTA ARTIST

WARMS HIS CANVASS WITH COLOR.

>> I WANT MY WORK TO ACTUALLY BE A VERB INSTEAD

OF A NOUN.

>> TIM JAEGER IS A PAINTER ENGAGES HIS PASSION.

WHETHER EXPLORING THE FEMALE FORM OR SOMETHING

ELSE, TIM IS ALWAYS LOOKING FOR A REACTION

FIRST IN HIMSELF AS AN ARTIST.

>> ANYTHING WITH COLOR FROM IT, ANYTHING WITH

MOVEMENT. SOMETHING THAT ISN'T EXACTLY FINITE. SO

IT COULD BE ANYTHING. SOMETHING THAT HAS SOME

SORT OF LIFE INSIDE OF IT.

>> EXPRESSIONISM IS SAID TO BE MORE ABOUT THE MOOD

OR EMOTION, A SUBJECT EVOKES THAN THE PHYSICAL

REALITY. IT'S WHAT FUELS THE BRUSH STROKE.

>> ALL THE INTENSITY OF LIVING. WE'RE SURROUNDED

BY SO MUCH EVERY DAY. WHEN YOU PUT YOURSELF IN FRONT

OF A CANVASS AND ATTEMPTING TO CREATE

SOMETHING, YOU WANT TO REMEMBER ALL OF THOSE

EMOTIONS THAT YOU FEEL EVERY DAY AND ALLOW

YOURSELF TO TRY TO EXPLAIN ALL THIS CHAOS.

>> OF ALL HIS WORKS, TIM HAS BECOME MOST FAMOUS FOR

A SUBJECT THAT'S RATHER HUMBLING. TIM PAINTS

ROOSTERS. LOOK CLOSELY, HE SAYS, THEY ARE FULL OF

HUMANITY.

>> THEY ARE FUNNY-LOOKING BEASTS. THEY CONTAIN ALL

THESE DIFFERENT COLORS AND EXPRESSIONS AND GESTURES

INSIDE OF THEM. ALL OF THE FORMAL ELEMENTS OF ART. I

STARTED EXPLORING IT AND I FELT THIS CONNECTION TO IT

AND PEOPLE COULD RELATE TO IT. I COULD EXPLORE WHILE

STILL TINKERING THIS ABSTRACT PAINTINGS WITH

THESE INSIGHTFUL EYES AND THIS BEAK AND RED, AWKWARD

COMB.

>> HE'S REMARKABLE IN HIS ABILITY TO DRAW AND

REPRESENTATIONAL SENSE AND ALSO IN SORT OF AN

ABSTRACT FORM. HIS CRAFT IS SO BUILT THAT HE CAN BE

SPONTANEOUS. HIS SENSE OF COLOR FOR ONE THING. IT'S

A LUSCIOUSNESS. HE'S QUITE SOMETHING.

>> AMONG THE ITEMS IN PETER'S COLLECTION, AN

EARLY SELF-PORTRAIT. A PRINT FROM THE LITHOGRAPH

OF A YOUNG FRENCH BOY TIM DREW WHILE HE WAS AN

ARTIST IN RESIDENCE IN FRANCE, AND EVEN A DRAWING

TIM DID WHILE SITTING IN A LOCAL BAR.

>> HIS FACE IS GORGEOUS AND HE FILLED THE GUINNESS

DROUGHT. IT'S THE GUINNESS DREDGE GAL.

>> YOU CAN FIND THE FULL INSPIRATION OF GUINNESS

GIRL IN TIM'S STUDIO, A WORK IN PROGRESS.

[ LAUGHTER ]

>> THE ARTIST CONSIDERS HIMSELF A WORK IN PROGRESS

AS WELL.

>> IT'S REALLY GOOD. AS HE LEARNS THE ART OF BALANCE,

RAISING A YOUNG SON, TENNING TO HIS CRAFT WHILE

REMAINING TO A COMMITTED TO A DESIRE TO MAKE ART

ACCESSIBLE TO MORE PEOPLE. TIMCO FOUNDED SRQ, A

CONSORTIUM OF ARTISTS DEDICATED TO SHOWING

EXCITING WORK IN NEW VENUES. HE'S FOCUSED ON

PROMOTING OTHER ARTISTS AS WELL. I'M NOT GOOD AT

KEEPING SECRETS AND IF I SEE SOMETHING OTHER PEOPLE

WILL ENJOY, WASN'T TO GET THE WORD OUT THERE.

>> WHILE NOT EVERY ARTIST IS CONCERNED ABOUT WHETHER

OR NOT PEOPLE UNDERSTAND THEIR WORK, THIS

EXPRESSIONISTS THINKS THESE CONNECTIONS IS

IMPORTANT.

>> THEY DON'T HAVE TO GET IT ON THE LEVEL THAT I GET

IT, BUT THEY CAN WALK AWAY WITH SOMETHING MEMORABLE.

TIM LIKENS IT TO THE SERMON HIS FATHER

PREACHED.

>> MY UNDERSTOOD SPACE, RELIGION AND KEPT IT TO

HIMSELF, WHAT GOOD DOES THAT DO? INSTEAD, HE IS IN

FRONT OF A PULPIT AND EXPRESSED HIMSELF EVERY

SUNDAY. SO I WANT PEOPLE TO GET WHAT IT IS THAT I

DO.

>> A PAINTER LISTENING TO HIS OWN VOICE AND PUTTING

IT TO CANVASS IN THE BOLDEST OF BRUSH STROKES.

YOU CAN SEE THE HUMANITY IN THAT WORK. NEXT, WE

EXPLORE THE IRISH ARTS CENTER IN NEW YORK CITY.

FOUNDED IN 1972, THE IRISH ARTS CENTER ENCOMPASSES

GALLERY, CLASSROOMS AND A PERFORMANCE VENUE THAT

HOSTS INTIMATE THEATER AND MUSIC, FILM SCREENINGS,

LITERARY EVENTS AND MORE. EXECUTIVE DIRECTOR AIDEN

CONNALLY IS JOINED BY JULIE FEENEY TO DISCUSS

THIS MECCA FOR IRISH ARTS AND CULTURE.

>> IRISH ARTS CENTER IS A MULTIDISCIPLINARY CULTURAL

ARTS CENTER ON THE WEST SIDE OF MANHATTAN AND WE

HAVE THREE CORE ELEMENTS TO WHAT WE DO. WE HAVE A

PERFORMANCE PROGRAM. WE HAVE AN EXHIBITION

PROGRAM. WE HAVE AN EDUCATION PROGRAM. IN

TERMS OF OUR MISSION, WE REALLY HAVE A GOAL OF

PROJECTING A DYNAMIC IMAGE OF IRISH AMERICA FOR THE

21ST CENTURY, AND WE DO THAT IN A WAY THAT

BUILDS COMMUNITY WITH PEOPLE OF ALL BACKGROUNDS.

SOME OF THE PROGRAMMING THAT TELLS OUR STORY BEST,

I THINK ABOUT A THEATER PIECE CALLED CAMBREA

DOUGLAS. TWO PLAYS THAT WE PLAYED IN ROTATING

REPERTORY. IT WAS PERFORMED BY DON CALI

ABOUT THE HISTORIC TRIP TO IRELAND ABOARD THE PADDLE

SHIFTER CAMBRIA AND IT WAS A LITTLE-KNOWN STORY THAT

TURNED OUT THAT FREDERICK DOUGLAS SHORTLY AFTER THE

PUBLICATION OF HIS AUTOBIOGRAPHY WHILE HE WAS

ON THE RUN FROM ENRAGED SLAVE HOLDERS CHASING HIM

TOOK REFUGE IN IRELAND AND FOUND COMMON CAUSES WITH

PEOPLE LIKE DANNY O'CONNELL. WE GOT TOGETHER

WITH CLASSICAL THEATER OF HARLEM AND WORKED WITH

ROGER SMITH WITH HIS PLAY, FRED LICK DOUGLAS NOW,

WHICH WAS THE DOUGLAS STORY FROM A MORE GROUNDED

AFRICAN-AMERICAN PERSPECTIVE. PROJECTS LIKE

THAT THAT GIVE US A CHANCE TO PROJECT THE EXCELLENCE

AND DYNAMICKISM OF CONTEMPORARY CULTURE AND

FIND CONNECTIVE TISSUE WITH OTHER CULTURES, THOSE

ARE THE BEST KINDS OF PROJECTS. WE HAVE A SERIES

CALLED MASTERS IN COLLABORATION WHERE WE

BRING AN ARTIST FROM IRELAND TOGETHER WITH

ANOTHER ARTIST NEIGHBOR FROM HERE IN THE STATES OR

SOMEWHERE ELSE IN THE WORLD AND GIVE THEM AN

OPPORTUNITY TO COLLABORATE FOR A WEEK WITHOUT ANY

REAL CONSTRAINTS ABOUT WHAT IT IS THAT THEY'RE

GOING TO COME UP WITH. WE'VE EXPANDED PIT WE

OFFERED JULIE FEENEY REALLY INCREDIBLE

CONTEMPORARY COMPOSER, SINGER, SONGWRITER AND

MUSICIAN, ARRANGER AND MONTH-LONG RESIDENCY WITH

THE GROUP OF NEW YORK-BASED MUSICIANS. SO

WE'RE REALLY THRILLED WITH THAT ENGAGEMENT.

>> THIS IS THE FIRST OPPORTUNITY I EVER HAD TO

DO TEN SHOWS IN A ROW AND OF COURSE, WE'RE IN NEW

YORK CITY. AS AN ARTIST, IT IS INCREDIBLE TO WORK.

I REALLY LOVE THE INTIMATE SETTING. I HAVE A LOT OF

FUN WITH THE AUDIENCE BECAUSE I THINK IT'S NICE

TO DO THAT. I LIKE TO HAVE SOME KIND OF EYE CONTACT

AS MUCH AS POSSIBLE. SO I LOVE PERFORMING. IT'S THE

BEST EVER. THIS SHOW, I'M WORKING WITH THE DIRECTOR

FROM PS122 TO HAVE HIS VISION PERMEATE THROUGH MY

WORK AS WELL. IT'S INTERESTING. IT'S A GREAT

FUSION AND I REALLY DON'T GET TO COLLABORATE WITH

PEOPLE IN THAT WAY. THIS IS VERY, VERY REWARDING.

[SINGING IRISH BALLOT ]

>> OUR PROGRAMMING IS BROKEN UP INTO A FALL AND

SPRING SEASON IN TERMS OF OUR PERFORMANCE CALENDAR.

USUALLY, WE HAVE A LIVE THEATER OFFERING THAT'S

OVER FROM IRELAND. WE RECENTLY HAD A WONDERFUL

PLAY FROM THE THEATER COMPANY IN DUBLIN CALLED

SILENT, WHICH IS WRITTEN AND PERFORMED BY PAT ABOUT

A HOMELESS MAN TRANSPORTED THROUGH HIS AFFECTION FOR

THE FILMS OF RUDOLPH VALENTINO. WE ALSO HAVE

LIVE MUSIC COMPONENT. SOMETIMES THAT WILL BE

PERFORMERS WHO ARE SORT OF SEEN AROUND IRELAND AND

SOMETIMES IT'S INTERESTING WORK EMERGING FROM HERE IN

THE UNITED STATES. FOR EXAMPLE, NICK MALONEY IS

ARTISTIC ASSOCIATE OF OURS. INCREDIBLE

TRADITIONAL MUSIC. FOLK LURIST AND PERFORMER. FOR

THINGS THAT REQUIRE MORE SPACE THAN WE HAVE, WE DO

CONCERTS IN THE SYMPHONIES SPACE AND WE HAVE

HUMANITIES PROGRAM WHERE WE HAVE DOZENS OF AUTHORS

COMING THROUGH DURING THE COURSE OF THE YEAR.

DESPITE THE MODESTY OF THE SPACE, PUT ON A DANCE

PROGRAM. WE PARTNERED WITH BARYSHNIKOV ARTS CENTER WE

DID OUT OF TIME FEATURING COLIN DUNN. WE HAVE FILM

SERIES FROM CONTEMPORARY FILMS CREATED BY OUR

TEAMS. LOTS OF DOCUMENTARIES, CONCERT

FILMS AND INTERESTING STORIES THAT ARE HARD TO

FIND. SO THERE'S ALWAYS SOMETHING GOING ON.

[ CLAPPING ]

>> OUR PROGRAM IS ONE OF OUR MOST ENDURING ELEMENTS

WITH 35 CLASSES PER WEEK IN IRISH LANGUAGE, MUSIC

AND DANCE. IT'S A WELCOMING ENVIRONMENT. YOU

CAN COME IN SIMPLY WITH AN INTEREST FOR LEARNING

ANOTHER LANGUAGE. WHAT'S GREAT ABOUT IT IS YOU CAN

COME AND LEARN AND THEN PROGRESS. FOR EXAMPLE, WE

HAVE FIVE LEVELS ON A FIDDLE. SOME OF THE BEST

TRADITIONAL MUSICIANS WERE COMING TO NEW YORK. THEY

STOPPED BY AND DID A MASTER CLASS. THERE'S

ALWAYS AN OPPORTUNITY TO HAVE A REALLY INTIMATE

EDUCATIONAL EXPERIENCE AND AN ACCESSIBLE ENVIRONMENT

WHERE PEOPLE CAN TAP INTO IT BECAUSE THEY HAVE THE

INTEREST. THEY ALSO HAVE THE GALLERY AND PROJECT

CONTEMPORARY ARTISTS SUCH AS WE HAVE HERE TODAY AND

WE DO CULTURAL EXHIBITIONS THAT TELL THE IRISH STORY,

THE IRISH-AMERICAN STORY AND WE TELL THAT. WE

COMMISSION THE EXHIBITION BY THE GREAT PHOTOGRAPHER

JOHN MINUTEHAN ON THE IMMIGRANTS HERE IN

AMERICA. PEOPLE WHO REPRESENT THE FOUNDATION

UPON WHICH IRISH AMERICA IS BELT. BUILT. WE HAD THE

PRIME MINISTER OF IRELAND OPEN THAT FOR US HERE AND

TOURED IT TO THE COMMUNITIES THAT IT

DEPICTS. WE STILL HAVE A REAL CONNECTION TO

IMMIGRANT CULTURE AND I THINK THAT HAVING IRISH

CULTURE SORT OF CONNECT WITH OTHER IMMIGRANT

CULTURES IS JUST A GREAT PLACE FOR THAT TO HAPPEN.

>> THE IRISH ARTS CENTER IS A GREAT VENUE FOR

CONTEMPORARY IRISH ARTISTS. BECAUSE THEY COME

HERE IN THE MIX WITH A LOT OF TRADITIONAL ARTISTS. IT

DEFINITELY FOSTERS THE ART, NO QUESTION ABOUT IT.

I'M REALLY EXCITED ABOUT THE FUTURE OF IT ACTUALLY.

I CAN'T WAIT TO SEE WHAT KIND OF WORK WE'RE GOING

TO BE DOING IN A FEW YEARS TIME. IT IS A FANTASTIC

PLACE TO DO A SHOW.

[ APPLAUSE ] I HAD THE TIME OF MY LIFE AND I

DON'T WANT IT TO END.

>> THAT WRAPS IT UP FOR THIS EDITION OF AHA! FOR

MORE ARTS AND CULTURE, VISIT WMHT.ORG/AHA WHERE

YOU CAN FIND MORE ABOUT OUR WORLD, BACKYARD AND

ACROSS THE COUNTRY. THANK YOU FOR WATCHING.

[ THEME MUSIC ]

>>FUNDING FOR AHA! HAS BEEN PROVIDED BY YOUR

CONTRIBUTION AND BY CONTRIBUTIONS TO THE WMHT

VENTURE FUND. CONTRIBUTORS INCLUDE THE LEO COX BEACH

PHILANTHROPIC FOUNDATION, CHET AND KAREN OPALKA,

ROBERT AND DORIS FISCHER MALESARDI, AND THE ROBISON

FAMILY FOUNDATION. >> AT M & T BANK, WE UNDERSTAND

THAT THE VITALITY OF OUR COMMUNITIES IS CRUCIAL TO

OUR CONTNIUED SUCCESS. THAT IS WHY WE TAKE AN

ACTIVE ROLE IN OUR COMMUNITY. M & T IS

PLEASED TO SUPPORT WMHT PROGRAMMING THAT

HIGHLIGHTS THE ARTS, AND WE INVITE YOU TO DO THE

SAME.