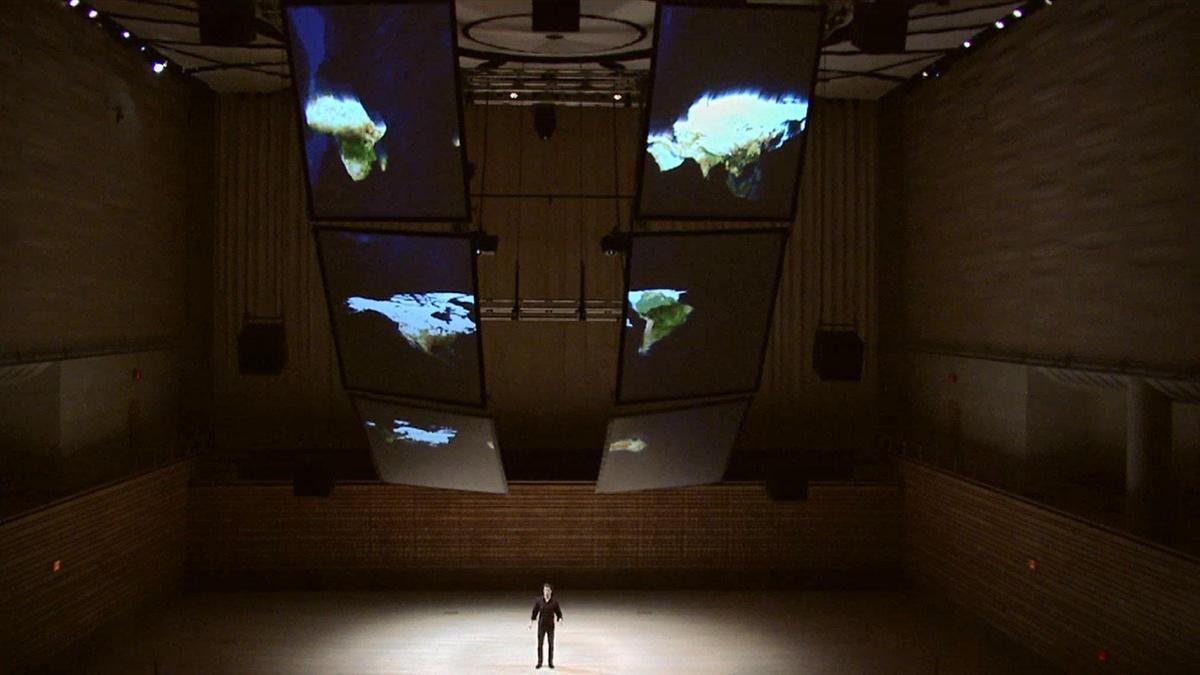 S1 E40 | FULL EPISODE
Capital Region House for Arts
Discover how artist Nathan Meltz sets his prints to animated stories. Meet Cheryl Gutmaker, an artist who transforms glass into beautiful works of art. Be inspired by the incredible young musicians in the Empire State Youth Orchestra. See how EMPAC at RPI is supporting artists from around the world. The Millay Colony provides support to artists in the form of a world-class residency program.
TRANSCRIPT

>> ON THIS ALL-LOCAL EPISODE OF AHA, A MULTI-

MEDIA ARTIST BRINGS HIS CREATIONS TO LIFE.

THE LADY'S GOT GLASS.

>> THE FACT THAT PEOPLE SEEM TO REALLY APPRECIATE

IT, THAT'S WHAT'S SO REWARDING.

YOU'LL BE AMAZED BY THE AGE OF THESE PERFORMERS.

>> ESYO HAS GIVEN ME MORE CONFIDENCE.

>> WE TAKE ART INTO THE NEXT CENTURY.

>> WE CHALLENGE OURSELVES IN LOOKING AT OTHERS IN A

DIFFERENT WAY.

>> A WORLD RENOWNED ARTIST RESIDENCY ENGAGES WITH

NEARBY SCHOOLS.

>> WE'RE NOW IN FOUR SCHOOL DISTRICTS IN

COLUMBIA COUNTY.

>> IT'S ALL AHEAD ON THIS EPISODE OF AHA.

FUNDING FOR AHA HAS BEEN PROVIDED BY YOUR

CONTRIBUTION AND BY CONTRIBUTIONS TO THE WMHT

VENTURE FUND.

CONTRIBUTORS INCLUDE THE LEO COX BEACH

PHILANTHROPIC FOUNDATION, CHET AND KAREN OPALKA,

ROBERT AND DORIS FISCHER MALESARDI, AND THE ROBISON

FAMILY FOUNDATION.

AT M&T BANK WE UNDERSTAND THAT THE VITALITY OF OUR

COMMUNITIES IS CRUCIAL TO OUR CONTINUED SUCCESS.

THAT IS WHY WE TAKE AN ACTIVE ROLE IN OUR

COMMUNITY.

M&T IS PLEASED TO SUPPORT WMHT PROGRAMMING THAT

HIGHLIGHTS THE ARTS AND WE INVITE YOU TO DO THE SAME.

HUGH JOHNSON ADVISORS PROUDLY SUPPORTS THE ARTS

IN OUR REGION.

THE HUGH JOHNSON ADVISORS TEAM HAS BEEN

PROVIDING INVESTMENT COUNCIL AND FIDUCIARY

ADVICE TO NON-PROFITS AND ENDOWMENTS FOR OVER TWENTY

YEARS.

MORE INFORMATION AT HJADVISORS.COM.

[ THEME MUSIC ]

>> HI.

I'M KATIE G, AND THIS IS AHA, A HOUSE FOR ARTS, A

PLACE FOR ALL THINGS CREATIVE.

TODAY'S SHOW IS DEVOTED ENTIRELY TO LOCAL ARTISTS.

JOIN US AS WE REVISIT SOME OF OUR FAVORITE SEGMENTS.

FIRST UP, WHAT HAPPENS WHEN YOU COMBINE COLLAGE,

SCREEN PRINTING AND ANIMATION?

LET'S FIND OUT WHEN WE MEET NATHAN MELTZ, AN

ARTIST BASED IN TROY, NEW YORK.

>> THE BEGINNING OF MY ART STORY ACTUALLY DOES START

WHEN I WAS, WHAT, EIGHT YEARS OLD AND MY PARENTS

WERE DISCUSSING AROUND THE DINING ROOM TABLE WHETHER

OR NOT TO LET US WATCH THIS MADE-FOR-TV MOVIE

CALLED "THE DAY AFTER".

IT'S ALL ABOUT ATOMIC BOMBS LANDING IN LAWRENCE,

KANSAS.

I WATCHED THIS.

IT SCARED THE CRAP OUT OF ME AND EVER SINCE THEN, I

HAD A FASCINATION WITH TECHNOLOGY AND DESTRUCTIVE

TECHNOLOGY, ALL THOSE DIFFERENT WAYS THAT

TECHNOLOGY INTERSECTS WITH EVERY PART OF OUR

EXISTENCE FROM FAMILY AND FOOD TO POLITICS AND WAR.

IT STARTS OUT WITH A CONCEPT.

IT MAY BE SCRIBBLES IN A NOTEPAD OR SKETCHBOOK AND

FIGURE OUT WHAT THAT CONCEPT IS.

WHETHER THIS IS A STORY ABOUT LABOR OR WAR OR

ANIMALS.

I'M FACED WITH THIS PROBLEM OF HOW AM I JUST

GOING TO VISUALIZE TECHNOLOGY.

THESE ARE TECHNOLOGICAL STORIES COMING UPON AND SO

I NEED TO FIND A SYMBOL FOR TECHNOLOGY, AND I HAVE

CHOSEN THE SYMBOL TO BE ANALOG MACHINES.

I STARTED THE TALES AND CUTTING OUT ELEMENTS AND

THEN I HAVE TO FIGURE OUT WHAT ARE THESE ELEMENTS

GOING TO BE USED FOR?

THEY CAN BE PART OF COLLAGE AND LAYERING UP

THESE LITTLE IMAGES, MAYBE THEY'LL WORK.

MAYBE THEY WON'T.

AND THEN I HAVE TO MAKE A BIG JUDGMENTP AND A BIG

TRANSITION TO THE DIGITAL WORLD.

IT CAN STAND AND IF THERE'S KIND OF A

MULTIQUEUE TRACK THAT CAN GO IN.

IT CAN GO INTO A EXOOTER AND STILL IMAGE AND THEN

SHE CAN TRANSFORM INTO A SCREEN PRINT.

SO SCREEN PRINTING IS BASICALLY A PROCESS WHERE

YOU HAVE MESH STRETCHED OVER METAL STRETCHER BARS

AND CREATE A STENCIL ON IT.

PUSH INK THROUGH THE STENCIL AND YOU HAVE AN

IMAGE.

IT'S KIND OF A LOW FI ANALOG TECHNOLOGY.

EVEN THOUGH DIGITAL CAN FEED INTO IT AND IT'S NICE

TO THEN SCAN THOSE BACK IN AND TAKE THE HANDMADE BACK

INTO THE DIGITAL AND THAT'S THAT BECOMES PART

OF THE WORLD THAT THESE ANIMATED FIGURES EXPLORE,

WALK THROUGH.

WELL, THE ROBOT RTS JUST ONE WAY TO MAKE

CHARACTER AND OF COURSE, THEN THEY HAVE ALL THE

SYMBOLIC QUALITY.

THEY'RE SYMBOLS OF TECHNOLOGY.

SO THEY'RE SYMBOLS AND THAT CAN HAVE SOME MOTIONS

AND BEHAVIORS AND OR HOPEFULLY ENTICES YOU.

IT HAS SOME SORT OF EMPATHY FOR THEM ART HAS

BECOME SUCH A PART OF MY LIFE THAT THERE'S NO

LONGER A SPACE WHERE IT ISN'T THERE.

COMPULSION TO DO IT AND HAPPINESS IF I'M NOT DOING

IT.

WHY HAVE I CHOSEN SUCH TEDIOUS MEDIA?

I DON'T KNOW.

I THINK THERE'S SOMETHING ABOUT CERTAIN MEDIA

ATTRACTS CERTAIN ARTISTS AND MAYBE I HATE MYSELF IN

A CERTAIN WAY, AND THAT'S WHY IT SHOWS IN THESE

TEDIOUS MEDIA.

[SCI-FI NOISES ]

>> NEXT, LET'S VISIT WITH CHERYL GUTMAKER WHO

TRANSFORMS GLASS INTO BEAUTIFUL WORKS OF ART.

[ SAWING NOISE ]

>> DID YOU TAKE MY TOWEL?

YOU TOOK MY TOWEL.

>> NO.

>> HERE.

>> NO.

IT'S ALL RIGHT.

>> WHEN I WAS VERY YOUNG, I USED TO LOVE STAINED

GLASS WINDOWS.

I LOVED THEM.

I LOVED THE WAY THE LIGHT CAME THROUGH.

I LOVED THE TRANSPARENCY AND THE PLAY OF COLORS

GLASS DOES NOT REACT IN THE SAME WAY THAT PAINTS

DO.

SO THAT IT'S A REAL MELDING OF SCIENCE AND

AESTHETICS.

>> I'M ALONG FOR THE RIDE.

SEE, WHEN SHE GOT INTO GLASS, I HAD TO DO THIS

ALSO.

MY WIFE AND I NEVER DO ANYTHING SEPARATELY.

FOR ALL THE YEARS WE HAVE BEEN MARRIED, WE NEVER

SUSTAINED ANYTHING THAT THE TWO OF US DON'T DO

TOGETHER.

>> HE IS MY RIGHT-HAND MAN.

HE DOES A LOT OF STUFF FOR ME.

>> THE BOSS TOLD IT ME THAT I HAVE TO DO A BASE

PLATE.

MOSTLY, I'M THE ASSISTANT.

SHE'S REALLY THE GLASS ARTIST.

I CUT THE LARGER PIECES BECAUSE I HAVE THIS

DECIDED ADVANTAGE OVER HERE.

I CAN REACH THEM AND SHE CAN'T.

I CARRY BINS AFTER SHOWS AND I MAKE THINGS THAT SHE

TELLS ME WHAT TO MAKE, BUT BASICALLY, IT'S HER.

>> PRIMARILY WE MAKE DISHES.

SERVING PIECES.

I LIKE TO HAVE MY GLASS BE FUNCTIONAL, IF AT ALL

POSSIBLE, AND I LIKE TO HAVE IT ALSO BE VERY

BEAUTIFUL.

SO IT'S HOW DO WE MAKE THIS WORK SO THAT PEOPLE

CAN USE SOMETHING EVERY DAY THAT REALLY LOOKS

NICE?

AND THAT'S WHAT I STRIVE FOR.

>> THIS IS ALWAYS THE SCARY PART.

>> FUSING IS YOU TAKE SHEETS OF GLASS.

CUT THEM TO THE SIZES AND SHAPES THAT YOU WANT.

ASSEMBLE THEM.

AND PUT THEM IN A KILN AND THE KILN GOES UP TO ABOUT

1,500 DEGREES AND ALL OF THE GLASS PARTS BECOME ONE

SHEET OF GLASS.

NOW WE FINISH THE INITIAL FUSE OF THE BASE PLATE AND

THE STONES.

GENERALLY I START BY LOOKING AT WHAT I HAVE TO

WORK WITH AND

IT CHANGES ALL THE TIME BECAUSE I'M

ALWAYS FUSING NEW PUZZLES.

IT TAKES ABOUT 12 TO 18 HOURS FOR THE KILN TO

PROCESS THROUGH A FUSE, AND THEN I HAVE TO SLUMP

THE PIECE, WHICH MEANS I'M GOING TO PUT IT ON TOP OF

A FORMER, AND RAISE THE TEMPERATURE ENOUGH SO THAT

THE GLASS GRADUALLY SLUMPS DOWN INTO THE SHAPE THAT I

WANT.

OKAY.

WE'LL SEE THE FINISHED PRODUCT HERE.

AND THAT DROPS NICELY.

WHEN SOMEBODY PURCHASES A PIECE, AND THEY COME

BACK TO ME TWO YEARS LATER AND SAY I JUST LOVE THE

THING THAT I BOUGHT FROM YOU.

I WOULD LIKE TO HAVE THIS AND THIS, THE FACT THAT

PEOPLE SEEM TO REALLY APPRECIATE IT AND ENJOY

THE PIECES THAT I MAKE.

THAT'S WHAT IS SO REWARDING, AND I MAKE

LITTLE ANIMAL PLATES AND WHEN A SMALL CHILD WILL

COME UP TO ME AND SAY THAT'S AN OWL, THAT'S A

BEAR, THAT'S A WHATEVER.

THAT MAKES ME VERY HAPPY.

>> NOW, THE EXPERIMENTAL MEDIA AND PERFORMING ARTS

CENTER IMPACT AT RENSSELAER POLYTECHNIC

INSTITUTE HOSTS CUTTING-EDGE ARTS, ARTISTS

AND PERFORMANCES.

THE BIDDING, ITSELF, IS A WONDER TO BEHOLD LET'S

TAKE A LOOK AT THIS AMAZING SPACE IN TROY, NEW

YORK.

>> QUITE A FEW PEOPLE WHO IMPACT ASK, WHY IS IMPACT

HERE AT TROY AT RENSSELAER?

I SAY IT JUST LANDED FROM MARS.

THIS WAS A GOOD LANDING PLACE AND WE'RE STILL

WAITING FOR THE LITTLE GREEN MEN COMING OUT OF

THE CONCERT HALL.

>> FOR THE EXPERIMENTAL MEDIA AND PERFORMING ARTS

CENTER, THAT AUTOMATICALLY INDICATES THAT WORK THAT

IS EXPERIMENTAL AND OFTEN THE WORK THAT WE SHOW IS

TIME-BASED.

>> WE DO A LOT OF DEVELOPMENT WORK IN NEW

TECHNOLOGY, NETWORKING AND COMPUTERS PROGRAMMING AND

THE KIND OF LATEST AND GREATEST TOOLS.

>> SO WE ARE SPANNING SCIENTIFIC RESEARCH AND

ARTISTIC RESEARCH AT IMPACT, AND BOTH ARE

DEVELOPED THROUGH RESIDENCIES.

>> PARTICULARITY OF IMPACT IS THE VISUAL ARTISTS

ESPECIALLY WHO HAVE THE CONSTRAINTS OF A WHITE

CUBE GALLERY SPACE AND HERE THE LIMITS ARE TAKEN

AWAY FROM THEM.

>> I'VE BEEN REALLY EXPLORING THE IDEA OF

SOUND SPACIALLY, SOUND SORT OF EXPERIENCE ON THE

BODY AND THIS IS MANIFESTING IN PERFORMANCE

WORK AND INSTALLATION WORK.

>> ALL OF THEM ARE A LITTLE DIFFERENT IN THAT

THEY SUPPORT POTENTIALLY A NEW WORK FROM THE

BEGINNING TO THE END.

>> WHAT I'LL DO IS I'LL WORK WITH THE PARAMETERS

THAT THE FREQUENCY RANGE OF THIS AND ALSO-- AND

ALSO WITH THE LOW END AND KIND OF SEE WHAT KIND OF

INTERFERENCE IT HAS.

THERE'S A POINT OF WHERE I DROP THE KNOWLEDGE AND

SCIENCE AND JUST GO INTO THE CREATIVE OBSERVATION.

I'VE BEEN GIVEN SO MUCH TIME AND SPACE AND TOOLS

TO REALLY DELVE DEEPLY INTO CONCEPTS AND THEN

WHEN IT IS TIME TO REALIZE THEM, I HAVE THIS

INCREDIBLE TEAM.

>> IN ADDITION TO WORKING WITH ARTISTS WE VERY TO

WORK WITH THE CAMPUS COMMUNITY AT LARGE AND

TONIGHT WE HAVE A GROUP OF STUDENTS THAT WE WORK WITH

THROUGHOUT THE YEAR TO INVESTIGATE NEW TECHNOLOGY

IN THE SPRING OF EACH YEAR AND WE PUT ON MORE

INFORMAL EVENTS, DANCE PARTY TYPE OF THINGS WHERE

STUDENTS GET TO TRY OUT ALL THE TECHNOLOGY RIGHT

NOW, WE ARE IN THE CONTROL ROOM FOR STUDIO ONE.

WE HAVE TWO STUDIOS, STUDIO ONE AND STUDIO TWO,

THAT ARE FRATERNAL TWINS.

ONE IS THE WHITE BOX AND THE OTHER IS THE BLACK BOX

STUDIO GSM WE HAVE THE THEATER, CONCERT HALL, ALL

THESE SPACES SUPPORT USING THE FULL VOLUME OF THE

SPACE TO THE SAME DEGREE AND HAVE THE SAME LEVEL OF

TECHNOLOGICAL INFRASTRUCTURE

>> MY FAVORITE PART OF MY JOB HERE IS REALLY THE

CONVERSATIONS THAT TAKE PLACE WITH EVERYONE FROM

PHILOSOPHERS THAT ARE INVITED TO SPEAK TO THE

STUDENTS HERE ON CAMPUS AND TO SEE THE WAY THAT

THEY RECEIVE THE PROGRAMMING REFLECT ON IT.

>> I THINK ONE OF THE MAJOR DRAWS OF IMPACT IS

THAT IT'S PART OF RBI, IT'S A COMMUNITY THING.

YOU CAN ALWAYS BUY COOL TECHNOLOGY BUT IN TERMS OF

DEVELOPING COMMUNITY AND SOMETHING BIGGER THAN

THAT, THAT'S WHAT'S REALLY KIND OF SPECIAL ABOUT RPI

IMPACT.

>> IT IMPACT IS AN EXTRAORDINARY PLACE

THERE'S NO PLACE LIKE IT.

IT GIVES ARTISTS THE OPPORTUNITY TO HAVE TIME

AND SUPPORT AND TO DEVELOP INCREDIBLY AMBITIOUS WORK

SO THEY WOULDN'T HAVE THE RESOURCES OR ACCESSES.

>> ART IS AN INDICATION ACTUALLY OF THE STATE OF

SOCIETY, HOW THEY ACCEPT THAT WHICH IS DIFFERENT,

AND THAT WHICH IS CHALLENGING.

THAT WHERE YOU HAVE TO THINK, WHERE YOU HAVE TO

OPEN UP YOUR HEART AND YOUR SOUL.

THAT IS FOR ME, THE MOST INTERESTING AND

CHALLENGING PART OF OUR WORK AT IMPACT.

TO BE A PLACE WHERE THIS CAN ACTUALLY HAPPEN, WHERE

WE CHALLENGE OURSELVES IN LOOKING AT OTHERS IN A

DIFFERENT WAY EACH TIME WE ENCOUNTER SOMETHING.

>> WE NOW VISIT THE EMPIRE STATE YOUTH ORCHESTRA.

THIS GROUP IS COMPRISED OF TALENTED STUDENTS FROM

AROUND THE NEW YORK CAPITAL REGION.

TAKE A LOOK AT THESE TRULY INSPIRING YOUNG

PERFORMERS.

>> THE EMPIRE STATE YOUTH ORCHESTRA PROVIDES

STUDENTS WITH AN INCREDIBLE EXPERIENCE.

WE HAVE NINE DIFFERENT ENSEMBLES.

TWO JAZZ ENSEMBLES, A WIND ENSEMBLE AND A WE'RE ONE

OF THE YOUTH ORCHESTRAS THAT HAS THREE PERCUSSION

ENSEMBLES >> OUR STUDENTS ARE ARTICULATE AND WE DO

KNOW WHAT EMPIRE STATE ORCHESTRA MEANT TO THEM.

>> IT TRANSFORMED THE PERSON WHO I AM AS A

MUSICIAN.

>> SCO HAS GIVEN ME MORE CONFIDENCE.

IT ENCOURAGES TO YOU WORK HARDER TO MAKE A PLACE FOR

YOURSELF IN THE WORLD

>> IT'S BEEN AS MUCH A SOCIAL EXPERIENCE AS

MUSICAL I HAVE HAD A WONDERFUL TIME I'VE BEEN

IN SCO.

>> IT PREPARE ME FOR WHAT COMES AFTER HIGH SCHOOL.

>> I SAW THAT THERE WERE HUNDREDS OF KIDS THAT WERE

THAT INTO MUSIC LIKE I WAS.

>> IT PROVIDED ME WITH AN AMAZING ORCHESTRA TO PLAY

IN, PARTICIPATE IN AND PLAY WITH.

>> THIS FORM OF ART CALLED MUSIC SOMETIMES GOES

BEYOND OUR EVERY ISDAY LIFE.

THEY CAN WALK INTO A REHEARSAL ROOM AND WHAT I

ASK THEM TO DO IS LEAVE THEIR EVERYDAY LIFE

OUTSIDE THE DOOR.

>> HELEN HAS BEEN EXCELLENT AS FAR AS A ROLE

MODEL GOES.

SHE TREATS US AS ADULTS NOT AS STUDENTS.

EXPECTS THE BEST OUT OF US AND WE RESPOND TO THAT.

SHE ALWAYS COMES INTO REHEARSAL WITH SOMETHING

TO HELP MOTIVATE US AND TAKE US AWAY FROM ALL OUR

TROUBLES AND SCHOOL WORK.

>> WHEN YOU HAVE A MOMENT WHERE EVERYBODY'S IN SYNC,

YOU CAN JUST FEEL THAT.

EVERYONE IS TUNED IN AND WE'RE ALL AWARE WHAT'S

GOING ON.

IT'S ALL ABOUT KNOWING WHAT THE OTHER PEOPLE ARE

THINKING.

BEING ABLE TO LISTEN TO THEM AND PLAY AT THE SAME

TIME AND WHEN YOU DO THAT, IT USUALLY FEELS REALLY

GOOD.

>> AND THEN YOU THINK TO YOURSELF, WOW, I'M A PART

OF THIS ORCHESTRA.

WOW, I'M HELPING MAKE THIS SOUND.

IT'S A FEELING THAT THE HARD WORK PAID OFF.

>> THERE HAS TO BE A BALANCE BETWEEN STRESS AND

RELAXATION DURING A PERFORMANCE TO BE IN THE

ZONE.

THERE'S SOMETHING THAT HAPPENS THAT WE JUST

CLICK.

YOU KNOW, EVERYONE JUST FEELS IT.

THAT'S THE FEELING THAT'S MAKING ME WANT TO GO

FORWARD IN MUSIC AS A CAREER.

]

[ CHANTING ]

>> I THINK THE ASIAN TOUR WAS A LIFE-CHANGING

EXPERIENCE FOR ME AND FOR MANY OF THE STUDENTS WHO

WENT ON IT.

>> EVERYONE ONE OF THE HALLS WE PLAYED AT, THE

AUDIENCES THERE WERE SO ENTHUSIASTIC.

SO ABSOLUTELY IN LOVE WITH JUST EXPERIENCING MUSIC

AND WE FEED OFF THAT.

WE AMPLIFY THAT.

WE PLAY THAT BACK TO THEM.

>> GOING WITH SEO TO ASIA WAS SOMETHING NEW FOR ME,

DEFINITELY NEW FOOD, NEW PEOPLE, NEW COMMUNITIES,

NEW AUDIENCES ESPECIALLY.

THAT WAS SOMETHING THAT WAS VERY DIFFERENT FOR ME.

THEY WERE VERY RESERVED IN SOME PLACES AND IN OTHER

PLACES THEY WOULD GO NUTS AFTER A CONCERT.

>> IT IS A SENSE OF THIS AFRICAN TRIBE PHILOSOPHY

CALLED WUNTU.

IT MEANS I AM BECAUSE OF WE ARE, AND MY SUCCESS

ALONE CANNOT HAPPEN WITHOUT ALL OF US BEING IN

IT TOGETHER.

>> YOU LEARN TO LOSE YOUR EGO AND WORK TOGETHER FOR

THE GOOD OF THE GROUP.

>> IT GIVES YOU THAT EXPERIENCE WITH DEVELOPING

A KIND OF EMPATHY FOR PEOPLE AND DEVELOPING

COMMUNICATION SKILLS.

>> YOU'RE PART OF SOMETHING BIGGER TO BE

PART OF SOMETHING BIGGER WORK WITH PEOPLE, THAT'S

ONE OF THE MOST COVETED SKILLS IN THE WORLD.

>> WHEN WE START OUR PIECE IN THE CONCERT, YOU CAN

TELL, YOU CAN FEEL THAT EVERYBODY IS IN IT TO DO

THIS AND PRESENT THE AUDIENCE WITH SOMETHING

AND YOU REALLY FEEL LIKE YOU DID SOMETHING GREAT.

>> IT'S A PRIVILEGE TO GET INTO THE PROGRAM ITSELF SO

EVERYONE THAT'S THERE REALLY WANTS TO BE THERE.

>> AND SO THE GIFT THAT EMPIRES THE YOUTH

ORCHESTRA IS THE KNOWLEDGE THAT THERE ARE A LOT OF

THINGS THAT YOU CAN DO ALONE AND THERE ARE A LOT

OF THINGS THAT YOU CAN DO EVEN BETTER AS A GROUP

TOGETHER.

>> WHAT'S SO EXCITING IS TO BE PART OF THE PROCESS

OF DEVELOPING A FUTURE MUSICIAN AND SEE HOW THEY

GO THROUGH THAT PROCESS OF LEARNING MORE ABOUT

THEMSELVES AND LEARNING MORE ABOUT THEIR LOVES AND

TALENT.

>> SEO WAS THE FIRST CHANCE I GOT TO PLAY IN A

PROFESSIONAL ORCHESTRA IN THAT SENSE OF

RESPONSIBILITY, AND IT WAS THE FIRST GROUP THAT I GOT

TO PLAY WITH THAT HELD ME TO A VERY HIGH STANDARD.

>> IF IT WASN'T FOR SEO, YOU WOULDN'T BE GOING INTO

PERFORMANCE LIKE I PLAN ON DOING.

I WOULDN'T LOVE MY INSTRUMENTS AS MUCH AS I

DO.

>> I LOVE MUSIC AND SEO HAS HELPED ME WITH

ANYTHING, IT'S PRECISELY THAT.

JUST INCREASING MY MUSICIANSHIP.

>> IT HAS HELPED ME TO REALLY PRACTICE HARDER.

AND COME UP TO THAT HIGH LEVEL.

AND REALITILY STUDY THAT MUSIC AND THE GIFT IS

PRICELESS.

IT'S A GIFT OF JOY THAT YOU FEEL AND THE GIFT I

RECEIVE FROM OUR STUDENTS AND THIS SENSE OF PURE JOY

IN WHAT WE DO.

>> FINALLY, THE MILLAY COLONY FOR ARTS IN NEW YORK GIVES

ARTISTS THE TIME AND THE SPACE TO CREATE WORK.

SOME SAY THE COLONY RETURN THE FAVORITES BY BEING

GUEST ARTIST IN NEARBY SCHOOLS.

I'M HERE TO CARVE OUT TIME AND SPACE TO GET WORK

DONE.

>> IT'S WONDERFUL TO BE HERE AND SHIFT GEARS AND DO

THIS ON MY OWN PRACTICE.

>> I'M THE EXECUTIVE DIRECTOR OF THE MALAY

COLONY OF THE ARTS.

I'VE BEEN HERE SINCE 2006 AND I LOVE IT.

IT'S AN AMAZING PLACE TO BE.

I FEEL SO FORTUNATE THAT THIS IS WHERE I COME TO

WORK.

WHEN I STARTED, THE COLONY WAS SOLELY AN ARTIST

RESIDENCY PROGRAM WHICH MEANS THAT WE OPEN OUR

CAMPUS.

WE HAVE EIGHT ACRES IN THE BERKSHIRE FOOTHILLS IN

COLUMBIA COUNTY, AND WE HAVE TWO BUILDINGS.

WE OFFER PRIVATE BEDROOMS AND PRIVATE STUDIOS TO ALL

THE ARTISTS WHO SPEND TIME WITH US AS WELL AS ALL

THEIR MEALS AND MY JOB IS BASICALLY TO MAKE SURE

THAT THE RESIDENTS ARE ALL HAPPY THAT THINGS ARE

RUNNING SMOOTHLY HERE AT THE COLONY.

IT'S BEEN A GREAT PRIVILEGE TO AREN'T R

WATCH THEM COME THROUGH.

WE HAD PEOPLE COME IN FROM ALL OVER THE WORLD.

>> THIS PLACE IS GREAT.

IT'S SECLUDED.

IT'S BEAUTIFUL.

YOU KNOW, YOU HAVE SO MUCH TIME TO WORK IN A WAY AND

YOU ARE NOT EVEN LEARNING ABOUT COOKING YOUR OWN

MEALS YOU JUST, YOU KNOW, PRETTY REMARKABLE.

I HAVEN'T DONE ANY RESIDENCIES BEFORE.

THIS IS MY FIRST TIME.

I'M COMING TO TERMS WHAT IT MEANS THIS IS NOT

ACTUALLY THE SORT OF LEISURE TIME THAT WE'RE

LED BELIEVE.

IT'S CERTAINLY NOT OF A VACATION BUT WHERE I'M

FORCED TO CONFRONT MY PRESUMED UNDERSTANDINGS OF

WHAT IT MEANS TO BE AN ARTIST AND HOW TO APPROACH

MY OWN INDIVIDUAL ARTISTRY WHICH IS ALSO ANOTHER WAY

OF CONFRONTING MY CONSTRUCTED IDENTITY AS AN

ARTIST.

>> SINCE I CAME, WE DEVELOPED SOME OTHER

PROGRAMS.

WE NOW OFFER WORKSHOP RETREATS AT THE COLONY IN

THE SUMMER.

PEOPLE SIGN UP FOR WORKSHOP AND THEY GET FIVE

DAYS WITH AN ARTIST OR WRITER.

AND WE DO AN ARTS EDUCATION PROGRAM.

SO WE'RE NOW IN FOUR SCHOOL DISTRICTS IN

COLUMBIA COUNTY.

>> I'M A FORMER FELLOW OF MALAY COLONY AND I DID A

RESIDENCY THERE.

SINCE THEN, I HAVE BEEN PARTICIPATING IN THE

SCHOOL'S EDUCATION COMMITTEE.

WHEN YOUR GO VISIT SCHOOLS WITH MALAY, I HOPE TO GET

THE STUDENTS TO ENGAGE IN ART, TO TALK TO ME AND

THINK ABOUT ART AND SOMETHING THEY MAY NOT BE

GETTING IN REGULAR ART CLASSES.

>> IT WAS I THINK IN 2010 WORKING IN CONJUNCTION

WITH TEACHERS AND WRITERS COLLABORATIVE TO BRING

TEACHING WRITERS UP FROM NEW YORK CITY TO STAY AT

THE COLONY TO DO MANYIES RE RESIDENCIES IN THE

REGIONAL SCHOOLS.

I LIKE HOW THEY CAME IN AND TAUGHT US HOW IT IS

INSTEAD OF US GOING THERE I WAS THINKING OUTSIDE OF

THE BOX RATHER THAN AND THEY WERE ASKING OUR

OPINIONS AND WHAT WE THOUGHT ABOUT ART.

>> THE RESIDENCY PROGRAM IS STILL THE CORE OF WHAT

WE DO AND OUR RESIDENT ARTISTS ARE STILL VERY

MUCH THE SOLE OF THE MALAY COLONY BUT WE'RE REALLY

OUT IN THE COMMUNITY A LOT MORE THAN WE USED TO BE.

>> I'M REALLY, OF COURSE, GRATEFUL FOR THE TIME AND

THE SPACE TO CONFRONT THIS SITUATION.

IT'S A GIFT AND NOT TO BE TAKEN LIGHTLY.

THERE ARE SO MANY DIFFERENT WAYS THAT THE

ARTS BECOME SORT OF SECONDARY AND ONE OF THE

GREAT PRIVILEGES IN MY LIFE IS TO WORK IN A PLACE

WHERE WE REALLY ARE ALWAYS EMPHASIZING THE IMPORTANCE

OF THE ARTS UNDER THE ARTISTS WE WORK WITH.

>> AND THAT WRAPS IT UP FOR THIS EDITION OF AHA,

FOR MORE ARTS AND CULTURE, VISIT WMHT.ORG/AHA, WHERE

YOU'LL FIND FEATURES ABOUT OUR CREATIVE WORLD AND OUR

BACKYARDS AND ACROSS THE COUNTRY.

UNTIL NEXT TIME, I'M KATIE G.

THANKS FOR WATCHING.

[ THEME MUSIC ]

>> FUNDING FOR AHA IS PROVIDED BY YOUR CONTRIBUTION AND BY

CONTRIBUTIONS TO THE WMHT VENTURE FUND.

CONTRIBUTORS INCLUDE THE LEO COX BEACH

PHILANTHROPIC FOUNDATION, CHET AND KAREN OPALKA,

ROBERT AND DORIS FISCHER MALESARDI, AND THE ROBISON

FAMILY FOUNDATION.

AT M&T BANK WE UNDERSTAND THAT THE VITALITY OF OUR

COMMUNITIES IS CRUCIAL TO OUR CONTINUED SUCCESS.

THAT IS WHY WE TAKE AN ACTIVE ROLE IN OUR

COMMUNITY.

M&T IS PLEASED TO SUPPORT WMHT PROGRAMMING THAT

HIGHLIGHTS THE ARTS AND WE INVITE YOU TO DO THE SAME.

HUGH JOHNSON ADVISORS PROUDLY SUPPORTS THE ARTS

IN OUR REGION.

THE HUGH JOHNSON ADVISORS INVESTMENT TEAM HAS BEEN

PROVIDING INVESTMENT COUNCIL AND FIDUCIARY

ADVICE TO NON-PROFITS AND ENDOWMENTS FOR OVER TWENTY

YEARS.

MORE INFORMATION AT HJADVISORS.COM.