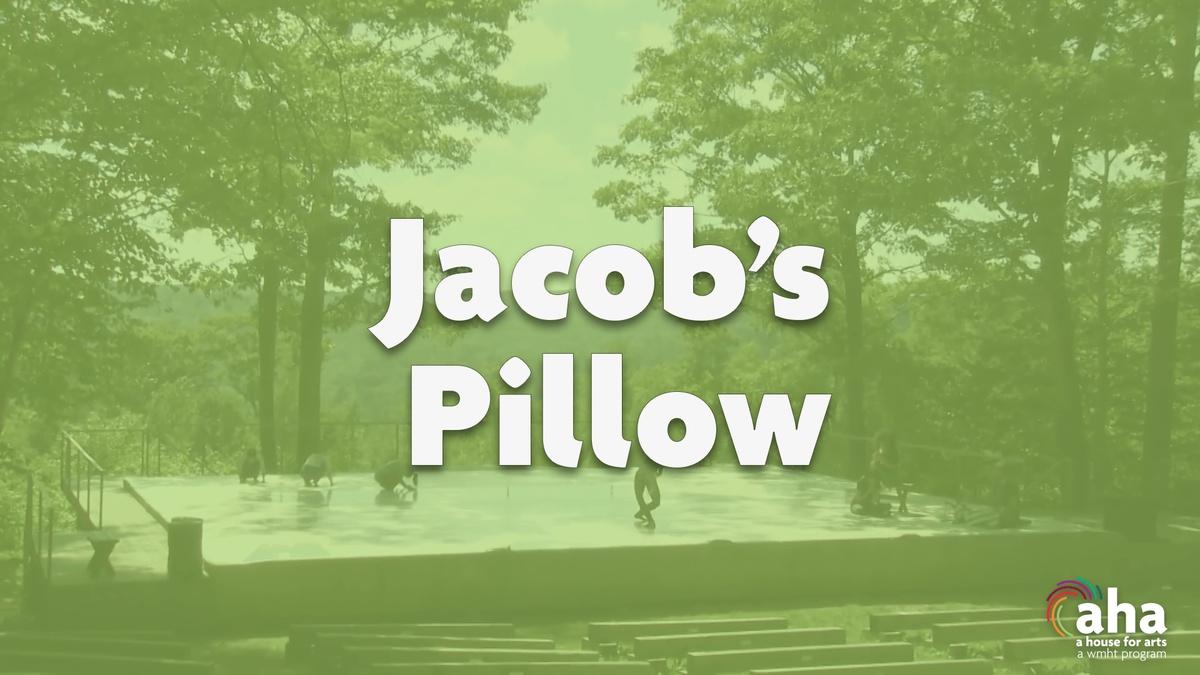 S7 E6 | CLIP
AHA! 706 | Dance with Jacob's Pillow
Return to dance at Jacob's Pillow and hear from Executive & Artistic Director, Pamela Tatge, and Director of Preservation, Norton Owen, to learn about this season's offerings, and what we can look forward to next summer.
TRANSCRIPT

(jaunty music)

- I'm happy to be back here at Jacob's Pillow

in Becket, Massachusetts to learn more about

what's going on on site and online.

(jaunty music)

- Last summer we made the very difficult decision

to cancel the Jacob's Pillow Dance Festival

for the first time in its 88 year history.

You know this is March of 2020,

we didn't know how long the coronavirus would last.

We made a pretty quick decision

that we would pivot to a virtual festival,

and like so many cultural organizations,

it's been a,

it was a silver lining of the pandemic.

We reached audiences

that we never would have been able to reach before.

80% of our audience was new to Jacob's Pillow.

In other words, they've heard about us but,

they've maybe never been here before.

We had a virtual festival and then

began to think about whether or not

we could have a festival this summer.

(rhythmic music)

Well the whole idea was to bring artists and audiences

back together safely.

We planned for nine companies to come, one week each,

on our major outdoor stage.

It's the Henry J. Leir stage.

And it's been a wonderful way

to have people return to dance.

The feeling that people have

when they arrive back on campus,

or people who've never been here before,

the idea that they can

experience dance with the backdrop of the Berkshire Hills,

there's really,

there's really nothing like it.

We really decided that we wanted to maintain

our commitment to being accessible.

So, we're offering a broadcast

of every single Henry J. Leir stage performance online.

It premiers two weeks after the opening here in person,

because we really wanted to create a film.

Give audiences an opportunity to see things

through a three camera shoot,

that they wouldn't see,

even if they're seated in the third row.

So that means gestures, facial expressions, details,

and these films have been really an extraordinary way

to maintain accessibility here at Jacob's Pillow.

Make sure anyone who wants to experience dance can.

Continue to reach the audiences

around the world that we have.

And for the artists,

it's going to be an incredible record

of this period of time in history.

We have an exhibition called Build Me a Theater.

This is what Ted Shawn said to the architect Joseph Franz

of this building right behind us.

He said he wanted a theater for dance,

and it ended up being the first theater

built for dance in America, built in 1942.

And all these years later, it needs renovations.

So, we have made the decision to renovate the Shawn,

add ventilation and air conditioning,

which we need to do in a post-COVID world.

And our plan is to open the renovated theater

for our 90th anniversary next summer in the summer of 2022.

So the exhibition looks at the history of The Shawn

and also the other venues on campus,

including the Doris Duke Theater,

which tragically burned in November.

(tense melancholy music)

We have a plan to rebuild a theater

to replace the Doris Duke.

Right now, we're in the process of selecting an architect

and we hope to be able to announce when it will open

as soon as we understand the scope and the cost

and the time it will take to fundraise.

(playful jazz music)

- You know,

when we thought about what we would show

this year in particular,

with the Doris Duke Theater having burned

this past November,

and also with all the plans that we have

for the Ted Shawn Theater moving forward.

And, the fact that

we were selling tickets for the first time

in our outdoor space, the Henry J. Leir stage,

we thought really, the place to go

would be to look at all of the performing spaces

here at the Pillow.

The title "Build Me a Theater",

is exactly what Ted Shawn is reputed to have said

to Joseph Franz, the architect,

when it came time in 1941 to build the first theater.

Joseph Franz, who had already built the

Koussevitzky Music Shed at Tanglewood

before that time,

was the perfect person to enlist to do that.

He really devised a wonderful structure that's all wood.

And that was kind of key, too.

The fact that it was during World War II,

when there were a lot of building materials

that were restricted.

But wood was not one of them.

So,

it was all, all natural,

but also taken from the surrounding area.

There're these huge beams that span the theater

that were each taken from a single, very old growth tree

and engineered by Warren Davis,

who was a local black craftsman and entrepreneur,

who hand hewed those beams.

And those,

there're five of them that span the auditorium.

And they're still really one of the key things

about the space that speaks to people today.

I came here as a student, originally, in 1976.

And the history really spoke to me

in a way that I had not experienced before.

And that really has become my calling here,

is to make all of that history more evident

for the everyday visitor,

whether or not they know anything about dance.

I don't think that's important.

I think that

that part of what makes the Pillow a meaningful place,

is that anyone can come here and get an idea

about what this place has meant over time.

- It's everything.

It's these gardens.

It's the exhibition space.

It's the ability to bring a picnic

and sit outside before the performance.

Our field was so devastated by the pandemic

and to be giving artists the opportunity to dance again,

for almost all of the companies this summer,

we are their very first public performances.

The emotion,

the dedication that they put into that performance,

and then the audience's excitement to be here.

There's nothing like it.

I'll never forget the feeling of this summer.