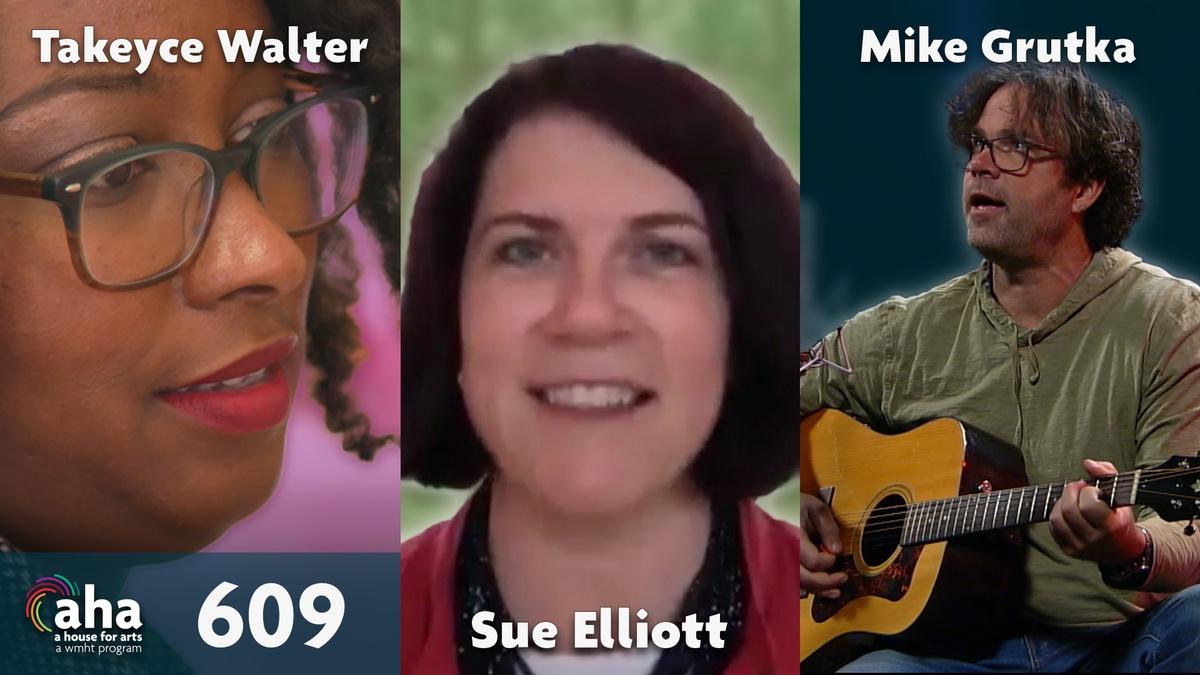 S6 E9 | FULL EPISODE
AHA! | 609
Artist Takeyce Walter, awestruck by the beauty of the Adirondacks, captures its landscapes with her paintbrush. Learn about Sue Elliott's varied work experience as the director of the Tanglewood Learning Institute, and hear how she thinks the music industry will change as a result of the coronavirus. Take in the sounds of singer/songwriter Mike Grutka.
TRANSCRIPT

(dramatic music)

- [Lara] Artist Takeyce Walter captures the landscapes

of the Adirondacks.

Director Sue Elliott,

tells us about the Tanglewood Learning Institute,

and a performance from Mike Grutka.

It's all ahead on this episode of AHA, a house for arts.

- [Narrator] Funding for AHA has been provided

by your contribution and by contributions

to the WMHT venture fund.

Contributors include Chet and Karen Opalka,

Robert and Doris Fischer Malesardi,

The Alexander and Marjorie Hover Foundation,

and The Robison Family Foundation.

At M&T Bank we understand

that the vitality of our communities

is crucial to our continued success.

That's why we take an active role in our community.

M&T Bank is pleased to support WMHT programing

that highlights the arts,

and we invite you to do the same.

(dramatic music)

- Hi, I'm Lara Ayad.

And this is AHA, a house for arts.

A place for all things creative.

Artist Takeyce Walter first encountered the Adirondacks

when she moved to the region in 2003.

Find out how their mountainous beauty inspired her

to pick up her paintbrush after taking a break

from creating art.

- I have this urge and I think most creatives

will probably feel the same way.

That I have this creative drive,

when I see something that is inspiring,

I just you know,

I see it and I wanna be able to share it.

And I can do so through my art.

(soft music)

I'm originally from Jamaica,

and I immigrated to the states when I was 13, in 1993.

I've done art for as long as I can remember.

And kind of put it on the side for a little bit

out of college getting into work.

But found it again when I moved to this area.

When my husband and son moved here in 2003,

every weekend, we would take a day trip

and just explore the area.

We found the Adirondacks.

And he just being in awe of the mountains

and all the rivers and streams there,

I was completely inspired.

And my husband encouraged me to start painting,

and haven't stopped since.

(soft music)

When I come to the studio with my studies and my sketches,

I will typically just work out some compositions.

You know, I'll do a couple of thumbnail sketches.

I'll do a noton,

which is a Japanese word for black and white.

Essentially distilling the composition down

to its simplest form.

Typically now I try to do an under painting.

Whenever I see a scene,

let's say the dominant colors are blue and green.

I will try to look at the comp,

like the color chart, color wheel,

and do an underpainting of the opposite.

So now I'm using rubbing alcohol as a solvent

to kinda turn the dry medium of pastel into a wet medium.

That has been really interesting

when I put the local color on top.

It just seems to shimmer,

you know complements kinda make each other more vibrant.

(soft music)

About six years ago,

I had a four year old and a three year old,

and an older son who was just getting out

of his teenage years.

And it was tough.

You know, I was also working full time,

it was tough to find time to paint.

So my birthday was coming up.

And in January, a thought occurred to me

that hey, what if I gave myself a present.

Off I went and told my husband,

the only thing I want for my birthday is time.

You know in February,

I need an hour to two hours a day to create art.

And that's how it started.

Creative February is,

I like to describe it as to take the time

to give yourself if you're an artist,

a creative, writer, musician,

whatever it is that you create time to honor that

about yourself and create something every single day.

This year I did a focus on the Adirondack landscapes.

In particular, areas and preserves

that have been conserved by the Nature Conservancy,

the Adirondack Chapter.

I usually avoid Twitter.

But I got on there and we were posting every day,

and I just was really impressed and touched

by the people who reached out

and share their memories of their childhood spent

in the Adirondacks.

Or just even if they weren't in the Adirondacks,

just a nature, people reached out to share that with me.

And that was really energizing.

And it was fantastic because that's exactly what I wanted

to do with this project.

I wanted to connect with others

and teach them about the importance of our landscape,

and how we need to be stewards and take care.

Take care of it 'cause it'll take care of us.

- Sue Elliott is Director

of the Tanglewood Learning Institute.

Which explores the pivotal role

that music plays in our lives.

Let's hear from Sue about the future

of the music industry in a post-pandemic world.

Well Sue, thank you for joining me today.

- It's lovely to see you, Lara.

Thanks for having me.

- You know, Sue, you've built a prolific career

in music education, creative program building,

and community engagement too.

And you were recently appointed

the inaugural Judith and Stuart Colton Director

of the Tanglewood Institute,

or Tanglewood Learning Institute,

which is part of the Boston Symphony Orchestra.

So congratulations on that.

Can you tell us a bit about

what the Tanglewood Learning Institute does?

And how did you first become interested

in administrative work for music programming

and music education?

- Sure, so I'll start with the first question

about the Tanglewood Learning Institute.

It was created not that long ago as you mentioned,

to help adults unleash their curiosity

when it comes to music of all kinds,

and the way in which music and arts and science and nature,

and anything that we can connect to music,

the way they work together.

And I like to think of myself

as having survived curiosity since the 1970s.

And so it's been a good match in terms of my experience,

my interest in discovering new ways to connect people

with the arts and the Boston Symphony Orchestra,

Tanglewood and the brand new,

Linde Center for Music and Learning

where I'm broadcasting from today.

- Great, that's great.

And can you talk a little bit

about what some of this new programming looks like,

or what some recent programs looked like

that you've done recently?

- Sure, so we had a whole slate

of programs last summer.

About 143 programs over 60 days.

So we went big to start off

to really see what people were interested in.

And those programs range

from opening up the artistic refinement process

in master classes to visual arts classes

on our beautiful campus that we did in collaboration

with IS183 Art School of the Berkshires.

A film series,

music documentaries and films in collaboration

with Berkshire International Film Festival.

Talks about music, all sorts of things like that.

And we spent some time over the fall and winter

while we could still gather in-person,

offering the first ever programming here

on the Tanglewood campus outside of the summer season.

And so some of the really special things

that we tested during that time period.

One of my favorites is a series called "Taste."

Where we had an afternoon class of some sort

in the Case of the two taste events that we produced.

They were free dance classes.

So we had a class on Tango,

one Friday afternoon at four o'clock.

Then we have Argentinian food and drink

for the evening event attendees.

And then a concert of Argentinian music

that night featuring indigenous instrument

from Argentina called the bandoneon.

And so we're just still trying out a lot of things.

I hope that TLI as it's affectionately known,

will continue to be fairly new for many years to come.

- But the tango classes sound amazing.

And it sounds like the Tanglewood is really good

at creating a symbiosis between different forms of arts.

Whether that's culinary arts, or dance, or music.

So that's great.

I'm actually curious to know about the musical part of this.

Is music a passion for you personally, Sue?

- Sure, I started banging on the piano

at a very, very early age.

And so my parents very quickly,

as quickly as they could enrolled me into piano lessons

to make that sound a whole lot better.

And I had planned on a career actually

as a performing artist,

a clarinetist and pianist, but I injured myself.

And that's okay,

because there are lots of great pianist and clarinetists

who could carry on without me doing that kind of work.

And I went sideways a little bit actually

and worked in opera for a couple of decades.

And I did many things there.

I was an opera stage manager,

which is like the air traffic controller

for those big theatrical shows.

And then, when I was in Houston at the Houston Grand Opera,

I sidestepped again, if you will,

into a very large scale commissioning program

to create new works based on the stories of people

who live in Houston today.

So one of the signature works from that series

that I inaugurated was the world's first Mariachi opera.

So Mariachi music,

a story about life on both sides of the US Mexico border

that most people in the audience heard about daily

in the news, at least in the American South.

And another project again,

very large scale over 18 months serving

more than 200,000 people.

Collecting stories of recent arrivals

to Houston from seven different areas around the world.

So a portrait of contemporary immigration.

And then I moved on from there

and did immediately before coming

to the Boston Symphony Orchestra,

I worked back in my home country of Canada,

at the Royal Conservatory of Music.

Which is a huge national organization.

And I started the world's first

online professional development program

for private music teachers around the world.

So still in education and community engagement,

but I really wanted to understand more

about how we can use the power of the internet

to connect people and to help them in their daily lives.

And so I put all of those various pieces together

in coming to the Boston Symphony Orchestra

to inaugurate the Tanglewood Learning Institute.

- So Sue, you said that you've done online programming

that you've developed for the first time in Toronto.

And you've also talked about Houston.

And this is really interesting

because Houston's become one of the new centers,

at least in the United States, if not globally

for this high rise in new viral infections of COVID-19,

or the Coronavirus.

And I'd wanted to ask you about the impact

of this pandemic on your work.

And I'm kind of wondering you know,

as COVID-19 sort of spreads across the US

and comes in waves,

a lot of institutions like colleges and universities

are switching to online learning platforms

for the coming fall semester.

I know that Houston is also a major center

for the live Performing Arts like ballet and Opera,

you've talked about your work in Houston.

I know that the Tanglewood would set out

to develop in-person and online programming

back in the summer of 2019,

before the pandemic began spreading across the globe.

So I'm wondering,

how do you think that Tanglewood is especially equipped

to develop virtual programming for concerts

and musical programs?

And what changes do you see

in the near future for the institute?

- Sure, I think that through

what wasn't necessarily 100% intended,

but certainly greatly beneficial at exactly the right time.

We have this studio that I'm standing

in right here right now.

Studio E at the Linde Center for Music and Learning.

And starting with our inaugural summer season last summer,

we began testing recording our programming

here in studio E back at the control room

in Symphony Hall in Boston.

And so what we were able to do you know,

our cancellations at the Boston Symphony Orchestra

started really in January,

when we had to make the decision to forego

a big tour of Asia by the orchestra,

which was scheduled for February.

And then we continued to have to cancel programs

the last six weeks of the Symphony Hall season,

spring pops all of the TLI programming

out here at Tanglewood between March and the end of June.

And so the Tanglewood summer season

was the first where we really decided to adjust

and offer a completely online suite of programs

to replace what we had intended

to deliver here in-person in the summer.

Now, that meant a few things.

It meant that we needed to prepare the studio

that I'm standing in for as a film studio,

instead of what is typically an in-person environment.

And luckily, it's a very flexible space.

So the audience seating actually

can just automatically retract into a wall.

We brought in additional robotic cameras,

and even more high quality audio capture equipments.

So we were able to record all

of the summer recitals and concerts,

right here where I'm standing over the course of three weeks

in late June and July.

The TLI programming for this summer

also intended to be primarily in-person,

when we put it on sale last November.

We were really easily able to adjust

and to offer about 50% of what we had planned

for the in-person summer online.

That meant investing in some new Cloud-based technology,

which allows us to feed camera enabled devices

across a platform that is much more high quality than zoom

for all of the interviews and lectures that we've recorded.

It has increased Of course,

all of the post production time

which you and your team know well.

But when we do an in-person event here,

we really don't do post production.

It just is what it is when it's live.

But we feel very fortunate that both the musicians

of the Boston Symphony Orchestra.

Some of the many superstar soloists

who we feature here were able to drive from New York,

up and back in one day to record here.

So that nobody was staying overnight.

And that we were able to put this entire package together

that really has been quite a lot.

We have online programming almost every day of the week,

in the months of July and August.

Much of it for free,

some of it behind a paywall.

And we're really learning as we go

at the Boston Symphony Orchestra.

It was a very quick adjustment to take everything online.

And I would say that with respect to the vision for TLI

to have a significant online component

when the institute was established,

it really just accelerated that timeline for us.

And what I'm looking forward to in the future,

and I think many of my colleagues at the BSO are as well,

is as we're able to restart

in-person concerts and programming,

what we will continue to produce online

to complement that.

Certainly we can continue to provide

a lot of meaning and context.

And one of the great things about going online

is that travel is no longer a barrier

for anyone to come to Tanglewood.

So you don't run out of hotel rooms

as hard as it is for the hospitality industry here

in the Berkshires.

And we know that they've taken what feels

like a critical hit with the cancellation

of all of the performing arts out here

in the Berkshires this summer.

But we're thrilled to be able to welcome audiences

around the world to this campus

and to our programming as a result.

- Yeah, it's like with all the different sacrifices

that have come with the pandemic

also comes other opportunities

like increasing accessibility.

So that's great to see

that you're also looking at that kind of silver lining too.

Now that we're talking about all these plans moving forward.

A lot of folks are saying that the pandemic

is going to bring about a new normal

for people in the arts let alone in our everyday lives.

What impact do you think this will have on a larger level

on live music and classical music moving forward,

even after the pandemic is subsided,

even after people are able to kind of gather together

in spaces a little bit as they did before?

- Sure, well, a couple of things come to mind

across a wide variety of elements here.

One, I hope that we're all going to appreciate

it a whole lot more when we get together the next time

in-person to experience music.

Two, I think that music hasn't stopped and it won't.

Because it is indefatigable to use one word.

I think the institutions are suffering greatly,

as are many of the musicians most of whom work

in a kind of freelance capacity,

and don't get paid unless they're playing in performance.

So certainly the times are the hardest

we've seen in our lifetime right now for musicians

and artists of all kinds.

I think that we have a collection online right now

for the Tanglewood Learning Institute

that's all about the 1920s with 100 years of perspective.

And two things that come to mind

with respect to our emergence after this pandemic.

One, is that we did emerge from the Spanish Flu of 1918.

So we're holding that really close to our hearts.

And secondly, there are times across the whole history

of certainly Western European classical music,

but I think all of the arts where times of great crisis

and societal reckoning.

Because it goes beyond the pandemic for us as well

with the Black Lives Matter movement,

with the movement towards antiracist structures and systems.

And so for me thinking about what we can not bring back

that we shouldn't as we emerge from this.

And what kinds of art comes out

of this period of great crisis.

You know, it's Ludwig van Beethoven's 250th birthday year,

this year.

And he really composed right after a big revolution,

a lot of his work.

And so it informed a lot of what he gave to the world.

And we saw the same thing in between the two world wars,

and after the Second World War.

Again, a great time of creative burgeoning

with artists everywhere.

So I'd say those are some of the things that

are more of the silver linings that you identified

we're committed to talking about now.

But at the end of the day,

it's the most important thing for us

is that everybody, our audiences, our players,

our staff, everybody remains as safe as possible.

- Well, thank you so much, Sue,

for joining me today and for talking about all

of your amazing work at the Tanglewood,

and all of the ways that you've built up to this as well.

- Lara, it's been a great pleasure.

I can't wait to talk to you again.

And I hope we'll see you here at Tanglewood soon.

- Please welcome singer songwriter, Mike Grutka.

(instrumental music)

♪ A love inside coming around tonight ♪

♪ A warm desire going around tonight ♪

♪ Pick me up my own light ♪

♪ you'll find a way come walking in ♪

♪ If you go I'll crawl behind ♪

♪ before you slip away again ♪

♪ Pick me up I'm holding on ♪

♪ I'll catch you when you fall ♪

♪ Listen to the signs they say ♪

♪ I know it ends ♪

♪ I know it ends ♪

♪ A love inside coming around tonight ♪

♪ A warm desire going around tonight ♪

(instrumental music)

♪ This is how the story ends ♪

♪ Away we fall alone ♪

♪ If it comes round once again ♪

♪ you'll find your way inside ♪

♪ Then you'll try to understand ♪

♪ All the things we never find ♪

♪ Pick me up and hold it in ♪

♪ This love will make us shine ♪

♪ A love inside coming around tonight ♪

♪ A warm desire going around tonight ♪

(instrumental music)

♪ A love inside coming around tonight ♪

♪ A warm desire going around tonight ♪

♪ Your torn inside turn it around you fine ♪

♪ A warm desire going around your life again ♪

- Thanks for joining us.

For more arts visit wmht.org/aha.

And be sure to connect with WMHT on social.

I'm Lara Ayad, thanks for watching.

(instrumental music)

- [Narrator] Funding for AHA

has been provided by your contribution.

And by contributions to the WMHT venture fund.

Contributors include Chet and Karen Opalka,

Robert and Doris Fischer Malesardi,

The Alexander and Marjorie Hover Foundation,

and The Robison Family Foundation.

- At M&T Bank,

we understand that the vitality of our communities

is crucial to our continued success.

That's why we take an active role in our community.

M&T Bank is pleased to support WMHT programming

that highlights the arts,

and we invite you to do the same.