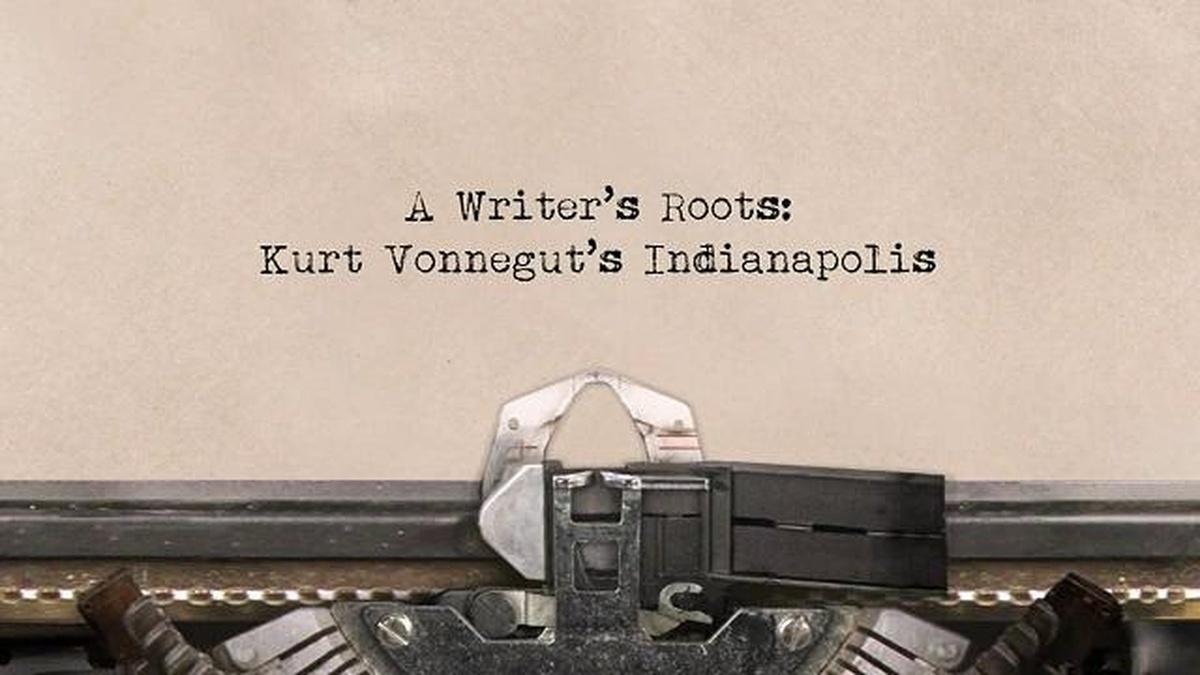 FULL EPISODE
A Writer's Roots: Kurt Vonnegut's Indianapolis
How did the most famous Hoosier author since James Whitcomb Riley get his start? What about Indianapolis inspired him? Why did he keep coming back to Indianapolis in his books? This new documentary produced by WFYI i, explores Vonnegut's hometown and the people and places that shaped him.
TRANSCRIPT

ANNOUNCER: 'A Writer's Roots:

Kurt Vonnegut's Indianapolis' is

made possible through the

generous support of...

[clicking of typewriter keys]

MAN: When things are going

well sweetly and peacefully,

please pause a moment, and then

say out loud 'If this isn't

[Nice, Nice, Very Nice by

Ambrosia]

Nice, Nice, Very Nice.

Nice, Nice, Very Nice.

So many people

WOMAN ON PHONE: I think all of

his work addresses universal

BOB SEELBACH: The problem of

man's inhumanity to man

His voice seemed to say, 'Why

are we doing this?

Why do we do this to each

MICHAEL POTTER: You know, in a

of our other contributions

haven't.

You can go anywhere in the

country and anywhere in the

world and people know Kurt

MAN 2: Well, I would say that

he ranks up there with Twain.

I mean Twain was a voice in his

particular century and I think

Vonnegut was a voice in his

particular century and I think

history will probably treat them

almost the same.

MARK SHULLENBERGER/TEACHER:

Exactly, but what is the

subtext?

What's Vonnegut suggesting?

STUDENT: Here Fred really

recalls how a woman praised him

and she spoke title God Bless,

You, Mr. Rosewater.

MARK SHULLENBERGER/TEACHER:

Excellent.

STUDENT 2: Basically,

Rosewater, the foundation and

the corporation and there money

um corrupted this entire, their

MARC ALLAN: You know,

Slaughterhouse-Five is in the

Top 20-considered in the Top 20

greatest thing-novels written in

So he gets some respect.

he was happy with what he did.

And he influenced a lot of

writers to write short and

smart.

JOHN GREEN: I'm a huge

Vonnegut fan.

I have been since I was 15 or 16

I met him my senior year of high

school at the University of

And the way he talked about

story and the way he talked

about writing and a creative

life was hugely important to me.

NARRATOR: John Green spends

his creative life in

Indianapolis, writing

bestsellers including "The Fault

in Our Stars,"

JOHN GREEN: Well, Vonnegut

is a far better

writer than I'll ever be.

MARC LEEDS: It won't be

remarkable when you take a

reading Voltaire and you're

Vonnegut.

NARRATOR: And there's no

question that Vonnegut was not

only a serious author, he was a

successful one, too.

Slaughterhouse-Five rocketed to

the top of the New York Times

Bestseller list.

The Vonnegut books that followed

also made the list.

Along the way Kurt Vonnegut

evolved from niche author to

more than a bestseller.

PROF SUSAN NEVILLE: Just

yesterday in the New York Times,

Judd Apatow, was saying that if

asked in the Times was who would

you like to have over for a

And one of the three was Kurt

Vonnegut.

JAMES ALEXANDER THOM: He was

as famous as a movie star,

practically.

[scene from Back to School]

You've got a paper due on Kurt

read the book.

I just don't understand him.

Then, how are you going to

Hi, I'm Kurt Vonnegut, I'm

JAMES ALEXANDER THOM: I

comedian Craig Ferguson, when he

air, somebody asked him in an

interview, was there anybody

that you ever wanted to have on

your show that never got on.

He said, 'Well, the first guest

I wanted to have was Kurt

quite a bit of a culture figure

NANETTE VONNEGUT: I said, Oh,

the guy was sitting in a metal

He fell over.

That's a memory.

JOHN KRULL: And we'd be

walking through mid-town New

make it a religion of being

with Kurt, and part like Mark

Twain, because his appearance

was so distinctive with that

Brillo pad on top of his head

and the hang dog mustache and

all that, literally, we would

walk down the street and people

NARRATOR: And rockin'.

The rock band Ambrosia took a

passage from Cat's Cradle and

turned it into a song.

[Nice, Nice, Very Nice by

Ambrosia]

Oh a sleeping drunkard,

up in Central Park.

And the lion hunter

in the jungle dark.

And a Chinese dentist

and the British Queen.

They all fit together

in the same machine.

Nice, Nice, very nice.

Nice, nice, very nice.

So many people

NARRATOR: Rock and roll,

popular movies, best selling

books, and even respect in the

literary community.

But Kurt Vonnegut was a

complicated man who remembered

when he didn't sell many books,

when he didn't feel he got the

respect he deserved.

A hero of the counter-culture

who bristled at talk of being

the spokesman of a generation.

KURT VONNEGUT: And people who

try to lessen the impact of what

I talk about is pacifism or

compassion.

kids.'

Well, I am like hell, my mail is

from college professors and

NARRATOR: An anti-war voice of

the 60s was also part of the

establishment and yet, Indiana

was part of him.

DAN WAKEFIELD: I edited the

book of his letters and I was

correspondence all his life with

high school, from General

Electric, his first job.

He was just very considerate and

he was especially helpful to

writers and especially helpful

to me.

MORELY SAFER: Kurt had become

You know, True Blue.

connection.

treasures our musicians, our

stands right there with them, I

think.

And for somebody who's putting

words together for a living,

JULIA WHITEHEAD: The Vonnegut

Family was, all through the

generations, through Kurt's

generation, they were very

influential in Indianapolis.

MORELY SAFER: And very proud

of his family roots there.

NARRATOR: Those roots were

deep, sunk decades before Kurt,

Junior took his place in the

fourth generation of

Indianapolis Vonneguts.

WILLIAM SELM: The patriarch of

the Vonnegut Family is Clemens

Vonnegut.

Clemens Vonnegut comes to

Indianapolis in the very early

He's not a penniless immigrant.

He comes to New York as a

manufacturer's representative.

And then he makes his way to

Indianapolis because he has a

classmate here.

He goes in business with his

classmate, uh, dry goods.

So what Vonnegut does is shift

them from dry goods to hardware.

And then he builds, really an

empire, a family business which

endures for over 100 years and

becomes a household name for

everyone in Indianapolis because

they manufacture hardware,

wholesale hardware and they have

retail stores throughout the

city.

JULIA WHITEHEAD: Very involved

with creating more of the

German-American culture of

Indianapolis.

He was a member of the school

board.

There's actually a school board

in Indianapolis named after

WILLIAM SELM: Clemens Vonnegut

is one of several of these

liberal-minded Germans who are

also very successful

businessmen, too, who want to

then bring in culture here where

they see it's culturally devoid.

So what did they do?

They founded choral societies,

They founded the Turnverein, the

Most Germans are going to

church.

He's not because he proclaims

himself a free thinker and with

the free-thinker movement, he

essentially embraces ideas of

the enlightenment, which is

being rational.

JULIA WHITEHEAD: And he

instructions and morals about,

should be and that of course

affected the way Kurt Vonnegut,

NARRATOR: Clemens was prolific

in another way.

He and his wife, Katarina, had

four sons.

Clemens, Junior, Franklin and

George all worked in the

hardware store or related

businesses.

But not Bernard, born in 18-55,

just a few years after the

business began.

JULIA WHITEHEAD: He went to

NARRATOR: After an

apprenticeship in New York,

Bernard came home to

Indianapolis and joined fellow

architect Arthur Bohn to form

the firm, Vonnegut and Bohn.

And out of that partnership came

some of the most imposing and

impressive buildings of the

Hoosier State Capital's late

19th and early 20th Centuries.

LS Ayres and William H.

Block.

Also, the Omni Severin Hotel

If there's one building Hoosiers

connect with the Vonnegut

family, it's this one.

JULIA WHITEHEAD: In 1898, the

Athenaeum Building was German

NARRATOR: In the Indianapolis

of the mid-to-late 19th Century,

successful Germans married other

successful Germans.

Bernard married Nanette Schnull.

Her father was Henry Schnull.

WILLIAM SELM: So he's the

father of the wholesale

district.

Very well the merchant prince of

Meridian Street.

NARRATOR: Bernard and Nanette

had three children ... the

eldest, born in 18-84, they

named Kurt.

He followed his father, first to

MIT, and then into his father's

firm.

He helped found the Indianapolis

Children's Museum, from its

humble beginnings in a carriage

house.

He even designed "Sidney the

Seahorse," the museum's first

logo.

Bernard died in 19-08, only 53

years old.

Kurt joined two years later and

soon after, he fell in love with

a beautiful woman he had known

since childhood,who also

happened to be from, another

wealthy German family.

Just look at Edith Lieber, tall,

about 5-8, auburn haired,

perfect complexion.

Her father, Albert, earned his

Kurt Senior and Edith joined

other Vonneguts as they were

launched into the best of

Indianapolis society and what

everyone thought was a promising

NARRATOR: November 11, 1922.

A son is born to Kurt and Edith

Lieber Vonnegut.

Kay, as his family called him,

arrives four years to the day

after Hoosiers marked the end of

World War One with spontaneous

celebrations on the Circle, and

on Washington Street, just down

Kurt, Junior joins eight-year

old Bernard and five-year old

Alice at their parents' brand

new home on North Illinois

Street, with the stained glass

windows, wide open spaces, and

their own take on the arts and

crafts movement.

The Vonneguts had indeed

arrived, taking their rightful

Kurt Vonnegut is a busy

architect who also has time to

volunteer for civic projects.

Edith is in several social

clubs.

They host dinner parties with

artists and society guests.

PATTY COCHRAN: They were also

members of the symphony and the

art association and everything

and cultural.

NARRATOR: And their kids go to

Orchard, a private, progressive

school where Kurt made friends

with Ben Hitz and Jane Cox.

JULIA WHITEHEAD: Kurt's early

life was a life of privilege.

His family was very wealthy for

Indianapolis, especially.

They had servants.

He had a nanny named Ida Young.

And she taught Kurt Bible

passages and she was really more

of a mother to Kurt than his own

NARRATOR: But he was always

close with his siblings.

Bernard was the tinkerer, early

radio pioneer and budding

scientist, even as a boy.

Alice or Allie, who grew up tall

and beautiful, was creative, and

an audience for Kay's jokes and

NARRATOR: During Prohibition,

many breweries went under,

including the Lieber's.

So a big source of Kurt and

Edith's wealth, her millionaire

father Albert's brewery, was

But for now, the good life

continues.

Prestige travel, high society,

good schools.

And a good, safe home where

everybody could be creative and

NARRATOR: The place that left

the most profound mark on young

Kurt Vonnegut was in Indiana but

it was not Indianapolis.

[actor reading]

I made my first mental maps

of the world when I was a little

child in the summertime on the

shores of Lake Maxinkuckee,

which is in northern Indiana,

halfway between Chicago and

NARRATOR: It was a place for

childhood exploration within the

safety of family, lots of

JULIA WHITEHEAD: Kurt loved

his time at Lake Maxinkuckee.

[actor reading]

Maxinkuckee is three miles

long and two and a half miles

across at its widest.

Its shores are a closed loop.

No matter where I was on its

circumference, all I had to do

was keep walking in one

direction to find my way home

again.

What a confident Marco Polo I

could be when setting out for a

day's adventure.

The closed loop of the lakeshore

was certain to bring me home not

only to my own family's unheated

frame cottage on a bluff

overlooking the lake but to four

adjacent cottages, teeming with

JEFF KENNEY: Lake Maxinkuckee

is the second largest natural

lake in the state of Indiana.

It's 88 feet at its deepest.

In fact, not far off the

Vonnegut area, off the point

here, is actually the deepest

part of the lake.

NARRATOR: And young Kurt

Vonnegut Junior swam across its

two-and-a-half mile breadth.

JEFF KENNEY: It's a

significant swim.

And again, he describes actually

swimming it naked, with family

members kind of cheering him on

in a boat as he went, which was

sort of a family tradition.

And in a December 1977 letter to

his cousin, Katie Rasmussen, he

writes: 'It is good that you're

keeping the Maxinkuckee dream

alive.

That will always be an

enchanting body of water to me,

my Aegean Sea, perfect in every

dimension.

NARRATOR: Kurt didn't realize

at the time that his neighbors

were the leading literary lights

of his parents' generation.

They summered at Lake

Maxinkuckee.

Two-time Pulitzer Prize winning

novelist and playwright Booth

Tarkington stayed with friends

And the Hoosier poet James

Whitcomb Riley of "Little

Orphant Annie" and "Frost on the

Pumpkin" fame would join them.

Meredith Nicholson used the

backdrop of Culver Academies,

then Culver Military Academy

as inspiration for "The House of

a Thousand Candles," the

bestselling novel of 1906.

JEFF KENNEY: There's this

literary air about the place.

[Anything Goes,

by Cole Porter]

In olden days,

a glimpse of stocking.

Was looked on as

something shocking.

But now, God knows,

NARRATOR: And there was music,

too, provided by a young piano

Writing prose

JEFF KENNEY: And often he

would, he would play piano after

Culver Military Academy's

NARRATOR: Kurt attended some

of those dances years later,

even though he did not go to

school there.

Looking back, he wrote that he

did not like the regimentation

of military life.

But that did not stop him from

socializing alongside the

midshipmen and troopers who were

The Vonnegut era is long gone on

the east shore.

But some academies' alumni have

preserved Kurt's great-uncle

Clemens Junior's cottage.

MAN: The biggest thing was

just keeping it as it was.

No paint.

The shabby chic look, just is

keeping everything like an old

NARRATOR: Kurt spent less and

less time here as he got older

and his family situation

changed.

[actor reading]

Am I sad?

Not at all.

Because everything about that

lake was imprinted on my mind

when it held so little and was

so eager for information, it

will be my lake as long as I

NARRATOR: The last summer

idyll for the Kurt Vonnegut

family branch was in 19-29.

Kurt, Alice and Bernard headed

back to school that fall Orchard

for Kurt and the Twenties

continued to roar until late

[Brother, Can You

Spare A Dime?]

Why should I be

standing in line.

NARRATOR: Wall Street laid its

egg and the Great Depression

began.

JULIA WHITEHEAD: So Kurt had

begun kindergarten, first grade

at the Orchard School and when

the family's financial situation

changed, Kurt was taken out of

Orchard School.

private schools because of the

with those friends.

So he went to James Whitcomb

Riley elementary school.

For Kurt, it didn't matter

whether it was public or private

school.

His elementary school was a very

good school.

NANETTE VONNEGUT: He waxed

nostalgic about his childhood

and about his siblings.

He really didn't talk about his

parents very much, there was a

real kind of blackout in that

area.

NARRATOR: And no wonder.

His father's business

evaporated.

His mother, accustomed to luxury

and the best of society, was

forced to cut back on

entertaining, and then, on the

household staff of servants, and

eventually, the house itself.

Their showplace on the north

side, home to dinner parties

with artists and much of

Indianapolis high society,

became too expensive to

maintain.

The beer money, Edith's

inheritance, was long gone.

And Kurt, Senior wasn't bringing

in new income.

So they moved to a new but

smaller and less expensive place

in the Williams Creek section of

Indianapolis.

JULIA WHITEHEAD: Kurt went to

Shortridge High School and he

PATTY COCHRAN: He sort of

VIC JOSE: He did very well in

school, although he was not a

top student.

He's a very typical Midwestern

KURT VONNEGUT: In this

wonderful high school I went to,

Shortridge, we had a daily

paper.

It had a daily paper so long my

parents had worked on the

Shortridge Daily Echo.

And so a whole lot of writers

came out of Shortridge-the head

writer of the I Love Lucy show,

Madelyn Pugh-I knew her when she

was a student.

Dan Wakefield, brother novelist

and journalist, came out of

there.

DAN WAKEFIELD: It was a great

tradition at Shortridge.

It was an honor to have a daily

high school paper.

NARRATOR: Of course, it wasn't

JULIA WHITEHEAD: There were

many clubs, some were formal,

some were just informal clubs

that just popped up.

One that Kurt joined was called

the Owls club and that was a

lifelong group of his friends.

VIC JOSE: As a friend, he was

a real friend.

He was not a person who put on

airs.

JULIA WHITEHEAD: So tall and

lanky.

He wasn't any athlete.

He was a fantastic dancer.

Back when people did that much

more frequently than they do

now.

He enjoyed dancing.

MAJIE FAILEY: And he loved

we were kids that's where all

the parties were.

All the dances were at

NARRATOR: But young Kurt

wasn't just a ballroom dancer

he immersed himself in the

outdoors.

He joined the Prairie Trek in

1937 an annual summer adventure

out west celebrating nature,

archeology and Indian lore

organized by former Boy Scout

leader Hillis Howie.

Lifelong friend Ben Hitz was on

the expedition with him.

Sam Sherwood and Kurt

Vonnegut, Junior, both of

Indianapolis, were among the

group.

NARRATOR: He could afford to

take the trek in

the midst of the

Depression because his father

designed the cabins that Howie

would build the following year

Back at Shortridge, Kurt became

more popular as an upper

classman as classmates learned

to appreciate his sense of humor

PATTY COCHRAN: He wrote plays

and skits and things.

I think he was always very

appreciated by his own age

people.

He was so popular, tremendously,

wasn't he?

NARRATOR: Yes and no.

There's a frequently reported

story that some athletes grabbed

Kurt and stuffed him into a

garbage can in school.

It was not a friendly prank.

WAKEFIELD: And in fact, a

couple of those guys resented

him even when he came back to

get some award from his class.

Somebody had made a sculpture of

him which is now in the

Athenaeum in the Vonnegut Room

and these two football players

refused to attend a class

function where he was being

honored.

That was like 60 years later or

something.

So, as he would say, 'so it

goes.

NARRATOR: And so went the

world in the fall of 1939

as Kurt and friends began their

senior year.

The Germans blitzed Poland and

World War Two erupted.

But America did not enter the

war for two years ... So Kurt

could savor his time: as

co-editor of the Daily Echo on

the student council with cousin

Mary Glossbrenner and as a

finalist for something

Shortridge called the "Uglyman

contest" which was really a

crowning of the most popular boy

in the school.

His buddy, Vic Jose was another

finalist.

Kurt and his friends made their

mark on Shortridge and the

school remained a major

influence on Kurt the rest of

NARRATOR: The Owls and other

friends scattered across the

country in the fall of 1940 many

heading to colleges out east.

But Kurt went to Butler

University, right?

That's the old rumor.

SUSAN NEVILLE: It's on his

for a brief moment, he got C's

He was told that his work was

JULIA WHITEHEAD: To which Kurt

responded, that's great, I'm

NARRATOR: The Butler registrar

confirms he attended Butler

alright, but in the Summer of

'42, between semesters at

Cornell.

Butler says it doesn't release

information on classes taken or

grades earned.

JULIA WHITEHEAD: But he ended

up going to Cornell University.

He studied chemistry.

NARRATOR: Kurt later said that

was the only way his father

would let him go to college is

if he studied something

"useful."

His father insisted no

architecture to avoid his fate

and nothing in the humanities.

JULIA WHITEHEAD: His father

had wanted him to study science

very much like his brother

Bernard.

But Kurt, he just wasn't as

interested in his science

courses and didn't do quite as

well.

NARRATOR: It harkened back to

when family lore says his

grandfather, Bernard, cried when

he worked at the hardware store

all the while dreaming of being

an artist.

NANETTE VONNEGUT: He knew for

him when he went to Cornell.

He probably was .... I think he

just threw, gave up, just

stopped going to those classes

and worked at the newspaper all

the time.

NARRATOR: He wrote a humor

column for the

Cornell Daily Sun and eventually

became an editor.

But he couldn't stay

in the college cocoon forever.

JULIA WHITEHEAD: Pearl Harbor

had been bombed at that point.

And Kurt during his university

experience had pneumonia so he

originally got a draft

deferment.

But then he decided he wanted to

serve his country and do his

part and he did enlist in the

Army.

NARRATOR: It was the spring of

1943.

JULIA WHITEHEAD: This was very

upsetting to his family,

especially his mother, who had

hoped that if he was going to be

in the military, that he would

have become an officer and would

have gone a little different

route.

So he was sent to Carnegie

University and then the

University of Tennessee, where

he studied engineering.

And unfortunately, he was pulled

away from the University of

Tennessee by the Army and sent

to Camp Atterbury, Indiana, just

down the road from us.

He was able to come and visit

his friends and family here in

Indianapolis.

He made such a visit on Mother's

Day.

NARRATOR: It was May 14, 1944.

Kurt, Senior and Edith were

practically empty-nesters

Their eldest son, Bernard, had

earned his Ph.D.

in chemistry at M-I-T and had

gotten married.

Daughter, Alice, too, was

recently married but husband

James Adams was in the military

so she stayed with her parents.

The elder Vonnegut's business

never recovered from the Great

Depression and neither did

Edith.

She wrote short stories and

submitted them to magazines-one

more attempt to restore the

family's fortune.

JULIA WHITEHEAD: His mother,

who had abused alcohol and

prescription drugs really as a

way for her to cope with her

depression and anxiety related

to the loss of the family

fortune during the Great

Depression and after that, and

then, with the start of the war.

PATTY COCHRAN: She killed

herself.

I don't know why.

NANETTE VONNEGUT: The older I

get, the more I find I take an

interest in clarifying details

around people's lives, in

particular women, because often

there's one liners: 'died in

childbirth or was crazy or

committed suicide on Mother's

Day."

Wow.

That is a mouthful, and I've had

to think about it, like, wow, if

a mother chose Mother's Day to

kill herself, that's a really,

really mean thing to do.

It's a statement.

So I just didn't quite buy it.

I would rather leave it at

whether she committed suicide or

not, any day is a bad day for a

suicide.

KURT VONNEGUT: See, there's a

strong reason not to commit

suicide.

Because you leave that as a

legacy to those who survive you,

particularly your children,

because it will SEEM like one

NARRATOR: The young Kurt

Vonnegut of 1944 had to confront

this horrible tragedy right

before he was to leave Camp

Atterbury and ship out for

For the rest of his life, he

maintained mixed feelings about

his mother in a self-interview

he published, crediting her as

his greatest influence as a

writer but in a family tree he

drew, describing her as a

A creature of the arts,

beautiful, elegant.

She left him, just as he headed

for the biggest conflagration in

JULIA WHITEHEAD: And now he is

with an infantry division, which

he was not expecting and he knew

that probably didn't mean

anything good for him because he

was shipped off to Europe with

new his unit.

KURT VONNEGUT: When my

generation went to war, we had

two fears, equal.

One, we might get killed, two,

we might have to kill somebody.

Equally terrible.

Terrible thing to kill somebody.

NARRATOR: In December, 1944,

Kurt Vonnegut was an infantry

scout out front of a new

division that had not been

battle-tested.

The 106th was supposed to cover

more than 20 miles 10-thousand

men spread across a

mountain-side in western

Germany.

Their line bulged deep into

Germany which means after being

in-country for only 10 days,

they were among the first to get

hit by Germany's last big

KURT VONNEGUT: The Battle of

the Bulge.

The Germans had superior

technology, much better weapons.

And we were just kids and we

wound up ... they sent the best

they had, everything they had,

the best tanks, everything,

unexpectedly.

JULIA WHITEHEAD: He is pretty

much immediately captured by the

Nazis.

He is marched in the snow 60

miles to a train that takes him

into the city of Dresden.

KURT VONNEGUT: And so I was

ragged, I was hungry.

I had seen a lot of people die

and I had had the hell shelled

out of us.

And I was just a kid and when it

was all over, there were

Americans like this, as far as

they eye could see.

Kids.

JULIA WHITEHEAD: You know, I

think obviously he suffered

tremendously, not only his

personal suffering of being a

prisoner of war and how that all

came about.

And while he was on that train

to Dresden and the RAF had fired

on that train and killed 150

NARRATOR: Private Vonnegut was

assigned to forced labor in

Dresden, a city he remembered

for its art and architecture the

JULIA WHITEHEAD: He at that

point is put underground in

Slaughterhouse-Five where a

number of other prisoners were

NARRATOR: February 13th, 1945.

Allied bombers fire-bomb

Dresden, leaving the medieval

city in ruins and killing as

JULIA WHITEHEAD: Then Kurt was

tasked with burying the women,

the children, the elderly

people, the pets most of the men

are off fighting in the war.

NARRATOR: The survivors were

understandably hostile and the

work, grueling.

But Russian soldiers freed Kurt

and his fellow captives less

than three months later.

There's Kurt, inside the wagon,

a newly freed man.

Soon after this picture was

taken, he wrote a letter home.

It described his experiences and

signaled that a young writer had

found his voice.

His father read it aloud at the

Portfolio C lub in Indianapolis.

ACTOR READING: Under the

Geneva Convention officers and

non-commissioned officers are

not obliged to work when taken

prisoner.

I am as you know a private.

I was their leader by virtue of

the little German I spoke.

After desperately trying to

improve our situation for two

months and having been met with

bland smiles, I told the guard

just what I was going to do to

them when the Russians came.

They beat me up a little.

I retired as group leader.

One boy starved to death and the

SS troops shot two stealing

ACTOR READING: On about

February 14th the Americans came

over, followed by the R.A.F.

their combined labors killed

250,000 people in twenty-four

hours and destroyed all of

Dresden, possibly the world's

most beautiful city.

NARRATOR: Kurt Vonnegut,

Junior prisoner-of-war,

decorated soldier arrived back

at Camp Atterbury in Indiana in

July of 1945.

He didn't dwell on his horrific

recent past.

Kay was eager to begin his life

anew.

He was barely home when he

re-connected with someone he'd

known since they were children

at Orchard School.

Jane Cox had her own war

adventure.

After earning a degree in

literature from Swarthmore, she

went to Washington to work for

the OSS, the predecessor to the

CIA.

In the summer of '45, Kurt

proposed and she accepted.

Kurt and Jane married on

Part of their honeymoon included

a return for Kurt to the old

family cottage on Lake

Maxinkuckee.

He kept up the breathtaking pace

of life changing decisions.

He and Jane chose

graduate school

at the University of Chicago

she, for literature, and he in

anthropology.

They never lived in Indianapolis

DAN WAKEFIELD: I certainly

couldn't have lived here and

written Going All the Way.

I think you have to leave in

order to have a certain

NARRATOR: In Chicago, Kurt

also spent a few months as a cub

reporter for the City News

Bureau.

Jane quit school when she became

pregnant with their first child,

a boy they named Mark, for

Vonnegut's literary hero, Mark

Twain.

And Kurt's professors rejected

his master's thesis.

Kurt said he needed to support

his growing family so they moved

to Schenectady, New York

where brother Bernie had helped

him get a job in public

relations for his employer,

General Electric.

But it was in Schenectady, when

he wasn't on the clock, that

Kurt Vonnegut, Junior began his

writing career.

And just like at the University

of Chicago, he met with

JULIA WHITEHEAD: So this is

from the Atlantic Monthly, April

25th, 1950.

Dear Mr. Vonnegut, we are

extremely sorry to have another

negative verdict for you.

Dear Mr. Vonnegut, I was glad to

read your story, To Dust Return.

I'm sorry that I cannot write to

you about it with enthusiasm.

You have talent but I do not

feel you show in this piece that

you can write a short story

which would be appealing to our

markets.

NARRATOR: But Collier's

editors found a Vonnegut short

story they liked.

"Report on the Barnhouse Effect"

netted the young writer 750

dollars, about 7,000 today.

And good timing: Jane and Kurt's

second child, Edith came along

Early Vonnegut stories did not

overtly conjure up Indiana

people and places.

Neither did his first novel,

Player Piano, which earned a

good review in the New York

Times but didn't sell much.

Eventually, with more stories

sold, Vonnegut quit G-E and

moved his family to Cape Cod,

Massachusetts.

And so it went in the 50s a few

stories sold and another baby,

Nanette, or Nanny born in 19-54

and work on another novel 'The

Sirens of Titan.'

And more stories.

Then, personal tragedy struck

again .. with the death of his

father in Indiana in 19-57 and

again and again, a year later.

Just two days before his beloved

sister, Alice, died of cancer

her husband, James, was killed

in a commuter train wreck in

Bayonne, New Jersey.

NANETTE VONNEGUT: When we were

here together in Indianapolis,

he talked about Allie.

He was triggered by being in

Indianapolis.

I watched that and the way he

talked about Alice was really

profound, the depth of love and

sorrow and the missing.

I just think he was pretty numb

by life in some ways.

I mean, he could do a good ditty

whatever, but when the real

memories came back, it often

came back to Allie and he said,

'God, she would have made a

wonderful old woman.'

And he also said, 'God, she was

NARRATOR: Jane and Kurt

adopted the three eldest Adams

boys putting six kids under one

roof in Cape Cod.

Maybe that numbness his daughter

noticed helped.

In the 60s, Kurt Vonnegut,

survivor of so many tragedies in

his life began to work those

stories many with Hoosier ties

into his books.

He saved the most cataclysmic

NARRATOR: Kurt Vonnegut's

experience in the war remained

untold since he wrote his letter

home in 1945.

Until 1969, when he created

Billy Pilgrim, whose fantastical

adventures Vonnegut told in a

MARC ALLAN READS: "Listen,

Billy Pilgrim has come unstuck

in time.

Billy has gone to sleep as a

senile widower, and awakened on

his wedding day.

He has walked through a door in

1955, and come out another one

in 1941.

He has gone back through that

door to find himself in 1963.

He has seen his birth and death

many times, he says, and pays

random visits to all the events

in between, he says.

Billy is spastic in time, has no

control over where he is going

next and the trips aren't

NARRATOR: Certainly not during

the war.

Billy Pilgrim survives the

Battle of the Bulge and being a

prisoner of war and Dresden.

But there's also time for

commentary on the human

condition.

JOHN KRULL READS: "I look

through the Gideon Bible in my

hotel room for tales of great

destruction.

The sun was risen upon the earth

when Lot entered Zoar, I read.

'Then, the Lord rained upon

Sodom and upon Gomorrah

brimstone and fire.

The world was better off without

them and Lot's wife, of course,

was told not to look back where

all those people and their homes

had been but she did look back

and I love her for that because

it was so human.

So she was turned into a pillar

of salt.

So it goes.

People aren't supposed to look

back.

I'm certainly not going to do it

anymore.

I finished my war book now.

The next one I write is going to

be fun.

This one is a failure and had to

be since it was written by a

pillar of salt.

It begins like this: Listen

Billy Pilgrim has become unstuck

in time and it ends like this:

'Poo-tee-weet?'

" What blows me away about this

is he tells you how the story's

going to end.

He acknowledges failure at the

beginning and defies you to stop

reading and you don't stop

reading.

NARRATOR: And the world

agreed.

DAN WAKEFIELD: When

Slaughterhouse-Five came out in

1969 and was an overnight

success, a worldwide success,

and there were lines around

bookstores in every city to get

his autograph when he was there.

Except in Indianapolis.

And I got a letter from him at

that time and it was in the book

of his letters and it simply

said, "Dear Dan, I spent that

afternoon at L.S.

Ayres bookstore with

Slaughterhouse-Five.

I have sold 11 copies, all of

them to relatives.

down to poor publicity.

going on.

I'm not sure.

Vonnegut was a household name

for the hardware business but I

do not recall general

conversation among the masses

about Vonnegut, the writer.

JOHN KRULL: Well, I think

there was some ambivalence.

I think for writers of his

generation and Wakefield's, a

perfect example of that, too,

you look at Slaughterhouse-Five

came out in 1969

and Going All the Way came out

the following year.

In the city where the author was

born, you've got two of the

hottest writers in the United

States and neither one of them

feels particularly welcome here.

PATTY COCHRAN: Yeah, his

that he's so successful.

But we don't really like his

DAN WAKEFIELD: He dedicated

Sirens of Titan to an uncle who

said he couldn't read it.

They didn't understand

or they didn't understand the

humor or they didn't understand

the satire.

And also because he sometimes

used words that most modern

writers used but they were

shocked.

He had an aunt who had a

bookstore in Louisville and she

wouldn't carry Kurt's book

because she felt they were not

NARRATOR: And yet, Kurt

Vonnegut kept coming back to

Indianapolis.

He came back when a bust was

dedicated and placed in the

Athenaeum.

He came back to see the

then-brand new Indiana History

Center.

He also slipped in to see old

And Kurt time tripped back to

Indianapolis in his books more

and more.

In autobiographical collections,

such as Palm Sunday and Fates

Worse Than Death and in the

novel, Slapstick.

For years, there were Vonnegut

"sightings" in Indianapolis,

often downtown, among the

buildings designed by his

grandfather and father ...

Nostalgia walked hand in glove

with some of his frustrations

with his hometown but he kept

NARRATOR: In 1997, Vonnegut

published the novel, "Timequake"

which gave us one more

appearance of science fiction

writer Kilgore Trout.

Vonnegut announced it would be

his last novel.

JAMES ALEXANDER THOM: Now, the

thing that brought him back to

writing, of course, was when

decided to go invading

countries.

"The Man Without a Country.

NARRATOR: Kurt Vonnegut was

plenty angry about America's

role in global politics long

before 9-11.

KURT VONNEGUT: On our great

victory in the Gulf-blowing the

bejesus out of this third world

country that hardly shot back.

You didn't dare say anything bad

about it.

NARRATOR: He also railed

against what he saw as a wave of

anti-intellectualism sweeping

the country.

KURT VONNEGUT: You be stubborn

and speak against it as I do and

NARRATOR: His fellow Hoosier

writers say Kurt Vonnegut was

often misunderstood, especially

by some in his hometown.

Jim Thom remembers a

conversation with the leader of

Kurt's Prairie Trek adventure,

Hillis Howie.

JAMES ALEXANDER THOM: He was

an old man by then, but we

started talking about Kurt and

he said, 'Well, I'm awfully

disappointed in him.'

He said, 'He doesn't have the

proper respect for authority.'

And I thought, well, absolutely,

you know.

Why should we have?

And if you say things that rock

the boat, then you disturb

people.

He really just didn't get Kurt.

He thought Kurt was seriously

sacrilegious about life.

But Kurt was very reverent about

DAN WAKEFIELD: He was a

humanist from a long line of

German free thinkers but he had

a special feeling for Jesus.

And he wrote about Jesus more

insightfully, I feel, than many

theologians.

The thing that he quoted most in

his work, whether novels or

non-fiction, was the Sermon on

MARK VONNEGUT: I think he

loved sort of the sense of

community.

He loved Shortridge High School.

He loved the ideals of democracy

and public education.

I think he was proud of the fact

that his family had a hardware

store.

It was sort of working class.

I think it was pretty idyllic

for him in many ways for him to

grow up here.

thought it was maybe too middle

But I think growing up here was

NARRATOR: By the 1970s,

Vonnegut's personal life became

complicated with a move to New

York City, divorce from Jane and

eventual marriage to

photographer Jill Krementz.

Years later, Indianapolis became

a kind of new constant, with

many relatives, his childhood

friends, some newer friends, too

DAVID HOPPE: I think later in

life, he began to look back at

Indianapolis with an increasing

And I think part of that may

relating more to a generation of

people who didn't see him so

much as a personal critic of

their lifestyle, so much as an

artist that they could really

appreciate.

And once that dawned on him, I

think he began to feel like he

actually had a kind of home away

NARRATOR: In 2006, then Mayor

Bart Peterson amplified the One

City, One Book program and

declared 2007 would be the "Year

of Vonnegut," with events built

around his family history,

career and crowned by a speech

by the man himself.

BART PETERSON: This was about

at Clowes Hall and so I'm

for the remarks I'm going to

give.

I believe it was at a library

branch where I was going to be

speaking.

And I get a call telling me what

NARRATOR: Kurt Vonnegut had

fallen down the steps of his New

York brownstone and suffered

BART PETERSON: And that very

likely Kurt was not going to

recover and that this was

obviously changing everything.

And I remember that moment very

vividly being shocked,

obviously.

The implications of it were huge

in the literary world, let alone

DAVE BARRAS: He wrote

Slaughterhouse-Five and plenty

more.

Vonnegut died Wednesday, leaving

NANETTE VONNEGUT: My father

said a lot of great writers have

come from the Midwest.

Who's to say?

I think, you know, give credit

to his mother and father,

Midwesterners.

His sister, who he loved more

than anything on Earth, I think,

and his brother, Bernard.

For whatever reason, they had

this mix of sensibility and

intelligence and humor and that

is what made him, um

Indianapolis and Indiana and

ANNOUNCER: 'A Writer's Roots:

Kurt Vonnegut's Indianapolis' is

made possible through the

generous support of...