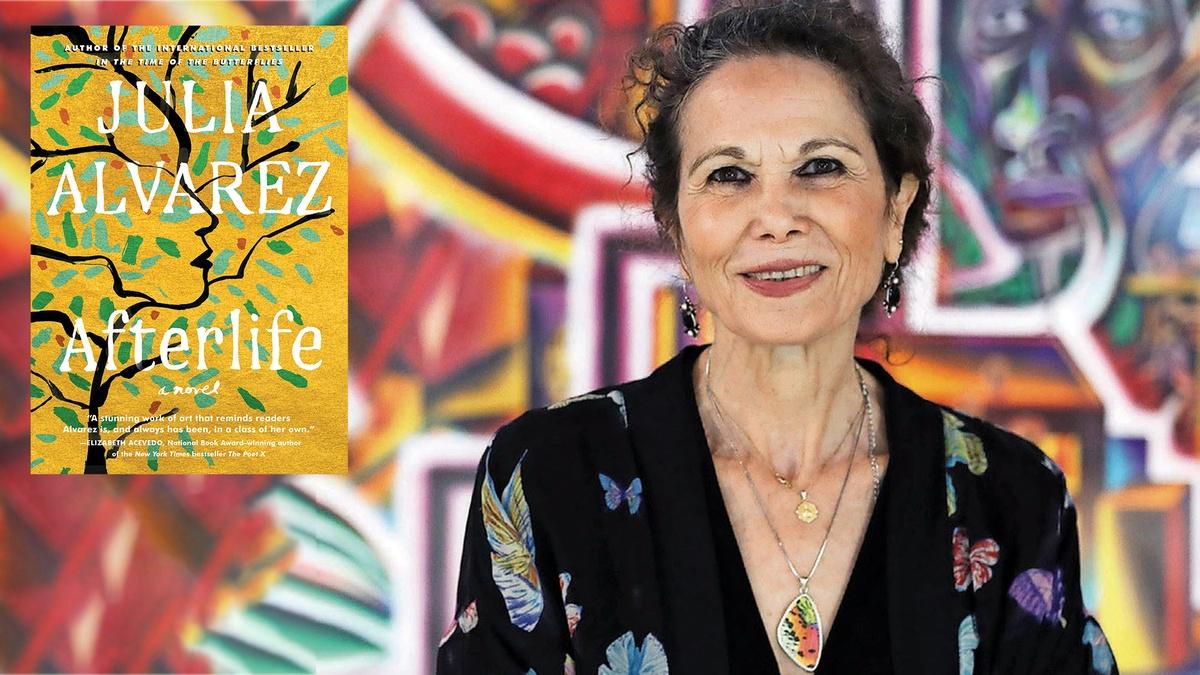 S5 E12 | FULL EPISODE
Afterlife | Julia Alvarez | A Word on Words | NPT
Julia Alvarez joins us today for a stay at home edition of NPTs A WORD ON WORDS to talk about her new novel, AFTERLIFE. Alvarez is the author of numerous novels, poems, and stories both for adults and young readers. Alvarez's awards include the Pura Belpré and Américas Awards for her books for young readers, the Hispanic Heritage Award, and the F. Scott Fitzgerald Award.
TRANSCRIPT

(typewriter keys clacking)

(typewriter dings)

- [Julia] I'm Julia Alvarez, and this is "Afterlife,"

the novel that tells the story

of a Dominican American woman, Antonia Vega,

who is planning a happy,

secure retirement with her husband,

when overnight her world just falls apart.

- I was really interested in the title.

What is the message there for all of us?

- There are many little deaths in our lives.

We all die many little deaths to our old selves,

to our certainties, but there is an afterlife after that.

But what kind of an afterlife? That we can help shape.

How do we come through things

with a larger version of ourselves?

How does that happen?

How do we stay open?

And part of it is to be honest with ourselves.

That's what you can bring to the larger community.

Being who you are, because no one else is going to be you.

(gentle music)

- You paved the way for so many young Latin writers

and so many young writers in general.

How do we make sure that young writers following

in your footsteps are assured

that all of their stories are heard

and have value and need to be in the marketplace?

- By being readers and supporting these writers.

The activism isn't left for the editors

and the publishing houses only.

You are contributing to that by the simple act

of supporting the author yourself.

We all need to be at the same time

that we're fighting in our struggles,

thinking about how to create a more beloved community.

And one of them is to allow people in.

Allow their stories in because people want to close it down,

thinking it'll diminish it.

It will only make it richer.

It will only make our culture more vibrant and more viable.

(gentle music)

- [J.T.] What would you want readers to take away

from your body of work?

- I want my readers,

I want them to feel accompanied

in this journey of being a human being.

I want them to feel the vibrancy and intensity

of narrative that touches bottom in their hearts

and souls and in their psyches.

- This has been wonderful.

It's an honor to have you and to speak with you,

and I really appreciate your time today.

- Thank you so much for taking the time

to give life to "Afterlife."

- And thank you for watching a "Word on Words."

I'm J.T. Ellison.

For more of my conversation with Julia Alvarez,

visit our website, awordonwords.org and keep reading.

(typewriter dings)

- [Julia] Kids, they won't keep reading if they're bored.

If a passage goes on too long, they will let you know it.

So I think writing for younger readers teaches

you a kind of efficiency in the writing.