Star pianists Jenny Lin and Adam Tendler take on Franz Liszt's challenging "Poetic and Religious Harmonies" in its entirety. The arduous ten-movement cycle is rarely performed live.
Synopsis
The Set List series continues Sunday, March 8 at 8 p.m. on ALL ARTS with Liszt's Poetic & Religious Harmonies at Green-Wood Cemetery. Pianists Jenny Lin and Adam Tendler perform the complete ten-movement cycle of Poetic and Religious Harmonies by Franz Liszt, a feat rarely performed in its entirety due to the physical and emotional endurance it requires.
Given the difficulty of the full cycle of ten pieces, Tendler and Lin alternate playing. Opening with Liszt's "Invocation," the other pieces in the program include "The Blessing of God in Solitude," "Funeral," and "Hymn of Love." The program was performed in Green-Wood Cemetery in Brooklyn as part of Death of Classical's Angel's Share program, an opera and chamber music concert series that takes place in the Catacombs of the cemetery.
Short Listing
The Set List: Liszt's Poetic & Religious Harmonies at Green-Wood Cemetery features piano at its best.
Long Listing
Journey into Green-Wood Cemetery's historic catacombs for a spellbinding performance of Franz Liszt's "Poetic and Religious Harmonies", which is rarely performed in full due to its difficulty. This performance, part of Death of Classical's Angel's Share program, features pianists Jenny Lin and Adam Tendler tackling this monumental cycle of solo piano works by a 19th century master.
Talent Bios
Jenny Lin
Noted as one of the most respected young pianists today, Lin is admired for her adventurous programming and charismatic stage presence. She has been acclaimed for her "remarkable technical command" and "a gift for melodic flow" by The New York Times. Her orchestral engagements have included the American Symphony Orchestra, NDR and SWR German Radio orchestras, and Orchestra Sinfonica Nationale della RAI. Her concerts have taken her to Carnegie Hall, Avery Fisher Hall, Kennedy Center, Lincoln Center's Great Performers, SF Jazz, MoMA, Stanford LIVE, and National Gallery of Art, appearing at Festivals such as Mostly Mozart, BAM's Next Wave, Spoleto USA, Kings Place London, Chopin Festival Austria, and Schleswig-Holstein Festival Germany. Lin's discography includes more than 30 recordings on Steinway & Sons, Hänssler Classic, eOne, BIS, New World and Albany Records.
Adam Tendler
A 2019 recipient of the Lincoln Center Award for Emerging Artists and "remarkable and insightful musician" (LA Times) "joyfully rocking out at his keyboard" (New York Times), pianist Adam Tendler is a recognized interpreter of living and modern composers. A pioneer of DIY culture in classical music, between 2005 and 2006 Tendler performed in all fifty United States as part of a grassroots recital tour he called America 88×50, which became the subject of his memoir, 88×50, a Kirkus Indie Book of the Month and Lambda Literary Award nominee. A presence in all new music and classical genres as a concert soloist, recording artist, speaker and educator, Tendler has also performed the complete major piano works of Aaron Copland and collaborates with the John Cage Trust and Edition Peters in presenting Cage's work internationally. In 2019 he released the album Robert Palmer: Piano Music on New World Records, and published his second book, tidepools.
Run Time: 1.5 hours
Trailer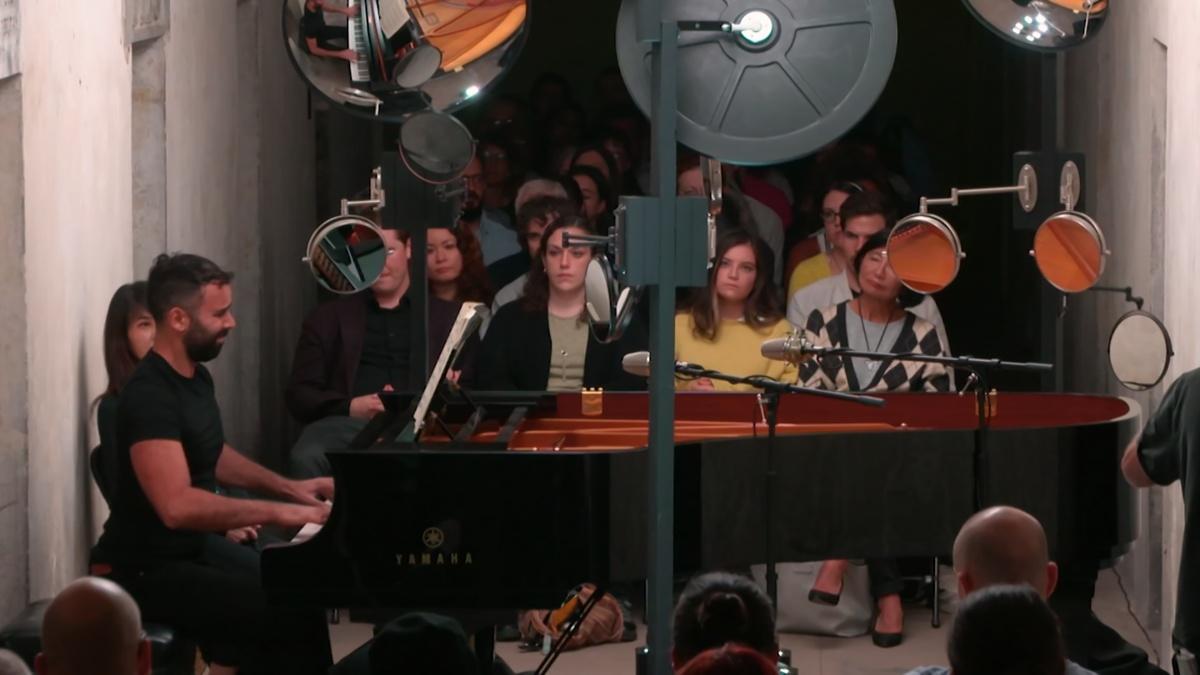 Production Credits
The Set List: Liszt's Poetic & Religious Harmonies at Green-Wood Cemetery is an ALL ARTS original and a production of WLIW LLC for WNET. Jake King is Producer. Elizabeth Svokos is Field Producer. Mary Ann Toman is Online Editor.
For ALL ARTS Kristy Geslain is Senior Producer. Joe Harrell is Senior Director. Diane Masciale and Neal Shapiro are Executives in Charge.
Series Overview
The Set List is ALL ARTS's flagship music series. Experience the best of live musical performance. From Broadway to reggae and everything in between, there's something for everyone in our flagship musical series. Featuring the work of established legends like Carole King, you'll also hear from emerging talent like jazz singer Jazzmeia Horn, global ensemble Mwenso & The Shakes, rapper Topaz Jones and reggae artist Tarrus Riley.
About ALL ARTS
ALL ARTS is breaking new ground as the premier destination for inspiration, creativity and art of all forms.  This new arts and culture hub is created by WNET, the parent company of New York's PBS stations. With the aim of being accessible to viewers everywhere, ALL ARTS programming – from digital shorts to feature films – is available online nationwide through allarts.org, the free ALL ARTS app on all major streaming platforms, and @AllArtsTV on YouTube, Facebook, Instagram, and Twitter. New York area TV viewers can also watch the 24/7 broadcast channel. For all the ways to watch, visit allarts.org/everywhere.
Leadership support for ALL ARTS is generously provided by Jody and John Arnhold, Sue and Edgar Wachenheim III, the Kate W. Cassidy Foundation, The Andrew W. Mellon Foundation, Rosalind P. Walter, and The Agnes Varis Trust.
About WNET
WNET is America's flagship PBS station: parent company of New York's THIRTEEN and WLIW21 and operator of NJTV, the statewide public media network in New Jersey. Through its new ALL ARTS multi-platform initiative, its broadcast channels, three cable services (THIRTEEN PBSKids, Create, and World), and online streaming sites, WNET brings quality arts, education, and public affairs programming to more than five million viewers each week. WNET produces and presents a wide range of acclaimed PBS series, including Nature, Great Performances, American Masters, PBS NewsHour Weekend, and the nightly interview program Amanpour and Company. In addition, WNET produces numerous documentaries, children's programs, and local news and cultural offerings, as well as multi-platform initiatives addressing poverty and climate. Through THIRTEEN Passport and WLIW Passport, station members can stream new and archival THIRTEEN, WLIW, and PBS programming anytime, anywhere.
###
Download Images