Songwriters Under the Covers with Victoria Shaw
Explores the Artists and Stories Behind Memorable Hit Songs
Top-selling songwriters perform and share the intimate stories behind their biggest music hits including Bon Jovi's "Livin' on a Prayer," Luis Fonsi and Daddy Yankee's "Despacito," Jay-Z and Alicia Keys' "Empire State of Mind," Aerosmith's "Livin' on the Edge," Carrie Underwood's "Jesus Take the Wheel," REO Speedwagon's "Keep on Loving You," and more.  
Premieres Wednesday, October 16 at 8:30 p.m. EDT on the ALL ARTS streaming app, broadcast channel (check local listings) and allarts.org
ALL ARTS, the multimedia arts platform launched earlier this year by WNET (parent company of New York's PBS stations THIRTEEN and WLIW21 and operator of NJTV), is pleased to announce the launch of Songwriters Under the Covers with Victoria Shaw, a new, intimate, music performance and storytelling series created in collaboration with award-winning songwriter Victoria Shaw and Brighton Entertainment. Songwriters Under the Covers with Victoria Shaw puts the spotlight on the songwriters of some of music's biggest hits across pop, rock, and country.
In each episode, top-selling songwriters share the little-known stories behind their hit songs along with an intimate live acoustic performance on stage. "Every song has a story, and Songwriters Under the Covers with Victoria Shaw is the ideal vehicle to tell those stories. It's the perfect balance between great performances and compelling storytelling," notes Brad J. Fuss, President of Brighton Entertainment and Executive Producer & Director of the show.
Victoria Shaw is the host of the new program. A songwriter herself, Shaw is known for penning hits such as Garth Brooks' "The River," Ricky Martin and Christina Aguilera's "Nobody Wants to be Lonely," along with recorded songs for artists such as Faith Hill, Billy Ray Cyrus, Reba McEntire, LeAnn Rimes, Trisha Yearwood, Olivia Newton-John, and many more artists. The episodes were filmed at Birdland Theater in New York City, where Shaw has been presenting this style of "songwriters in the round" performances, popular on the Nashville music scene.
Shaw notes: "I have been doing these shows for the past 20 years. I'm blessed to know a lot of talented, funny, wonderful musicians who are dear friends. I invite those friends who just so happen to be top-selling songwriters from across the pop, rock and country worlds to join me on stage to play their huge hits and reveal what went into creating those iconic songs.  It's very organic, and my shows feel like you're hanging out in my living room listening in on a bunch of songwriters singing songs, swapping stories and cracking jokes. That's my goal every night, for my shows to feel like a party at my house."
"It feels more like you are eavesdropping on a studio session between friends than watching a show," adds Fuss. "All the best songwriters seem to know each other, and they definitely all know Victoria, which is why she is the perfect host.  We get to not only hear acoustic versions of our favorite songs sung by those who wrote them, but we get to hear the little-known stories and anecdotes behind them that are rarely told."
Songwriters featured in the series include Brett James (Carrie Underwood's "Jesus Take the Wheel"), Desmond Child (Bon Jovi's "Livin' on a Prayer"), Angela Hunte (Alicia Keys and Jay-Z's "Empire State of Mind"), Erika Ender (Daddy Yankee and Luis Fonsi's "Despacito"), Kevin Cronin (REO Speedwagon's "Keep on Loving You"), Mark Hudson (Aerosmith's "Livin' on the Edge"), and more.
Songwriters Under the Covers with Victoria Shaw will premiere on Wednesday, October 16 at 8:30 p.m. on the ALL ARTS streaming app and website, which are available nationally, and the ALL ARTS New York-area broadcast channel.
Trailer: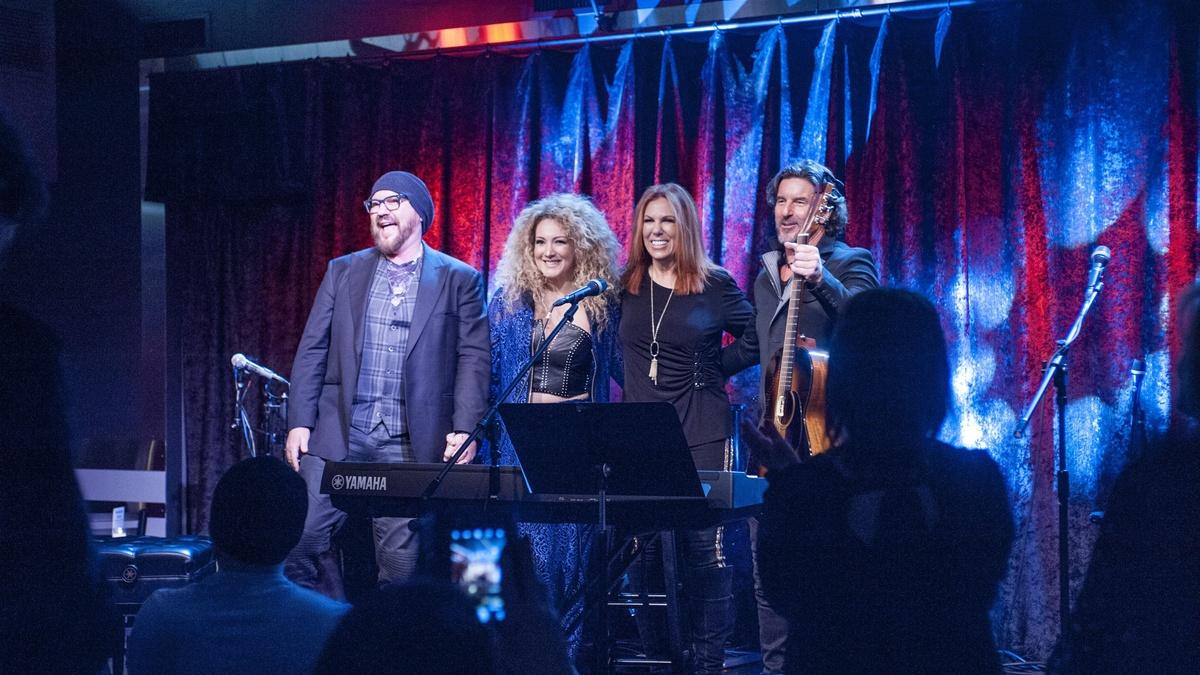 Series Page: https://allarts.org/programs/songwriters-under-the-covers-with-victoria-shaw/
New York Area Channel Listings
Digital Antenna: 21.4
Comcast: 958/1156
Optimum: 144
Spectrum: 1276
Verizon Fios: SD 497/HD 498
Songwriters Under the Covers with Victoria Shaw is a production of WLIW LLC for WNET. Victoria Shaw is Co-Creator and Host. Brad J. Fuss is Co-Creator. For Brighton Entertainment: Brad J. Fuss is Executive Producer. For ALL ARTS: Kristy Geslain is Senior Producer. Joe Harrell is Senior Director. Diane Masciale is Executive in Charge.
About ALL ARTS
Powered by public media and supported by an arts-minded community, ALL ARTS is a single place for everything that makes your heart beat, your mind expand and your spirit explore. From the stories behind the art, to smart conversations with foremost experts and in-depth investigations that open doors to the world of art in all its forms, ALL ARTS is for artists and art lovers of all ages. ALL ARTS is currently accessible on the Web, Facebook, Twitter and Instagram, and streaming apps on iOS and Android smartphones and tablets, Roku, Apple TV, and Amazon Fire TV.
Leadership support for ALL ARTS is generously provided by Jody and John Arnhold, Sue and Edgar Wachenheim III, the Kate W. Cassidy Foundation, The Andrew W. Mellon Foundation, Rosalind P. Walter, and The Agnes Varis Trust.
About WNET
WNET is America's flagship PBS station: parent company of New York's THIRTEEN and WLIW21 and operator of NJTV, the statewide public media network in New Jersey. Through its new ALL ARTS multi-platform initiative, its broadcast channels, three cable services (THIRTEEN PBSKids, Create, and World), and online streaming sites, WNET brings quality arts, education, and public affairs programming to more than five million viewers each week. WNET produces and presents a wide range of acclaimed PBS series, including Nature, Great Performances, American Masters, PBS NewsHour Weekend, and the nightly interview program Amanpour and Company. In addition, WNET produces numerous documentaries, children's programs, and local news and cultural offerings, as well as multi-platform initiatives addressing poverty and climate. Through THIRTEEN Passport and WLIW Passport, station members can stream new and archival THIRTEEN, WLIW, and PBS programming anytime, anywhere.
About Brighton Entertainment
Led by founder and Executive Producer Brad J. Fuss, Brighton Entertainment was created in 1995 to produce pilots for VH1 and has grown into a full service Production Company both digital and broadcast, based in New York City. Over the past 4 years, Brighton has produced over 40 shows for PBS stations across the country. Additionally, Brighton is heavily involved in building Broadcast/Digital infrastructures for various clients such as Time Inc., Lincoln Center for the Performing Arts, and Times Square venue, Opry City Stage.
About Victoria Shaw
Award winning songwriter Victoria Shaw is the writer of such #1 hits as "The River" (Garth Brooks) and "Nobody Wants To Be Lonely" (Ricky Martin & Christina Aguilera). Her songs have sold collectively more than 85 million CDs. A two-time Emmy award-winner, Victoria has had her songs recorded by artists as diverse as Olivia Newton-John, Boyzone, Faith Hill, LeAnn Rimes, Reba, Trisha Yearwood, Billy Ray Cyrus, Michael McDonald and many more. Victoria also won the Academy of Country Music Award for Song of the Year for John Michael Montgomery's "I Love the Way You Love Me." As a singer, Victoria has recorded six CDs (two on Warner Bros. Records and four on her own independent Taffeta Label), made five videos and has toured extensively throughout the US and Europe, including opening for Garth Brooks at his Central Park Concert, playing the London Palladium, and touring with Jim Brickman. As a producer, Victoria co-produced Lady Antebellum's double platinum debut, which was nominated for two Grammy Awards and earned her a Country Music Association Award for Single of the Year for "I Run to You". Her other production credits include Jim Brickman, Richie McDonald, Canadian Country Music Association Award-winner Jessie Farrell, HLN's Robin Meade and television personality Carson Kressley, and Jonathan & Drew Scott of The Property Brothers.
###