New digital series highlights talented New York area university student artists working in visual art, music, dance, photography, and more  
Series Synopsis:
Rising Artist profiles creative student talent at NYC area universities. In the first season, JoJo Boykins choreographs by collaborating with fellow dancers. Cameron Meade's paintings celebrate his extended family of homeless youth. Pianist Joey Chang revisits the improvisational roots of Western classical music. Cougar Vigil combines painting and photography to address issues affecting his Jicarilla Apache community.
About the Artists:
JoJo Boykins (episode premieres Tuesday, March 19) was inspired to dance when as a young girl she did not see anyone who looked like her at a performance of the Nutcracker. At Purchase College-SUNY she discovered a love of choreography. Her approach is collaborative, incorporating other dancers' movement ideas to tell her story. She hopes to inspire youngsters of color who see her perform to realize they can do so, too.
Cameron Meade (episode premieres Tuesday, March 26) paints joyful portraits of his extended family – homeless youth supported by his family's non-profit. He says his version of Queer Art reflects his gratitude for the people he paints who enrich his life and make him feel "Blessed and Highly Favored," the name of his MFA show at Pratt Institute. He also feels fortunate to have multidisciplinary artist Derrick Adams as a mentor.
Joey Chang (episode premieres Tuesday, April 2), pursuing his master's degree at Juilliard, has an improvisatory quality that distinguishes him as a classical pianist, according to his teacher Jerome Lowenthal. Joey has come to regard improvisation as an empowering philosophy. He is dedicating himself to interdisciplinary experimental work developed collaboratively with other classically trained musicians.
Cougar Vigil (episode premieres Tuesday, April 9), who is Jicarilla Apache, is a graduate student at Pratt Institute. Combining photography and painting, his work challenges stereotypes and generalizations about his culture. Incorporating his photographs of life on the reservation, he composes images on a computer to produce transparencies used to create solar prints…with the sun as his collaborator.
Embeddable Trailer: https://www.youtube.com/watch?v=stb_ybePgus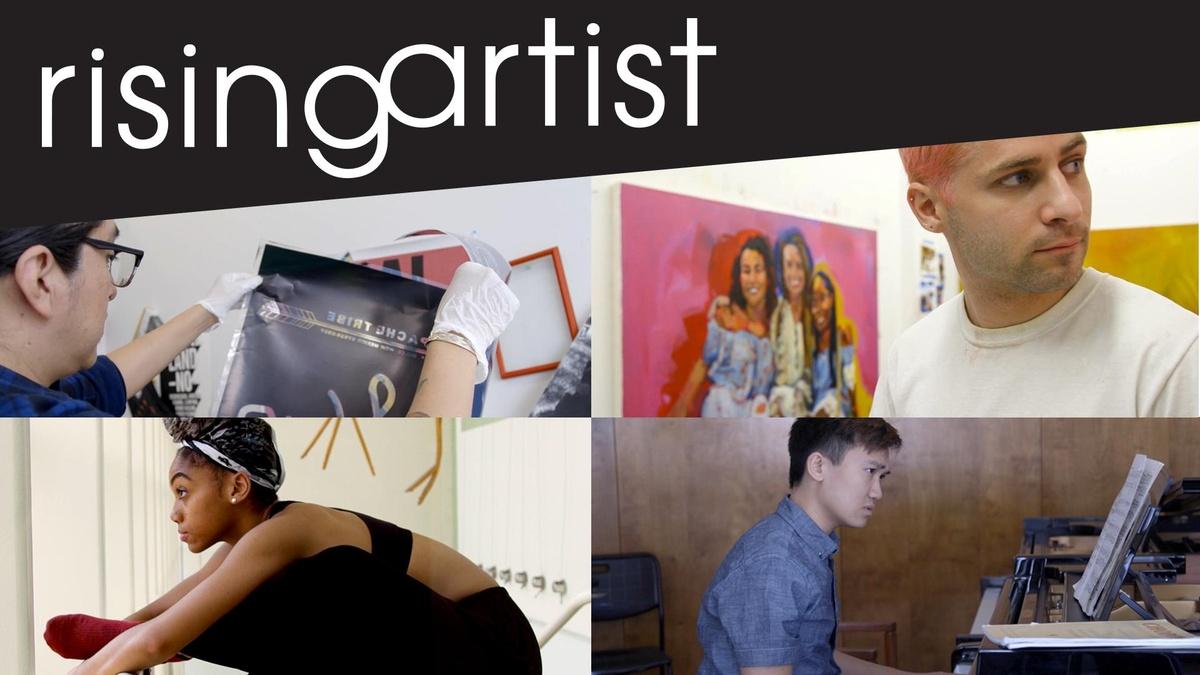 Series Page: https://allarts.org/programs/rising-artist/
###
About ALL ARTS
Powered by public media and supported by an arts-minded community, ALL ARTS is a single place for everything that makes your heart beat, your mind expand and your spirit explore. From the stories behind the art, to smart conversations with foremost experts and in-depth investigations that open doors to the world of art in all its forms, ALL ARTS is for artists and art lovers of all ages. ALL ARTS is currently accessible on the Web, Facebook, Twitter and Instagram, and streaming apps on iOS and Android smartphones and tablets, Roku, Apple TV, and Amazon Fire TV.
Leadership support for ALL ARTS is generously provided by Jody and John Arnhold, Sue and Edgar Wachenheim III, the Kate W. Cassidy Foundation, The Andrew W. Mellon Foundation, Rosalind P. Walter, and The Agnes Varis Trust.
About WNET
WNET is America's flagship PBS station: parent company of New York's THIRTEEN and WLIW21 and operator of NJTV, the statewide public media network in New Jersey. Through its new ALL ARTS multi-platform initiative, its broadcast channels, three cable services (THIRTEEN PBSKids, Create and World) and online streaming sites, WNET brings quality arts, education and public affairs programming to more than five million viewers each month. WNET produces and presents a wide range of acclaimed PBS series, including Nature, Great Performances, American Masters, PBS NewsHour Weekend, and the nightly interview program Amanpour and Company. In addition, WNET produces numerous documentaries, children's programs, and local news and cultural offerings, as well as multi-platform initiatives addressing poverty and climate. Through THIRTEEN Passport and WLIW Passport, station members can stream new and archival THIRTEEN, WLIW and PBS programming anytime, anywhere.
Download Images