The American mezzo-soprano live in concert as part of Lincoln Center's American Songbook Series at Jazz at Lincoln Center's Appel Room
Premieres Sunday, March 24 at 8 p.m. on ALL ARTS broadcast channels (check local listings), streaming apps and allarts.org
Synopsis:
Joyce DiDonato: Songplay brings viewers the live concert experience of the American mezzo-soprano's new album Songplay. In this featured program of The Set List, filmed as part of Lincoln Center's American Songbook series, Joyce DiDonato blends the varied worlds of opera, jazz and tango. Songplay unites extraordinary musicians from varied musical backgrounds in the pure pleasure of improvisation, experimentation and exchange. Together they create their own musical language, surprising listeners with timeless melodies transformed and universal stories retold over centuries.
Series Overview:
The Set List delivers the best in musical performance with an eclectic lineup of talent. From Broadway to reggae and everything in between, there's something for everyone in this ALL ARTS flagship musical series. Featuring the work of established legends like Carole King, you'll also hear from emerging talent like jazz singer Jazzmeia Horn, global ensemble Mwenso & The Shakes, rapper Topaz Jones and reggae artist Tarrus Riley.
Run Time: 1.5 hours
Concert Set List:
"Caro mio ben" by Tommaso Giordani, Craig Terry
"Amarilli, mia bella" by Giulio Caccini, Craig Terry
"(I'm Afraid) The Masquerade Is Over" by Elias Paul "Allie" Wrubel & Herbert Magidson
"Se tu m'ami/Star vicino" by Allesandro Parisotti & Salvator Rosa, Craig Terry
"Griseta" by Enrique Delfino, played by Lautaro Greco
"Will He Like Me?" from She Loves Me by Jerry Bock & Sheldon Harnick
"Tu lo sai" by Giuseppe Torelli, Craig Terry
"(In My) Solitude" by Duke Ellington
"There Is No Greater Love" by Isham Jones & Marty Symes, played by Charlie Porter, Chuck Israels; Jimmy Madison
"Quella fiamma" by Francesco Bartolomeo Conti
"Nel cor più non mi sento" by Giovanni Paisiello, Craig Terry
"Lullaby of Birdland" by George Shearing
"Dizzy Fingers" by Zez Confrey, played by Craig Terry
"Lean Away" by Gene Scheer, Andrew Thomas
"With a Song in My Heart" from Spring Is Here by Richard Rodgers & Lorenz Hart
"Col piacer della mia fede" by Antonio Vivaldi Craig Terry and Chuck Israels
"La Vie En Rose" by Louiguy with lyrics by Edith Piaf and Mack David Craig Terry and Chuck Israels
Band:
Craig Terry, Piano and Arranger
Chuck Israels, Double Bass
Jimmy Madison, Drums
Lautaro Greco, Bandoneon
Charlie Porter, Trumpet 
Production Credits:
This The Set List program, Joyce DiDonato: Songplay, is a production of WLIW LLC for WNET. Kristy Geslain is Executive Producer. Anna Campbell and Jake King are Producers. Joyce DiDonato appears courtesy of Warner Classics. For ALL ARTS, Kristy Geslain is Senior Producer, Joe Harrell is Senior Director, and Diane Masciale is Executive in Charge. For Lincoln Center's American Songbook, Jane Moss is Ehrenkranz Artistic Director, Jon Nakagawa is Director, Contemporary Programming, and Charles Cermele is Producer, Contemporary Programming. Filmed at Jazz at Lincoln Center's Appel Room. Presented in partnership with Warner Classics and Medici TV.
Underwriters:
Leadership support for ALL ARTS is generously provided by Jody and John Arnhold, Sue and Edgar Wachenheim III, the Kate W. Cassidy Foundation, The Andrew W. Mellon Foundation, Rosalind P. Walter, and The Agnes Varis Trust.
Trailer: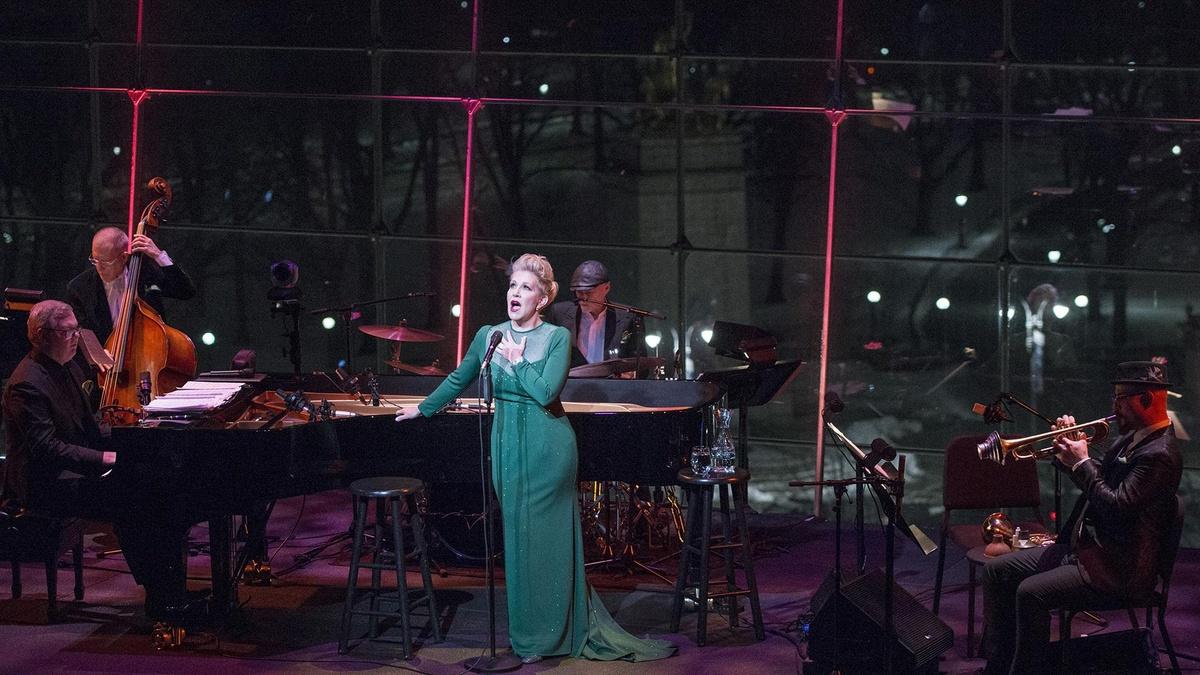 ###
About ALL ARTS
Powered by public media and supported by an arts-minded community, ALL ARTS is a single place for everything that makes your heart beat, your mind expand and your spirit explore. From the stories behind the art, to smart conversations with foremost experts and in-depth investigations that open doors to the world of art in all its forms, ALL ARTS is for artists and art lovers of all ages. ALL ARTS is currently accessible on the Web, Facebook, Twitter and Instagram, and streaming apps on iOS and Android smartphones and tablets, Roku, Apple TV, and Amazon Fire TV.
About WNET
WNET is America's flagship PBS station: parent company of New York's THIRTEEN and WLIW21 and operator of NJTV, the statewide public media network in New Jersey. Through its new ALL ARTS multi-platform initiative, its broadcast channels, three cable services (THIRTEEN PBSKids, Create and World) and online streaming sites, WNET brings quality arts, education and public affairs programming to more than five million viewers each month. WNET produces and presents a wide range of acclaimed PBS series, including Nature, Great Performances, American Masters, PBS NewsHour Weekend, and the nightly interview program Amanpour and Company. In addition, WNET produces numerous documentaries, children's programs, and local news and cultural offerings, as well as multi-platform initiatives addressing poverty and climate. Through THIRTEEN Passport and WLIW Passport, station members can stream new and archival THIRTEEN, WLIW and PBS programming anytime, anywhere.