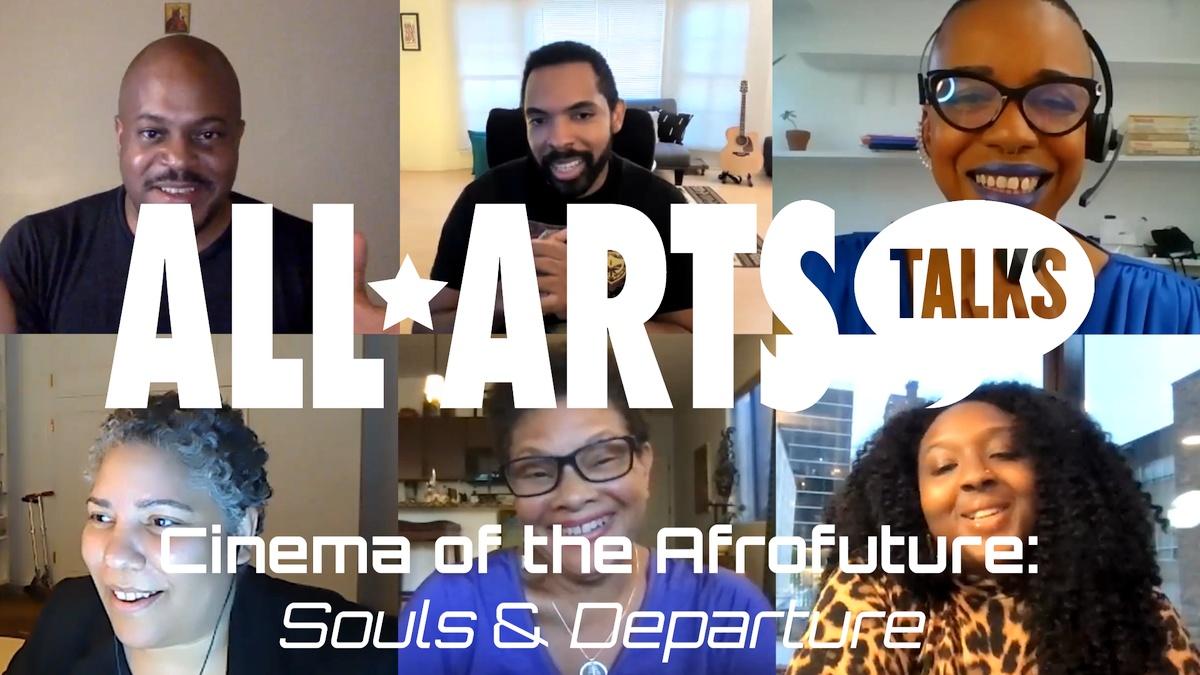 Join "Afrofuturism: Blackness Revisualized" series curator Celia C. Peters for a deep-dive discussion of the festival's first two films, "Souls" and "Departure." Presented as part of the ALL ARTS Talks series, the "Cinema of the Afrofuture" panel brings together Malakai (director of "Souls") and Don Azu Keita (director of "Departure") to discuss their films, how Alzheimer's disease affects memory and the significance of Black characters in non-racialized sci-fi stories.
The talk, moderated by Peters, will also include "Souls" actress Johan Beckles, neuropsychologist Jennifer Manly, Ph.D. (professor at Columbia University Irving Medical Center's Taub Institute for Research on Alzheimer's Disease and the Aging Brain), and Scott Heath, Ph.D. (visiting assistant professor at Loyola University New Orleans).
The discussion will be streamed live on the ALL ARTS Facebook page and YouTube channel.
---
About "Afrofuturism: Blackness Revisualized":
Afrofuturism centers Black people as fully actualized without the constraints of racism and oppression. In this alternate reality, Black imagination and creativity get to make the rules. Inspired by African religions and culture from the continent and across the diaspora, Black futurist artists and thinkers reimagine worlds of freedom and liberation where Black people have true power and agency over their lives. "Afrofuturism: Blackness Revisualized," the new Afrofuturist film festival from ALL ARTS, presents the possibilities of Black futures through the imaginations of 10 filmmakers. Beginning March 26 at 10 p.m. Eastern, all 10 films in the "Afrofuturism: Blackness Revisualized" festival will be available to stream for free nationwide on the ALL ARTS app and website. In the New York metro area, films also premiere the last Friday of each month through Dec. 31 at 10 p.m. Eastern on the ALL ARTS TV channel.
---
About the films:
"Souls"
Director Malakai brings us the story of Kai, a young girl forced to confront the realities of her grandmother's declining health as a result of Alzheimer's. Featuring Tabitha Brown, Johan Beckles and Nia Chanel, this film is a journey across the stars in the search of hope.
[Debuts on broadcast March 26 at 10 p.m. Eastern]
"Departure"
Addem and Efa are an alien couple living on Earth as humans to determine whether the planet has the right living conditions for their race. When they are called back to their mothership, they must fight uncontrollable urges to stay on Earth. Directed by Donovan Vim Crony.
[Debuts on broadcast April 30 at 10 p.m. Eastern]
---
About ALL ARTS Talks:
ALL ARTS Talks features live virtual conversations between arts and culture leaders and artists grappling with the current issues of our time, including racial injustice and the effects of the COVID-19 pandemic.