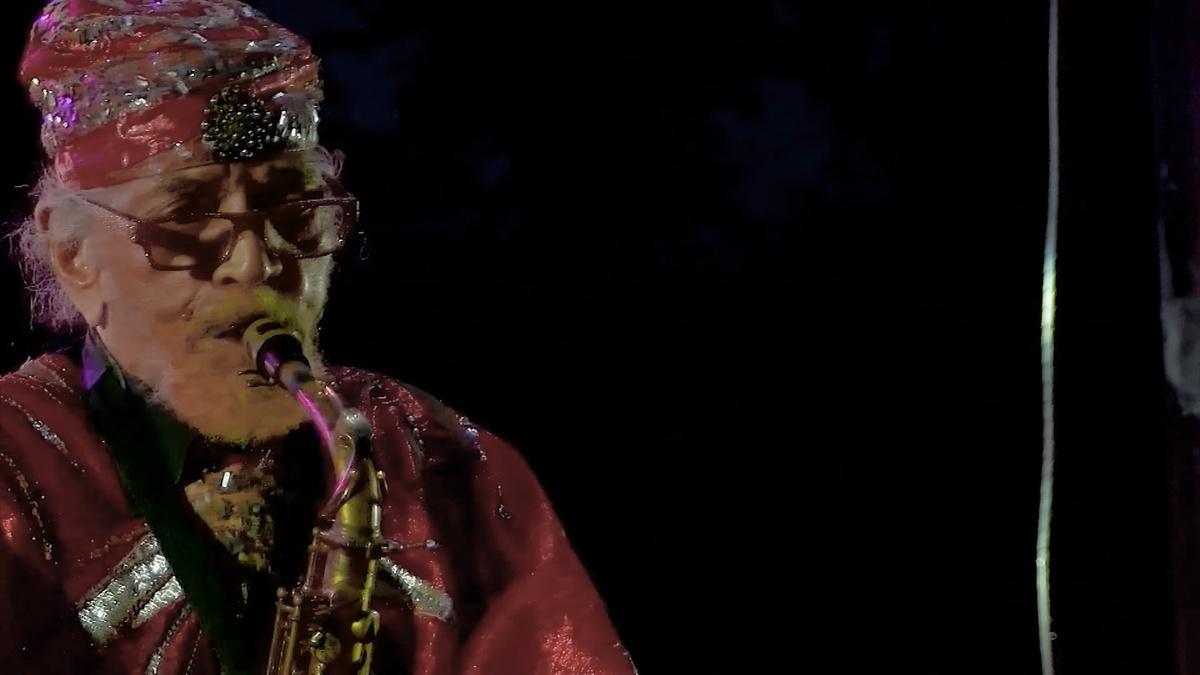 Although multi-hyphenate artist Sun Ra may have left this earth for Saturn in 1993, his legacy and music continues to live on through the Sun Ra Arkestra, his long-standing ensemble featuring vocalists, saxophones, horns, harp, percussion and a few dancers, too.
It's nearly impossible to pin down the ever-shifting music of the Arkestra, but its mix of big band, science fiction, free jazz, avant-garde classical music and Egyptian myth-making establish it as a singular Afrofuturist expression that has found fans far outside the worlds of jazz and Afrofuturism. Rock group Yo La Tengo released an EP in 2003 titled "Nuclear War," featuring four different versions of the rollicking Sun Ra original track from which the EP gets its name, and the rock and pop world has and continues to embrace the music and spirit of Sun Ra, with admirers ranging from Sonic Youth to Solange.
These days, the group is led by 97-year-old saxophone player Marshall Allen, who has been associated with Sun Ra and the Arkestra for over 60 years and continues to deliver spiritedly skronked solos on his alto saxophone. In 2020, the group released a new album, "Swirling" — their first in 20 years. In the upcoming episode "The Set List: Sun Ra Arkestra at SummerStage in Central Park," which debuts on the ALL ARTS site, app and broadcast channel Dec. 31, Allen leads the Arkestra through a career-spanning set featuring older Sun Ra classics ("Saturn," "Angels and Demons at Play"), a playful cover ("When You Wish Upon a Star") and iconic Afrofuturist anthems ("Space is the Place").
Ahead of the ALL ARTS premiere, we spoke over email to Vincent Chancey, a French horn player who joined the Arkestra in 1976, about the group and its legacy.
In October of 2020, the Arkestra released its first album in over 20 years. What was it like to go back to the studio to reimagine and reinterpret classic Sun Ra compositions (as well as the Marshall Allen title track composition)?
The recording in 2020 was a big step for the Arkestra to return to the studio to record a 21st century interpretation of Sun Ra's incredible repertoire.
I remember playing with Sun Ra in the '70s and '80s, and we would play and sing Sun Ra's composition "Welcome To The Century Of 21," then 20 and 30 years before the millennial arrival. Now, we are reinterpreting Sun Ra's music from the last millennium in our present time under the direction of Marshall Allen who is the last of the original flame to carry the Maestro's legacy.
What does Sun Ra's legacy mean to you, and what is it like to be leading and performing in this multi-generational Arkestra in the 21st century?
The legacy of Sun Ra in this present time, including 90 percent of the Arkestra personnel who have never played, seen or met Sun Ra, is a lesson unto itself. We as older members have to set the example of who he was and what he was trying to deliver to us as Arkestra members and to the planet at large.
When the Arkestra performs live, what are you hoping to communicate to audiences today? Where are you hoping to take audiences during a performance?
While performing to present-day audiences, I am always aware of the Arkestra's history and what it has meant to me. In my performances, I always try to emulate the joy brought by his music, as well as the ethereal messages enshrouded by the mastery of his compositions.
How has Afrofuturism changed since you first started performing, and what does Afrofuturism mean to you in the 21st century?
This term Afrofuturism is one that has come about in the last 10 or 15 years.
It is something that I have always lived by knowing my peoples' journey through history. When I first came across Sun Ra's music, I instantly felt a kinship to him and his message, which later developed into a rich teacher-student relationship. "Afrofuturism" in the 21st century is an awareness of our past and a path to our future for the entire planet.
This interview has been edited for clarity.
Sign up for our newsletter
Top Image: Sun Ra Arkestra at SummerStage in Central Park. Courtesy of City Parks Foundation / Photo by Sean Jamar.