An energetic "now" emerges in New York City Center's timely Twyla Tharp program, currently on stage at the Mid-Manhattan performing arts theater through Nov. 21. The show, titled "TWYLA NOW," draws on the choreographer's past in a string of duets, punctuated by a new ensemble work.
"'TWYLA NOW' is about time," says Tharp in an "invitation" published on the City Center website, where she also acknowledges her history at the theater, home to the debut of her groundbreaking 1973 piece "Deuce Coupe." The occasion is Tharp's 80th, which the choreographer celebrated in July.
First up on the program is New York City Ballet principal dancer Tiler Peck and soloist Roman Mejia in Tharp's intricate, quick-footed "Cornbread." Set to music by the old-time string band Carolina Chocolate Drops, the piece originally debuted in 2014 at the Brooklyn Academy of Music, where it was performed by Peck and Robbie Fairchild alongside the band, led then by Rhiannon Giddens.
"Second Duet," fittingly placed, comes next, with Alvin Ailey American Dance Theater company members Jacquelin Harris and James Gilmer performing the work's world premiere on Nov. 17. Danced in sneakers, the piece culls together a series of never-before-performed-together duets created by Tharp 30 years ago. Athletic and powerful, humorous and sweet, the piece progresses through bouts of movement propelled by tension — the tightening of muscles, the pushing against someone or something — to moments of trusting release.
"The most exciting part is bringing this to the stage," Harris told ALL ARTS in a statement over email prior to the performance. "The duet that I get to perform is a restaging of several duets that Twyla created on herself, all compiled into one work. It has never been performed in this way. I am excited to bring this archived voice to the stage."
American Ballet Theatre principal dancers Cassandra Trenary and Aran Bell will also step into the duet during the program's four-day run. Music for the piece is by Thomas Larcher.
For the program's final duet, New York City Ballet principal dancer Sara Mearns and former principal dancer Robbie Fairchild bring to life Tharp's and Mikhail Baryshnikov's parts from the choreographer's "Pergolesi," created for the 1992 tour "Cutting Up." Decked out in white, matching outfits, the dancers inhabit the roles anew, with Fairchild dancing Tharp's part and Mearns taking the stage in Baryshnikov's.
In the performance, danced to music by Giovannie Pergolesi, the two engage in a comical and virtuosic exchange of wit and movement. Mearns tackles the role with seemingly cool ease, sharing the stage with Fairchild's looser rendition in a trademark Tharp juxtaposition of ballet and modern styles.
When asked what excited her most about performing the piece, Mearns told ALL ARTS: "I am once again stepping way out of my comfiest zone and possibly way out of my abilities as a dancer. Following in Misha's footsteps is one of the greatest honors of my life and career, but a daunting one. It's never been done, but it's the greatest challenge I ever could have been given."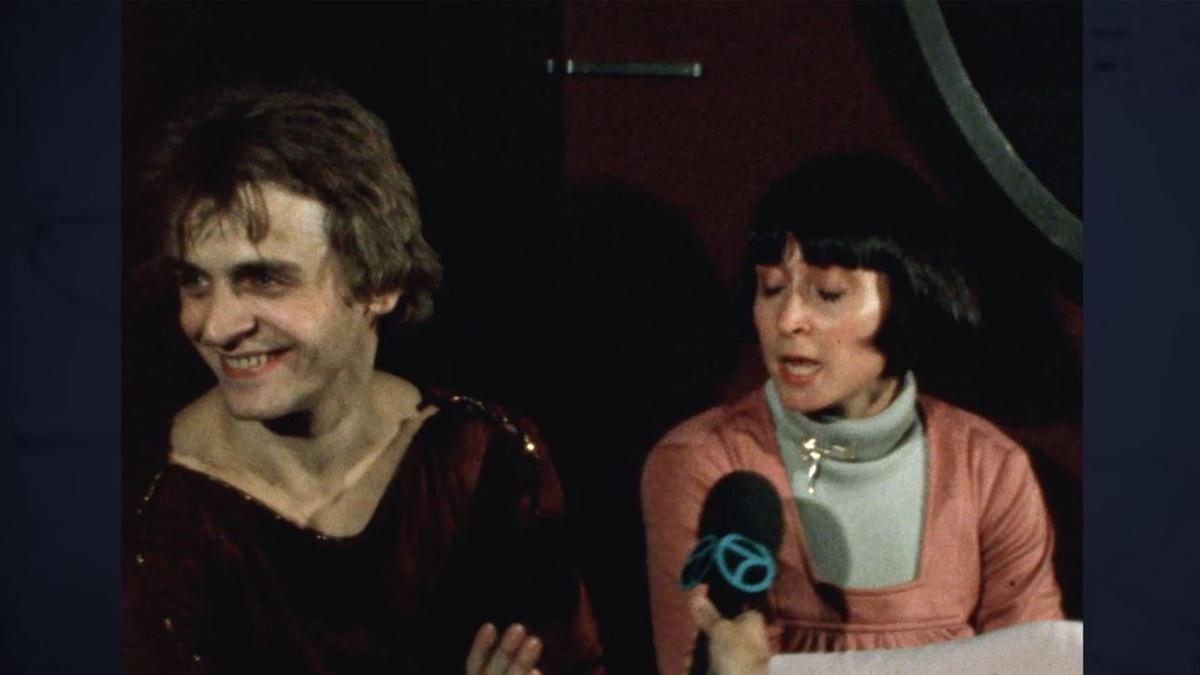 The final work of the evening, aptly titled "All In," draws on each of the duets and their performers, placing the constellation of stars, including Trenary and Bell, in orbit with a cast of six young competitive dancers from across the United States. Much like how memories linger fragmented in the present, movements from the first half of the program return in brief glimpses throughout the work, set to Johannes Brahms' Opus 120.
The work captures a snapshot of time as the generations of dancers and the echoes of dances-past combine into a version of "now." Watching the work on the heels of "Pergolesi," one may find themselves wondering who might inhabit the principal roles in the future and who will file in as the "next generation," selected this go-around by Tharp herself.
Along with time, the notion of legacy also works its way into the program. With a distinct style that spans vocabularies, Tharp has created a vast archive of over 160 works, ranging from dances (of which there are 129) to Broadway shows, and has received a Tony, two Emmys, 19 honorary doctorates and more along the way. At City Center, the premiere of "Deuce Coupe" with Joffrey Ballet marked a pivotal crossover between ballet and modern dance. Beyond the stage, the choreographer has penned four books, the most recent of which, titled "Keep It Moving," was published in 2019.
Of Tharp's impact on her work, Mearns said that the choreographer "instilled new ideas into me about movement and how to approach movement through context."
"What am I thinking when I do this step? Not just how I'm doing it physically, but mentally, what's making me do it?" Mearns continued. "The mind and body are connected, and in dance [that's] the closest connection you could ever have."
Sign up for our newsletter
Harris also noted being touched by Tharp's influence.
"Twyla Tharp has so much knowledge, and not just about dance history. She really took the time to be thoughtful about every aspect of this work and to make it an honest conversation between human beings," Harris said. "I want my art to be human. I want it to touch people in an honest way. And after working with Twyla, I have a profound understanding of what that means and how to make that happen."
In a 2019 NYC-Arts profile of the choreographer, Tharp noted the honor she felt seeing dancers continuing to rehearse and serve the work as American Ballet Theatre prepared to perform the company's "Tharp Trio," which included "Deuce Coupe," "The Brahms-Haydn Variations" and "In the Upper Room," at the Metropolitan Opera House.
"A dance is a living museum. Its artifacts and its treasures must be re-presented with each new generation, and that has to be respected, too, by everybody — that they're doing it for a very good reason and that they have the right to do it in their own way," Tharp said. She later continued, "And so, it's about community, and it's about community that reaches back generations, centuries, to what it is to be a dancer, and you're all one family, all one dancer."
"TWYLA NOW" runs at New York City Center through Nov. 21. More information and tickets can be found on the City Center website.
Top Image: Robbie Fairchild and Sara Mearns in "TWYLA NOW" at New York City Center. Photo: Paula Lobo.