Curator, artist, pleasure activist and Afrofuturist Ingrid LaFleur on Janeen Talbott's "Sight," presented as part of the "Afrofuturism: Blackness Revisualized" film festival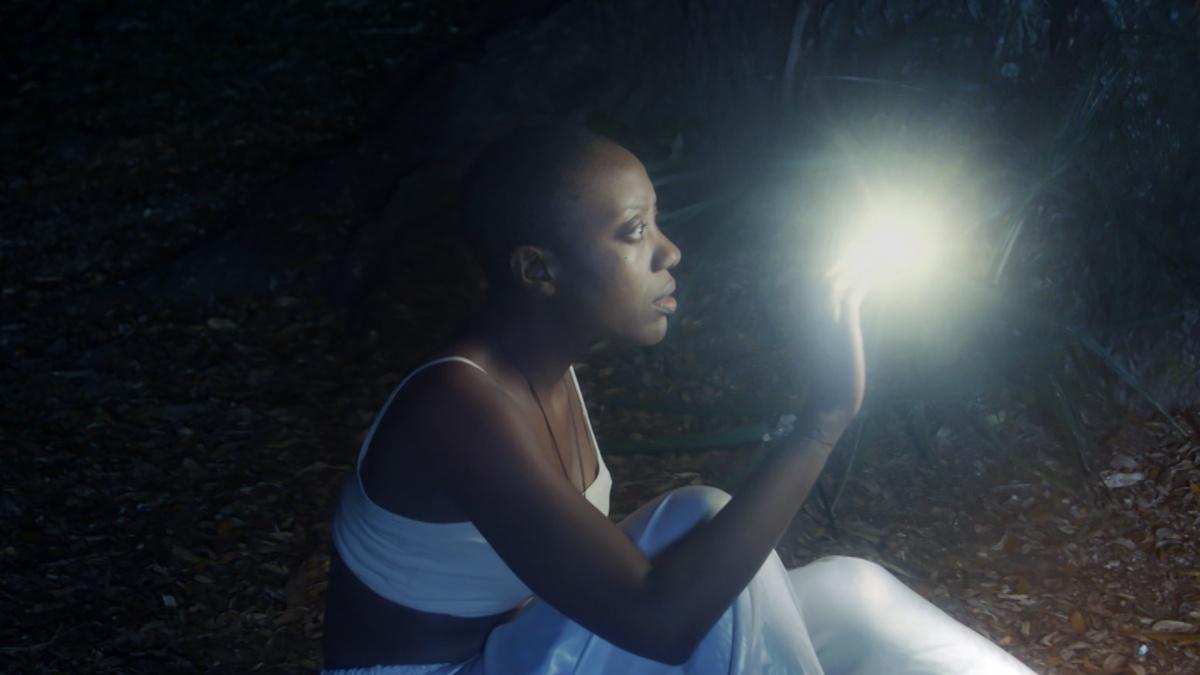 To see into the future, into the now and into the past is a divine act. The skill to access future visions requires a sensitivity to multiple realities and a deep connection to all senses. It is a skill that Afrofuturism expresses and encourages to grow within us if we allow it. In Afrofuturism, we imagine deep into a dynamic future, a sacred forecasting that pierces the veil of our current reality. Afrofuture forecasts predict the futures of the natural and built worlds, and map our spiritual futures and the futures of our ancestors being expressed through us. Because Afrofuturism is a multi-temporal experience, we are able to access ancestral dreams that have been woven into our destiny, determining how we bring to life that future.
I remember being told once that we all could receive vivid visions of unimaginable futures at a certain point in human evolution. That we used the full capacity of our brains, giving us the ability to transverse multiple dimensions with ease. Many Indigenous cultures cultivated this information over millennia. However, as we experienced colonialism in Africa and the Americas, and the enslavement of the Indigenous and African diaspora, there was a dedicated focus on erasing and dismantling that particular connection and metaphysical skill. Humans could never control the power of our personhood otherwise.
Fast forward to our modern world, and our personhood is controlled. Society is entirely distracted with surviving within the built world, and our connection to the spirit world has become less valuable. We tap into our intuition less and less. Spiritual enslavement develops. However, colonial forces could not extinguish all of the spiritually connected, and thus the ancient tradition continued, training future generations in the process.
In the short film "Sight," directed by Janeen Talbott, the ancient tradition returns in a not-so-distant future. Along the water's edge, an elder saw it was time to pass his leadership position to a younger member of their tribe. Two possible candidates came through the vision. However, one of the chosen is doubtful and wants to reject the call. The film illustrates how difficult it can be to answer the call of our ancestors.
The call can present challenges to what we understand and know to be true, causing a shock to our senses. Their request often presents a daunting task that is rarely convenient. We ask, "Do I really have to do this?" The call demands an almost immediate acquiescence that, if ignored, has real consequences. As the film shows us, ego-directed action cannot be the answer to the call. It must come from the soul to properly accomplish the task asked of us because to see comes with profound responsibility.
Sign up for our newsletter.
During the most intense period of the pandemic, I experienced many aggressive shifts in my life. I wanted more understanding and insight into the rapid changes. The peaks and valleys led me to consult a Sangoma, a person, usually of South African origin, who enacts sacred divinations to tell us what the ancestors ask of us. In order to receive a transfer of ancestral knowledge, I was told what to wear and eat. A ritual emerged through the readings, a ritual that required a reshaping of my world. I initially pushed back upon the task. I was reluctant because the visions sent to me demanded more than I thought I could give. However, I eventually submitted to the ancestral wisdom and was able to gain a deeper insight into my life and cultivate a new reality.
Businesses use forecasting tools to predict trends to become more resilient and lead in that area. Within this context, foresight only works within this shared reality. The resulting predictions are shallow, and ultimately, incomplete. Because those forecasts don't consider our multi-dimensional and multi-temporal existence, the future scope is narrow. But "Sight" presents the possibility of how spiritual foresight could inform the politics of our world. Perhaps the film is a nudge to give more power to the ancestral guidance offered to us.
"Sight" reminds us that we must always follow the light. It is within the light where the truth lies and how spiritual wisdom guides us. We must heed the ancestors' call to receive this wisdom. Running in the other direction will not turn off the call, nor will it end their desire for us to fulfill our destiny. We must face what we avoid because if not attended to, the task becomes more intense, as if marinating on the edges of our soul, waiting to return even more powerfully. But once you tackle the issue head-on, your true power will grow.
What is the light that is calling you? The ancestors want to shine upon you. Follow the light.
Top Image: Still from Janeen Talbott's "Sight."