Looking for something to do? Here is a selection of free events taking place in-person and online this week.
Thursday
The 1619 Project: Born on the Water
When: Nov. 18 at 7:30 p.m. Eastern
Where: Online via Greenlight Bookstore
Illustrator Nikkolas Smith will discuss the release of his picture book "The 1619 Project: Born on the Water" with Namrata Tripathi, founder and publisher of the Penguin Young Readers imprint Kokila, and writer Jason Reynolds. The event, presented by Greenlight Bookstore, BAMkids and the Lit. Bar, will include an audience Q&A.
Centered on a young student researching her ancestors for a school project, the book "provides a pathway for readers of all ages to reflect on the origins of American identity," according to the publisher, and is written by journalist Nikole Hannah-Jones — creator of The New York Times' 1619 Project, which chronicles the history and legacy of slavery in the United States — and author Renée Watson.
Modern Is Now: Illumination
When: Nov. 18 at 8 p.m. Eastern
Where: Online via Paul Taylor Dance Company
Paul Taylor Dance Company will honor lighting designer and longtime collaborator Jennifer Tipton as part of its virtual benefit "Modern Is Now: Illumination," hosted by Taylor Artistic Director Michael Novak. The principal lighting designer for the company, the acclaimed artist designed lighting for 92 out of 137 works by Paul Taylor, including "Promethean Fire," which will be featured in a special 20th anniversary performance during the virtual ceremony.
"Time and again, Jennifer's lighting design sets a mood and energy that draw in the audience and dancers alike," Novak said in a press release. "In 'Promethean Fire,' Jennifer's talents shine through beautifully in the interplay between light and shadows on stage."
The virtual benefit will be available to stream with the link provided upon registration through 8 p.m. Eastern on Nov. 21.
---
Saturday
Farmhouse Family Day: Natural Dyes
When: Nov. 20 from 11 a.m. to 3 p.m. Eastern
Where: The Wyckoff House Museum; Brooklyn
This family friendly day at the Wyckoff House Museum invites art lovers of all ages (with the ideal crowd ranging from ages 4-10) to make naturally dyed fabrics from flowers, vegetables and fruits. The day's activities open at 11 a.m., with the dyeing beginning at 1 p.m. Eastern.
---
Sunday
"A Charlie Brown Thanksgiving"
When: Nov. 21 at 7:30 p.m. Eastern
Where: PBS and PBS KIDS broadcast channels (check local listings)
Set your TV to your local PBS station Nov. 21 to catch the holiday staple "A Charlie Brown Thanksgiving." The 1973 special will air for free without ads on PBS and PBS KIDS, doling out a plentiful serving of gratitude from the "Peanuts" friends ahead of the Thanksgiving holiday.
Looking toward next month: PBS, which aired "It's the Great Pumpkin, Charlie Brown" in October, will also present "A Charlie Brown Christmas" for free on Dec. 19 at 7:30 p.m. Eastern.
"We are delighted to bring the joy of these holiday classics to families across the country, in partnership with our member stations," Paula Kerger, president and CEO of PBS, said in a statement. "During these challenging times, public television continues to be a free and easily accessible source of comfort, inspiration and education for millions of Americans."
Though the special will not stream on PBS platforms, "A Charlie Brown Thanksgiving" will be available on Apple TV+ to watch on-demand.
---
Whenever
American Folk Art Museum
When: Tuesday through Sundays from 11:30 a.m. to 6 p.m. Eastern
Where: American Folk Art Museum; Manhattan
Visitors to the American Folk Art Museum will be able to enjoy two exhibitions: "American Weathervanes: The Art of the Winds" and "Six Decades Collecting Self-Taught Art: Revealing a Diverse and Rich Artistic Narrative." The shows are open to the public through Jan. 2, 2022.
If you can't make it in-person, the museum has a robust offering of online programming, ranging from conversations on conservation to virtual tours.
For a peek into the "American Weathervanes" exhibition, we recommend checking out NYC-Arts' profile of the exhibition in the video below.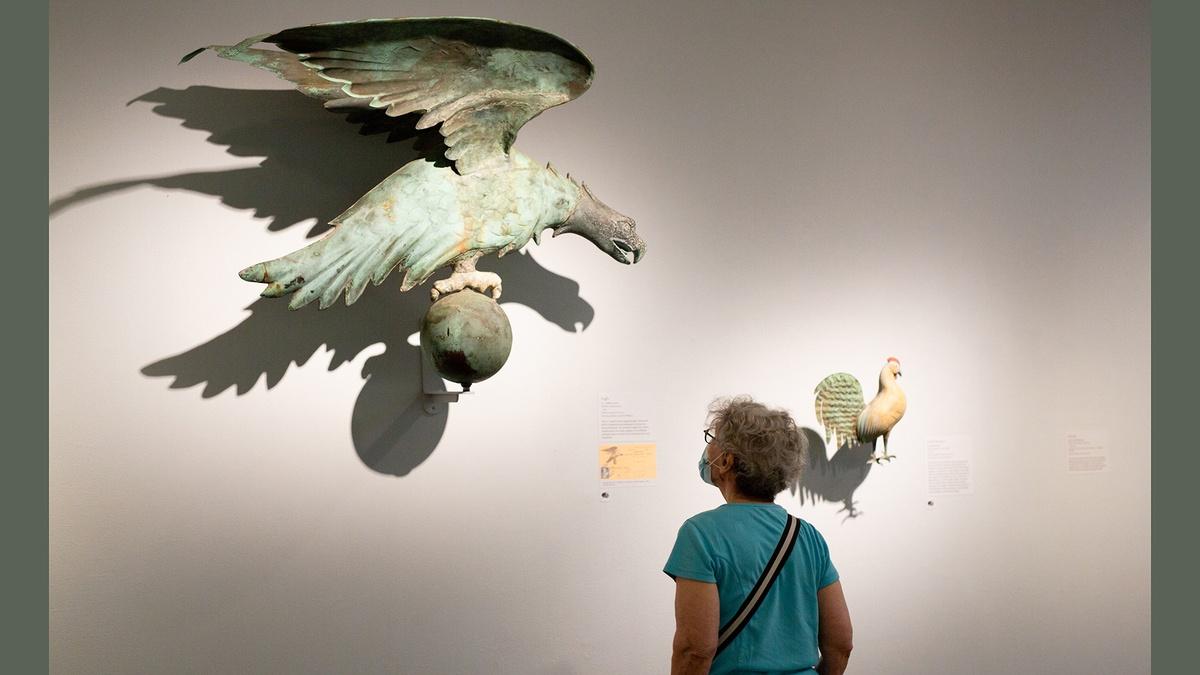 Top Image: "A Charlie Brown Thanksgiving." PBS/Apple TV+.