Looking for something to do? Here is a selection of free events taking place in-person and online this week.
SHOCKTOBERFEST: "Love and Monsters"
When: Oct. 8; 6:30 p.m.
Where: Carroll Park; Brooklyn
You'll want to bring a blanket to cozy up with and potentially shield your eyes for this outdoor screening. Presented as part of the New York City Parks and Mayor's Office of Media and Entertainment's SHOCKTOBERFEST film series, "Love and Monsters" follows a protagonist's journey through a monster-dominated world to find his girlfriend, who he was separated from during the monster uprising.
---
"The Neutral Ground"
When: Oct. 8; 6:30 p.m.
Where: Jackie Robinson Park; Manhattan
Black Public Media, the Jackie Robinson Park Conservancy and the Rejoice/Resist Festival are co-presenting a free outdoor screening of the POV documentary "The Neutral Ground." Directed by comedian and writer CJ Hunt, the film uses New Orleans' struggle to remove four Confederate monuments as a backdrop to investigate the enduring mythology of the "Lost Cause." Director Ashley Denise Robinson's short film "Dead Beat" will screen before the documentary.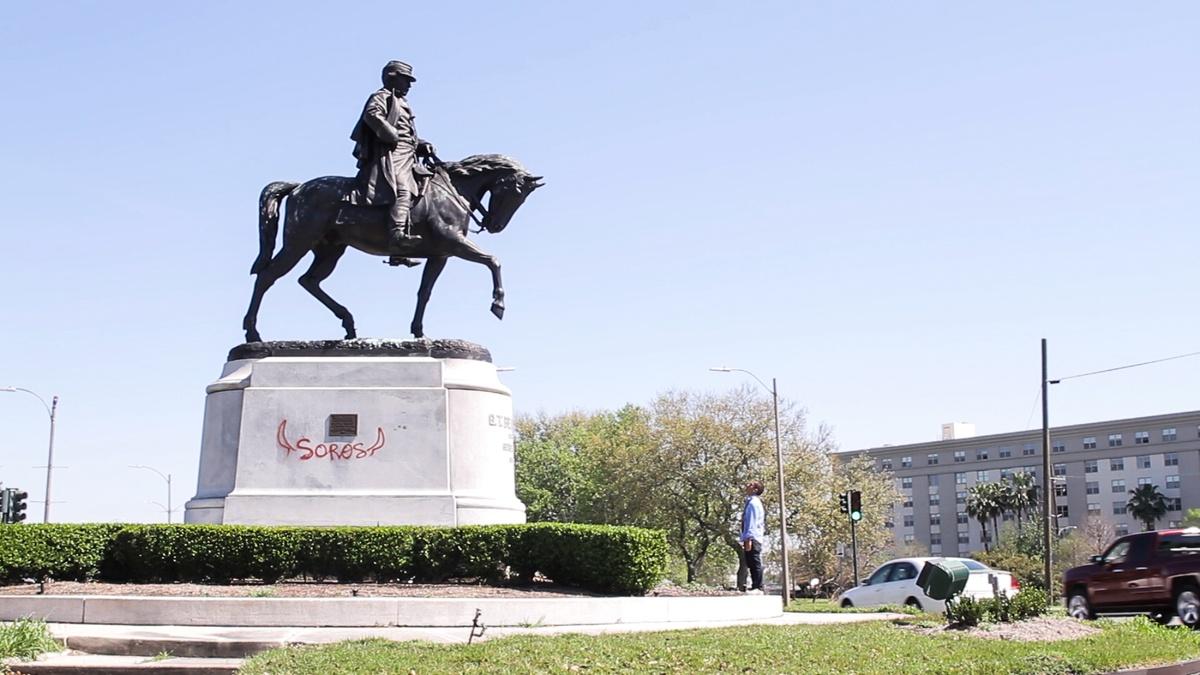 ---
WHITE WAVE Dance: "iyouuswe II"
When: Oct. 9; 5 p.m.
Where: DUMBO Archway; Brooklyn
Join WHITE WAVE Dance for the first of three free performances of the production "iyouuswe II," created by choreographer Young Soon Kim and composer Marco Cappelli, in collaboration with their performers. The work, staged as part of the City Artist Corps grant initiative, will also be presented Oct. 28 at Central Park and Oct. 30 at the company's Brooklyn space.
"During this critical time of the Covid Pandemic, this piece challenges us to examine who we are and how we relate to ourselves and to each other," WHITE WAVE Dance says of the event on its website. "It is a story of developing relationships by which we struggle to find a sense of 'i' as part of a 'we.'"
---
"Low Relief for High Water"
When: Oct. 10; 10 a.m. to 5 p.m.
Where: Washington Square Park; Manhattan
Drop in to artist Gabriela Salazar's public installation "Low Relief for High Water," curated by the Climate Museum. Originally planned for the 50th anniversary of Earth Day in April of 2020, the interactive sculpture — made from water-soluble paper — encourages audience participation.
"The artist will invite visitors to take a piece of her sculpture, cast directly from her own home, and interact with it as a surface upon which to actively contemplate their own experiences," the Climate Museum writes in the event description. "At a time when the convergence of the climate crisis with an ongoing pandemic requires profound personal and community resilience, 'Low Relief''s messages resonate deeply, building connection and resolve."
In addition to interacting with the sculpture and meeting the artist, guests can also speak with a climate psychologist, who will be at the park from 11:30 a.m. to 3 p.m. Eastern.
---
Jamar Roberts' "Holding Space"
When: Now streaming through Oct. 19
Where: The Alvin Ailey American Dance Theater website and YouTube page

Alvin Ailey American Dance Theater continues its digital presentations on its Ailey All Access platform with resident choreographer Jamar Roberts' dance film "Holding Space," a work that revolves around the "ways in which we are taking care" in this time.
"The work itself functions as a container, a sacred space created to give shape to, and hold the complex emotions of this moment," the company states on its website. "At its core, it is a work about healing and the quest for sustainable pathways towards wholeness."
If you enjoy the film, you can check out "Holding Space," which features music by Tim Hecker and lighting design by Brandon Stirling Baker, in-person when it makes its premiere on stage as part of Ailey's New York City Center season on Dec. 3 in a program that also includes a new work from Robert Battle, titled "For Four."