"Group" premieres on the ALL ARTS app and site Aug. 12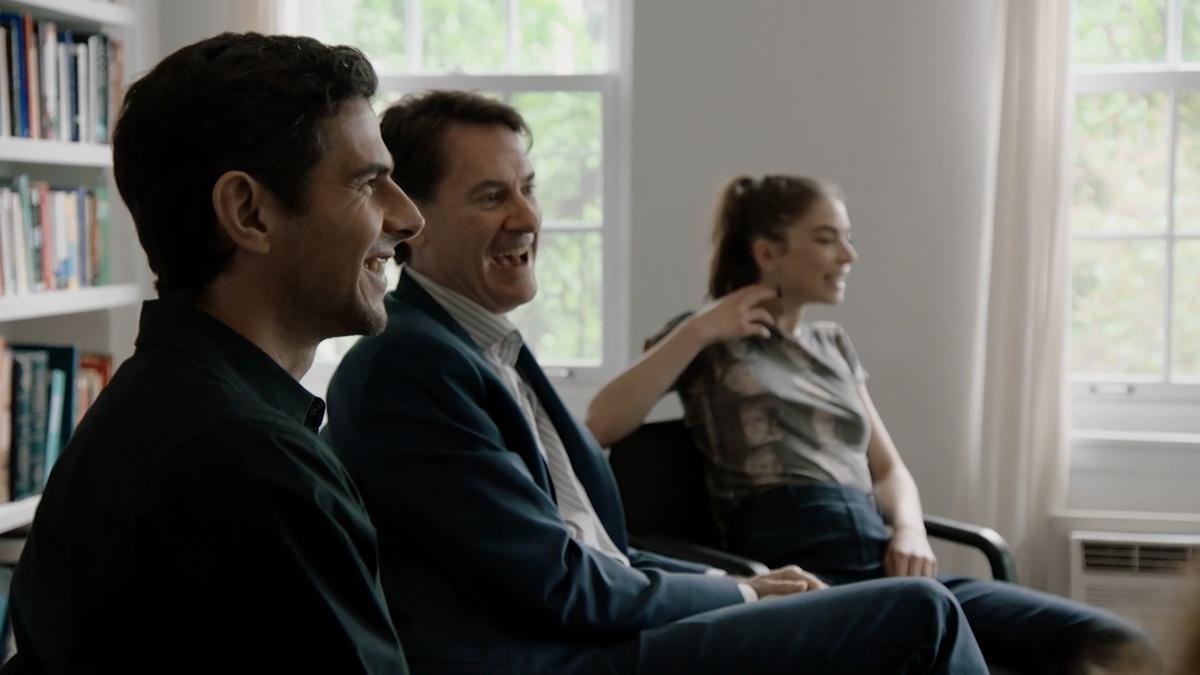 The set-up of the series "Group" is simple: A cast of professional actors meets with a professional psychoanalyst in a group therapy session. The patients of this fictional group have been seeing each other for years when a stranger enters the chat. With key narrative points in place, the actors improvise dialogue within scripted parameters. What unfolds — twisting through the dynamics that bind people — reveals the complexity of our group interactions and the sublime art of talking through it all.
Originally debuted on YouTube, "Group" premieres on the ALL ARTS website and app Aug. 12, with the entirety of the first and second seasons available to stream all at once. Each episode clocks in at 15-minutes-long, during which the cast members ricochet their reactions to their fellow patients off their own histories, revealed in surprising bursts of emotion.
The series takes its inspiration from the pages of Dr. Irvin Yalom's 2005 novel "The Schopenhauer Cure" — named for the 19th-century German philosopher Arthur Schopenhauer and optioned by "Group" writer and director Alexis Lloyd — and delivers art in both its execution and dramatic content.
The ensemble of actors, poised with detailed backstories for their characters, key narrative beats and the freedom to improvise their dialogue outside of the confines of a rigid script, bring a naturalism to the project. The non-actor in the room, Dr. Elliot Zeisel (who goes by Dr. Ezra Herzfeld, or "Doc," in the series) provides real-world experience in the art of psychoanalysis and its practice.
While Dr. Zeisel was instructed to "not act," Lloyd worked with him on elements that allowed for a certain distancing, such as changing his name, shifts in his backstory and adjustments to his clothing. "Small things only, but enough to create the character of Dr. Ezra as very slightly different than Dr. Zeisel," Lloyd explained, adding that the ensemble of the series "is a real group and is also really artistic in all its components."
Additionally, for the sake of the audience, Dr. Zeisel offered more interjections and insights into the process during the sessions than he normally would. Prior to taping, the therapist met with the actors in his office to role play sessions and to further contextualize the history of group therapy.
"I began my own group treatment as a 24-year-old man and trained, like my mentors, to be a clinician/teacher," Dr. Zeisel told ALL ARTS over email. "There is a great written and oral tradition in training to be a group analyst. Part of my development as a teacher was to master the art of experiential learning/teaching. Over time, I became skilled at running demonstration groups at conferences and teaching specific techniques. I approached the work on the TV series with the same mind set."
He continued: "This was an opportunity to educate the public about the value of group therapy. The only difference was that in place of patients I had actors to work with."
The scenes, shot with a handheld camera, played out in hyper-long takes lasting an hour-and-a-half. Dr. Zeisel noted that this allowed for the filmmakers to "[capture] the spontaneity of group treatment."
"You can teach an actor to play the role of doctor if the acting is done in short takes," Dr. Zeisel said, explaining that his role as the group's therapist helped to give shape to the long scenes. "To capture the pathos of group process requires a deeper immersion over time and the organizing influence of a trained leader."
In post, the filmmakers opted to edit the footage by dialogue, listening first intently to what the actors were saying and then marrying the corresponding images after. And while the first season was shot in Lloyd's apartment, the second season shifts (like so many aspects of life over the past year-and-a-half) to Zoom, where the patients participate via their individual chat windows.
The final product fuses the craft that went into the series, both before it was taped and in post-production, with the spontaneity and creativity borne from the actual sessions with Dr. Zeisel captured on film. While watching, it's impossible to know, as a viewer, what aspects the actors brought into the session from their characters' backstories, and what was unearthed from their own experiences through the energy of improv and the art of therapy.
"And here's where it gets interesting, because the process was [partly] unscripted, you have to wonder what happened to an actor when someone in the group said something stimulating and suddenly, she found her heart rate increased and she's broken out in sweat," Dr. Zeisel said of working with actors rather than patients. "Is that the character she's playing or is that some part of herself?"
For Dr. Zeisel, the answer required no change in his approach. "I worked as I always do and followed the process as it unfolded, knowing something about each character and the role they were playing."
Below is a full description of the series and episodes. Stream both seasons of "Group" on the ALL ARTS site and app, wherever you may watch, for free starting Aug. 12.
Sign up for our newsletter
Series Description:
"Group" is a drama series about a therapy group in New York City. The patients are played by actors, who improvise the dialogue within scripted parameters; however, the therapist is real.
---
Season 1
Group Virgin:
A new member, Henry, joins the group. Karina takes offense when Rebecca's first move is to act seductively toward him. Meanwhile, does Manny have a problem with Latina women, or with women in general?
Confession:
Should Frank take a new job or leave his wife? Rebecca learns that what happens in Vegas doesn't stay in Vegas when you're in group therapy.
Danger, danger!:
Henry has a complicated sexual history, but can he talk about it honestly? It turns out that Tilda is compelled to share a secret of her own.
Slow down:
If Stuart follows his passion for gaming, will he lose his father's love? And can Tilda handle the tenement of voices that is so loud inside her head? Rebecca comes to the rescue.
Is This Allowed in Group?:
Pam returns to the group and discovers that the new member, Henry, is the man who nearly destroyed her life. Is the room big enough for both of them?
Five Mistakes a Day:
Frank knows what he wants to do, but can he do it? Henry challenges Frank. Meanwhile, Stuart admits that he's been fantasizing about Rebecca … and Tilda.
Breaking the Rules:
Pam and Manny have broken the first rule of group. Rebecca has a date, but is he dangerous enough for her?
---
Season 2
You Were Trapped BEFORE Covid:
The group reunites, remotely. Dr. Ezra nearly died of COVID-19; is he ready to take care of the group again?
Comfortable With Feeling Dissatisfied:
Tilda calls out Karina for wallowing in her frustration, but does she protest too much? In fact, Tilda really is protesting, but at the risk of her own precarious health. Meanwhile, Manny is angry about being told how and when to get angry.
Playing With Fire:
Stuart, Manny, Karina, and Rebecca unload their experiences of prejudice — and privilege. The group learns the reason for Henry's mysterious absence. Karina spills a secret, but it turns out that Frank has a bigger one.
Complicated:
How far will Pam and Manny take their feelings for each other?
Booty Call:
Rebecca is playing roulette with the virus by going on dates — but she wants more than she's getting. To her surprise, a group member is willing to provide it.
I'm Kind of Turned On:
Rebecca responds to Stuart's declaration, while Tilda grapples with mortality — and so does the group.