Composer and musician Amir ElSaffar speaks to ALL ARTS ahead of the July 27 premiere of "The Set List: Raga Maqam – Amir ElSaffar and Brooklyn Raga Massive"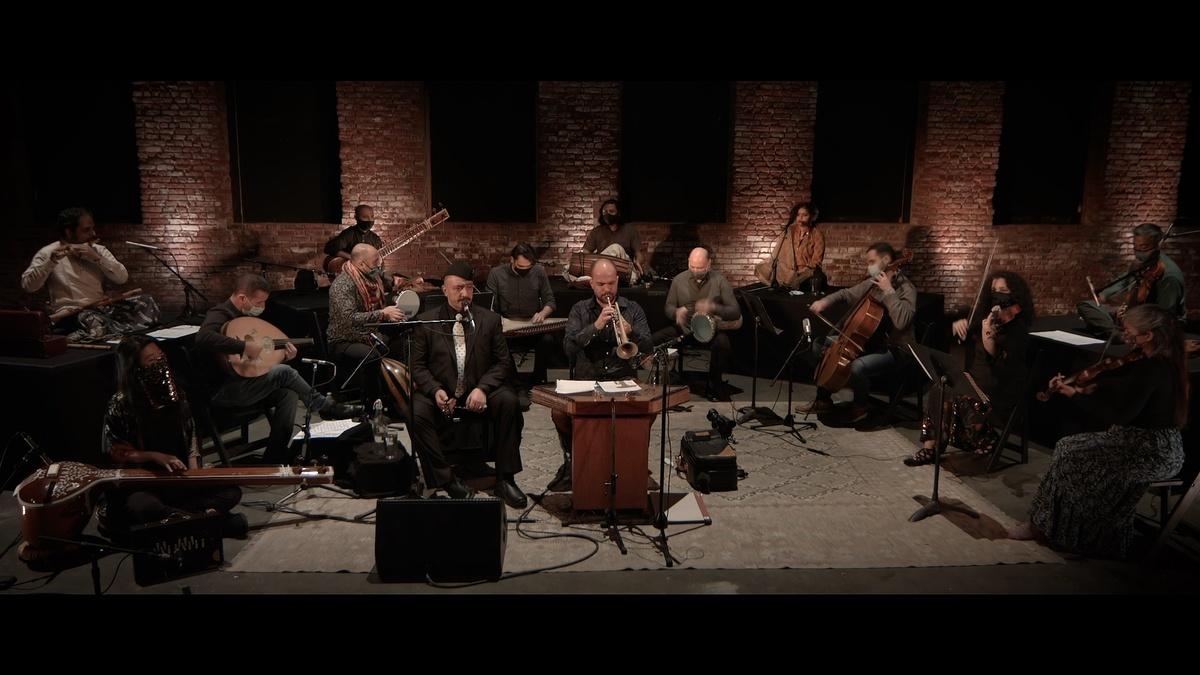 Since 2019, ALL ARTS has been following the project "Raga Maqam," a boundary-blurring blend of Indian raga and Iraqi maqam musical traditions borne out of a partnership between the India Center Foundation, Brooklyn Raga Massive and Lincoln Center. On July 27, ALL ARTS will be premiering a performance of the "Raga Maqam" project captured last November at Pioneer Works as a part of the Ragas Live Festival.
Ahead of ALL ARTS's premiere of "The Set List: Raga Maqam – Amir ElSaffar and Brooklyn Raga Massive," we spoke with Amir ElSaffar — composer, trumpeter and santur player for the ensemble — to hear more about this unique performance and what the future holds for the project.
"I would say Pioneer Works represented, in a way, the culmination of the 'Raga Maqam' project turning into newly composed works by me that defined a new approach to combining these two musical languages," ElSaffar explained. "Raga and maqam are two distinct musical languages that come from different places in terms of their cultural context, but in terms of their overall musical context and acoustic and natural musical principals, they resonate in very similar ways."
There's no better example of this then ElSaffar's composition "Maqam Hijaz Kar / Raga Mayamalavagowla," which takes up the last half of the episode and seems to effortlessly weave its way between the two modes of music while creating its own unique blend of musical expression. With this piece, audiences can experience the 15-person ensemble, featuring members of Brooklyn Raga Massive, building waves of joyous sounds, as well as hear the two exceptional vocalists in the group, Hamid Al-Saadi and Roopa Mahadevan.
Sign up for our newsletter
"There's a transition moment where [Hamid Al-Saddi's] vocal fades and Roopa's vocal emerges and there's a color change, and I really wanted at least one moment in this whole piece to have the purity of Maqam," ElSaffar explained. "Then there's a switch that happens when now we're into Carnatic raga … and then Roopa's voice comes in. It's a very special moment, and I think in that moment, it's kind of the essence of what this project is about, this subtle timbral musical modal shift."
Atop it all is an instrument not normally found in either style of music: the trumpet.
"It's been a big part of my life long musical mission to introduce the trumpet to Arabic music in general," ElSaffar said. "I was trained in Western classical music as well as jazz music, and then in my early 20s, started learning to sing and play santur and then finding ways to then integrate the trumpet … hopefully, musically and sonically, it blends; that's my goal."
In watching the performance, one can feel a sense of celebration and healing, particularly in reaction to the era of isolation the world has experienced over the past year. "It was almost like a sensory overload the first time we rehearsed after … maybe eight months of isolation from March," he said. "It really felt like a sort of shock to the system, a good one, but it was intense."
As far as what's next for the project, ElSaffar revealed that there's an album in the works, recorded at MASS MoCA back in April of this year. Local fans can come experience "Raga Maqam" in person at Lincoln Center on July 31 as a part of the institution's Restart Stages series.
"The Set List: Raga Maqam – Amir ElSaffar and Brooklyn Raga Massive" premieres on July 27 at 7 p.m. Eastern on the ALL ARTS broadcast channel, website and app.
Top Image: Still from "The Set List: Raga Maqam – Amir ElSaffar and Brooklyn Raga Massive."