"Hello, Rain" screens on ALL ARTS as part of the Afrofuturism: Blackness Revisualized festival, curated by Celia C. Peters.
---
C.J. Obasi's "Hello, Rain" combines weird wig witchcraft and technology to form a wonderfully strange and unsettling tale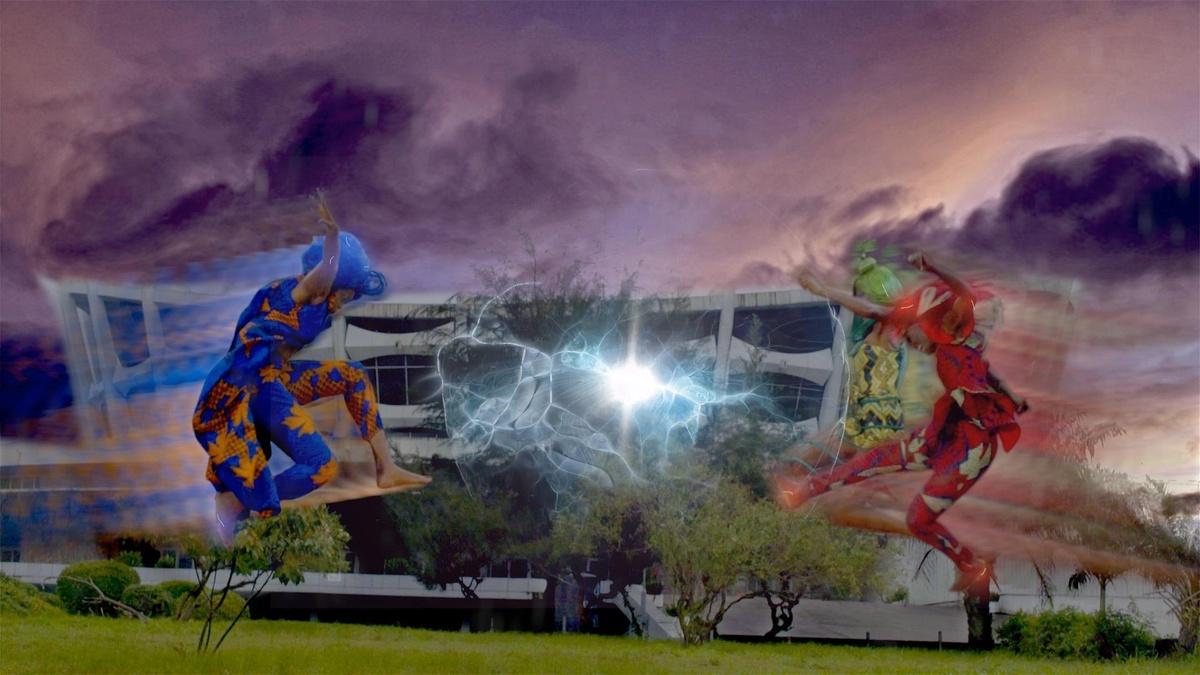 "There is witchcraft in science and a science to witchcraft.
Both will conspire against you eventually."
—Nnedi Okorafor, "Hello, Moto"
The artistic influences that embody and inform Afrofuturism — this global, constantly evolving creative space — are broad and playful, and at turns, ominous and optimistic. While Black artists in the United States have penned, published and performed proto-Afrofuturistic visions of liberation and imagination for over 160 years, Black speculative arts — science fiction, fantasy, horror and the interstitial spaces between and beyond — can be found around the world wherever people gather to tell stories.
For it is fantasy that is one of our oldest traditions, the veil of dreams in which we record our greatest hopes and our darkest nightmares. From the tales told around fires in the dark, to the creation myths carved in stones, humans have sung, danced, performed, painted and penned their intense engagement and curiosity about our world.
Visually enchanting, both sensual and disturbing, director and filmmaker C.J. Obasi's short film "Hello, Rain," screening as part of the ALL ARTS "Afrofuturism: Blackness Revisualized" festival, is an electric examination of sisterhood and friendship, narcissism and altruism, combining wonderfully weird wig witchcraft and technology. In 30 minutes, Obasi's film captures some of the essence of its source material, the award-winning writer Nnedi Okorafor's "Hello, Moto," but the film also offers its own riveting take on the perils of power, the slippery seduction that comes with both magic and science.
Centering on the broken friendship of three beautiful, successful women, the film is as much about sacrifice, sisterhood and love for one's community and yourself as it is about corruption, selfishness and arrogance. The film begins with a powerful quote by Nobel Prize winner and Kenyan environmentalist Wangari Maathai: "African women in general need to know that it's OK for them to be the way they are — to see the way they are as a strength, and to be liberated from fear and from silence."
Maathai's quote speaks to Black women's historic journey to name and claim themselves, to be the mirror of their own beauty, internal and eternal.
By foolishly mixing juju with technology, through "neurotransmitters, mobile phones, incantation and hypnosis," brilliant Rain, the narrator, has unwittingly created an unlikely weapon of mass destruction in the guise of a set of dangerously magical, colorful wigs that she made for herself and her two best friends, Philo and Coco. We soon discover that while Rain envisioned using the wigs' power as a healing tool to counter the death, corruption and destruction that tormented their nation, her friends had become addicted to the wigs' abilities. Rather than healing and protecting their countrymen, they are using the wigs' alchemical powers to enrich themselves, draining the wealth and life of all they encounter.
Desperate, Rain, who has lost all of her own hair by wearing the wig, can no longer hold her silence and has made her choice — at grave risk to herself. The film ends with her beautifully dressed in Ankara fabric, facing off to fight her former friends in an epic battle the audience feels more than sees.
"Hello, Rain" is a cautionary tale featuring great, magnetic performances from Keira Hewatch as Rain, Tunde Aladese as Philo, and Ogee Nelson as Coco. The vibrant, eye-watering set and wardrobe are almost as hypnotic as the magical wigs the women wear. With an equally dynamic soundtrack, the film creates a version of Nigeria that is alternately beautiful and terrifying, retro and futuristic.
African creatives, bold innovators who are crafting their own unique explorations of science fiction and fantasy, have expanded our understanding of what it means to navigate the realms of the imagination. In her 2013 essay "Afro-Mythology and African Futurism: The Politics of Imagining and Methodologies for Contemporary Creative Research Practices," Botswanan visual artist and scholar Pamela Phatsimo Sunstrum detailed an extensive exploration of "the commonalities and differences between Afrofuturism and African futurism in order to locate an African sensibility in the imagining of African futures." Her pioneering work drew upon the rich mythology, cosmology, and star lore of various African cultures and early African magical realists to, as she wrote, "formulate the theoretical, aesthetical and contextual frameworks I am developing as part of my contemporary creative research practice."
Like Sunstrum's African futurism, author and screenwriter Nnedi Okorafor sought a more precise description of the creative Africa-based work she was producing, and in a 2019 blog post, she discussed two ways of examining her work that explored the fantastical, "Africanjujuism," as well as the technological, "Africanfuturism." These imaginings, whether they are rooted in ancient spiritual and philosophical traditions or in unimagined technological advances of other tomorrows, represent a tremendous cultural heritage that speaks to the origins of humanity itself.
In English, perhaps the earliest known fantasy work that included a possibly Black character is Caliban of Shakespeare's "The Tempest." Born of the sea witch Sycorax, he is often portrayed as "the other." While scholars debate the origins of "caliban," a word said to mean "black" or "blackness," and speak of the famous character's possible origins near the Mediterranean Sea in Africa, there is another more overtly identified African character that appears in the very first American vampire story. In the 1819 story "The Black Vampyre: A Legend of St. Domingo," by the pseudonymous author Uriah Derick D'Arcy, a mysterious prince is an African vampire who was formerly enslaved in Haiti.
"These futuristic works represent not only a deep curiosity and engagement with the world, but also a sense of introspection and wonderment."
Much like Shakespeare, the identity of "The Black Vampyre" author is debated; however, it is clear that the role of Blackness figured widely in these early fantasy works.
When thinking about some of these proto-science fictional tales, one would do well to consider the earliest origins of the vampiric, fantastical lore we have come to know. After all, the creatures we think of as vampires did not begin in the Carpathian mountains but emerged from the rolling vistas and deep verdant forests, from the high cliffs overlooking vast deserts and along the banks of ancient rivers in Africa. Folkloric creatures such as the obayifo of the Ashanti, the adze of the Ewe, the Asanbosam of the Akan, the asiman of the Dahomey and others absorb the life forces of people and even occupy their bodies. This ruthless theft of other's essential life force is a central theme in Okorafor's 2011 novelette, "Hello, Moto," which was adapted into the wonderfully strange and unsettling art film "Hello, Rain."
Drawing upon the rich history and heritage of Africa and her diaspora, today artists from Africa and around the world create futurisms that reflect their journeys and vision — new mythologies across mediums and genres that interrogate deep-rooted societal challenges but also speak of transcendence and flight, alternate worlds and new ways of being.
These futuristic works represent not only a deep curiosity and engagement with the world but also a sense of introspection and wonderment. While these speculative creations excavate toxic narratives and systemic issues that impact Black lives, the work isn't all work — there is joy and whimsy in the storytelling, hope in the world-building.
There is no single Afrofuture. In the decades since cultural critic Mark Dery introduced the term into our lexicon, many different futurisms have formed in communities around the world. Rather than a single vision or aesthetic, there are many talented minds who all dance to their own strange rhythms, creating the worlds and stories that speak to them. With an enthusiastic global audience eager for fresh voices and new stories, the future for Afrofuturism is a story yet to be told.
Sign up for our newsletter
Top Image: Still from C.J. Obasi's "Hello, Rain."