This week, legislation establishing Juneteenth a federal holiday moved through the Senate and the House, making its way to the desk of President Biden to be signed into law.
Honored annually on June 19, Juneteenth commemorates the end of slavery in the United States. In 1865 — over two years after the signing of the Emancipation Proclamation — Black people remained enslaved in the South. On June 19 of that year, Union Major Gen. Gordon Granger arrived in Galveston, Texas, and announced the emancipation of enslaved people. In December of 1865, slavery was fully abolished with the ratification of the 13th Amendment.
ALL ARTS will honor Juneteenth on broadcast with a slate of musical programming, starting at 2:30 p.m. Eastern on June 19. Additionally, we have gathered a selection of in-person and online events for those seeking to commemorate the holiday.
"Ailey Celebrates Juneteenth"
When: Available through June 22 at 7 p.m.
Where: Alvin Ailey American Dance Theater YouTube channel
Alvin Ailey's Juneteenth program, available to stream through June 22 at 7 p.m. Eastern, features performance excerpts from "Cry," "Revelations" and "Lazarus." The event will also include artistic director Robert Battle in conversation with Opal Lee, Samuel Collins and Reginald Adams.
---
"Juneteenth: Lift Every Voice"
When: Stream anytime
Where: Online at the #blkfreedomwebsite website
A cohort of museums dedicated to African American history and culture have joined together for a virtual commemoration of the 156th anniversary of Juneteenth. Each institution presents a program inspired by a theme from "Lift Every Voice and Sing."
---
"Juneteenth Celebration: (RE)VISION"
When: June 18 and June 19; 8 p.m.
Where: The Plaza at 300 Ashland; Brooklyn
Celebrate Juneteenth with the first year of 651 ARTS' "Juneteenth Celebration: (RE)VISION." The in-person event will showcase futurist films that illuminate the Black experience in America. Enjoy screenings of Joy Yamusangie and Ronan Mckenzie's "WATA," Marjani Forté-Saunders' "Memoirs of a…Unicorn: BLUEPRINT," Charles O. Anderson's "(RE)current Unrest" and Brad Walrond's "Cyborg Heaven."
---
ALL ARTS Celebrates Juneteenth
When: June 19; 2:30 p.m. to 6 p.m.
Where: The ALL ARTS broadcast channel
ALL ARTS commemorates Juneteenth with a slate of musical programming, including "River City Drumbeat," "Amen! Music of the Black Church" and "Martin Luther King Jr. Celebration Concert with the Cleveland Orchestra." Programming is scheduled to run between 2:30 p.m. and 6 p.m. on the ALL ARTS broadcast channel.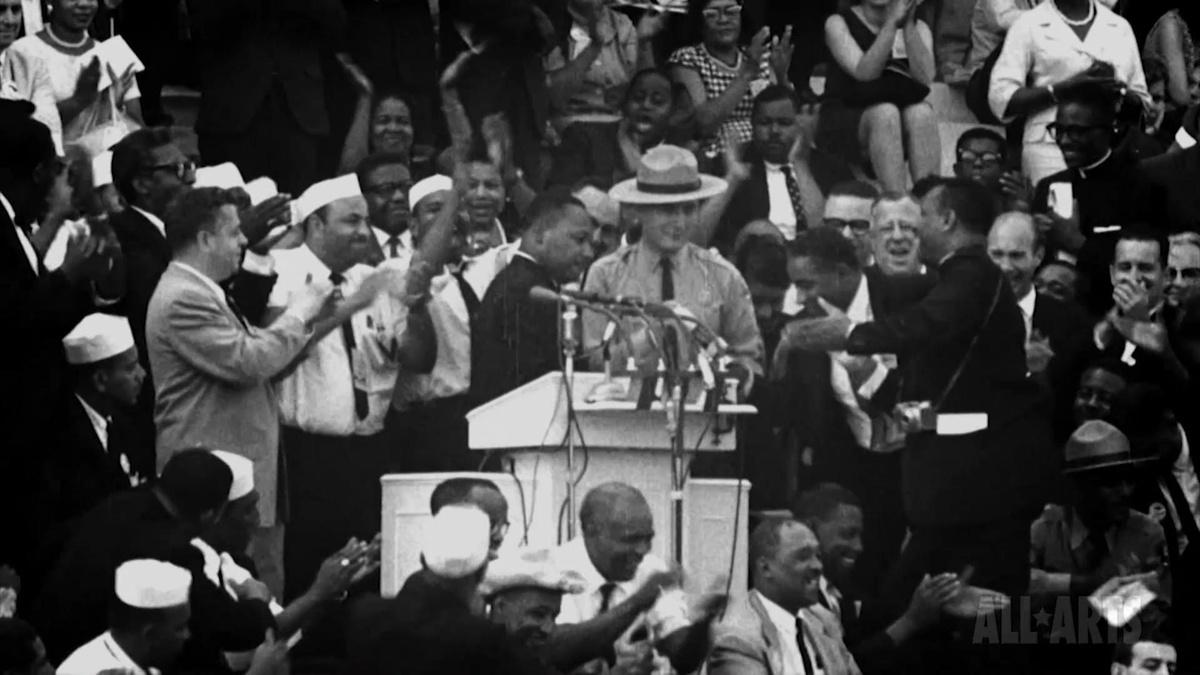 ---
"Juneteenth: A Celebration of Resilience"
When: June 19; all day
Where: The National Museum of African American History & Culture website
The National Museum of African American History & Culture presents a series of virtual programs in honor of Juneteenth. Website visitors can explore stories, photographs, panel discussions, genealogy records, videos and recipes to learn more about the holiday and about African American history. Events scheduled throughout the day can be found here.
---
"Dance Freedom Workshop" with Johnnie Cruise Mercer
When: June 19; 10 a.m.
Where: Great Hill at Central Park; Manhattan
Join Johnnie Cruise Mercer for an outdoor dance workshop with a focus on self-reflection, meditation and listening.
---
"Words Like Freedom"
When: June 19; 10:30 a.m.
Where: Online; link sent with registration
The Schomburg Center Literary Festival celebrates Juneteenth by highlighting the work of Black writers and publications across the globe. The day will open with a program about Juneteenth and feature conversations and readings by authors Clint Smith, Cheryl Boyce-Taylor, Jennifer Nansubuga Makumbi and more. The day will close with a conversation between Hanif Abdurraqib and Dawnie Walton.
---
Second Annual Juneteenth Jubilee: "Celebrating Black Trans and Queer Joy as Liberation"
When: June 19; 1 p.m.
Where: The Africa Center Plaza; Manhattan
The Africa Center partners with the Intersectional Voices Collective and Hi-ARTS for the second installment of their Juneteenth celebration highlighting Black transgender and queer performers. The event includes a host of musical, dance and spoken word performances and culminates in a "Rose Court" ceremony honoring Black women community leaders.
---
A Juneteenth Celebration with Joe's Pub
When: June 19; 5 p.m.
Where: Astor Place Plaza; Manhattan
Enjoy an outdoor musical performance celebrating Juneteenth. Joe's Pub and Make Music New York bring live performances by Celisse, Ché Buford, Mal Sounds and the Juneteenth Legacy Project to the streets of New York.
---
"I Dream a Dream That Dreams Back at Me: A Juneteenth Celebration"
When: June 19; 7 p.m.
Where: Lincoln Center for the Performing Arts
Lincoln Center presents an experiential site-specific event celebrating Juneteenth. "I Dream a Dream That Dreams Back at Me" was curated by poet and artist Carl Hancock Rux and features vocalists Nona Hendryx, Marcelle Lashley and Kimberly Nichole singing music by Vernon Reid and Hendryx, with lyrics by Lynn Nottage. Their performance and attire — designed by Dianne Smith — will evoke Harriet Tumban's journeys leading enslaved people to freedom.
---
"Liberation: African Grove Theatre, a Conversation on Legacy"
When: June 19; 7 p.m.
Host: Project1VOICE
Project1VOICE will honor the legacy of the African Grove Theatre with an in-depth conversation moderated by New York University professor Michael Dinwiddie and featuring Awoye Timpo, Eileen Morris and Marvin McAllister as panelists. This event will focus on the history of Black creativity since the 1921 founding of the original African Grove Theatre.
---
Afro Waves: Virtual Concert with Aja Monet and Cvgebird
When: June 19; 7 p.m.
Where: Event page on Caribbean Cultural Center African Diaspora Institute website
Celebrate Juneteenth with a special concert from Aja Monet and Cvgebird. Monet is an acclaimed surrealist blues poet, activist and storyteller. Cvgebird is an artist and activist whose music ranges from acoustic trap soul to Latin-Caribbean.
---
Live with Carnegie Hall: "Juneteenth Celebration"
When: June 19; 7:30
Where: The Carnegie Hall Facebook and YouTube channel
Carnegie Hall invites audiences to commemorate Juneteenth with a special event led by Rev. Dr. James A. Forbes Jr. and Tamara Tunie. They will be joined by guests Wayne Brady, Martin Luther King III and Annette Gordon-Reed for an evening of music, dance and commentary. The event will also honor the contributions of Bryan Stevenson, Robert F. Smith and Sheila Jackson Lee.
---
"Drunk Black History"
When: June 19; 9 p.m.
Where: The Bell House; Brooklyn
Catch this interactive comedy show from comedians Brandon Collins and Gordon Baker-Bone. This Juneteenth edition of "Black Drunk History" features performances from Brittany Carney, Marie Faustin and the Lucas Brothers.
---
"What It Feels Like"
When: Beginning June 19; various times
Where: Brooklyn Space Mid-Century Modern Furniture; Brooklyn
Curator and artist Nicolette McClendon presents "What It Feels Like," a pop-up gallery that illuminates how it feels to be an artist of color today. The gallery opens on Juneteenth to honor those emancipated in 1865. Tickets are sold out for June 19 but are available for later dates.