The artists of Kinetic Light and filmmaker Katherine Helen Fisher on the making of "One + One Make Three"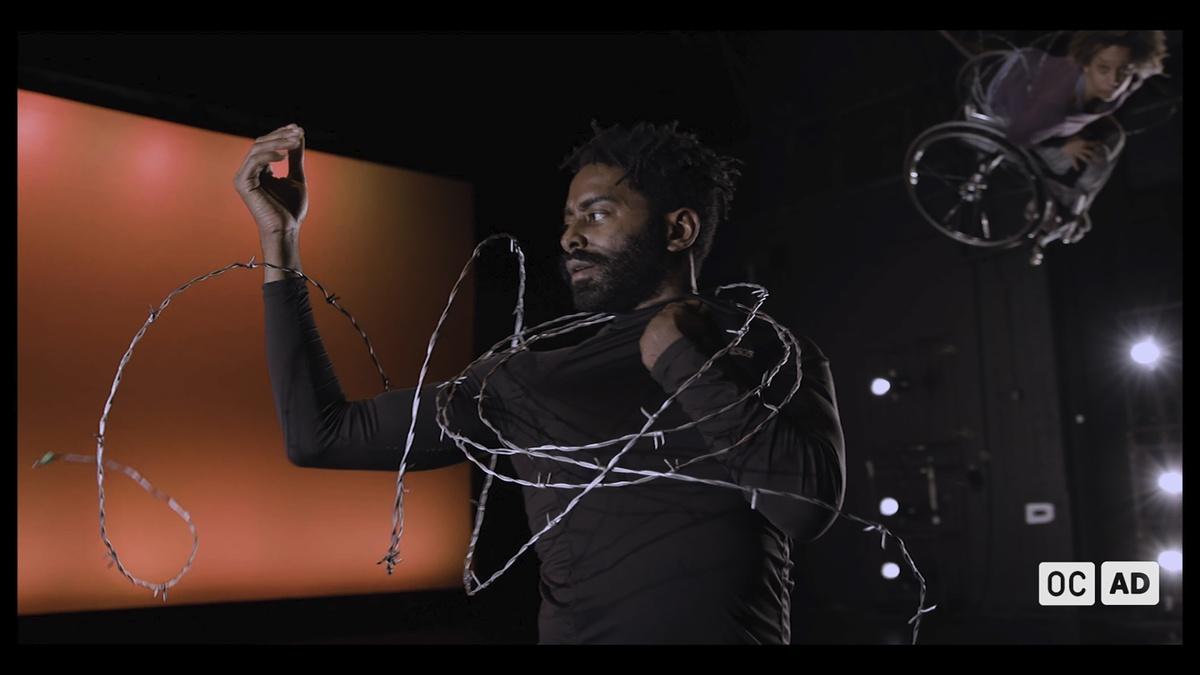 ["One + One Make Three" takes audiences into the studio with acclaimed ensemble Kinetic Light, exploring disability as a creative force. Access: ASL, Audio Description, Open Captions. Director Katherine Helen Fisher/Safety Third Productions. Video description: Sound on for audio description. Music lightly chimes in the background.]
The experimental dance film "One + One Make Three" soars, capturing the artists of Kinetic Light — including Jerron Herman, Laurel Lawson and Alice Sheppard — as they craft the aerial dance piece "Wired."
Directed by Katherine Helen Fisher of Safety Third Productions, the work, which premieres May 11 at 8 p.m. Eastern on ALL ARTS as part of the "Past, Present, Future" festival, layers behind-the-scenes footage with interviews from the artists of the acclaimed disability arts ensemble to create a rich encounter of the group's work. Multiple accessible versions of the film — including with or without American Sign Language (ASL), Open Captions (OC) or Audio Description (AD), and as text and audio only — will be available on the ALL ARTS site for audiences to experience the film in whichever way they choose.
The film opens with a cinematic sweep over a lush landscape of trees. A panel divides the screen into three parts. Depending on the point of access chosen by the audience, ASL artist and interpreter Brandon Kazen-Maddox appears on-screen in a grid. "Part One" of the film finds the artists in "the present," where they rehearse within a large studio. Interspersed throughout the film are moments of suspension, where the footage expands to fill the frame and slows down to highlight the movement of the artists as they work. The film closes with the dancers outside on a sunny beach.
In the film's final moments, Sheppard answers the question, "Why make dances?"
"I've always had stuff to say … I've always wanted to be able to say it in movement," she responds. "So, I make dances because they seem to me now to be the most meaningful way that I can understand the world that I live in, my relationships to people … It is the most powerful way that I know to work through certain ideas."
She continues: "Like, certain ideas I want to work through in writing, but certain ideas can only be most fully realized in movement. And those are very often questions that are just critical, I think, to making a better world."
ALL ARTS corresponded with Kinetic Light artists Jerron Herman, Laurel Lawson, Alice Sheppard and film director Katherine Helen Fisher about the film "One + One Make Three" ahead of its premiere. The responses below have been edited lightly.
How did you approach the prompt to create a work that embodied the past, present and future?
Alice Sheppard: Time is a rich question for the film. Time is suspended; time is ethereal. The dance movement is shot in slow motion — challenging our sense of the time it should take for a second to slip by. In many ways, the film is timeless: Past, present and future are all one. The time of the choreography process is similar. A dance emerges along an unknown timeline. "One + One Make Three" was filmed during the pandemic, yet inside the studio, the time passes differently.
Could you speak a little bit about the title, "One + One Make Three"?
Laurel Lawson: When you study creativity — one of my practical interests — this is a way of describing the process of idea synthesis, how two unrelated concepts can bring forth a wholly new thing. It's one of my favorite ways to explain the process of creating partnering, when two become one: Each individual has their own unique signature of movement, and when you combine two people into this new unified visual, something emerges that is neither and both, and couldn't be created in any other way.
Jerron Herman: As Laurel noted, the title illustrates how disparate components merge to create a wholly new thing. In our process of coming together for this piece, and as artists, we embraced the alchemy of varied backgrounds, and training, and embodiment, and how the meshing creates gold sometimes for reasons known and unknown.
The film sees Kinetic Light coming together for the first time in months. What was it like to be dancing and creating together in the same space after such a long time?
AS: I was scared for us. I was delighted for us. I had missed the smell of a studio, the feel of marley. I missed my body. Somehow, the studio asks different questions; I missed the body that is ready to explore those questions. I missed the moment of looking at Laurel and Jerron and feeling the connection that goes beyond the movement.
JH: It was easy to be giddy at the thought of returning to a studio: The body yearns for marley. We all continued making dance in our backyards or living rooms, but coming into a designated space did something different to my limbs. And the "coming back" was a joy because when we're in it together, there is unity that is so rare.
LL: It's also more complicated. Working dancers need to move consistently and frequently; not being able to train formally for such an extended period of time, for strength and jumping, for impact, for floorwork — it's similar to returning to work after the enforced pause of significant injury.
The piece focuses on the large-scale work "Wired." Could you explain a little bit about this project and how it came to be?
AS: "Wired" came about because I was in the Whitney Museum of Modern Art doing some research. I rounded the corner and encountered Melvin Edward's "Pyramid Up and Down Pyramid." I was stunned. I could not stop reading about barbed wire. Also, Laurel and I had an inside-company joke that we would make the next piece aerial. The wire of aerial work and the wire of the barbs combined, and we were in flight.
LL: It wasn't a joke! We knew the next dance work would take the beginning of our exploration into 3D space engendered by the ramps [Kinetic Light's first full-length work, "DESCENT"] and extend it into the full volume of the stage.
In the film, Alice speaks about choreographing the maximum expression of impairment and disability. What does this look like?
AS: Disability is not incidental; we do not work despite it or to overcome it. In the film, disability is cultural; this is expressed in the choreography in the process and in the world it references and seeks to be part of. Disability is aesthetic; it is the line, form and craft of the work. We cultivate it; we explore it. We push into it.
LL: Even "everyday" disabled movement has technique and joy — which shouldn't have to be said, but often does need to be stated before we can even address the rigor and virtuosity of disabled dance technique. We interrogate and maximize the unique movement which we can generate, as well as the technique inherent to our respective and multiple embodiments.
Katherine Helen Fisher: From the filmmaker perspective, first and foremost with this project, we set out to make an art film highlighting the creative process of these amazing artists and the community they've built on love and trust. Throughout the production process, we talked a lot about the need to develop choreography for the camera, which would celebrate movement and resist objectification of the dancers. We sought to capture the embodiment of the movement from a disability arts lens.
As a non-disabled person in the director's chair, this involved a lot of trial and error in almost every step of the production process. My team relied upon close communication with the Kinetic Light artists and their collaborators in order to arrive at the final film. It took a lot of work and learning, and I'm really proud of the film we made through this layered, multi-voiced process.
Could you speak a little about access as art and how that informs your work?
AS: Access is not a service to be added after the work is done. Access is how people experience the work: It begins when the creative process begins. It begins in relationship and direct conversation with the people who are encountering the work. We believe that access means that a work of art must exist in multiple forms and that each encounter with the work must have aesthetic and cultural integrity. This means that our access offerings can, among other things, be challenging, provocative and beautiful.
Access is not a portal into our world, a kind of entryway to the art. It is the experience in itself. Our approach to access is necessarily experimental, because access is always a process and relationship. We commission disabled artists to create with us and to make access itself a work of art. We hope that you will find a rich artistic experience, whether in solo or multiplicity of encounters.
Access is an incredible area of research and experimentation at the moment. Whereas access in the arts has not historically been driven by disabled peoples' concerns, now access is being led by disabled artists.
At one point, Laurel speaks about how moments that appear risky are carefully choreographed for the audience. How does Kinetic Light explore vulnerability and risk through movement?
LL: This concept is something I absorbed early on as part of the choreographic craft of creating an emotional through-line for an audience. We can shape the narrative and convey emotional weight through the vulnerability and exposure of the body, allowing the audience to vicariously experience that sensation and thrill through us. My first teacher, Douglas Scott of Full Radius Dance, endlessly drilled the importance of the near-miss: and yes, it's also a display of technical virtuosity. If my head is within an inch of someone's wheels, I promise it will be exactly that distance every single time.
I don't think we necessarily evidence risk or vulnerability differently from other performing companies. Risk is inherent in all dance, and vulnerability is inescapable in that moment when you, as a dancer, lay everything bare to the audience and create those searing moments of connection.
Keeping the theme of the festival: What inspirations from the "past" do you draw on when creating works? Did any of these influences appear in this film?
KHF: I danced with choreographer Lucinda Childs for 10 years, performing her master work "Dance," which she created collaboratively with composer Philip Glass and visual artist Sol LeWitt. The compositional strategies of these artists have inspired much of the work I create in my filmmaking practice. The grid we created in One + One Make Three references the same geometry in action element that I came to know so well in Dance.
For this film, the grid incorporates ASL windows and situates access at the forefront of the film. The visual complexity of the grid emphasizes the polyphonic, collaborative nature of Kinetic Light's work and offers a window into the artists' creative process itself.
What does your "present" look like for you now?
JH: My present is listening. I feed off of feedback and believe contemporary voices are echoing emblems of past and future. I want to hold a space of noticing legacy, of clocking our contributions because I believe building upon crafted ideas helps cement our values. Hear what the people have to say.
AS: I really do not understand my present. I can feel how dance, film, poetry and art are pushing me into new spaces that I hope will help me make sense of myself and the world. My work, right now, is to sort through the threads and keep thinking.
What are your hopes for the "future" — for dance or otherwise?
JH: I hope for variety; I hope for slowness in the sense that we do not rush to ensconce or reject. I hope for grace for mistakes and an overall appreciation for play.
AS: I hope we can expand what we think we know about each other. I cannot wait to leap forward into whatever is next, but I also recognize that we cannot rush this. I hope I will be able to be careful in my joy.
Is there anything about the film that you'd like for our audiences to know? Or any last thoughts?
KHF: "One + One Make Three" is designed as an accessible piece of experimental cinema. We straddled the genres of dance film and documentary film to create a meditation on the power of collaborative process. We used the interview dialogue in a way which aimed to preserve the natural rhythms of speech rather than as a presentational dialogue. We then played with chance operations between autonomous movement and language constructions to create a structure for the film.
AS: I hope that audiences will dive into the multiplicities of this film. "One + One Make Three" will be available in the following accessible versions. We can't wait to share it with you:
Broadcast version includes ASL and Open Captions and optionally available Enhanced Audio Description.
One + One Make Three will be available in four versions online:
ASL + Open Captions + Audio Description
Open Captions + Audio Description
An audio file of Audio Description and a transcript (ASL version; non-ASL version) are also available.
---
Credits
"One + One Make Three" is a production of Safety Third Productions for ALL ARTS. Alice Sheppard is artistic director, Katherine Helen Fisher is film director. Jerron Herman, Laurel Lawson and Alice Sheppard are artists. Alice Sheppard is choreographer. Jerron Herman and Laurel Lawson are choreographic collaborators. Brandon Kazen-Maddox is ASL interpreter, deaf culture consultant and subtitles. Shimmy Boyle is producer. Devon Donis is director of photography. Caroline Haydon is archival producer. Joe Foley is ASL director of photography. Quinton Carr-Goodwin is ASL gaffer. Catherine A. Nelson is acrobatic rigger. Alice Sheppard is creative director. Laurel Lawson is director of access design. Cheryl Green is audio describer. Mel Chua is deaf culture consultant. Body language productions is subtitles. Vanessa Gould is score composer and performer. John Walter is editor and grid concept designer. Colm McNally is theatrical lighting design. Emily Kwong is title design.
Top Image: Jerron Herman of Kinetic Light; still from "One + One Make Three" /Safety Third Productions. (Image description: Balancing on only the tops of his toes, Jerron leans his whole body forward, and gives his weight into the cables which extend from above to his waist. He is a dark-skinned Black man with a beard and twisted black hair, wearing all white in a black studio space. His right arm bends behind his back as his left clings to his chest. Eyes closed and face relaxed, Jerron is in a moment of pensive release. Stage lights and miscellaneous equipment scatter across in the background.)