Choreographer Pam Tanowitz and filmmaker Liz Sargent on the making of "DANCERS (Slightly Out of Shape)"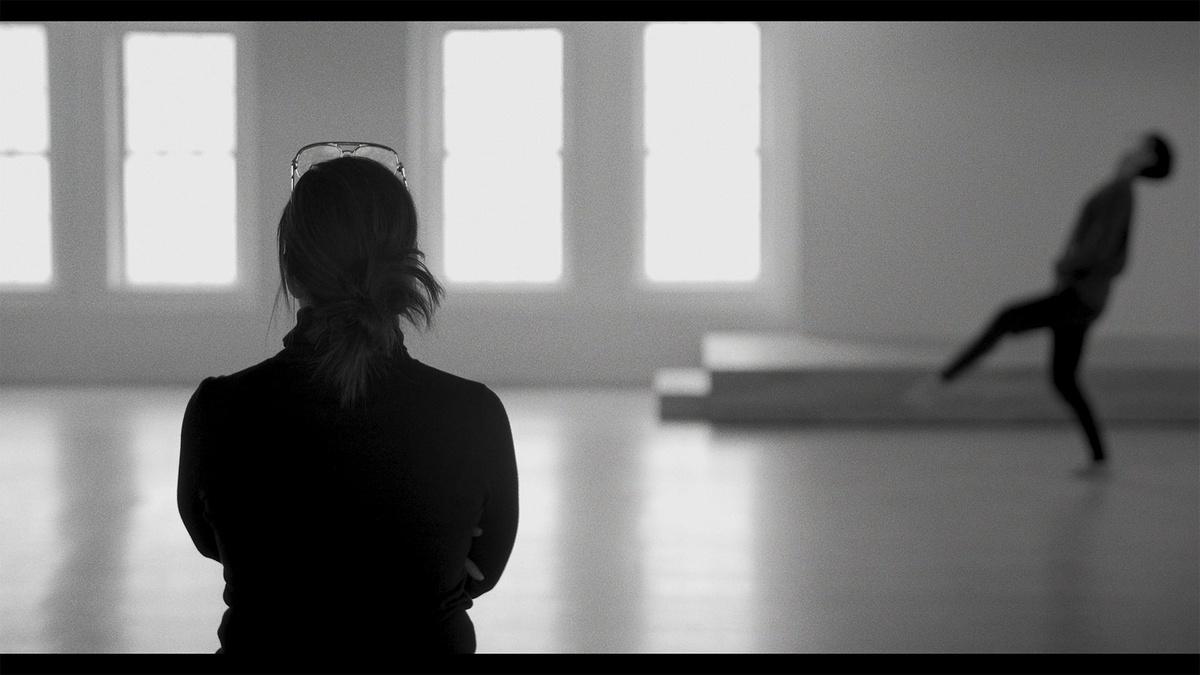 [Video Description: Choreographer Pam Tanowitz and her dancers return to rehearsal during the COVID-19 pandemic, as captured by filmmaker Liz Sargent's verité lens. Stream with audio description here. Download transcript. Download audio description.]
The black-and-white film "DANCERS (Slightly Out of Shape)" came together as an informed experiment — the alchemy of which coalesced into a playful, fourth-wall-breaking collaboration between choreographer Pam Tanowitz, filmmaker Liz Sargent and the piece's dancers.
"A lot of the footage, the reason why it feels so real is because it was real," Tanowitz said, explaining that when Sargent began shooting the work in-person, the filmmaker at first "came to experiment, and the experiment became the thing." The resulting film, a mix of tactile behind-the-scenes and site-specific performance footage, makes its debut on ALL ARTS May 10 at 8 p.m. Eastern as part of the "Past, Present, Future" festival.
Imbued with a sense of capturing moments on the fly, the film shows Tanowitz speaking, at times, directly to the camera and to Sargent with casual ease. Featured dancers — including Melissa Toogood, Lindsey Jones, Victor Lozano, Brittany Engel-Adams, Christine Flores, Zachary Gonder and Jason Collins, who are credited as collaborators on the choreography — chat and stretch in the rehearsal space. The camera catches the choreographer as she runs steps with the cast, marking their first time rehearsing all together inside of a studio since the start of the pandemic.
"I loved that we also used Pam's love for French New Wave cinema as a point of departure, keeping an intimate, verité aesthetic as our base and avoiding both the sanitized documentary style of corporate videos and the flashiness of pop music videos," Sargent said of capturing the dance film, explaining that her favorite part of filming a dance work is choosing what the viewer sees.
"When a choreographer gives me the freedom to edit all of the footage together into something totally different, that's when the work can become cinematic," she continued. "Pam trusts her collaborators to make these choices. Her notes are minimal — just enough to shift everything in the right direction."
A performance at the end of the film swings focus from the intimate moments of rehearsal to a staged presentation of a work choreographed specifically for the Lower Manhattan Cultural Council's expansive studio space on Governors Island. Captured in color and back-dropped by music from Caroline Shaw, the final images — "clean" and "crisp," as described by Sargent — show dancers moving through the space until a trio comes to rest at a set of windows.
"In the end, I'm a choreographer, and I make dances, so you don't need to really hear me talk more — or anybody else talk more," Tanowitz said, noting the idea that "dance is paramount." "I think my dancers are more interesting than anything I can say, to be honest."
ALL ARTS spoke with Tanowitz and corresponded with Sargent about the piece ahead of its premiere. The excerpted responses below have been combined from these conversations and edited.
How did this piece come together under the theme of "Past, Present, Future"?
Pam Tanowitz: We really tried to make something different and that would be a marker of time … And I think that past, present and future, for me, was more abstract, less literal — because that's what my work is like. My work is not literal in that sense.
So, it was definitely exciting and sort of hard to figure out what that theme meant to me and Liz and the dancers.
Liz Sargent: Our intention was to capture this moment in time without too much explicit focus in the film on the restrictions of the pandemic, and without making a film whose sole achievement was to make something while theaters have been closed. We wanted to do something more exciting and worthy: to capture Pam's ideas evolving in the present.
Time works in a particular way in Pam's work. She is aware of carrying her history with her and incorporating what she's done in the past as she makes something new. The past, present, and future are simultaneous from her point of view and in the film.
And what did that process look like? Was it a lot of chatting?
PT: It was actually doing … Before the pandemic, [film] was something that I wanted to do, but I never had time to do because we always had rehearsal and shows, and I could never figure out a time where I would focus on a dance film. It just didn't seem like something I could be doing. And now that's what we're doing. So, the learning curve was really fast for me.
The film incorporates moments where you're figuring out with the dancers and Pam what the final look will be. What inspired you to keep these insights in the film?
LS: The goal for me in making a dance film or documentary is to create something cinematic that still feels like that artist's work. There's a refreshingly casual feel to the company's rehearsal space, and, from what I witnessed, this energy is what feeds Pam's choreography. So, we tried to mirror this process in the film-making — to build organically, in the moment, with people in the room.
Pam makes dances in collaboration with the moment.  When she sees something interesting, it's in. To me, that's what makes her work fresh — the impulsive curiosity that complements the planning, and the coexistence of precision and ease. We left everything in because everything is the source material.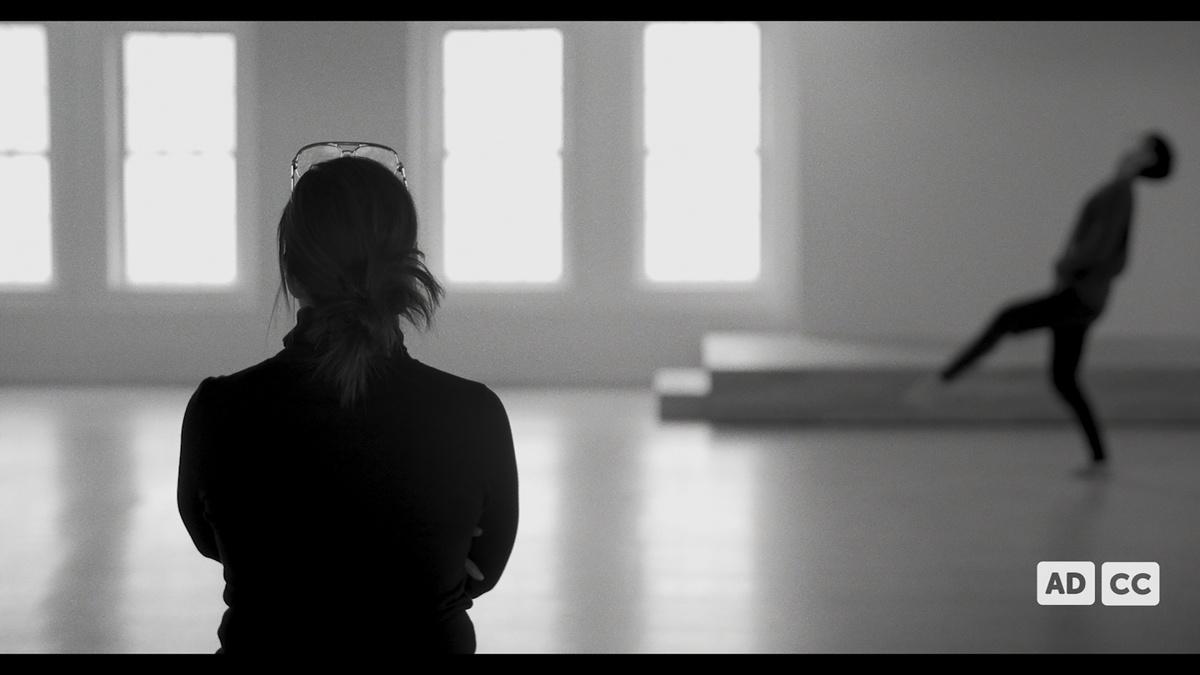 [Video Description: Sound on for audio description. Music is simple — a single, pensive beat on a loop. Download transcript. Download audio description.]
Could you speak a little bit about the title, "DANCERS (Slightly Out of Shape)"?
PT: It was actually Liz that pulled it out of the conversation. And I was like, "Oh, that's funny." And it works. Because, again, it goes back to the marker of time, of what we're all going through right now and how we make things.
LS: That tongue-in-cheek moment when Brittany [Engel-Adams] and Victor [Lozano] laugh about this "disclaimer" on the theater's marquee feels like the thought that every performer in the world is having as they tiptoe back into the theater. Without a doubt, these dancers are still total perfectionists, but just like the rest of the world, the inability to "locomote" has changed everything.  Watching these virtuosic artists say they feel that they've "lost their connection to the earth" captures all the irony and heartbreak for performing artists over the last year.
There's a moment in the film where you're talking about how making a dance can be humiliating. What aspects were you talking about?
PT: You're exposing yourself and your insides, your guts! And a lot of times making a dance, you don't even know what you're making until it's too late and the audience is watching, and the whole thing is humiliating.
Do you feel like with a recording or video, it could be less humiliating because you can maybe edit?
PT: … or more humiliating because it never goes away! If you see a dance, and it needs work, and people see it … you can work on it and bring it back, and you can keep working on it. But if you make a film, and then you realize later that you're like, "Oh, why did I do that?" it's out there, like cemented forever.
I feel like a film kind of makes it a past, present and future all at the same moment too.
PT: The form itself is making it the same, which I love. And everything we're doing in the film is the same. So, I didn't really feel the need to say, "This was what I did, and this is how I'm affected." I think audiences are smarter than that. I think that they'll go with you.
Has the pandemic changed your relationship to how you choreograph it all? 
PT: I think I'm thinking more expansively about projects, and also more flexible about dances. I'm very interested in creating a dance that could be for two people or four people or eight people. It could be inside or outside. I think that's the type of thing, going forward, we're going to have to have, because we know something can happen in a drop of a hat.
And it's also: I always use my old movement, and I move it forward. That's something I do. But I've even gone deeper into my archives during this time. And I've pulled out other older movement that I was interested in exploring more. And, so, I've also been able to research — not only history in a general sense [and] have more time for that — but at my own past and what movement and ideas I want to maybe revisit and make better.
Has your approach to filmmaking changed during the pandemic?
LS: Pam and I made two very different films together during the pandemic: this documentary and a forthcoming dance film "Every Moment Alters." The two projects have gotten me through a lot of tough days. And I gained something I want to hold onto as we emerge from this crisis: a way of working like Pam works — hard but without over-thinking, focused but free to change direction, creative but not pretentious. I want to feel secure enough to try totally new things and trust my intuition to lead the way, to never forget that the work is a practice.
Is there something that you have hope for in the future that you would like to see maybe come out of the pandemic?
PT: That's sort of a big question. … But I do think just to remember: "Don't take things for granted." I don't take things for granted anymore, and I hope I can remember that.
---
Credits
"DANCERS (Slightly Out of Shape)" is a production of Cyprian Films, New York in association with the Fisher Center at Bard for ALL ARTS. Film by Liz Sargent and Pam Tanowitz. Directed by Liz Sargent. Choreographed by Pam Tanowitz in collaboration with the dancers. Music by Caroline Shaw. Produced by Minos Papas. Co-produced by Caleb Hammons. Gideon Lester is executive producer. Melissa Toogood, Lindsey Jones, Victor Lozano, Brittany Engel-Adams, Christine Flores, Zachary Gonder and Jason Collins are dancers. Cinematography by Naomi Saito, Liz Sargent and Ahn Vu. Liz Sargent is editor. Ash Sekercioglu and Minos Papas are co-editors. Production sound by Anh Vu. Sound design by Benjamin Wong.
Sign up for our newsletter
Top Image: Dancer Melissa Toogood of Pam Tanowitz Dance. Still from "DANCERS (Slightly Out of Shape)." (Image description: Dancer Melissa Toogood, a fair-skinned woman, appears in three different panels in a black and white image. The first panel is a side profile of her face. Her hair is up in a ponytail that slightly whips in the air. The second panel is a zoomed-in image of her thighs adorned in leg warmers and shorts. The third panel is an image of her in a squatting position as if she just landed from jumping.)