Choreographer Kyle Abraham and filmmaker Dehanza Rogers on the making of "If We Were a Love Song"

[Video Description: A series of dance vignettes intertwining choreographer Kyle Abraham's idiosyncratic, emotionally driven movement with Nina Simone's intimate, soul-stirring music. Stream with audio description here. Download transcript. Download audio description.]
Kyle Abraham's "If We Were a Love Song," presented as part of the "Past, Present, Future" dance film festival, unfolds across a series of vignettes like a well-worn letter.
"Over the last few years, I have been working on a title that encapsulates all of my work acknowledging the ways in which my culture shows and experiences love," Abraham told ALL ARTS, describing the title of the piece as a "love song." "This work is no exception — it shows the ways in which we love."
Set to a tender soundtrack composed of songs by Nina Simone, "If We Were a Love Song" was created by Abraham in collaboration with the dancers of his contemporary dance company A.I.M by Kyle Abraham and filmmaker Dehanza Rogers. The 30-minute piece, which debuts on ALL ARTS May 9 at 8 p.m. Eastern, features performances from Abraham, Tamisha A. Guy, Keerati Jinakunwiphat, Claude "CJ" Johnson, Catherine Kirk, Jae Neal, Donovan Reed and Gianna Theodore.
The piece, presented in distinct sections, captures the intimacy of Abraham's gestures. To achieve this required its own sort of choreography, Rogers told ALL ARTS. Prior to the capture on set, Abraham sent Rogers recordings of the dancers rehearsing for reference. While watching, Rogers took note of the moments where she found her body leaning and searching to see the movement at other angles. Rather than sticking to a static shot of movement in the wide, Rogers explained that the camera became "like another dancer, sometimes mirroring the motions, other times searching for intimate moments."
"There is very much a negotiation and a conversation that is happening between those of us behind camera and the dancer, as well as the space," said Rogers, who also edited the film.
While most of the segments were filmed within a photography studio in Queens, the work's closing section, titled "Black Is the Color of My True Love's Hair," ventures from the confines of the production's indoor spaces to the outdoor world. Here, past and present members of the choreographer's company A.I.M gather as a community, a moment that sews together time.
ALL ARTS corresponded with Abraham and spoke to Rogers about the piece ahead of its premiere. The excerpted responses below have been combined from these conversations and edited lightly.
How did you approach the prompt to create a work that embodied the past, present, and future?
Kyle Abraham: I took this as an opportunity to honor my culture and its traditions. Nina Simone's music totally encapsulates all of that — the ideas of past, present and future. Her music sums up the Black experience, and I was hoping to highlight the roots within our culture in a way that connected with all of those themes. It felt like film gives a more intimate way into that process and to that sense of acknowledging our culture in community.
Dehanza Rogers: I'll start with the last part of the film: "Black Is the Color of My True Love's Hair." For me, that's the present. It's how Black people move through spaces and how we celebrate each other and how we interact.
And I guess you could say that Nina — the songs — are the past. I feel like I'm being very literal in how I'm interpreting this, but I think, when we talk about the future, it is about those intimate moments between the camera and the dancer. I feel like we don't see each other as intimately as we should — just people in general. And then, when we talk about Black bodies and Black love, I feel like that's missing a lot. And I'm hoping that we can see that more in the future.
We wanted to show the very intimate moments of these dances and these dancers interacting with each other … I want us to look at things in a very close-up, intimate, detailed way. And I feel like the future is us understanding each other, understanding Blackness, understanding Black love a lot better than we do at the moment.
You use the music of Nina Simone. What about her songs resonated with you when creating this particular choreographic project?
KA: Simply, they are all love songs. She's a cultural icon.
The dance film is broken into several distinct vignettes, all with different moods and emotions. How did you go about structuring the piece?
KA: This work isn't a film, per se, but rather a series of shorter films or chapters. I think, given the ways in which people are experiencing work in this kind of digital age, I thought it would be helpful to have several films that can be watched separately or together.
When the film begins, we are inside a small space; as the movement unfurls across the segments, the area opens up into the very last part, which was filmed outdoors. How did you play with space in this film?
KA: I was interested in filming each of the dance sections in home-like spaces, and, in some cases, the dances were created with the space in mind. I saw a room and then created "Little Girl Blue." It was helpful in that regard.
My favorite section is the final section, "Black Is the Color of My True Love's Hair." In some ways, that one section is the overall work — it's almost as if that section almost sums up what I was hoping to do with this opportunity to create a dance film for the company. It's, ironically, in a section that doesn't actually have much dancing — but it shows not only our current dancers, [but] also shows some of my former company members, my original company members and their family.
It was important for me to include that bit of history. Amber and Lee Parker of the Bell family (featured in the last section) — Amber was an original A.I.M Company member, and her partner and her two children are in the film.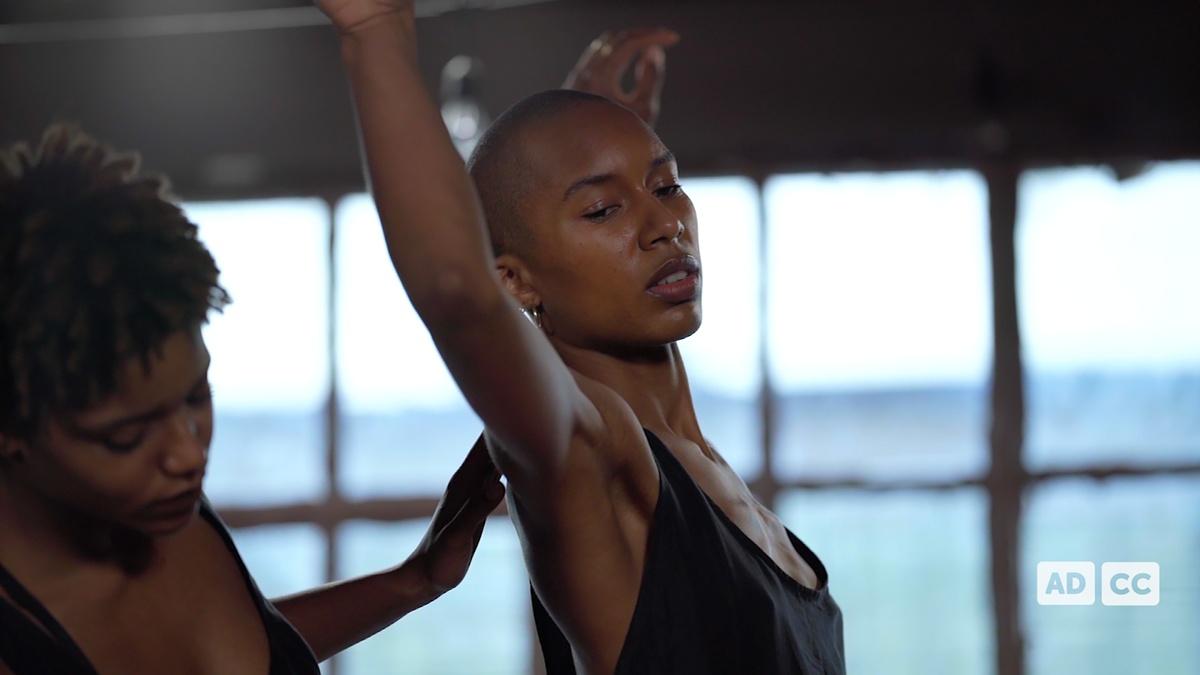 [Video Description: Sound on for audio description. Nina Simone's intimate, soul-stirring music plays in the background. Download transcript. Download audio description.]
DR: The dance is the beauty of and the possibilities of our bodies and movement. But then there's the real world [in the section "Black Is the Color of My True Love's Hair"], and we end with that, because this is where we are at the moment.
Did editing the film give you a different perspective on the movement?
DR: I never edited a dance film before, but I edited as I always do, off those moments that I [thought were] important. And I'd show a cut to Kyle, and we'd have a conversation. And he'd say something like, "This person's foot isn't necessarily correct." I don't even know the dance lingo, the language to go with how that person's foot was positioned. But he would tell me, "The foot is incorrect. I would prefer not to show that." So, then I'd go back, and I'd compare the same shot to another take, and then I'd see the difference; I'd see what he saw.
Keeping the theme of the festival, what inspirations from the past do you draw on when creating works? Did any of these influences appear in this film?
KA: I generally make work that is from a previous time; it just happens that there are a lot of things I make that reflect on moments in the past …
With this work, some of the things that are the most referential of our past, in some ways, are the games in which we play — games which we share. In "Black Is the Color of My True Love's Hair" section, playing spades or dominoes with some of the dancers, you see things that are very much a part of our culture; just sharing little moments of the community is nothing new for us as a people.
I also wanted to share our joy. I wanted to share our love. I want to share our bonding. I wanted to share our comfort.
What does your present look like for you now?
KA: I am constantly being asked about what's next or answering questions that have to deal with the future, making it hard for me to find the space to actually be in the present. I don't know if I've ever really had an opportunity to experience life in that way or art in that way.
What would you like for people to take away into their present and future after watching this film?
DR: Black love is real. There are all these different skin tones within Blackness, right? And our DP [Kirby Griffin], I picked him because he's really great at showing that — the camera looking at them lovingly. I want people to walk away thinking about how much everyone in that film loved each other. Even if it were a conflict, in terms of "You don't love me anymore," or whatnot … I want people to walk away feeling that there is this possibility of Black love that we don't get to see a lot.
What are your hopes for the future for dance or otherwise?
KA: I have really loved the process of bringing together dance and film over the past year, and I hope that more opportunities present themselves. I am also extremely hopeful for a future where we can be in theater again and you can hear peoples' laughter in the audience or cheers or tears, all those things. Just being in a space where we can actually hear emotion and connect with audiences and performers alike.
---
Credits:
"If We Were a Love Song" is produced by Dehanza Rogers for ALL ARTS. Music by Nina Simone. Choreography by Kyle Abraham. Directed by Dehanza Rogers. Performed by Kyle Abraham, Tamisha A. Guy, Keerati Jinakunwiphat, Claude "CJ" Johnson, Catherine Kirk, Jae Neal, Donovan Reed and Gianna Theodore. Featuring the Bell Family, Leton and Amari Hall and Niara Sterling. Kyle Abraham is creative director and executive producer. Kirby Griffin is director of photography. T.J. Alston is gaffer. Dehanza Rogers is editor and colorist. Additional photography by Gyasi Mitchell.
Top Image: A brown-skinned Black woman is dancing in a long flowing blue dress. One of her arms is extended straight out to the side and the other arm is to her side in a fist. She is dancing in front of a yellow background that fades into a shimmery blue. Still from "If We Were a Love Song."