An introduction to the several accessible versions of "One + One Make Three," presented as part of the "Past, Present, Future" festival
Kinetic Light's docu-dance film "One + One Make Three" is shared here in several versions: Each is the same work, and each provides a different encounter. We encourage you to choose an experience that will be most accessible or enjoyable for you, and if you want to spend more time with us, to experience multiple versions of the film, or one version multiple ways.
You can select your experience: with or without ASL, Open Captions, or Audio Description, or even as audio or text alone.
This film is multiply interpreted in American Sign Language (ASL). In these versions, artist and interpreter Brandon Kazen-Maddox signs the voice-over in the right-hand window and signs music and ambient sounds on the left. The voice-over is also present in the integrated Open Captions (OC), which are visible at the bottom of the screen — you don't need to do anything extra to view them. Enhanced Audio Description (AD), with multiple layered voices, renders the work in sound, with primary narration by Cheryl Green and augmented description by the artists. The Audio Description can optionally be downloaded here as a separate audio file, and Transcripts of the Audio Description and voice-over are also available for download (ASL version; non-ASL version) or to experience alongside the film via the Closed Caption (CC) function in the streaming viewer.
Kinetic Light is deeply invested in aesthetic, equitable, artistic accessibility as an essential part of our work. If this is your first time experiencing some of these accesses, you may be curious about our approach. We craft these accesses as integral to our art, grounded in our user research and in collaboration with other disabled artists, and our offerings are intentionally allowed to be challenging, provocative, overwhelming and beautiful. Equitable accessibility of art must be as complex and engaging as the work demands.
For more information about Kinetic Light or our approaches to art, equity and access, we invite you to join our communities. Learn more about our work, artists, upcoming performances and events, as well as educational programs such as Access ALLways: We'll see you on the web at KineticLight.org, on Facebook /KineticLight or on Instagram @KineticLightDance.
---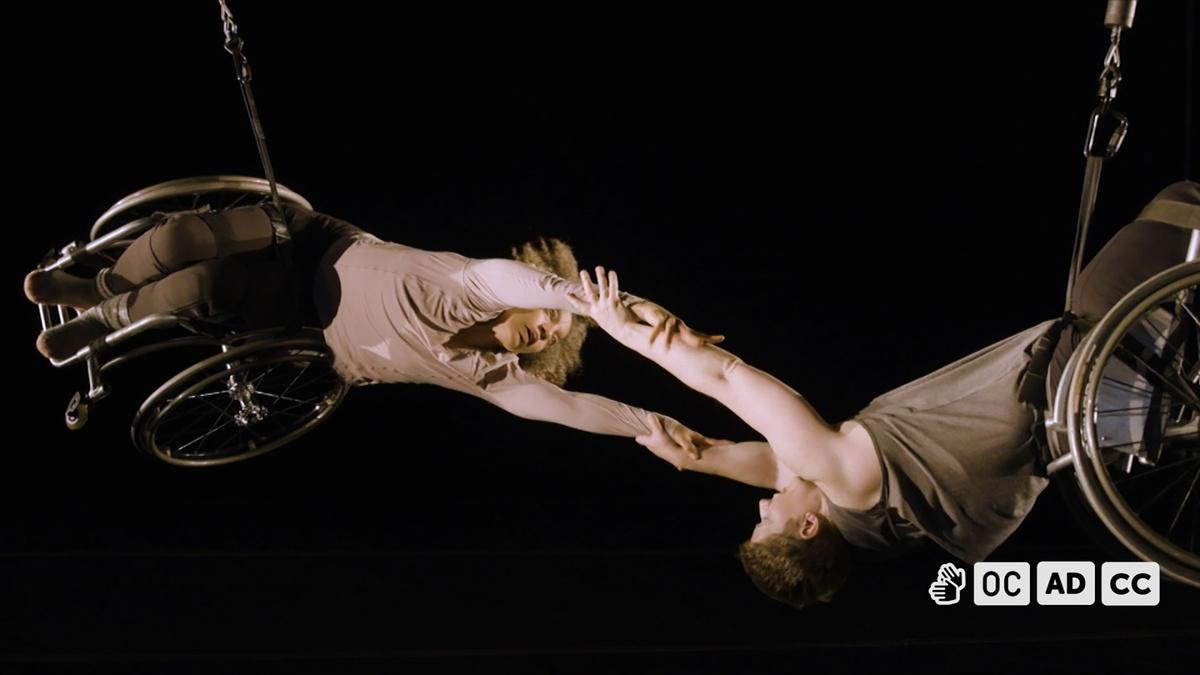 ---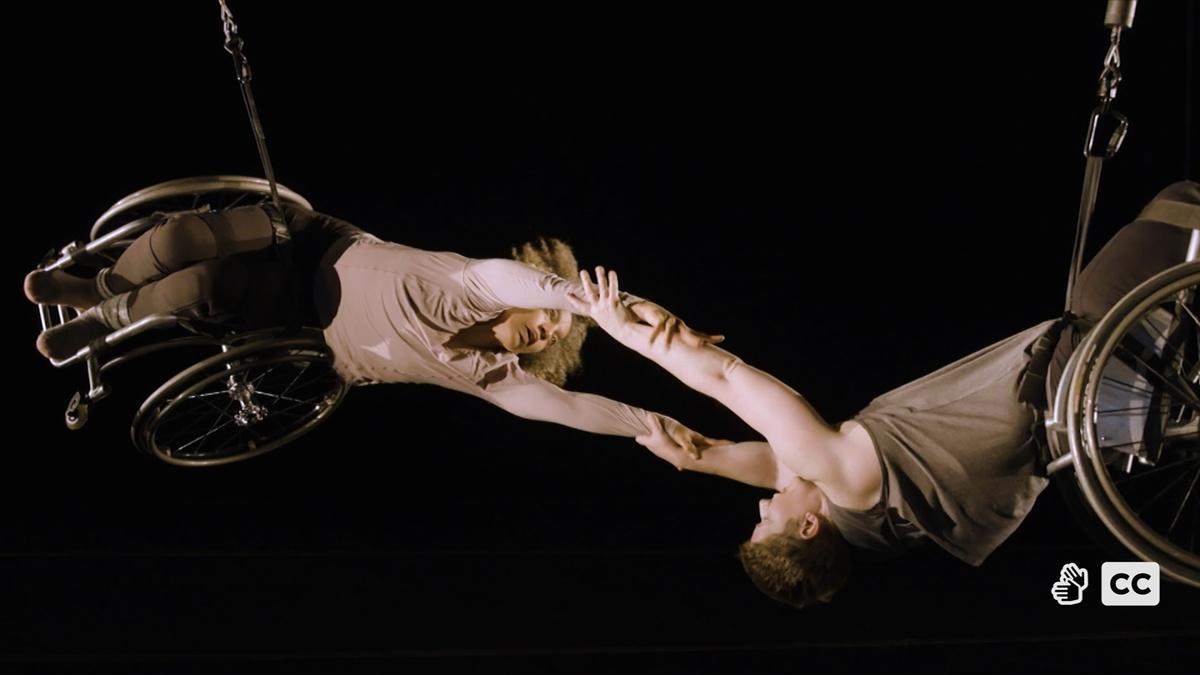 ---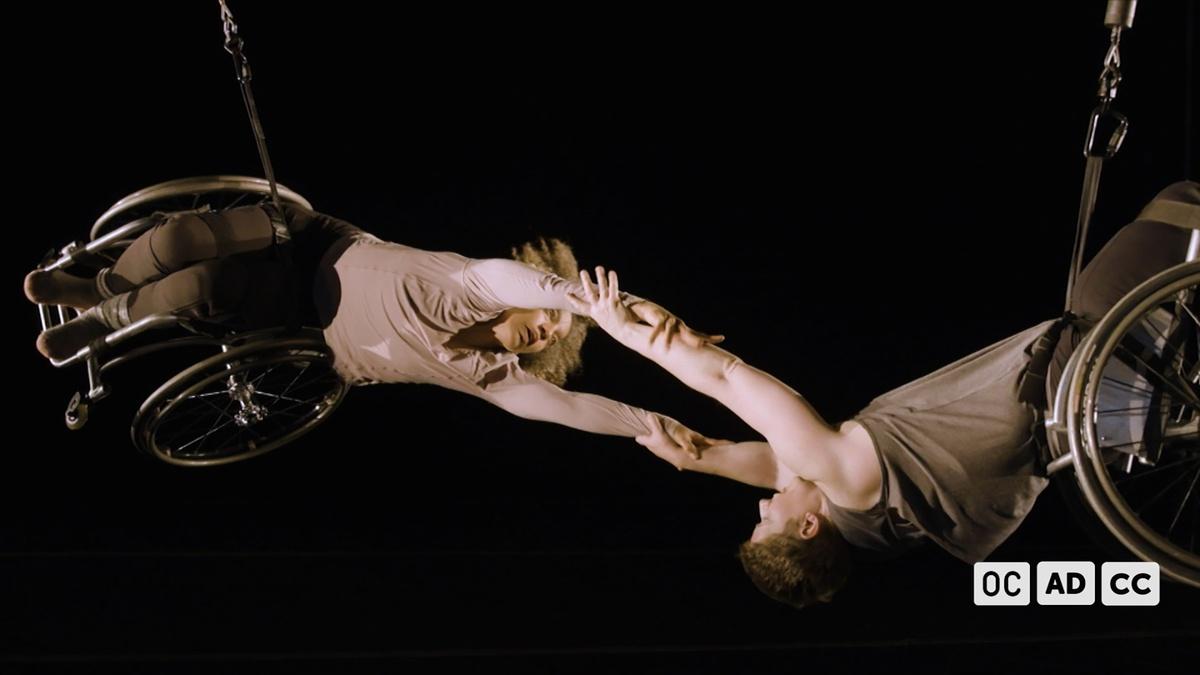 [Download Audio Description. Download transcript.]
---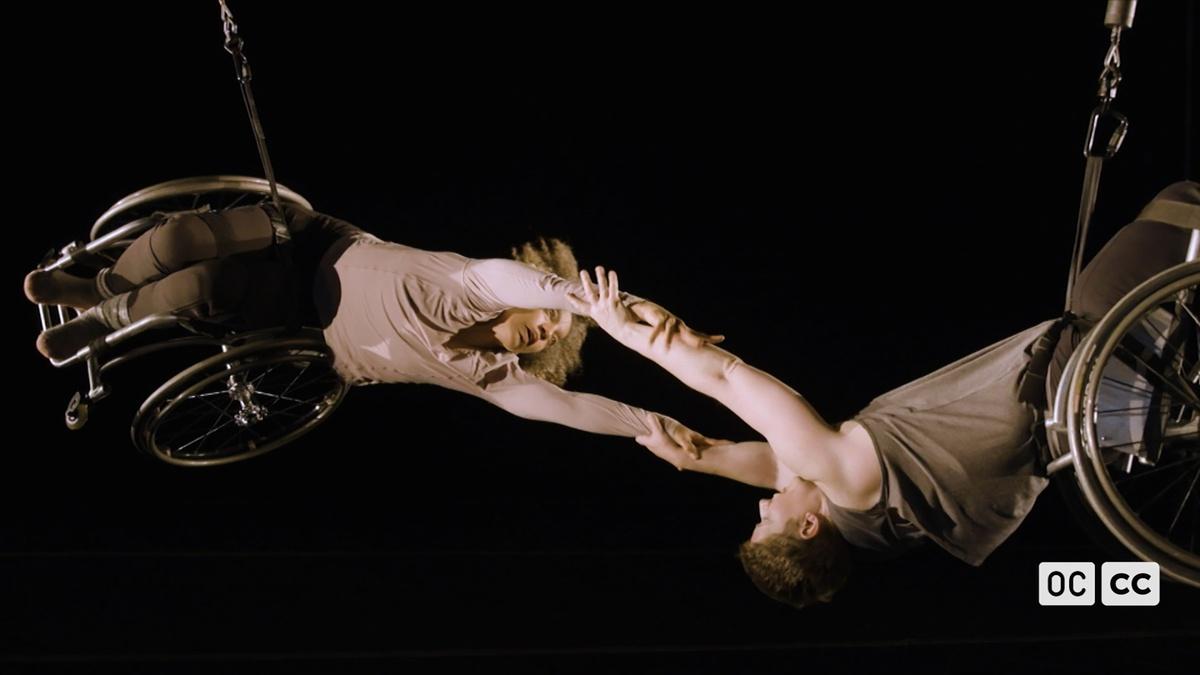 Top Image: Alice Sheppard and Laurel Lawson of Kinetic Light; still from "One + One Make Three" /Safety Third Productions. (Image description: A black-lined grid overlays an image of Alice and Laurel outstretched in full horizontal flight. Alice, a multiracial Black woman with short curly hair and coffee-colored skin, and Laurel, a pale white woman with short cropped brown hair, twist and connect in a black sky. Their hands link to each other's wrists to form a human infinity loop in midair: Laurel on her back and Alice twisting sideways. Their wheelchairs glint in the light. Brandon, a mixed race Black artist with long braids half tied up, signs in the top corners of the screen.)