Musician Michael Mwenso discusses the concert program "Michael Mwenso Honors George Floyd," presented as part of "The First Twenty"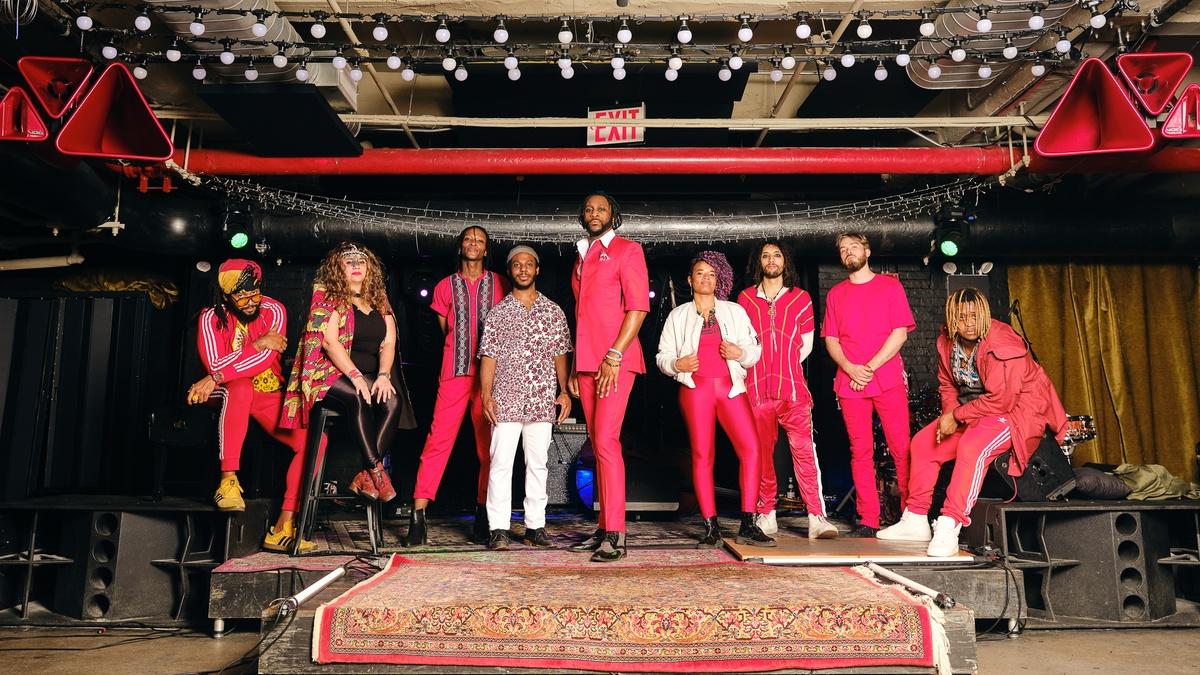 When artist Michael Mwenso speaks of his musical journey, he starts at the very beginning — back in Sierra Leone, where he was born and lived as a child. At age 10, he moved to London and grew into a new world of Black music, guided by an English man who he began living with after his mother was deported to Nigeria. Together, they took in the stylings of Gladys Knight, B.B. King, Ray Charles and John Lee Hooker, with Mwenso going on to pick up the trombone and the piano.
"It was really in that period where all of this music was becoming such a healing thing for me," Mwenso told ALL ARTS, continuing on to note how his love of Black music united him with Wynton Marsalis and, eventually, Jazz at Lincoln Center.
The New York City-based musician — who encompasses many artistic roles, including bandleader of Mwenso & the Shakes — brings this history to the concert program "Michael Mwenso Honors George Floyd," which premieres as part of the ALL ARTS initiative "The First Twenty" on May 25, the one-year anniversary of George Floyd's killing by a former Minneapolis police officer. The program will debut on broadcast in the New York metro area at 8:30 p.m. Eastern and will be available to stream on the ALL ARTS site and app. The film can be streamed with or without audio description (AD).
"We have to ask ourselves the question, 'What has shifted since [George Floyd's] death, and how has the justice system and racial injustice been impacted? Has anything changed?'" Mwenso says in the film's open. "Because they say his death has launched a movement that has shifted the consciousness of the world, but I want to see it."
Directed by Sing Lee Lathan, the resulting program fuses music, poetry and art with interviews with Harold Green, Destinee Ross-Sutton and Larry Ossei-Mensah, who join Mwenso on stage, back-dropped by Joshua "Zim" Griffin's mural of Floyd. Brianna Thomas, Vuyo Sotashe and Mwenso perform musical pieces, and Green reads an original poem. Weaving the different art forms, the film aims to bring forth what Mwenso described as a "holistic viewpoint from Black creators today."
"It's a celebration of music through honoring the real impact of what this man has done," Mwenso said of the program, which clocks in at around 30 minutes. "And the music is part of the bedrock of the question: 'How has this man's death impacted our lives?'"
The film closes with a performance from Mwenso & the Shakes, bringing the band's message music to the forefront in an energetic burst characteristic of the jazz outfit, known for its kaleidoscopic vision of community, spirituality and artistic influence.
"Definitely what Mwenso & the Shakes is about is dealing with the music in a way that has messages of all the values of music — protest and edification, meditation, healing," he said. "We need the healing music. We believe in the healing power of the music … that comes first with us."
Just as the healing element of music is at the heart of Mwenso & the Shakes, the bandleader explains in "Michael Mwenso Honors George Floyd" that it also serves as a sustaining force in the film.
"I want to show that Black art will heal the world, and it will and continue to," Mwesno says in the program.
The film comes after a year of monumental change. Like most artists working in the performance space, when the pandemic struck, the musician shifted upon impact. For Mwenso, this meant tapping relationships that had accumulated over the years to see what this moment could catalyze. And as institutions reckoned with racism within their own halls after Floyd's murder, Mwenso and his long-time collaborator Jono Gasparro created the company Electric Root to produce artist-led workshops and programs with the goal of changing curation and decolonizing music education.
In the fall, Mwenso became a visiting professor at the University at Buffalo in New York, where he led the program "Protest, Hope and Resilience Through Black Arts."
"George Floyd has made people's ears and eyes have to be turned; it's made — I'm going to say it — white people have to be more real and more open to the questions," Mwenso said. "And we, in general, have never seen such a door-opening for people to really be ready to experience Black music and Black art and the history of Black people in this kind of way."
This summer, Mwenso and Gasparro will partner with Bard College to present a series of concerts that aim to provide "healing, enlightenment and inspiration after a year of lockdown and uprisings for racial justice." Titled the "Black Roots Summer" and programmed as part of the Bard SummerScape series, the concert program brings together artists, singers, musicians and dancers and will be held the weekends of July 23 and July 29.
"We heard [George Floyd's] cries go unanswered," Mwenso says at the conclusion of "Michael Mwenso Honors George Floyd. "We can't accept this today, yesterday or tomorrow. We must be here, and are here, to keep the revolution going."
"Michael Mwenso Honors George Floyd" premieres May 25 at 8:30 p.m. Eastern on the ALL ARTS broadcast channel (available in the New York metro area) and the ALL ARTS website and app.
For more information about "The First Twenty," led by ALL ARTS artistic director James King, visit the program page. The film can be streamed with or without audio descriptions (AD).