Introducing the "Past, Present, Future" dance film festival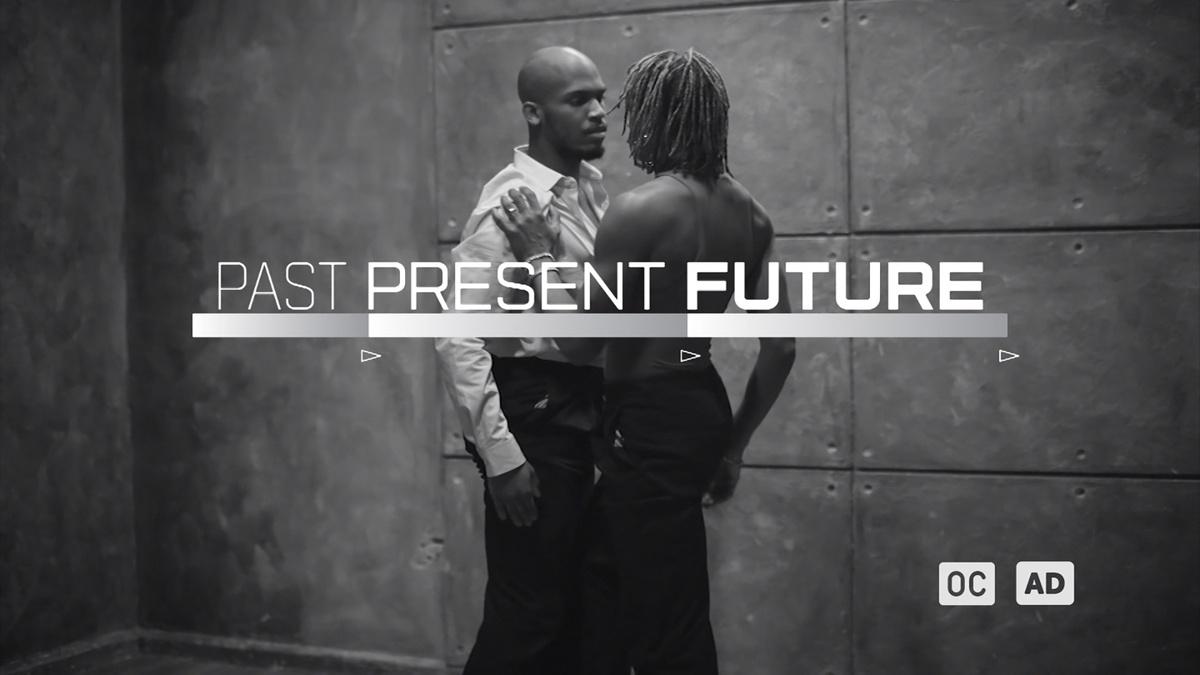 In 2020, the COVID-19 pandemic brought the dance world to a halt. Many in the industry were forced to reimagine their work and to create new possibilities in a year filled with incalculable loss.
Born from this moment, the inaugural "Past, Present, Future" dance film festival is a collaboration between ALL ARTS and a number of artists who were prompted to consider what the past, present and future mean to them. The resulting festival, presented as a series of three films, features creations by choreographers Kyle Abraham of A.I.M by Kyle Abraham, Pam Tanowitz of Pam Tanowitz Dance, the artists of Kinetic Light, and filmmakers Dehanza Rogers, Liz Sargent, and Katherine Helen Fisher.
"Past, Present, Future" will debut a new film nightly May 9 through May 11 at 8 p.m. Eastern. All films will be available nationwide on the ALL ARTS app and website, and on the ALL ARTS broadcast channel in the New York metro area.
The choreographers and filmmakers featured in the festival created their works amidst the uncertainty and constraints of the COVID-19pandemic. The films of "Past, Present, Future" contain time capsules of the thoughts, processes and artistry of the featured choreographers. They also reveal their views on their field in this challenging present moment, when the future is full of unknowns.
ALL ARTS is committed to access for the "Past, Present, Future" dance film festival. All films will have audio descriptions and captions and one includes American Sign Language (ASL) interpretation. Marketing for the festival will also include image descriptions and audio descriptions for video content.
Below is a full schedule of artists and films. Check back here for more updates as the series rolls out.
May 9
"If We Were a Love Song"
Conceived by choreographer Kyle Abraham and set to some of Nina Simone's most intimate and stirring songs, "If We Were a Love Song" offers a cultural portrait of his dance company and community. Created in collaboration with A.I.M and filmmaker Dehanza Rogers, the film is a series of poetic vignettes that strip down Abraham's idiosyncratic and emotionally-driven movement to match the raw power of Simone's music. The film unfolds to demonstrate that deep grief and profound love often live in the same quiet moment. This film will be closed captioned and audio described.
---
May 10
"DANCERS (Slightly Out of Shape)"
Captured by filmmaker Liz Sargent's verité lens, choreographer Pam Tanowitz and her dancers return to rehearsal during the pandemic. This film provides a rare look into Tanowitz's creation style as she ponders the fleeting nature of performance and reimagines the future of her work on film. The finale gives audiences a look at "Every Moment Alters" — described by Tanowitz as polished and cinematic — featuring music by Caroline Shaw. This film will be closed captioned and audio described.
---
May 11
"One + One Make Three"
Director Katherine Helen Fisher's documentary/dance film with acclaimed disability arts ensemble Kinetic Light includes innovative experimentation in which access is as challenging, provocative and beautiful as the art itself. This film takes audiences behind the scenes, into the studio and into the air. Dancers partner, spin and soar as they reflect on art, dance and disability as a creative force.
Featuring dance artists Jerron Herman, Laurel Lawson and Alice Sheppard; artist/ASL interpreter Brandon Kazen-Maddox; and audio describer Cheryl Green. The broadcast version of this film integrates ASL and Open Captions and optionally available Enhanced Audio Description. The film is available in four versions online: ASL + Open Captions + Audio Description; ASL only; Open Captions + Audio Description; and Open Captions only. An audio file of Audio Description and transcripts will also be available.
---
More About the Films:
"If We Were a Love Song" is produced by Dehanza Rogers for ALL ARTS. Music by Nina Simone. Choreography by Kyle Abraham. Directed by Dehanza Rogers. Performed by Kyle Abraham, Tamisha A. Guy, Keerati Jinakunwiphat, Claude "CJ" Johnson, Catherine Kirk, Jae Neal, Donovan Reed and Gianna Theodore. Featuring the Bell Family, Leton and Amari Hall and Niara Sterling. Kyle Abraham is creative director and executive producer. Kirby Griffin is director of photography. T.J. Alston is gaffer. Dehanza Rogers is editor and colorist. Additional photography by Gyasi Mitchell.
"DANCERS (Slightly Out of Shape)" is a production of Cyprian Films, New York in association with the Fisher Center at Bard for ALL ARTS. Film by Liz Sargent and Pam Tanowitz. Directed by Liz Sargent. Choreographed by Pam Tanowitz in collaboration with the dancers. Music by Caroline Shaw. Produced by Minos Papas. Co-produced by Caleb Hammons. Gideon Lester is executive producer. Melissa Toogood, Lindsey Jones, Victor Lozano, Brittany Engel-Adams, Christine Flores, Zachary Gonder and Jason Collins are dancers. Cinematography by Naomi Saito, Liz Sargent and Ahn Vu. Liz Sargent is editor. Ash Sekercioglu and Minos Papas are co-editors. Production sound by Anh Vu. Sound design by Benjamin Wong.
"One + One Make Three" is a production of Safety Third Productions for ALL ARTS. Alice Sheppard is artistic director, Katherine Helen Fisher is film director. Jerron Herman, Laurel Lawson and Alice Sheppard are artists. Alice Sheppard is choreographer. Jerron Herman and Laurel Lawson are choreographic collaborators. Brandon Kazen-Maddox is ASL interpreter, deaf culture consultant and subtitles. Shimmy Boyle is producer. Devon Donis is director of photography. Caroline Haydon is archival producer. Joe Foley is ASL director of photography. Quinton Carr-Goodwin is ASL gaffer. Catherine A. Nelson is acrobatic rigger. Alice Sheppard is creative director. Laurel Lawson is director of access design. Cheryl Green is audio describer. Mel Chua is deaf culture consultant. Body language productions is subtitles. Vanessa Gould is score composer and performer. John Walter is editor and grid concept designer. Colm McNally is theatrical lighting design. Emily Kwong is title design.
Top Image: A Black man with a rich dark brown skinned complexion is standing with his arm extended up in the air close to his face. This is a dark photo with with the background blurred and only the man visible in the foreground. He is shirtless, and his hair is cut short. Still from "If We Were a Love Song."